One of the easiest desserts to make, but one that you will get asked to make over and over.
When I was younger, my grandma was my best friend in the whole world. We would shop together, do our nails, cook at home and dream about the future. She always said she couldn't wait til I was 16 so that I would be able to drive over whenever I wanted. It makes me so incredibly sad to think that never happened. She passed away when I was still in middle school and gah I still miss her something fierce.
I still have dreams about her though. Her coming down the stairs in her house and saying hello. And her sitting in front of her vanity in the bedroom doing her hair just right. I literally cling to those dreams when I wake up.
It also makes me sad that my kids will never know my grandma. She would have spoiled them even more then she did us, if that is possible. I am so incredibly happy that my kids got to know Ryon's grandparents before they passed though. They called them "grandma and grandpa" even though they were their great grandparents.
And boy did they get spoiled. Grandpa would love to send the kids gifts for every holiday. We will have stickers for many, many, many years to come because those were his favorite thing to send.
Hey there – want our family favorite dessert ebook for FREE? Sign up below!
Grandma was known for her cooking and gardening. This pistachio dessert was her specialty. I'm sure it has another name, but everyone has called it "grandma's pistachio dessert" for as long as I've known. It is a treat when we make it and we love to talk about grandma and grandpa while we take bites.
It's easy to make and whenever we had a church potluck or family event, grandma would have this dessert in tow.
When grandpa passed away, we took the kids to the funeral. We explained to them that grandpa was with Jesus and was no longer sick. Ryley, in her beautiful innocence looked up at the casket and said "He went to Jesus in his treasure box!" That sentence. That sweet sentence from my 4 year old baby girl. It still makes me tear up and it probably always will. Yes, my love. He went to Jesus in his treasure box.
Grandma passed away a few months after grandpa. She just couldn't be without him. At her funeral, pastor pulled out a giant picture of Jesus pulling caskets from a field and placed it in front for us all to see. The message was so beautiful – Jesus would come back for all of us, even after we left this world in our treasure boxes. Pastor crafted a whole sermon around what Ryley had said just a few months earlier.
"The kingdom of heaven is like treasure hidden in a field. When a man found it, he hid it again, and then in his joy went and sold all he had and bought that field." Matthew 13:44
The kids still remember and talk about grandma and grandpa. Mostly because they had an old Mickey train set that all the great grandkids loved to play with when they visited. But Ryley always mentions their treasure boxes. "They are with Jesus in their treasure boxes, right mommy?" Oh sweet girl. They are.
I am so glad that my kids have sweet memories (aside from the treasure boxes and train set) of their great grandparents. We will do whatever we can to carry on their memory as well. Like with grandma's pistachio dessert and fun stories of grandpa putzing around the yard.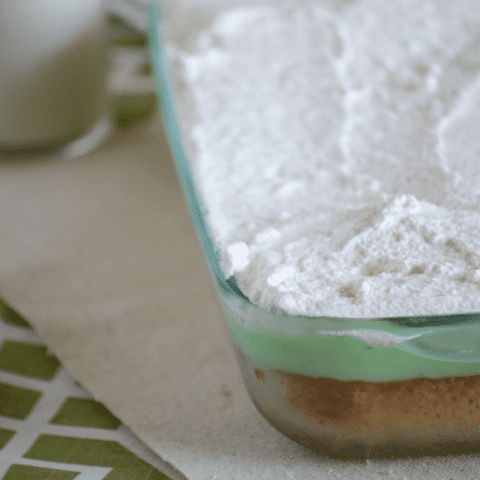 Grandma's Pistachio Dessert
Ingredients
Cookie crust:
1¼ cup sugar
1 cup butter, softened
1 large egg
1 tsp vanilla extract
2½ cup flour
½ tsp salt
½ tsp baking soda
1 tsp cream of tartar
1 package instant pistachio pudding mix - http://amzn.to/1DUL8n1
2 cups cold milk
2 cups heavy whipping cream
1/4 cup of sugar
1 tsp vanilla extract
Instructions
Preheat oven to 350.
Beat together the sugar and butter until creamy.
Add in the egg and mix until combined.
Add the flour, salt baking soda and cream of tartar until combined.
Press the cookie dough into a 9x13 baking dish that has been sprayed with cooking spray.
Cook for 20 minutes, or until the edges start to brown.
Remove and allow to cool completely.
While the cookie crust is cooling, whip together the pistachio pudding and milk until it starts to thicken.
Pour it over the cooled cookie crust and place in the fridge.
Pour heavy whipping cream into a chilled bowl.
Using a stand or hand mixer, mix for 2-3 minutes until soft peak form.
Add your sugar and vanilla.
Mix for an additional minute until it the peaks are firmer.
Spread the whipped cream over the pistachio pudding, cover and let chill for about an hour.
Like this post? You may want to check out:
And be sure to sign up for our recipe updates! I'll send fresh hot recipes right to your inbox!
Like it? PIN IT!