Why not take your favorite potato and put it in a breakfast casserole? That's exactly what we do when we make our family favorite cheesy tater tot breakfast casserole! It's layers of breakfast sausage, tots and cheese. It's easy to see why everyone love this easy breakfast recipe!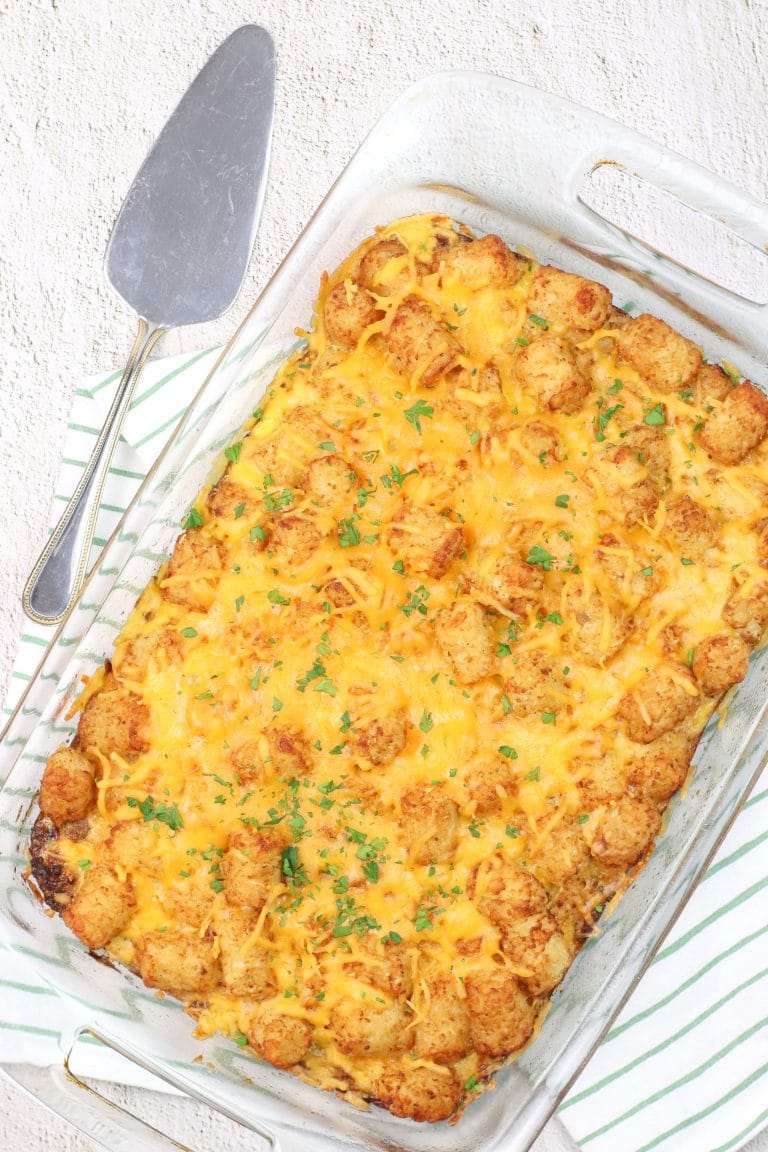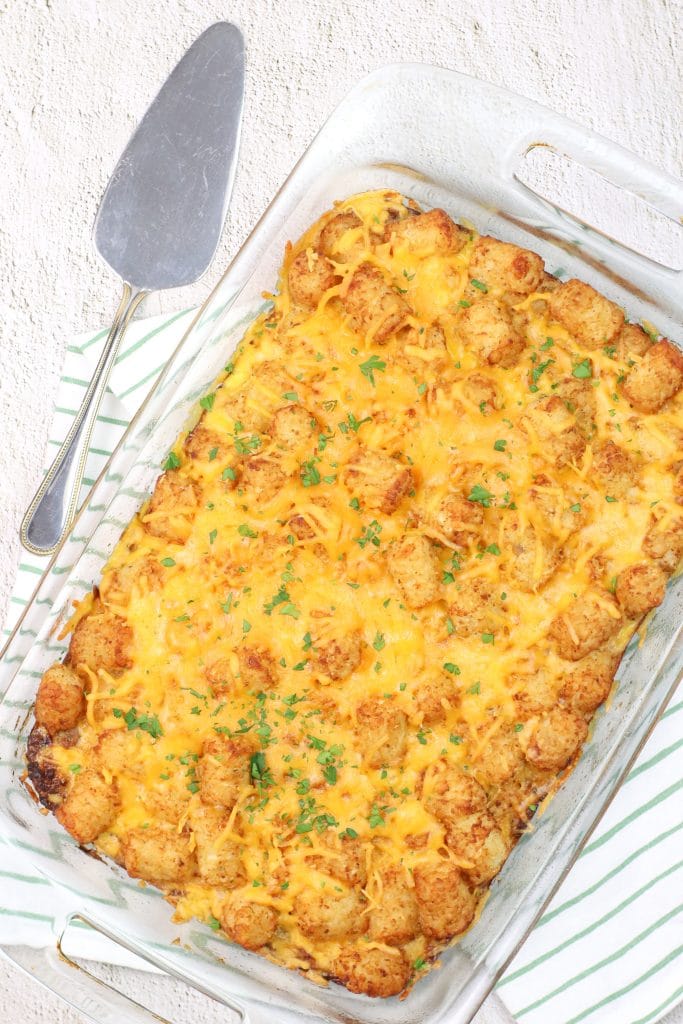 When we get in the busy part of the year with warmer weather and sports, I make sure to always have an easy breakfast option for the kids. Things like egg bites, muffins or even just having fluffy pancake mix on hand. This tater tot breakfast casserole falls into the category of easy breakfast option that can be prepared the night before and baked in the morning. It's easy, cheesy and loaded with tater tots.
What is tater tot casserole?
Tater tot casserole is a classic Midwestern dish that contains meat, cheese and of course tater tots! This casserole is sometimes called a tater tot hot dish, depending on the state. This breakfast version uses ground sausage and eggs to make it a great meal to start the day. It has everything you love about a homemade breakfast casserole!
Breakfast tater tot casserole ingredients
I love this breakfast casserole because you only need a handful of common ingredients to make it. Plus, it makes a large baking dish worth and can be saved for breakfast all week. To make this cheesy tater tot breakfast casserole you will need:
breakfast sausage
eggs
half and half
garlic powder
salt
black pepper
cheddar cheese
frozen tater tots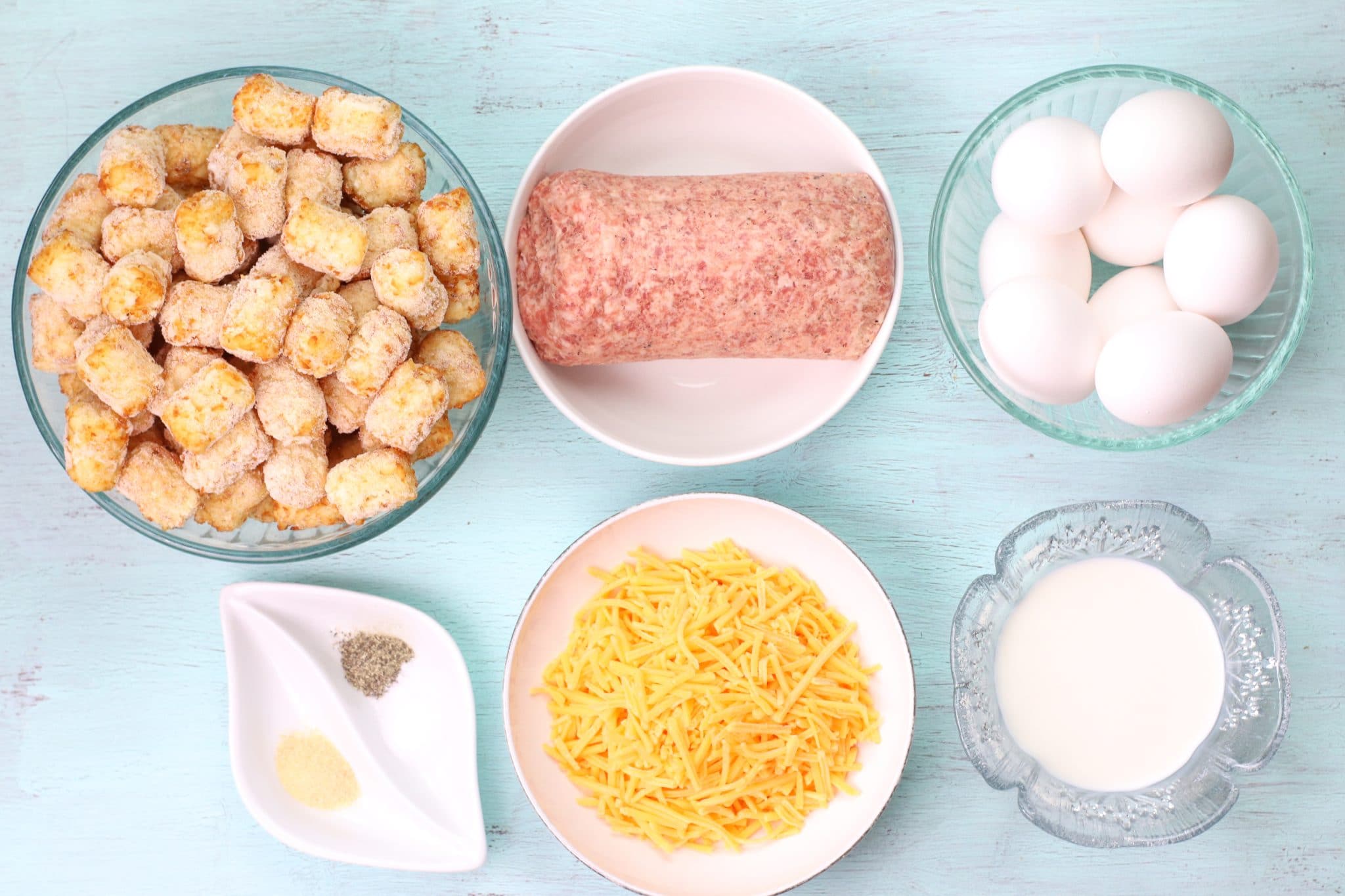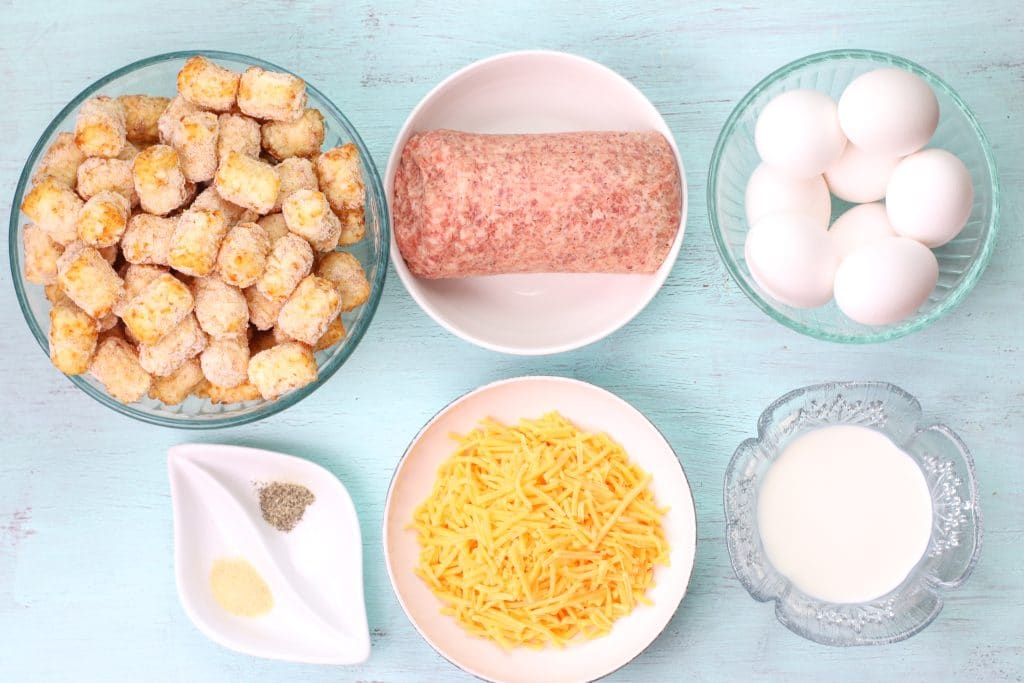 Breakfast sausage – Use your favorite breakfast sausage for this casserole. You can buy the pre-packaged sausage in a log or use fresh ground sausage. Any flavor or variety will work. (We love using the sage breakfast sausage in ours!)
Eggs – You will need 8 eggs for this recipe.
Half and half – Whole milk or heavy cream can be substituted for the half and half, if needed.
Spices – We keep our spices mild with simple salt, pepper and garlic powder. Feel free to add your favorite spices to this dish.
Cheese – Shredded cheddar cheese pairs well in this tater tot dish. Sharp or mild cheddar are our favorites, but any cheddar cheese will work.
Tater tots – You will need 1 pound of frozen tater tots here. Any brand tater tots will work.
How to make cheesy tater tot casserole for breakfast
Not only this tater tot casserole super cheesy, it is also super easy to make! Once you have gathered all your ingredients, you will also need to grab:
skillet
9×13 baking dish
medium mixing bowl
spatula
whisk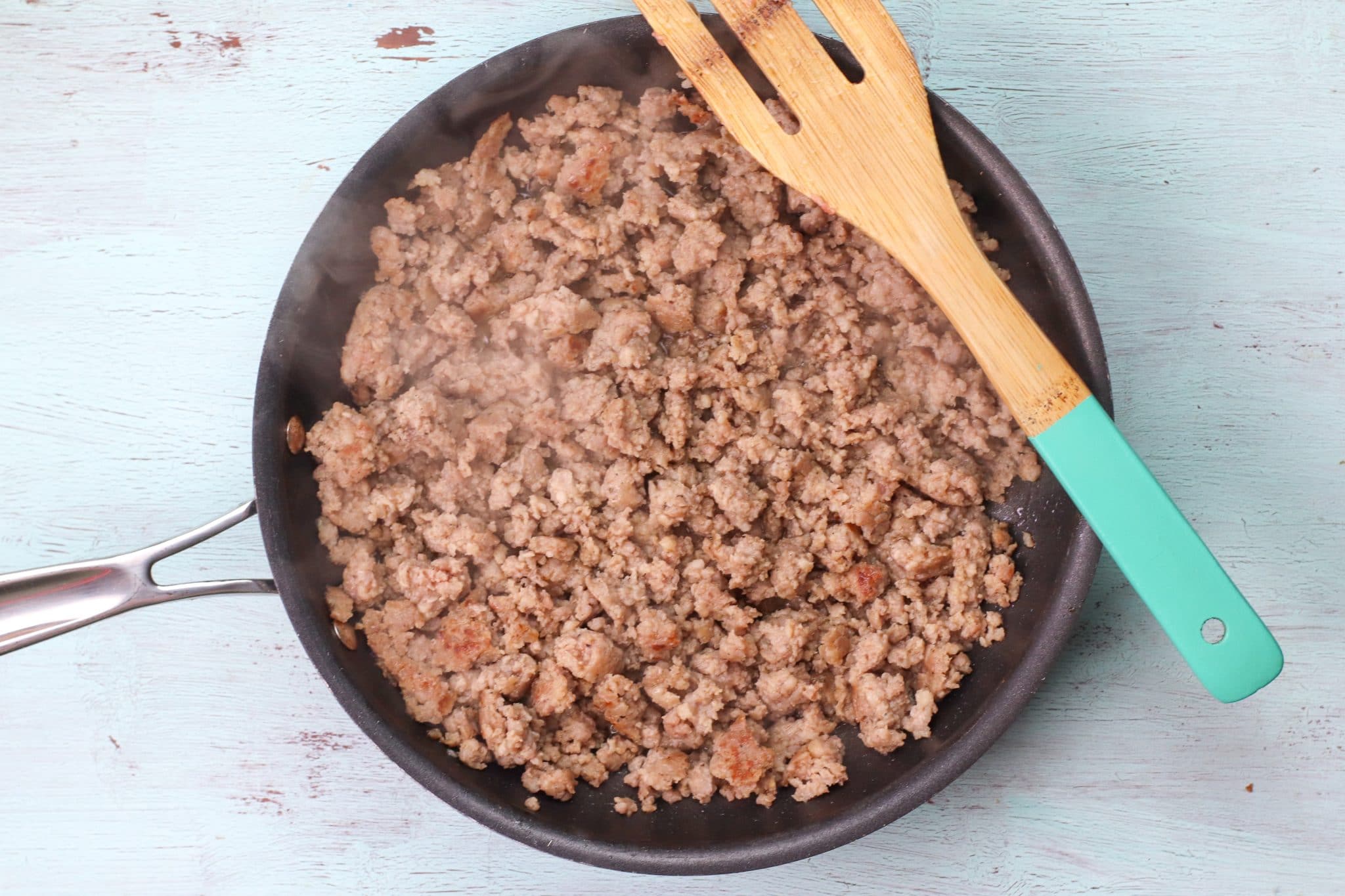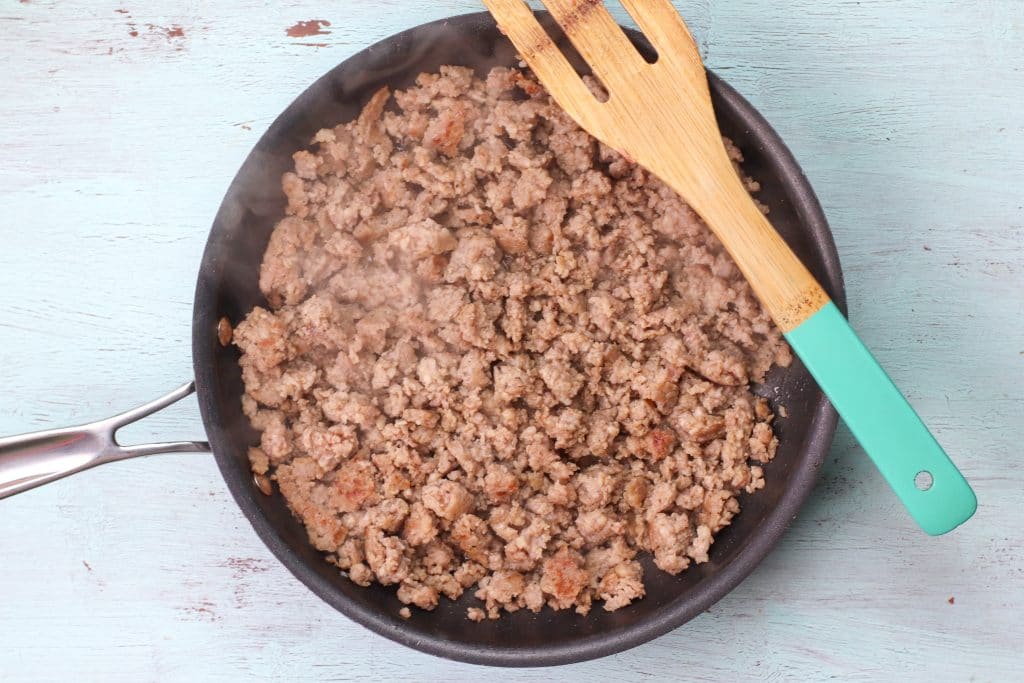 Step 1 Cook the sausage In your skillet over medium heat, cook and crumble the breakfast sausage until no pink remains. Drain and add to the bottom of the prepared baking dish.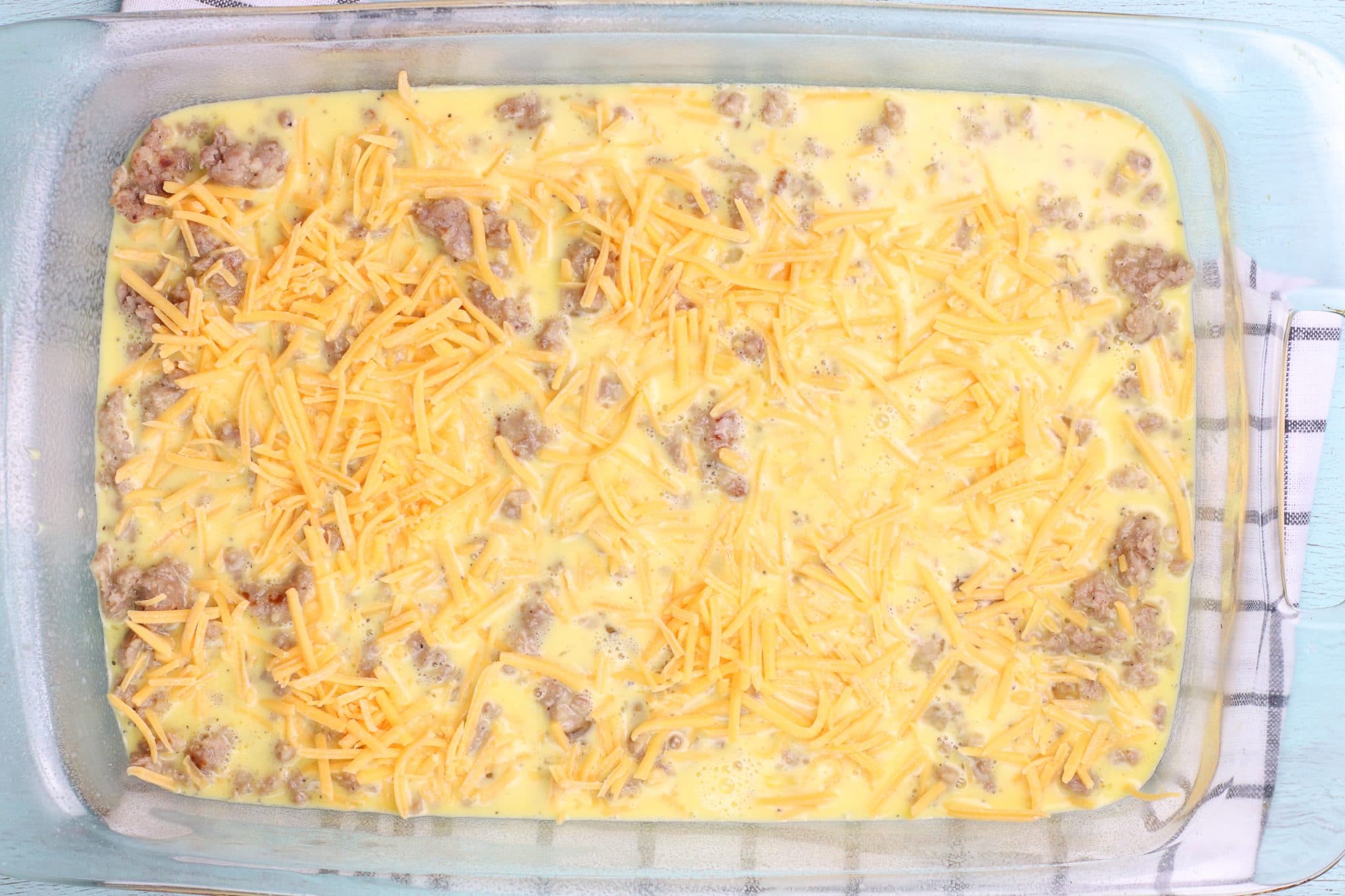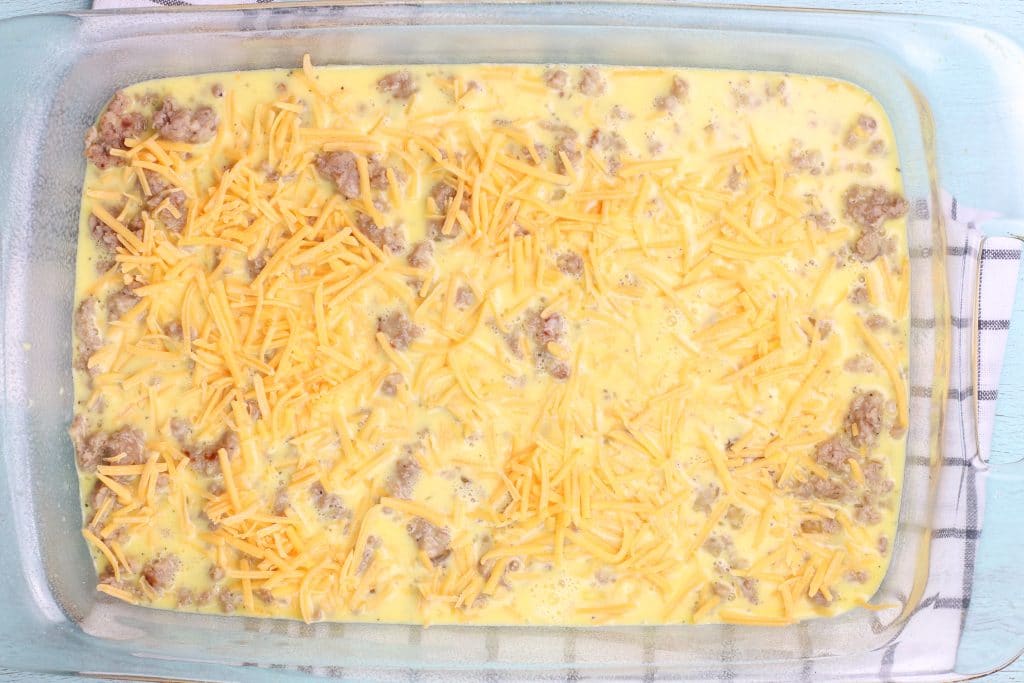 Step 2 Add eggs and cheese In a mixing bowl, whisk together the eggs, half and half and the spices. Pour the egg mixture over the breakfast sausage. Add the cheese on top of the eggs.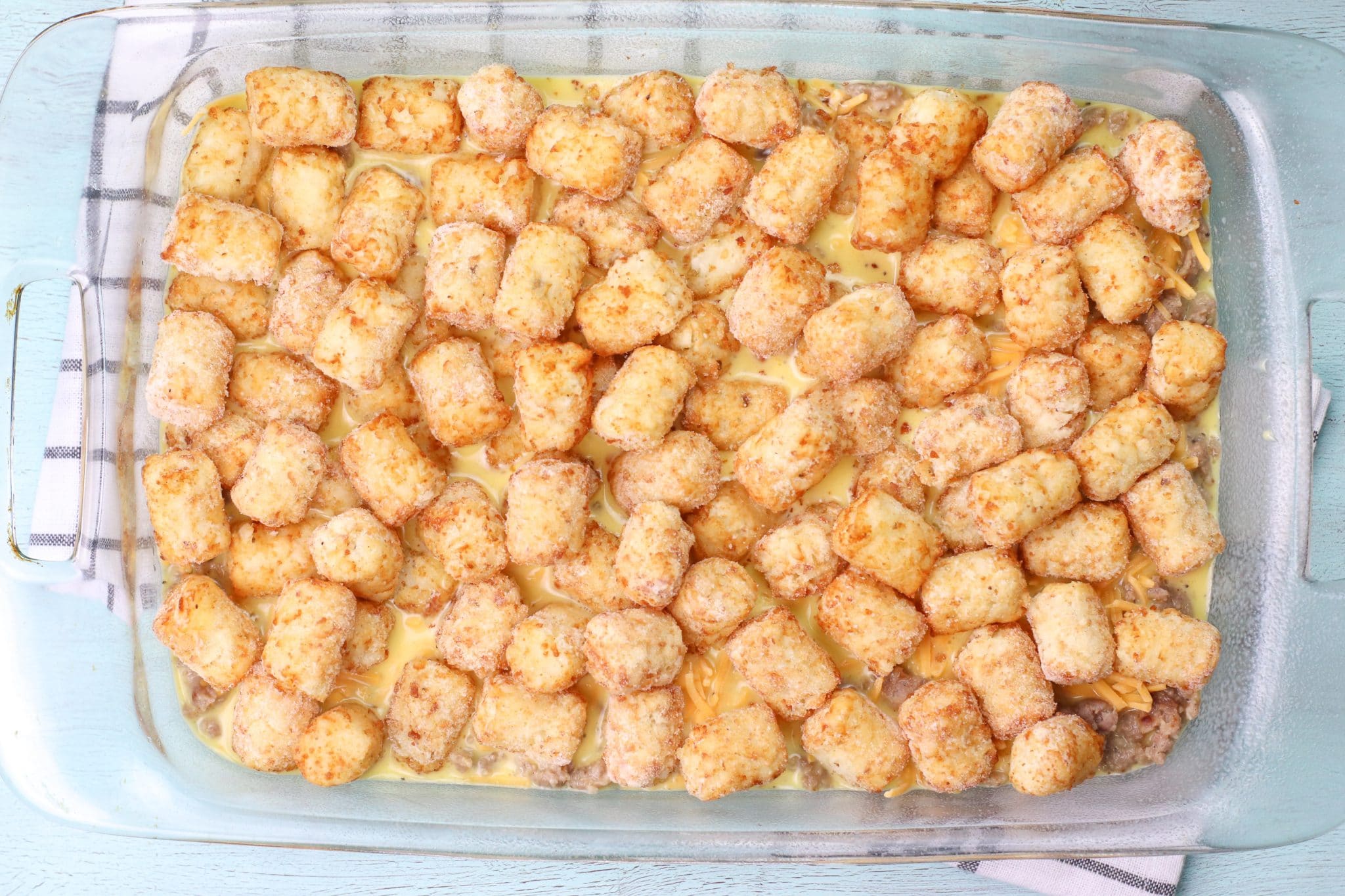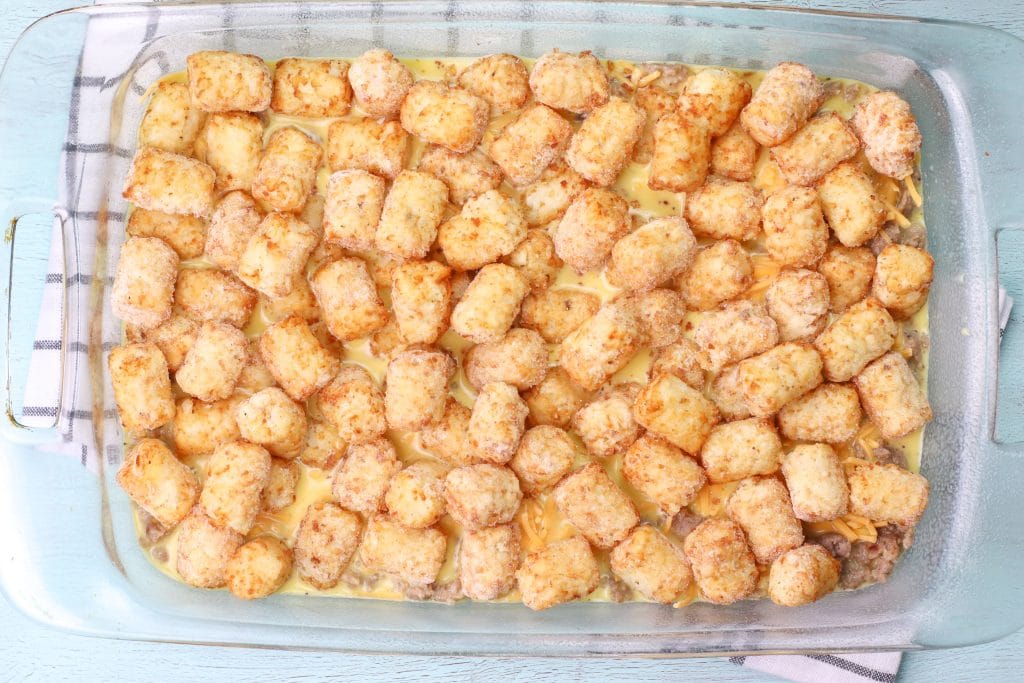 Step 3 Add the tater tots Place the tater tots over top of the egg/cheese mixture. Do not submerge the tots.
Step 4 Cook Bake your tater tot casserole for 50 minutes. Insert a knife into the center to make sure it comes out clean before remove. Allow to cool for 5 minutes.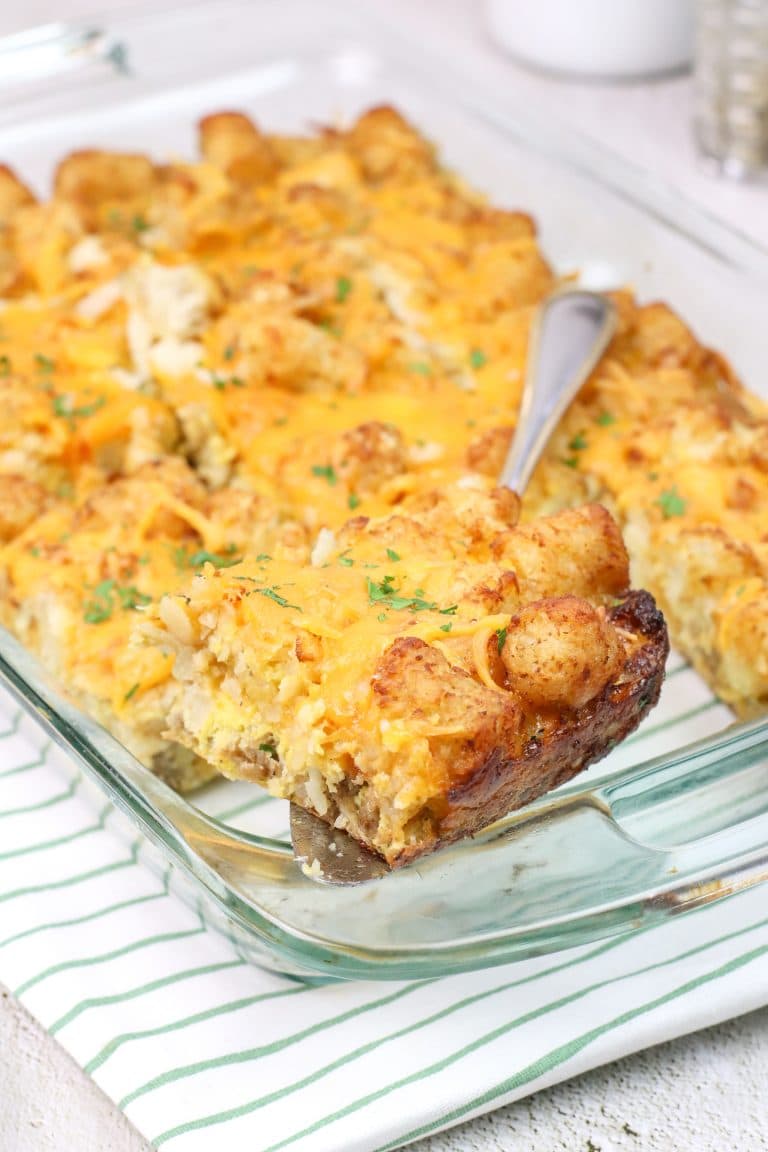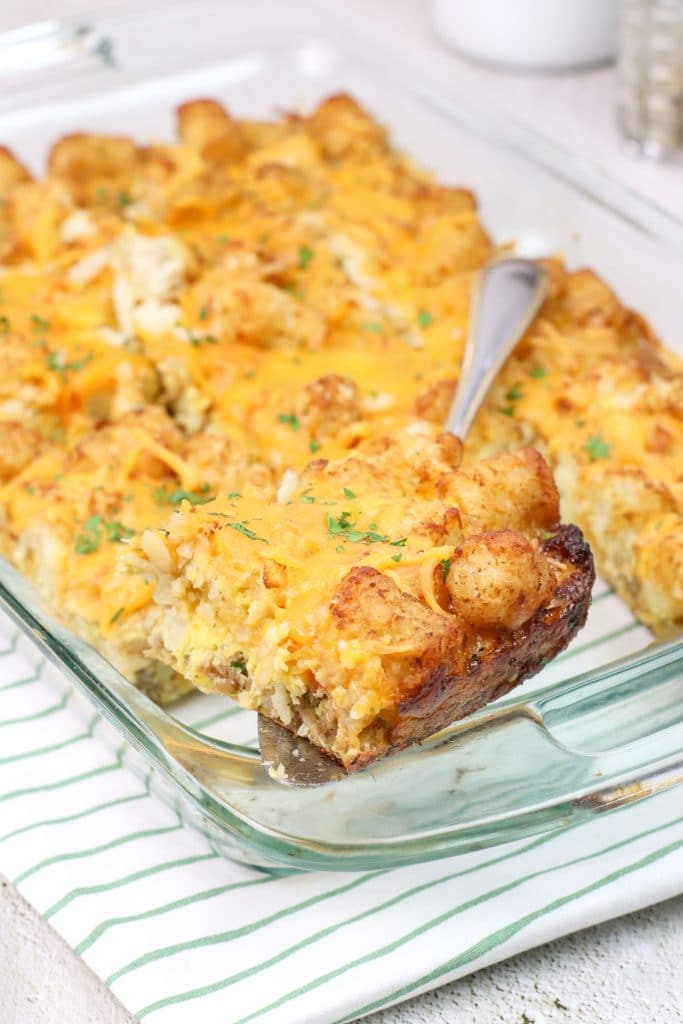 How to make in the Crock Pot
Want to make this casserole even easier?! Make it in your slow cooker! You can easily set this casserole to cook and enjoy when ready without using your oven.
Grease your Crock pot
Cook your sausage and add it to the bottom.
Whisk your eggs, half and half and spices.
Cover the sausage.
Add the cheese.
Add the tater tots.
Cover and cook for 2-3 hours on HIGH or 4-6 hours on LOW.
The tater tots will not get crispy in the slow cooker, otherwise the recipe is the same.
Coffee to pair with this breakfast casserole
This casserole is a full meal on it's own, the only thing missing is your favorite cup of coffee! Some great DIY coffee recipes that go with this casserole are: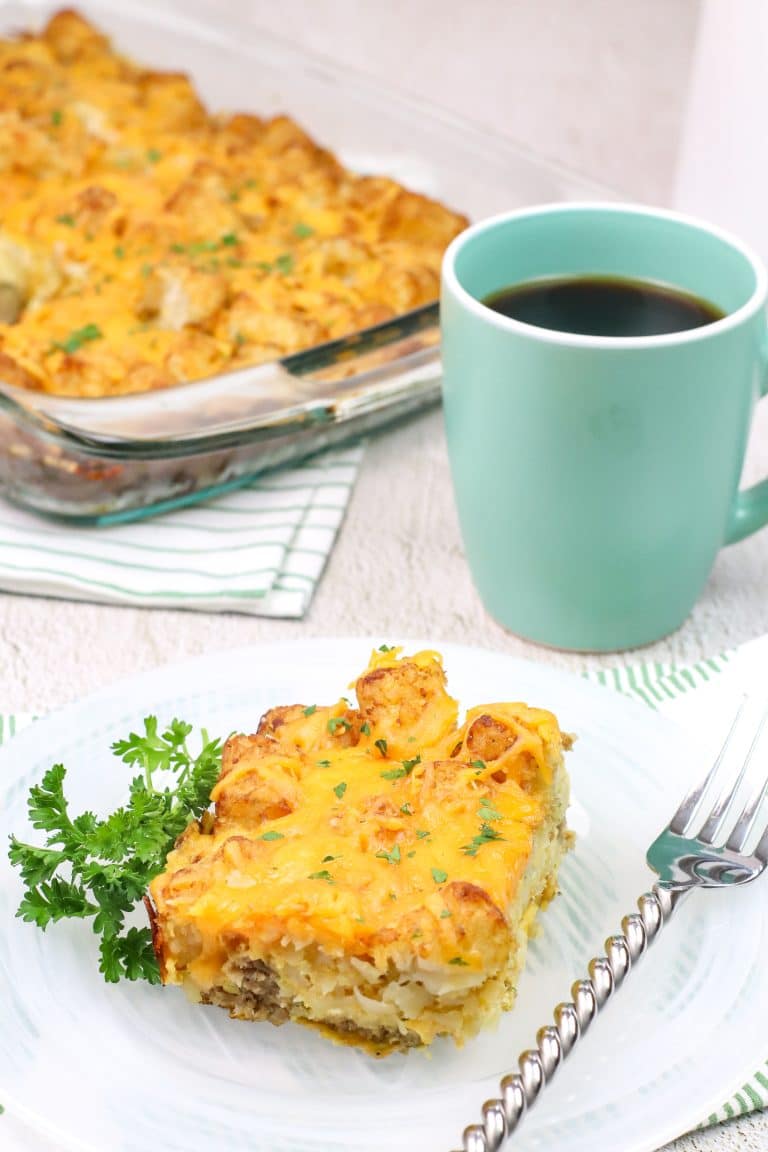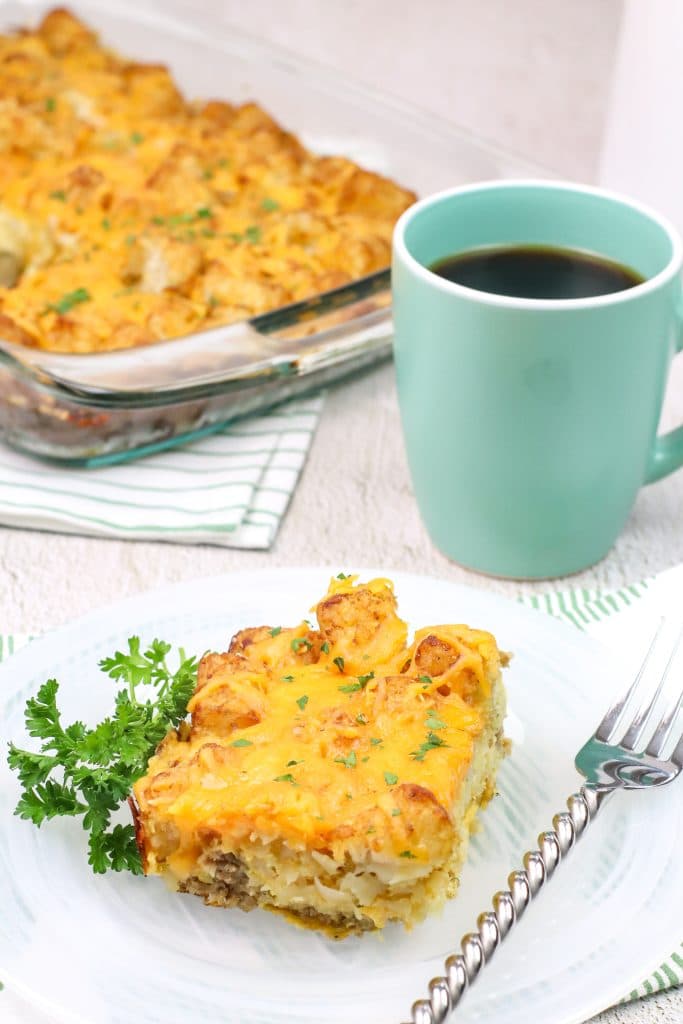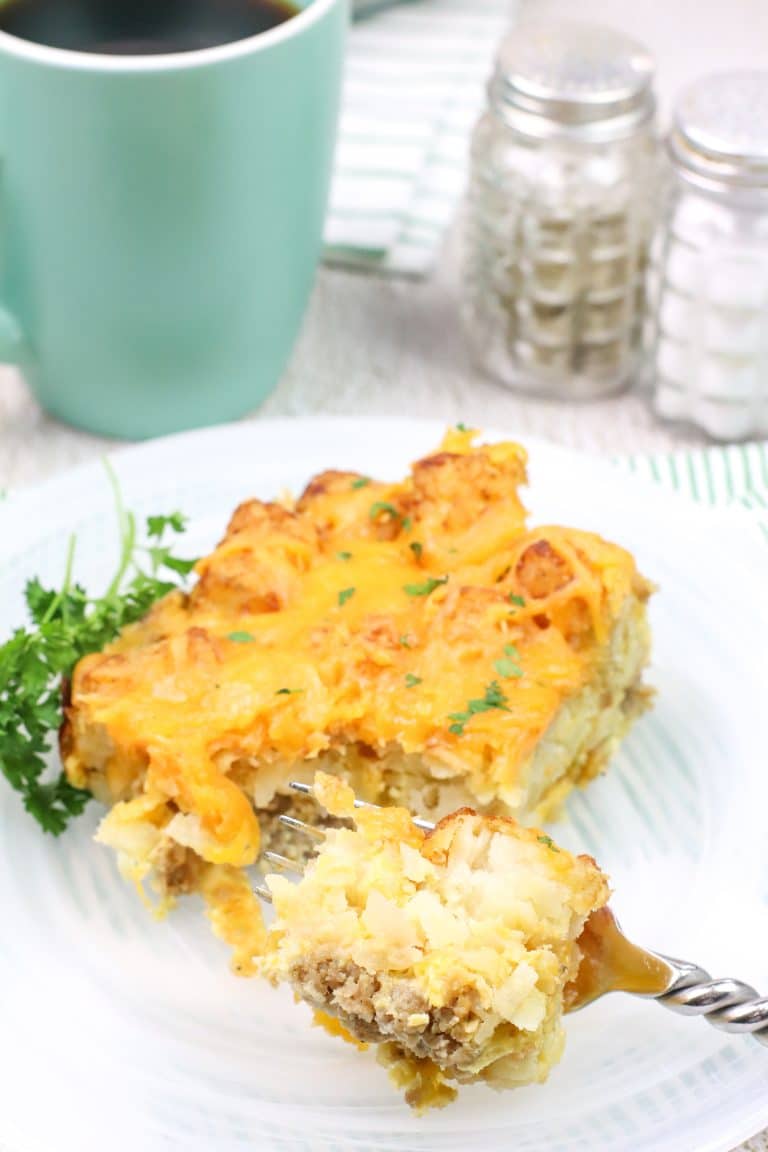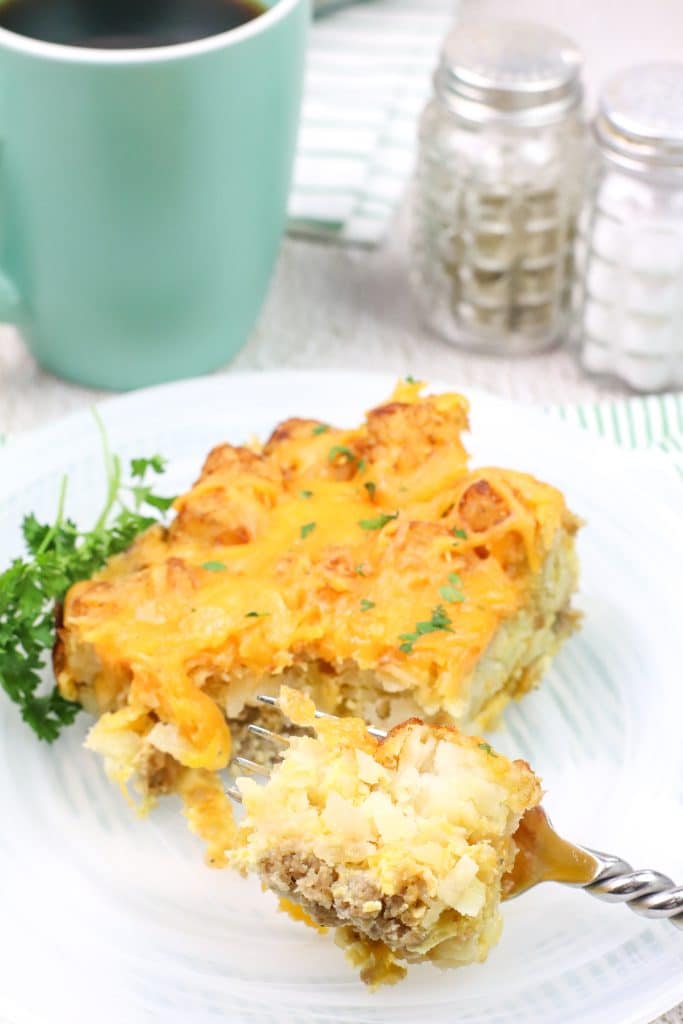 Why is it called tater tot?
The name comes from an employee who made for the first time for a cooking contest. Tater is the nickname for potatoes and tot referred to it's small size. Thus, tater tot was born!
Are tater tots for breakfast or dinner?
The great thing about tater tots is that they are versatile potato that can be used for breakfast OR dinner! They make a great breakfast option, like this casserole, and are requested addition to burger night as well.
How to store leftovers
Wrap plastic wrap or foil over the baking dish and place in the fridge. You can also cut it up and place the pieces in a Tupperware. Reheat in the microwave or in the oven with an oven friendly dish. The casserole will stay fresh for up to 4 days in the fridge.
Can I freeze it?
Yes! You sure can! Prepare the dish as directed and then cover the top with foil before cooking. Place in the freezer for up to 1 month. Remove, allow to thaw and cook as directed.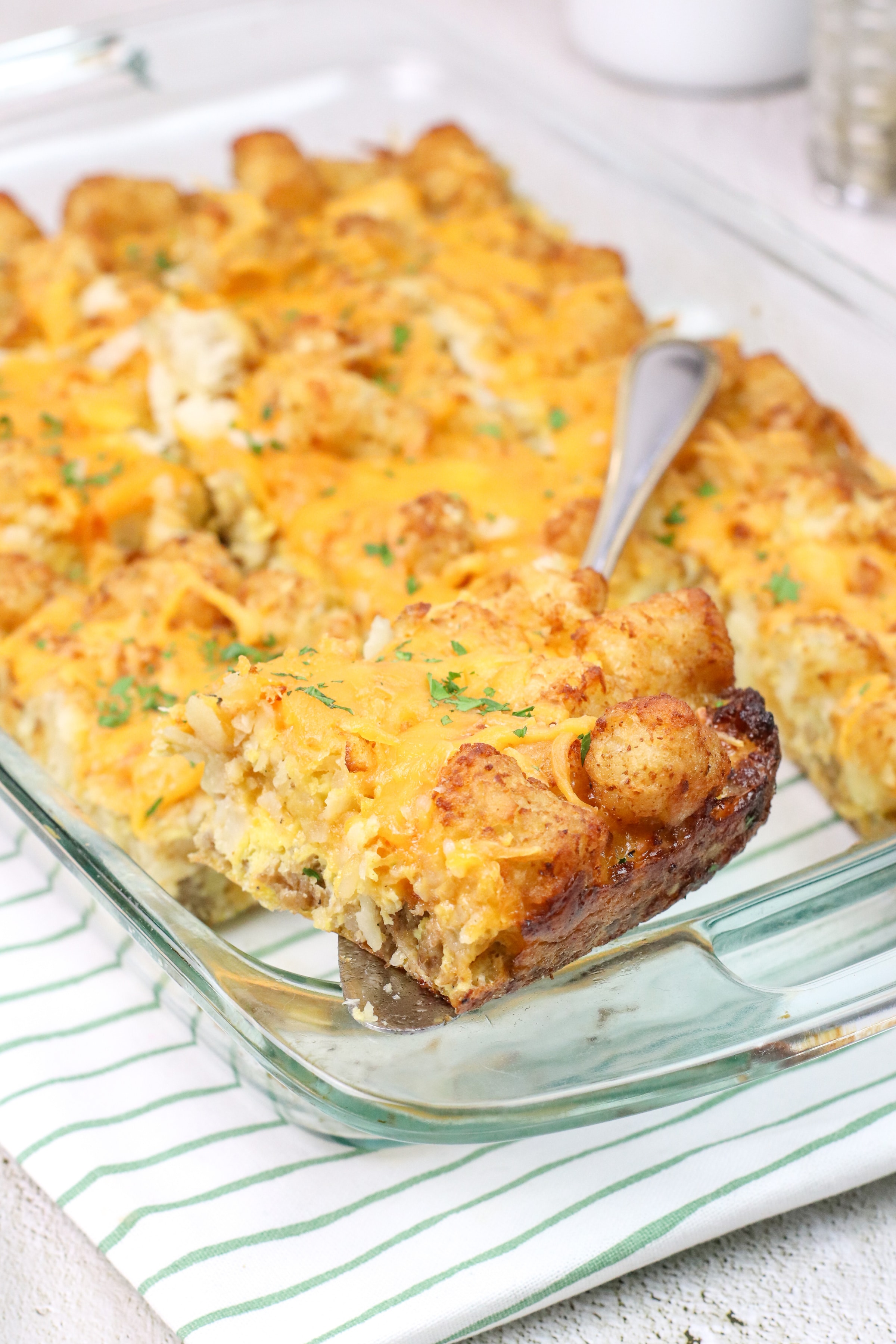 Cheesy tater tot breakfast casserole
Additional Time:
5 minutes
Make this cheesy tater tot casserole for an easy breakfast meal!
Ingredients
1 lb ground breakfast sausage
8 large eggs
3/4 cup half and half
1 tsp garlic powder
1/2 tsp salt
1 tsp black pepper
1 cup cheddar cheese, shredded
1 lb frozen tater tots
Notes
1. Preheat the oven to 350 ℉.
2. In a medium skillet, cook ground sausage over medium heat while breaking into small pieces until no longer pink.
3. Remove skillet from heat, drain grease from sausage and set aside.
4. Grease a 9' x 13' baking dish with cooking oil spray. (Glass works best.)
5. Spread the crumbled sausage in an even layer over the bottom of the baking dish.
6. In a medium bowl whisk eggs, half and half, garlic powder, salt and pepper until well combined.
7. Pou the egg mixture over the sausage in the baking dish.
8. Top with shredded cheese.
9. Place frozen tater tots evenly over the top of sausage, egg and cheese mixture. Do not submerge tater tots.
10. Bake for approx. 50 minutes or until a knife inserted in the middle comes out clean.
11. Remove the casserole from the oven and let it sit for 5 minutes before serving.

Other easy breakfast recipes to try
Need a few other easy breakfast recipes? Some of our favorites are:
Did you make this recipe? I'd love for you to leave a review in the recipe card above or the comments below. Want to make it later? Pin the image below to your favorite breakfast board. THANK YOU so much for the support!