The ultimate comfort cookie!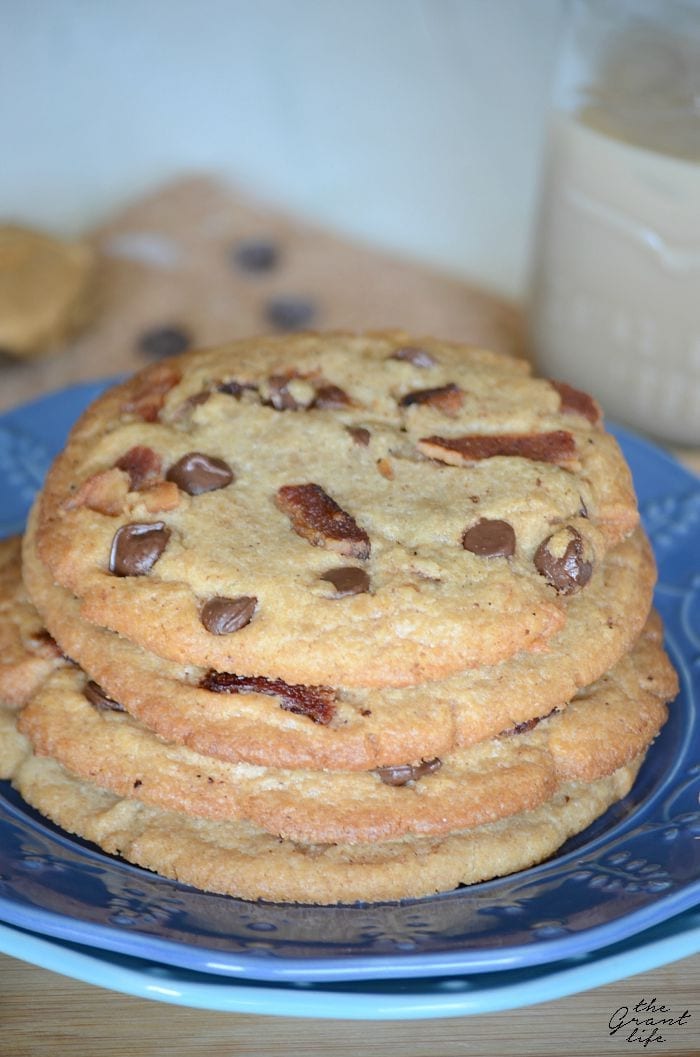 The kids are officially back to school! Yahoo! Monday was their first day back and they were so excited. Even Avery was happy to go back and he tells me he doesn't like school daily. For the past week Ryley has been playing pretend school at home. She fills her backpack, has lessons with Avery and makes a "snack" for them to share. It's really the cutest thing ever.
I missed them after I dropped them off though. I wondered if they were having fun and being nice to their new classmates. I wondered if the teachers thought I was crazy because I forgot Avery's lunchbox and sent his lunch in a plastic bag. I wondered if they were learning anything. And I secretly wondered if I should keep them home all to myself and homeschool them.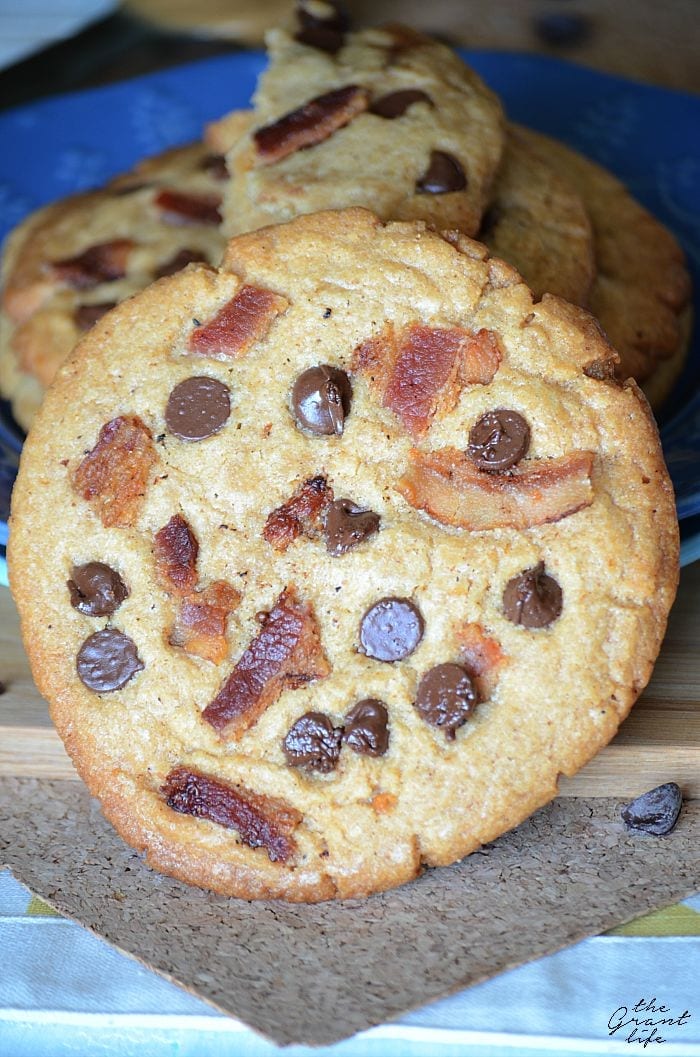 I'm not sure why I always come back to that thought. I know they are in capable hands at their school. I know they love being around other kids. I know I get frustrated far too easily to even really consider it. But I still think it and wonder. I love having the kids home and I love when they are having fun at school. I'm just a hot mess of emotion when it comes to schooling really.
I picked them up and they of course had a great day. Avery was covered in sweat from playing and Ryley didn't want to leave yet. (And no one said anything about the plastic bag lunch.. soo yea.) I just don't know why I'm so torn by the homeschool/traditional school thing. Is that normal? Do all moms secretly wish they could homeschool? Or am I just crazy? Ugh. You don't have to answer that last one.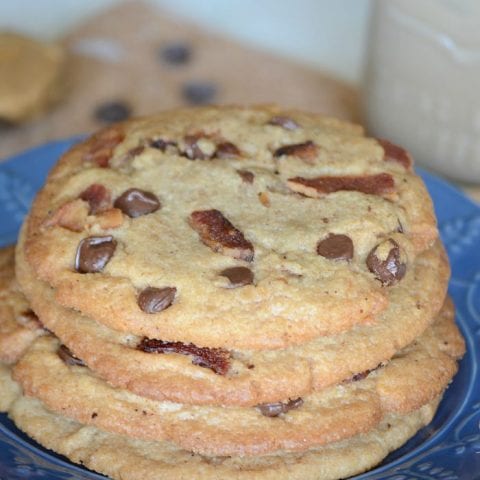 Peanut butter bacon cookies
Ingredients
1 cup butter, softened
1 cup peanut butter
1 cup sugar
1 cup brown sugar, packed
2 large eggs
2 1/2 cup flour
1 teaspoon baking powder
1/2 teaspoon salt
1 1/2 teaspoon baking soda
1 cup chocolate chips
3-4 slices of thick cut bacon, cooked and chopped
Instructions
Preheat the oven to 375 and line a cookie sheet with a silicone baking sheet.
Cream the butter, peanut butter, sugar and brown sugar until fluffy.
Add the eggs one at time, beating in between.
Sift together the flour, baking powder, baking soda and salt.
Slowly add it to the peanut butter mixture and combine. Dough will be thick.
Mix in the chocolate chips.
Chill for about an hour in the fridge.
Remove and make tablespoon size balls with the peanut butter dough. Add a few pieces of chopped bacon on top.
Bake for 10-12 minutes, or until the edges are golden brown.
Remove from oven and place on a baking rack.
Enjoy!
Ps.. check out the other bacon goodies too!
Heirloom Tomato BLT Salad with Warm Bacon Dressing
Copycat Gordon Biersch House Chips
Giant Peanut Butter Bacon Cookies
Sweet & Salty Chocolate Bacon Bars
Like this post? Be sure to check out these other great recipes: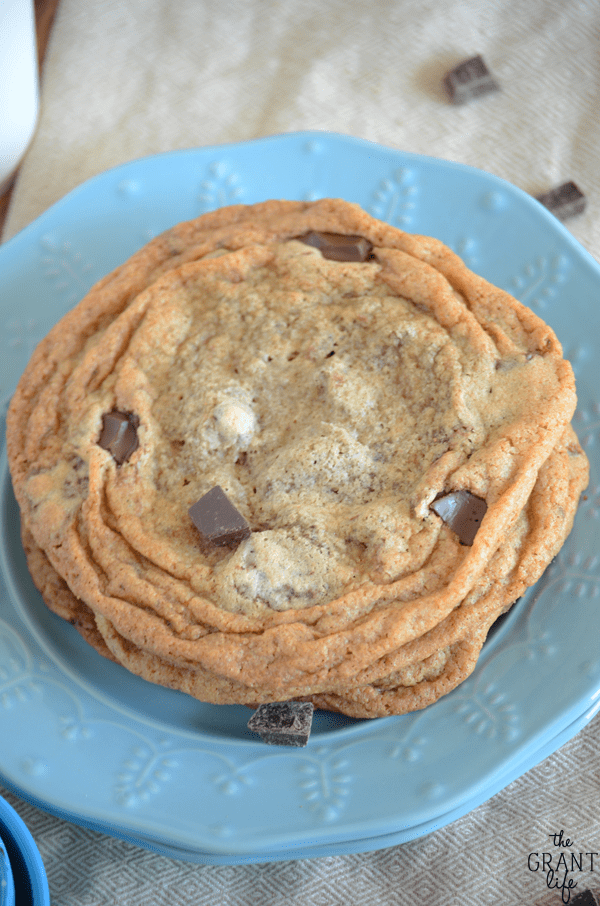 Copycat Starbucks chocolate chunk cookie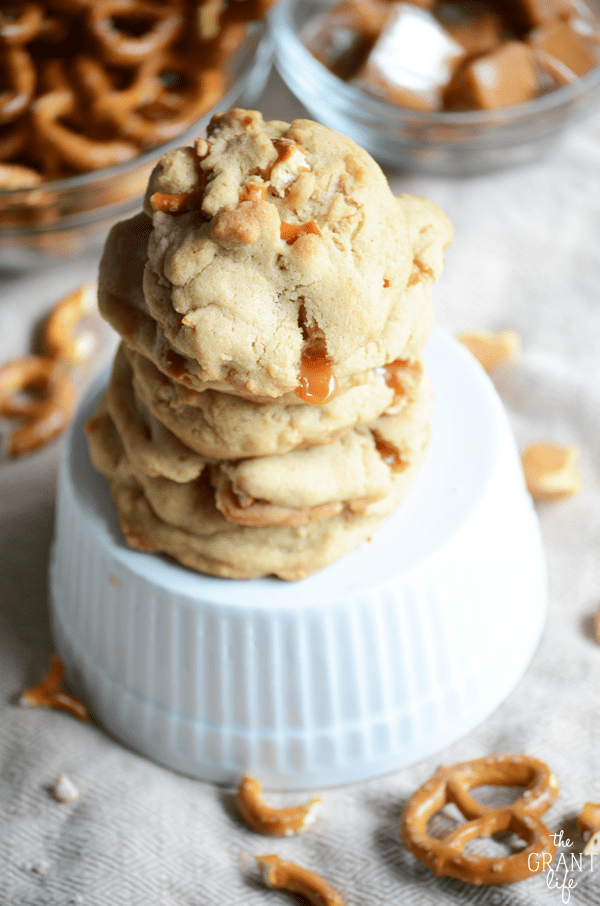 Salted caramel pretzel cookies