Check out how easy it is to make this iced cinnamon dolce latte at home!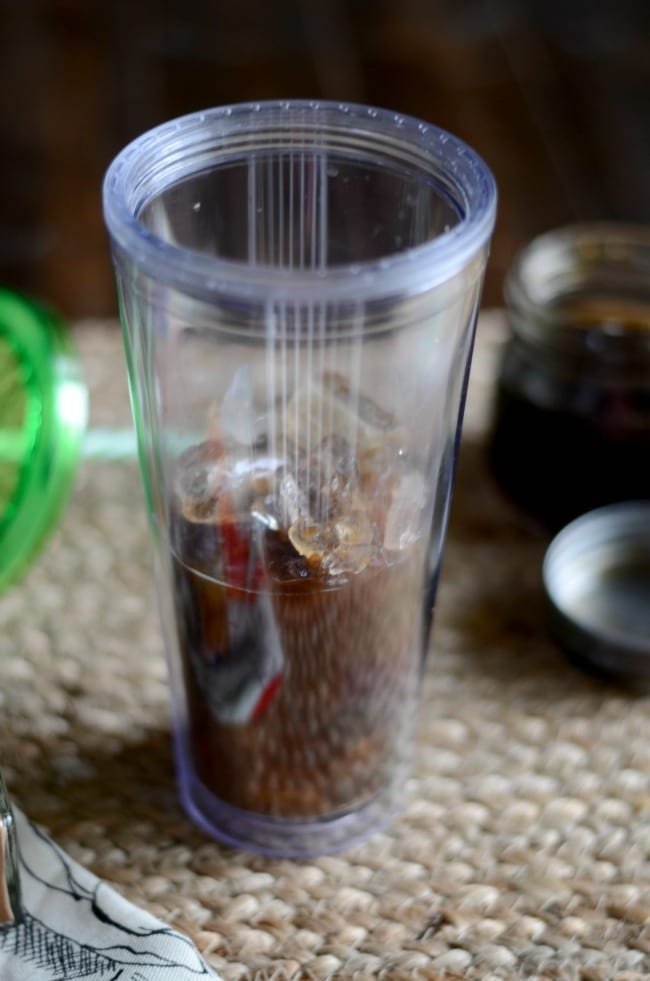 Hey y'all. I know by now that everybody is aware of my love all things coffee. Seriously. Give me all the coffee. I have over 20 different coffee recipes on my site; from lattes to frappuccinos and even how to make your own cold brew coffee.
[Side note – if you want the top five recipes you can snag this free ebook as well]
I'm always looking for new coffee recipes to try so I asked on my Facebook page for suggestions. I had a lot of people tell me that they love the Cinnamon Dolce Latte! I had never tried it before so I promptly drove to Starbucks and bought a latte. Ya know, to test out. I am SO glad I did! I loved it. And of course, I had to come home and recreate in. In my pajamas. (Or maybe I was wearing yoga pants that day.)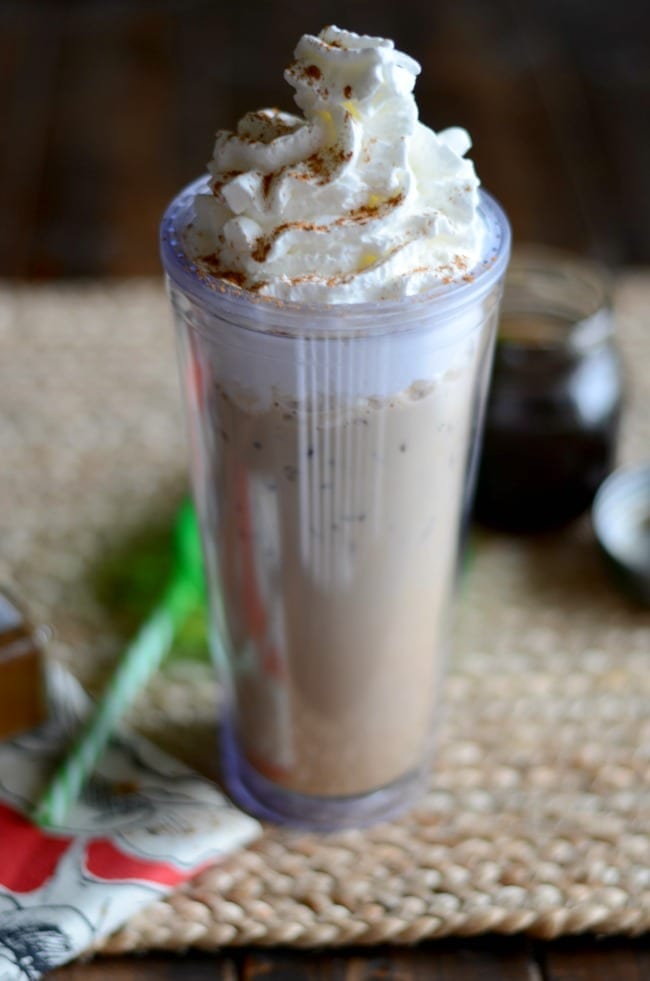 What is an iced cinnamon dolce latte?
The iced cinnamon dolce latte is the cold version of the hot cinnamon dolce latte. That totally answers your question, right? (Insert winky face here.)
An iced cinnamon dolce latte is a yummy espresso based coffee drink with a sweet cinnamon flavor. It combines espresso (or strong coffee) with cinnamon dolce syrup, milk or cream and ice. You can buy this drink at Starbucks or you can make it at home.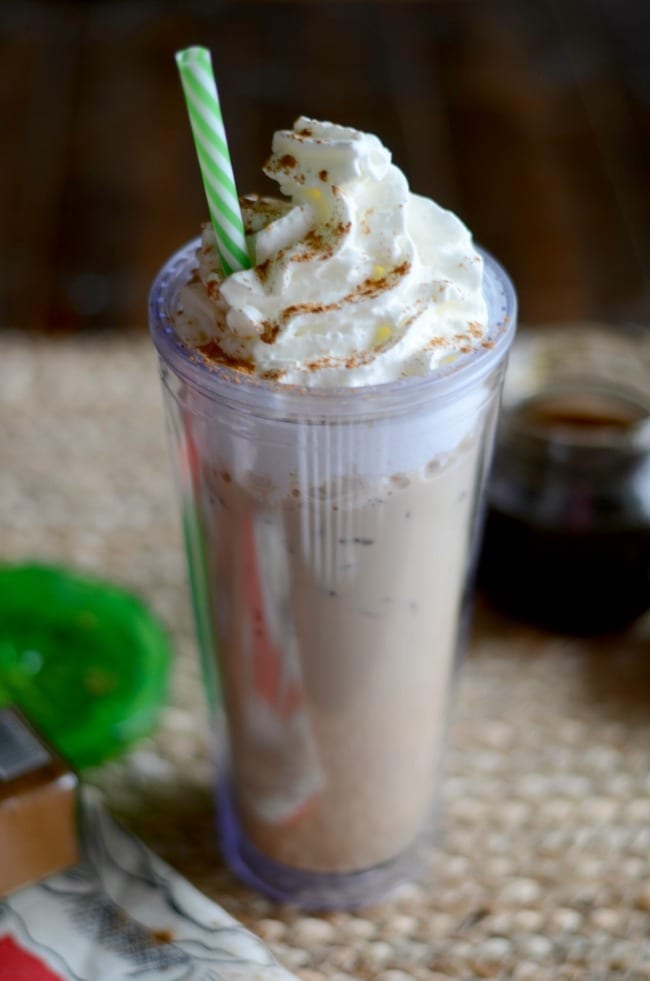 What's in an iced cinnamon dolce latte?
The ingredients needed to make a cinnamon dolce latte are pretty common and once you start making this copycat coffee drink at home, you may never buy one at the coffee shop again. To make this Starbucks copycat iced cinnamon dolce latte you will need:
espresso, strong coffee, leftover coffee or cold brew coffee
milk of choice or cream
ice
whipped cream
ground cinnamon
You can use cold brew coffee for the latte or leftover coffee. I used leftover coffee from earlier in the day but cold brew coffee or espresso work just as well. I prefer to use an instant espresso for iced drinks and enjoy the Medaglia brand.
Feel free to use any milk that you like for this
copycat coffee recipe
. Plain milk works great but I like half and half or almond milk in my iced cinnamon dolce latte.
Whipped cream and ground cinnamon are optional but make a great topping. If you want to go all the way homemade then try
homemade whipped cream
! It's way easy to make and only uses a few extra ingredients. Again, store bought is perfectly fine and just as delicious.
Tips on making a Starbucks copycat cinnamon dolce latte at home:
Use good coffee or espresso. Day old coffee does work as long as it's good quality. Instant espresso even works well with this recipe.
Use a quality syrup. You can make your own using my favorite cinnamon dolce syrup recipe or you can use store bought syrup.
Make sure your coffee or espresso is room temperature or colder before making your drink.
Enjoy!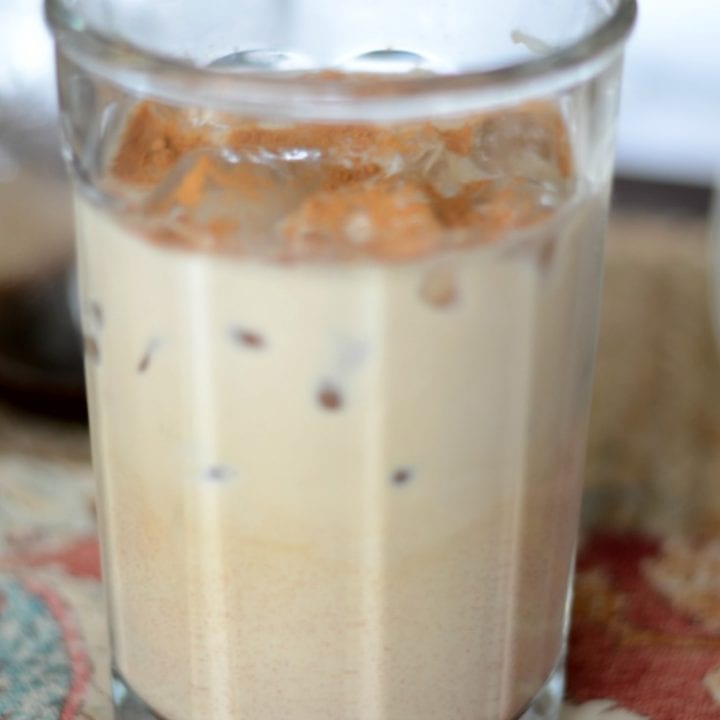 Iced cinnamon dolce latte
Ingredients
1 cup of cooled coffee or cold brew
1 cup of milk
whipped cream, for topping, optional
cinnamon, for topping, optional
Instructions
Pour the cinnamon dolce syrup in a mug, add the coffee and stir. Pour in the milk and add the ice.
Top with whipped cream and ground cinnamon, if desired.
Enjoy!
Want even more coffee? Sign up for a FREE coffee e-book!
Like this recipe? Be sure to check out: