This cheesy bacon breakfast casserole comes together in under 30 minutes and is filled to the brim with cheese and bacon!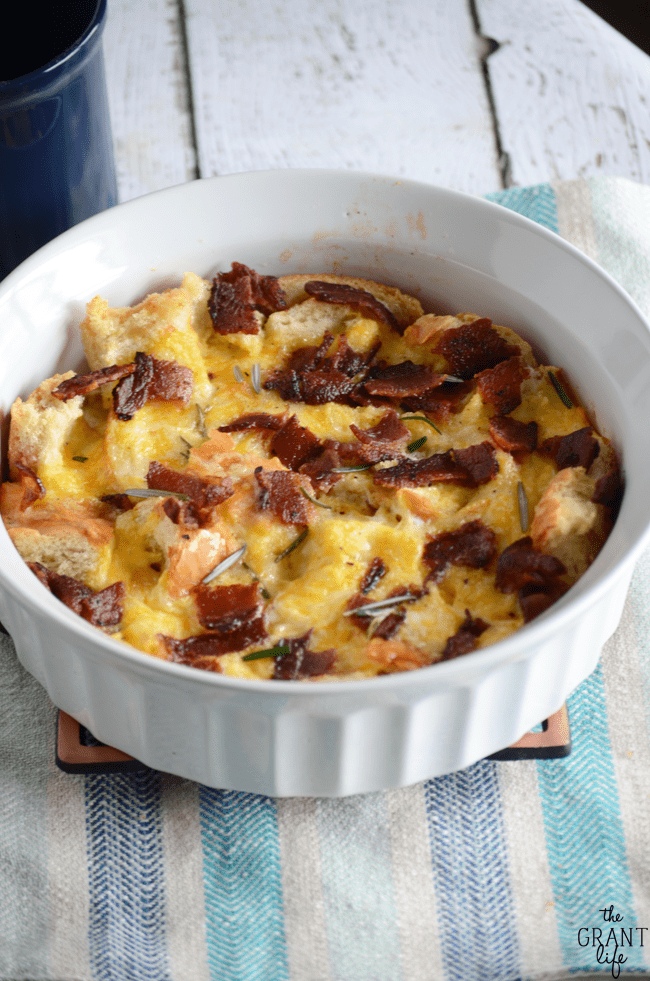 We had our friends come over this past weekend for dinner. Well, brenner. I made them breakfast for dinner. Which is really the best kind of dinner if you ask me. I made this cheesy bacon breakfast casserole, some super fluffy pancakes with raspberry sauce and cappuccino cream cheese brownies. They asked if they could bring anything I told them nope – I got this.
But my bestie brought stuff for mimosas. So there was that too.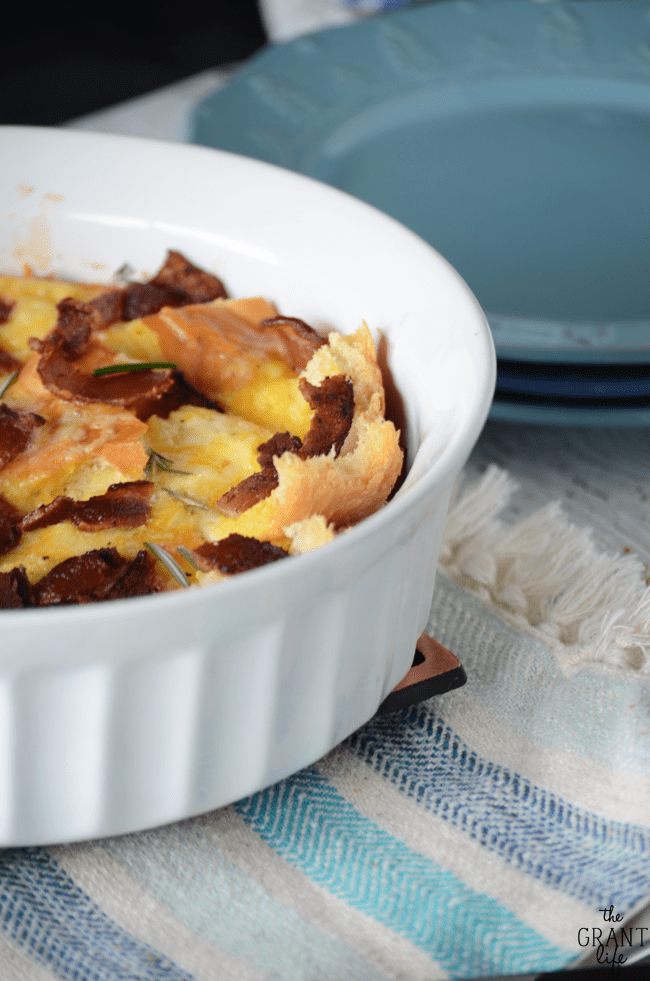 And I have to confess something – I had never made a breakfast casserole before this weekend. Whaaa?? I know! And holy cow batman, I have been missing out on some super easy and delicious breakfasts.
Out of everything I cooked, this casserole was by far the easiest part. You literally toss everything together and bake it. And if you want – you can toss everything together the night before and bake it in the morning. And if you can't tell – I am totally 100 percent sold on breakfast casseroles. There will be more in our future.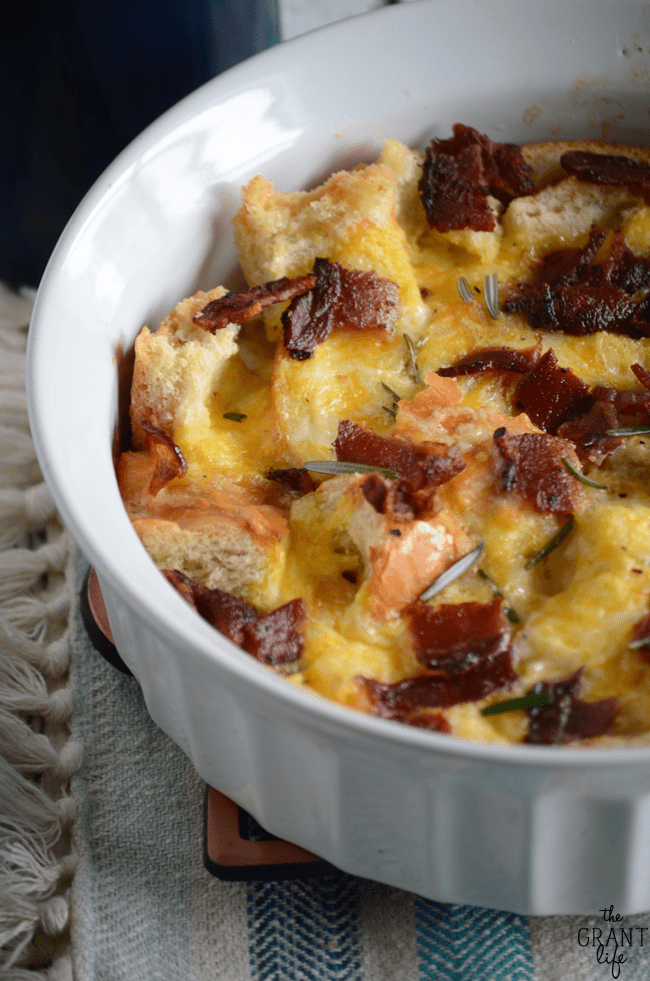 And I have another secret – I had them come over so I could cook a few new recipes for the ole blog. Who does that?! Well, me apparently. I love [love!] creating new recipes but sometimes I have this twinge of guilt because we don't always eat the whole thing. I don't like to waste food. Not at all, not even a little bit.
I told them of my evil genius plan to have them over solely to cook for them and share recipes with yall, and they were totally ok with that. They told me that I can use them as taste testers anytime. And they better mean that because I will be a-callin'.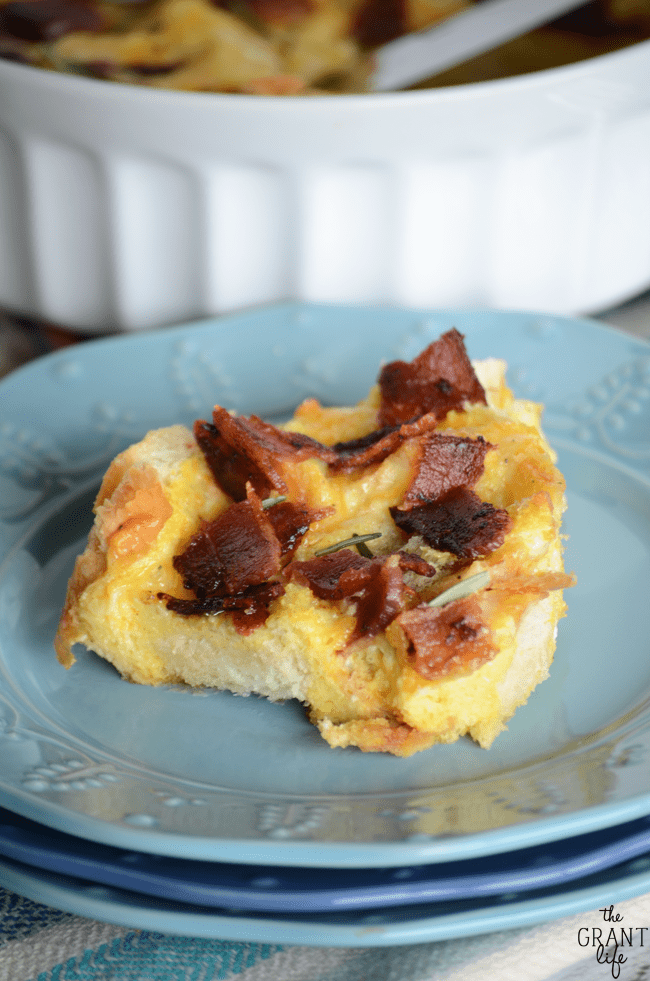 And out of the 3 new recipes I tried – I think this may have been the biggest hit. It had the least amount left over after everyone left. There was one single serving available and I gladly re-heated it for breakfast. Oh and I should mention I made a double batch of this casserole. Two casserole dishes and only one slice left.
And the answer to the question I know you are wanting to ask is yes. Yes it does re-heat perfectly and taste amazing the next day.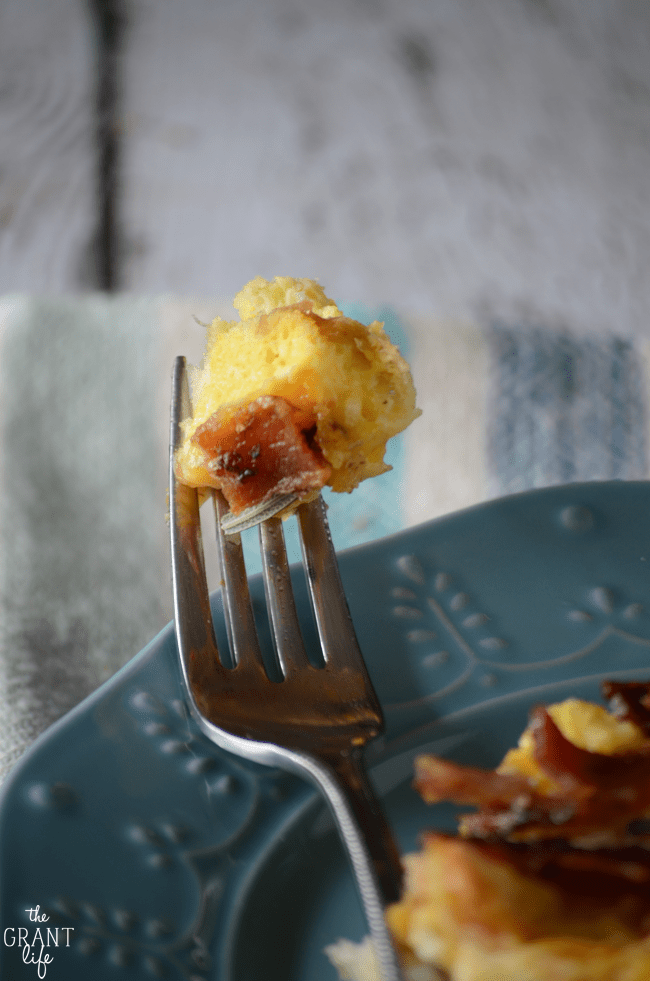 Anyhoo, if you want to give this cheesy bacon breakfast casserole a try – go for it! It was taste tested by some of my best friends of over 15 years. And you know that friends like that do NOT have a problem telling you the truth.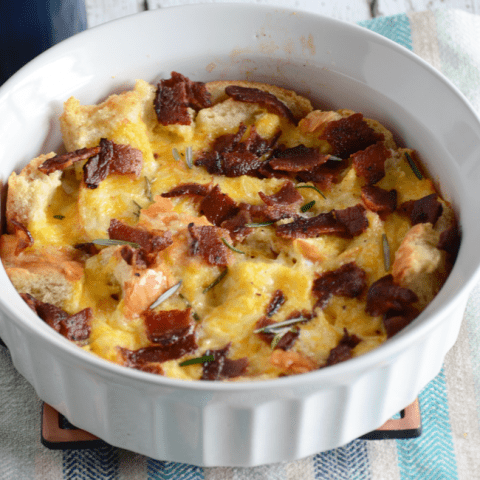 Cheesy Bacon Breakfast Casserole
Ingredients
1/2 loaf of French bread, day old works great!
6 eggs
1 1/2 cup of cheese
1 cup of milk
3ish slices of thick cut bacon, cooked and chopped
salt and pepper to salt
rosemary or other herbs for topping
Instructions
Preheat the oven to 350.
Spray a baking dish with cooking spray.
Break the bread into cubes and place them in the baking dish.
Whisk together the eggs, milk and cheese plus the salt and pepper.
Pour over the bread and allow a few minutes to absorb. Add the bacon last.
Bake for 25-30 minutes, or until the eggs are set and the bread crisp.
Remove, add the fresh herbs and enjoy!
Like this recipe? Be sure to check out:
And sign up for our recipe updates! I'll send fresh hot recipes (like this one!) right to your inbox!