This New York style coffee cake is best served with a cup of coffee and glass of milk.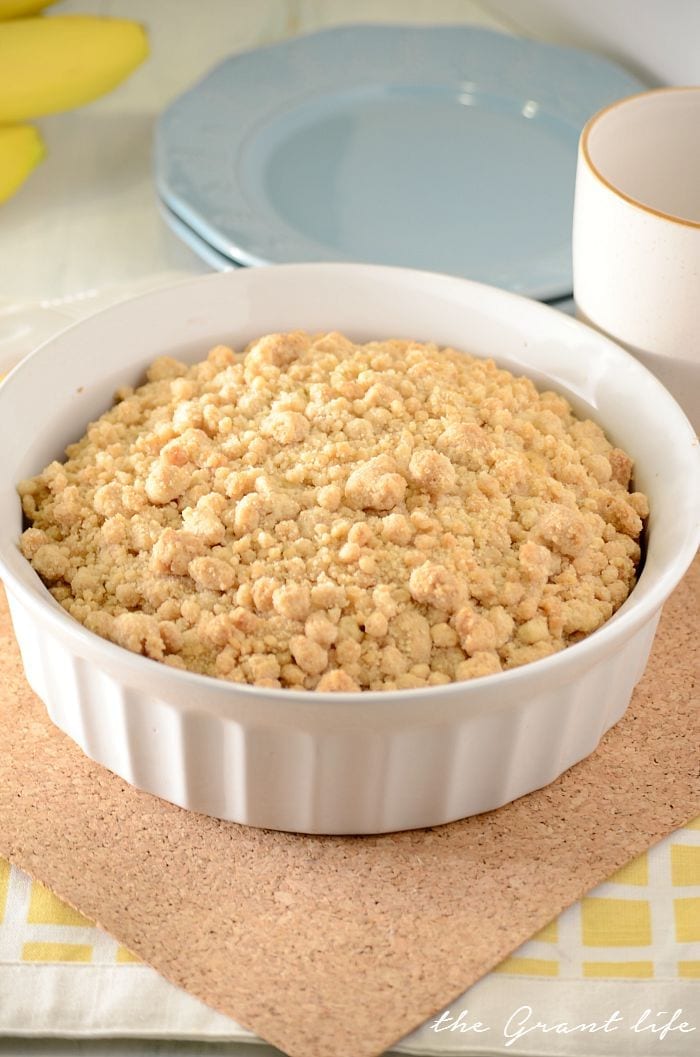 Oh my gosh. I don't even know where to start. Deep breath. Ok. Wooosaw. A month ago (ONE MONTH!) we took in a stray dog that was hanging outside out house. She was super cute and fit in well with the other dogs. She had a bad hip and we took her to the vet to have it checked out. After doing an x-ray the vet said she would probably need surgery because it was so bad.
Ok. We can do that. Surgery scheduled. Shots given. Going on with our happy little life.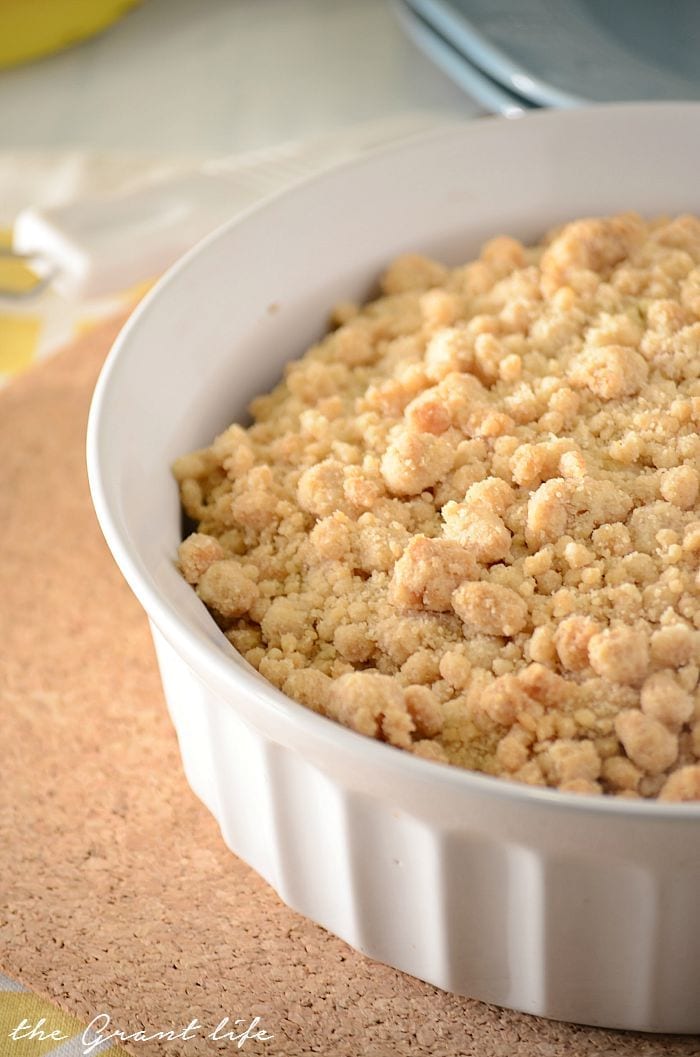 I took her to the vet to have her surgery and one of the assistants commented that she was kind of pudgy. I said yea, she was a stray and has been eating a lot but my husband thinks she might be pregnant. Everyone looked at her and shook their heads yes. Yes, she is pregnant.
WHAT THE WHAT! No. No. She has just been eating really, really, really well.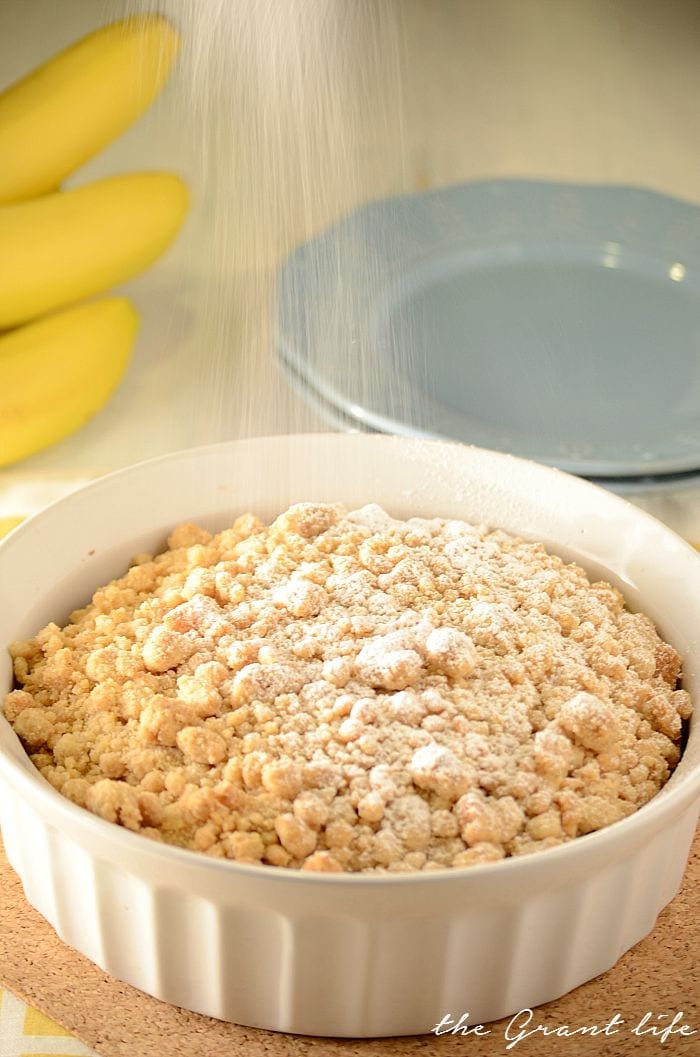 The receptionists kind of snickered (not in a mean way) when I walked out with Penny. (The pregnant stray with a bum hip.) They didn't feel comfortable doing surgery on her since she was with puppy. Or puppies. We didn't know how many or what kind at this point.
Oh and I had to carry the dog out because she doesn't like the leash. They may have been laughing at that too.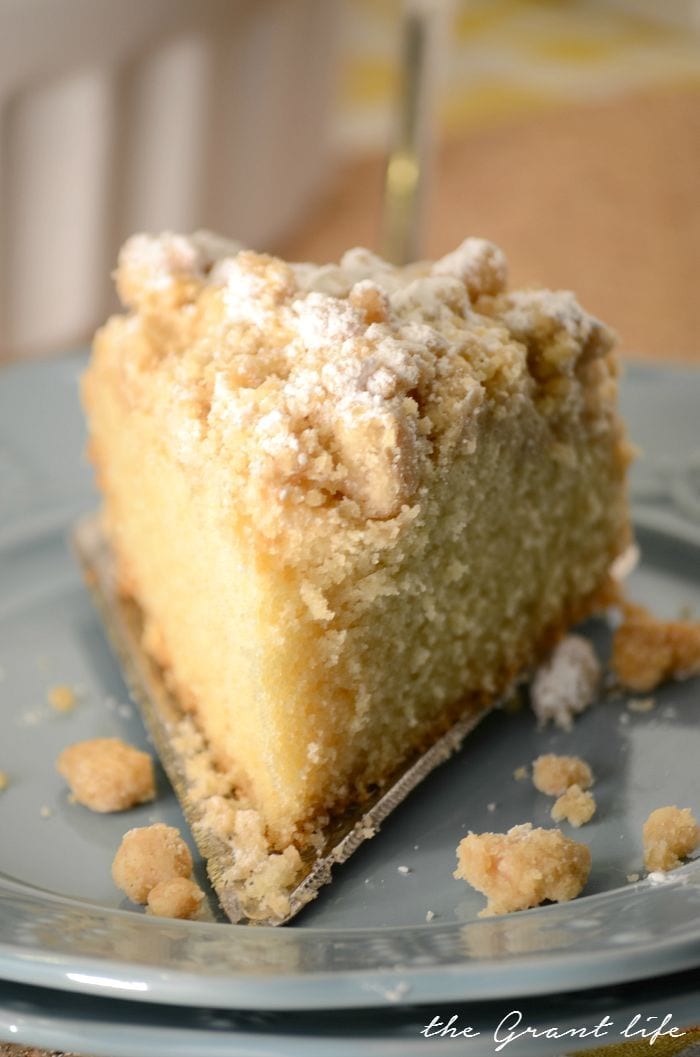 They gave me a sheet on what to expect when you are expecting puppies and we went on our merry pregnant way. (The dog, not me.)
I should have taken a video of my poor little pup with a bum hip and huge belly. When I let her out she would venture off a bit and then come running back in. Running. On 3 legs and with her belly swinging from side to side. It was super cute.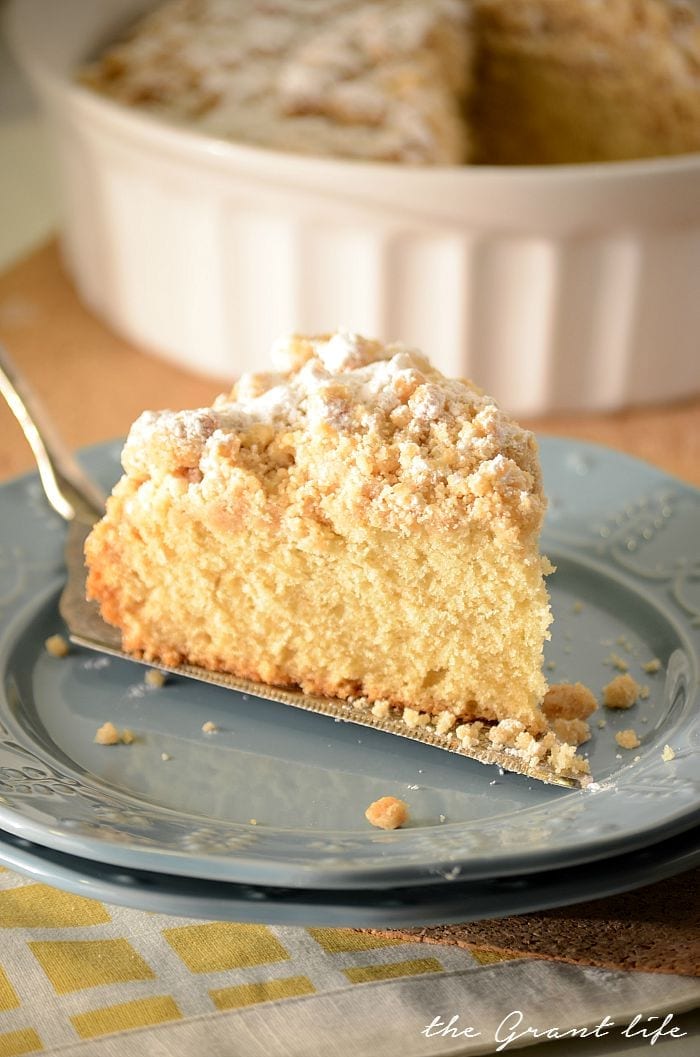 And then 10 days after our faithful vet visit, she had her puppies. I came home to one in the hallway looking for its momma. I picked it up and put it back with momma. I looked in her little nook area (she had created a little nest in the bottom linen closet the day before) and there were 2 more babies. Three! She had three puppies!
Oh how silly of me to think she was done. Her belly was HUGE and the puppies were so small.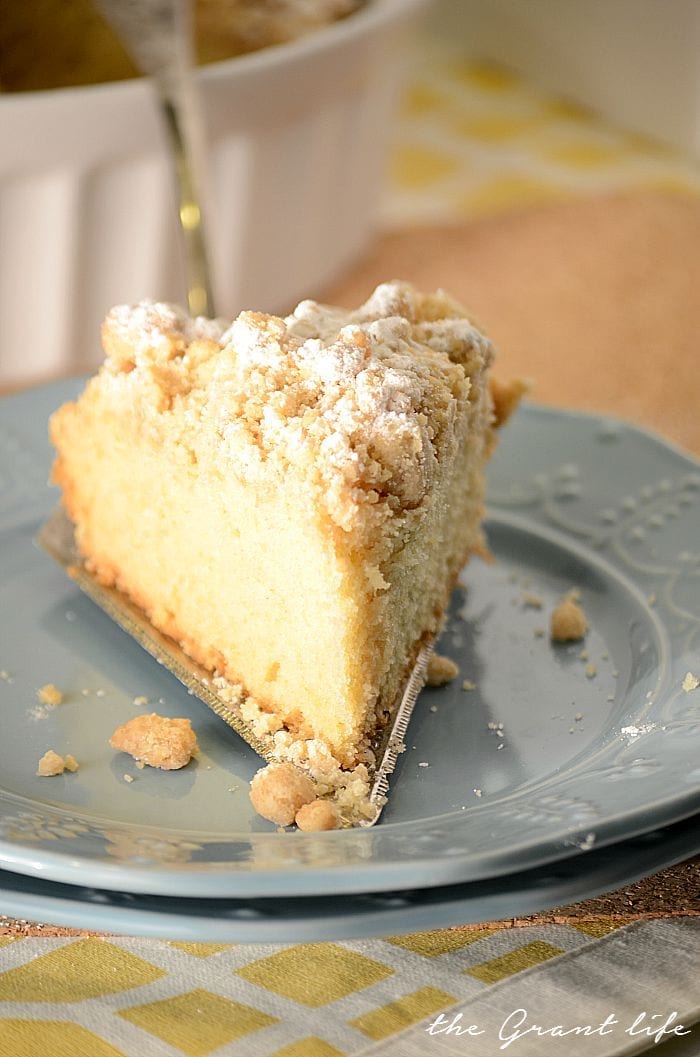 Yall. Sit down. And don't have any sort of drink or beverage in your mouth. Because she had EIGHT puppies. EIGHT! (Sorry if you spit out your coffee. I totally understand.) The kids and I even got to watch one being born.
EIGHT! They are the cutest little things. Ryley asked "Can we keep Penny and all her puppies momma?" Oh honey. I don't think we have the room or sanity for ELEVEN dogs. HOLY COW. I have eleven dogs right now. I need to change the beginning of this post and say drink with a double shot of whiskey. (Side note – anyone want a puppy in a few weeks??)
Whatever you drink with this New York style coffee cake you are in a for a treat. The crumb topping is oh so delicious and the cake itself is super moist. It's worthy of your finest coffee or your best whiskey if your dog just had 8 puppies. EIGHT!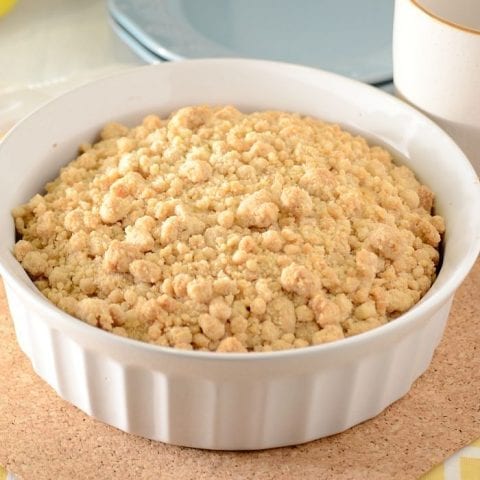 New York Style Coffee Cake
Ingredients
Cake -
1 1/4 cup cake flour
1/2 cup sugar
1/4 teaspoon baking soda
1/4 teaspoon salt
6 tablespoons unsalted butter, softened
1/3 cup buttermilk
1 large egg
1 large egg yolk
1 teaspoon vanilla extract
Crumb -
8 tablespoons melted butter
1/3 cup sugar
1/3 cup packed brown sugar
3/4 teaspoon cinnamon
1/8 teaspoon salt
1 3/4 cup flour
Instructions
Preheat oven to 325. Line a baking dish with foil, allowing it to overlap. Lightly spray the foil with cooking spray.
Mix the flour, sugar, baking soda and salt until combined in a stand mixer or with a handheld.
Add the butter, one tablespoon at a time with the stand mixer running. Mix until the mixture looks like coarse crumbs. (About 1 -2 minutes.)
Add the buttermilk, egg, yolk and vanilla until light and fluffy. Scrap the bowl as needed.
Transfer to the prepared pan.
Prepare the crumb topping by mixing the melted butter, sugar, brown sugar, cinnamon and salt. Slowly add the flour until a sort of dough forms.
Take the crumble and using your hands bread up the pieces over the cake batter. Make them about pea size and spread them evenly over the cake.
Bake for 35- 40 minutes or until crumbs are slightly browned and center comes out clean. Rotate the pan halfway through cooking.
Allow to cool on a wire rack and dust with powdered sugar before serving.
Enjoy!
If you liked this recipe be sure to check out:
And sign up for our recipe updates! I'll send new recipes plus stories about our life right to your inbox!