Do you love grabbing a silky smooth caramel macchiato from Starbucks? Want to enjoy that same coffee for a fraction of the cost? Let me show you how to make a copycat Starbucks caramel macchiato at home. I promise you will fall in love with this easy DIY coffee recipe!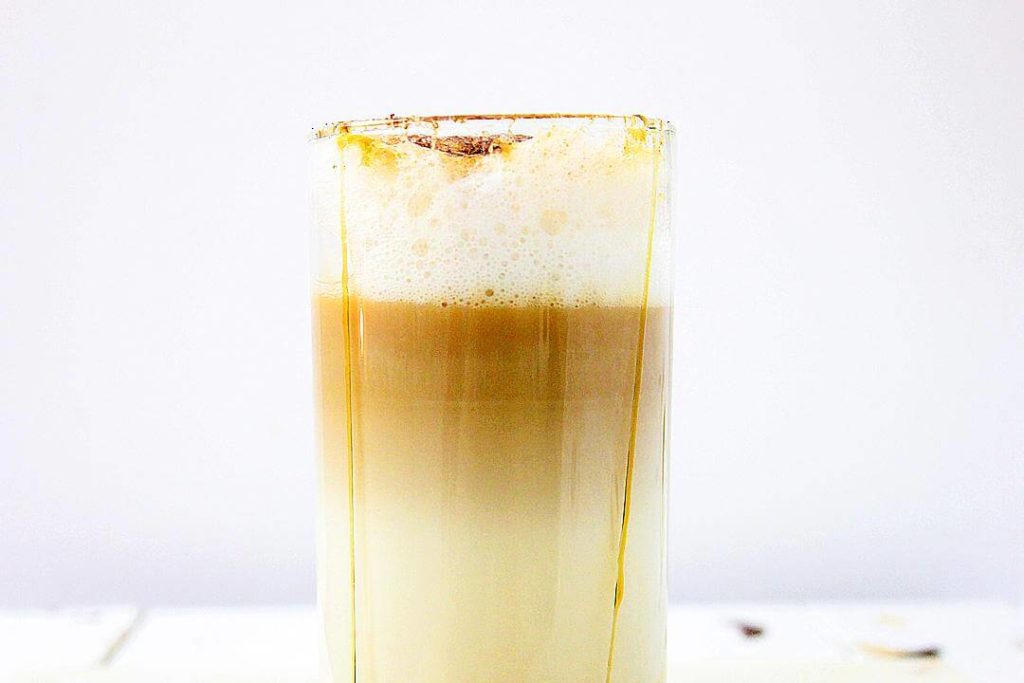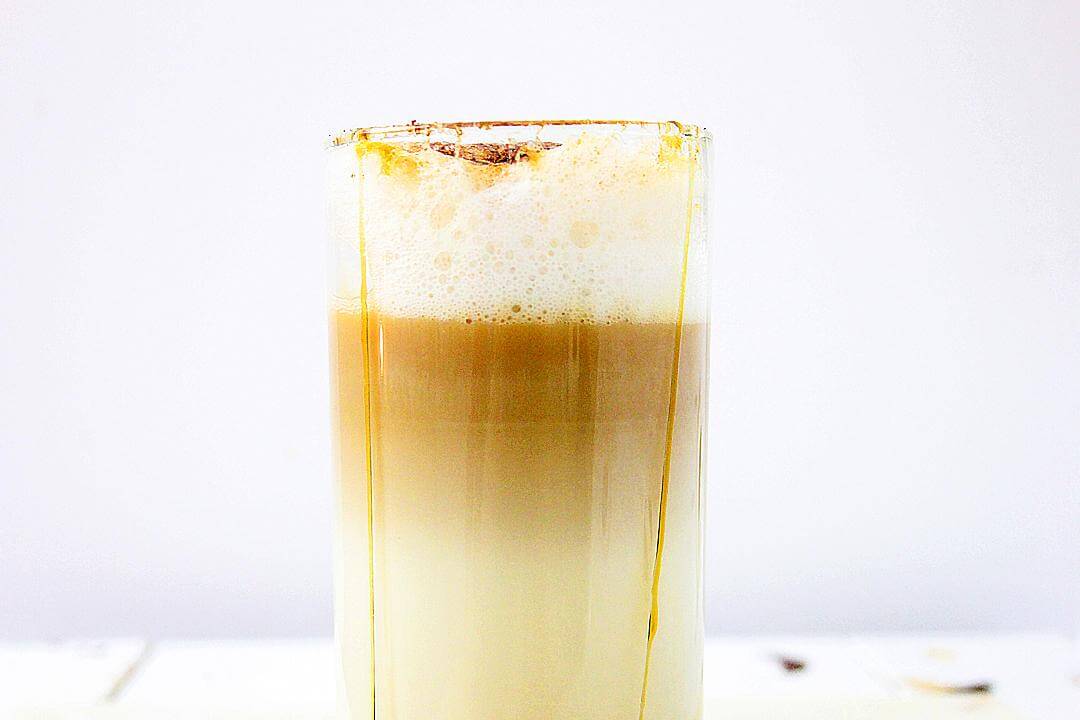 I absolutely love trying new coffee drinks, but tend to be a creative of habit most of the time. I'll try a new drink but then I'll revert back to my old favorites. When I get a chance to run to Starbucks, chances are I will be ordering a classic – like this caramel macchiato.
I'm not going to lie – I do prefer an iced caramel macchiato over a hot one; but there is something about wrapping your hands around a hot coffee that can't be beat. And since I have little ones running around, most hot coffee drinks turn into cold ones eventually. Am I right, mamas?
What is a caramel macchiato?
If you ask for a caramel macchiato at Starbucks, they will know exactly what you are talking about. The baristas probably make dozens of caramel macchiatos a day and know the recipe by heart.
A caramel macchiato is an espresso based drink combined with frothy milk and sweet caramel. Macchiato actually means marked or stained which is what the espresso does to the milk. This version starts with caramel and vanilla, add in your coffee and milk and is finished with caramel sauce and espressso powder for good measure.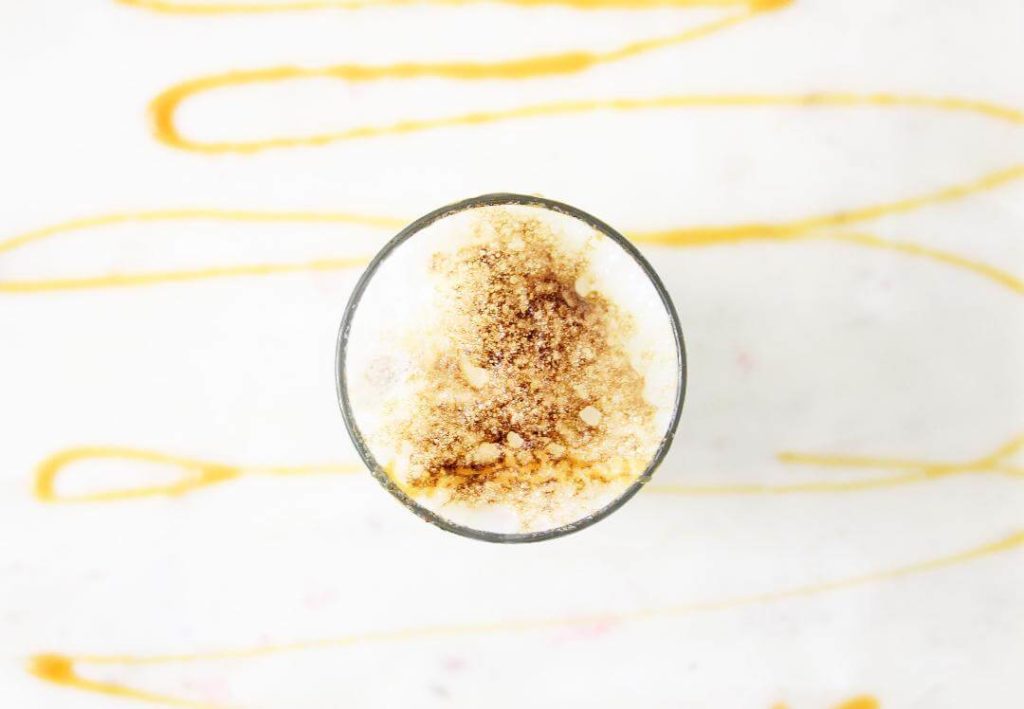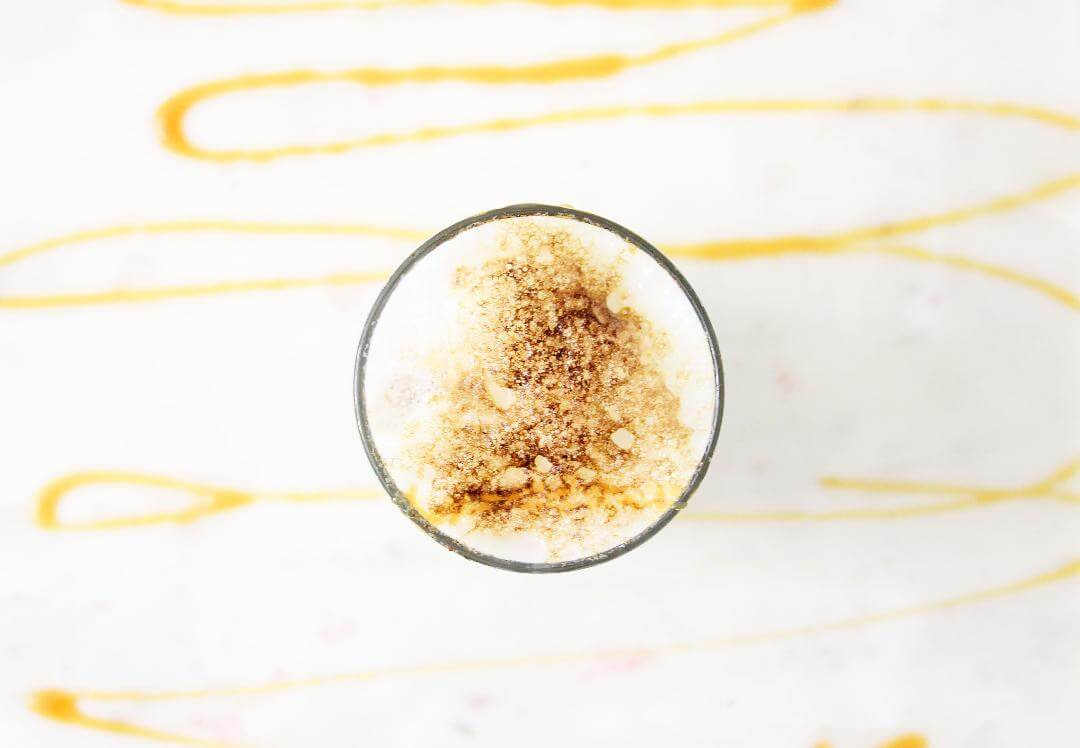 Caramel macchiato ingredients
One of the best parts about this DIY coffee drink is that the ingredients are super simple. No need for a fancy espresso maker here, strong coffee will do the job. To make this Starbucks caramel macchiato recipe at home you will need:
caramel sauce
vanilla syrup
espresso or strong coffee
milk
When it comes to the caramel sauce and the vanilla syrup, I like to use homemade. Both are super easy to make at home and great to have on hand when making copycat coffee drinks.
If you have an espresso machine, use espresso to make this caramel macchiato. If you don't, you can use instant espresso or a good strong coffee. I prefer to use a blonde roast for my macchiatos because it gives the drink a mild, smooth flavor.
You can use any type of milk for this drink. If you are dairy free – an almond or coconut milk work great in this recipe!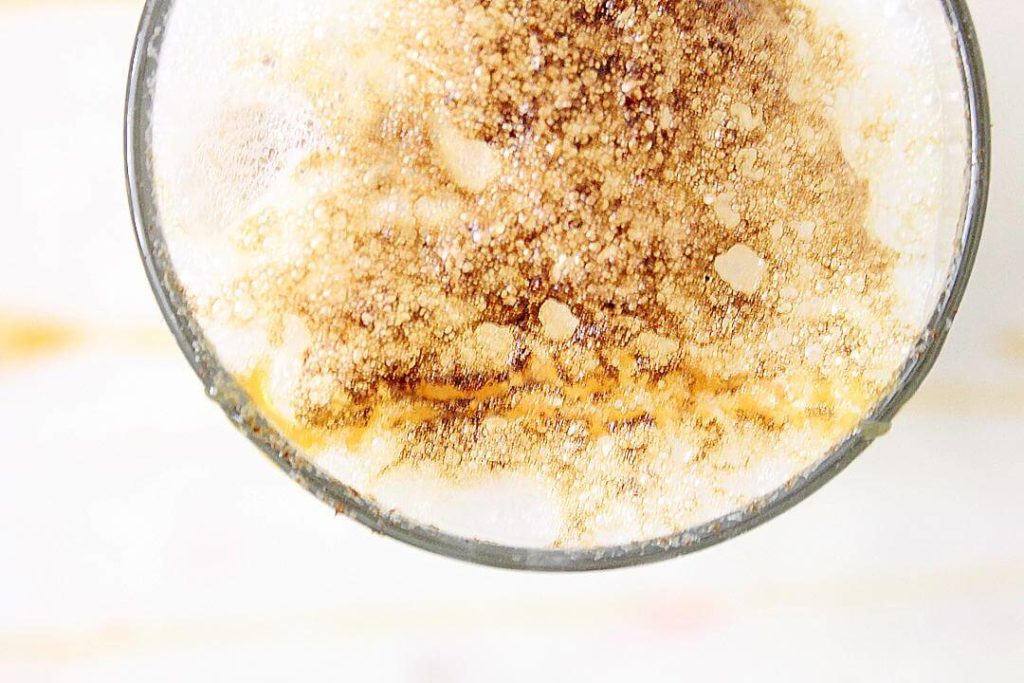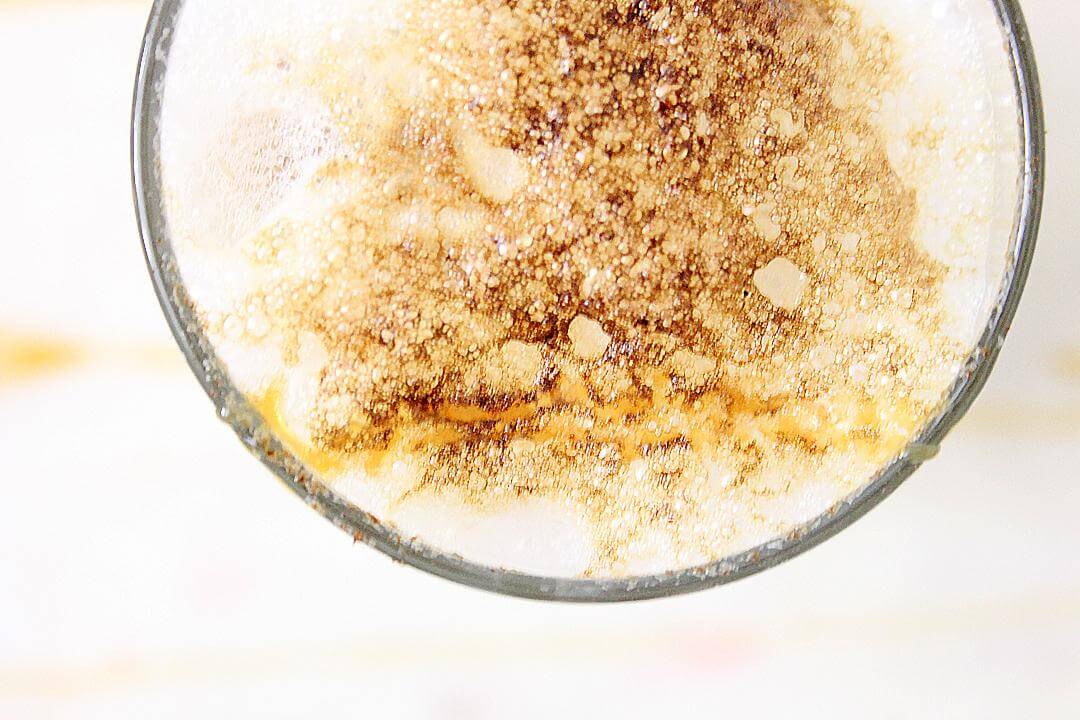 Starbucks caramel macchiato recipe
Once you have your ingredients gathered you will also need to grab a glass and a spoon. Like I mentioned, you can use your espresso maker for this recipe if you have one. If not, it's easy to make with instant espressso or hot, strong coffee.
Start by placing your vanilla syrup and caramel in the bottom of your glass. Brew your coffee or make your espressso shot and pour it over the vanilla/caramel mixture. Stir to combine.
To make the frothed milk you can either use the milk frother on your espressso machine, use a portable milk frother or use milk that was heated on the stove top and frothed by hand. Pour the frothed milk over the coffee mixture. You can stir to combine if you'd like, but I enjoy the layers separate.
You can leave your caramel macchiato plain, or you can top it with whipped cream, caramel and a dash of instant espresso. Or any combination of the three.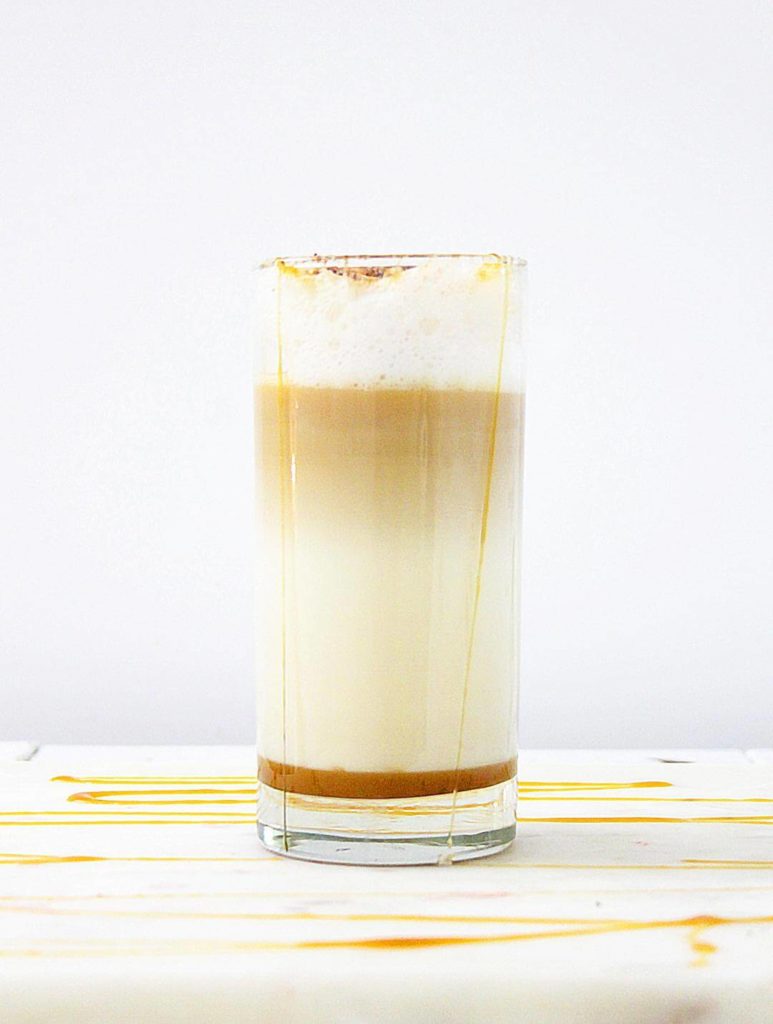 Tips for making this caramel macchiato at home
No espressso maker required! Hot, strong coffee or instant espresso work great in this recipe.
You can use any milk that you prefer. Want it dairy free? Use almond or coconut milk!
No fancy milk frother required either. You can use a portable one or just froth the hot milk with a whisk.
The better the quality the ingredients, the better your copycat caramel macchiato will turn out!
Want an iced version? Check out my iced caramel macchiato recipe!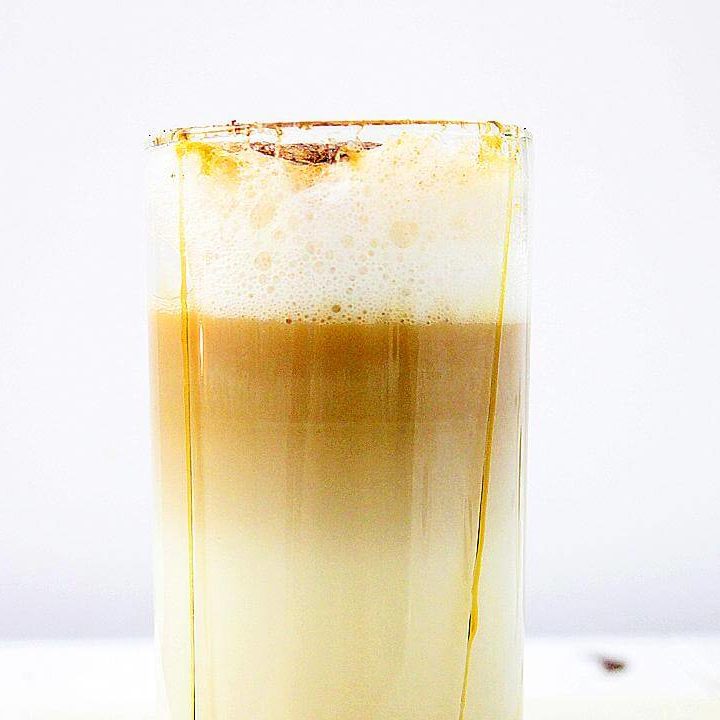 Starbucks caramel macchiato recipe
Ingredients
12 ounces of milk of choice
2 Tablespoons of vanilla syrup
2 Tablespoons caramel sauce
whipped cream, caramel sauce and instant espresso, for topping, optional
Instructions
Make the espresso; if you have an espresso machine, you're all set, if you don't, here's what you do: Use the same amount of water that you would use (1 cup) per scoop of ground coffee, only instead of using 1 scoop of coffee, use 2 scoops, making the coffee doubly strong.
While the coffee is brewing, add the milk to a heavy saucepan, and heat it slightly, whisking it vigorously to make the milk froth, or foam. Turn off the heat.
Pour the strong coffee into a measuring cup (4 ounces) and add the milk, vanilla syrup and caramel sauce to a tall glass, or coffee mug.
Pour the strong coffee over the foamy milk.
Drizzle the caramel over the top of the drink, generously, so it slides down the sides of the glass, and into the espresso at the bottom. Sprinkle the top with espresso powder, and enjoy!
Nutrition Information:
Yield:

1
Serving Size:

16 ounces
Amount Per Serving:
Calories:

528
Total Fat:

8g
Saturated Fat:

5g
Trans Fat:

0g
Unsaturated Fat:

3g
Cholesterol:

34mg
Sodium:

476mg
Carbohydrates:

104g
Fiber:

0g
Sugar:

85g
Protein:

14g
Like it? PIN IT for later!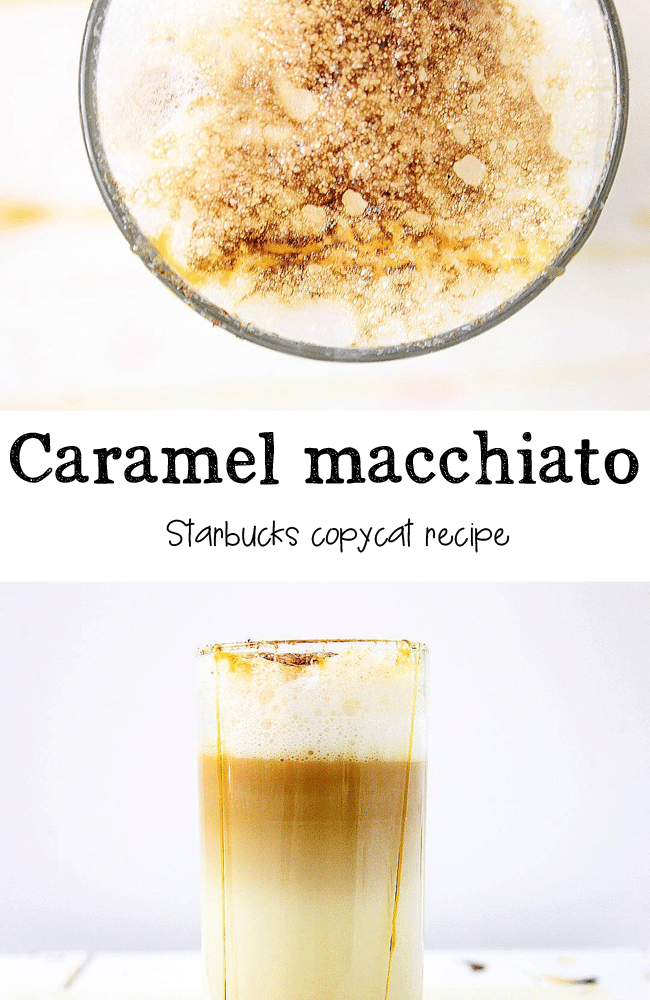 Check out these other Starbucks copycat recipes: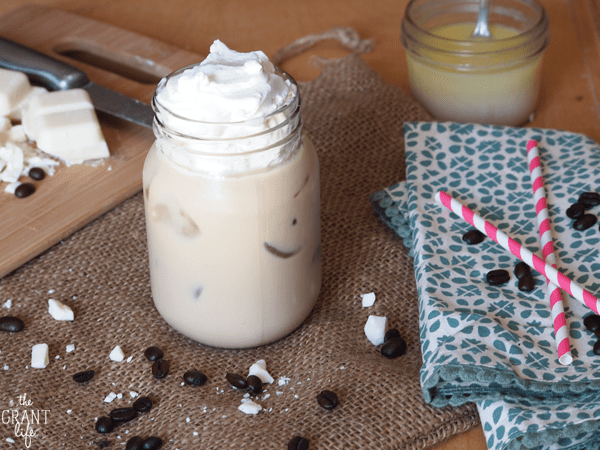 Starbucks peppermint mocha recipe