Fire up your oven for these easy baked chicken tacos that everyone will LOVE!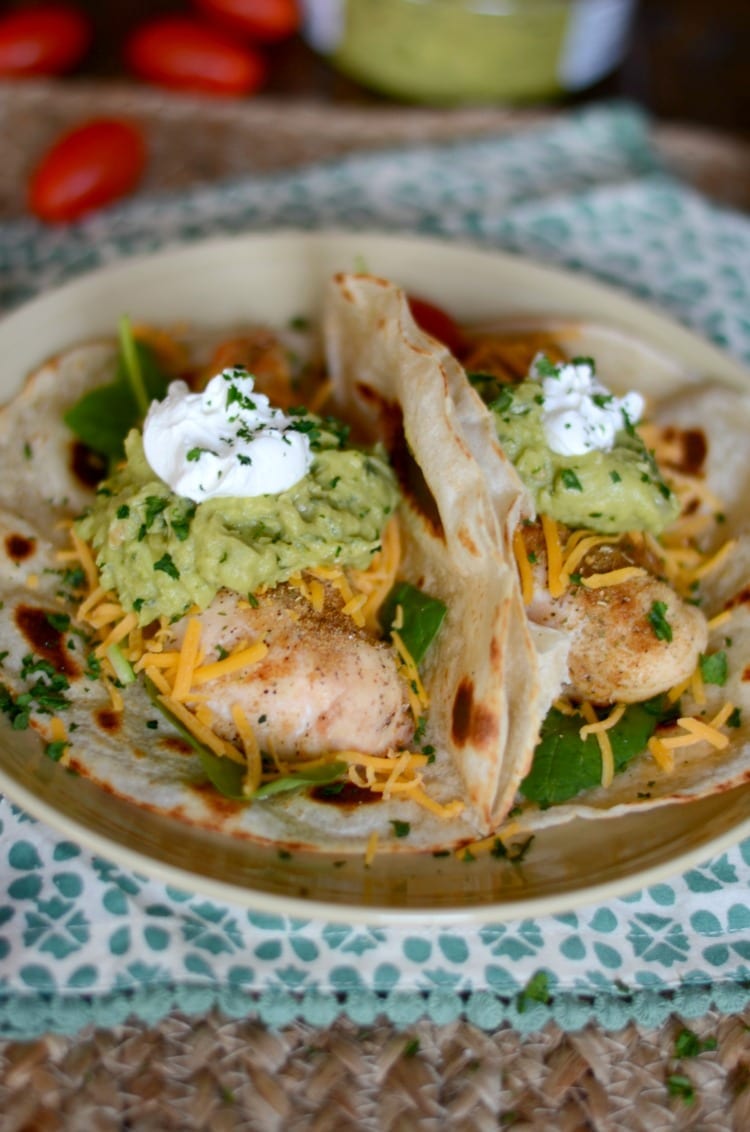 Hey friend! Oh yall. I am so excited to share today's recipe. I mean, look at it! Easy baked chicken covered in chunky guacamole! It's easy peasy dinner deliciousness. It's also good for you. Which is the other reason that I love this recipe. And I know you're thinking – how can tacos be good for me? First, they are. Trust me.
Second, baked chicken is better then fried. (Duh Kelley.) There is also spinach and guacamole which are both good for you.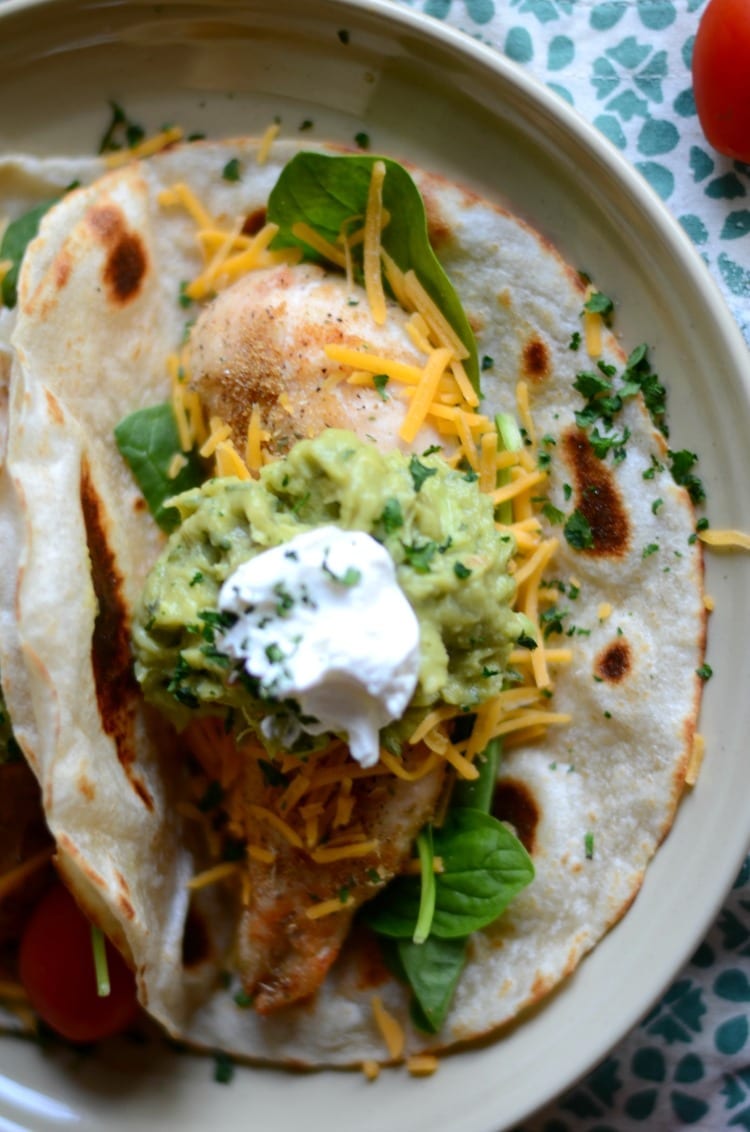 I have been anemic all my life and naturally it continued through pregnancy. My doctor prescribed me an iron supplement to help but even with it my iron is borderline. So I try to eat foods that are rich in iron. Like spinach. Avocados also have iron in them but they not nearly as much as spinach. (Together though they are unstoppable! Not really but they are tasty.)
The avocados help in other ways. Since I'm breastfeeding they help my milk. Not my supply but they increase the calories per ounce that Ryder gets. My lactation consultant said that if you can't increase your supply right away then the next best thing is to increase the calories. She suggested avocados and egg yolks. Done!
(If you are looking for more lactation recipes, I have a list here. I also talk about how to increase your supply naturally with whole foods. And yummy treats like these no bake lactation energy bites.)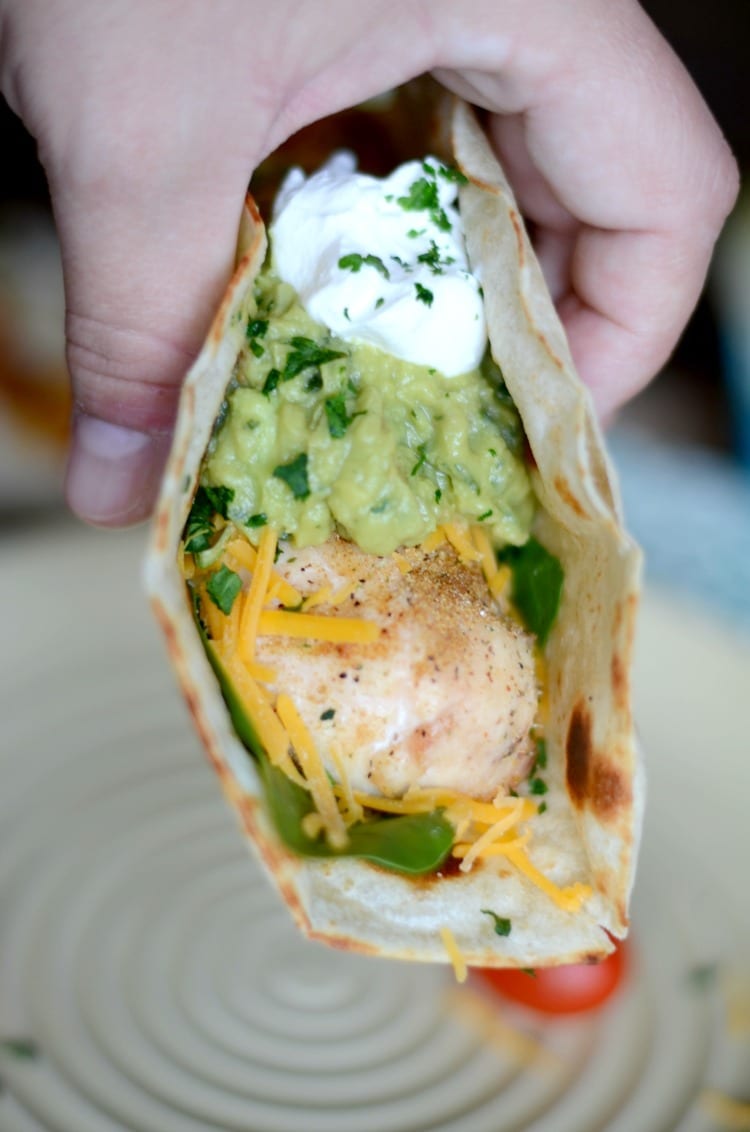 Since I already love avocados it has been pretty easy to add more to my diet. Avocados for breakfast? Yes, please! Avocados in my (spinach) salad for lunch? You betcha! Avocados at dinner? Why of course! I'm like the Oprah of avocados! You get an avocado and you get an avocado! EVERYONE GETS AN AVOCADOOOOO!!
Kidding.
It might actually be cheaper for us to just plant an avocado tree in the backyard. But until then I have store bought chunky guacamole to rely on. I'm pretty sure we (and by we, I mean me) finished off the container the first night.
Tips for making oven baked chicken tacos –
You can use any type of chicken that you prefer – I just find it easier with chicken tenders. Chicken thighs or breasts would also make a great baked chicken taco.
I used garlic powder, onion powder, cumin and salt and pepper on our chicken tacos. Feel free to add any spices you like! Don't like cumin? It doesn't have to go on your chicken. It's your taco, boss. Season it up as you'd like.
I like to either spray down my cookie sheet or use a silicone baking liner before adding the chicken. There is nothing worse then trying to pull a piece of chicken off that is stuck to your cookie sheet.
Your cooking time may vary depending on the size of your chicken. Make sure that the center is no longer pink and that the internal temperature has reached 165 degrees Fahrenheit before eating.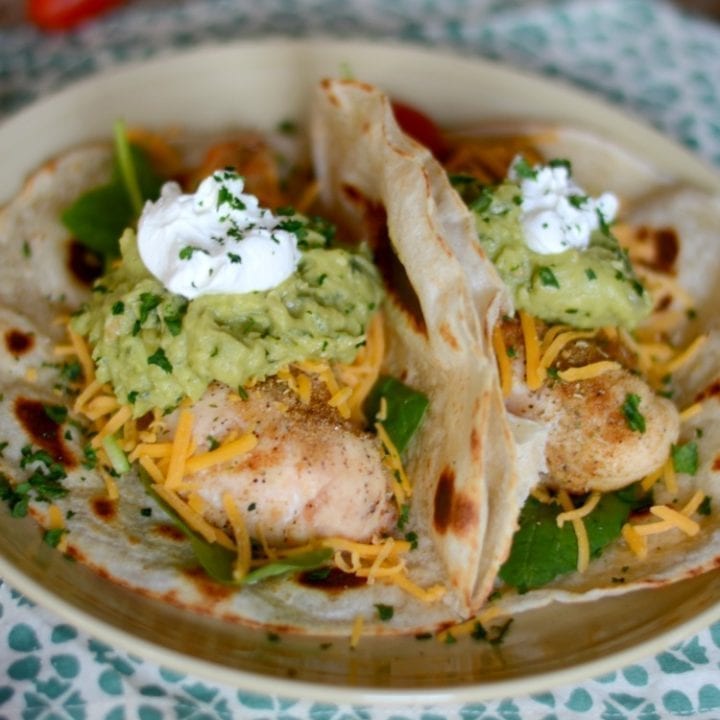 Baked chicken tacos
Ingredients
For the chicken:
1 pound chicken tenders
1 tablespoon garlic powder
1 tablespoon onion powder
1/2 tablespoon cumin
salt and pepper to taste
For the tacos:
1 cup spinach
1 cup shredded cheese
guacamole, for topping
sour cream, for topping
cilantro, for topping
6- 8 flour tortillas
Instructions
Preheat the oven to 350 degrees.
Lay the chicken on a cutting board and sprinkle spices over both sides.
Place on a baking sheet sprayed with cooking spray and bake for 15-20 minutes. Or until the tops are browning and they are no longer pink in the center.
Remove and let cool.
Assemble the tacos. Shred or dice the chicken if preferred.
Enjoy!
Like this recipe? Be sure to check out: