These baked chicken tacos are perfect! They're simple to make and everyone will love them. Plus, they're a great way to use up leftovers.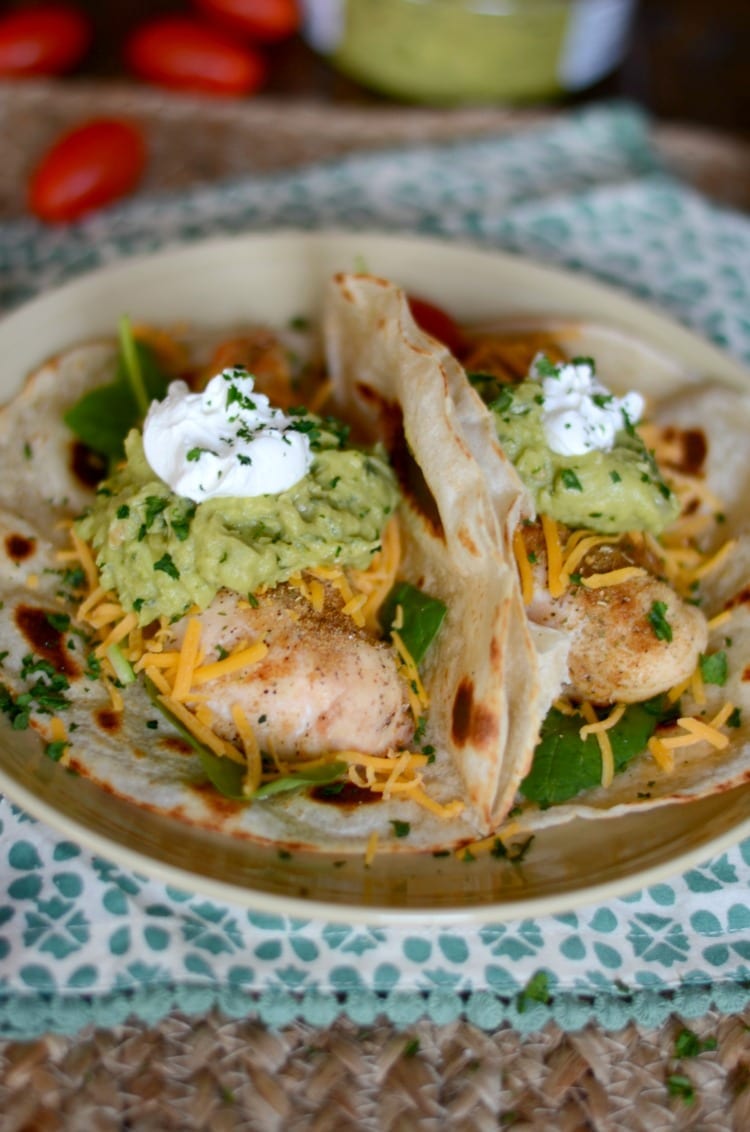 One of our favorite family meals to eat together is tacos. My kids are big taco fans because you can customize them to your liking. We put out the tortillas, meat, and all the fixings and let me pick what they want on them. It's a dinner win-win!
What are Baked Chicken Tacos?
Baked chicken tacos are a delicious and easy way to enjoy Mexican-inspired cuisine. The chicken is cooked in the oven until it is tender and juicy, and then it is shredded and mixed with a variety of flavorful toppings. They can be made with a variety of different toppings, including salsa, cheese, sour cream, and guacamole.
You can serve them on soft tortillas, but they can also be served on hard shells. Baked chicken tacos are a great option for a quick and easy weeknight meal, and they can be easily customized to suit your family's taste preferences.
Chicken Taco Ingredients
For these delicious and healthy chicken tacos, you will need ingredients for the chicken as well as toppings for the taco. Here's what you will need: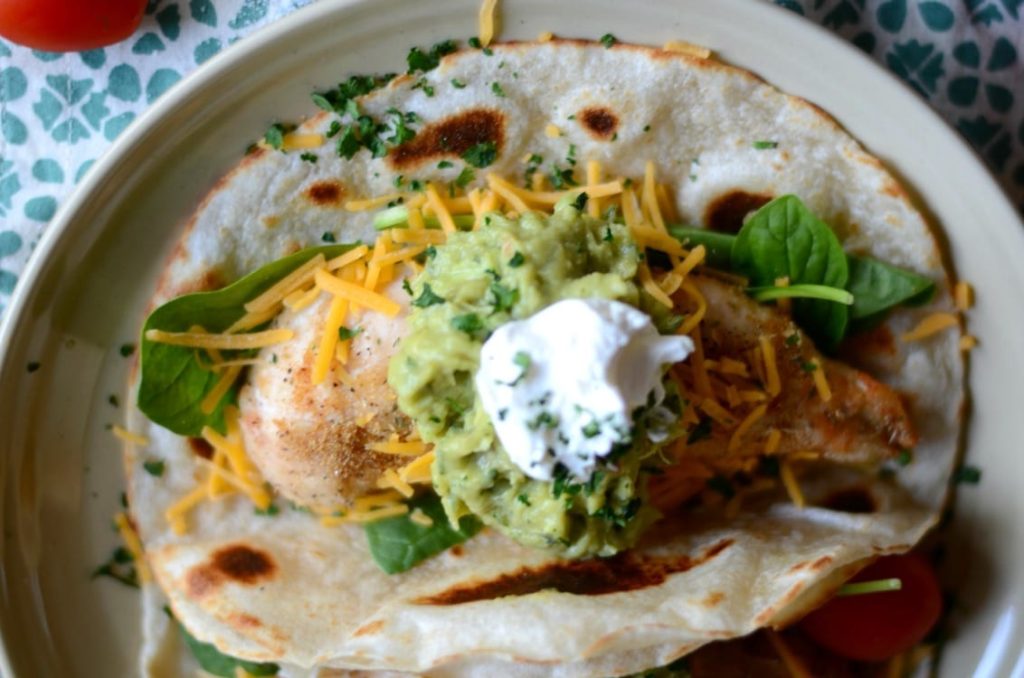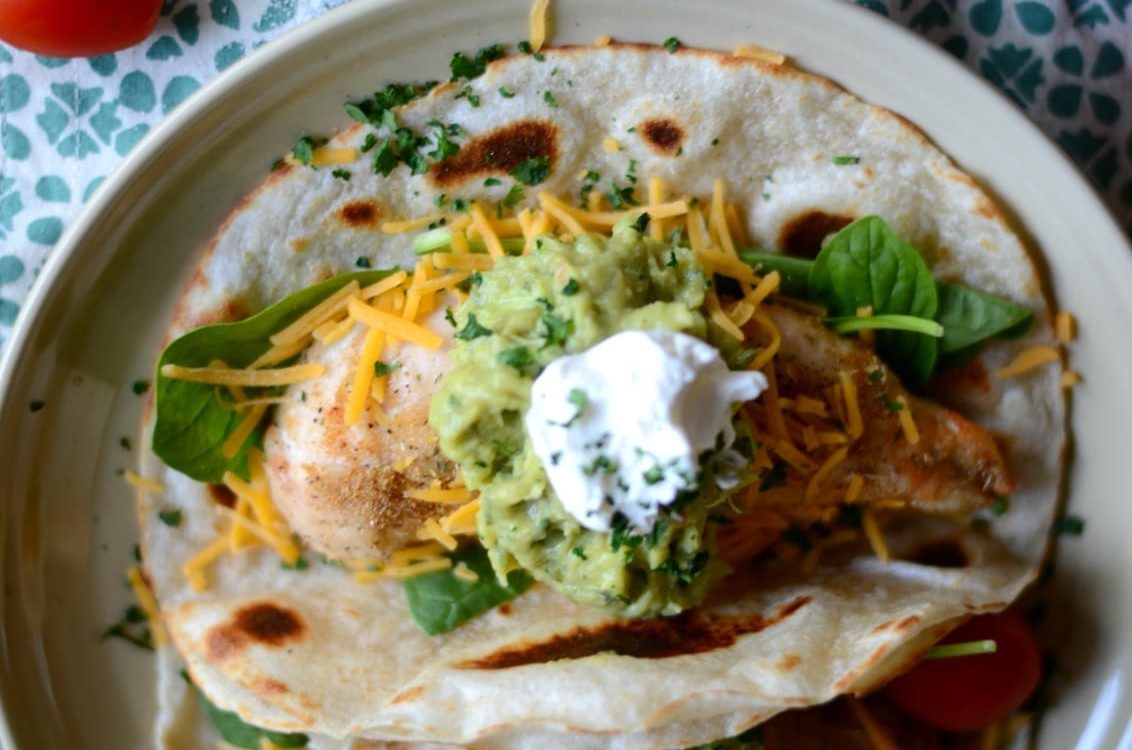 How to Make Chicken Tacos in the Oven
These chicken tacos are quick and easy to whip up. Follow the steps below!
Step 1: Preheat and Prep
First, preheat your oven to 350°F. Then, spray a baking sheet with nonstick cooking spray.
Step 2: Season the Chicken
Place the chicken on a cutting board, and sprinkle both sides with all of the seasonings.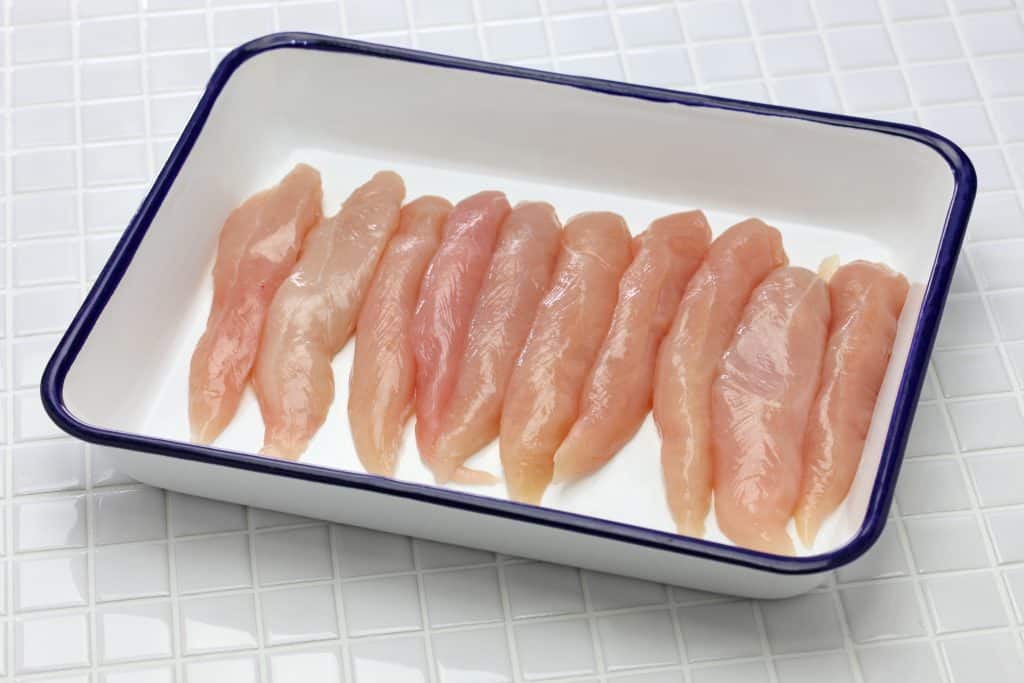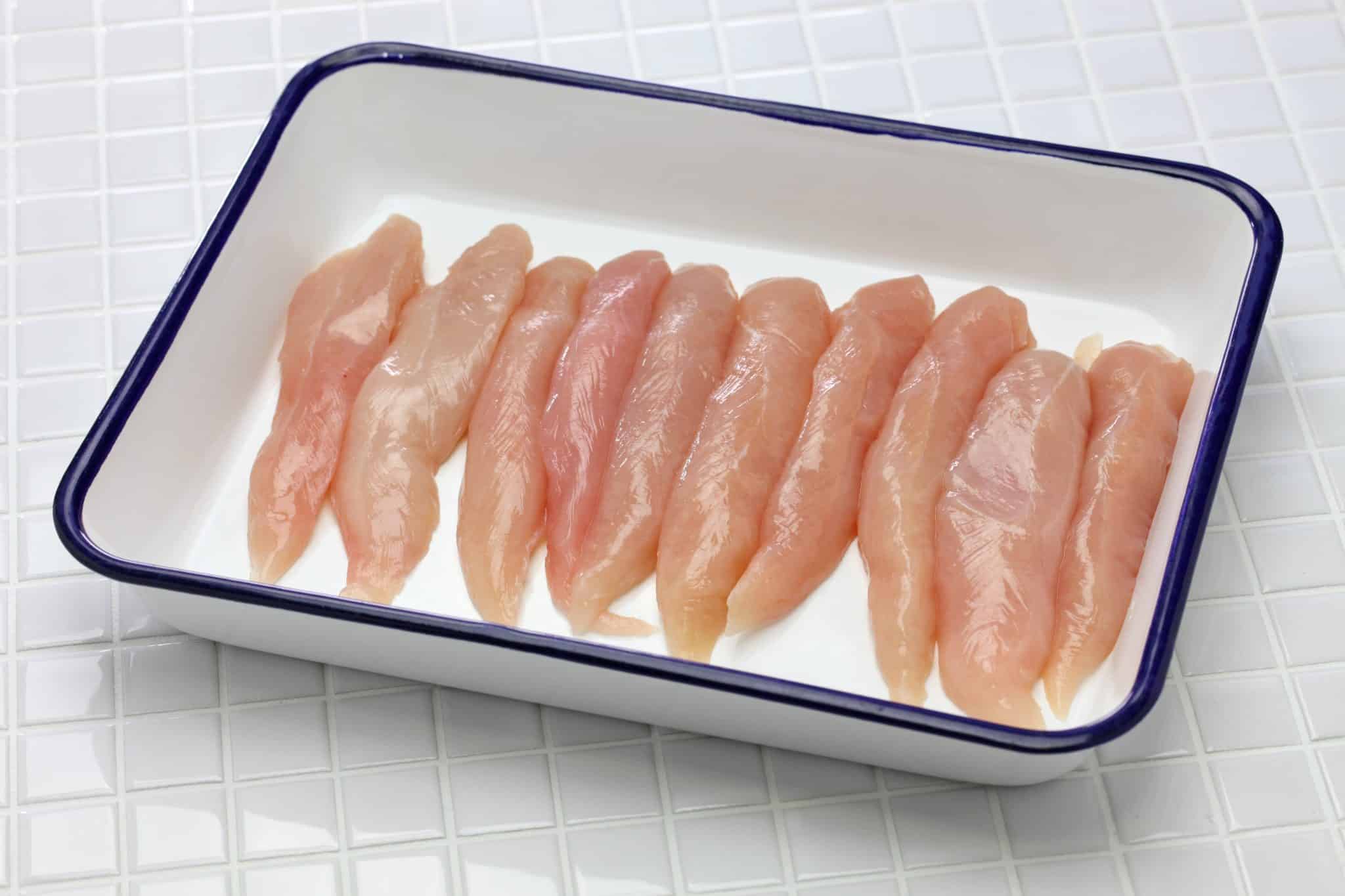 Step 3: Bake the Chicken
Next, lay the chicken on the prepared baking sheet so it's not touching. Bake for 15-20 minutes or until the tops are browning and the chicken is fully cooked.
Step 4: Let the Chicken Cool
Remove the chicken and let it cool. Then, shred or dice it if you prefer
Step 5: Assemble the Taco
Add pieces of chicken to each taco, spinach, shredded cheese, and any toppings you prefer.
Enjoy!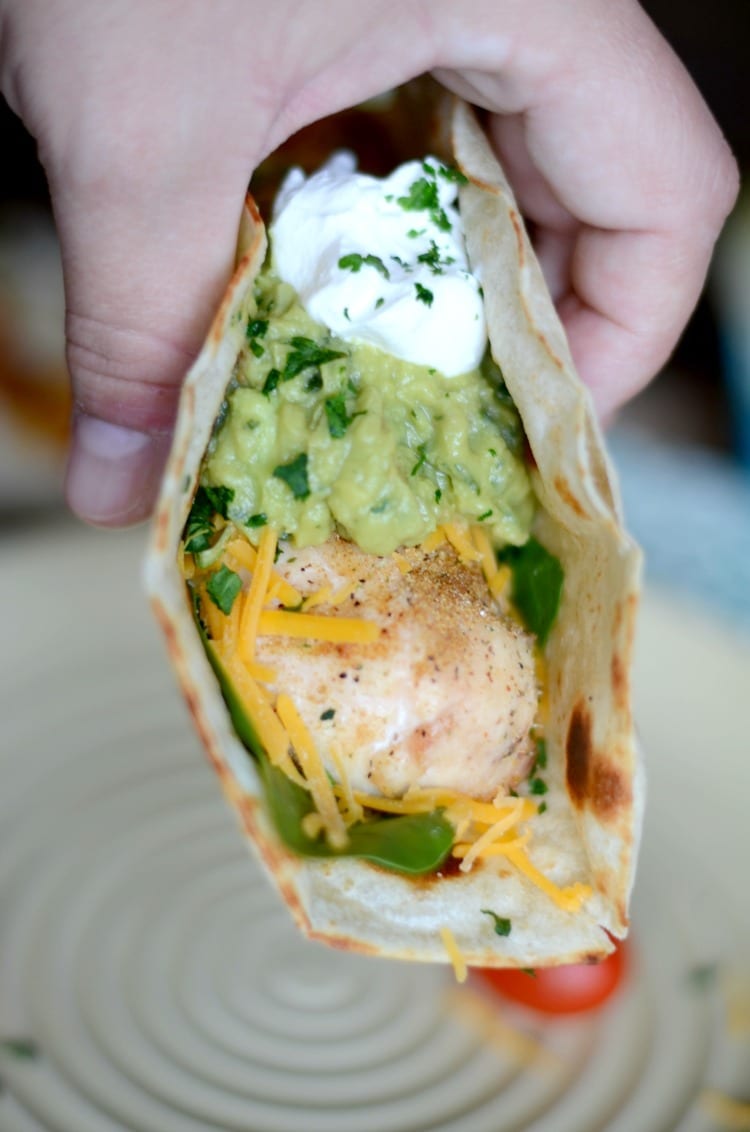 How to Make in the Instant Pot
If you don't want to heat up your kitchen by turning on the oven, and you have an Instant Pot, you can cook the chicken in the Instant Pot instead. Simply season the chicken with the spices, place 1 cup of water in the inner pot, add the chicken, and pressure cook for 12 minutes. Or, you can follow this Instant Pot Chicken Tacos Recipe.
How to make in the Slow Cooker
If you don't have an Instant Pot, and don't want to heat up the house, you can easily make the chicken in your slow cooker. Follow my Easy Crockpot Chicken Tacos Recipe, or simply make Crockpot Mexican Shredded Chicken and add all the toppings. Keep in mind that in the crockpot, you'll cook the chicken on high for 4-6 hours or low for 8 hours.
Side Dish Recommendations
Can I Use A Taco Packet?
Sure! I like the seasonings above, but if you like the flavors of a taco packet, you can season the chicken with that instead. Just sprinkle the seasonings as you may not need to use the entire packet.
What Toppings Work Best for Baked Chicken Tacos?
Baked chicken tacos are a quick, easy, and tasty dish that can be served for a weeknight dinner or weekend get-together. The key to making them extra delicious is in the toppings. Some of our favorite toppings for baked chicken tacos include shredded cheese, diced tomatoes, sour cream, and chopped cilantro.
For a bit of spice, we also like to add a few slices of jalapeño pepper. You can also get creative with your toppings and include things like avocado, pineapple, or even crispy bacon bits. Whatever you choose, we guarantee that your baked chicken tacos will be a hit!
Other Mexican Inspired Recipes
Tips for making oven baked chicken tacos –
You can use any type of chicken that you prefer – I just find it easier with chicken tenders. Chicken thighs or breasts would also make a great baked chicken taco.
I used garlic powder, onion powder, cumin and salt and pepper on our chicken tacos. Feel free to add any spices you like! Don't like cumin? It doesn't have to go on your chicken. It's your taco, boss. Season it up as you'd like.
I like to either spray down my cookie sheet or use a silicone baking liner before adding the chicken. There is nothing worse then trying to pull a piece of chicken off that is stuck to your cookie sheet.
Your cooking time may vary depending on the size of your chicken. Make sure that the center is no longer pink and that the internal temperature has reached 165 degrees Fahrenheit before eating.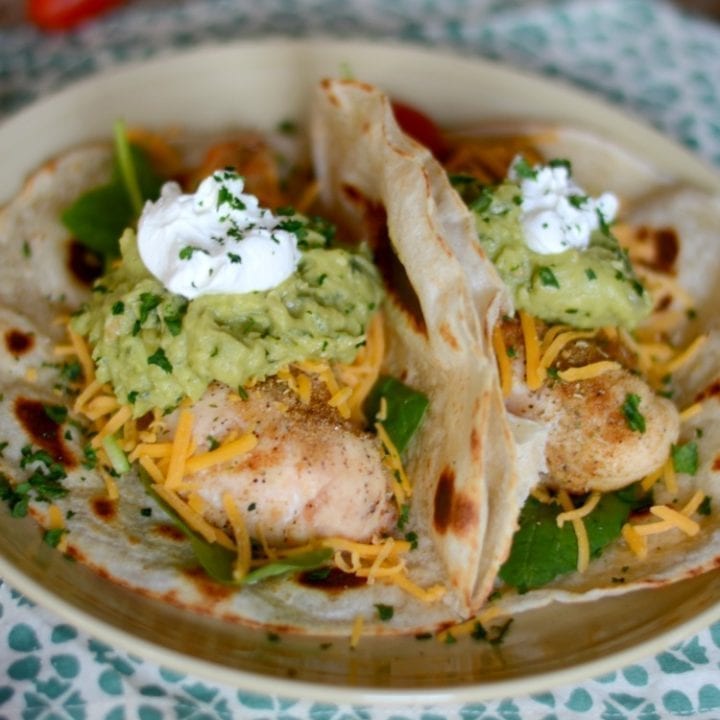 Baked chicken tacos
Ingredients
For the chicken:
1 pound chicken tenders
1 tablespoon garlic powder
1 tablespoon onion powder
1/2 tablespoon cumin
salt and pepper to taste
For the tacos:
1 cup spinach
1 cup shredded cheese
guacamole, for topping
sour cream, for topping
cilantro, for topping
6- 8 flour tortillas
Instructions
Preheat the oven to 350 degrees.
Lay the chicken on a cutting board and sprinkle spices over both sides.
Place on a baking sheet sprayed with cooking spray and bake for 15-20 minutes. Or until the tops are browning and they are no longer pink in the center.
Remove and let cool.
Assemble the tacos. Shred or dice the chicken if preferred.
Enjoy!
More recipes to try
Like this recipe?  Be sure to check out:
Did you make this recipe? I'd love for you to leave a review in the recipe card above or the comments below. Want to make them later? Pin the image below to your favorite dinner board.