Looking for an easy weeknight meal that is perfect for leftovers? Chicken taco rice casserole is it!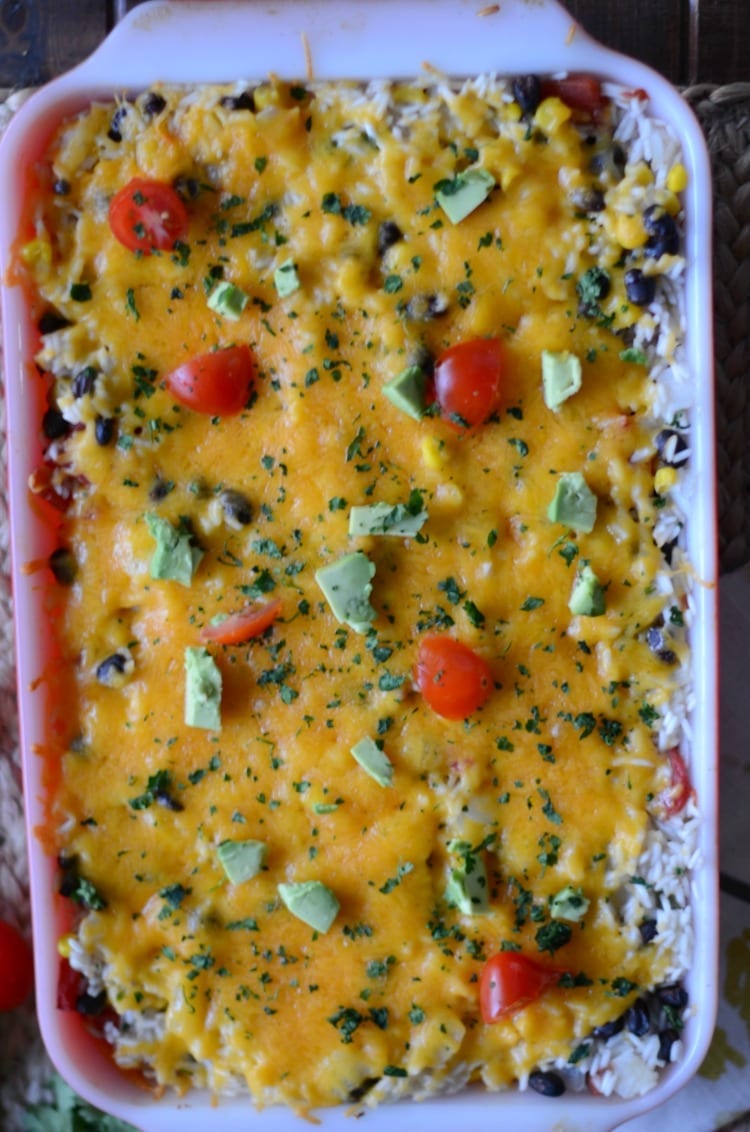 Hey yall! The kids were off Thursday and Friday last week so we took a mini vacation down to Corpus to visit my parents. And all of my friends. We spent a good amount of time running around from friend to friend while we were down. But that's what happens when you go back to your home town. You spend lots of time catching up.
We were even able to make it to my best friends daughters birthday party! I know my kiddos miss their friends in Corpus so it was nice to be able to spend some time with them as well. And eat cake. Because everyone loves cake.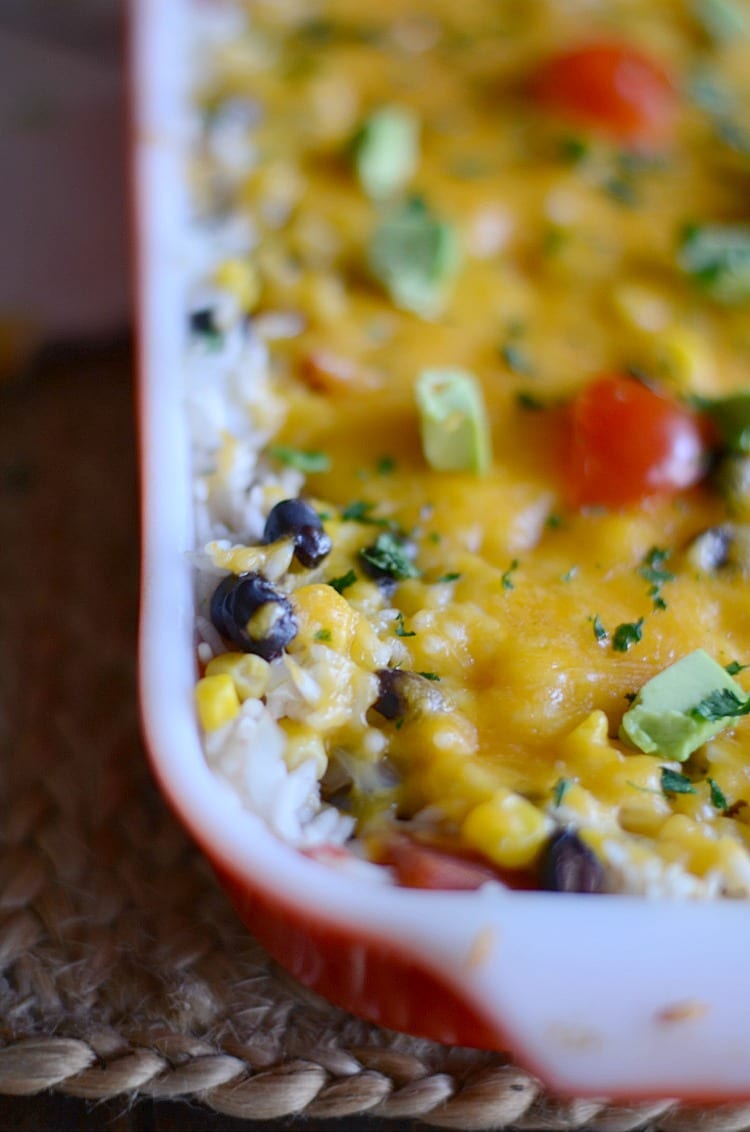 One of my favorite things about being at my parents house (besides getting to spend time with them.. of course!) is the food! My mom is an amazing cook and so is my dad. My mom is Italian and my dad is Czech so it's always comfort food season at their house. Pastas, goulashes, stews, casseroles. You know, all the good stuff!
The one weird thing about my parents cooking is that neither of them like leftovers! When we lived close we would ALWAYS go home with tons of tupperware full of leftovers. Ryon and I love it!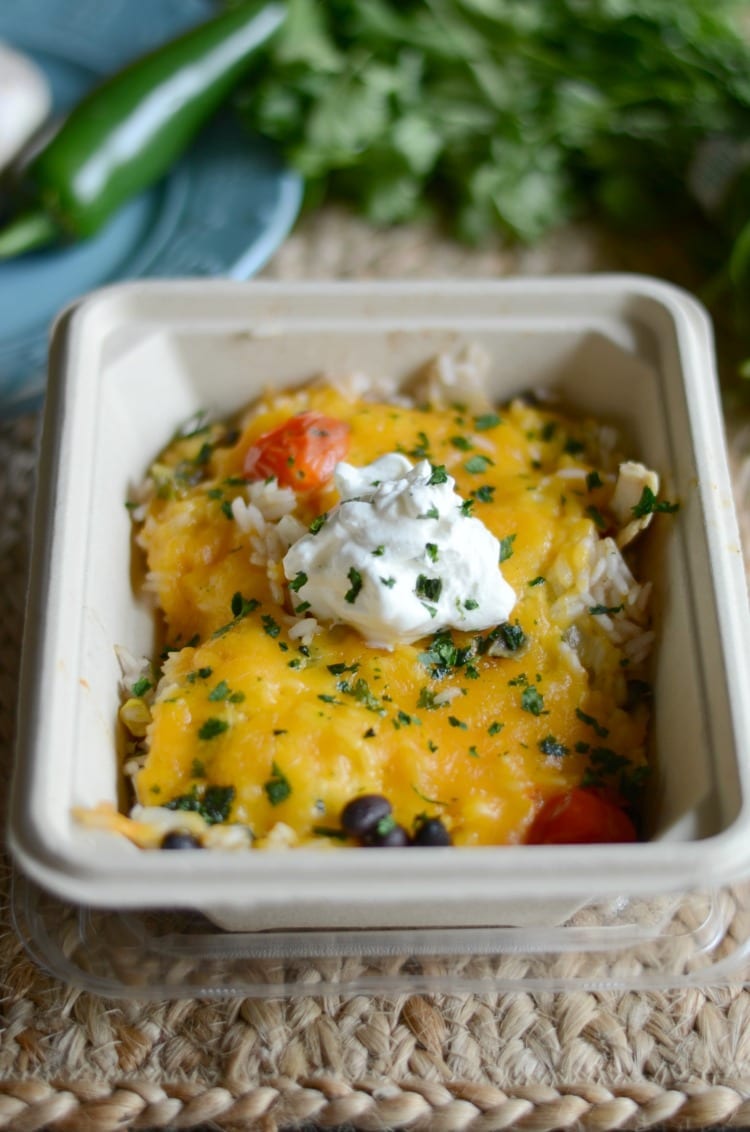 We are both leftover lovers. Ryon likes to take leftovers for lunch and I LOVE them for breakfast! Yes. Breakfast. And cold most of the time! I know. I know. Everyone thinks I'm weird because I love cold leftovers. But you can't tell me that you haven't had cold green bean casserole the day after Thanksgiving. And loved it!
Ryon on the other hand loves leftovers for lunch or dinner only. (He's a bacon and eggs for breakfast kind of guy.) When I cook dinner I try and make enough for at least one lunch for him. If I can get two lunches out of one meal then I win the wife of the week award. (There's no award. I just made that up.) This chicken taco casserole? Totally a two lunch meal. (Technically a one dinner and two lunch meal.) Plus, easy to toss together and totally delicious.
Tips for making this chicken taco rice casserole –
Feel free to use any type of chicken that you have on hand. Chicken breasts and thighs work great for this chicken taco bake but leftover chicken is also good. Just skip the boiling step if you are using leftover chicken and dice it up instead.
Homemade taco seasoning is what we love for this quick and easy dinner recipe but feel free to use store bought or other spices altogether. If you like spicier food, feel free to add extra chili powder or pepper to the chicken.
The rice is cooked before adding it to the casserole dish. Prepare the rice according to the package and set it aside until you are ready to prepare the dish.
This chicken rice taco casserole also freezes well. Prepare the casserole according to the recipe, allow to cool completely, cover in foil and place in the freezer until you are ready to eat. When you want to un-freeze it, remove from the freezer, place on the counter to thaw and then bake at 350 for 20 minutes.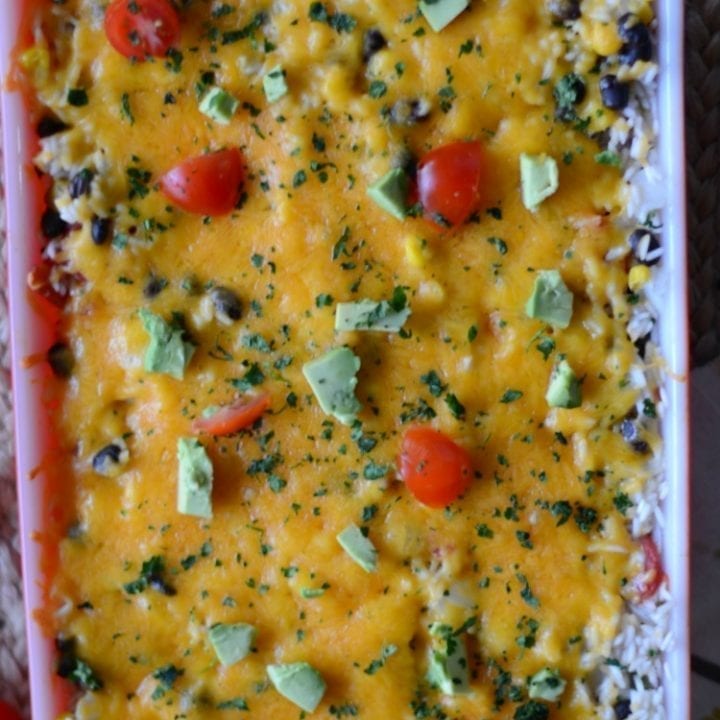 Chicken taco rice casserole
Ingredients
2 chicken breasts, about 1 pound
2 tablespoons taco seasoning (homemade or store bought)
2 tablespoons butter
1 onion, diced
1 jalapeno, de-seeded and diced
2 cloves of garlic, minced
1 cup black beans
1 cup corn
1 - 10 oz can of diced tomatoes and jalapenos (such as Rotel)
3 cups of rice, cooked
salt and pepper to taste
2 cups of shredded cheese of choice
cilantro, for topping
sour cream, topping
avocado, for topping
Instructions
Preheat the oven to 350.
In a large pot bring the two chicken breasts to a boil. Boil for 10-15 minutes or until cooked all the way through and tender. Drain water, add taco seasoning and use forks to shred.
In a skillet melt the butter and add the onion, jalapeno and garlic. Cook for about 5 minutes or until the onion is translucent and browning. Add in the corn, black beans and diced tomatoes to the skillet. Stir together and remove from heat.
Toss the rice and chicken in with the other ingredients and place in a casserole dish. Spread the cheese on top and bake for 10-15 minutes, or until the cheese is bubbly.
Remove from oven, add the cilantro, diced avocado and sour cream.
Enjoy!
Like this post? Be sure to check out: