You won't believe how easy these mango shrimp tacos come together!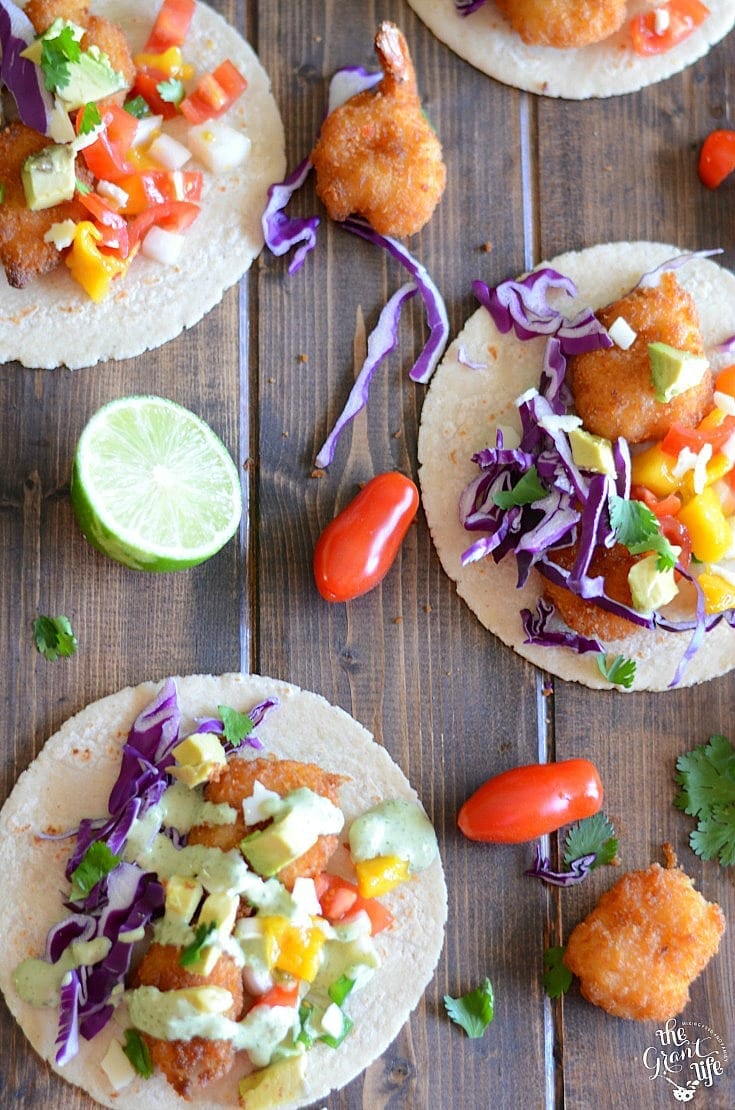 Thank you SeaPak for inspiring today's recipe!
Hey yall! Today's recipe – tacos! And not any tacos – mango shrimp tacos with avocado cream sauce! The ultimate shrimp taco – if you ask me. And I like to think of myself as a taco connoisseur. Growing up in South Texas tacos are a staple down here.
(Warning: I'm about to go Bubba Gump on you real quick.)
Breakfast tacos, lunch tacos, fish tacos, sweet potato tacos, carne asada tacos, barbacoa tacos, steak tacos, brisket tacos and yes, even shrimp tacos. And that's only a few.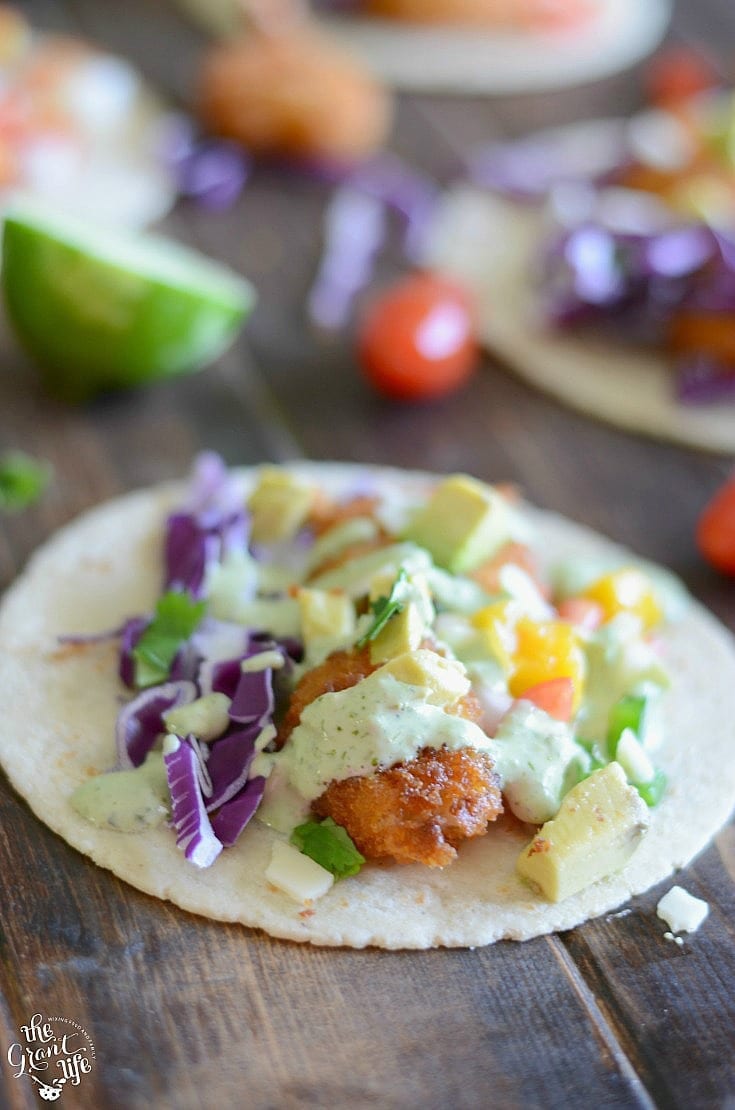 I'll tell you my two favorite tacos. (I know you are dying to get this super important information.) I love bean and cheese tacos. (Plain, I know. But delicious.) And shrimp tacos. Any kind of shrimp tacos. Grilled shrimp, battered shrimp, fried shrimp, marinated shrimp, coconut shrimp, boiled shrimp. I love them all.
In my humble shrimp taco loving opinion, the thing that makes a great shrimp taco is – 1. great shrimp (duh.) and 2. great toppings. Like homemade mango salsa, cabbage, avocado cream sauce and cojita cheese. You know, to just name a few.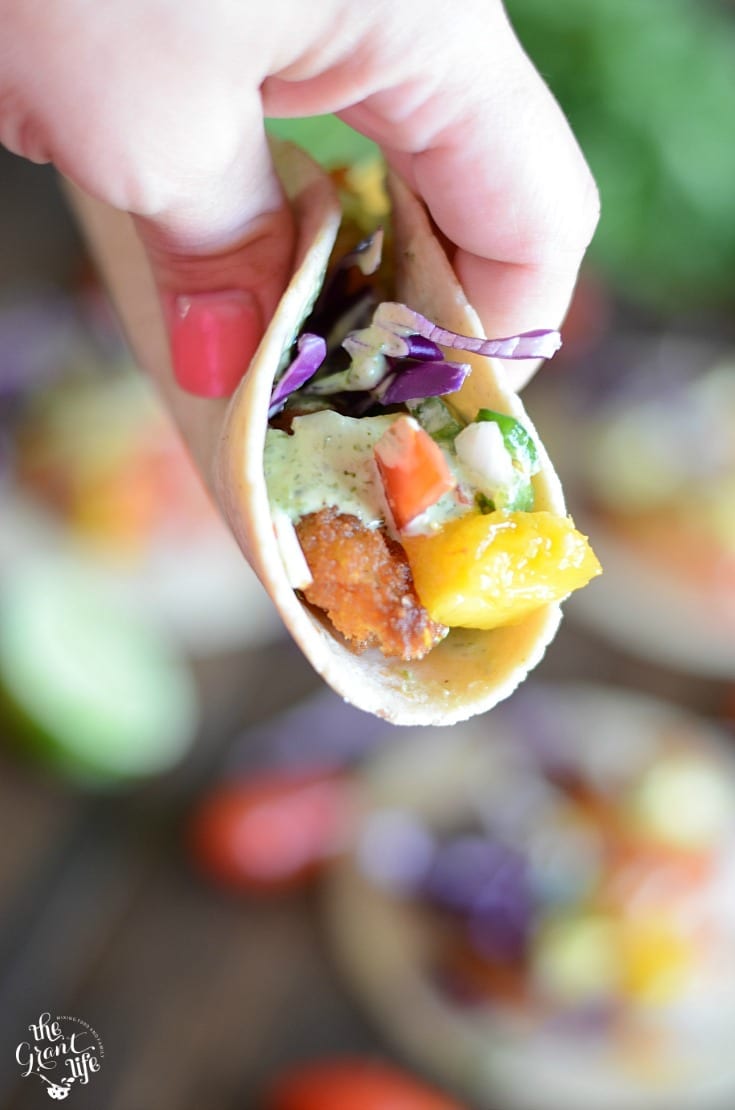 Let's start with the great shrimp part. That's easy. Go down to the bay or wharf, find a friendly shrimp fisherman, bargain for the best price per pound, take home your shrimp, batter it, fry it and wrap it in a tortilla. OR run to the grocery store and grab a box of delicious SeaPak Jumbo Butterfly Shrimp. (Or popcorn shrimp. Whatever you prefer.) Then, while the shrimp is baking to perfection, whip up your toppings and enjoy.
It's a whole lot easier and your car doesn't end up smelling like shrimp from the wharf. (Just tossing that one out there.) And while you are at the grocery store grabbing your SeaPak shrimp, be sure to grab some shredded cabbage, pico de gallo, some mangoes, avocado and cojita cheese. You'll be glad you did!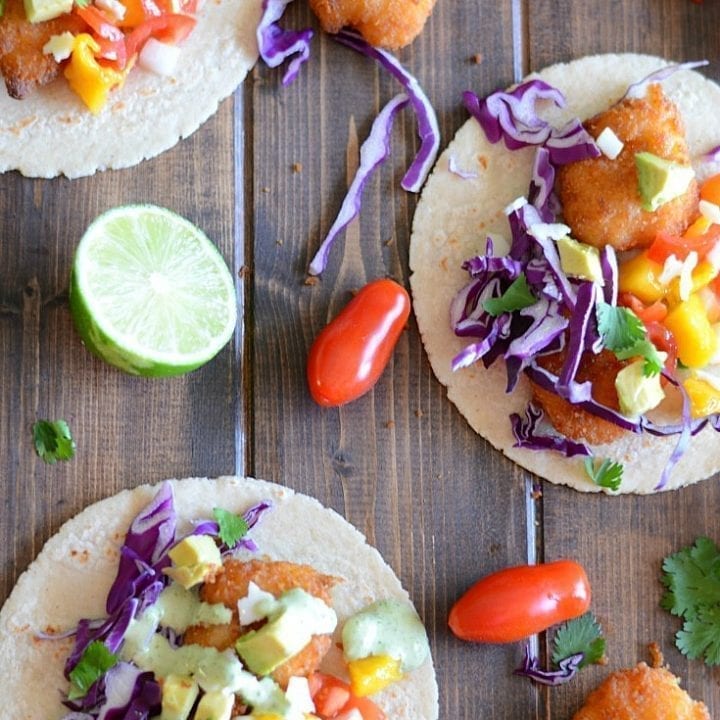 Mango shrimp tacos
Ingredients
For the mango salsa:
2 mangoes, diced
1/2 cup tomatoes, diced
1/2 cup onion, diced
1 jalapeno, diced
juice of 1/2 lime
For the avocado cream:
1 large avocado
1/2 cup sour cream or Greek yogurt
juice of 1/2 lime
1 cup of sliced cabbage
flour or corn tortillas
cojita cheese (or a similar crumbly cheese)
sliced avocado, optional
Instructions
Preheat the oven to 425, arrange the shrimp on a cookie sheet and bake for 13-14 minutes. Turn halfway through bake time.
For the salsa, combine the mango, onion, tomato and jalapeno. Toss together and add the lime juice. Set aside.
To make the avocado cream sauce, blend together the avocado (sliced and seed removed) along with the sour cream. Add in the lime juice and set aside.
Once the shrimp is ready, assemble your tacos. Layer shrimp (remove the tails if necessary), with cabbage, mango salsa, extra avocado, cojita cheese and drizzle with fresh avocado cream sauce.
Enjoy!
For more information about SeaPak, visit their product locator, Facebook, Instagram or Pinterest pages.
Like this recipe? Be sure to check out:
Like it? Be sure to PIN IT to your dinner recipe board!