If you need a new taco Tuesday recipe in your lineup, check out this chicken burrito skillet meal. This quick and easy dinner recipe is made all in one skillet and is the perfect weeknight meal. Let me show you how to make it!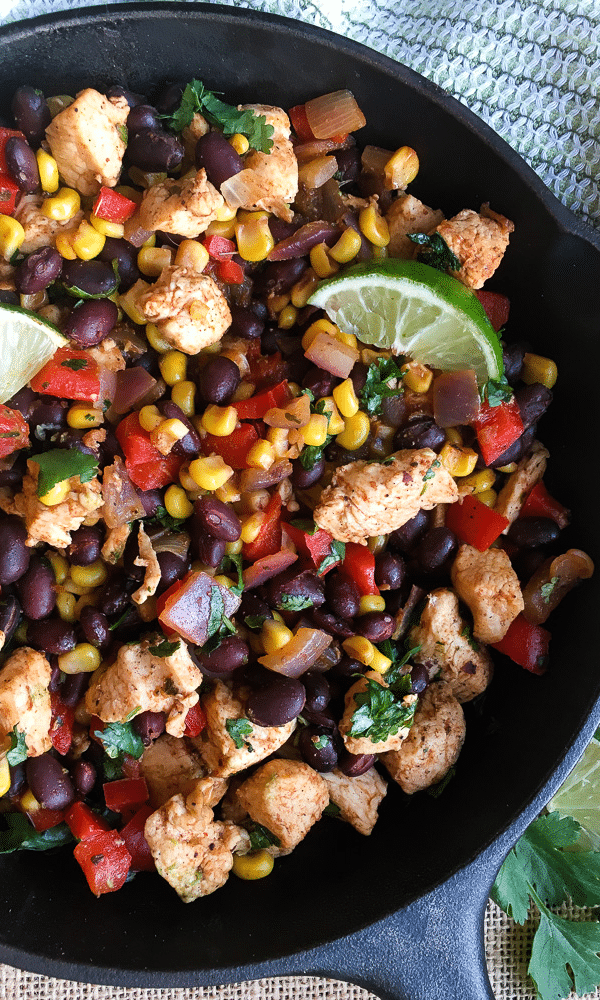 I have never met a taco that I didn't like. I grew up in South Texas and have always loved good Mexican food – tacos included! I'm proud to say that I have passed down my love for Mexican food to my kids as well.
That all changed when we moved to Michigan. It's really hard to find good Mexican food up here. Maybe it's because I'm use to a different kind of Mexican food that is often called "Tex-Mex". Either way, I have started making most of my favorite Mexican eats at home now.
What is a chicken burrito skillet?
This chicken burrito skillet is a Tex-Mex dinner made all in one skillet. It's an easy chicken dinner that is also gluten free and all around pretty healthy. The great thing about this skillet is that you can customize it to your liking.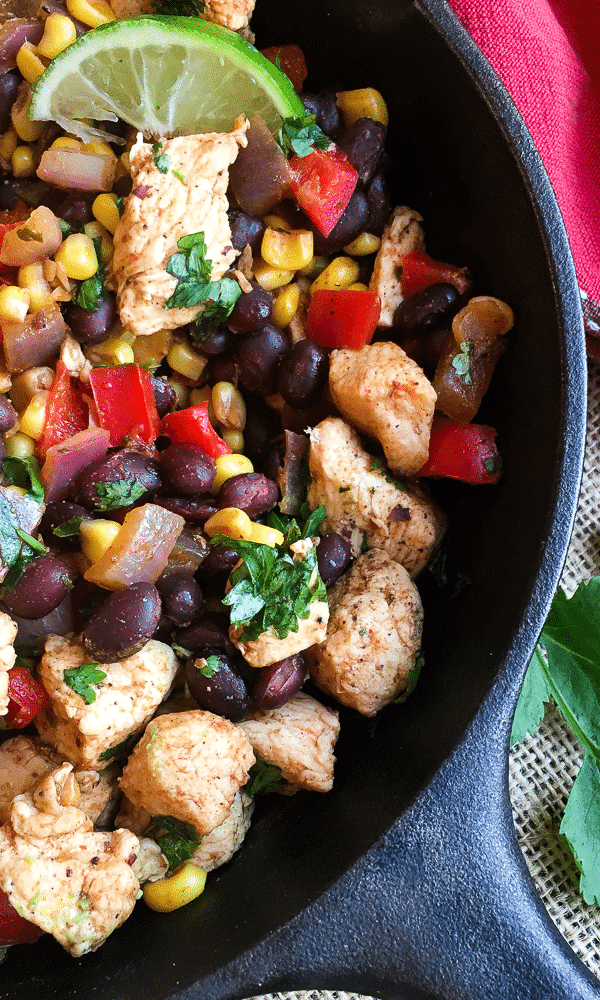 Chicken skillet burrito ingredients
To make this skillet burrito you will need:
chicken
bell pepper
onion
black beans
corn
cilantro
lime juice
spices
cheese
avocado
Chicken – In this recipe I used boneless, skinless chicken breasts. Feel free to use whatever type of chicken that you would like here. Chicken thighs or tenders work great here too.
Bell pepper/onion – Grab any color bell pepper that you like for this recipe. Red, yellow and orange tend to be sweeter than green. Also, grab an onion that you like. Sweet onions are my favorite, but any type of onion work here.
Black beans – A can of drained and rinsed black beans is what you need here. If you don't have any black beans on hand, you can substitute kidney beans or even cannellini beans.
Corn – Frozen corn works well in this recipe. You can also use fresh corn or canned corn.
Cilantro – Cilantro makes a great topping to this chicken skillet burrito. If you don't like cilantro, you can omit it or use parsley instead.
Spices – The spices that I used in my skillet burrito were cumin, paprika, oregano, chipotle powder along with salt and pepper. Feel free to omit any spices or add your favorite. The spices are totally customizable to your taste here.
Cheese – Monterrey Jack makes a great topping on this skillet meal. You can also use colby, cheddar or even a crumbly queso fresco cheese.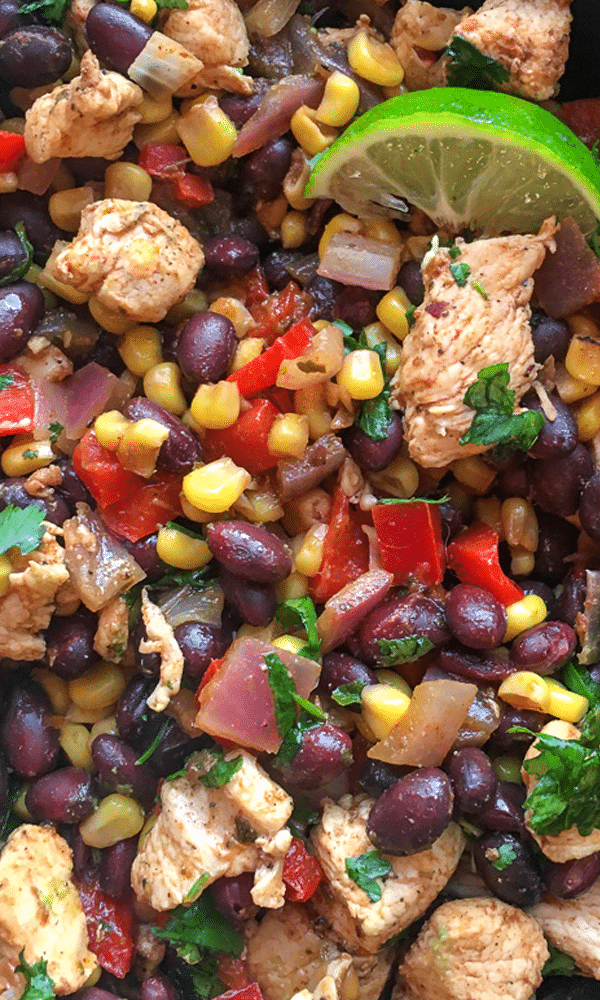 How to make a chicken skillet burrito
After you gather your ingredients you will also need to grab:
Start by prepping your bell pepper, onion and chicken. Dice the bell pepper and onion. Cut the chicken into small chunks.
Place some olive oil in a skillet and start by cooking down the bell pepper and onion. Cook them for about 7-8 minutes until the onions are slightly caramelized.
Add in the chicken along with the spices. Stir in the cumin, paprika, oregano, chipotle powder in with the chicken, onions and bell peppers. Cook each side for 2-3 minutes until the center is no longer pink.
Stir in the corn and black beans and allow to heat though. Taste the spices and adjust to taste.
Remove from heat and add in the lime juice and cilantro. If you are using cheese, add that it.
Serve and add in sliced avocado, lime and remaining cilantro.
How to store chicken skillet burrito
Allow the chicken skillet to cool and then place in an airtight container. Place in the fridge and eat within 1 week.
Can I freeze chicken skillet burrito?
Yes! This chicken skillet makes a great freezer meal. Make it according to the recipe and allow it to cool. Place on a cookie sheet and in the freezer to freeze, about 3 hours. Put the chicken skillet burrito in a plastic baggy and back in the freezer.
Store in the deep freeze for up to 3 months. Re-heat in the microwave or in a skillet over medium heat.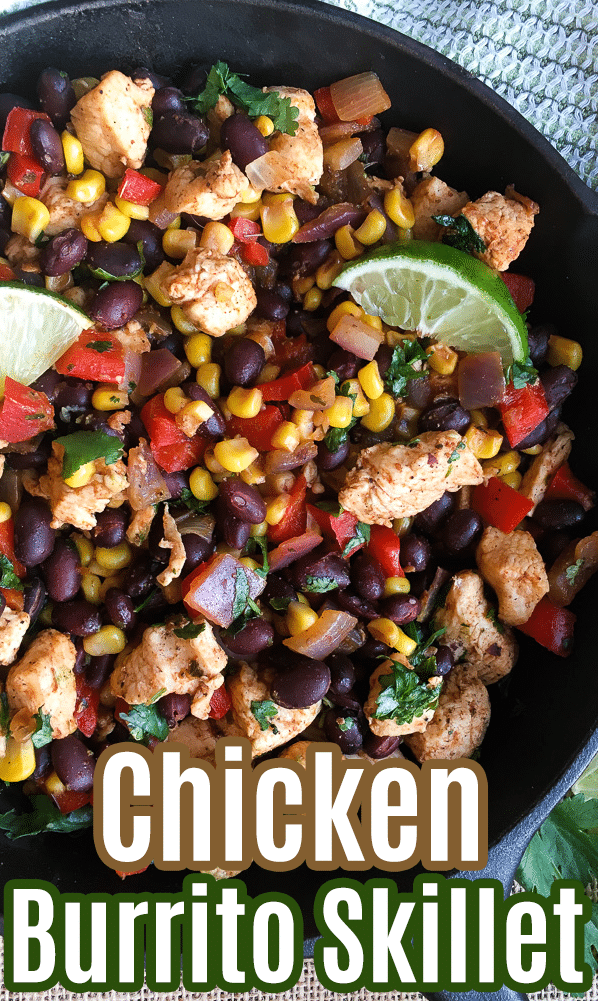 Side to add to your chicken skillet burrito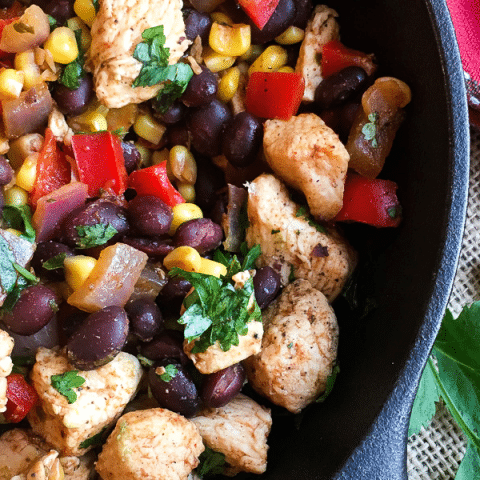 Chicken skillet burrito
An easy one pan dinner that is perfect for taco Tuesday!
Ingredients
1 T. extra virgin olive oil
½ medium red onion, diced
2 red or green bell peppers, diced
Sea salt and black pepper, to taste
1½ lbs. boneless, skinless chicken breasts, cut into bite-sized cubes
1 t. ground cumin
1 t. smoked paprika
1 t. Mexican oregano
½ t. chipotle powder
1 14-oz. can black beans, rinsed and drained
1 c. frozen corn
½ c. fresh cilantro, roughly chopped, divided
2 T. fresh lime juice
Optional, to serve:
½ c. Monterey Jack, shredded
1 large avocado, chopped
1 large lime, sliced into 8 wedges
Instructions
1. Heat olive oil in a large skillet over medium-high heat. Add onion and peppers and season with salt and black pepper, to taste. Cook, stirring occasionally, until the veggies are soft and slightly caramelized, around 7-8 minutes.
2. Add chicken, ground cumin, smoked paprika, Mexican oregano, and chipotle powder and cook, stirring occasionally, until the chicken is lightly browned on all sides, around 3-4 minutes. Season with additional salt and black pepper, to taste.
3. Stir in black beans and frozen corn. Cook, stirring once or twice, until everything is warmed through, around 6-8 minutes. Taste and adjust seasonings, as desired.
4. Remove from heat and stir in half of the fresh cilantro and lime juice. If using, sprinkle cheese on top and cover with until cheese melts. Serve immediately topped with remaining cilantro, chopped avocado, and fresh lime wedges, if desired. Enjoy!
Nutrition Information:
Yield:

6
Serving Size:

1 cup
Amount Per Serving:
Calories:

405
Total Fat:

15g
Saturated Fat:

4g
Trans Fat:

0g
Unsaturated Fat:

9g
Cholesterol:

105mg
Sodium:

450mg
Carbohydrates:

26g
Fiber:

9g
Sugar:

3g
Protein:

44g
Other dinner recipes to try