You have got to try this easy one pan casserole! It's cooked all in one dish and so full of flavor.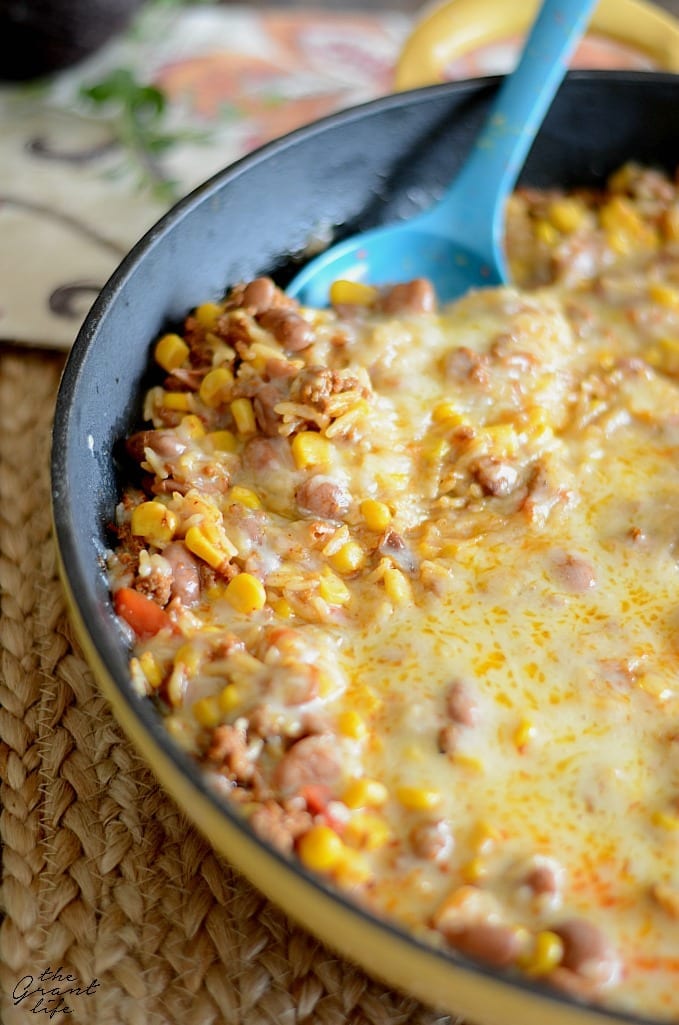 Hey yall! Can we take a second to appreciate the cheeeeese in the picture above? So much gooey cheese. I'm such a sucker for cheese. On top of casseroles, in sandwiches, in dips and just plain. I sometimes buy the sliced deli Swiss just to snack on at home. I say "at home" but what I really mean is on the drive from the grocery store to the house.
Because.. cheese.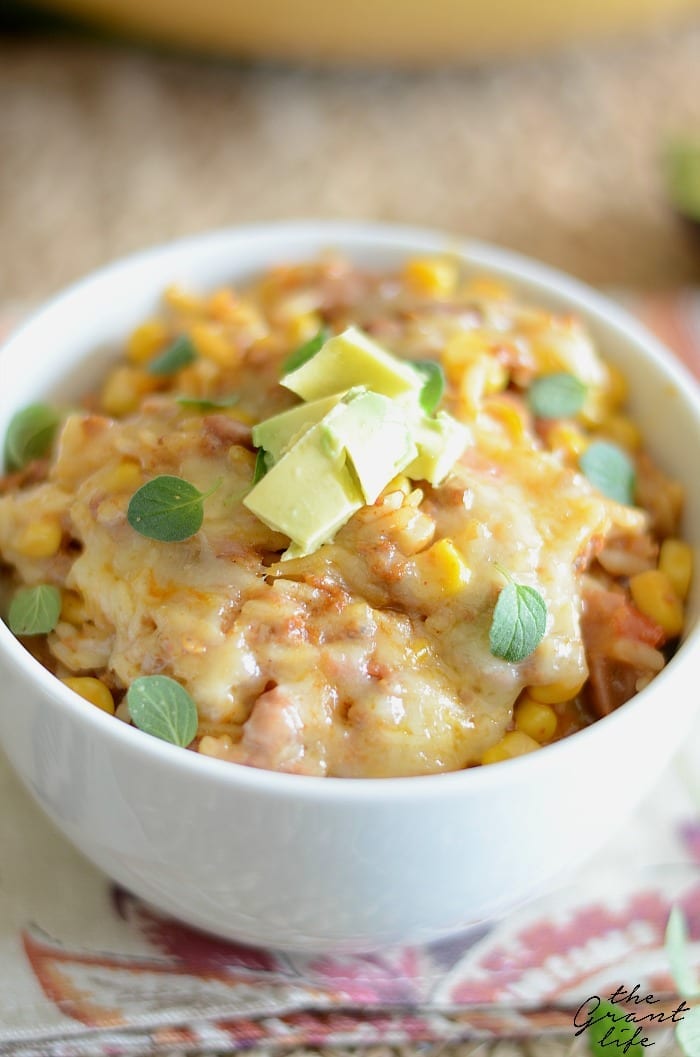 I also have a crazy love of all things Mexican food. I was born and raised in South Texas around some of the absolute best Mexican food. Very little things make me as happy as a fresh, homemade tortilla. (Besides my kids. And occasionally my husband. But other then that…)
I remember when I was in high school I would have breakfast taco dates with my friends. We would wake up early before school, drive to one of our favorite taco stands and grab a taco or two before school. Yes, I love breakfast tacos enough to wake up EARLY to get one.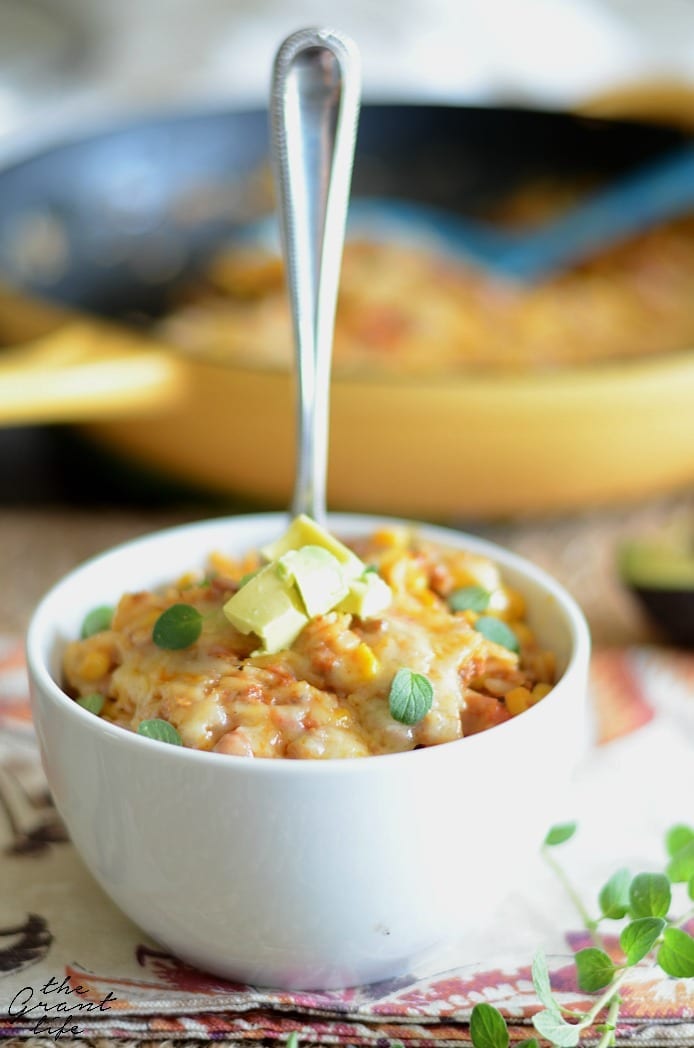 There were probably 5 taco places within a 2 mile radius of the school so good food was never a far drive. If they didn't close the campus for lunch my sophomore year I probably would have had tacos for lunch every day.
Then again.. maybe it's a good thing that didn't happen.
So this Mexican skillet casserole is my grown up, gotta get dinner on the table homage to my home town. It's made all in one pan and is done with very little effort in under 40 minutes. Plus, it's topped with all that cheeeeese. I mean, how can you go wrong with that??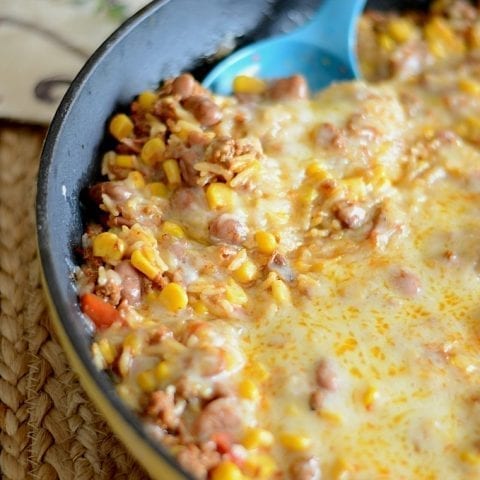 Mexican skillet casserole
Ingredients
12 oz chorizo
1 cup rice
1 1/2 cup water
1 can pinto beans
1 small can of chipotle corn mix
2 cups of cheese
avocado and oregano for topping
Instructions
In a large skillet, cook the chorizo thoroughly. Remove as much grease as possible.
Pour in the rice and water. Bring to a soft boil and then turn down the heat to low. Cover. Allow to simmer for 20 minutes or until most of the water is gone. Stir constantly so the rice doesn't stick to the bottom of the pan.
Add in the beans and corn and simmer, covered for another 5 minutes.
Remove from heat. Sprinkle the cheese of the casserole and replace the lid. Allow the cheese to melt. Remove cover, let cool, top with avocado and fresh herbs of choice and enjoy!
Like this post? Check out these other great recipes: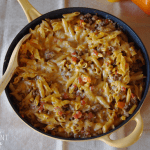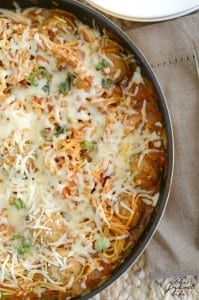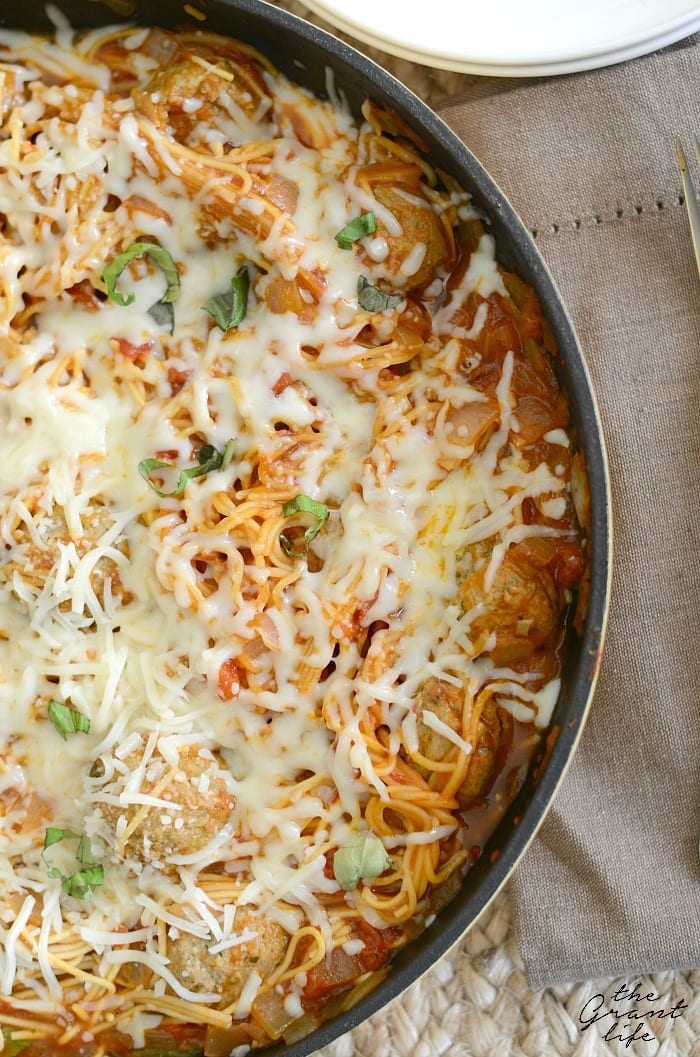 One pot spaghetti and meatballs
Like it? PIN IT!