While we all love a good ol' fashioned chocolate chip cookie, this White Chocolate Raspberry Cookies recipe adds in frozen raspberries to the cookie dough mixture – instantly transforming this classic cookie into a fruity delight! If you are a fan of white chocolate recipes, you have to give these cookies a try!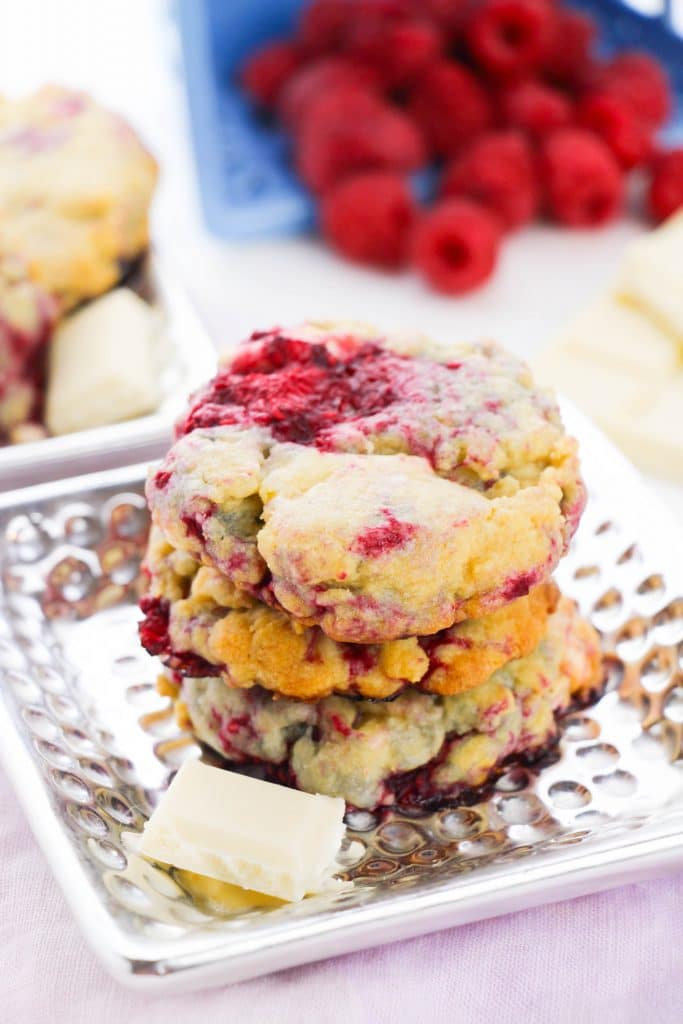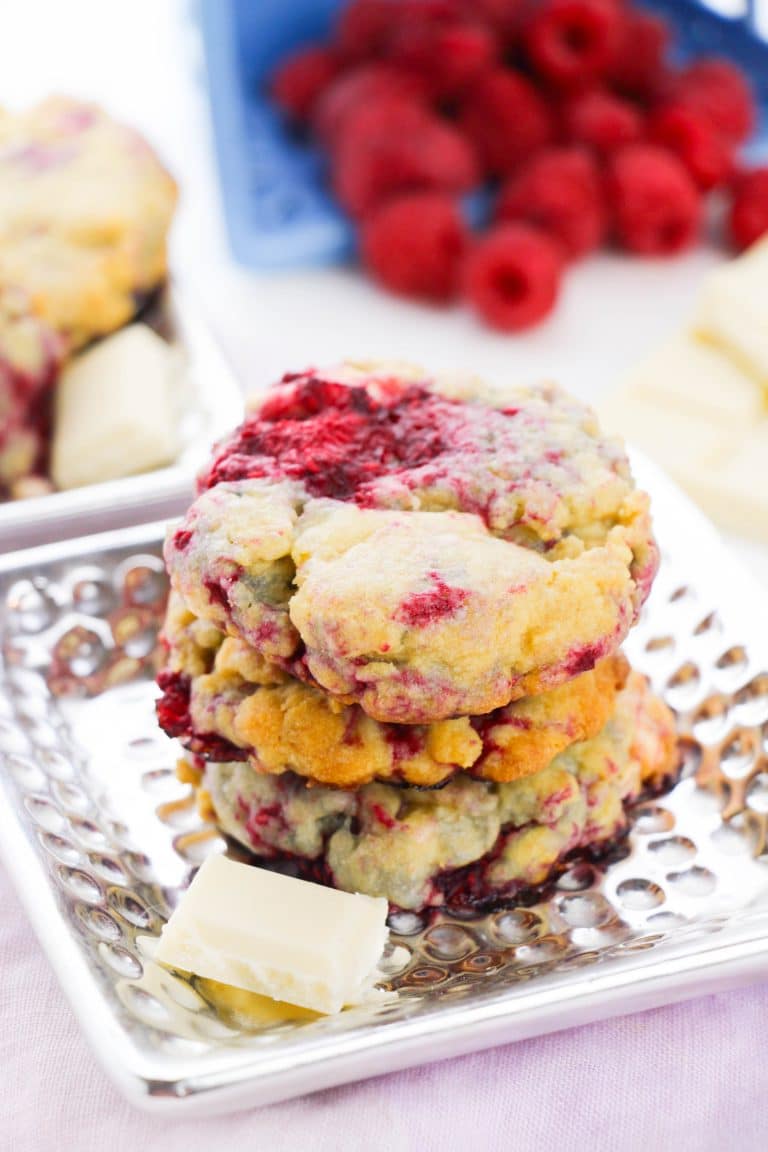 These White Chocolate Raspberry Cookies also look super festive – great for the holidays to serve to family and friends or as a special home-baked gift! I love to make them whenever raspberries are on sale for my kiddos. I've made sure to add just the right amount of white chocolate chips and raspberries for that ideal balance of flavor but these can easily be adapted to include more or less depending on your preference.
My white chocolate raspberry muffins are super popular so I decided to make a cookie version! Everything is better in cookie form, am I right?!
What Are White Chocolate Raspberry Cookies?
White Chocolate Raspberry Cookies offer a fruity twist to the traditional chocolate chip cookie that we all love so much! I've taken the traditional white chocolate chip cookie and thrown in some frozen raspberries into the chilled cookie dough that offers a slight tart flavor, balanced out beautifully with the sweet cookie dough and melted white chocolate chips! Who doesn't love a classic reinvented?
White Chocolate Raspberry Cookie Ingredients
If you want to make White Chocolate Raspberry Cookies, you'll need the following ingredients:
Flour
Baking Soda
Salt
Butter
White Sugar
Brown Sugar
Vanilla Extract
Almond Extract
Eggs
White Chocolate Bars
Mini White Chocolate Chips
Frozen Raspberries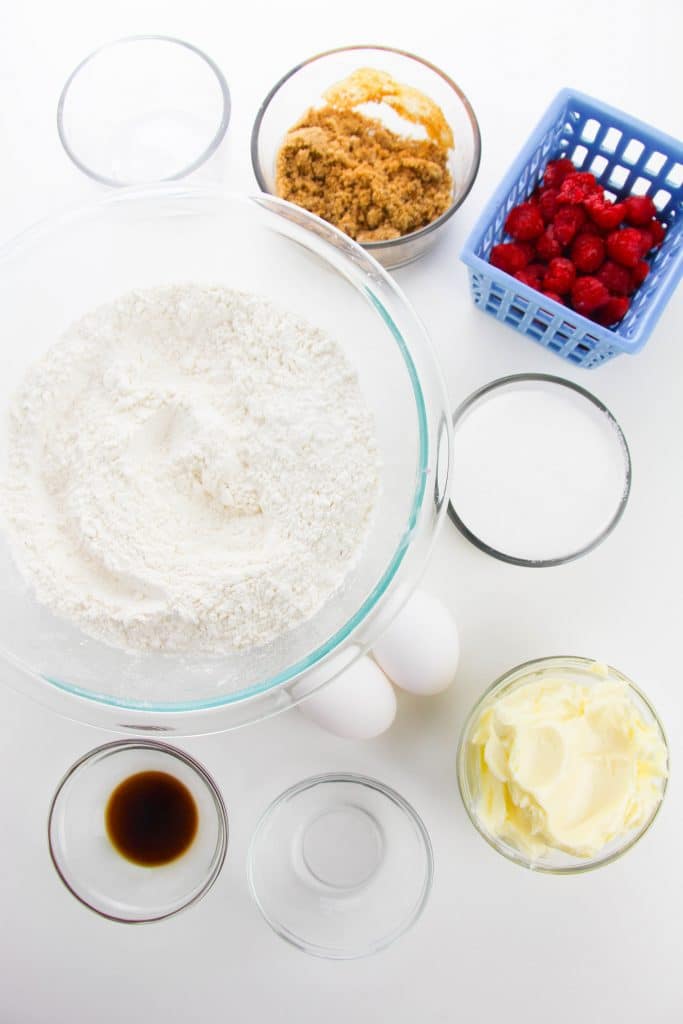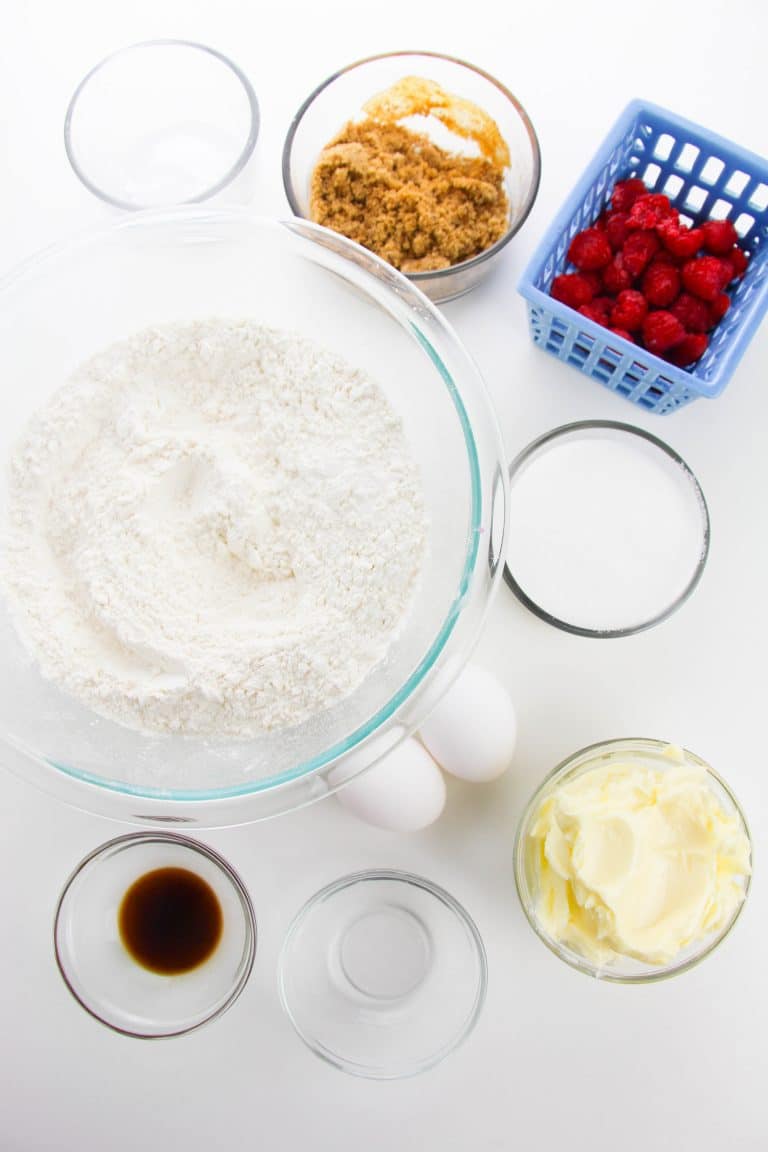 How To Make White Chocolate Cookies with Frozen Raspberries
These cookies are such a cinch to make! Follow these easy steps below for a freshly baked batch of white chocolate raspberry cookies:
Step 1: Prepare the Cookie Dough
Start by combining your dry cookie dough ingredients in a medium-sized bowl which is then to be set aside while you beat the butter and sugars in a stand mixer.
Add the eggs, vanilla and almond extracts to the creamed mixture, followed by the dry ingredients and beat till just combined. Remember, you don't want to over beat your dry and wet ingredients otherwise you risk the cookies becoming dense and not rising as well as they should!
To complete your cookie dough, add in the white chocolate bars and chips and beat till they are well-dispersed throughout the dough.
Step 2: Chill the Cookie Dough
Once your cookie dough is made, cover the stand mixer bowl with plastic wrap to store in the refrigerator for at least 1 hour, preferably overnight.
If you don't have room in the refrigerator for a stand mixer bowl, simply wrap your cookie dough tightly in plastic wrap for the suggested chill time.
Step 3: Assemble the Cookies for Baking
Once your oven has preheated to 350?, remove the cookie dough from the fridge and toss in the frozen raspberries with the 1 Tablespoon of flour. Beat or stir the raspberries into the chilled dough and then scoop cookie dough balls (using a cookie scoop) onto two parchment paper lined baking trays or silicone baking mats.
Using the back of a spoon or measuring cup, flatten the cookies to about 1/2″ thickness.
Step 4: Bake the Cookies
Your cookies are now ready to be baked for 12 minutes, or until cookies are lightly golden on the top.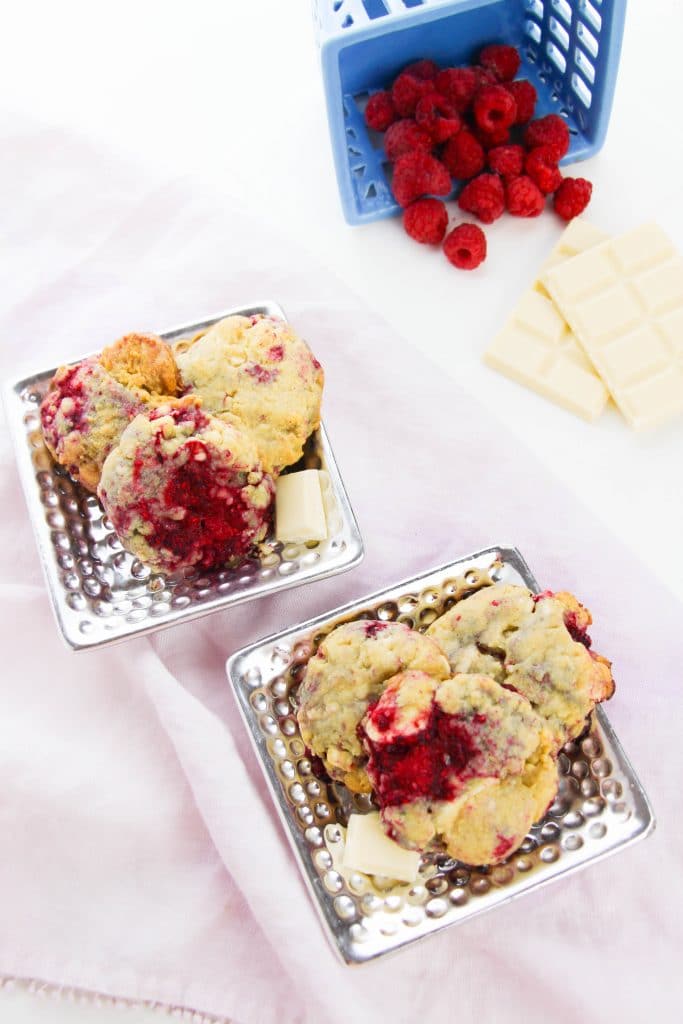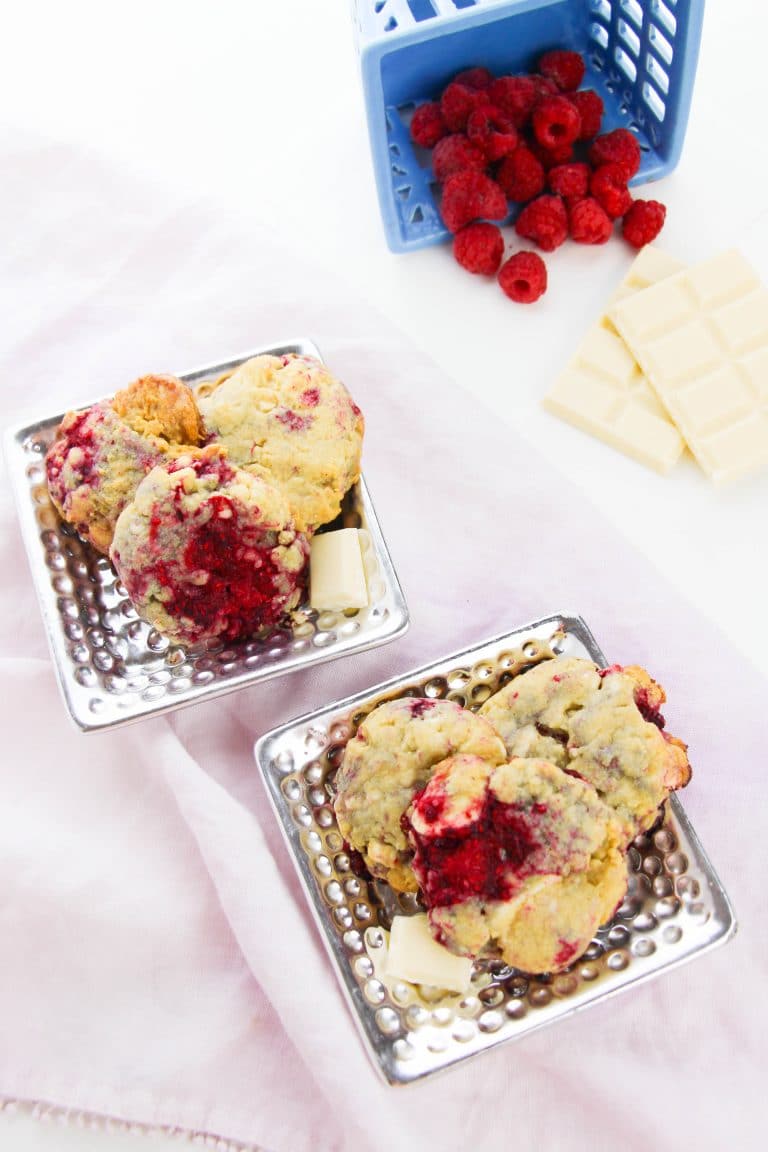 How Long Do I Need To Bake The Cookies?
These cookies only need to be baked for about 12 minutes at 350?. Since ovens differ in heat, it's a good idea to check on your cookies around the 12-minute mark and if they haven't yet achieved a lightly golden top then bake them for a further 1-2 minutes, checking on them regularly to ensure that they don't burn.
Can I Use Different Fruit?
Absolutely! In fact I've made a similar cookie recipe using cranberries in my Cranberry White Chocolate Cookies. Other fruits that you could consider using in this recipe include whole blueberries, chopped strawberries or grated apple!
How Do I Soften Butter Quickly?
We're all human and sometimes it's easy to forget things like allowing the butter to soften at room temperature before needing to whip up a batch of cookies, right?!
Now, if you're thinking about using the microwave, don't! It often results in melted butter which then won't cream well with sugar and you'll end up with dense cookies that spread out while baking…yikes!
Instead, here's a super helpful trick that'll get your hard butter softened in just 15 minutes:
Boil water and then add it to a heatproof jug or bowl that's large enough to be used as a dome over your stick of butter.
Let the boiled water sit in your jug or bowl for about 5 minutes.
Pour the water out and then place it over the stick of butter, creating a mini sauna effect.
Allow 10-15 minutes to pass and you should end up with perfectly softened butter ready to be used in this cookie recipe!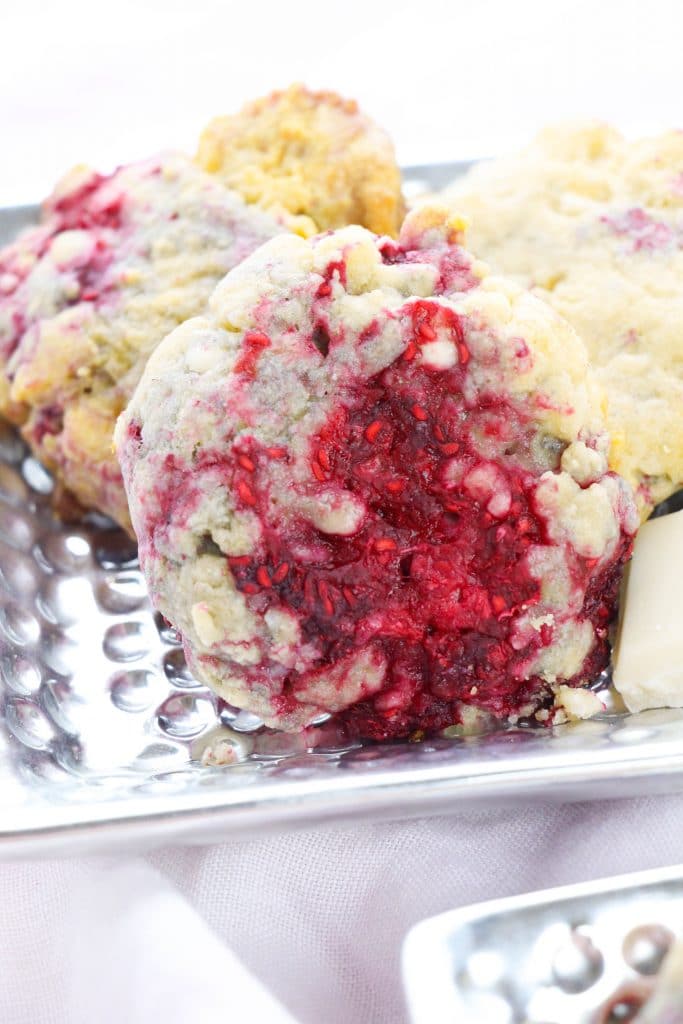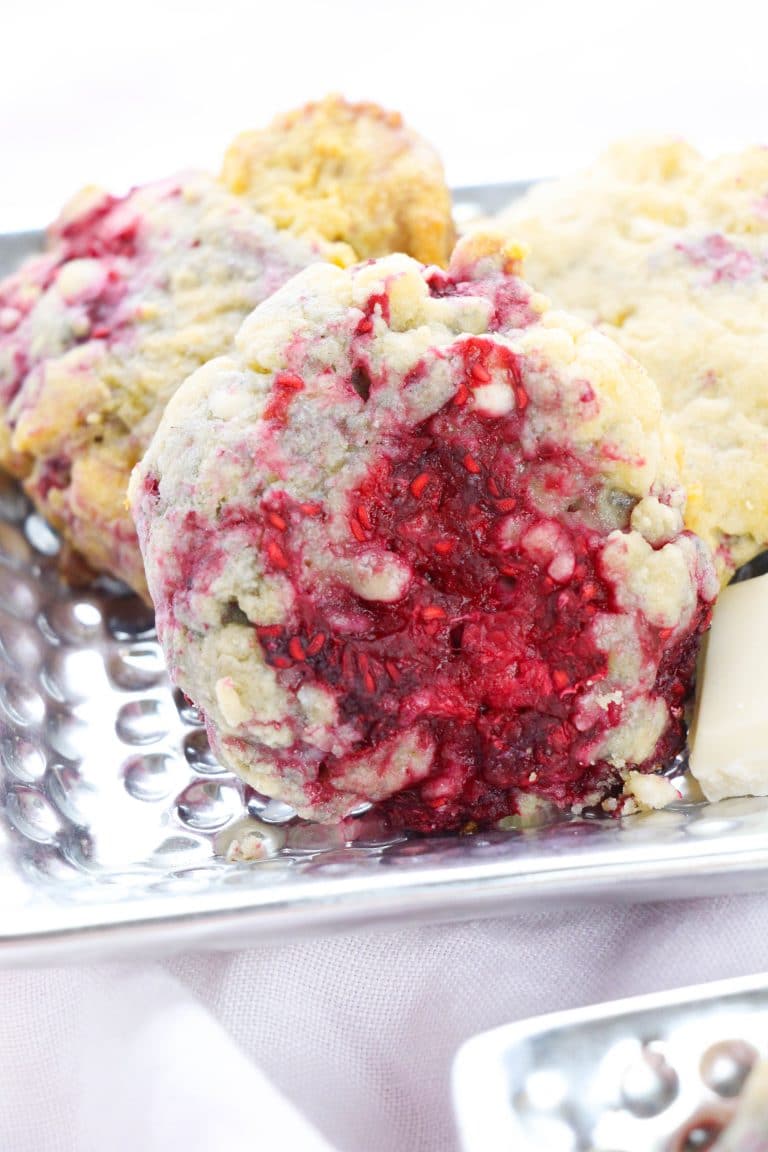 How To Store Leftovers
These white chocolate raspberry cookies can be stored in an airtight container on your countertop for 4-5 days.
Can I Freeze Them?
Yes, you can! The shelf life of these delicious cookies can be extended by up to 3 months if you store them in the freezer. You can either store them in an airtight container, stacked with parchment paper between the layers or flash freeze them first and then transfer them to a Ziploc bag.
When ready to enjoy, allow your frozen cookies to thaw in the refrigerator overnight and then room temperature before serving.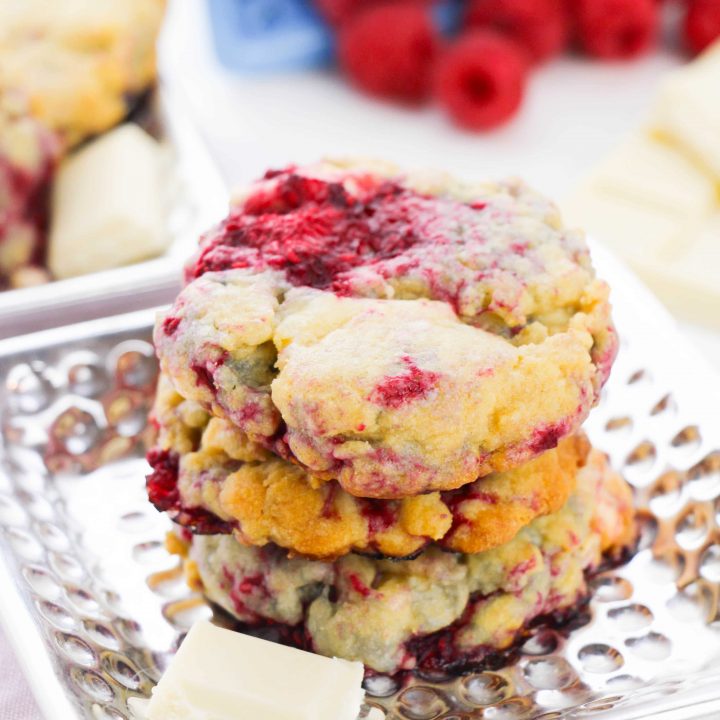 White Chocolate Raspberry Cookies
Additional Time:
30 minutes
How to make tender white chocolate chip cookies that are bursting with raspberry flavor!
Ingredients
2 1/2 cups All-Purpose Flour plus 1 Tablespoon
1 teaspoon Baking Soda
1/2 teaspoon Salt
1 cup Butter, softened at room temperature
3/4 cup White Sugar
3/4 cup Brown Sugar
1 teaspoon Vanilla Extract
1/2 teaspoon Almond Extract
2 eggs
10 oz White Chocolate Bars, chopped
1/2 cup Mini White Chocolate Chips, optional
1 1/2 cups Frozen Raspberries
Instructions
In a medium-sized bowl, whisk together 2 1/2 cups flour, baking soda and salt. Set aside.
In a large bowl or bowl of a stand mixer, beat the butter and sugars for 2 minutes, until creamy and pale.
Add the vanilla and almond extracts and eggs and beat until well combined.
Add in the dry ingredients and beat until just combined.
Add the white chocolate bars and chips, to personal preference and beat until well-dispersed throughout the dough.
Cover the dough and place in the fridge for 1 hour or overnight.
Preheat oven to 350F.
Remove dough from fridge.
Toss the frozen raspberries with the 1 Tablespoon of flour.
Beat or stir the raspberries into the chilled cookie dough.
Line two baking trays with parchment paper or silicone baking mats.
Use a cookie scoop to portion out the chilled cookie dough onto the lined baking sheets. Use the back of a spoon or measuring cup to flatten the cookies to about 1/2" thickness.
Bake for 12 minutes, or until cookies are set and lightly golden on the top.
Other Cookie Recipes To Try
Did you make this recipe? I'd love for you to leave a review in the recipe card above or in the comments below. Want to make it later? Feel free to pin the image to your favorite dessert board!