Most of the time when I'm thinking of new recipes its because my mind starts wandering down food alley. I'll start thinking of two flavor combinations that I just have to try and run to the kitchen. I think Ryon gets annoyed with my creative cooking sometimes. He'll ask for something, say brownies, and he gets Reeses brownies instead. Or he will say "I could go for some chocolate chip cookies" and he gets strawberry chocolate chip thumbprint cookies instead. Poor husband.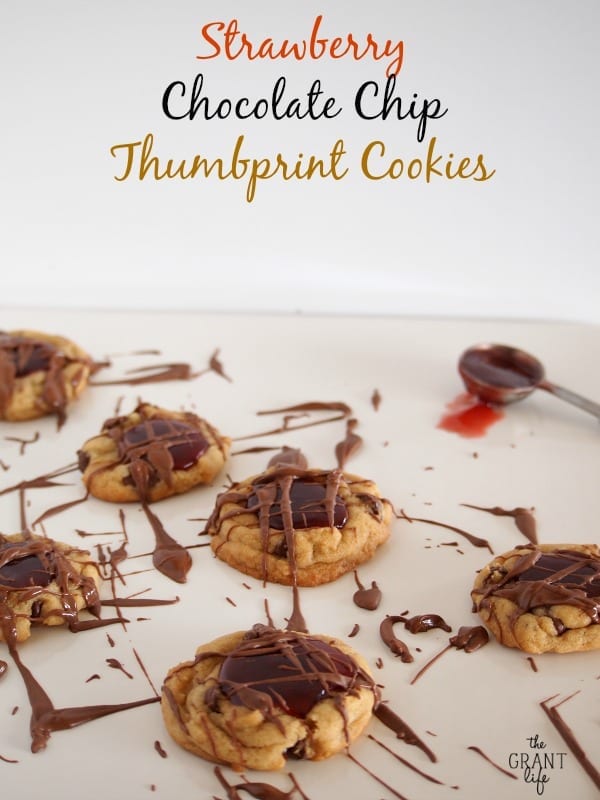 Yall, I really wouldn't feel too bad for him on this one. These cookies were good! Like "whoa, why didn't I think of this sooner" good. I mean strawberry and chocolate just goes together, right? [Umm.. yes!] And I really really tried to make just plain chocolate chip cookies too. After I pulled them out of the oven they were so soft and gooey. And I put a little indent in the middle on accident. And then my brain went "click!", these need something. Something right in the middle. Something like strawberry jam!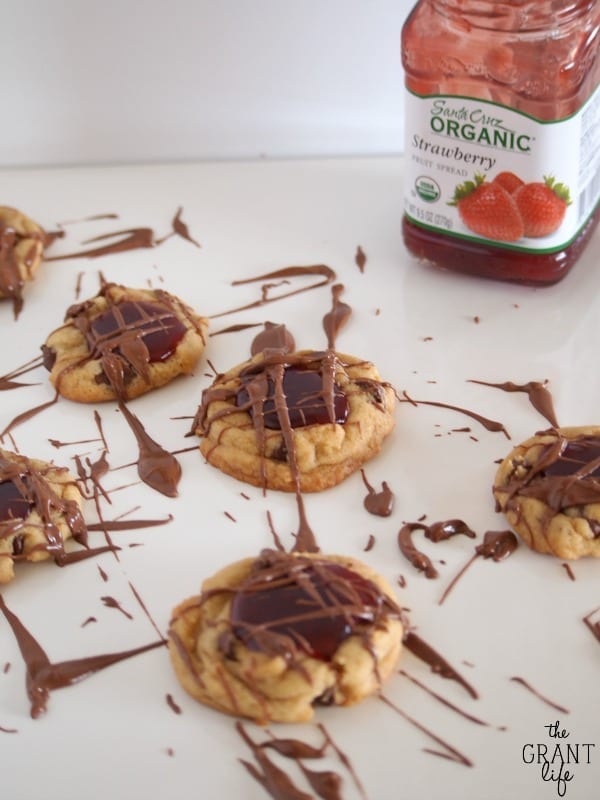 So a teaspoon or so of jam went right into that indent. And a few more cookies accidentally received indents and jam filled in the holes. And then I got a little crazy. I covered the chocolate chip cookies with more chocolate. [Whoa.] I may have been laughing the entire time I drizzled chocolate on top of these bad boys. Plain chocolate chip cookies? In the Grant house? Pffft.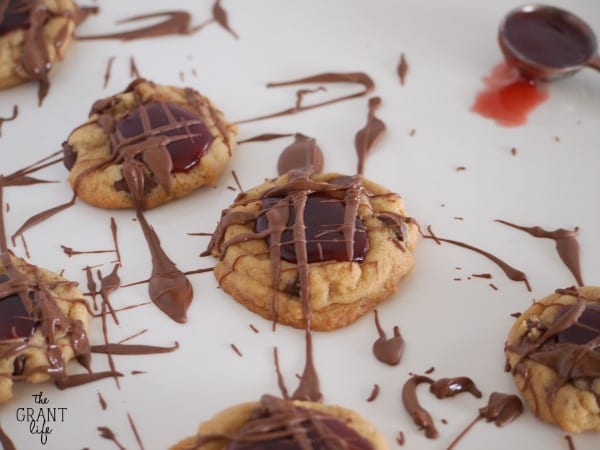 I felt like an evil scientist as I watched him check out the cookies when he came home that night. He looked confused but that didn't stop him from eating one. And then his face lit up and I knew he loved them. And then because he didn't say it I asked "sooo.." and he said they were really good. Really good! He said it twice and then grabbed another cookie. And I laughed, knowing that my mind wondering down food alley isn't such a bad thing. [Its actually pretty dang tasty!]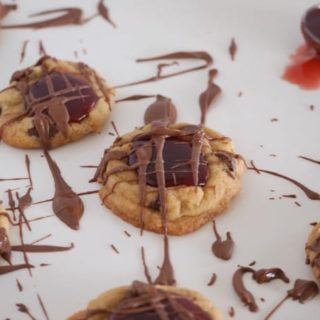 Strawberry Chocolate Chip Thumbprint Cookies
Ingredients
1 cup butter
1 cup sugar
1 cup brown sugar, packed
3 eggs
2 cups flour
1 tsp baking powder
2 cups chocolate chips
Strawberry jam or jelly
2 pieces of chocolate bark
Instructions
Preheat oven to 350.
Line cookies sheets with parchment paper or nonstick baking sheets.
Combine the butter and sugars in a stand mixer or by hand until fluffy.
Mix in the eggs one at a time.
Add the flour and baking powder to the wet mixture, a little at a time until dough is formed.
Add your chocolate chips and mix with a spoon.
Drop cookie dough onto your baking sheets and bake for 18-22 minutes or until the edges are lightly browned.
Once they come out of the oven, use a teaspoon to press in a small indent.
Let them cool before adding a small amount of jam.
While they are cooling, melt your chocolate bark. [Microwave 30 seconds then stir. Repeat until smooth.]
Drizzle the chocolate bark over the cooled cookies and let it harden.
Enjoy!
Notes
Use your favorite jam or jelly!

Like this recipe? Check out:
Or sign up for our emails and get some pretty cool freebies! [They are over on the left hand side.. ingredient substitution printables!]