If you're a fudge fan like we are in our house, you're going to go crazy over this delicious White Chocolate Pineapple Fudge. Not only does it taste like a creamy version of pineapple upside-down cake but it just melts in your mouth so perfectly with every single bite. Let me show you how to make this easy white chocolate dessert.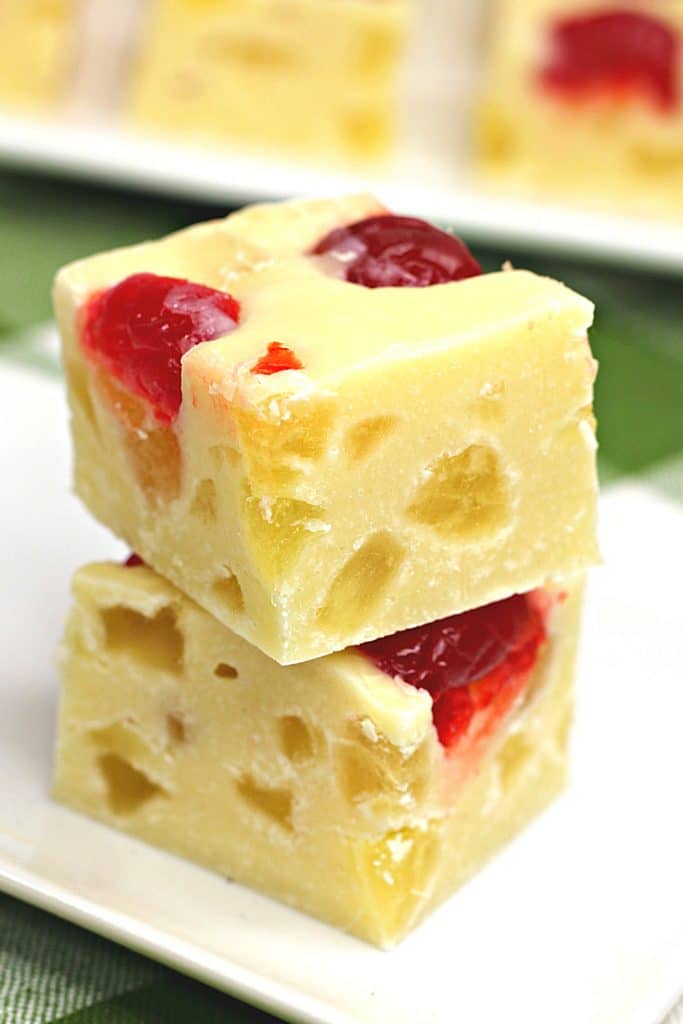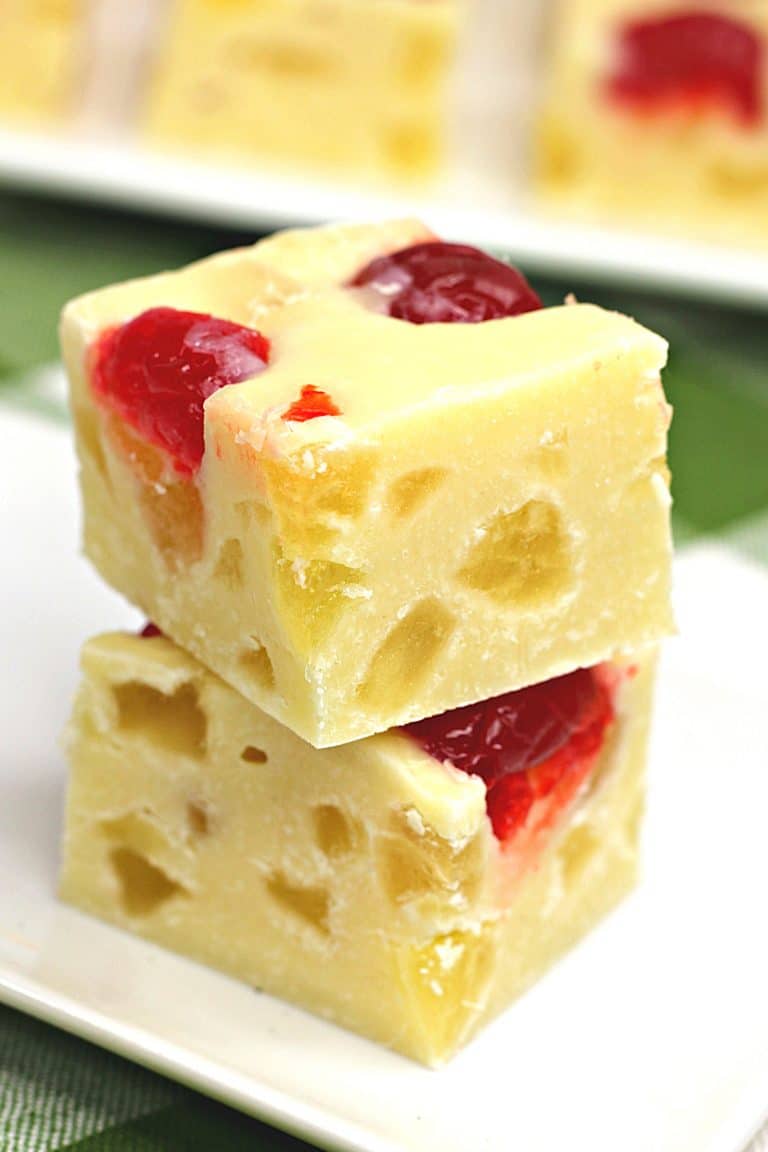 Every time I make homemade fudge, it never lasts long. And with good reason, too! This white chocolate fudge recipe is totally unique in flavor and looks so when the family sees it cooked and waiting on the counter, everyone is diving in with both hands! 
If you're looking for a simple dessert that is going to become a household favorite, this white chocolate recipe is about to become your new best friend. Perfect for any time of year, let the fudge making begin! 
What is White Chocolate Pineapple Fudge?
It's actually pretty much like it sounds. It's homemade fudge make with white chocolate and pineapple that really does end up tasting like a delicious homemade upside-down pineapple cake. 
The best part is that it takes very few ingredients to make and will actually last a bit longer than cake does as far as moisture and texture go. You don't have to worry about fudge "drying" out which is just one more reason to love this simple recipe even more. 
This recipe is very similar to my white chocolate cake batter fudge, but I traded out sprinkles for pineapples and cherries!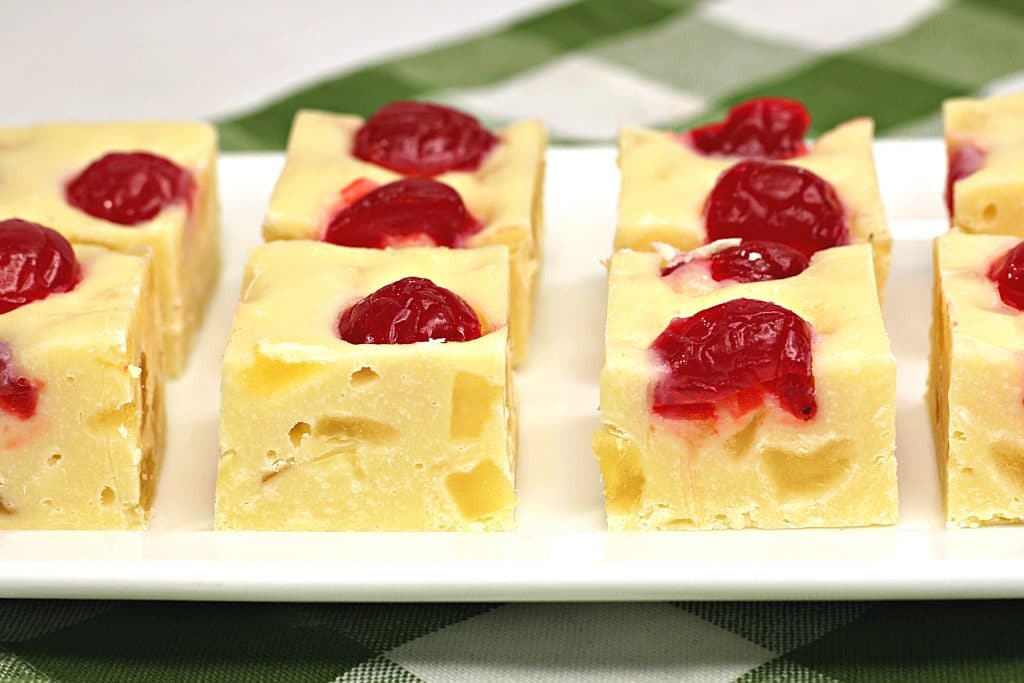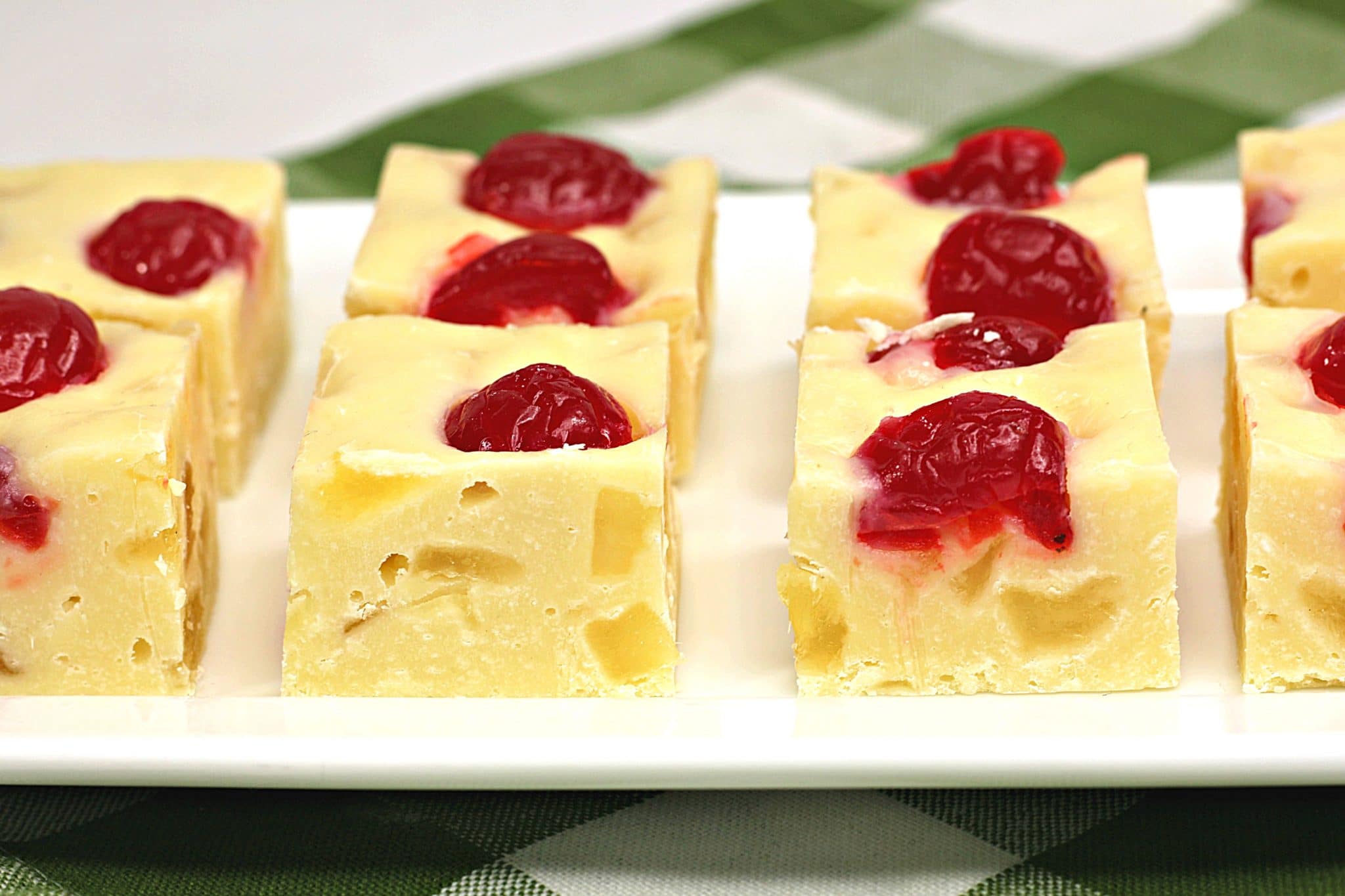 White Chocolate Fudge Ingredients
With just 5 simple ingredients needed, you're going to love the ease of this easy white chocolate fudge!
Sweetened Condensed Milk
Cake Mix
White Chocolate Chips
Candied Pineapple
Maraschino Cherries
Sweetened Condensed Milk – This is one of the main ingredients that really gives this white chocolate fudge its sweetness. Make certain to use the whole can as it's the liquid that really combines and solidifies together to create the fudge. 
Cake Mix – I use a boxed cake mix for this recipe and typically use a yellow cake mix but you can use white cake mix as well. Stay away from chocolate or other colored cake mixes as it will change the overall color and flavor of the fudge.
White Chocolate Chips – Using white chocolate chips is a simple way to get the chocolate to melt faster in the fudge since they're such little pieces. 
Candied Pineapple – Since candied pineapple is a dried fruit, it's perfect for this recipe because there isn't any liquid released into the fudge. 
Maraschino Cherries – Grab a jar of maraschino cherries for this recipe. You want to make sure that the cherries are completely dry before adding them to the fudge. Also make certain that you take out the stem and cut them in half!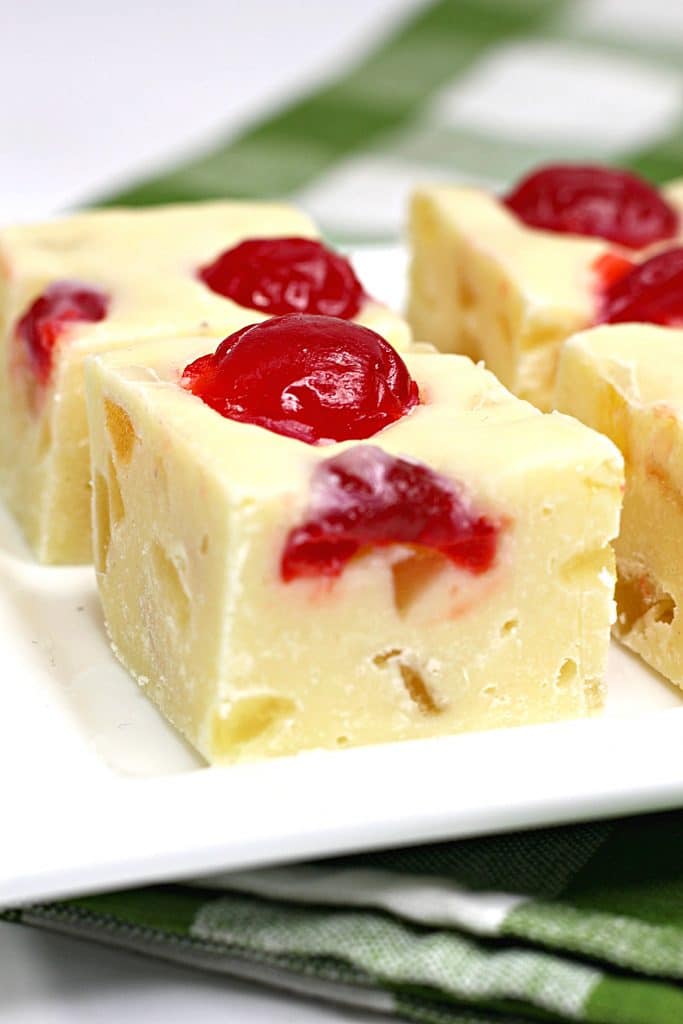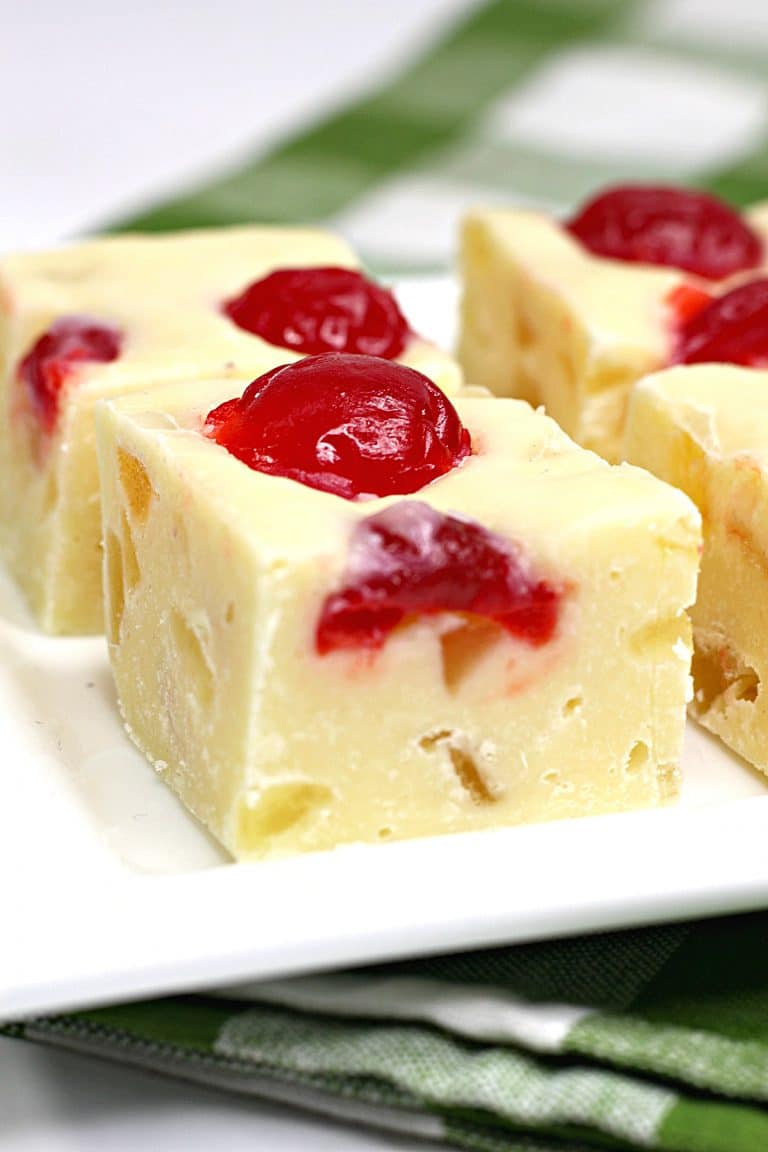 How to Make White Chocolate Fudge
Once you have gathered all your ingredients you will also need to grab:
square baking dish
parchment paper
medium pot
spatula
Start by lining a 9X9 baking pan with parchment paper.
Take the sweetened condensed milk, the cake mix, and the white chocolate chips and add them into a medium-sized pot.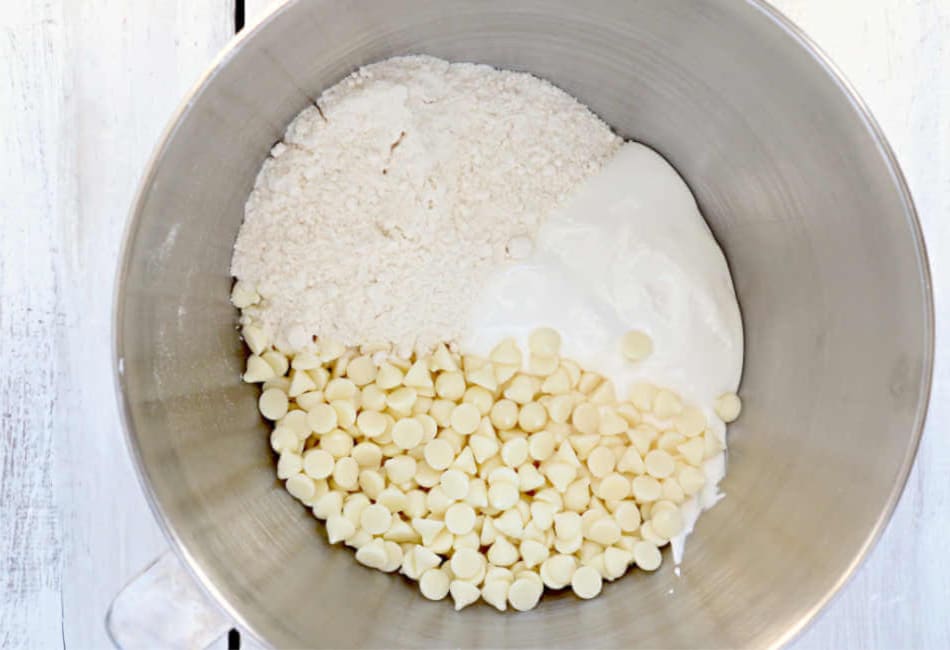 Turn on the stove and cook the ingredients over medium-high heat, whisking the entire time until smooth.
Once smooth, fold in your candied pineapple.
Pour the mixture into your baking pan and put the cherries all over the top.
Allow hardening overnight before cutting into squares and enjoying!
How to Store Fudge
To store your leftover fudge, you'll want to add it to a container with a lid and keep it in the fridge. This way the ingredients and taste stay fresh for as long as possible.
If you find that you have a lot of fudge leftover, you can freeze it for later as well. Just make certain that you're storing it in a freezer-proof container or bag and lay it carefully in your freezer so it doesn't get broken up too much. Then, when you want a piece of fudge, you can open the container, pull it out, and let it thaw to enjoy!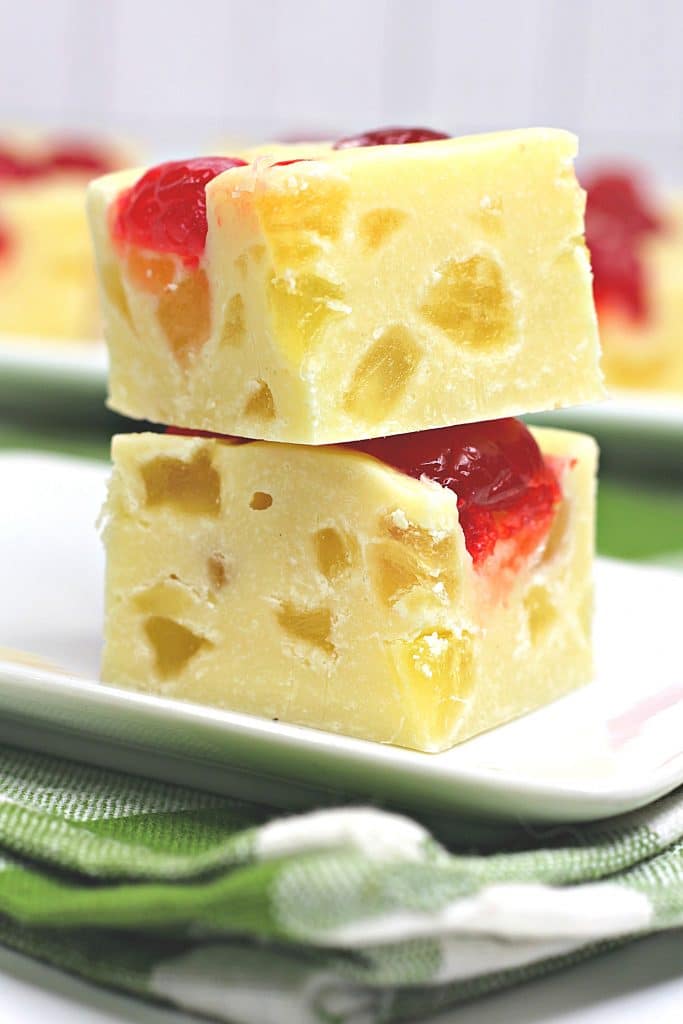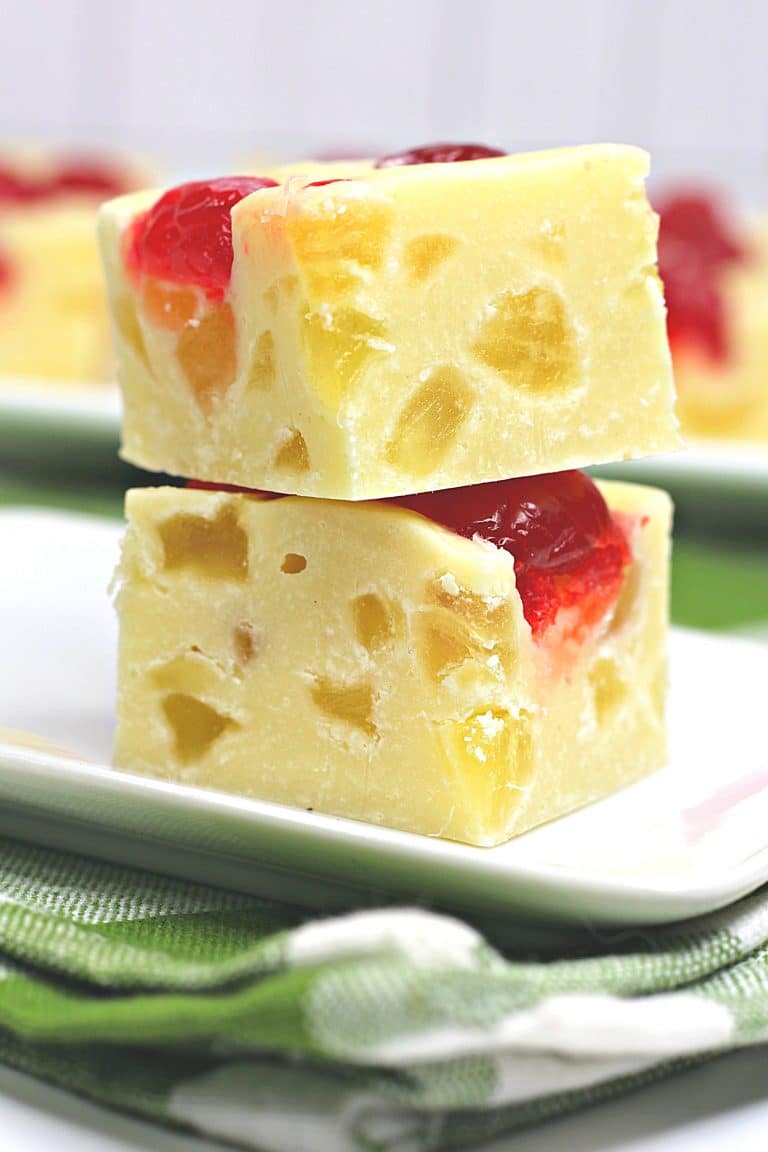 Other White Chocolate Recipes
If you love white chocolate, here are a few other great recipes to consider.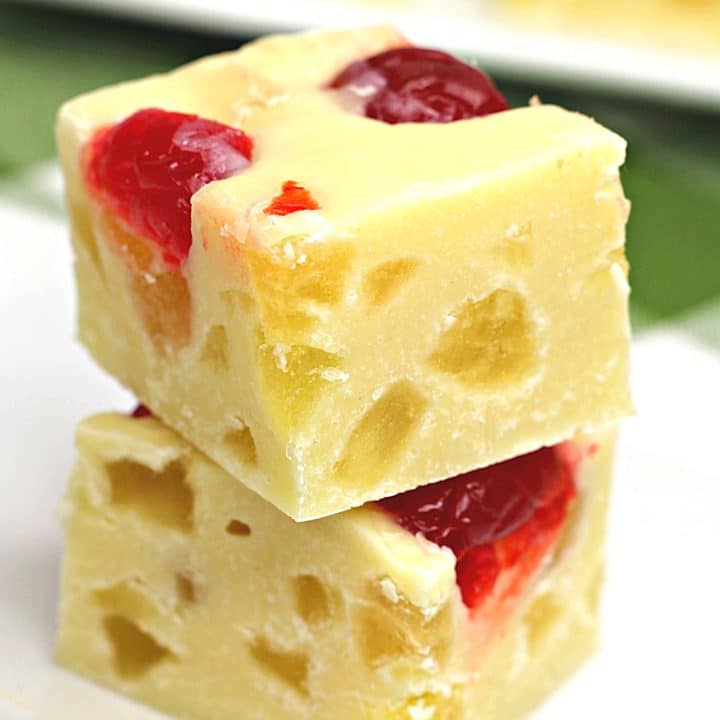 White chocolate pineapple fudge
An easy white chocolate fudge recipe that tastes like pineapple upside down cake!
Ingredients
1 - 14 oz can sweetened condensed milk
1/2 cup yellow cake mix
2 1/2 cup white chocolate chips
3/4 cup chopped candied pineapple
16 maraschino cherries, stems removed and cut in half, dried
Instructions
Line a 9x9 baking dish with parchment paper.

Combine the sweetened condensed milk, cake mix, and white chocolate chips into a medium pot.

Place onto medium to high heat and whisk until smooth.

Fold in the chopped pineapple.

Pour fudge into the baking dish.

Place the cherries scatted around the top.

Allow to harden overnight before cutting into 2 inch squares.

Enjoy!
Nutrition Information:
Yield:

16
Serving Size:

1
Amount Per Serving:
Calories:

275
Total Fat:

11g
Saturated Fat:

7g
Trans Fat:

0g
Unsaturated Fat:

4g
Cholesterol:

17mg
Sodium:

94mg
Carbohydrates:

40g
Fiber:

0g
Sugar:

38g
Protein:

4g
Like this recipe? Be sure to PIN IT!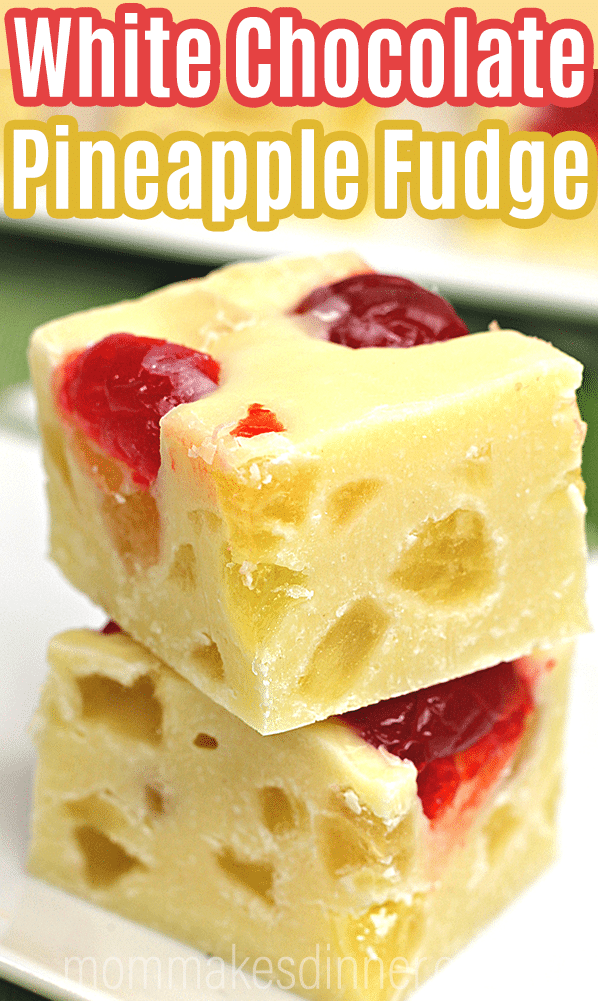 Fudge recipes
Other decadent fudge recipes to try!