Nothing says summer more than a freshly cut and super sweet watermelon. Now make it an adult version with this homemade watermelon margarita on the rocks! This watermelon margarita turns the best fruit of summer into a refreshing drink perfect for backyard sipping.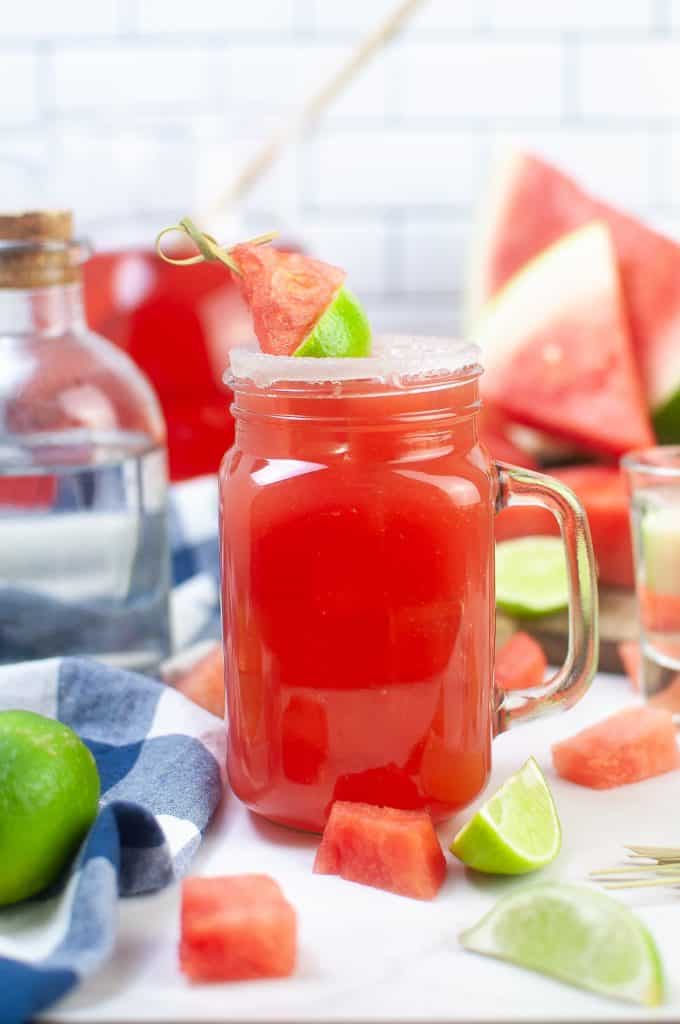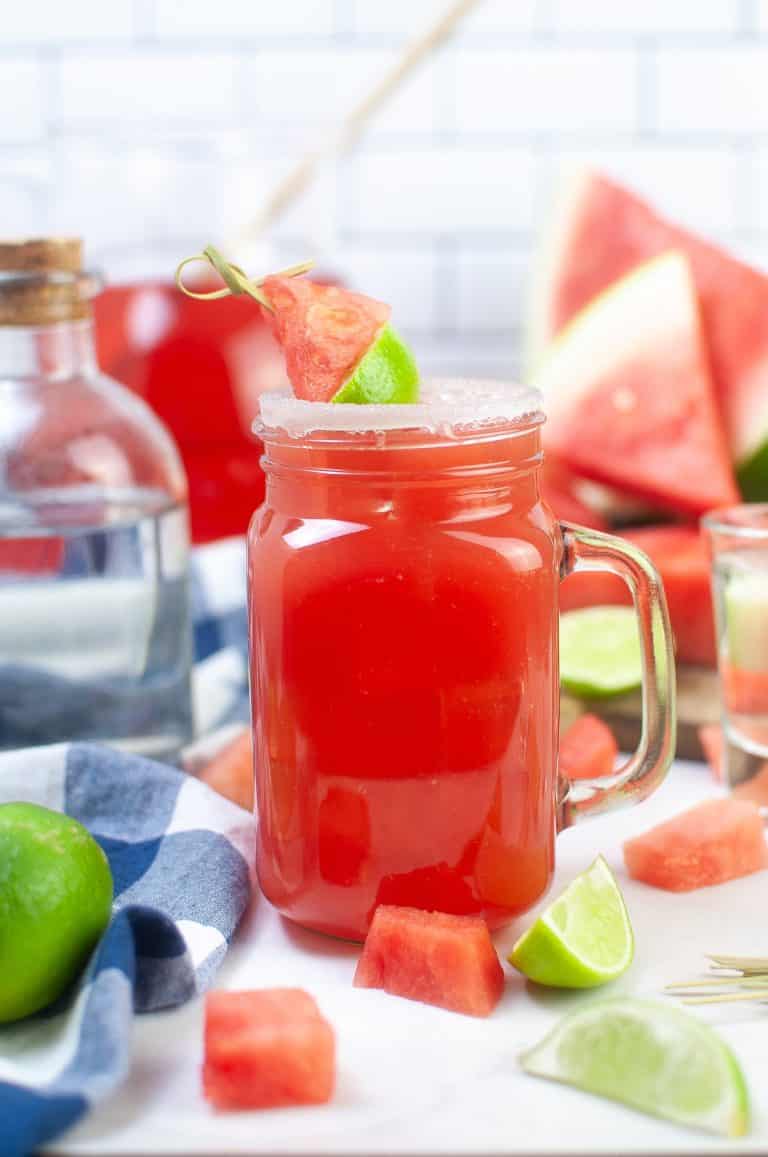 We love watermelon in the summer! My kids can eat it by the bowl throughout the day. I love seeing their tshirts soaked from a juicy bite! We make a lot of watermelon lemonade slushies together and I try to add it to summer sides like watermelon feta salad. It's also fun to make it an adults only treat like this watermelon margarita on the rocks!
Watermelon margarita on the rocks
This margarita recipe uses fresh watermelon making it the perfect drink for summer. A margarita is a combination of tequila, orange liquor and lime with a salted rim. This watermelon versions adds in the fresh fruit of summer in place of the orange. When you order or make a margarita "on the rocks" it means poured over ice.
Watermelon margarita ingredients
You only need a handful of fresh ingredients to make this summer time drink recipe. And tequila, of course!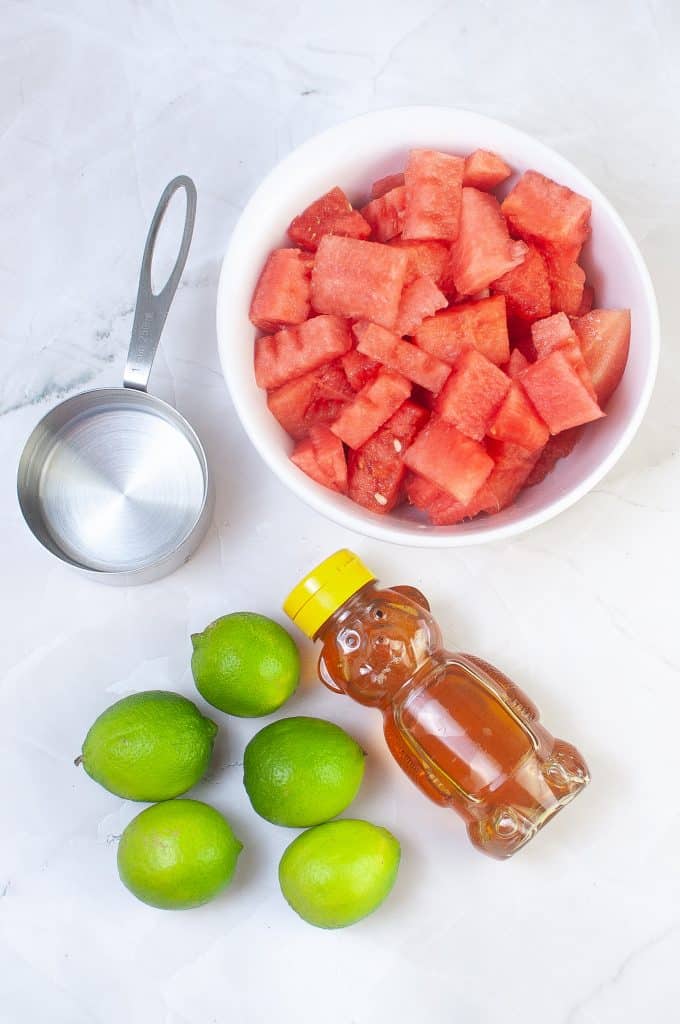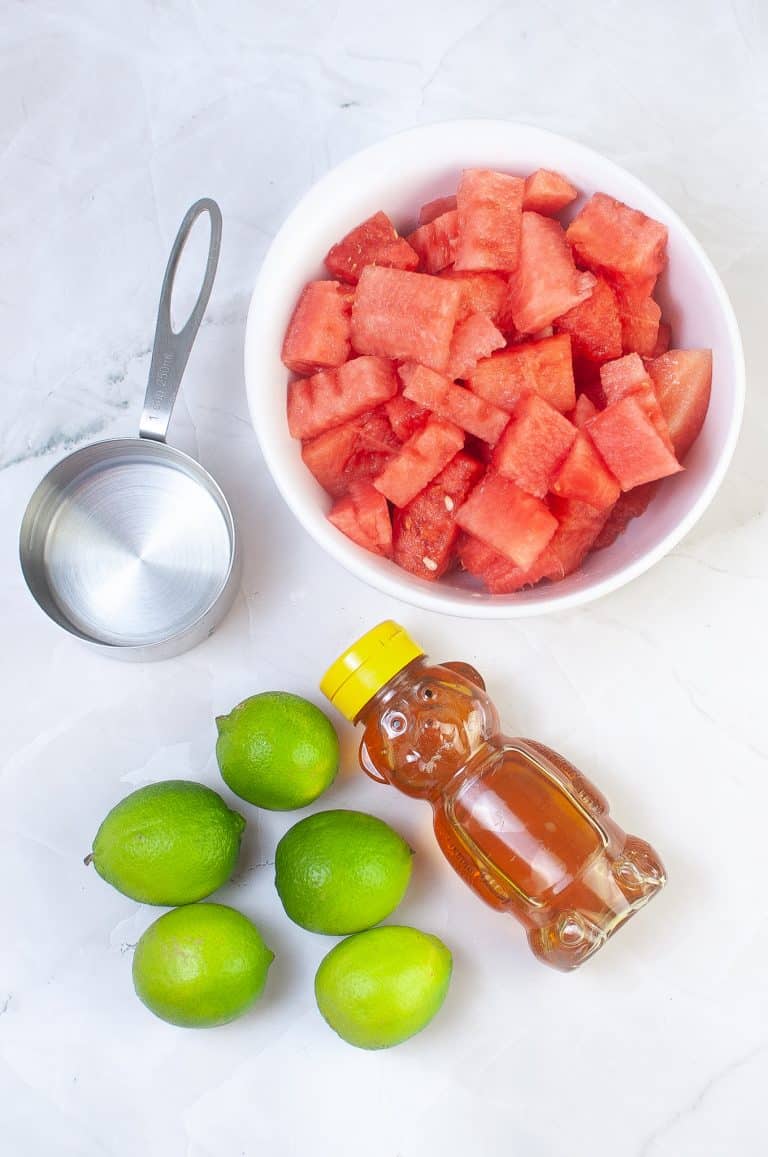 Watermelon
Honey
Limes
Ice
Tequila
Salt
Watermelon – You will need 4 cups of watermelon for these margaritas. A medium size or half a large watermelon will work.
Honey – Use your favorite honey for this recipe.
Limes – A total of 5 limes are needed. You will juice 4 and use the last one as garnish.
Tequila – Grab your favorite white tequila for these yummy margaritas!
Salt – This is for the rim around the glass. Feel free to use your favorite rim salt here.
How to make watermelon margaritas
Once you have gathered all your ingredients, you will also want to grab your blender, a metal strainer, pitcher and a silicone spatula.
Step 1 Blend together Add in the honey, lime and tequila and give it a quick pulse. Then add in the watermelon and blend for 90 seconds.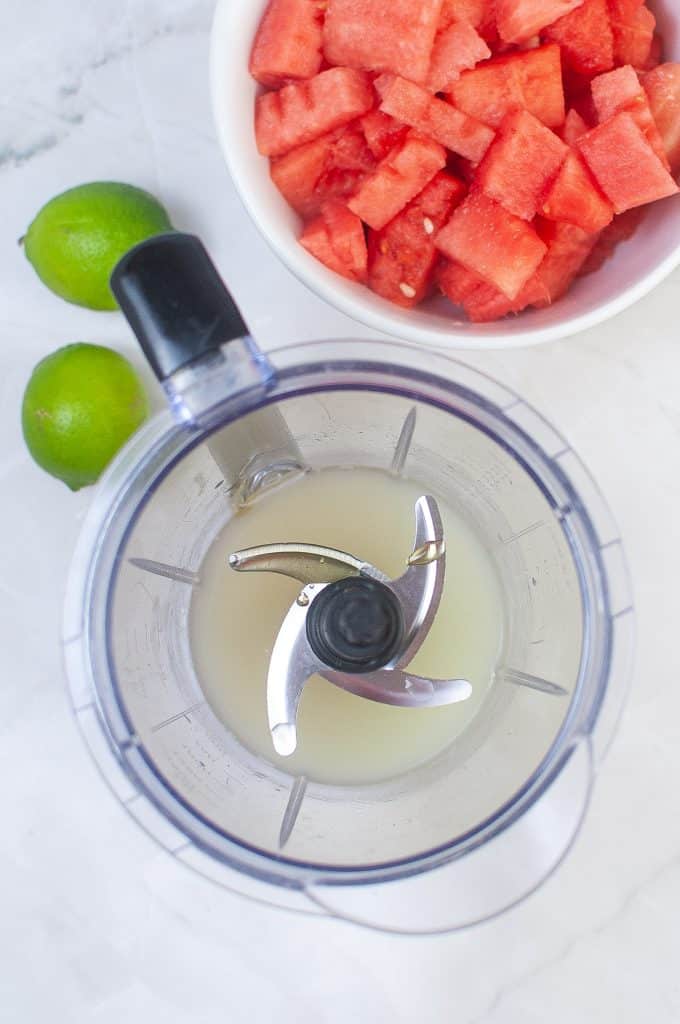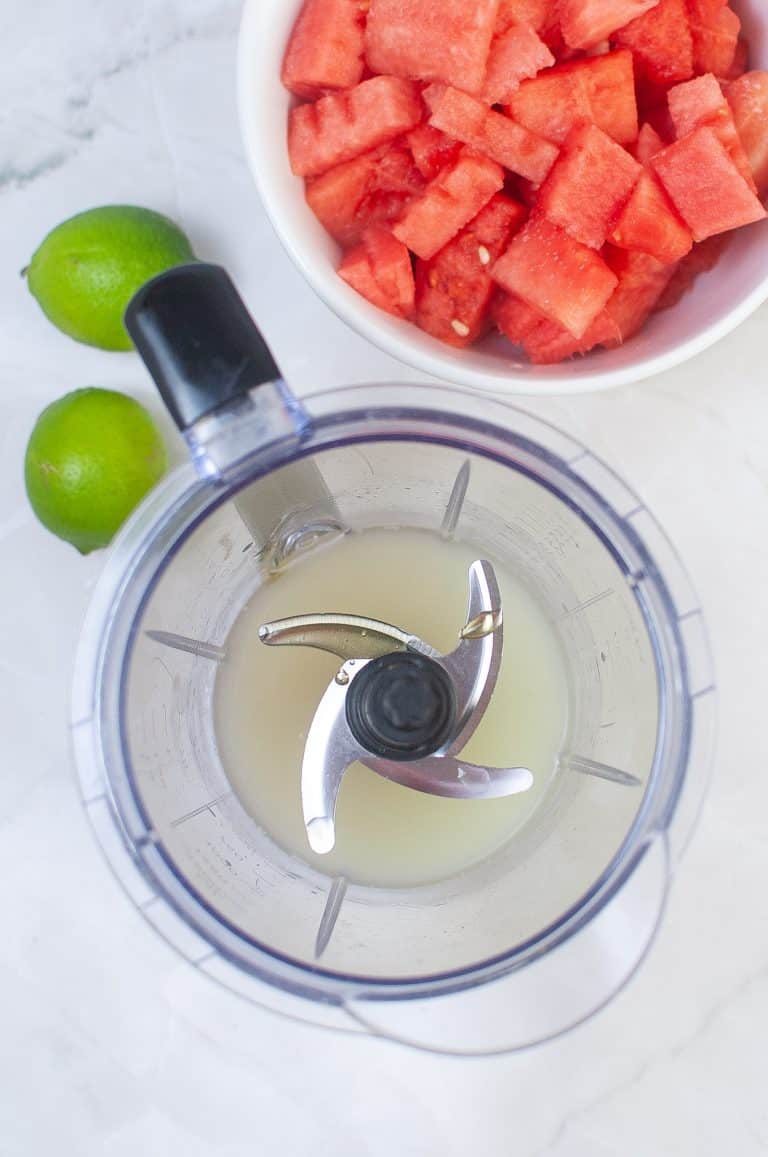 Step 2 Strain solids Pour the drink through a fine metal strainer. Use your silicone spatula to press out all the liquid into the pitcher below. Discard the solids and any seeds.
Step 3 Chill Place the margarita mixture in the fridge for an hour to chill.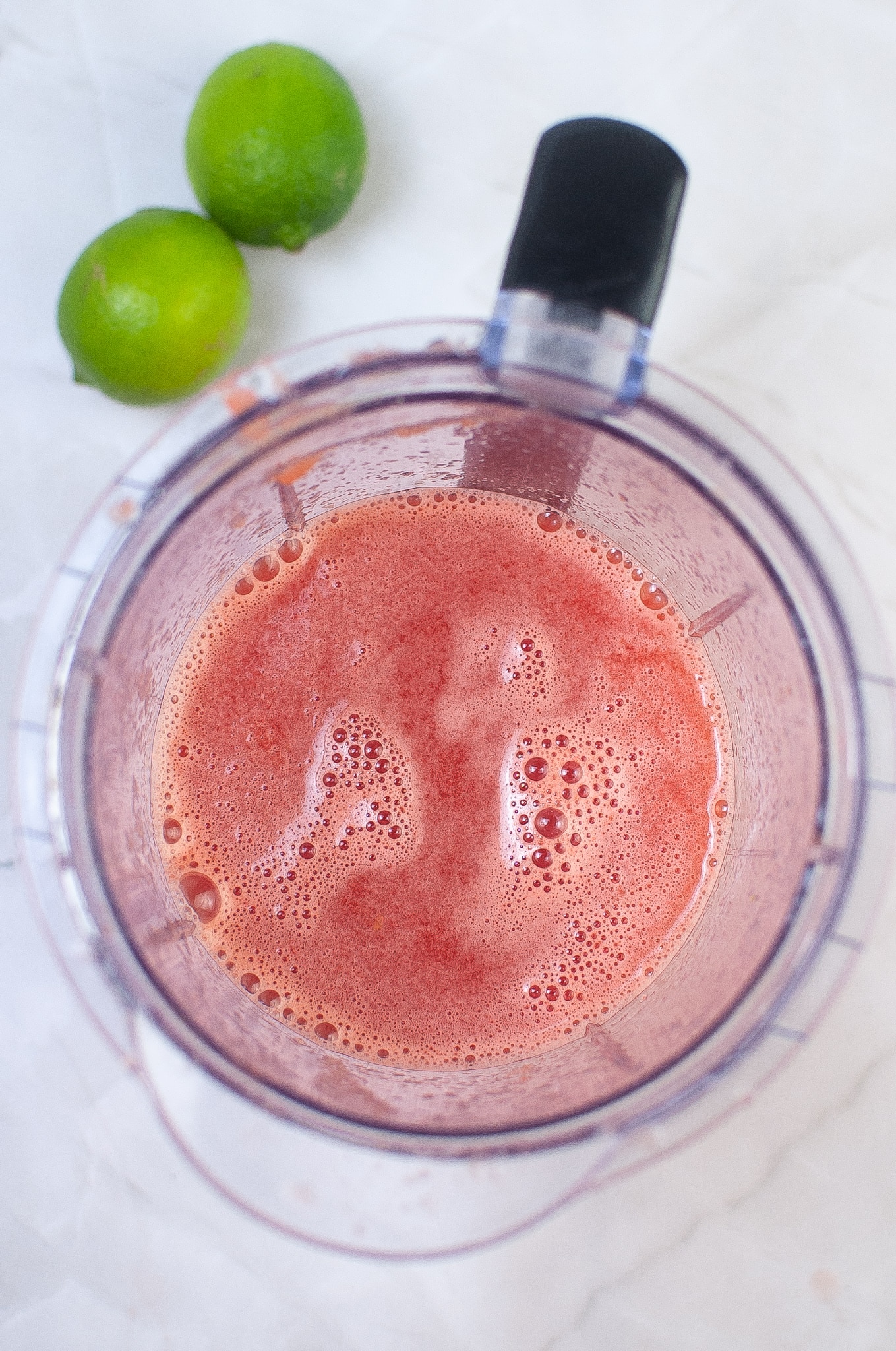 Step 4 Rim the glass Slice your last lime and use it to coat the rim in liquid. Roll the rim in your salt.
Step 5 Pour and enjoy Place the ice in the salted glass. Stir your margarita mixture and pour over size. Garnish with lime and watermelon. Enjoy!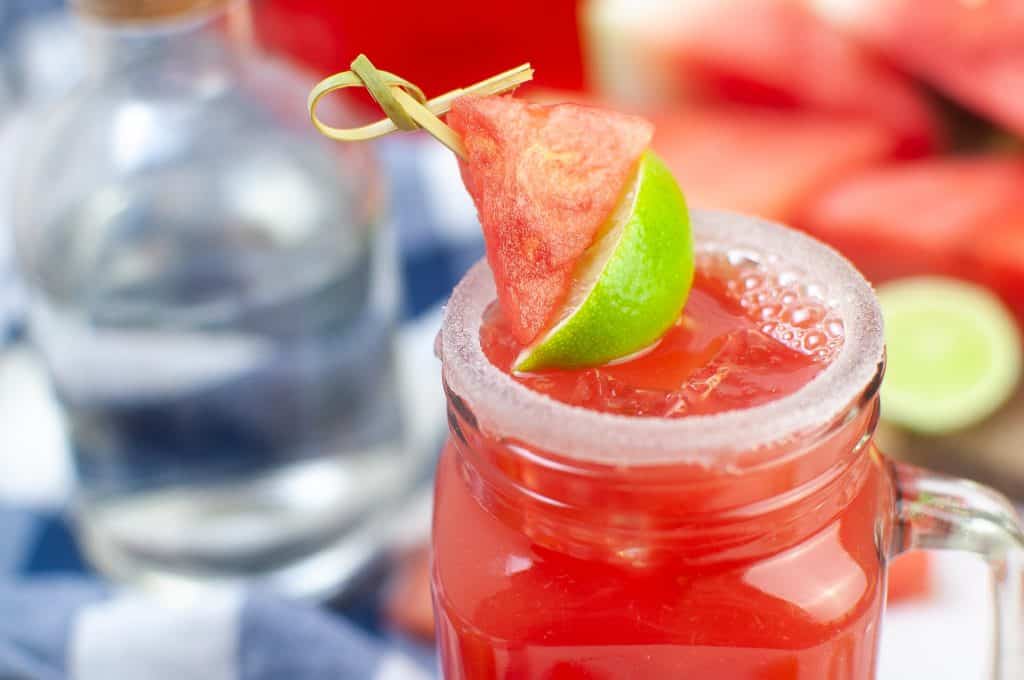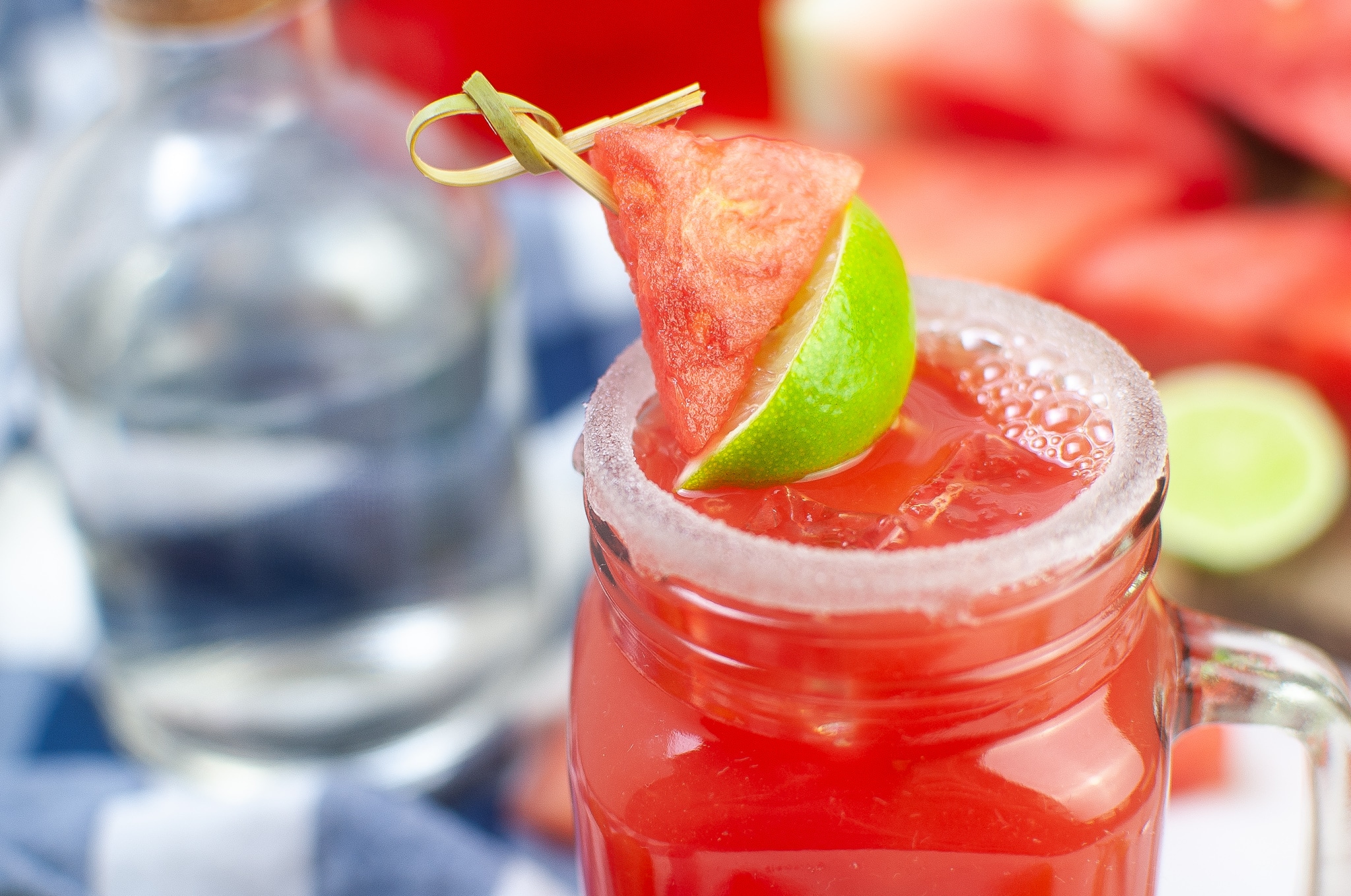 What tequila do I need?
You can use your favorite brand of tequila for these watermelon margaritas on the rocks. I do suggest using a white tequila, but any brand will work.
What size watermelon do I need?
You will need 4 cups of watermelon to make these margaritas. I would go with a medium one or use half of a large watermelon. If you can get seedless, even better!
Can I make these frozen and not on the rocks?
Absolutely! Want an even cooler marg? Make it frozen! Place your watermelon cubes in the freezer for 2-3 hours. Then follow the instructions below – place the lime, honey and tequila in the blender first. Blend to combine. Place the frozen watermelon in the blender and blend for 90 seconds. Do no strain. Pour into your salt rim glasses and enjoy.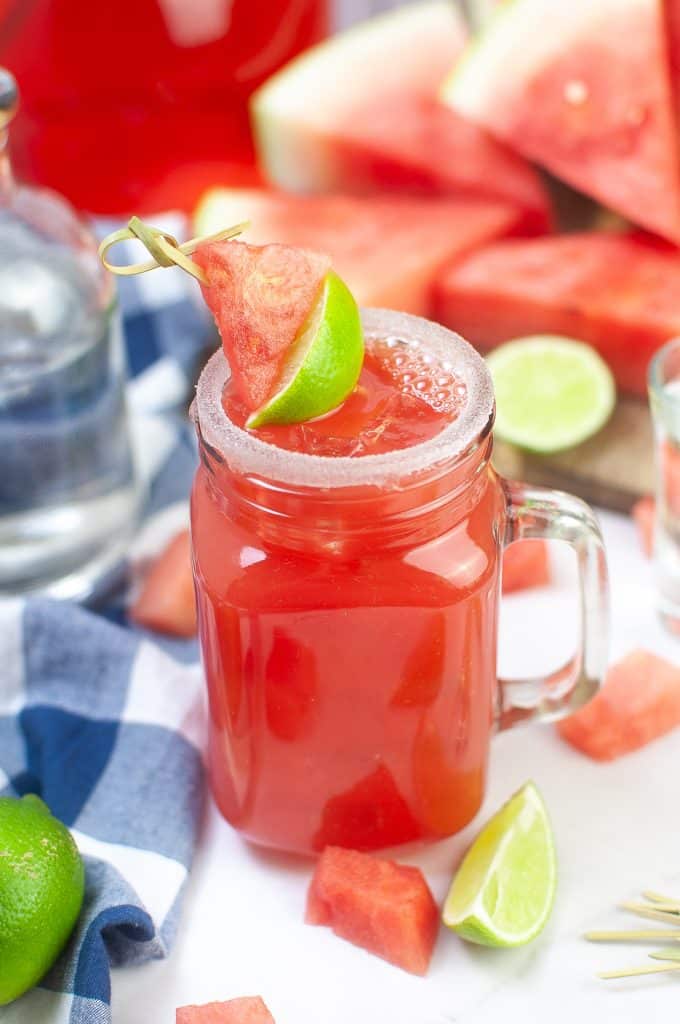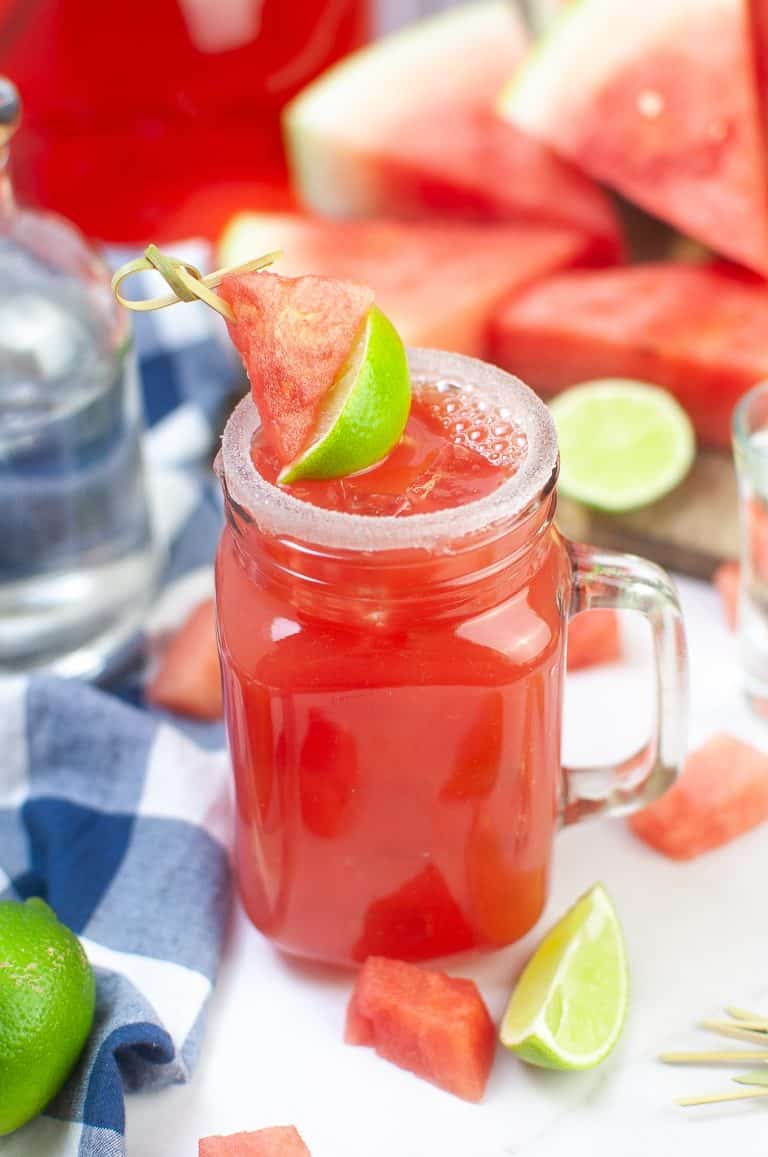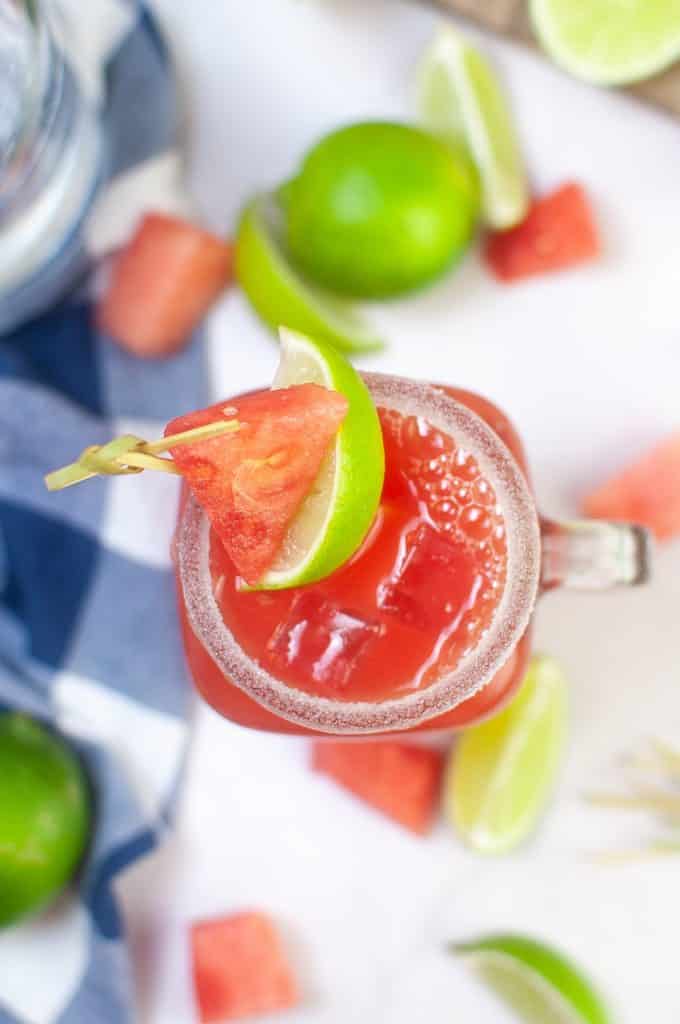 Can this be made kid friendly?
Yes! You can totally make this into a kid friendly version. It would end up more like a watermelon limeade than margarita, but still delicious! Simply remove the tequila from the recipe to make a kid friendly drink that everyone can enjoy.
Can I do sugar instead of salt?
You sure can! Just replace the salt with sugar in the recipe and everything else stays the same. Adding sugar gives this drink a kick of sweet.
Other watermelon drinks to try
Looking for more watermelon drinks to make this summer? How about trying: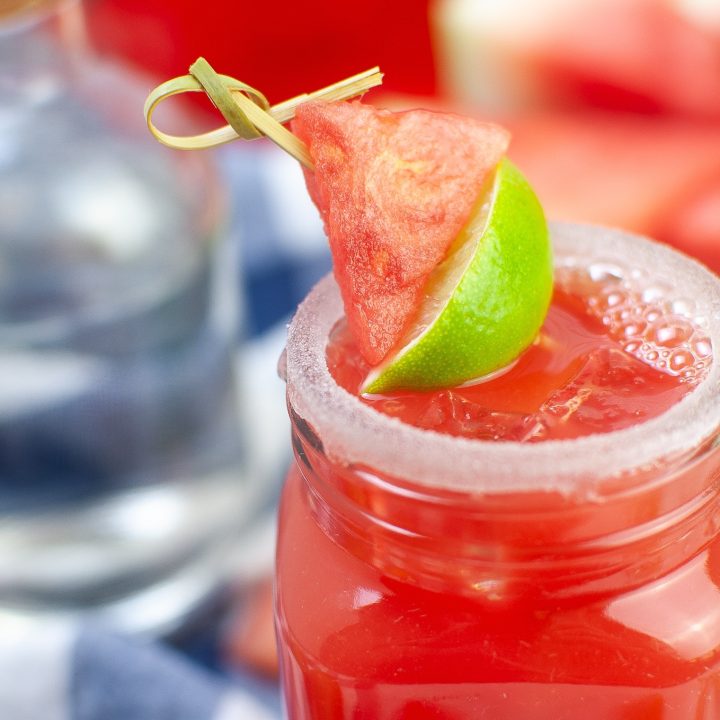 Watermelon Margarita on the Rocks
Total Time:
1 hour
10 minutes
How to make a tasty summer drink full of flavor.
Ingredients
4 cups Watermelon, cubed
2 tablespoons of honey
5 limes, juice from 4, 1 for garnish
2 cups Ice
1 cup white tequila, any brand
Salt for the rim of the glass
Instructions
1. Place the lime juice, honey, and tequila in a blender. Mix well.
2. Then blend the watermelon for 90 seconds
3. Run drink through a fine metal strainer. Use a silicone spatula to push the pulp through. Discard seeds and large pulp.
4. Place mix in the refrigerator for 1 hour to chill.
5. Slice lime and rub the lime along the rim of the glass.
6. Dip the glass in a small bowl with the salt.
7. Stir drink mixture
8. Add your ice and pour summer fiesta into your glass!
9. Garnish with lime and watermelon
Other summer drinks to try
Looking for more summer drinks to keep you cool? How about trying:
Did you make this recipe? I'd love for you to leave a review in the recipe card above or the comments below. Want to make it later? Pin the image below to your favorite Pinterest board. THANK YOU for the support.