Need a refreshing side for summer?  Meet your new bestie – watermelon feta salad! This salad is super easy to toss together and is topped with a lime and honey drizzle. It's a great way to use up leftover watermelon and makes a perfect addition to any BBQ table. Let me show you how to make this easy watermelon and feta salad.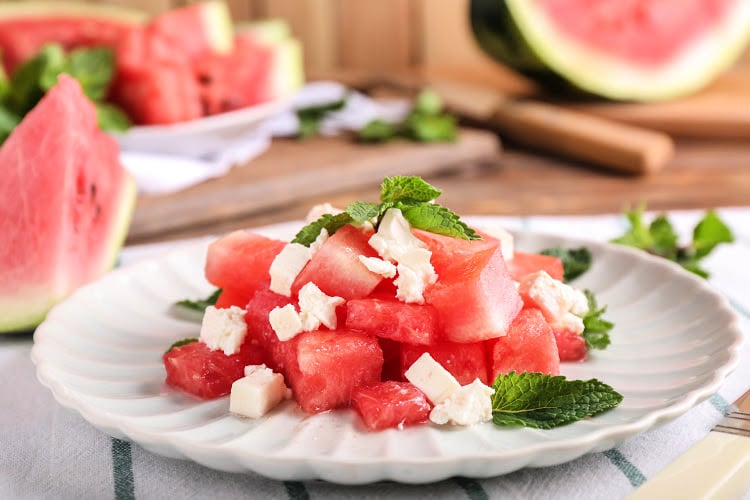 Do you have a recipe that instantly brings back memories? My watermelon feta salad is one of those recipes! It wasn't a typical summer salad for me until I had it one evening with my friend Michelle. We went to a wine bar to listen to some music and they had a watermelon feta salad on the menu. I was instantly in love and made it all summer long that year.
It continues to be a summer salad in our house. I love bringing it to family gatherings and BBQs. The kids love (sometimes without the feta) and the adults do too. It's the best side dish on a hot summer day.
Watermelon feta salad with honey drizzle
This summer salad could not be any easier. It starts with diced watermelon tossed together with feta crumbles. Then you add in some fresh mint leaves and top it all off with a homemade honey lime drizzle. The dressing really combines the sweet and salt aspect and gives this salad an amazing flavor.
Watermelon feta salad ingredients
I love that this recipe uses common ingredients. In fact, the most exotic ingredient would be the feta, and that can be found in the deli section of most grocery stores. To make this watermelon salad you will need:
Watermelon
Feta
Honey
Lime juice
Mint leaves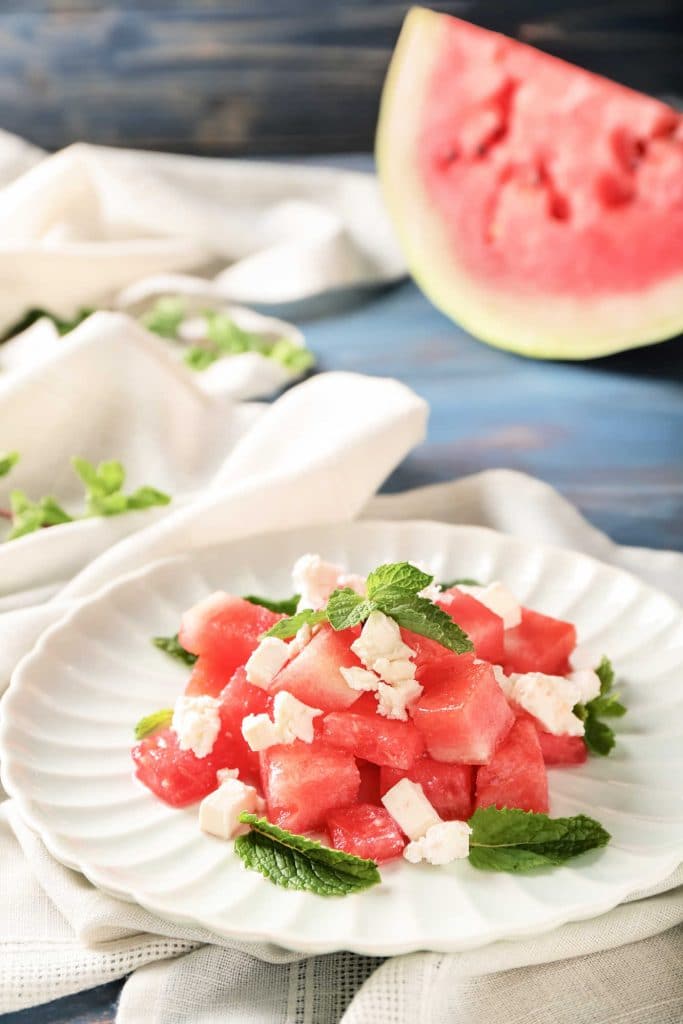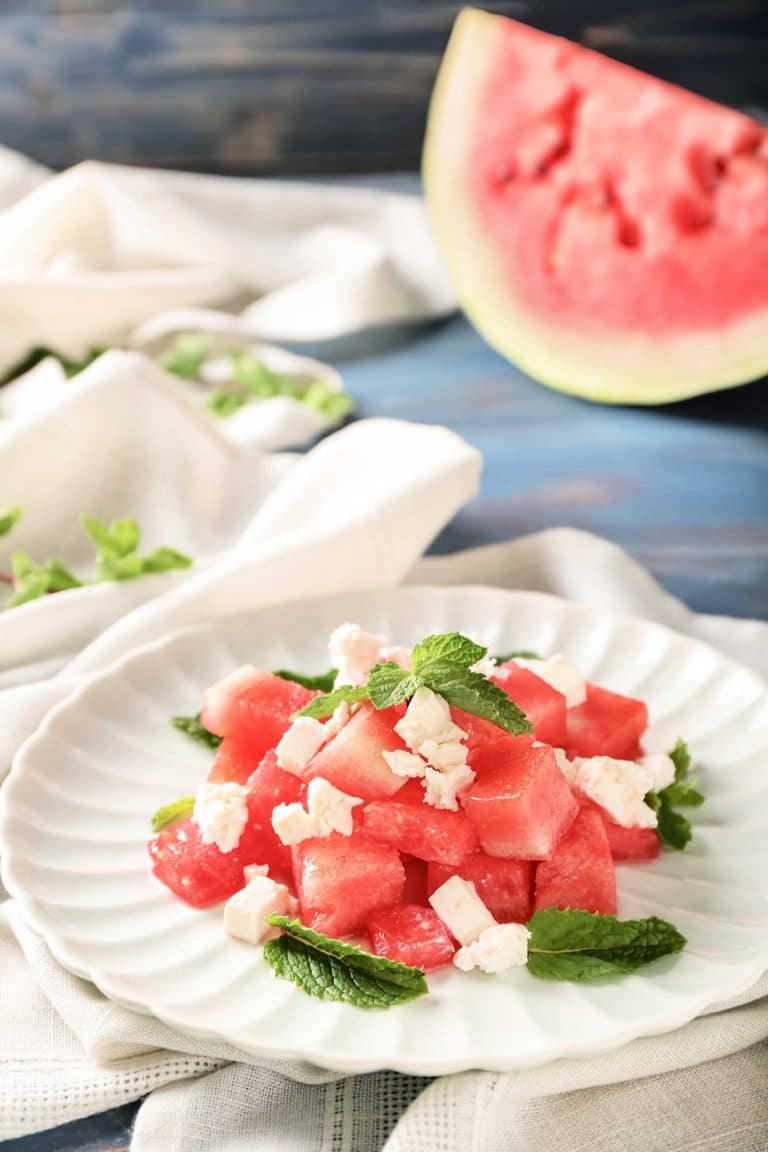 Watermelon – I suggest grabbing a seedless watermelon for this recipe. It'll be easier to eat without having to pick out the seeds. Here are some tips on how to pick the best watermelon.
Feta – Get the crumbled feta to make this recipe even easier. You can use the brick of feta, but you would have to crumble it yourself.
Honey – You use the honey to give this watermelon an even sweeter flavor which contracts perfectly with the tang from the lime and the feta.
Lime – This gives the salad a nice tang to it. You can use fresh lime or lime concentrate from the bottle.
Mint leaves – Fresh mint brings everything together and is a nice surprise when bite into a piece.
How to make watermelon salad
The great thing about this salad is that is it super easy to make. In only a few minutes you can be enjoying this refreshing salad with your family.
Step 1 Cut the watermelon – You want to cut your watermelon into 1 inch cubes or chunks. Cutting a watermelon shouldn't be intimidating! Start by cutting your watermelon in half. You can then cut it with the skin on or cut the rind off and proceed. Here is a great tutorial how to cut a watermelon.
Step 2 Combine the watermelon and feta Toss together the watermelon and feta crumbles in a large bowl. Set aside while you make the dressing.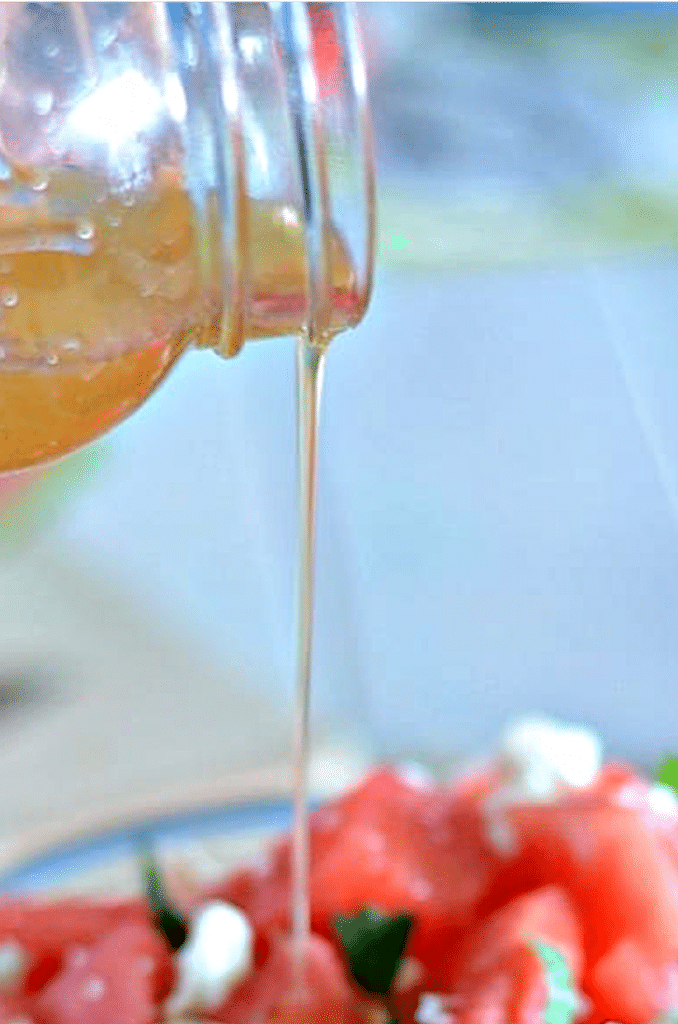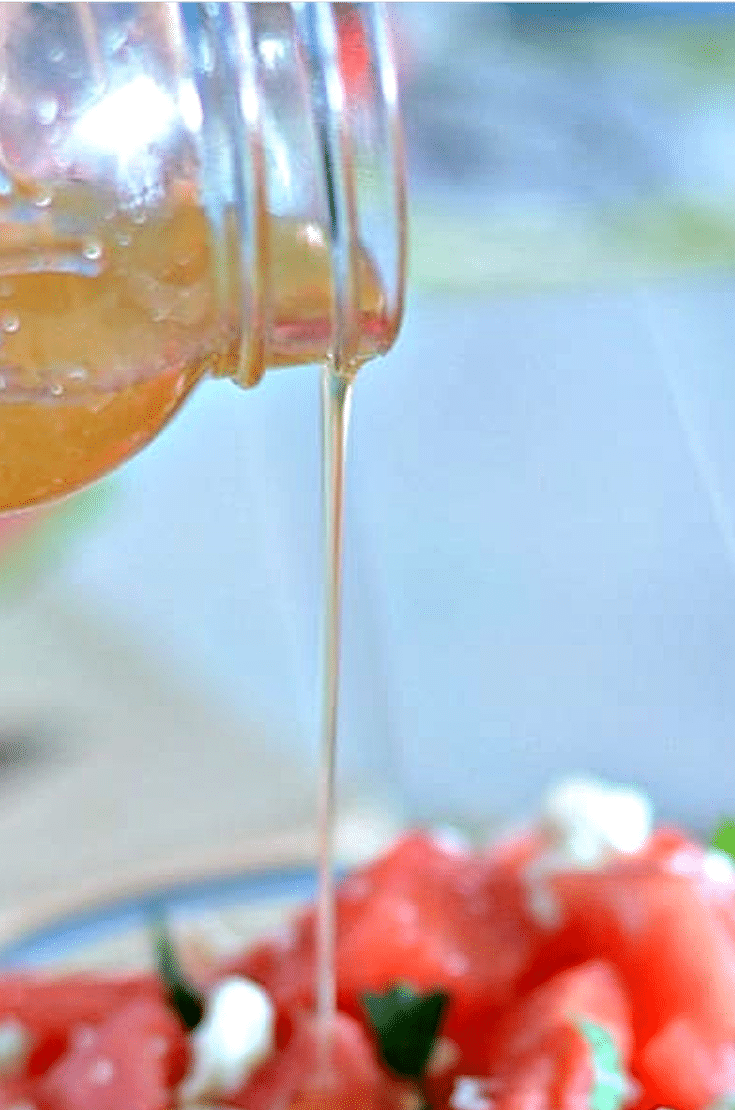 Step 3 Make the dressing Combine the honey and lime juice and whisk together. You can also add it to a mason jar and shake to combine.
Step 4 Add the drizzle Pour the honey lime dressing over the top of the watermelon and feta. Gently stir to combine. Add fresh mint leaves and enjoy!
Can I use a block of feta?
You sure can! You just need to crumble it first before you add it to the watermelon. The crumbles just make it a bit easier and save some time. A block of feta works great.
How do I pick a good watermelon?
You want a nice sweet watermelon for this recipe. It also has to be seedless. The best watermelons in the bunch have:
a yellow spot from sitting in the sun
scarring is ok on the watermelon
your watermelon needs dark and light green marks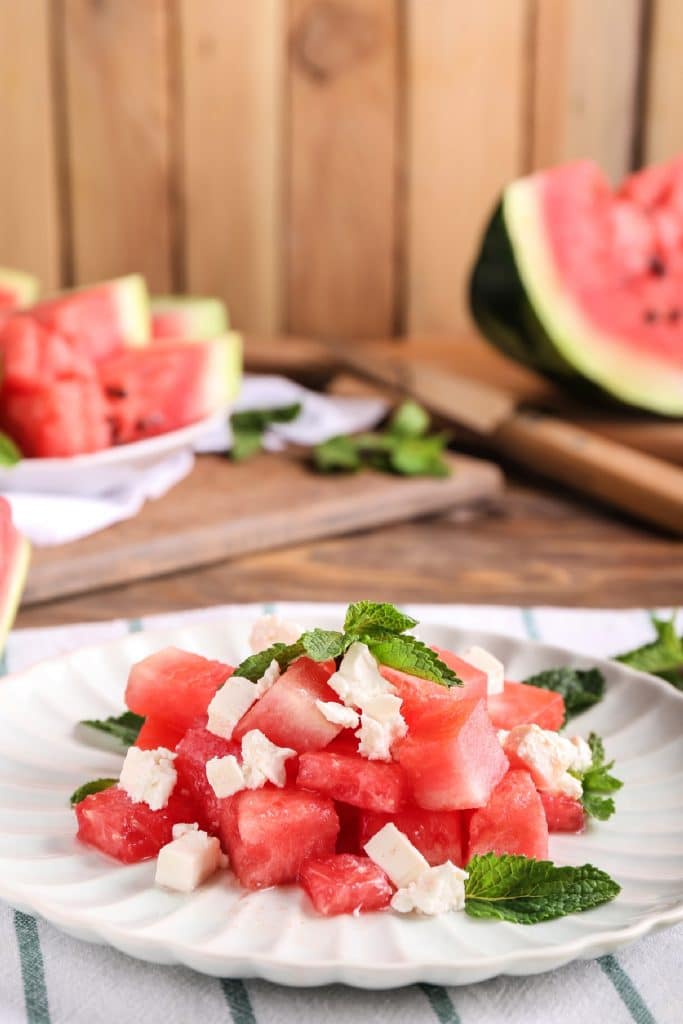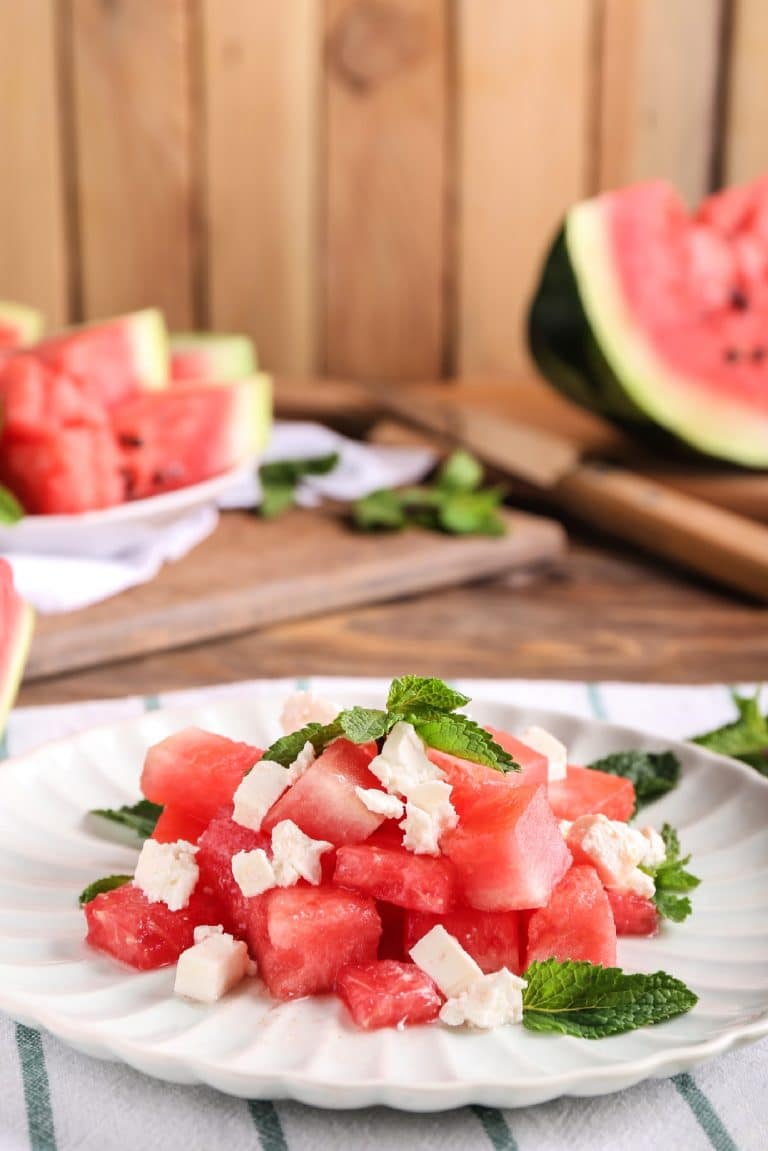 Other watermelon recipes
You don't need to use a whole watermelon for this recipe. You can either double the recipe to use more watermelon or try one of these other great watermelon recipes –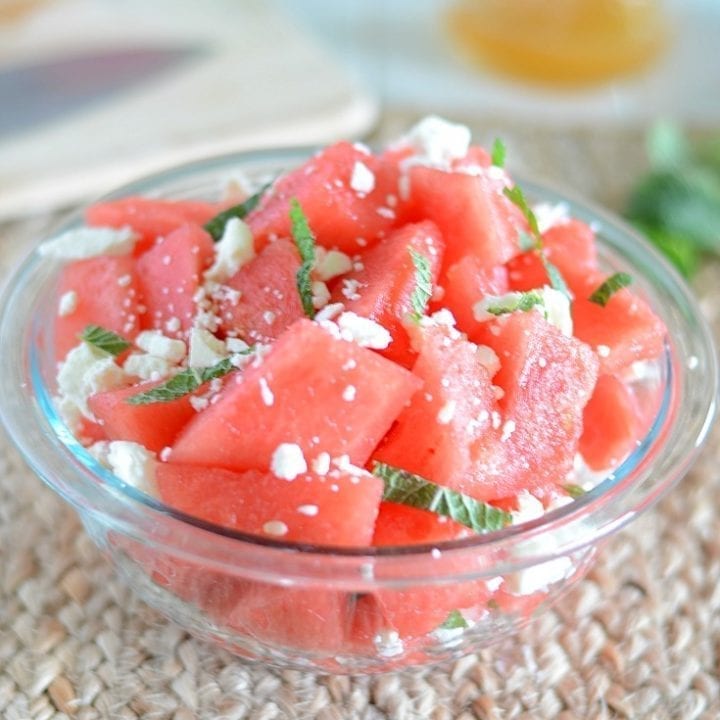 Watermelon feta salad
Ingredients
2 cups of watermelon, diced
1/4 cup of feta
1/4 cup honey
1 tablespoon lime juice
3-4 fresh mint leaves
Instructions
Toss the watermelon and feta together in a large bowl.
Mix the honey and lime juice to create a dressing. Drizzle over the watermelon.
Top with mint leaves.
Enjoy!
Like this recipe?  Be sure to check out these other great recipes for a crowd:
Love this recipe? I would be grateful if you can leave a review in the recipe card above. Want to make it later? Pin the image below to save it to your favorite salad board.