Need a refreshing side for summer? Meet your new bestie.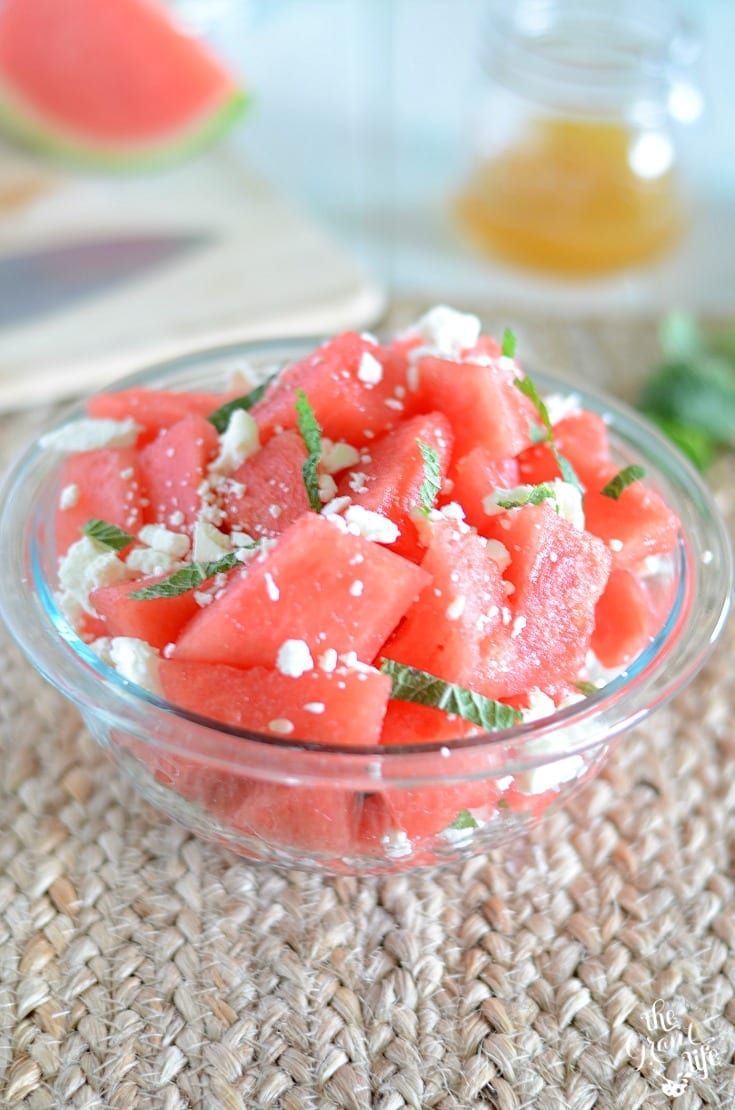 Hey yall! I am super excited to share this watermelon feta salad recipe today! Two reasons – the "recipe" is super easy. (It's really just tossing things together.) And the second, the backstory on this salad is pretty funny too. Well, to me. And maybe a few other people who share my odd sense of humor. Which I'm not sure is a large group of people.
But if you think something in your head and snort out loud to yourself – then you're my kind of people. Just sayin'.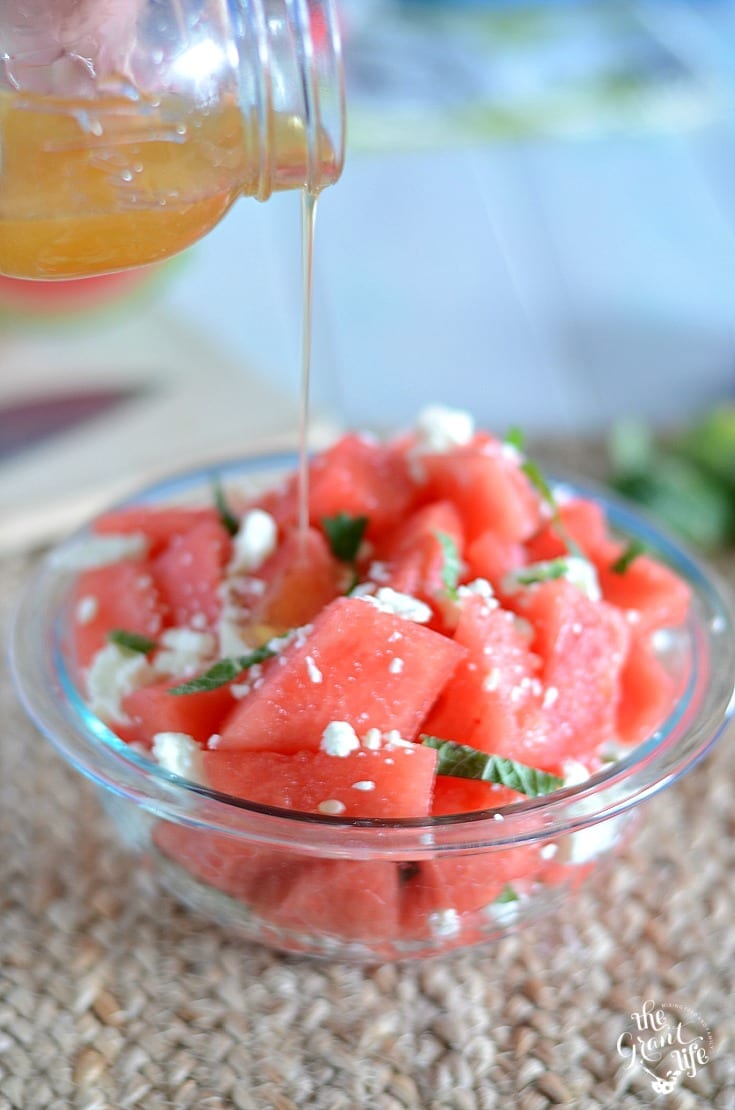 So the back story. (Which may or may not be funny to some.) My friend Michelle loves to go out and listen to live music. It's her favorite thing. And I really like to stay at home in my pajamas and watch Netflix. Especially being pregnant and hot all day. But she somehow talked me into going out to a wine bar to listen to a band play one night.
I got dressed, did my hair and off the baby bump and I went. As soon as I got there she took a picture of me to show her daughter. Apparently they had debated before she left if I was going to wear a dress or not. I did. I'm not sure if that means I won a prize or something – but if it did I'm still waiting for it.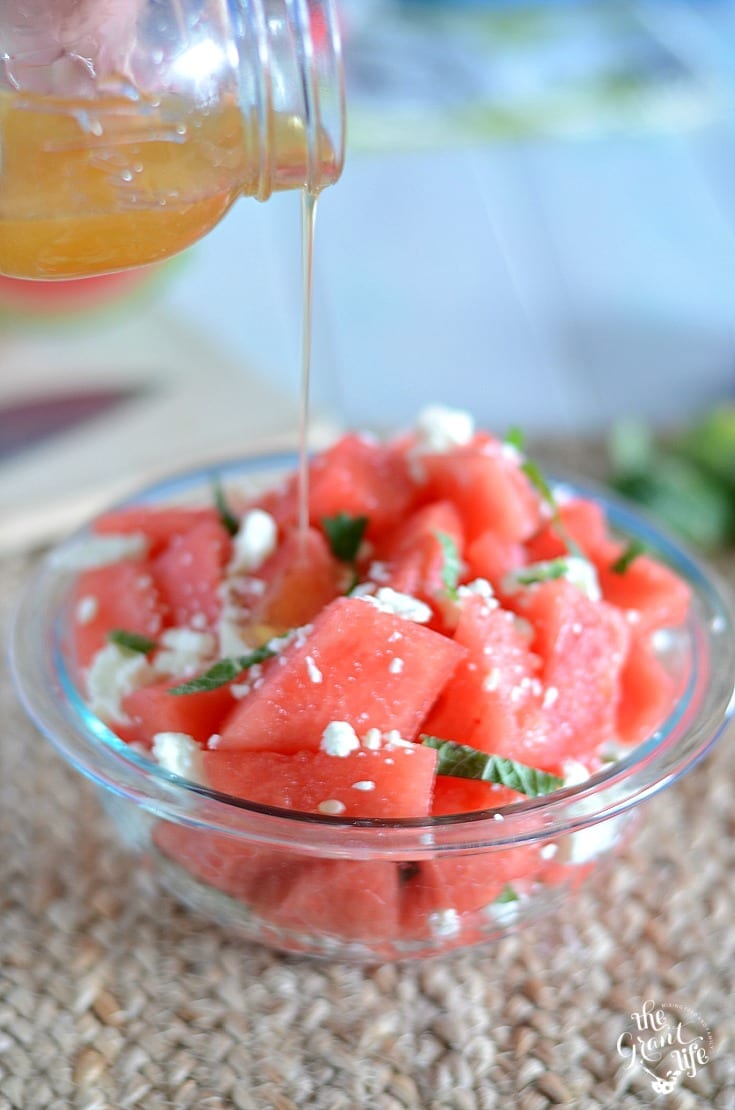 We get inside and sit down. And I'm hungry. So hungry. All the time. Michelle orders a caprese salad and I order the whole right side of the menu. Complete with watermelon feta salad. And when it came it was the biggest plate of watermelon feta salad I had ever seen. And I ate the whole thing. In one sitting. With no shame.
And of course now all I want in this pregnancy is that salad. So of course I had to recreate it at home. And it was delicious.
Also, I think that story was only funny to me. I totally snorted out loud thinking about it. Sorry.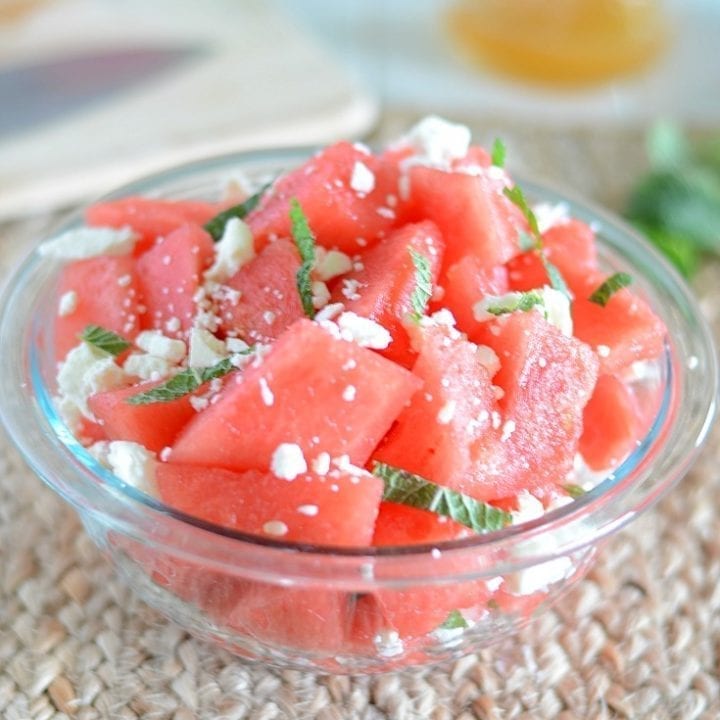 Watermelon feta salad
Ingredients
2 cups of watermelon, diced
1/4 cup of feta
1/4 cup honey
1 tablespoon lime juice
3-4 fresh mint leaves
Instructions
Toss the watermelon and feta together in a large bowl.
Mix the honey and lime juice to create a dressing. Drizzle over the watermelon.
Top with mint leaves.
Enjoy!


Like this recipe? Be sure to check out:
Like it? PIN IT!