Pumpkin white hot chocolate is the ultimate fall to winter drink. Made with only 5 ingredients, you are going to want to sip on this drink all fall long. And into the winter! Let me show how to make this easy drink on the stove top using real pumpkin.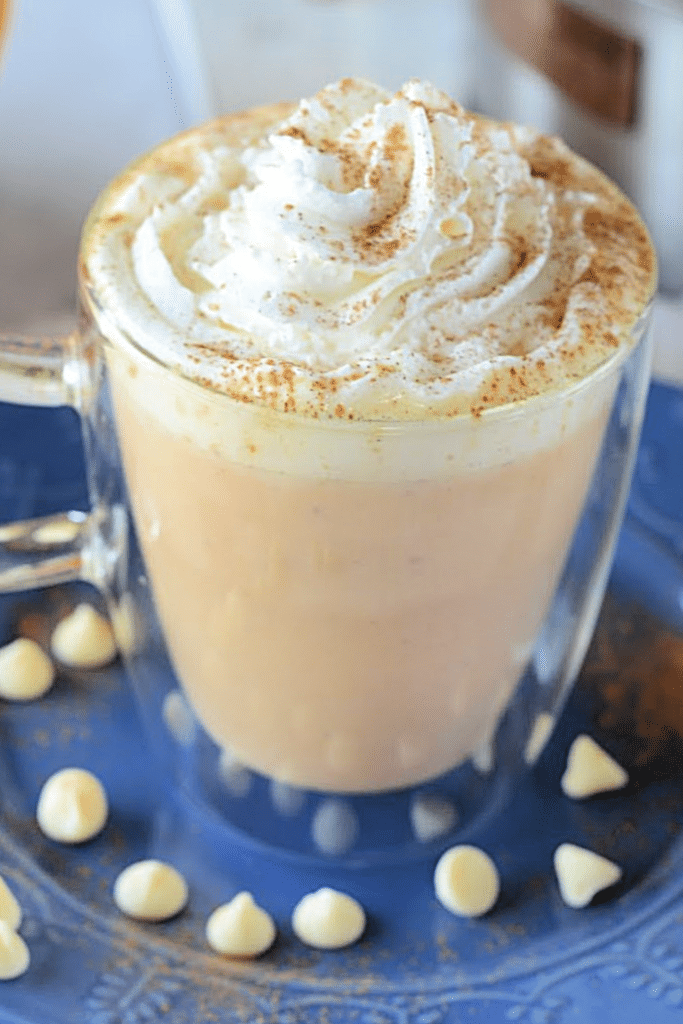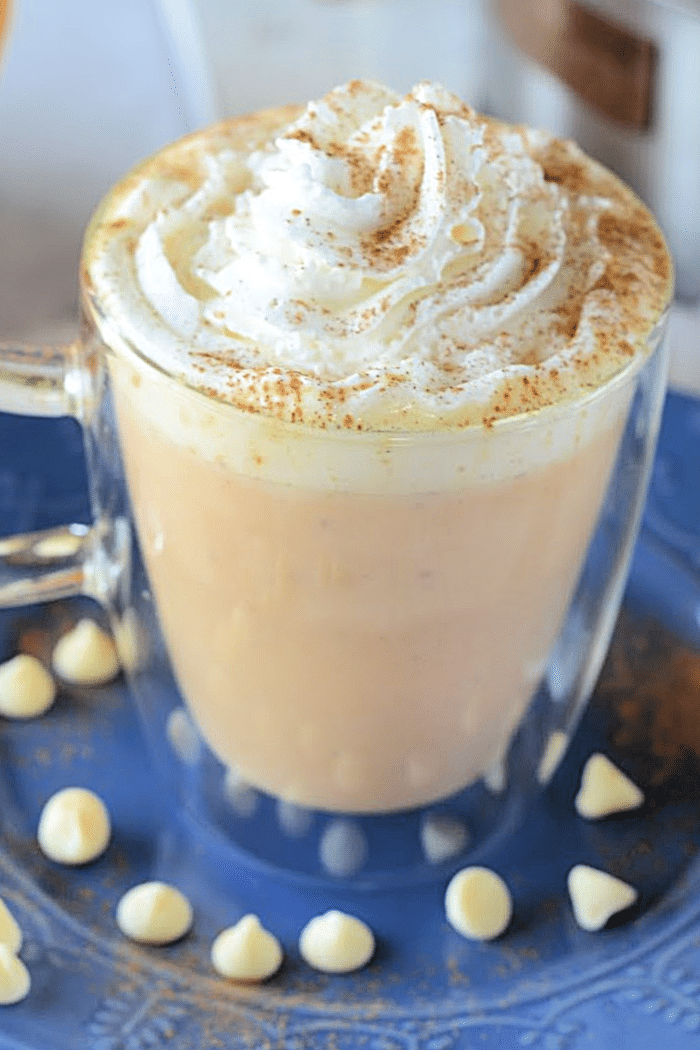 As much as I love a good pumpkin coffee, there are times that I want something sweet without the caffeine. And that my kids can enjoy as well. Enter pumpkin spice white hot chocolate! This drink is kids friendly and full of pumpkin spice flavor.
Plus it's made with white chocolate instead of regular chocolate, which makes it extra special. I love a good white chocolate recipe and this one is my new favorite!
What is pumpkin white hot chocolate?
This drink is similar to a traditional hot chocolate made with cocoa powder but uses white chocolate instead. It also has real pumpkin and pumpkin pie spice to give it a unique (and totally delicious) fall flavor. It is sweetened with sweetened condensed milk which gives this drink a silky smooth consistency.
Pumpkin white hot chocolate ingredients
My favorite part of this drink recipe is that you don't need a bunch of fancy ingredients. To make a pumpkin white hot chocolate at home you will need:
pumpkin puree
sweetened condensed milk
milk
vanilla extract
pumpkin pie spice
white chocolate
whipped cream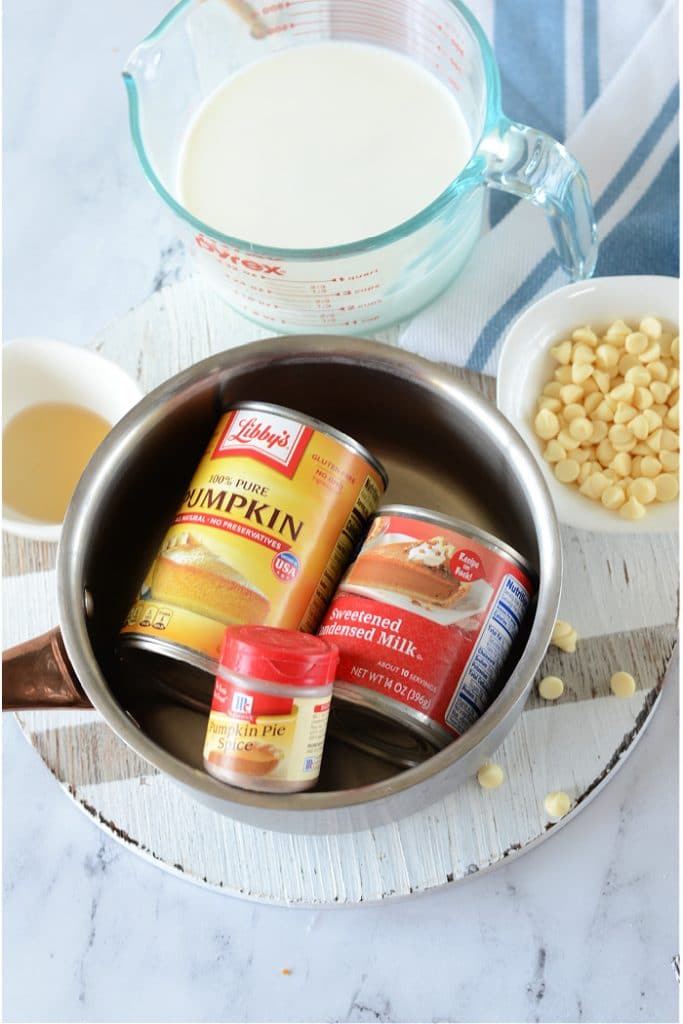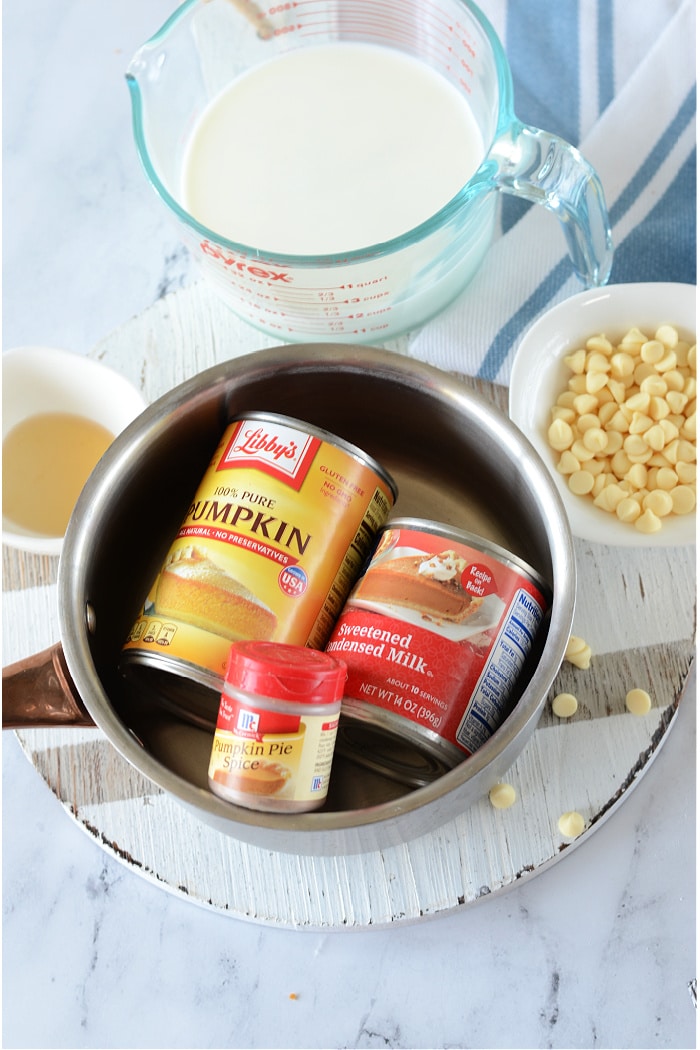 Pumpkin – Grab a can of pumpkin puree from the baking aisle. You want pure pumpkin, not the pumpkin pie mix that is already sweetened. You only need 1/4 cup of the pumpkin puree so save the rest for other yummy pumpkin recipes.
Try: pumpkin sauce, pumpkin cheesecake crescents, pumpkin butter
Sweetened condensed milk – While you are in the baking aisle for the pumpkin puree, get a can of sweetened and condensed milk as well. Again you don't need much to make a single drink, so save it for other recipes.
Try: pumpkin spice coffee creamer, vanilla sweet cream creamer
Milk – Use your favorite milk for this recipe. Want to make a dairy-free pumpkin hot chocolate? Try coconut milk or almond milk in place of regular milk.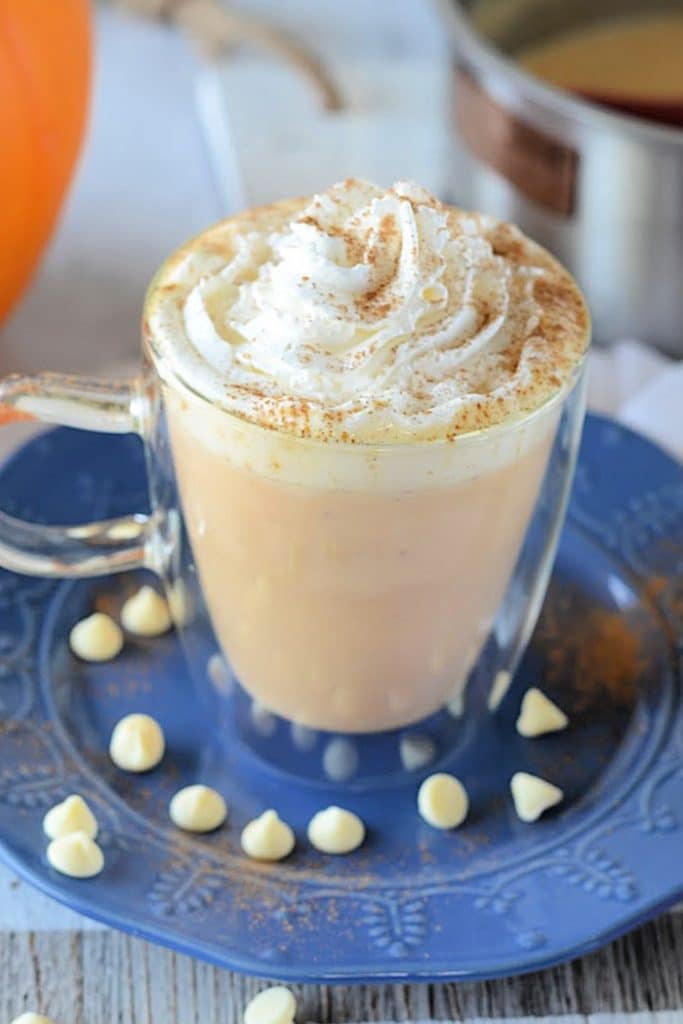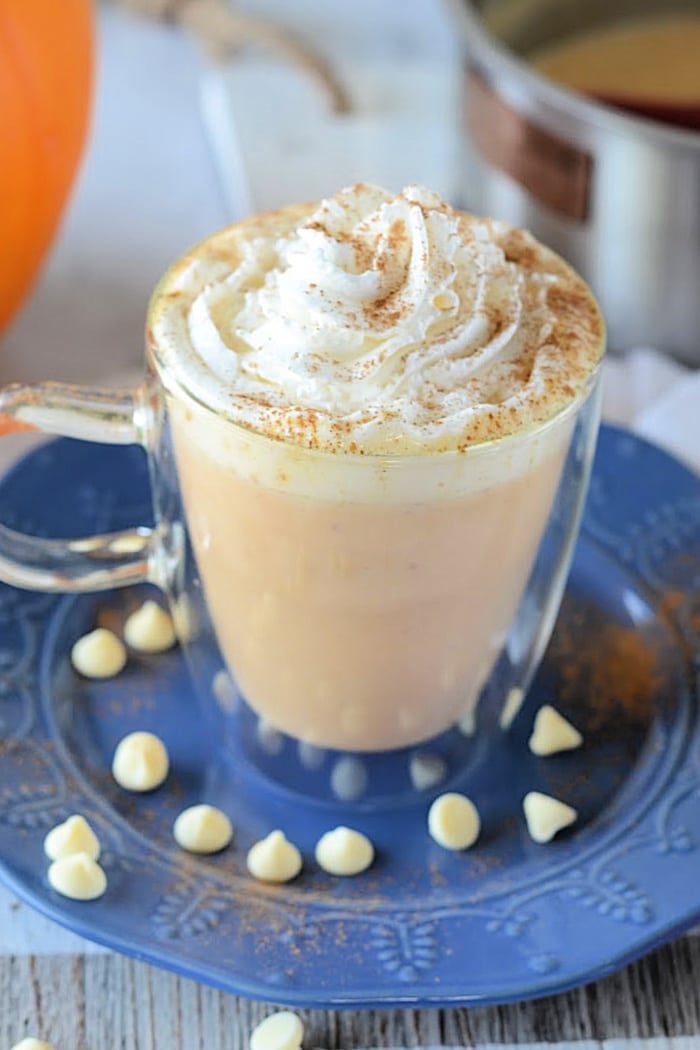 Vanilla extract – A half of a teaspoon is all you need for this drink. You can buy pre-made vanilla extract or try your hand at homemade! Homemade vanilla extract also makes a great gift.
Pumpkin pie spice – Make your own homemade pumpkin pie spice to have on hand for all the fall recipes, or grab some from the store.
White chocolate – You can use either white chocolate chips or a white chocolate bar for this recipe. Whichever you use, make sure you use a good quality white chocolate. The better the chocolate, the better the drink!
Do I have to use white chocolate?
No, you can use whatever chocolate you'd like. Milk chocolate or dark chocolate would make a delicious substitution for the white chocolate.
Whipped cream – This is an optional topping, but oh so good. You can use whipped cream, cool whip or try homemade whipped cream.
How to make a pumpkin white hot chocolate
Once you have all your ingredients you will also need to grab:
medium sauce pan
measuring cups and spoons
spatula
coffee mug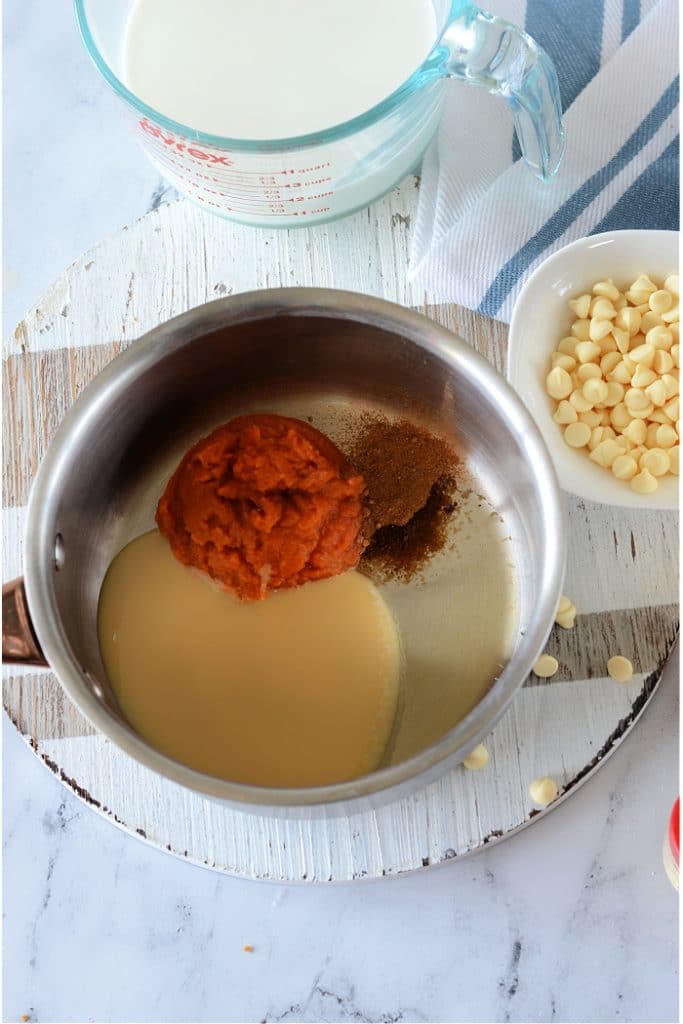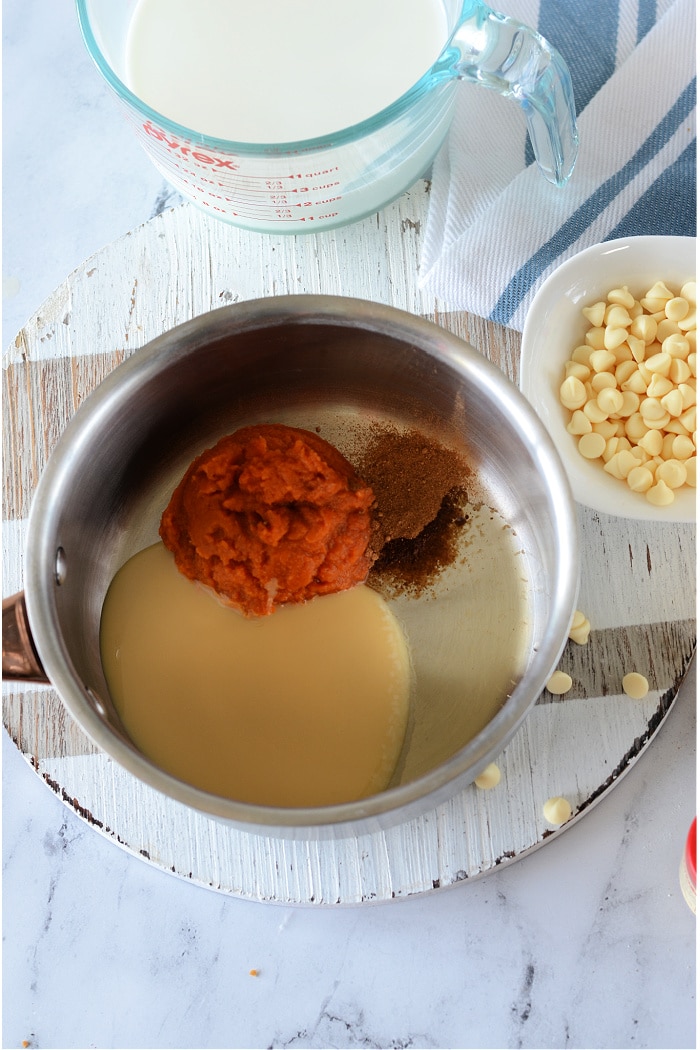 Step 1 Combine ingredients
Place the pumpkin, sweetened condensed milk, pumpkin pie spice and milk in a medium sauce pan over medium heat. Whisk together to combine.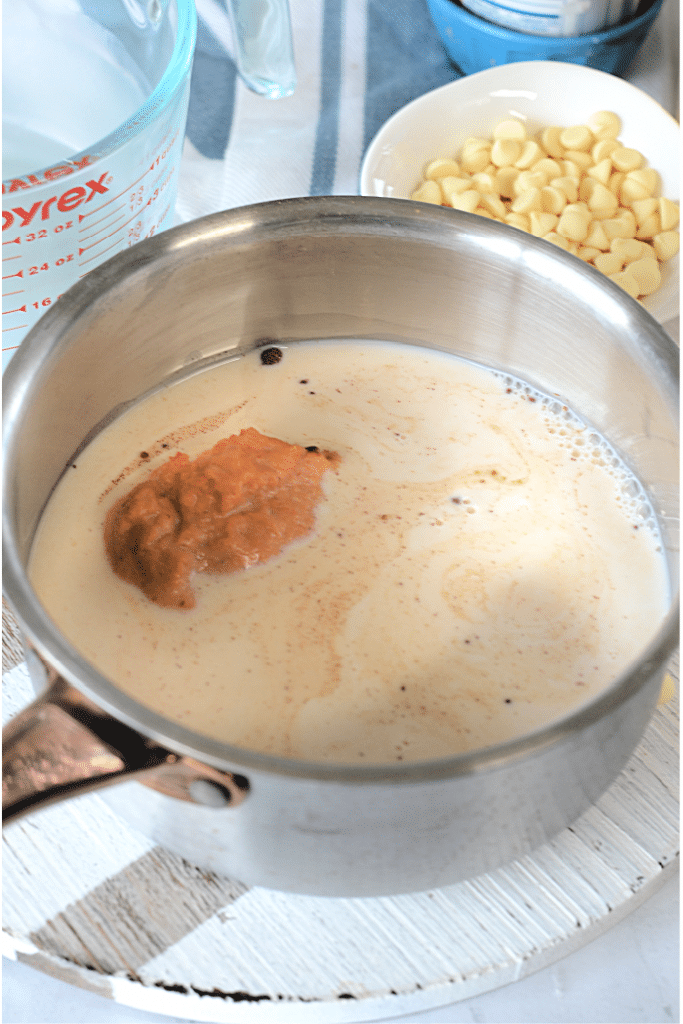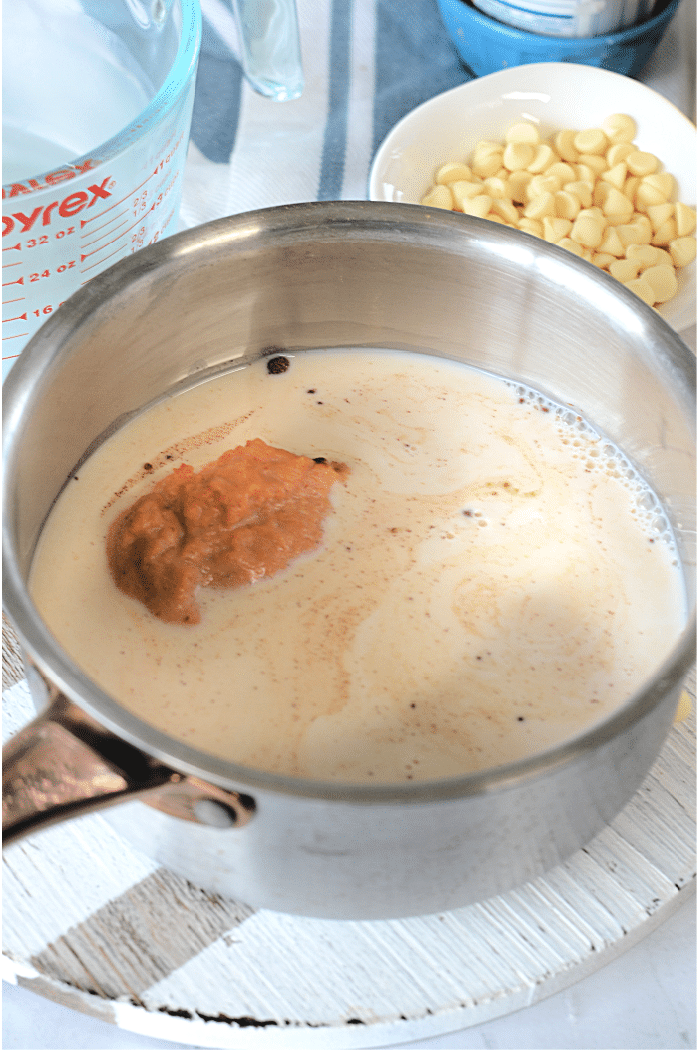 Step 2 Melt white chocolate
Bring the sauce pan to a simmer and reduce the heat. Add the white chocolate and stir. Continue to stir until the white chocolate melts.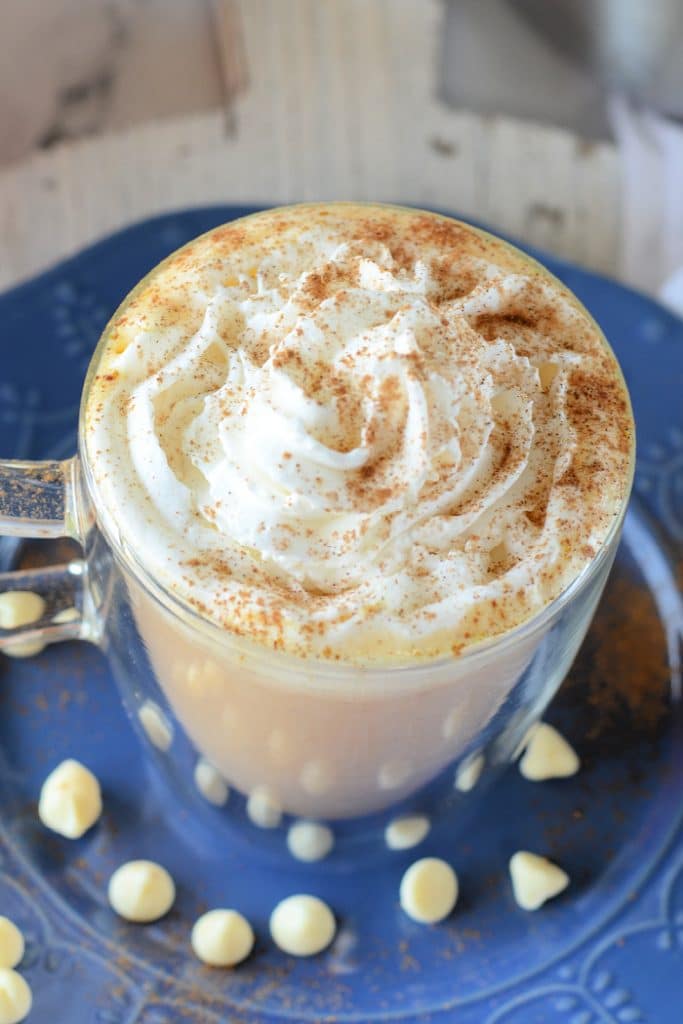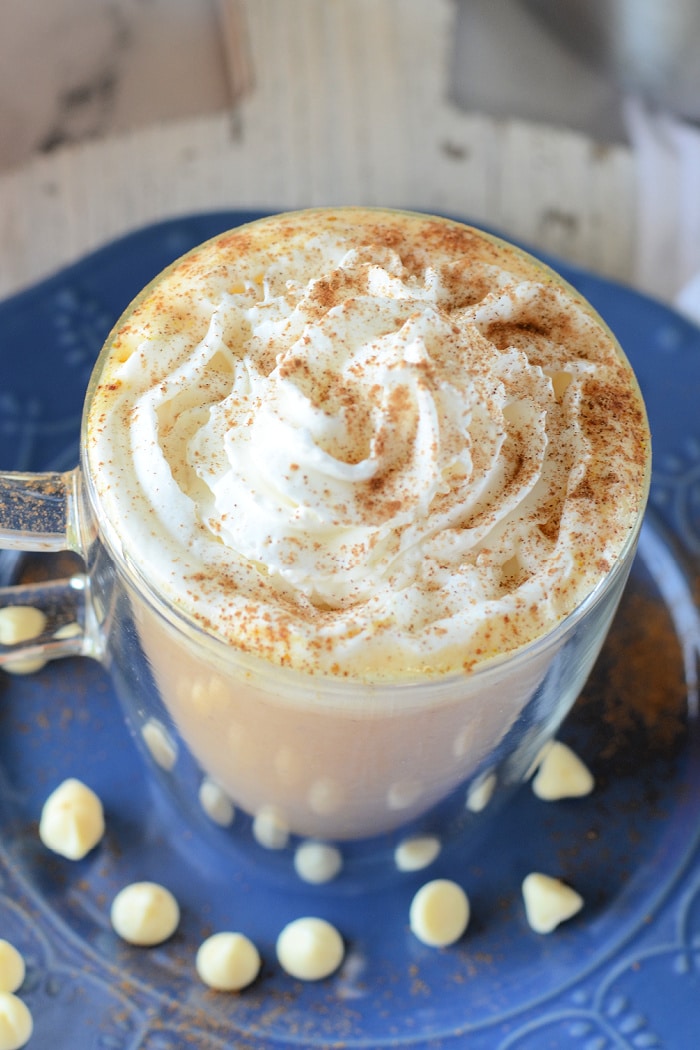 Step 3 Serve
Remove pan from heat and allow to cool slightly. Pour into a coffee mug, top with whipped cream and pumpkin pie spice and enjoy!
Pumpkin white hot chocolate in a Crock Pot
Want to make this pumpkin white hot chocolate for a crowd and in a Crock Pot? It's super easy! You follow all the same steps except you allow it to slow cook. You can follow this easy Crock Pot pumpkin white hot chocolate recipe.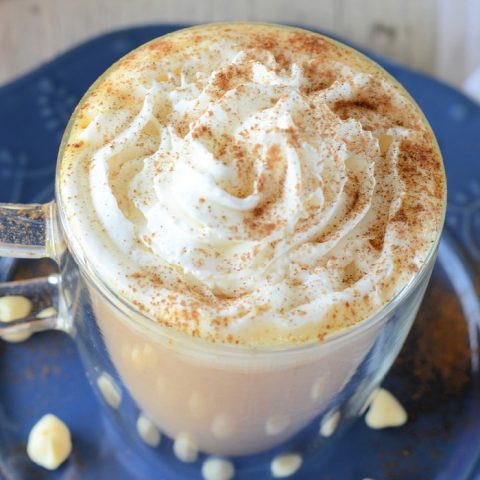 Pumpkin white hot chocolate
How to make a creamy pumpkin white hot chocolate on the stove top.
Ingredients
1/4 cup pumpkin puree
2 tablespoons sweetened condensed milk
1 teaspoon pumpkin pie spice
2 cups milk
1/2 teaspoon vanilla extract
1/2 cup white chocolate chips
whipped cream
Instructions
In a sauce pan combine the pumpkin puree, sweetened condensed milk, vanilla extract, pumpkin pie spice and milk. Use a whisk to combine.
Heat to a simmer and stir in the chocolate chips. Stir constantly to prevent sticking.
Once melted, remove from heat and pour into cups.
Top with whipped cream and additional pumpkin pie spice.
Nutrition Information:
Yield:

2
Serving Size:

1
Amount Per Serving:
Calories:

437
Total Fat:

21g
Saturated Fat:

13g
Trans Fat:

0g
Unsaturated Fat:

7g
Cholesterol:

37mg
Sodium:

192mg
Carbohydrates:

51g
Fiber:

1g
Sugar:

37g
Protein:

13g
You may also want to try these other pumpkin chocolate drinks:
Be sure to pin this to your favorite fall drink board too!