This banoffee pie is so delicious and easy to make. If you are looking for a super easy no bake pie that everyone will love, you have to try this banoffee pie recipe! Be ready though, you will have to give the recipe to everyone who tries it!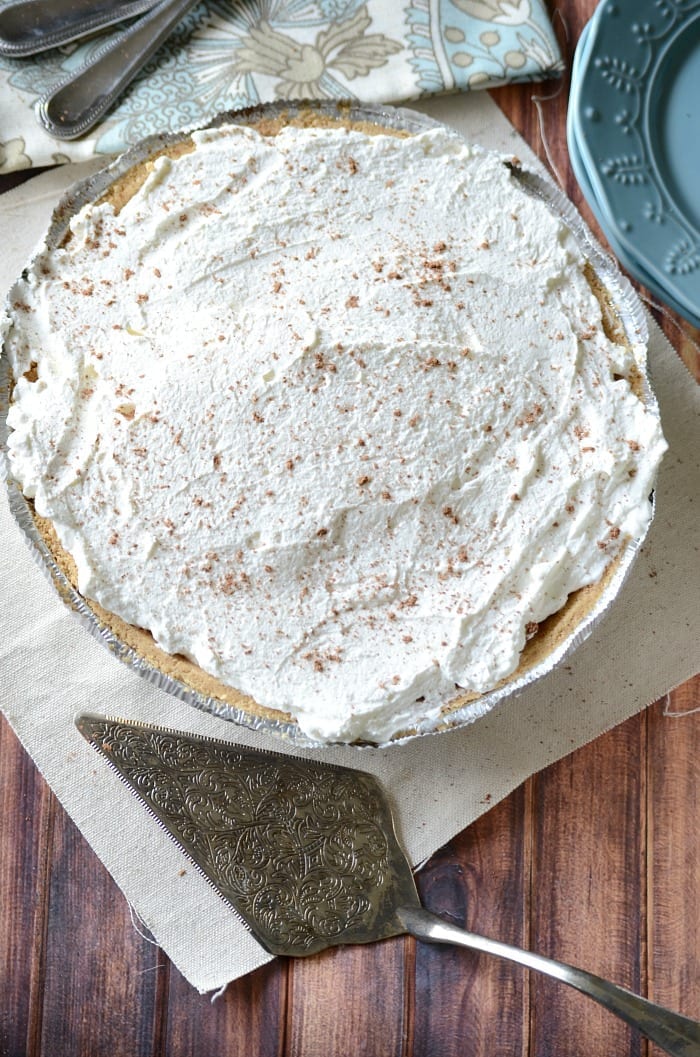 Let me tell you about this banoffee pie. It's an award winning, no bake, full of caramel flavor pie! I'm not kidding on the award winning part either! We had a pie contest at our church a few summers ago and it proudly took 1st place. I had to give the recipe to so many people and they were shocked at how easy this banoffee pie was to make!
What is banoffee pie?
This a delicious no bake pie that combines bananas, caramel or dulce de leche and whipped cream. It is all layered in a homemade (or pre-made!) pie crust and dusted with chocolate. I believe banoffee means banana toffee since those are the flavors you get in this pie.
Banoffee pie ingredients
I love this pie because you can either make it 100% homemade or you can save time and make it with pre-made items. I'll share both options with you!
pie crust
bananas
dulce de leche
whipped cream
chocolate
Pie crust – You can use a pie crust from the store or you make a homemade graham cracker pie crust. You can also do a cookie crust with Oreos too!
Bananas – You will need 1-2 bananas for this pie.
Dulce de leche – You can make homemade dulce de leche (I love using my Instant Pot for this!) or you can grab a can from the baking aisle. It's right next to the sweetened condensed milk.
Whipped cream – Grab a tub of Cool Whip or make homemade whipped cream for the topping.
Chocolate – A sprinkle of cocoa or chocolate shavings go on top of this pie.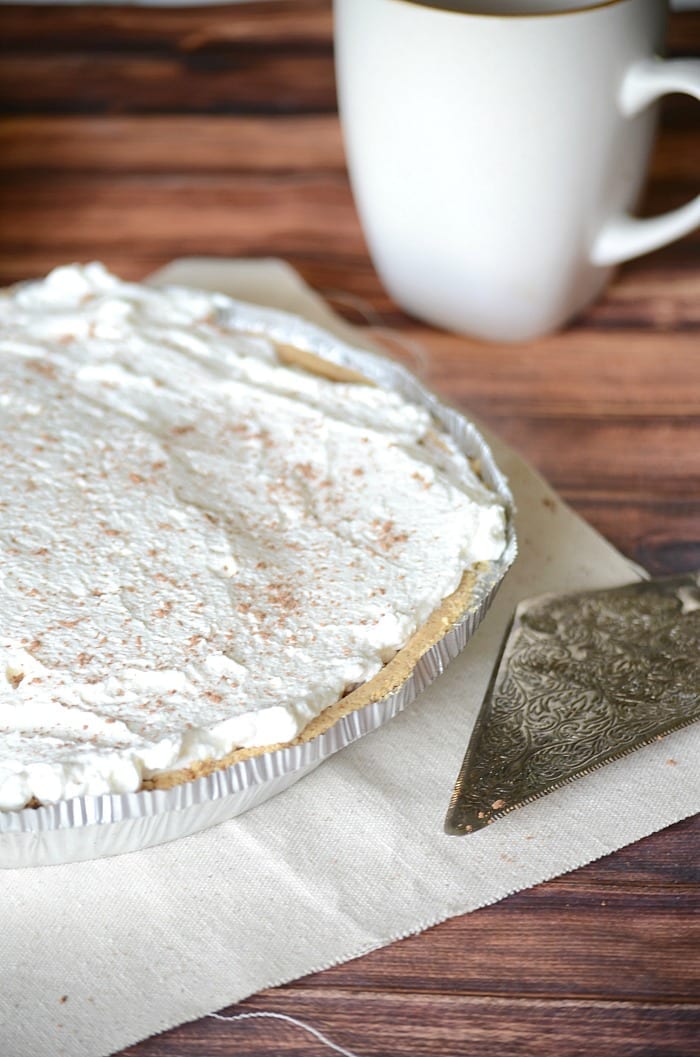 How to make banoffee pie
This pie is easy to make even if you use all homemade ingredients for it. I'll share both ways to make this pie so you can enjoy a slice in no time!
Step 1 Prepare the crust You can make a homemade crust with graham cracker crumbs, or you can remove the lid from the top of a pre-made crust from the store.
Step 2 Slice the bananas Slice the bananas and add them to the bottom of the crust.
Step 3 Add the dulce de leche If you want to use homemade dulce de leche, make that in the Instant Pot following this easy dulce de leche recipe. You can also just grab a can of dulce de leche from the store. Pour the dulce de leche in a bowl and microwave it for 20 seconds until smooth. Pour it over the bananas.
Step 4 Add the whipped topping Either make homemade whipped cream (it takes about 5 minutes!) or add Cool Whip from the tub on top of the dulce de leche.
Step 5 Sprinkle with chocolate Add a dusting of cocoa powder or shave a chocolate bar on top of the whipped cream. Set in the fridge for at least an hour before cutting.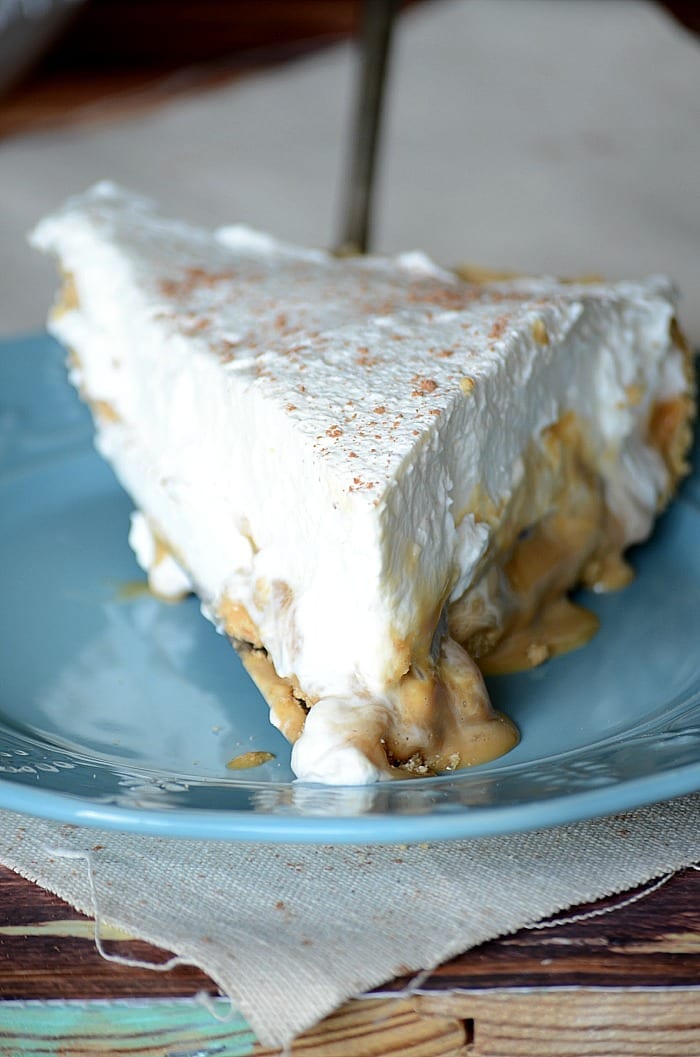 Below you will find some commonly asked questions about banoffee pie!
Why is banoffee pie called Banoffee?
It's a combination of banana and toffee, which is the combined flavors of this delicious no-bake pie!
When was banoffee invented?
It has been stated that banoffee pie was invented in Essex in the 1970s.
Does banoffee pie contain coffee?
No, it does not contain coffee. You can add a dusting of instant espresso or coffee to the top instead of chocolate, if you'd like!
Is condensed milk the same as caramel?
Yes and no. Sweetened condensed milk is the base for making homemade caramel or dulce de leche. On it's own, it is not the same thing and is not a substitute for the dulce de leche in this recipe.
How to store leftovers
Place any leftover pie in the fridge, covered. If you use a pre-made pie crust then you can add the plastic cover back on top. If you make a homemade pie, wrap a pie of foil or cling wrap to the pie dish before adding it to the fridge.
How long does banoffee pie last in the fridge?
Banoffee pie will last 2-3 days in the fridge so it's a great dessert to prepare before an event and have ready. Just be aware that the bananas may turn brown while in the fridge, but the pie will still taste delicious.
Can you freeze banoffee pie?
Unfortunately, it is not recommended that you freeze this pie.
Coffees that pair with banoffee pie
We all know how much I love a good coffee combo. Some coffees that pair well with this banoffee recipe are: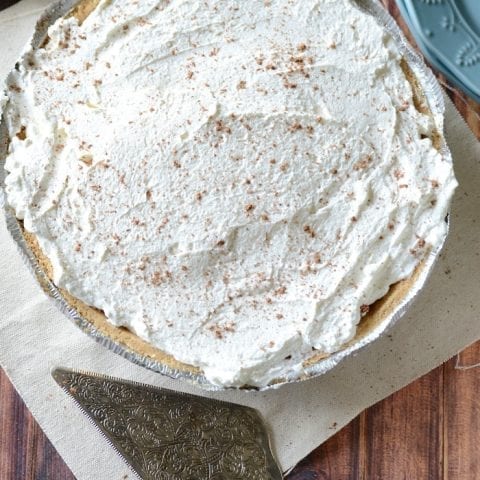 Banoffe Pie
How to make a ooey-gooey banoffee (or banana toffee) pie!
Ingredients
1 can sweetened condensed milk
3 bananas, sliced
1 pie crust, homemade or store bought
2 cups of heavy cream
1/4 cup of sugar
1 tsp vanilla extract
Instructions
In a medium pot, place the can of sweetened condensed milk in covered with water. Be sure to remove the water.
Boil for 2-3 hours, making sure the can is always covered with water.
Allow a few hours to cool.
Place the sliced bananas in the pie crust.
Stir the sweetened condensed milk that is now homemade caramel, until it is pourable.
Pour it over the bananas.
Whip the heavy cream for a few minutes until peaks start to form. Add the sugar and vanilla extract. Whip to combine.
Spread the homemade whipped cream over the caramel layer.
Place in the fridge to allow to set for 2-3 hours.
Remove and enjoy!
Notes
If you want to use pre-made ingredients:
Add the bananas to the pie crust.
Warm the dulce de leche in a microwave safe bowl for 20 seconds.
Pour the dulce de leche over the bananas.
Add the Cool Whip on top of the dulce de leche.
Sprinkle with cocoa.
Place in the fridge for 2-3 hours before serving.
Other dessert recipes to try
Like this recipe? Be sure to check out: