Nothing says summer BBQ party like this key lime slab pie!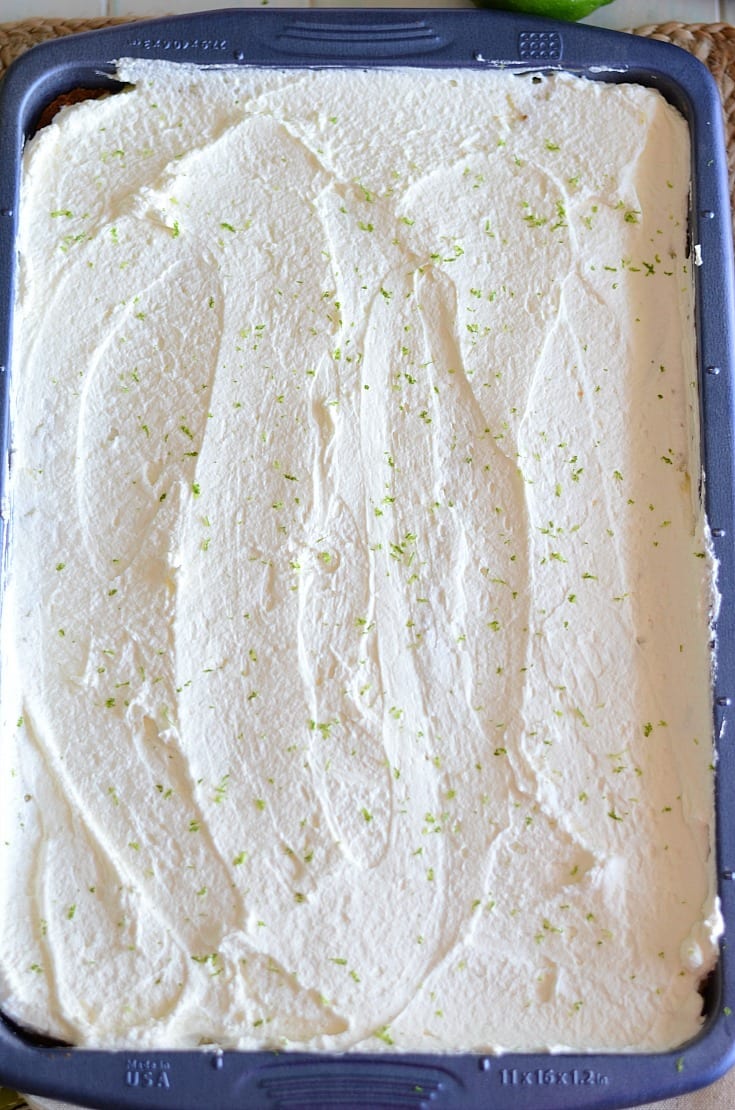 Hey yall! If there is ONE thing that my husband constantly asks me to make it's key lime pie. He spent a lot of time in Florida when he was in the Navy and fell in love with all things key lime. I've made him a key lime pie a couple of times and let me tell you – that thing disappears lightening fast!
Not saying I don't help, but it's normally only in our fridge for one day.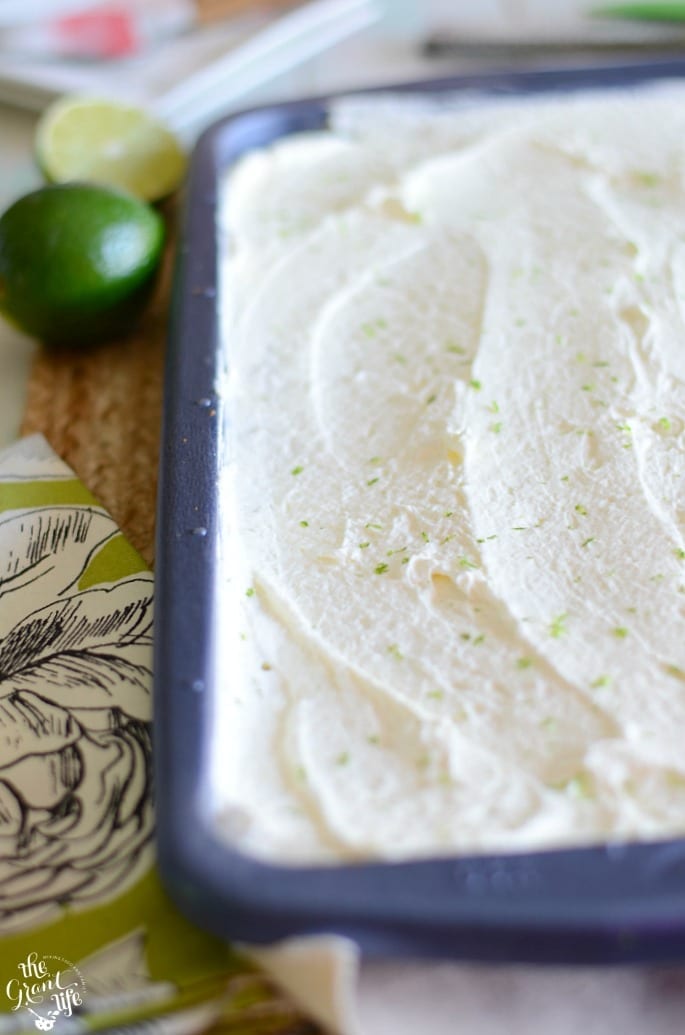 I've made other key lime treats (key lime poke cake, key lime pie granola) but it doesn't seem to ever be enough. All Ryon wants is key lime pie. I really don't mind making it for him – I just like to make sure I give him a hard time about it first.
I bought this sheet cake pan from Tuesday Morning recently. I bought it mainly to make a Texas sheet cake in it but decided to christen in with a key lime slab pie.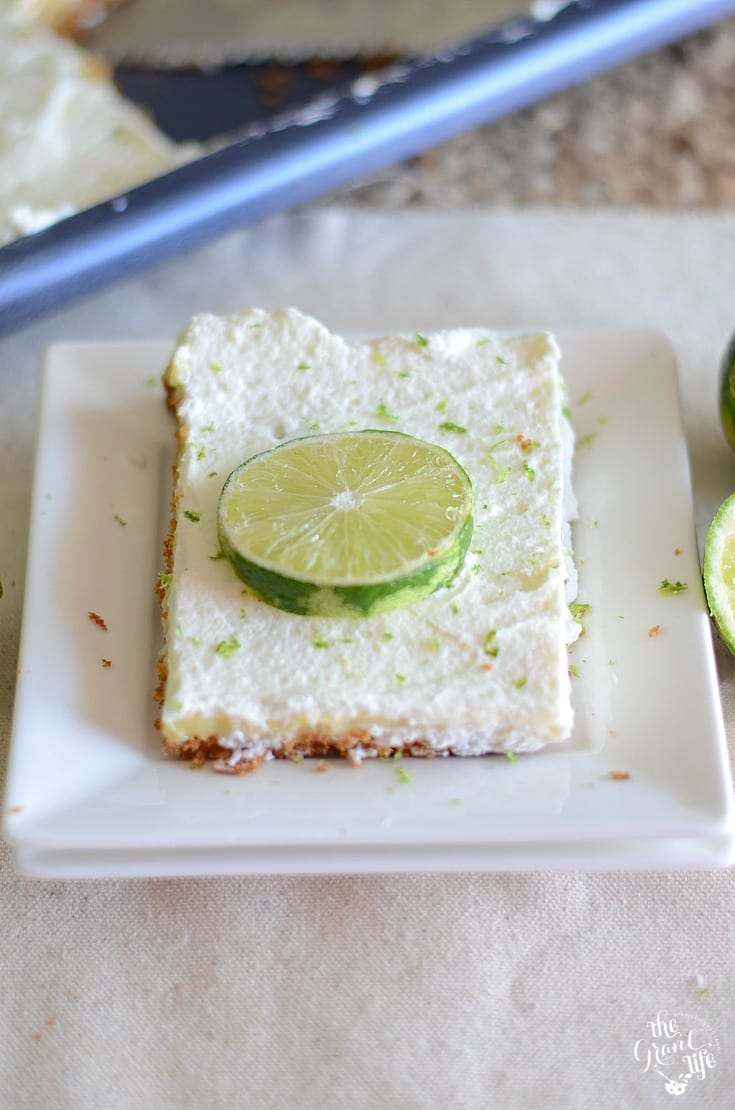 I made the slap pie and then slid it into the fridge and didn't say anything. When Ryon got home from work he found it sitting in there in all it's key lime goodness. I don't think he could have smiled any bigger if he tried. Yessss. Wifey win.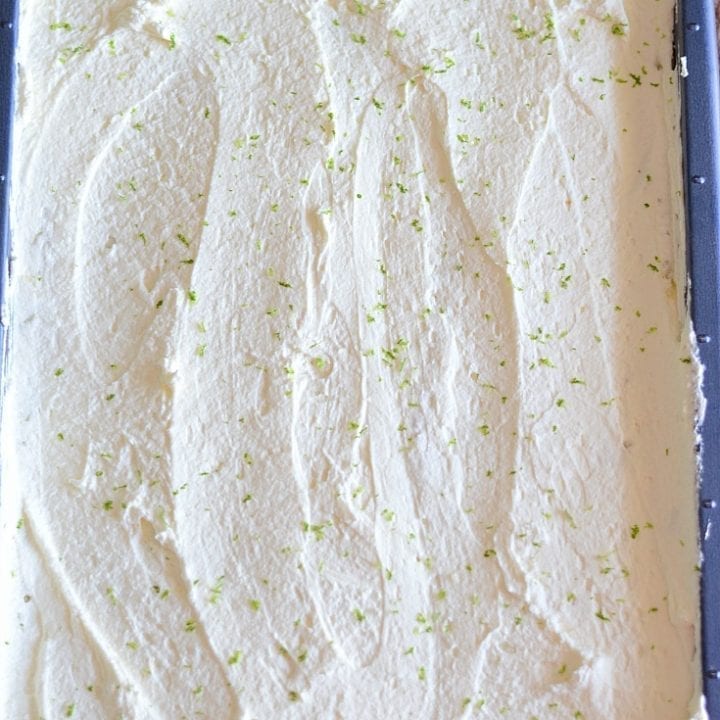 Key lime slab pie
Ingredients
Crust:
3 cups graham cracker crumbs
3/4 cup butter, melted
1/2 cup sugar
Filling:
1 cup sugar
6 tablespoons cornstarch
1/4 teaspoon salt
2 cups milk
4 egg yolks
1 tablespoon lime zest
Topping:
2 cups heavy whipping cream
1/4 cup sugar
1 teaspoon vanilla extract
lime zest as topping
Instructions
Preheat the oven to 350 and spray a jelly roll pan with cooking spray.
In a bowl, mix together the graham cracker crumbs, melted butter and sugar. Press into the bottom of the jelly roll pan, using the bottom of a cup to help press it down. Bake for 10 minutes, or until lightly browned. Remove and allow to cool completely.
In a large saucepan mix the sugar, cornstarch and salt. Slowly whisk in the milk. Bring to a boil, stirring constantly. Cook for 1 minute. Remove from heat, but leave the burner on.
Whisk in the egg yolks into the milk mixture. Cook over the burner, stirring constantly until thick and bubbly - about 3 minutes. Remove from heat, add the lime zest and juice. Place in a larger bowl of ice (or plug your sink and add cold water). Stir occasionally until it has cooled and is thick.
Spoon the filling onto the cooled crust.
In a stand mixer or with a hand mixer, beat the heavy whipping until soft peaks start to form. Add in the sugar and vanilla extract and mix until just combined.
Spoon the whipped topping over the key lime filling. Top with lime zest. Place in the fridge for an hour. Serve and enjoy!
Like this recipe? Be sure to check out:
Like it? Be sure to PIN IT!