Welcome to the first Blog Film Food! I made a cake. I'm getting ahead of myself. First, welcome! Do you love getting together with your girlfriends and watching a good movie with good food? We do too! But sometimes with family and crazy schedules we aren't able to get together as often as we would like. So we are starting the Blog Film Food movement – a once monthly get together of good friends and good food! One person picks a movie and then we all make and share recipes based on the movie as if we were having a big potluck. And I made a cake. [Did I mention that?] Not just a cake.. the cake. As in the best cake ever. I mean does it get any better then Steel Magnolias and a slice of strawberry cake with lemon buttercream frosting? Nope. It sure doesn't friends.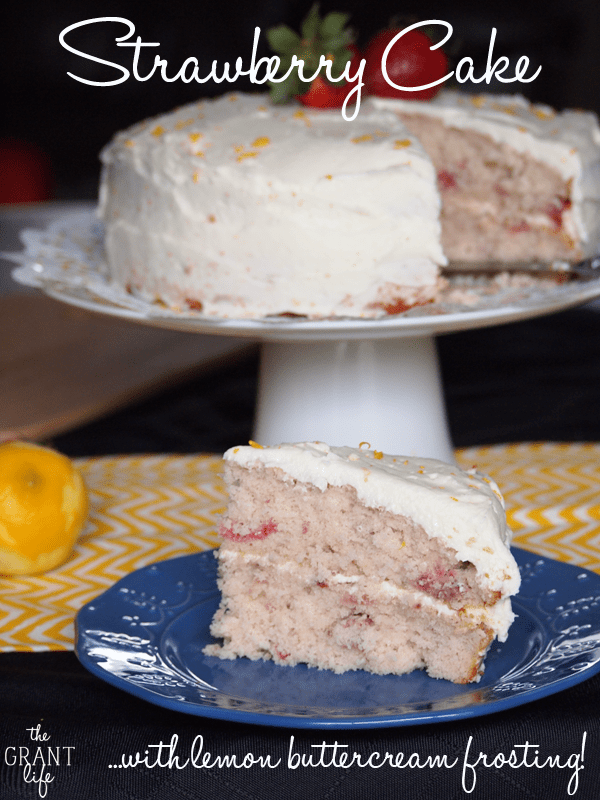 The ladies that are hosting our Blog Film Food are:
Brenda from Meal Planning Magic: Self taught meal planner showing ways to eat healthier, get organized and have fun along the way.
Jessica from Family Fun Journal: Fun ideas and projects for your family and home.
Joanie from Zag Left: Enjoying food, wine, and life. Taking the road less traveled.
Kelley from The Grant Life: Mixing food and family. [That's me yall!]
Kirsten from Kirsten Oliphant: An eclectic celebration of chaos.
Kristi from Mom's Confession: Family Recipes, Simple Crafts, Organizing Tips
Miranda from Involuntary Housewife: Putting Pinterest to the test one mess at at time.
Kathy from Penney Lane Kitchen: Celebrating life's occasions big and small.
Basically a few of my favorite people. We all met at Blog Elevated this past year and have become great bloggy and real life friends! We even have plans to get together for a real life Blog Film Food dinner!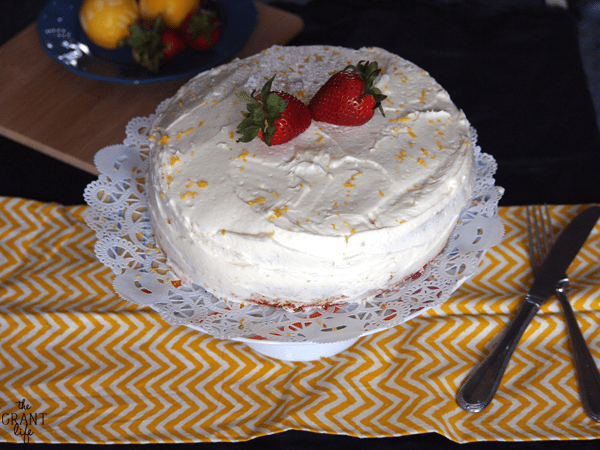 I had made strawberry cupcakes for Ryley's birthday in February and all my friends loved them. So when my friend had a birthday get together at her house this month – she requested them. I made a dozen strawberry cupcakes and one strawberry cake to take to the party. [With lemon buttercream frosting.] It worked out perfectly for both the party and our Blog Film Food movie pick!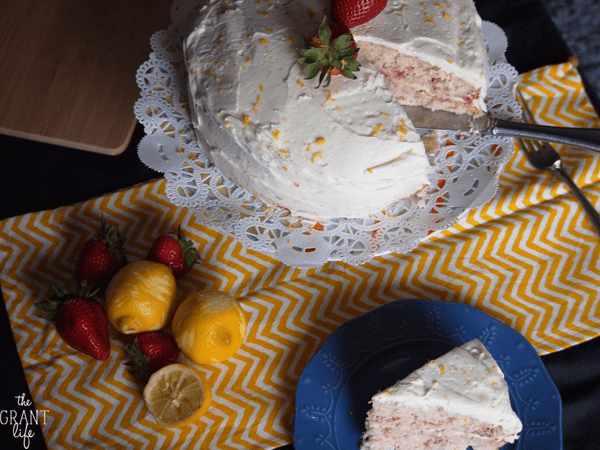 Can't you just see a bunch of your friends gathered around the cake with someone tries to cut it? [Secretly wishing for the biggest slice?] That's how it happened at the birthday party. After dinner we all kind of stared at the cake waiting for it to be cut. And don't worry, I gave everyone nice big slices.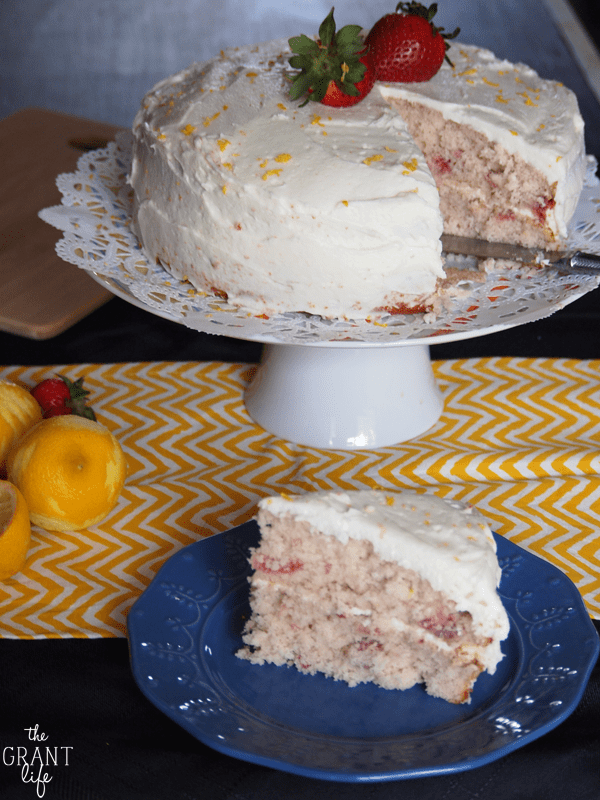 If there was any leftover, I would offer you slice. [I'm a horrible #blogfilmfood host!] But this delicious confection flew off the cake stand faster then you can say "Steel Magnolias!"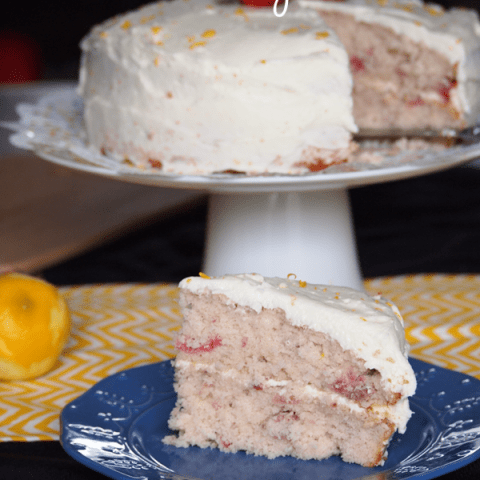 Strawberry Cake with Lemon Buttercream Frosting
Ingredients
For the cake
2 1/4 cups all-purpose flour
1 stick butter, softened
1 1/2 cups granulated sugar
3 1/2 tsp baking powder
1 tsp salt
3/4 cups milk
2 tablespoons oil
1 tbsp vanilla extract
3 large eggs
2 cups of washed, cut strawberries
For the frosting
2 sticks of butter, softened
4 -5 cups of powdered sugar
2 tablespoons milk
juice and zest of two lemons
Instructions
For the cake
Preheat oven to 350.
Cream the butter and the sugar.
Add eggs one at a time, beating in between.
Add the vanilla, oil and milk.
Add the flour, baking powder, and salt to the wet ingredients.
Mix until all lumps are gone.
Add the strawberries and mix on the highest speed for 1 minute.
Spray pans with cooking spray.
Pour mixture into pans.
Bake for 20-25 minutes or until a toothpick comes out clean in the center.
Let cool completely.
For the lemon buttercream -
Beat the butter until smooth.
Add the powdered sugar slowly to the mix.
Add the lemon, zest and milk.
Continue to mix until smooth and slightly thick.
If too thick, add a bit more milk. If runny, add more sugar.
To assemble
Frost the top of one cake.
Add the second layer and frost both pieces.
Garnish with additional lemon zest.
Enjoy!
Nutrition Information:
Amount Per Serving:
Calories:

8428
Cholesterol:

1304mg
Sodium:

2756mg
Carbohydrates:

1355g
Fiber:

19g
Sugar:

1097g
Protein:

62g
Want more recipes you can share with your bff? Check out: