Indulge a bit with these salted caramel stuffed pretzel cookies.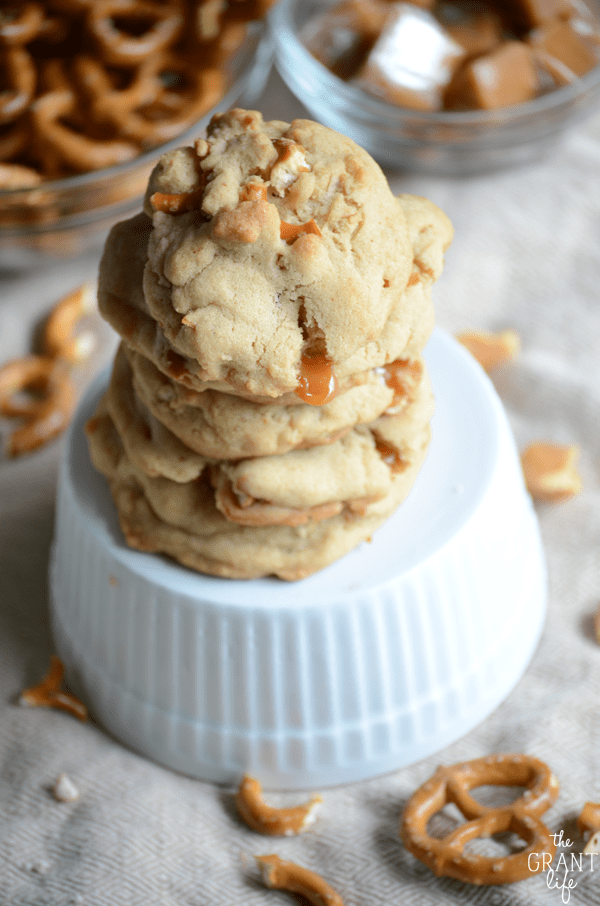 I think last week I mentioned that we had a stray dog wonder into our backyard. Maybe I didn't. Here's a recap – a dog found his way into our backyard last week and thinks he is comfortably home. We already have two dogs that are not so keen on the idea of sharing their backyard with said dog. Plus, he has a collar so I know he has a home. He is a big lovey and just wants his ears scratched.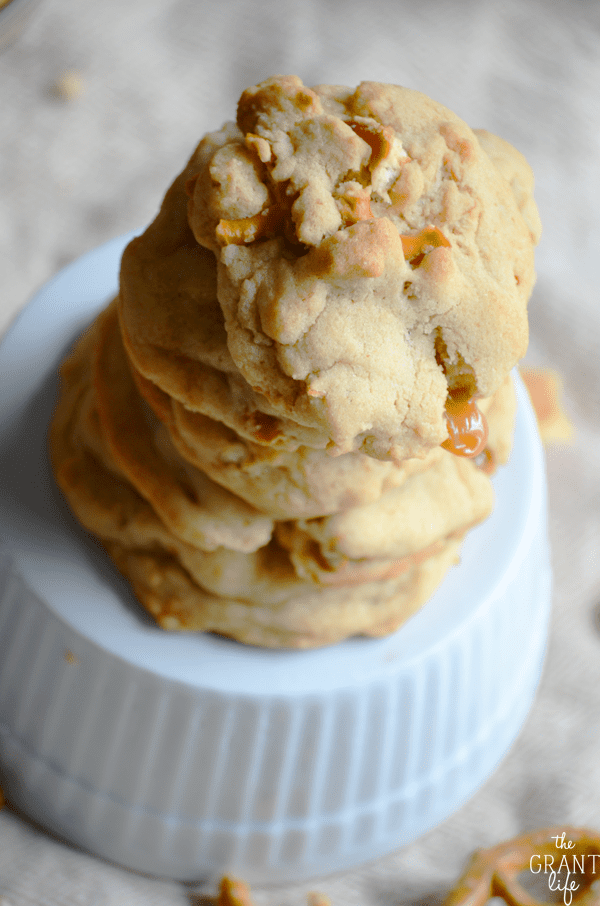 I say big – he's huge. He's probably 45-50 pounds and bigger then both of my dogs. And I'm pretty sure he's still a puppy. He tries to nibble your hands when you pet him and he jumps like he's on his own mini trampoline. He jumps right into my shoulder when I go outside. And jumps and jumps. He's almost knocked me over a few times and a couple times he jumped when my back was turned. I'm not so keen on giving a 45-50 pound dog a piggy back. Thanks guy.
I've listed him everywhere to try and find his owners. Ryon walked him around the neighborhoods near our house. Someone has to be missing this big guy. No one has claimed him, so he just kind of gets to hang out in our backyard. One day though I had a great idea to leave the gate open and let him find his way home. He's smart, he's a dog. I figured he'd catch a whiff of something and maybe head back home. Yea, not so much.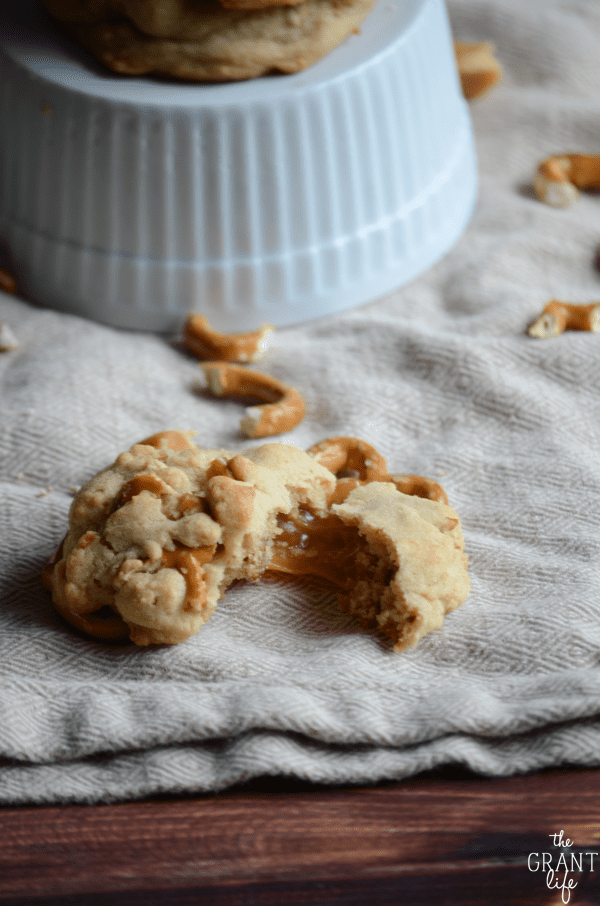 I left the gate open, got in the car and started to drive off. Well mister big jumping puppy took off after my car. Bolted after it really. So I stopped and he stopped. I backed up a little and he backed up. This went on for a few minutes. I finally told him to get back in the backyard so that I could leave. He headed back towards the house and I pulled out onto the street. And then so did the dog. I about had a heart attack! This big ole floppy dog was following me into a busy main road.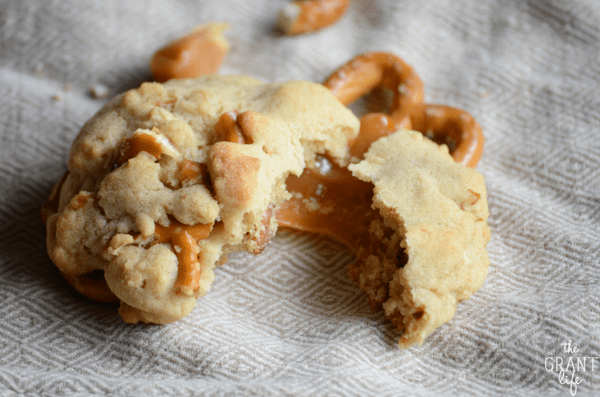 I pulled over on the side of the road and pulled him into the car with me, drove back to the house and put him back in the backyard. And when I got back in the car I proceeded to cry like a baby. One because it scared me to see him chase after the car, two because he could have gotten hurt and three because at that point I figured out he wasn't leaving. I was just glad that he kids weren't with me at the time. [Who by the way, call him new puppy. No no no.]
So new puppy is still in the backyard. I'm going to print out flyers this week and staple them to every post in the city. I'm not even a dog person yall. I told Ryon about a month ago that I don't want anymore dogs. Like ever. They stress me out. Like cry in the car because they almost got his stress. Then when I was rubbing his ears one night I had the best idea for a name. Yup, I mentally named the stray dog. I know. I'm shaking my head at myself too.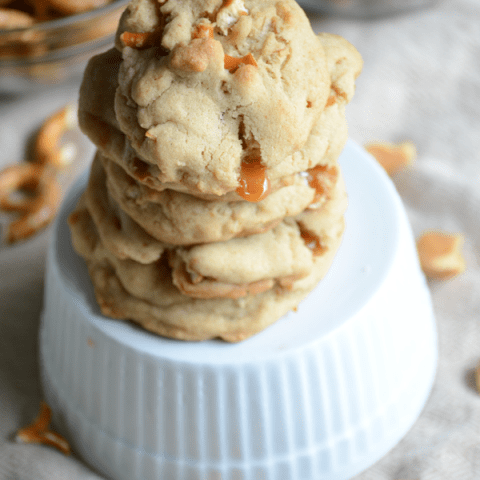 Salted caramel stuffed pretzel cookies
Ingredients
1 cup butter, softened
1 cup sugar
1 cup brown sugar, packed
3 large eggs
2 cups flour
1 teaspoon baking powder
1-2 cups crushed pretzels
24 caramels
Instructions
Preheat oven to 350.
Cream the butter and sugars in a bowl until fluffy.
Add the eggs one at time, mixing between.
Stir together the flour and baking powder in a separate bowl.
Slowly add the flour mixture to the wet ingredients.
Add the pretzels and mix until combined.
Roll out tablespoon sized balls of dough and add a caramel to the center. Wrap the dough around the caramel and place on greased baking sheet or one lined with a silicone baking mat.
Repeat and bake for 15-20 minutes, until the edges are golden brown.
Let cool and enjoy!
Nutrition Information:
Amount Per Serving:
Calories:

5327
Cholesterol:

1063mg
Sodium:

1059mg
Carbohydrates:

804g
Fiber:

7g
Sugar:

573g
Protein:

59g
Like this cookie recipe? Be sure to try: