Grab your pressure cooker and let's make some delicious candied nuts! In under 30 minutes you can have a sweet treat that is perfect for gift giving or adding to a cookie platter. You only need a handful of common ingredients to make these holiday favorites. Let me show you how to make Instant Pot Candied Nuts today!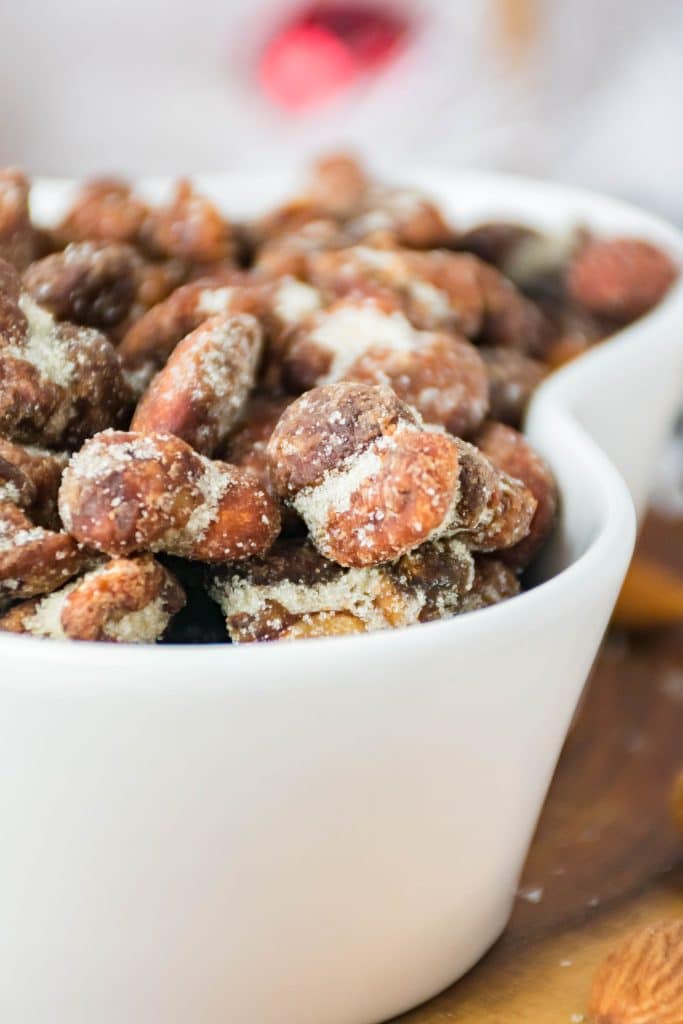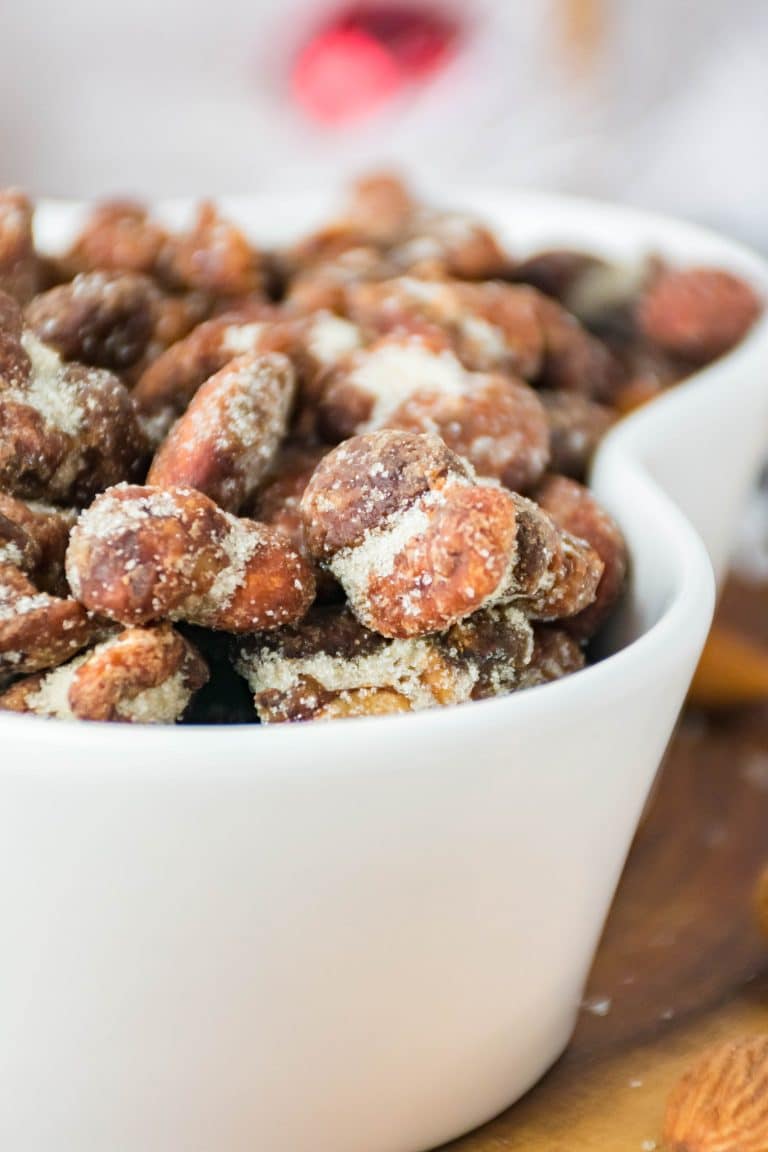 One of the things we love about the holidays is being able to bake together. My kids love getting in the kitchen with me and making cookies, brownies, fudge and even holiday nuts! We put them in holiday tins and give them to friends and teachers during the holiday season. These candied nuts are super easy to make in your Instant Pot which frees up your stove for other goodies!
Instant Pot Candied Nuts
Candied nuts are sweet treat that takes plain nuts (cashes, walnuts, pecans, etc) and covers them in sugar. You need to use some sort of sticky substance to help the sugar adhere to the nuts. There are many different ingredients you can use to help the sugar stick such as egg whites, maple syrup or honey. This recipe uses maple syrup to create the perfect candied nut!
Ingredients Needed to Make Candied Nuts
These holiday nuts feel fancy, but you only need a few common ingredients to make them at home. You will need:
maple syrup
ground cinnamon
nuts
water
sugar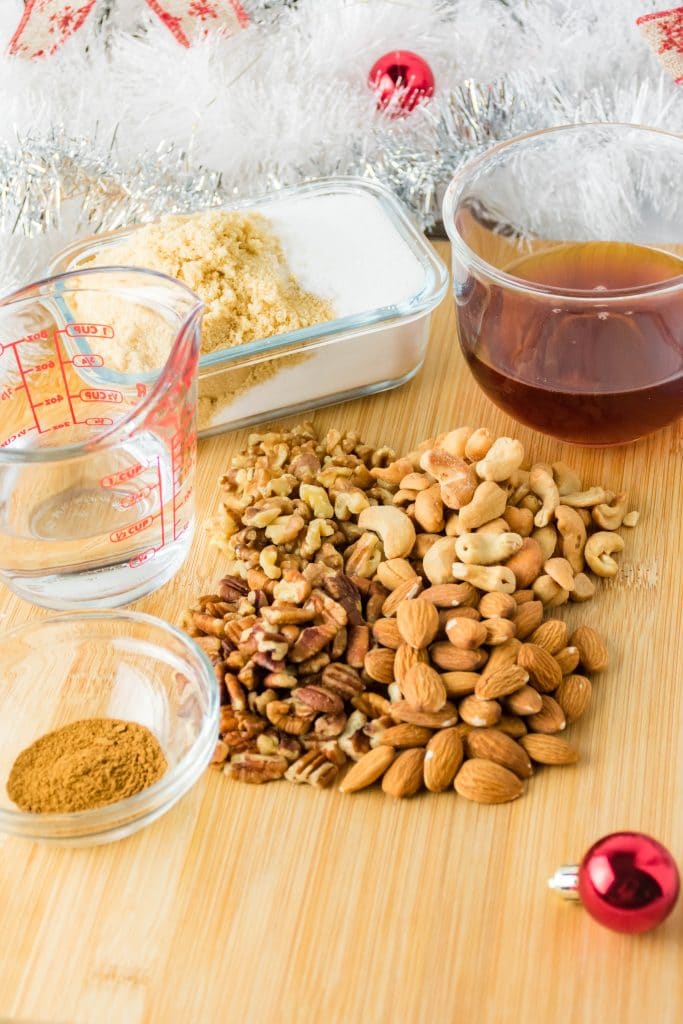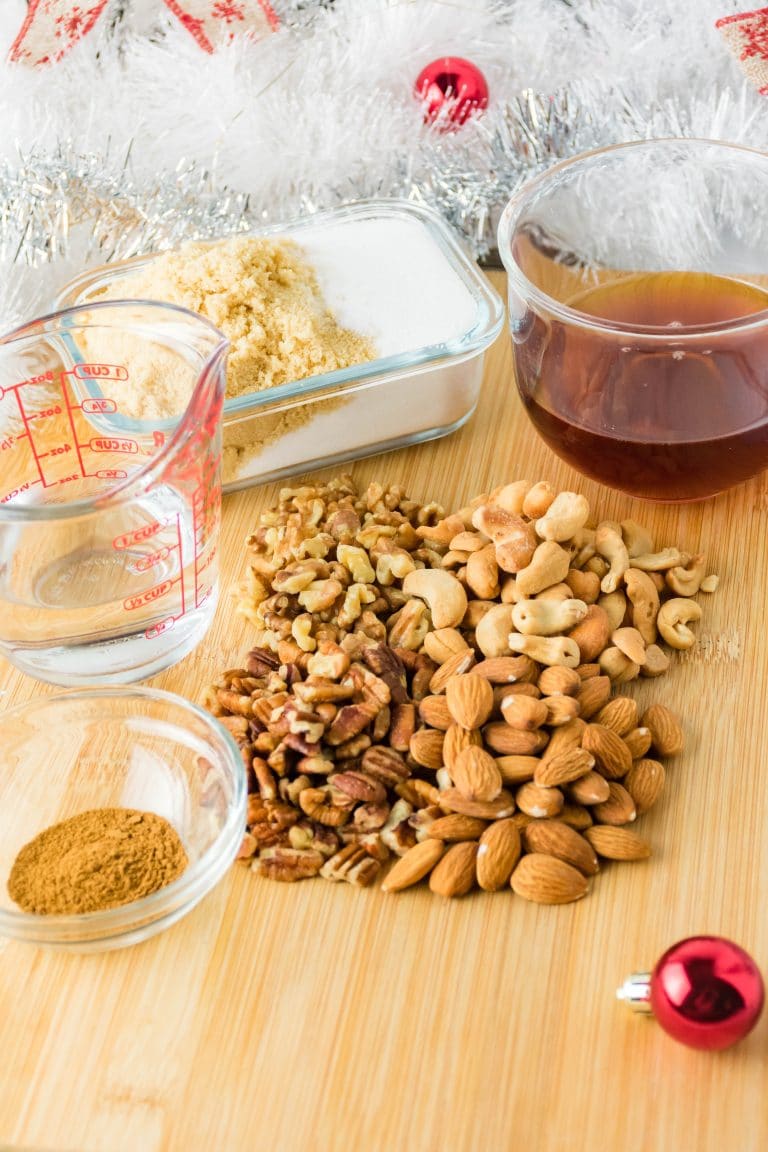 Maple syrup – This is the sticking agent that will help the sugar stay on the nuts. You can substitute maple syrup for honey or light corn syrup.
Cinnamon – Gives these nuts a great flavor. You can add your favorite winter-y spices here as well. Nutmeg, cloves and ginger would make a great addition.
Nuts – Feel free to use your favorite nuts in this recipe. I used a combination of pecans, walnuts, almonds and cashews. You can use a variety or stick to just one.
Sugar – You will need plain white sugar and brown sugar for this recipe.
How to make candied nuts
Once you have gathered all of your ingredients, you will also need to grab measuring cups and spoons, mixing bowls, and your Instant Pot.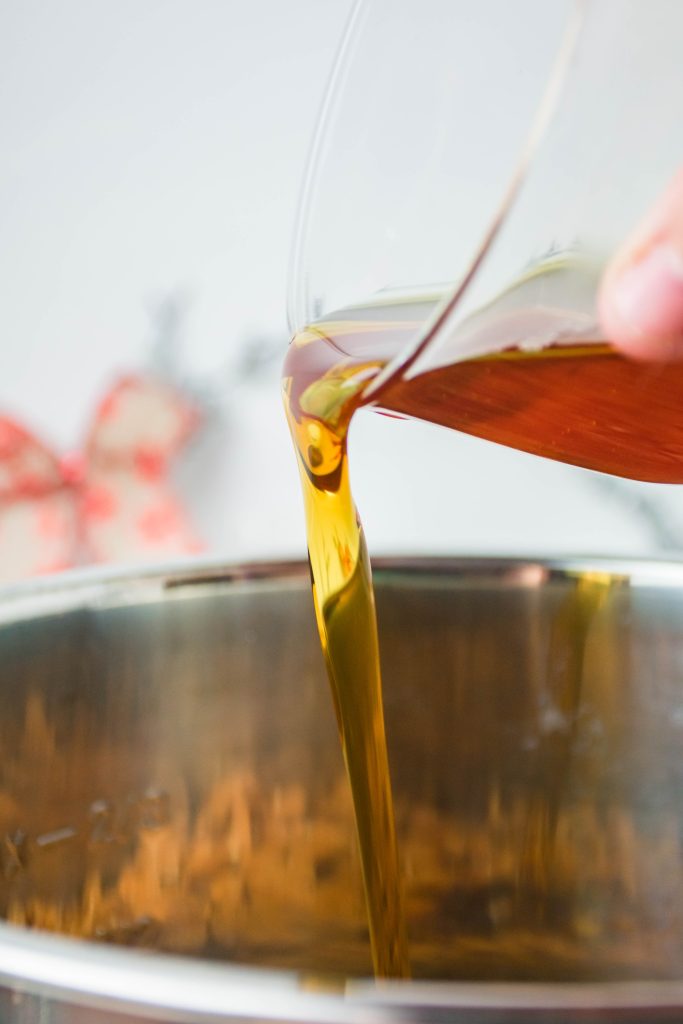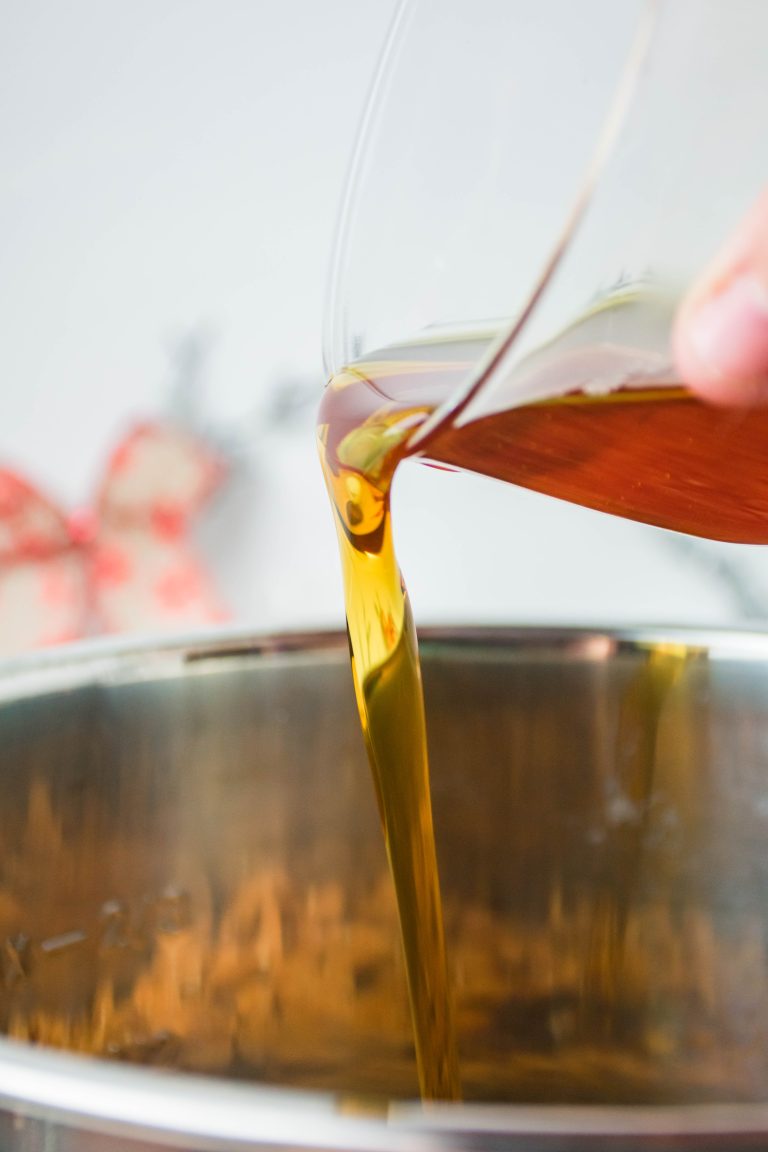 Step 1 Saute Place the nuts, cinnamon and maple syrup in your Instant Pot. Turn on the saute mode and cook the nuts until tender. You will want to stir them constantly so that they don't stick to the bottom of the pot or burn.
Step 2 Pressure cook Add the water to the inner pot and seal the lid. Pressure cook on high for 10 minutes. You will want to do a quick release once they are done cooking.
Step 4 Coat in sugar Allow the nuts to cool before placing them in a large Ziplock bag. Toss both of the sugars in and coat the warm nuts. Allow the nuts to cool completely before serving.
How to make in the oven
The Instant Pot is a great option for these holiday treats because it frees up your stove or other appliances. But don't worry – they are just as easy to make in the oven! You can follow my recipes below for easy candied nuts in the oven –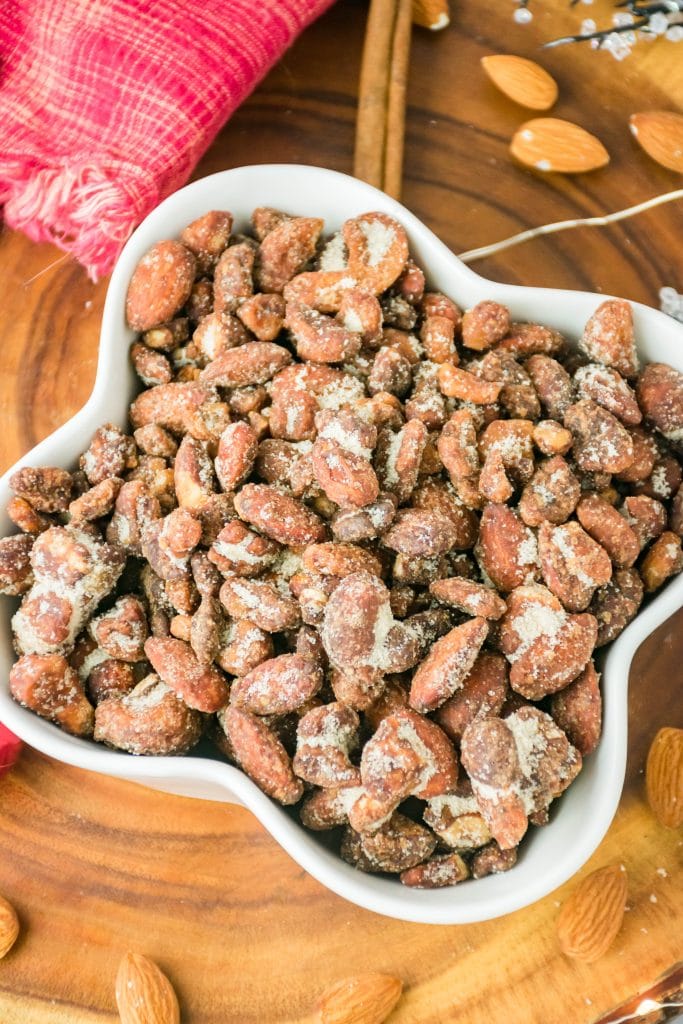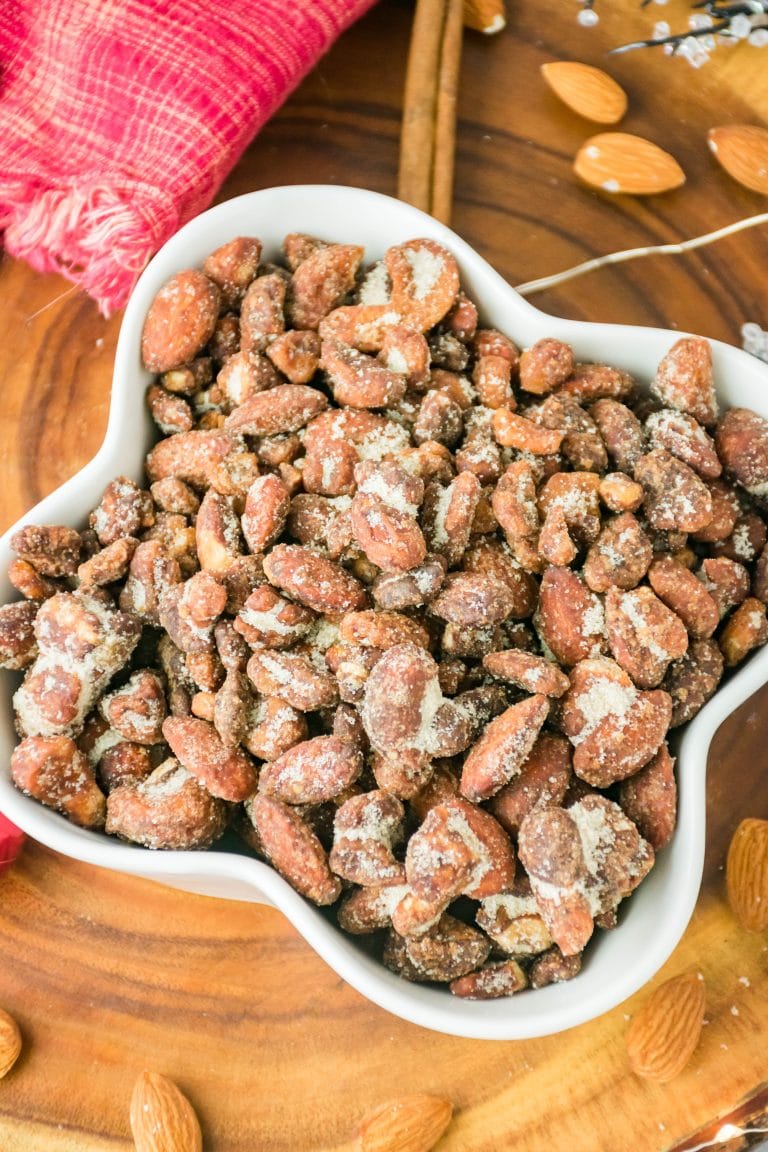 How do you keep candied nuts from sticking?
To keep candied nuts from sticking you want to handle them before they are totally cool. If you allow the nuts to cool completely, they stick together. You want to toss them in the sugar before they totally stick so that you don't have one giant clump of nuts.
Are candied nuts bad for you?
Nuts in general are a good nutritious snack. Candied nuts are different since you add sweeteners to them. They aren't the worst snack in the world, but not one I would consider healthy. I suggest eating these candied nuts in moderation.
Are pecan pralines and candied pecans the same thing?
Pecan pralines are a type of candied nut but they container sugar, butter and some form of dairy. They tend to be a bit creamier than regular candied pecans.
Can I use different nuts?
Absolutely! Feel free to use just one nut or use your favorite mix. This recipe is super easy to customize with your favorite nuts.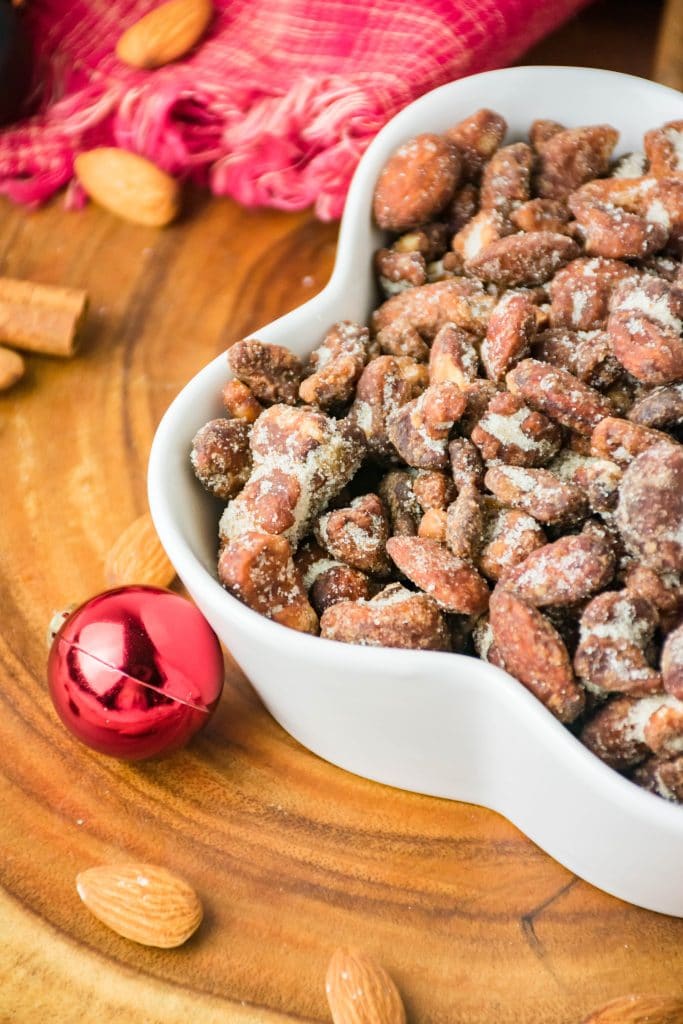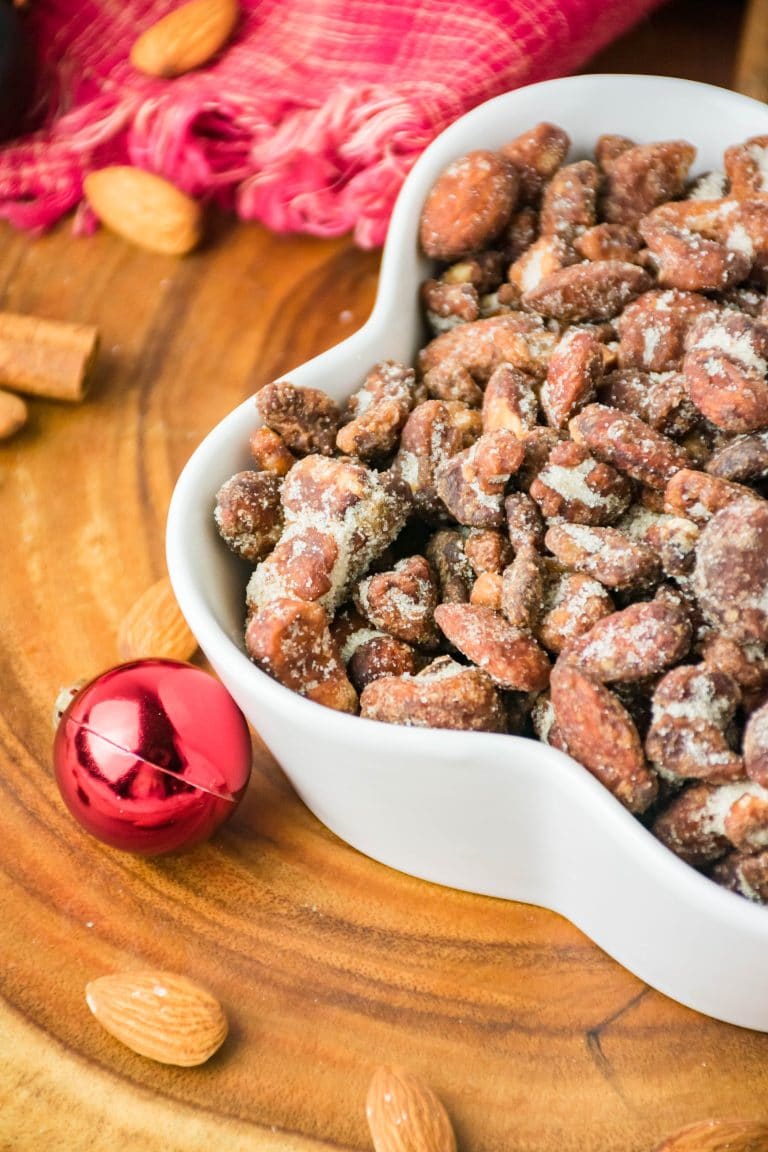 Gift giving ideas
These candied nuts make a great gift during the holiday season. Some great ways to share these with others include:
Place the candied nuts in a cookie tin with other goodies
Wrap them in a clear plastic bag with a Christmas gift tag
Add the candied nuts to a cookie platter for a cookie exchange
How to store leftovers
To keep the candied nuts fresh, place them in an airtight container. They can stay on the counter, but you do need to keep them in a Ziplock bag or a Tupperware with a secure lid.
Can I freeze candied nuts?
If you want to make these nuts ahead and save them for later, freezing them is a great option! Make them according to the directions and then place them in a Ziplock bag once they have cooled. Remove all the air from the bag and set it in the freezer. They will keep for up to 3 months in the freezer.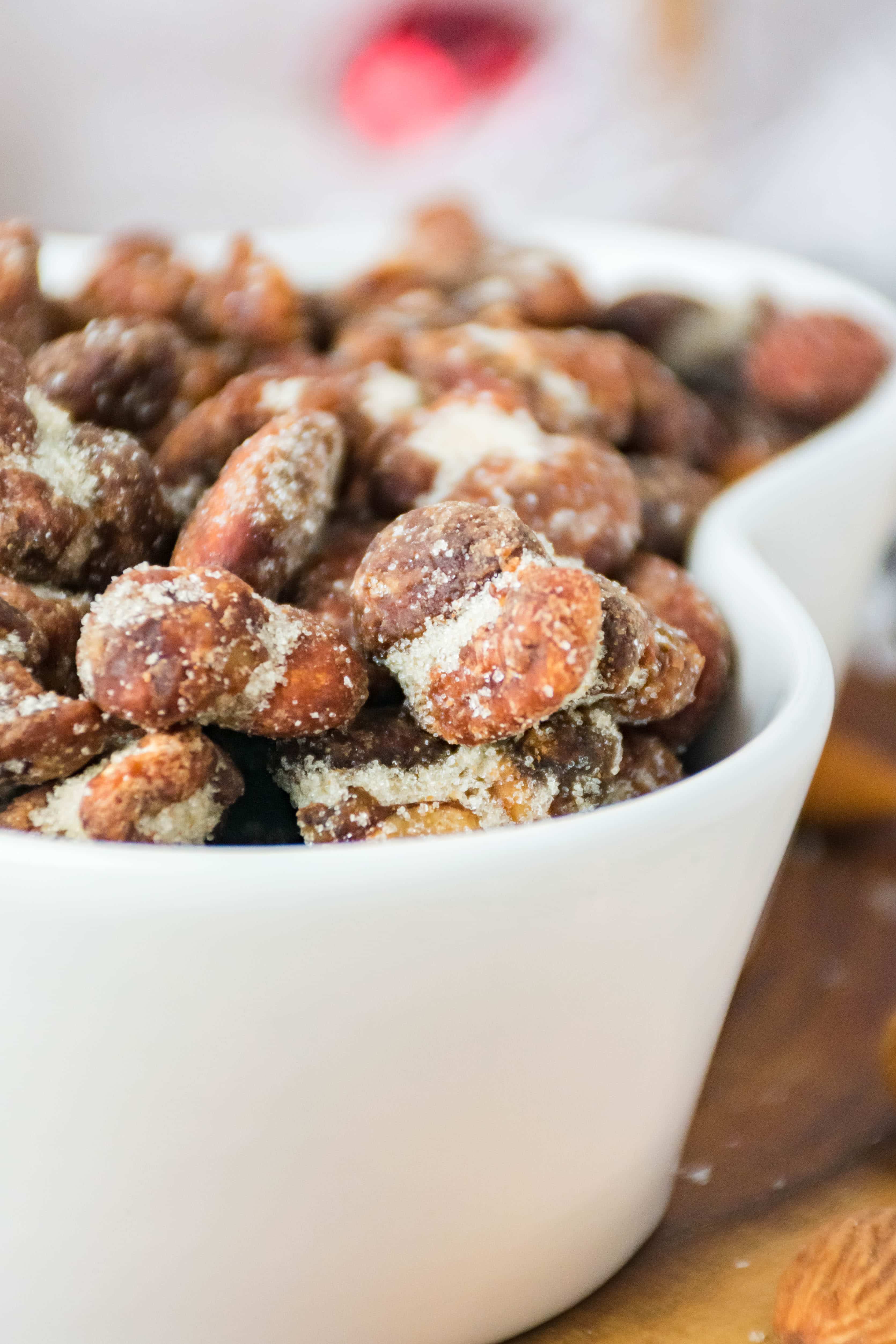 Instant Pot Candied Nuts
An easy candied nut recipe that you can make quickly in your Instant Pot!
Ingredients
1 cup Maple syrup
½ tsp Ground cinnamon
1 cup Pecans
1 cup Walnuts
1 cup Almonds
1 cup Cashews
½ cup Water
1 cup Granulated sugar
1 cup Brown sugar
Instructions
Start by placing your Instant Pot on the Sauté high setting and add in the nuts, maple syrup, and cinnamon.
Cook the nuts until tender (about 5-10 minutes) and the maple syrup thickens, making sure to stir consistently so the nuts don't burn.
Once tender, turn off the IP and pour in the water.
Stir and place on the IP lid.
Pressure cook on high for 10 minutes.
Once done, do a quick release on the valve and remove lid.
Let the nuts cool enough to handle but not all the way, as they will clump together.
While they are cooling, place the granulated sugar and brown sugar into a bowl with a lid or a gallon size freezer bag.
Once the nuts are at a comfortable temperature, place the nuts into the sugar mixture and shake to coat them evenly.
Once coated, allow them to finish cooling and serve!
Other Christmas treats to try
Looking for other Christmas goodies to make this year? Some of our favorites are:
Did you make these candied nuts? I'd love for you to leave a review in the recipe card above or in the comments below.
Want to make them later? Pin the image below to your favorite dessert board.