Have a hankering for a refreshing iced matcha latte but don't feel like leaving your house and waiting in the Starbucks drive-thru? This is another one of our awesome Starbucks copycat recipes!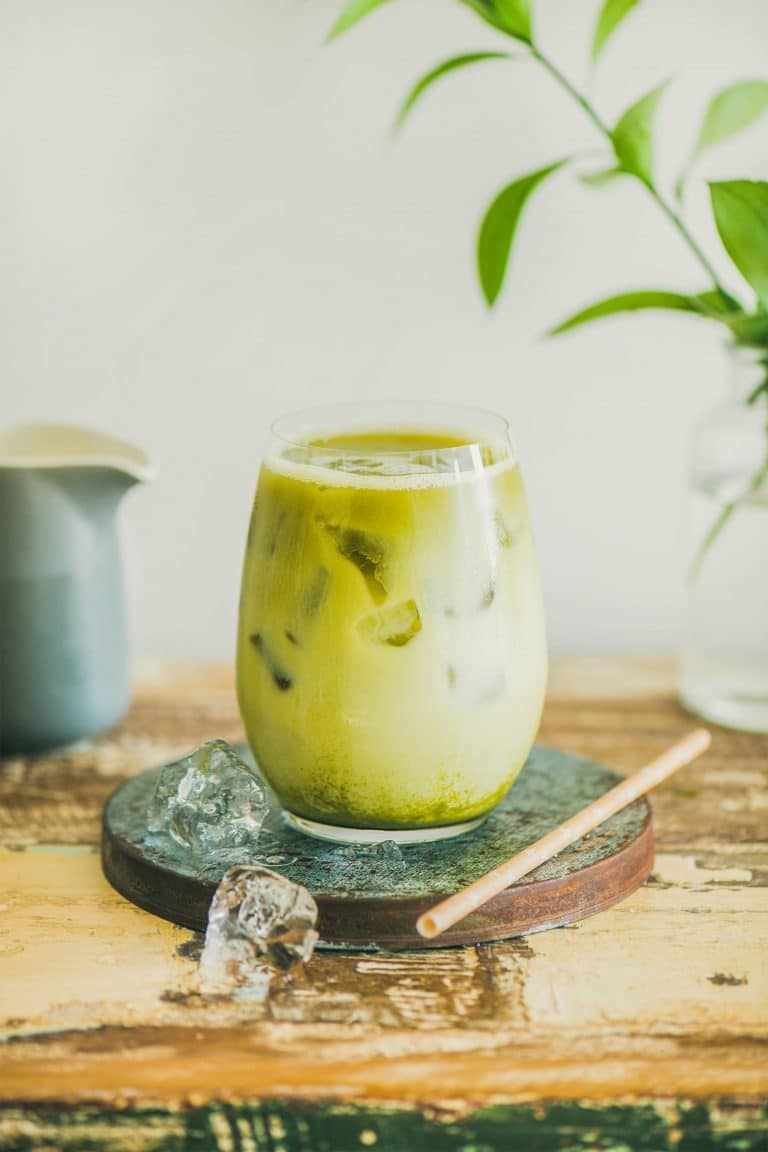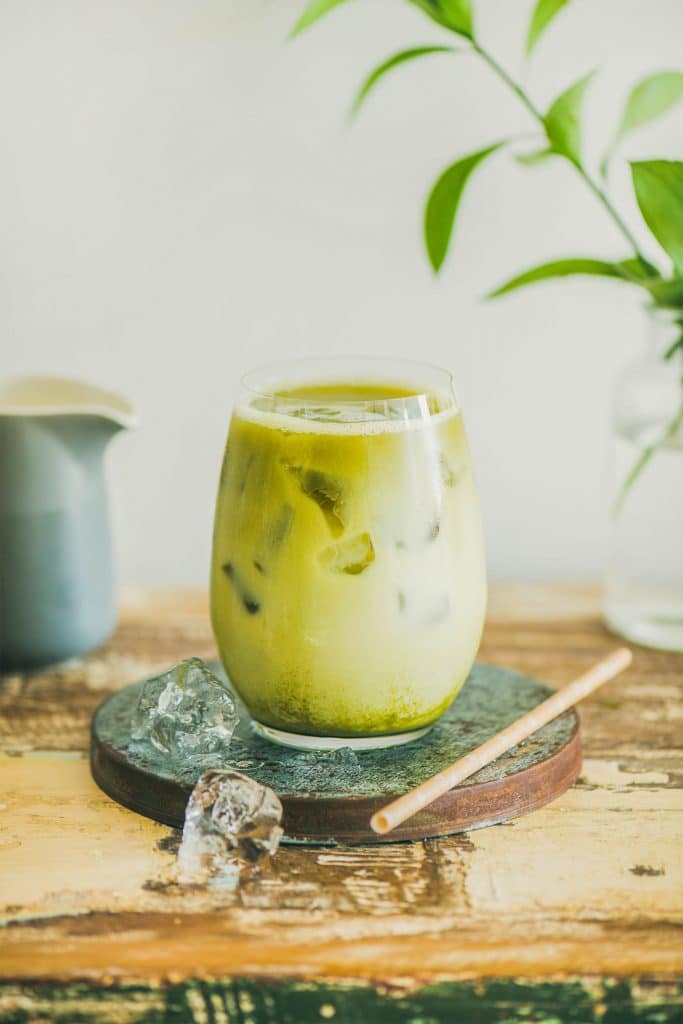 I rarely stray from my usual Starbucks order. I am an iced caramel macchiato girl most days. Sometimes I get a wild hair and decide to go a different route. And you know what? It normally ends up being worth it!
Trying an iced matcha latte for the first time, I was nervous. I didn't want to waste money on a drink I wasn't sure I'd like. But like my other purchases (cough violet drink cough), it was delicious and I was hooked!
What is a Matcha Latte?
If you are not familiar with Asian ingredients, you may be wondering, what the heck is matcha? Matcha is a Japanese green tea powder that is made from dried tea leaves. It has kind of an earthy taste and is slightly bitter, but that brings a great complementary flavor to the sweetness of the latte. A latte is a mixture of espresso and steamed milk. Combine the two and you have a delicious green tea latte!
Ingredients needed for a Matcha Latte
Here's what you'll need to make this delicious drink:
Matcha powder: Matcha powder is made of ground green tea leaves. You should be able to find it in the tea aisle with green teas, or in the Asian ingredients section, depending on the store.
Sugar: Just your regular sugar will be best. You can also use honey or maple syrup here as well.
Water: To brew the tea.
Coconut or almond milk: Make sure you are using coconut or almond milk, as using any other type of milk will change the taste significantly.
Ice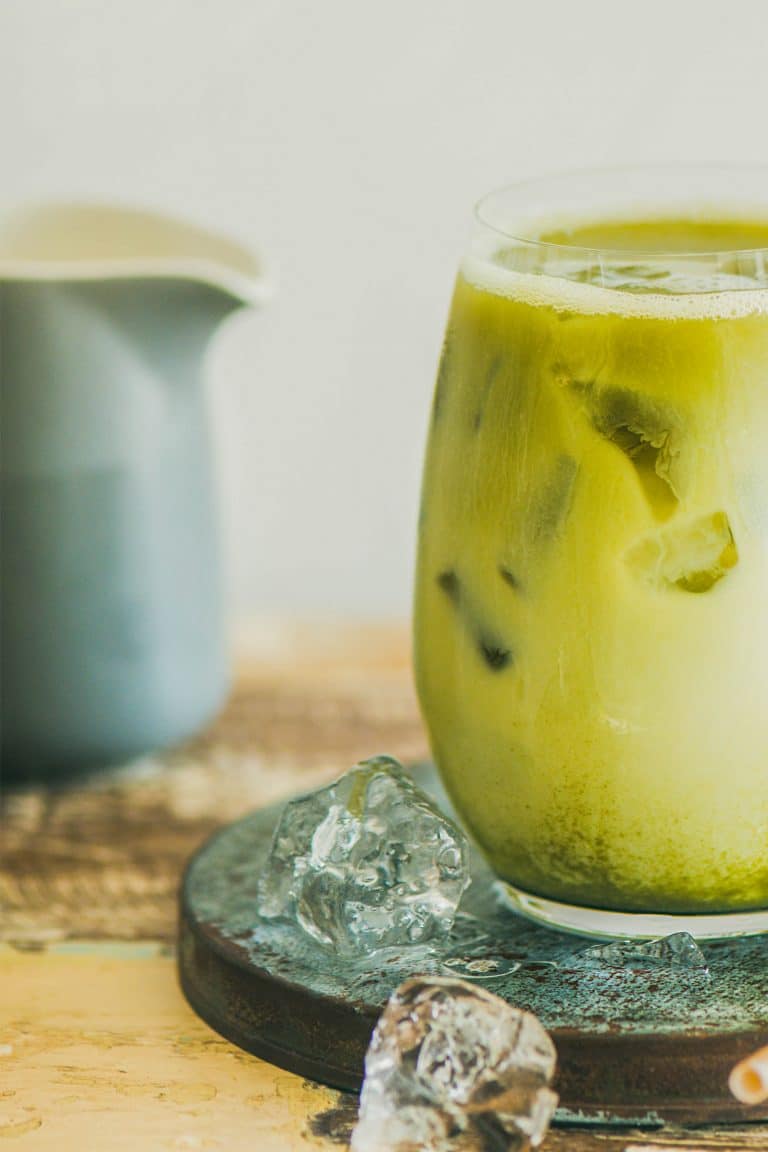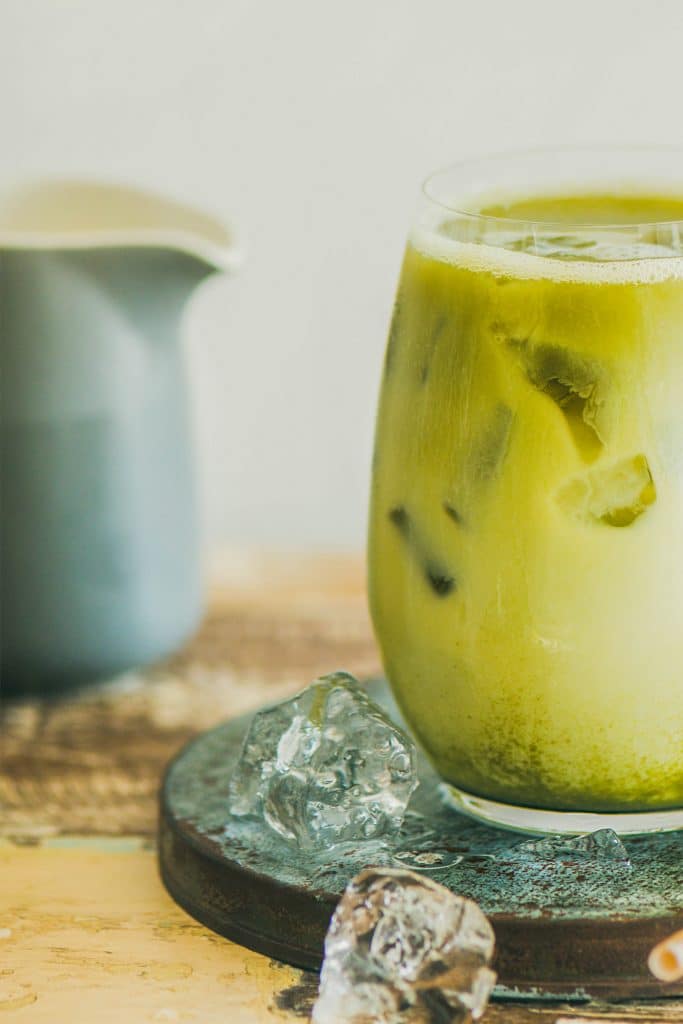 How to make an Iced Matcha Latte
Once you have gathered all your ingredients you will also need to grab a bowl, a whisk and a cup.
Step 1: Mix the dry ingredients
In a small bowl, whisk together the matcha and the sugar.
Step 2: Make a paste
Mix in the water to make a paste with the matcha.
Step 3: Make the latte
Pour in the warm milk and whisk until combined. You should have a pale green after mixing.
Step 4: Pour over ice
Pour over ice and enjoy!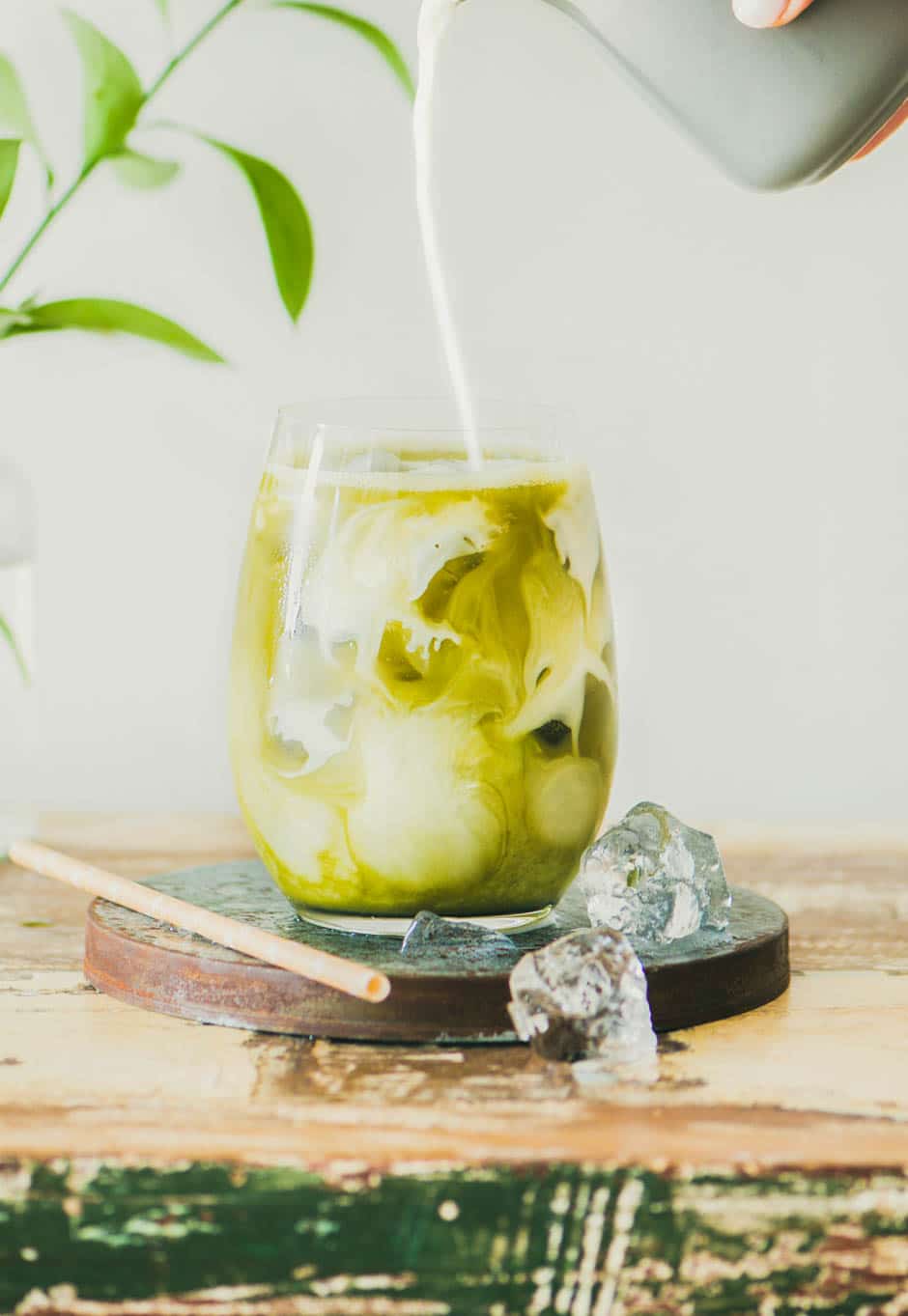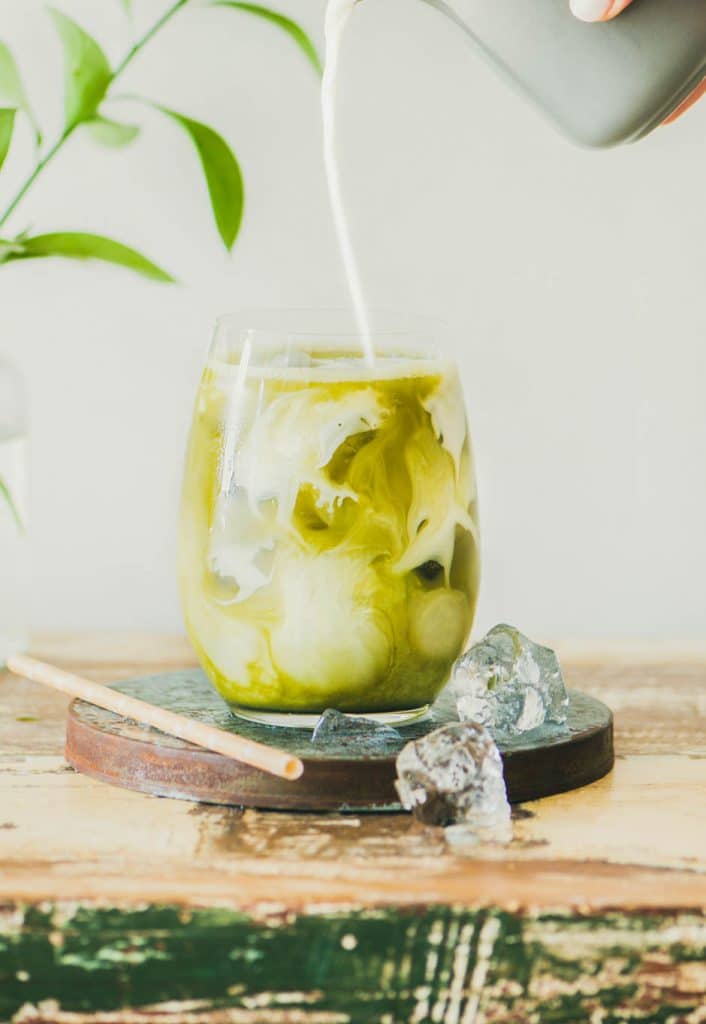 What is Matcha?
It's an Asian green tea powder. Instead of steeping and brewing these green tea leaves, they are ground up with a mortar and pestle to create a powder. Typically this powder is mixed with hot water to create a frothy drink, or with steamed milk to make a matcha latte, like we are doing here.
What is Matcha used for?
Matcha is usually used for its caffeine content. It is higher than most green teas, and is comparable to about ? of a cup of coffee, but doesn't give you the jittery effect that sometimes coffee can give you. So it really makes a great substitute for the espresso in a regular latte.
Where can I buy Matcha Powder?
You may be wondering, where can I buy this strange stuff? One suggestion is Amazon (because they literally have everything). You should be able to find this in your big box stores though. Since it is a tea, it should be in the aisle with the green teas, or even in the section with other Asian ingredients. Your local health food/herb store should have it as well.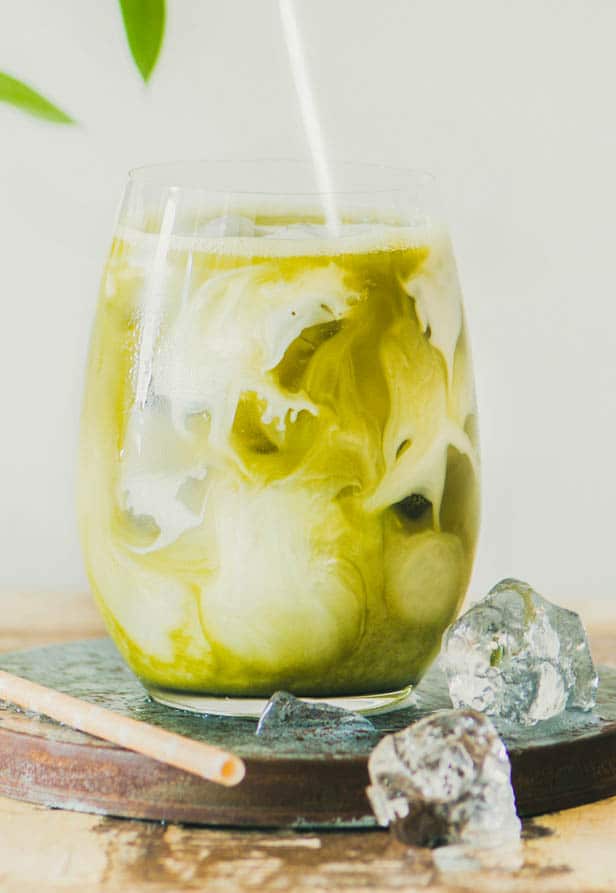 What Milk do I need for a Matcha Latte?
Being that this isn't your typical latte, you can't use regular milk, as it will greatly change the taste. You can use either coconut milk or almond milk, whichever you prefer.
How many drinks does this make?
This recipe is just for 1 drink. If you would like to make one for your bestie or significant other (or if you REALLY need a pick-me-up–I think we've all had those days!), you can definitely double or even triple this recipe to make 2 or 3 drinks (respectively).
What pairs well with a Matcha Latte?
Here are some treats that would taste yummy with an Iced Matcha Latte:
How to order a Matcha Latte at Starbucks
If you are going to Starbucks and want to order an Iced Matcha Latte, it's really quite simple. You literally just tell the barista you want an Iced Matcha Latte and what size you want! That's all there is to it.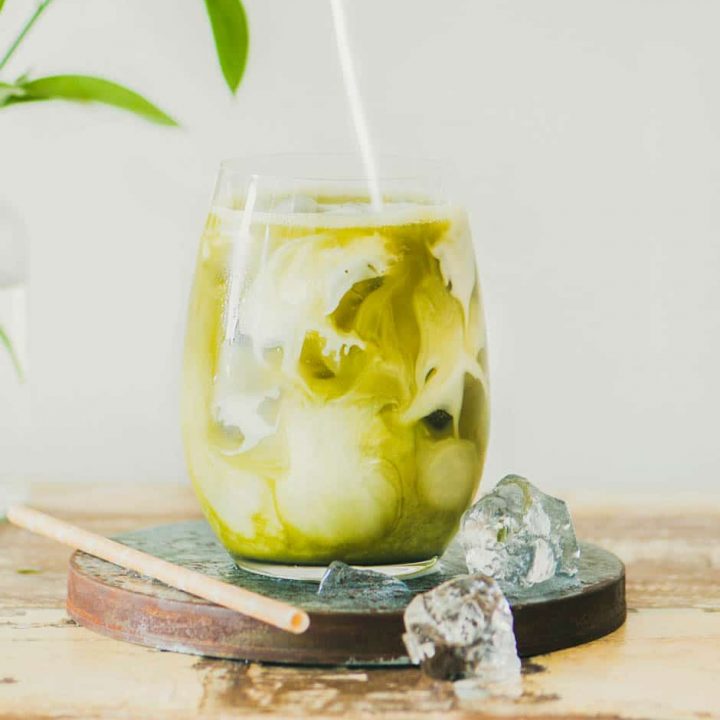 Iced Matcha Latte
How to easily make a copycat Starbucks iced matcha latte at home.
Ingredients
1 tsp matcha powder
2 tsp sugar
3 tablespoons water
¼ cup warm coconut or almond milk
ice
Instructions
In a small bowl, whisk together the matcha and the sugar.
Mix in the water to make a paste with the matcha.
Pour in the warm milk and whisk until combined. You should have a pale green after mixing.
Pour over ice and enjoy!
Nutrition Information:
Yield:

1
Serving Size:

1
Amount Per Serving:
Calories:

185
Total Fat:

8g
Saturated Fat:

6g
Trans Fat:

0g
Unsaturated Fat:

3g
Cholesterol:

0mg
Sodium:

72mg
Carbohydrates:

28g
Fiber:

3g
Sugar:

23g
Protein:

2g
If you liked this recipe, here are some other Starbucks copycat drinks you'll love:
If you found this recipe helpful, please pin it to Pinterest for others to enjoy. Remember, sharing is caring!