This easy taco casserole is a delicious, one-pot meal that your whole family will love! It's perfect for busy weeknights, and it's also freezer-friendly, so you can make it ahead of time and enjoy it later. Plus, it's made with just a handful of ingredients, so it's both budget-friendly and quick and easy to throw together. Let's get cooking!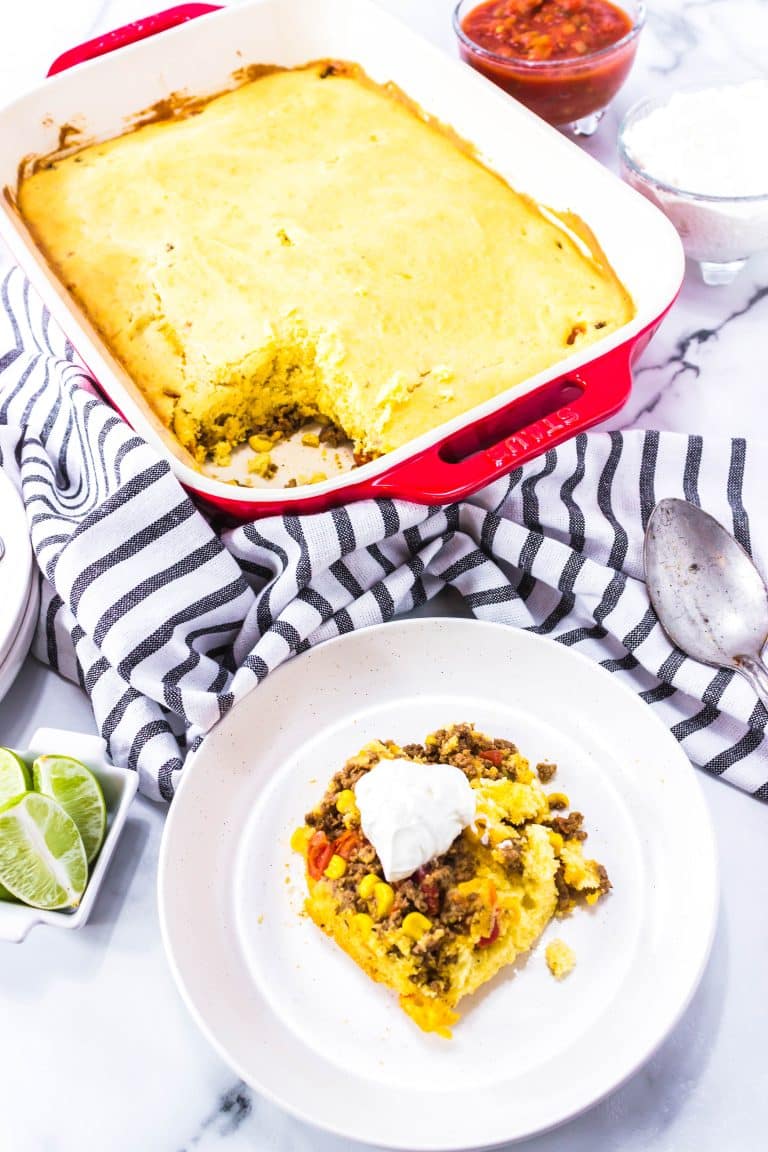 Tacos are our favorite quick and easy dinner! My kids and husband both love them. Taco night is always the best night at our house. This taco casserole is a fun take on classic taco night. It takes the classic taco ingredients and bakes them underneath a cornbread crust. All you need is a side of homemade guacamole!
What is Taco Casserole?
Taco casserole is a dish made by layering taco ingredients in a casserole dish and baking them until they are hot and bubbly. It is a popular dish because it is easy to make and can be tailored to suit any taste.
This taco casserole combines taco meat, cheese, beans and corn underneath a cornbread or tamale inspired topping. Some recipes include beans, rice, salsa, or sour cream, while others add ground beef or chicken. Taco casseroles are also a great way to use up leftovers, so feel free to experiment.
Easy Taco Casserole Ingredients
For this recipe, you'll need ingredients for the filling and topping. Here's what you'll need to get started: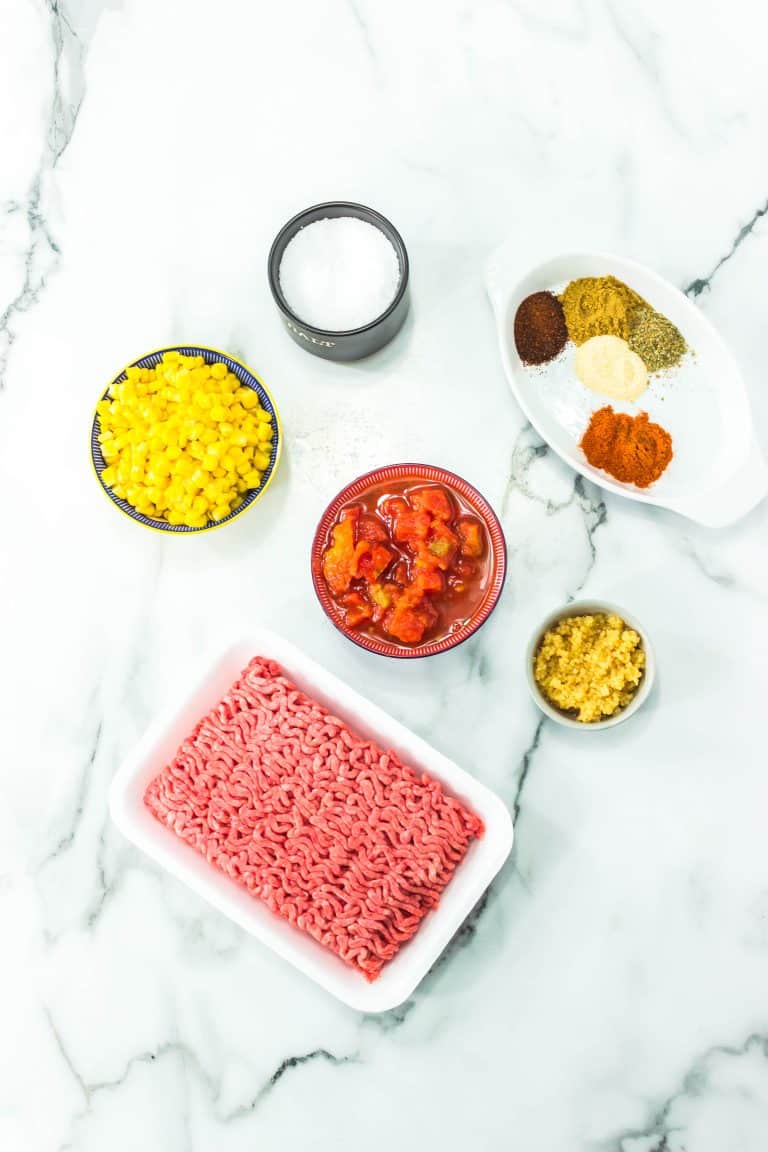 Casserole Filling
Beef– You will want to brown your ground beef. If you prefer a healthier dish, you could use ground turkey instead.
Garlic– I use fresh chopped garlic for this recipe which will be about 2 cloves minced.
Corn– I used frozen corn for this recipe, but you could use canned whole kernel corn. Just be sure to drain it.
Diced tomatoes– I used canned diced tomatoes, but you could use fresh if you prefer.
Seasonings– To get that taco seasoning, you'll need chili powder, cumin, oregano, garlic powder, salt, and paprika.
Cornbread Topping
Flour– Do not pack the flour. Instead, use a spoon to scoop the flour into the measuring cup and then level it off with a butter knife.
Cornmeal– Cornmeal is what makes this a cornbread topping instead of a simple flour based topping.
Sugar– Unlike flour, you will pack the sugar. Use the measuring cup to scoop and pack it.
Baking powder– You will need baking powder so that the topping rises.
Egg– Pull the egg out to sit on the counter for about 30-minutes prior to using in your cornbread.
Canola oil– I used canola oil, but you could use vegetable oil, olive oil, or avocado oil if you prefer.
Milk– You can use 2%, whole, or any milk that you prefer to use in making the cornbread topping.
Additional Ingredient
Taco Cheese– The best cheese to use for a casserole is Monterey Jack or Cheddar shredded cheese.
How to Make Cheesy Taco Casserole
This cheesy taco casserole is super easy to whip up. Follow the simple steps below for a quick and easy weeknight meal!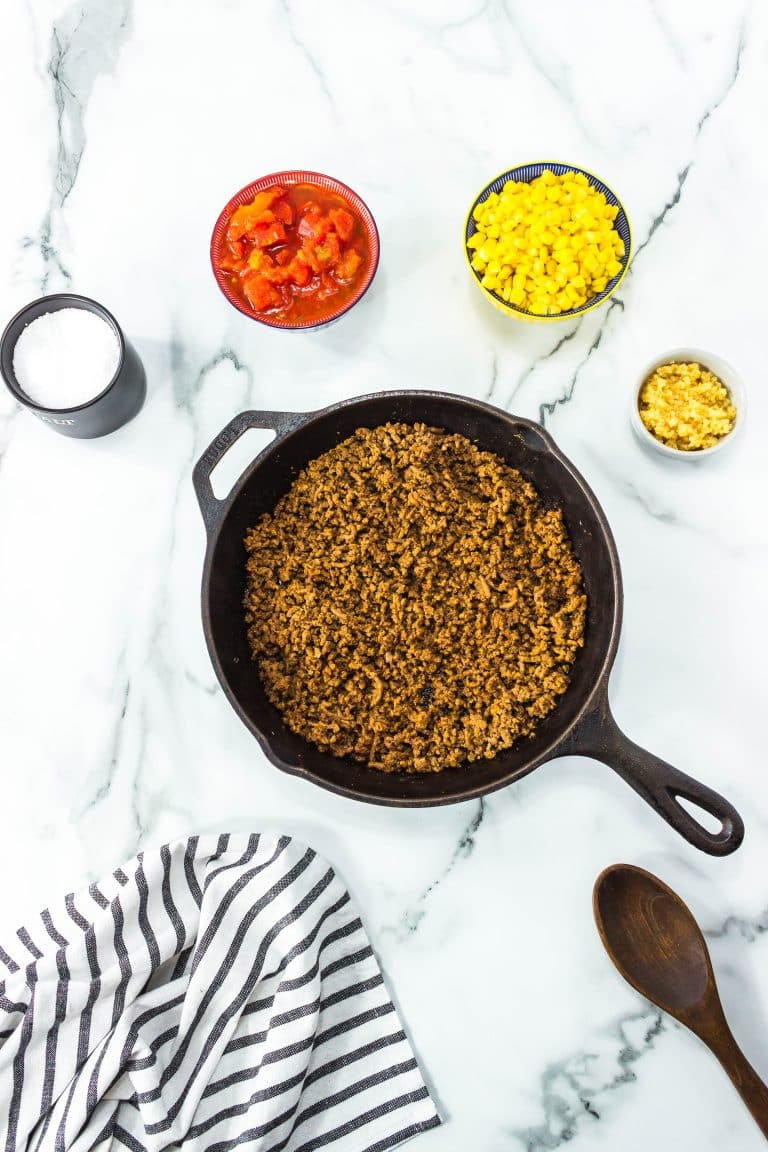 Step 1: Preheat and Prep
First, preheat the oven to 400?. Then, spray a 9×13 baking dish with nonstick cooking spray.
Step 2: Simmer Ingredients
Add the beef, corn, garlic, diced tomatoes, water and seasonings to a skillet. Simmer them for 15-minutes, stirring often.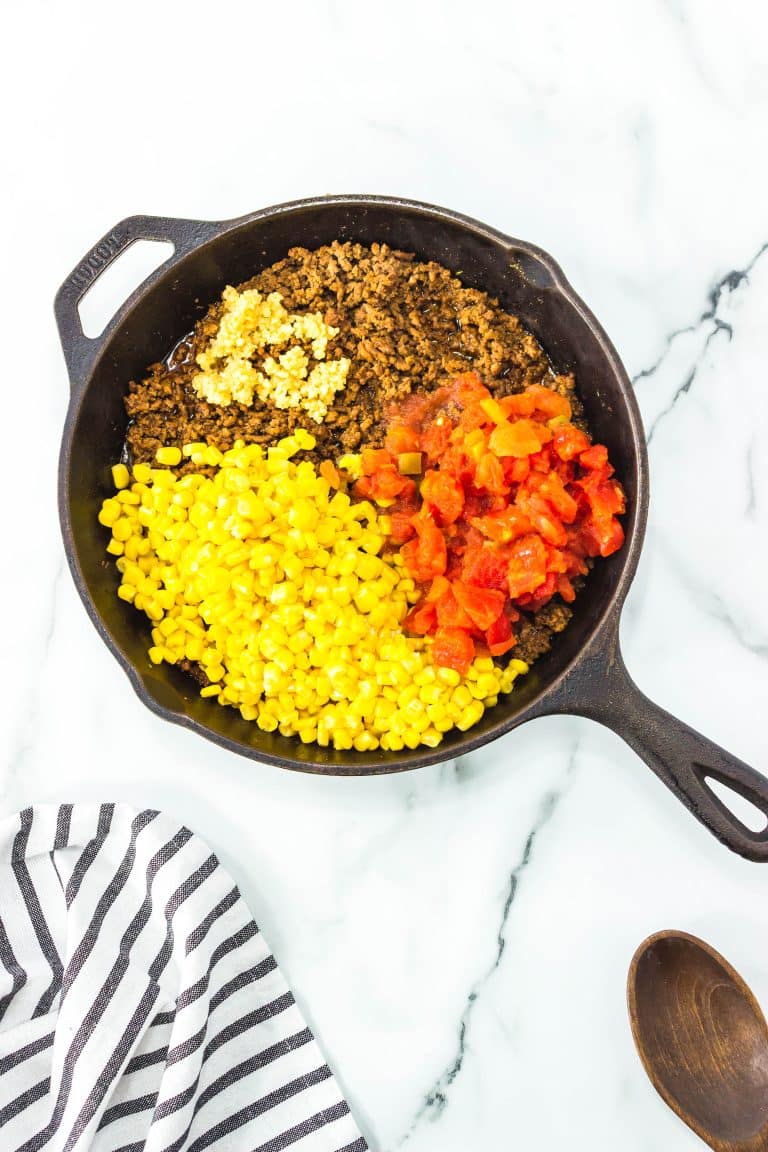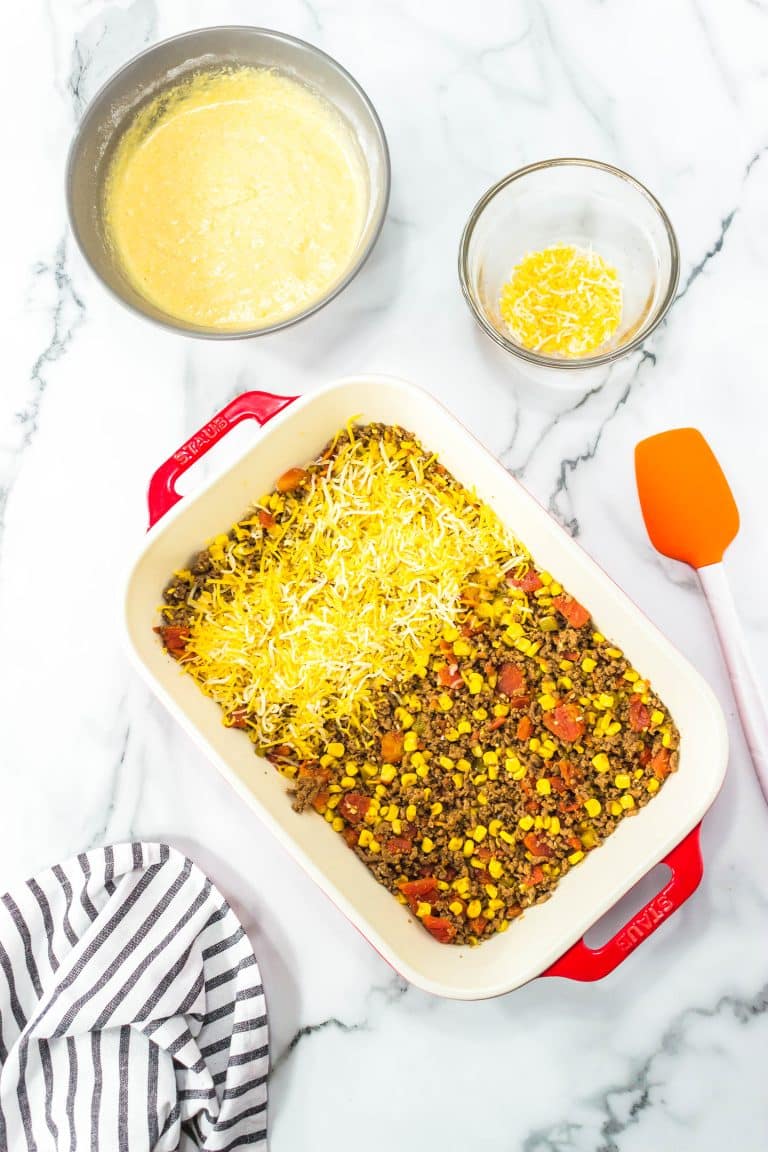 Step 3: Pour into Dish
Once the mixture has thickened, pour the filling into the prepared casserole dish. Then, sprinkle evenly with taco cheese.
Step 4: Make Cornbread Batter
In a large bowl, mix together all the cornbread topping ingredients (flour, cornmeal, sugar, baking powder, egg, and milk).
Step 5: Add Cornbread to Casserole
Spread the cornbread topping over the top of the casserole.
Step 6: Bake
Bake at 400 degrees for 15-20 minutes or until cornbread is cooked through. Then, cut through to the filling to check for doneness.
Serve and Enjoy!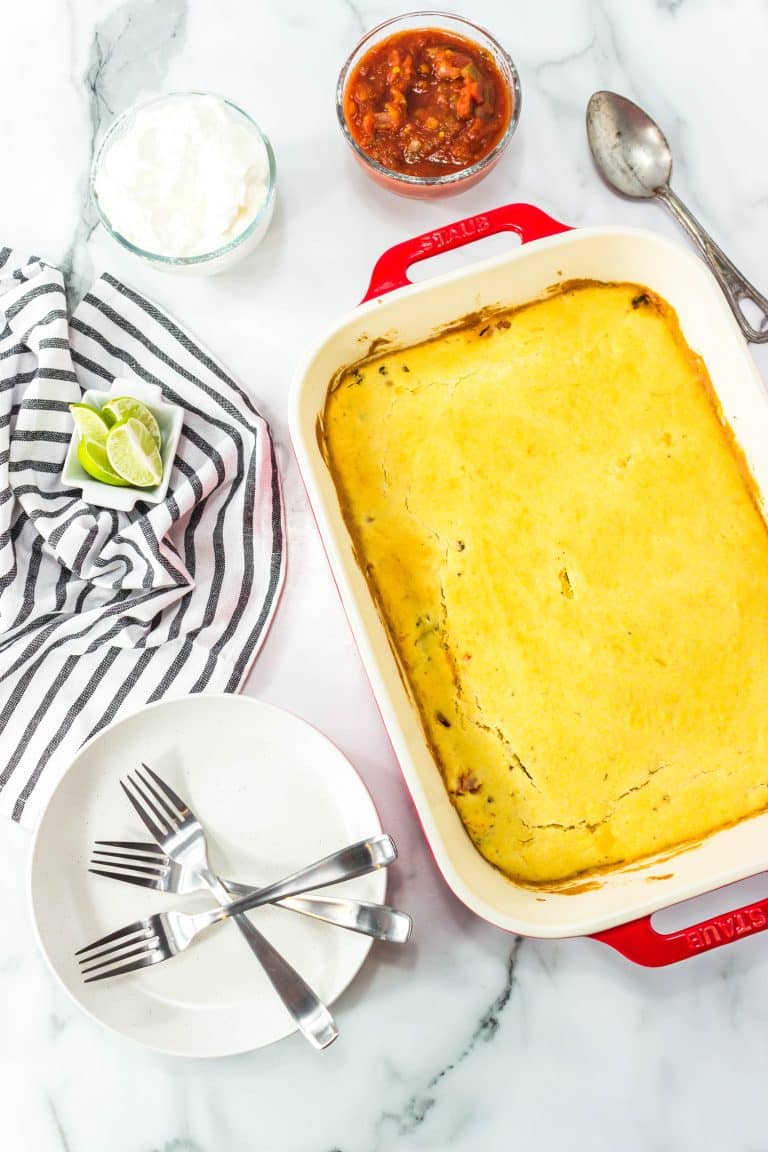 How to Make in the Crock Pot
If you want to make taco casserole in the crock pot, you will need to layer it the same way you would in the casserole pan. Instead of baking it, cook it in the crock pot on high for 4-6 hours or low for 6-8 hours. Or, follow this Slow-Cooked Taco Casserole Recipe.
How to Make in the Instant Pot
If you want to make a taco casserole in your Instant Pot, I recommend following my Instant Pot Mexican Casserole recipe.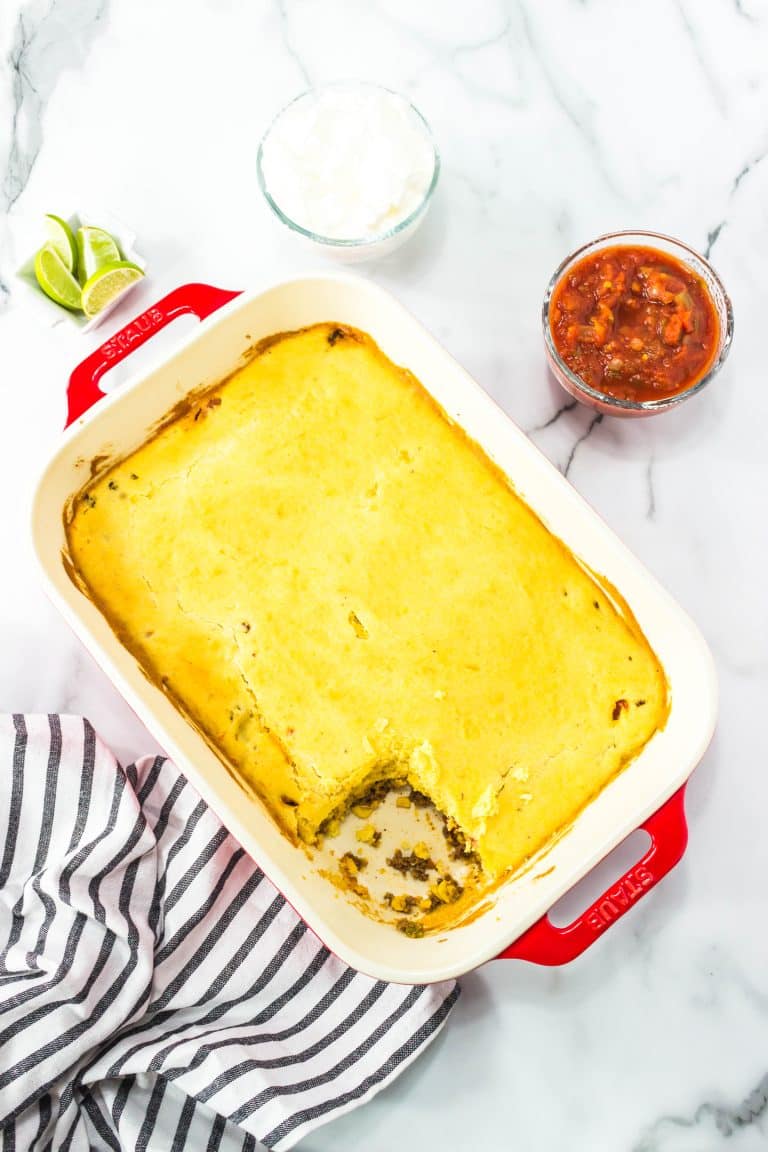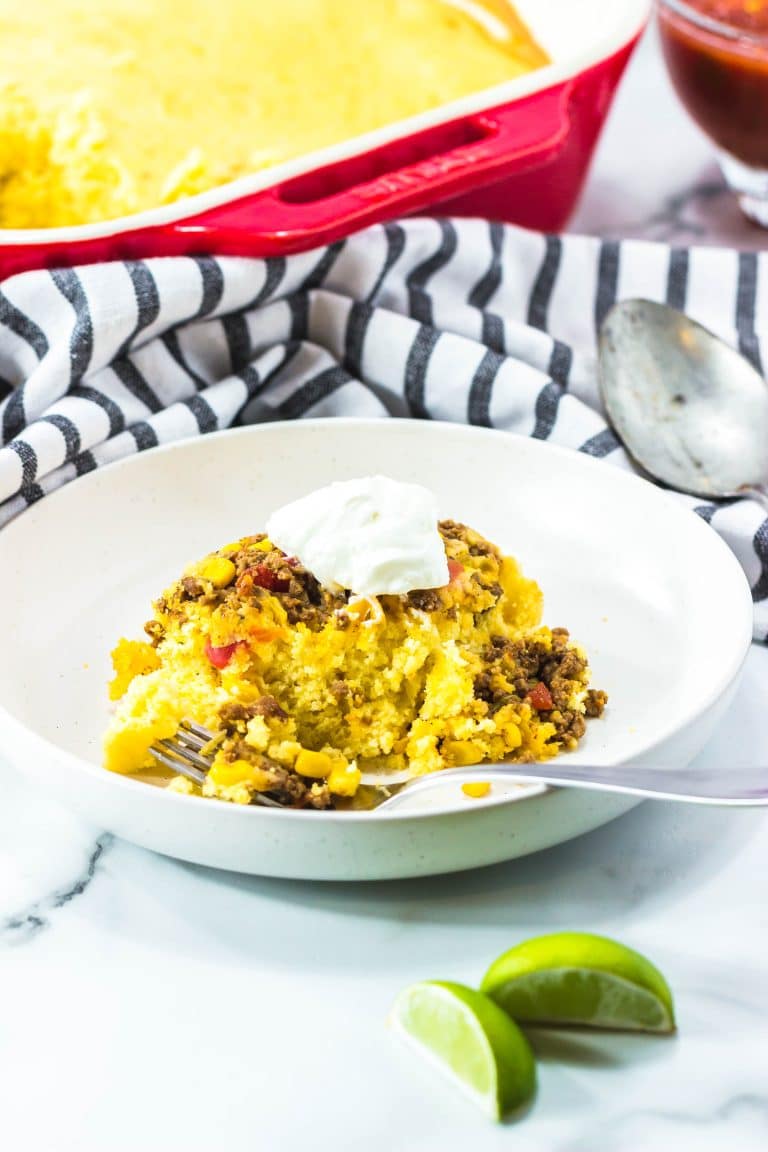 Side Dish Recommendations
Some easy sides that you can add to this taco casserole:
Can I Use Taco Seasoning?
Yes, you can. Instead of adding all the various spices above, you can make this recipe faster by using taco seasoning. You can use my homemade taco seasoning mix! Simply replace the 6 spices with 2 tablespoons of taco seasoning which is equal to 1 packet.
Can I use a Cornbread Mix?
Absolutely! This recipe is made without processed ingredients, but if you want a quicker recipe, you could simply substitute the cornbread topping ingredients for a boxed cornbread mix. Keep in mind that homemade ingredients do have a better flavor overall.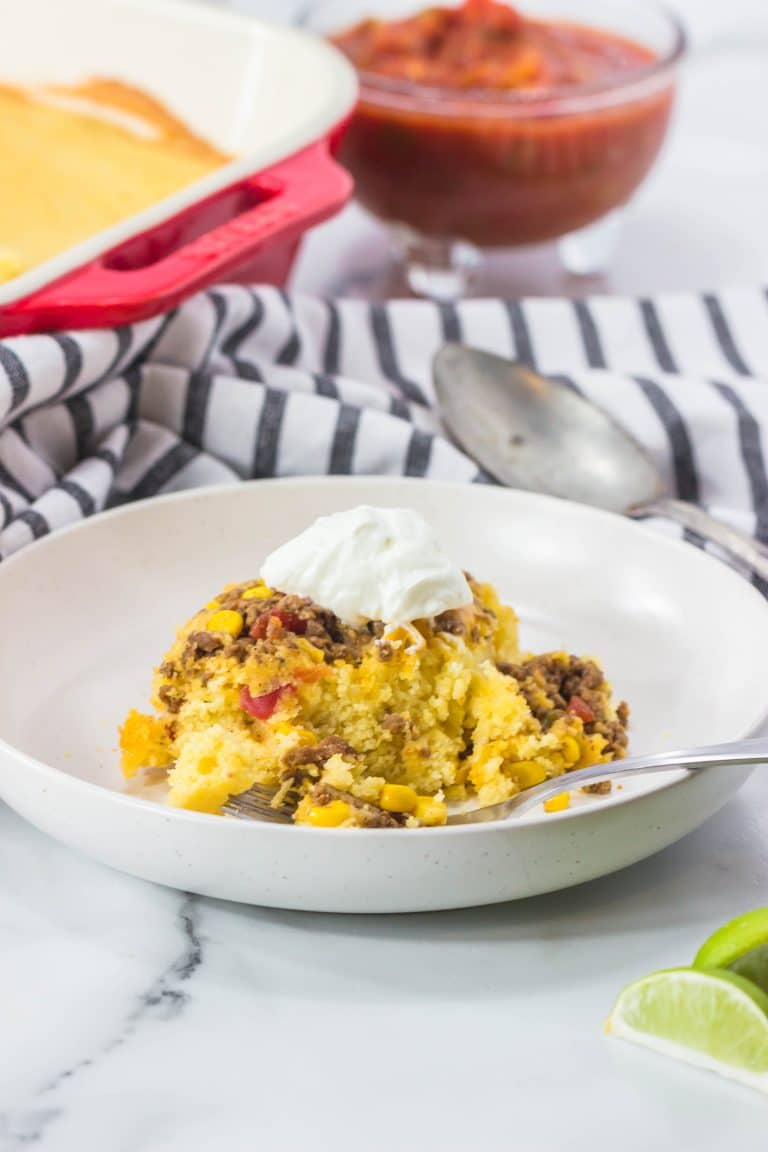 Other Mexican Inspired Recipes
More Mexican inspired recipes to try: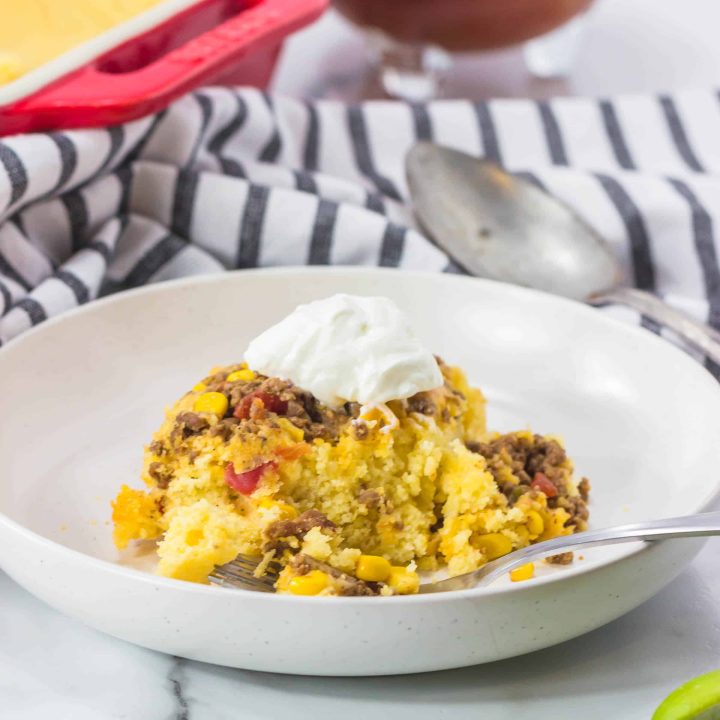 Easy Taco Casserole
How to make an easy and cheesy baked taco casserole.
Ingredients
Casserole Filling:
1 lb ground beef, browned
2 tsp chopped garlic
1 cup frozen corn
1 14oz can diced tomatoes
1 tsp chili powder
1 tsp cumin
1 tsp oregano
1 tsp garlic powder
1 tsp salt
1 tsp paprika
3/4 cup water
Middle:
1 cup shredded taco cheese (Monterey Jack/Cheddar)
Cornbread topping:
1 1/4 cups flour
3/4 cup cornmeal
1/4 cup sugar
2 tsp baking powder
1/2 tsp salt
1 egg, beaten
1/4 canola oil
1 cup milk
Instructions
Preheat oven to 400 degrees.
Prepare a 9×12 baking dish or similar with nonstick spray.
Add the filling ingredients to a skillet and simmer on stovetop for 15 minutes, stirring often. The mixture will thicken as the juice from the tomatoes cooks off.
Pour the filling into the prepared casserole dish.
Sprinkle the cheese evenly over the top of the filling.
In a bowl, prepare the cornbread batter. Spread over the top of the casserole.
Bake at 400 degrees for 15-20 minutes or until cornbread is cooked through. Cut through to the filling to check for doneness.
Notes
Slow cooker -
Cook the filling ingredients over the stove top for 15 minutes.
Layer it the same way you would in the casserole pan.
Instead of baking it, cook it in the crock pot on high for 4-6 hours or low for 6-8 hours.
Did you make this recipe? I'd love for you to leave a review in the recipe card above or the comments below. Want to make it later? Pin the image below to your favorite board.