Loaded with flavor, this breakfast casserole is super easy to whip up!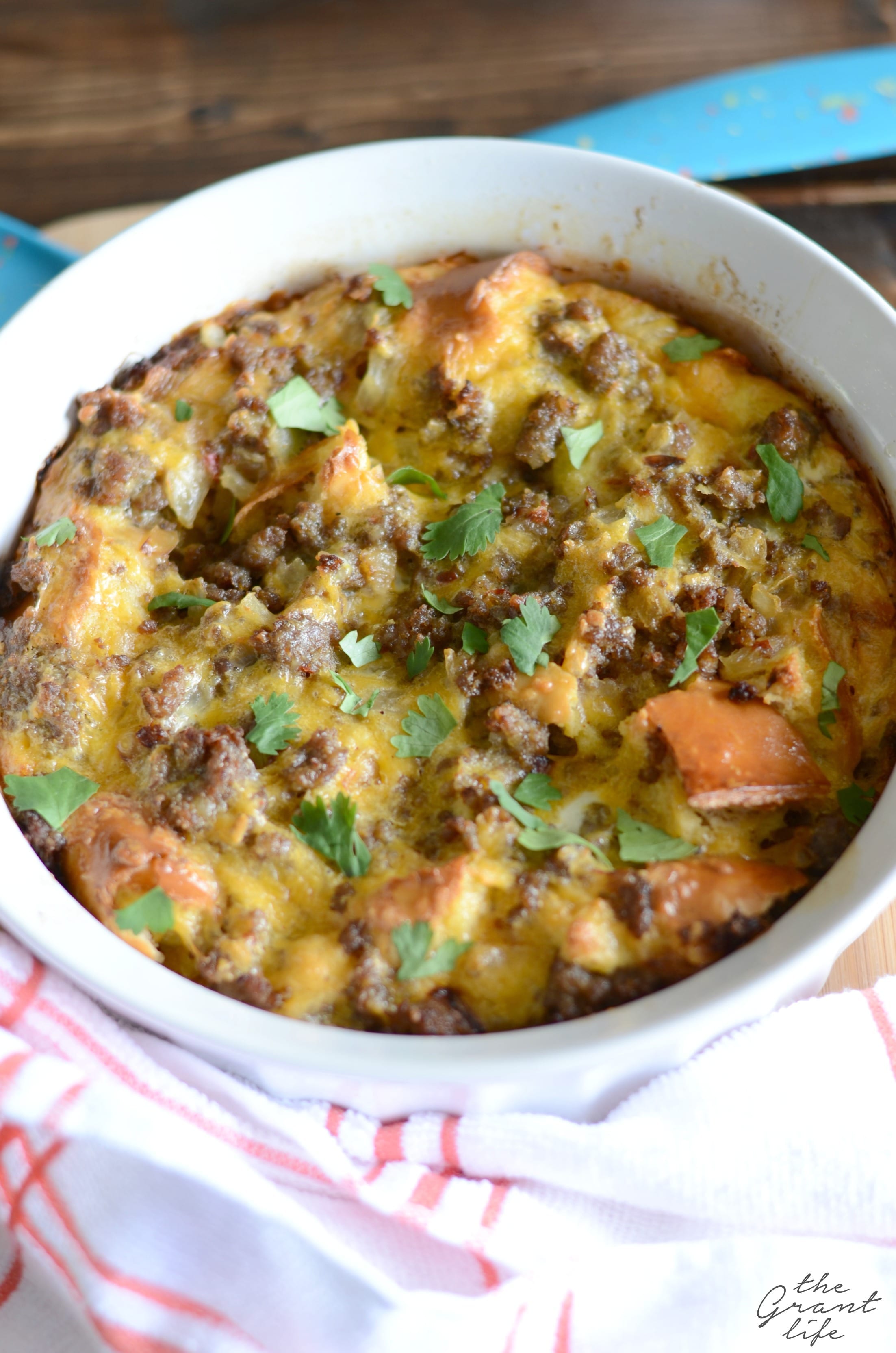 Hey friend! Have your kiddos started school yet? Today was the bigger kids first day of school! I was planning to homeschool them this year but our new church has an amazing school. As eager as I was to homeschool (seriously, I was!), it was hard to turn down such a great opportunity for the kids. So today Ryley started 1st grade and Avery started kindergarten.
And everyone made it to school on time and there were NO TEARS! From kids or mom.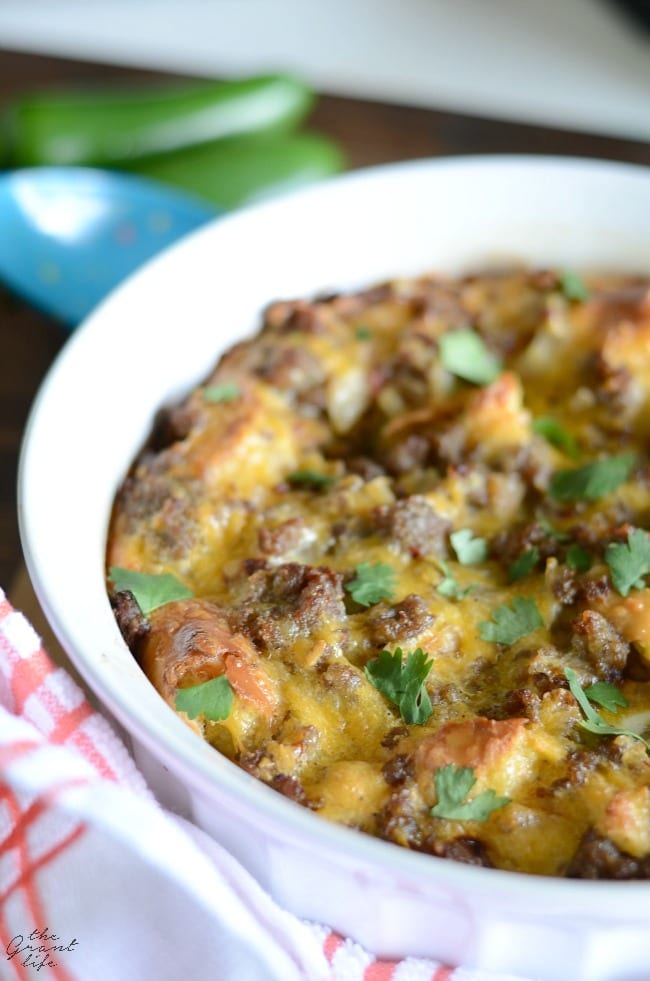 Our morning was pretty easy going besides the fact that the kids didn't want to eat their breakfast. We had gotten back from vacation so there weren't very many options in the breakfast department. I thought I was being pretty creative when I served them "fairy toast". We didn't have any bread but we did have hoagie buns.
I toasted the buns, added some strawberry jam and sprinkles and called it special "first day of school fairy toast". Neither one of the kids really believed me and sort of picked at it. I couldn't fool them, even with sprinkles.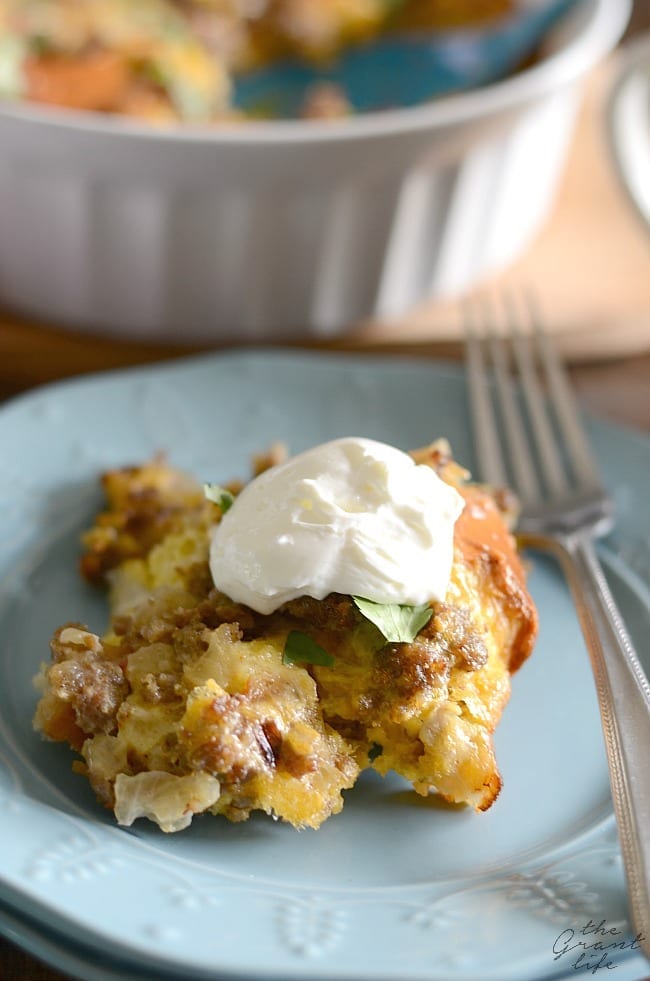 I'm either going to have to get more creative in the mornings, or make breakfast ahead of time. These bakery style blueberry muffins are perfect to make ahead and so is this Mexican breakfast casserole. I love make ahead breakfasts for two reasons – I don't have to think about what to make in the morning and I'm not normally on time. Being on time for the first day of school may have been a fluke. We will see how punctual I am come the second week of school.
So having one less thing to think about/do in the morning will help everyone out. My kids would probably pick at this breakfast casserole but mom and dad would devour it. It's full of flavor and pretty darn easy to make. Great for back to school mornings (if prepared early enough) or lazy weekend breakfast. Or brunch. Or both!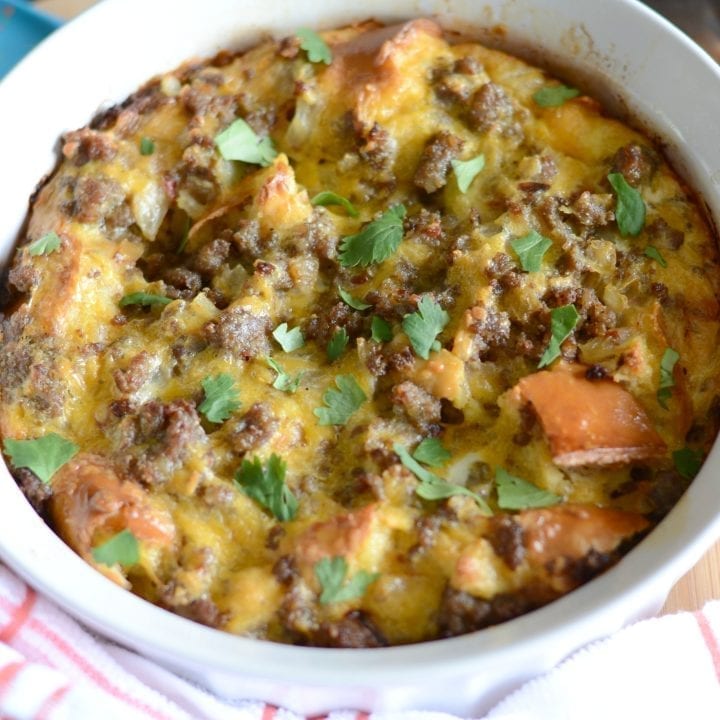 Mexican breakfast casserole
Ingredients
1 onion, diced
1 tablespoon butter
1 package of spicy breakfast sausage
½ loaf of French bread (day old works best!)
5 eggs
1 cup of cheese
2 teaspoons cayenne pepper
salt and pepper to taste
cilantro for topping
Instructions
Preheat the oven to 350 and grease your baking dish.
In a skillet over medium heat, saute the onions with the butter until slightly browned.
Add in the sausage and cook thoroughly.
Break the bread into 1 inch chunks into the baking dish. Scoop the sausage and onion mix on top of the bread.
Crack the eggs into a separate bowl and add the cheese, cayenne and salt and pepper. Whip to combine.
Cover the sausage mixture with the eggs.
Bake for 20 minutes, or until the eggs are full set.
Top with cilantro, sour cream or even salsa and enjoy!
Like this recipe? Be sure to check out: