Tired of spending your hard on earned money on those delicious hard to resist coffee house drinks? Now is the time to start making your own coffee house drinks right at home! This double chocolate chip frappuccino is amazingly delicious and you don't have to leave your house for it.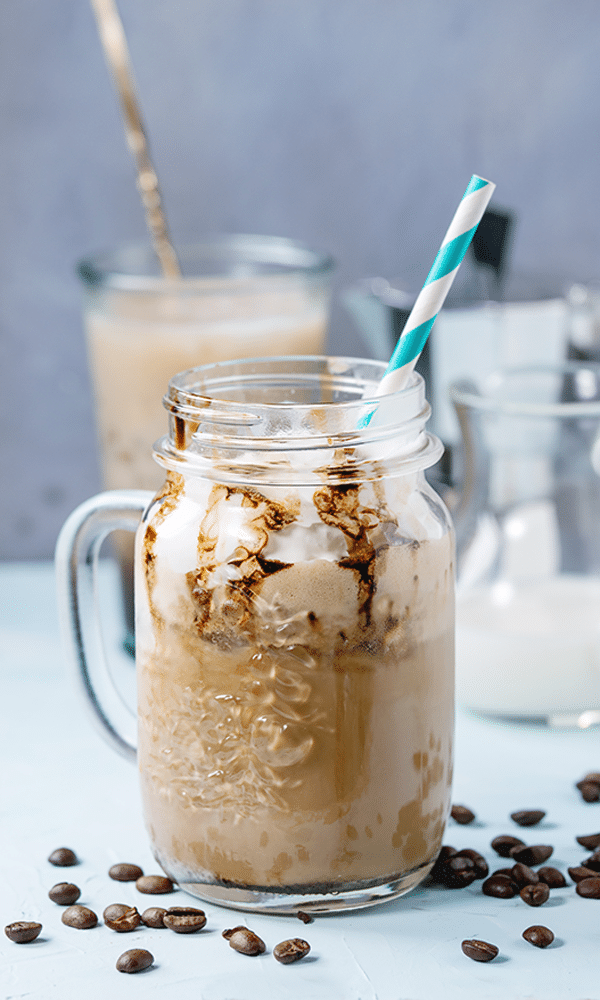 I remember the very first time that I tried a frappuccino, it was life-changing. It wasn't until I had kids and my daughter requested one from the picture on the menu.
Of course, she instantly loved it and wanted one at least once a week. As expensive as these desserts in a cup can be, I knew that I needed to learn how to make my own from home. That's where this Starbucks double chocolate chip frappuccino copycat was born.
Double Chocolate Chip Frappuccino Copycat
The best part about this recipe is that it's easy enough that my kids can now make it at home. YES! Don't get me wrong, there are days that I will still head to Starbucks and grab one, but it's nice having the option to make it right in my own home.
If there was one part of this recipe that I can say I love the most it's the chocolate chips! I can't get enough of the little bit of texture that they add to the drink. I'm not the biggest chocolate person, but this drink sure hits the spot.
You don't have to stop with this recipe when it comes to making frappes. You can mix and match and get creative in making your own. I think it's fun to spend time in the kitchen making your favorite drinks from our favorite coffee shop.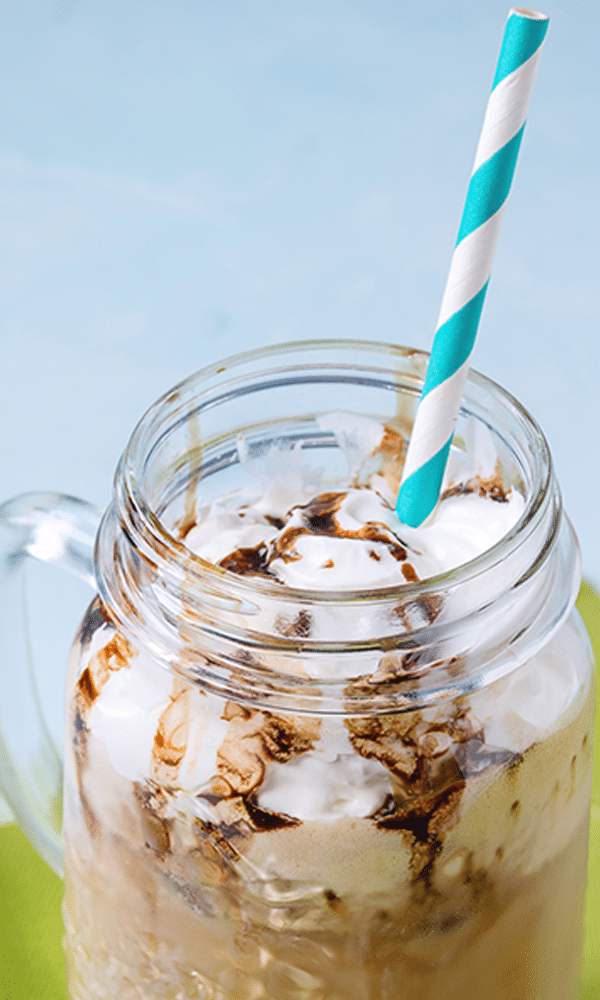 What is in a double chocolaty chip frappuccino?
This is one of our favorite drinks of all time, especially in the summer. However, I have been known to enjoy it in the winter too! To make this chocolate chip frappuccino at home you will need:
Milk
Chocolate sauce/syrup
Chocolate chips
Whipped cream
Ice
Milk – You can use whatever type of milk you prefer for this recipe. Want to make it dairy free? Try it with coconut or almond milk.
Chocolate chips – Any type of chocolate chips work in this DIY coffee recipe. If you are trying to watch your sugar intake, you can use Lilly's Chocolate Chips. They are made with Stevia. You can also use dark or semi-sweet chocolate chips.
Chocolate syrup – Any kind of chocolate sauce or syrup will work in this recipe. I like to use Hershey's simply or Ghiradelli chocolate sauce. If you want to take this recipe a step further, you can totally make your own chocolate syrup!
Whipped cream – I just buy the store brand in a can, but you can use whatever kind of whipped cream you'd like. There are dairy-free options if that is something you need. This is also another ingredient that you can try and make homemade as well.
Ice – I know this sounds like a basic ingredient, but you can do a couple different things here. You can use regular ice. Or you can freeze some milk or even make coffee cubes. Or you can omit the ice all together and use ice cream instead. The version I'm sharing with you, I used milk cubes for my ice.
Does Starbucks double chocolate chip frappuccino have coffee in it?
Starbucks has two classes of frappuccinos – creme based and coffee based. This double chocolatey chip version falls under the creme base, meaning there is no coffee in it.
You can totally add coffee though! Like I mentioned, use coffee cubes instead of ice or add a shot to the blender. When ordering at Starbucks, ask for a double chocolatey chip frappuccino with a shot of espresso.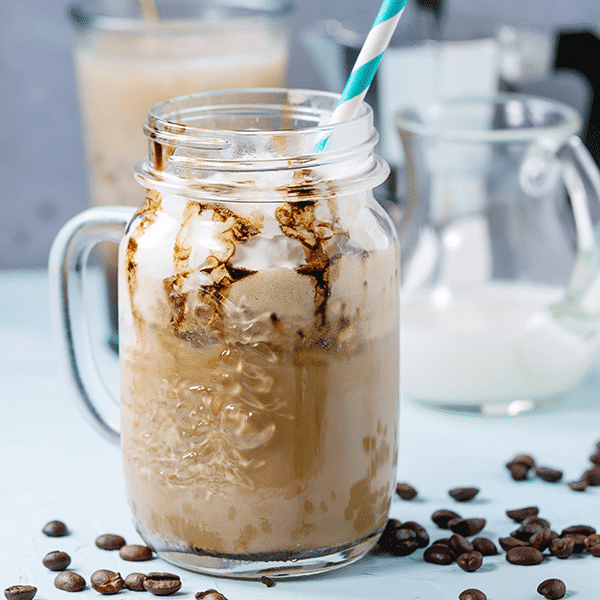 How to make Starbucks double chocolate chip frappuccino
Adding all of the ingredients to the blender, making this frappuccino is very easy! It's not a fancy recipe and it won't take you hours to make. I think that's what makes this recipe so awesome. Something that you would pay a pretty penny for at Starbucks, you can make right at home. This homemade Starbucks double chocolaty chip frappuccino is great for any occasion!
Once you have grabbed all your ingredients all you need to get to make this copycat drink is:
Place all the ingredients except the whipped cream in your blender. Reserve a few chocolate chips for topping as well.
Blend everything until smooth. If you use ice, you will have to blend a bit longer than if you used ice cream.
Take the chocolate syrup and drizzle it down the glass. Pour into your glass, top with whipped cream and chocolate chips.
Other Starbucks copycat drinks
What to eat with a double chocolate chip frappuccino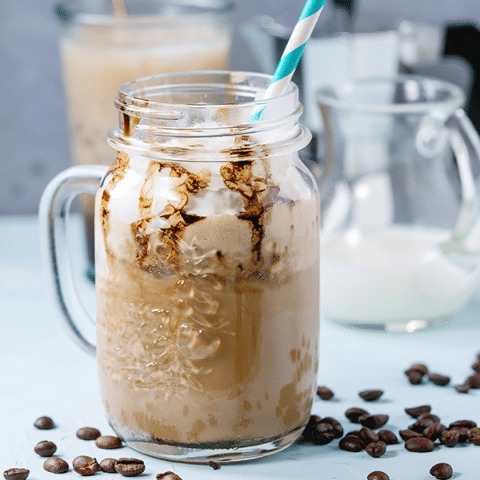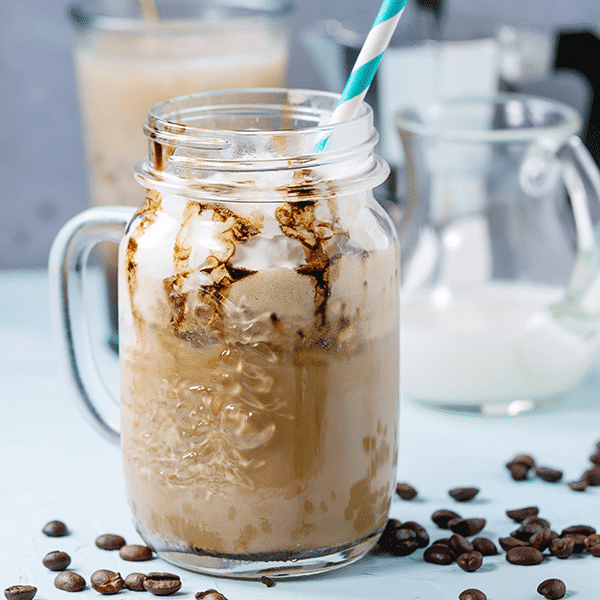 Double chocolate chip frappuccino
How to make a copycat Starbucks creme based double chocolate chip frappuccino.
Ingredients
1 cup milk of choice
2 tbsp sugar
1/3 cup chocolate chips, divided
4 tbsp chocolate syrup, divided
2 cups ice
whipped cream
Instructions
Place the milk, sugar, most of the chocolate chips, 3 tbsp chocolate and the ice in a blender.
Blend until desired consistency is reached.
Use some of the chocolate syrup and drizzle it down the inside of the glass.
Pour the blended drink into your prepared glass.
Top with whipped cream, chocolate syrup and additional chocolate chips.
Enjoy!
Notes
To make this a coffee drink add in a shot of cooled espresso.
Nutrition Information:
Yield:

1
Serving Size:

1
Amount Per Serving:
Calories:

731
Total Fat:

24g
Saturated Fat:

14g
Trans Fat:

0g
Unsaturated Fat:

9g
Cholesterol:

24mg
Sodium:

195mg
Carbohydrates:

126g
Fiber:

5g
Sugar:

96g
Protein:

13g
Like it? PIN IT!