Mint and chocolate have to be my favorite combination! These mint cookie truffles combine both of those flavors with cookie crumbles! They may just be the most perfect mint treat. Let me show you how to make them.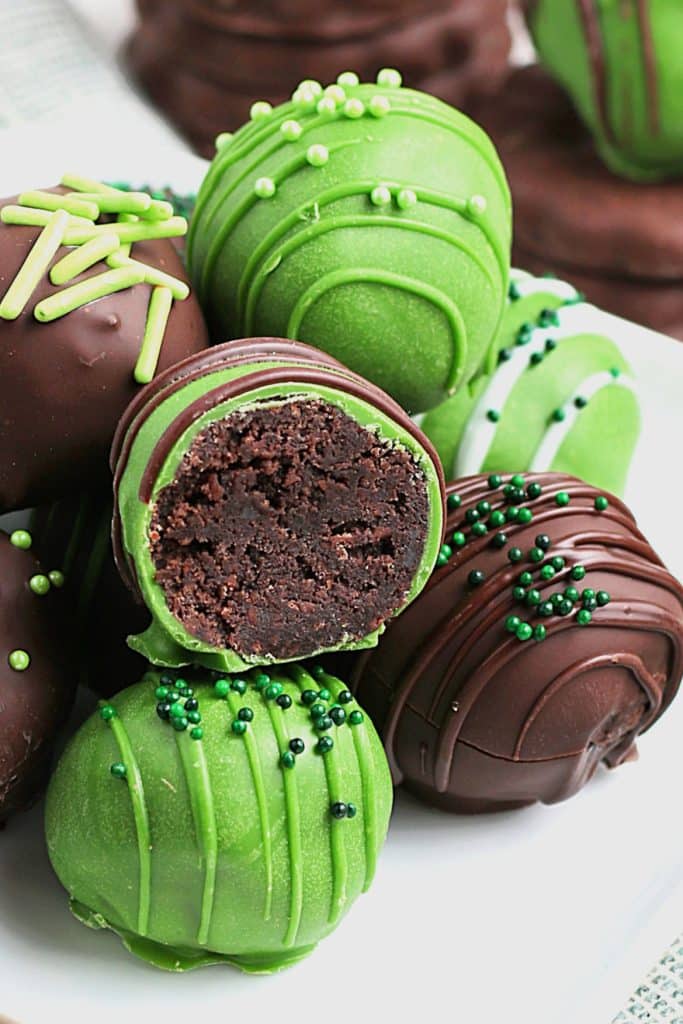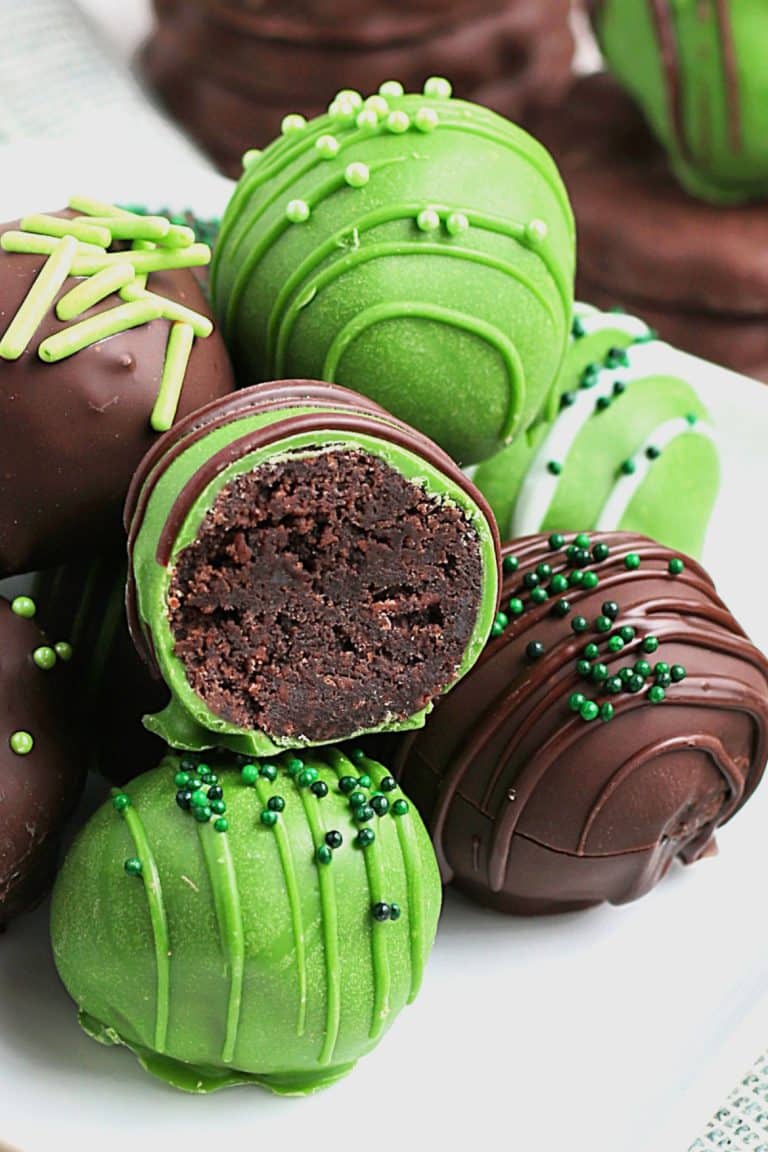 Mint Cookie Truffles are decadent and delicious no-bake treats that combine the flavors of sweet almond bark and refreshing mint into a creamy bite-size ball. These truffles are easy to make with just a few simple ingredients, including your favorite mint cookies, cream cheese, and almond bark. 
Serve these little balls of deliciousness at parties, during the holidays, or for any special occasion. With their rich and refreshing minty flavor, mint cookie truffles will be a hit with anyone who loves the classic combination of chocolate and mint! These mint truffles make a perfect addition to your St. Patrick's Day festivities.
What are Mint Cookie Truffles?
Mint cookie truffles are a no-bake dessert or candy consisting of a mixture of crushed mint cookies and cream cheese, rolled into small balls and coated with melted almond bark (or your choice of chocolate or candy melts).
The mint cookies used in these kinds of truffles are usually chocolate sandwich cookies with a creamy mint filling, such as Thin Mints, Grasshopper cookies, or Oreo mint cookies.
These Mint Cookie Truffles have a creamy and sweet filling with mint flavoring, while the almond bark coating adds a delicious contrast in texture and a surface to add decorative sprinkles and other toppings to suit a specific holiday like St Patrick's Day, Christmas, or a specific party theme!
Mint Cookie Truffle Ingredients
Mint Cookies
Cream Cheese, softened
Almond Bark
Green sprinkles
Green candy melts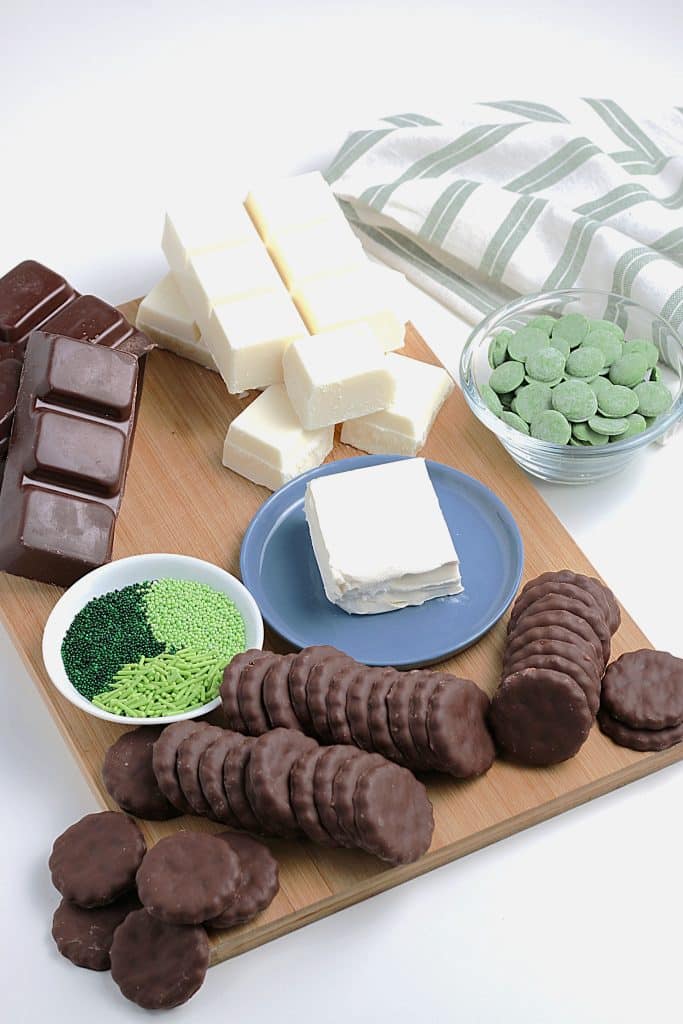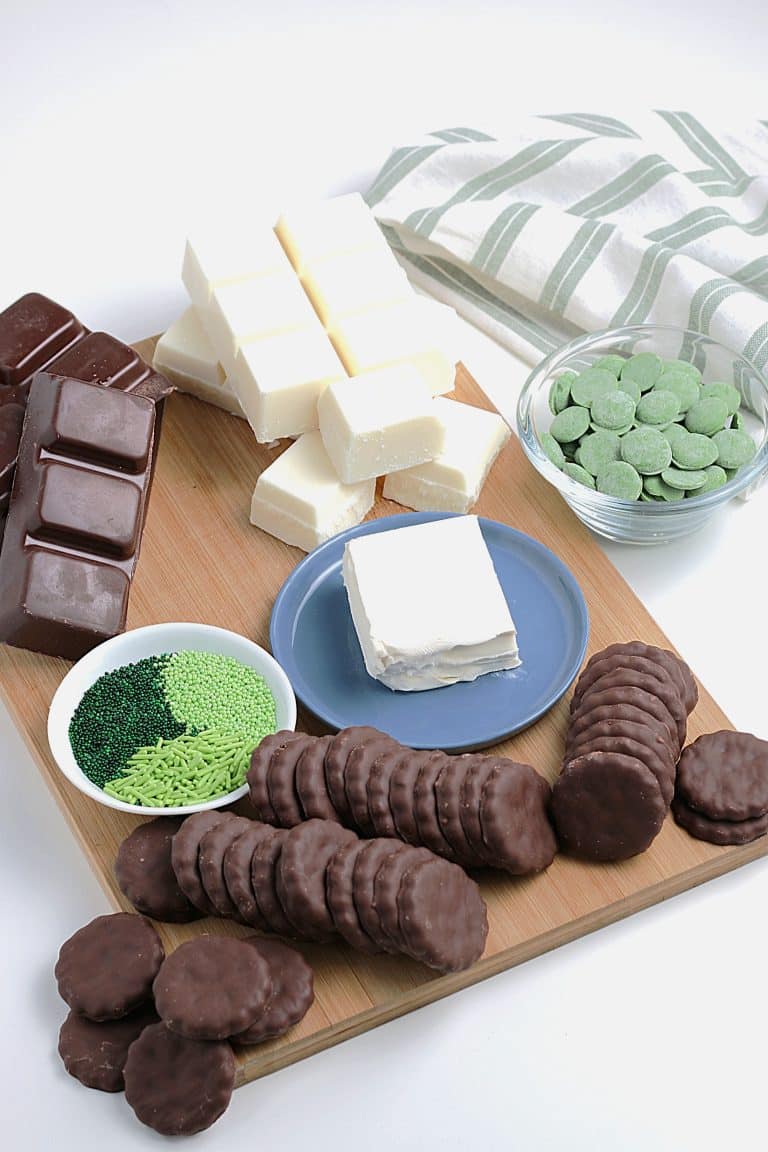 Mint Cookies – You can use a couple different mint cookies for these truffles. The Keebler Grasshopper cookies (or Thin Mint dupes as I like to call them) work great. You can also use mint Oreos as well!
Cream cheese – Any cream cheese will do for this recipe. Just make sure it is softened before you use it. You can easily soften cream cheese by leaving it on the counter for at least 30 minutes before starting your truffles.
Almond bark – This can be found in the baking aisle, normally on the top shelf. It's just a meltable chocolate that you will use to coat the truffles with.
How to Make Mint Cookie Truffles
Once you have gathered all your ingredients, you will also want to grab a food processor, measuring cups and spoons, large mixing bowl, cookie scoop, baking sheet, double boiler (or 2 similar sized pots), and forks.
Step 1: Add the mint cookies to a food processor or blender and blend until you achieve a crumb consistency.
Step 2: Combine the cookie crumbs with the cream cheese in a large mixing bowl.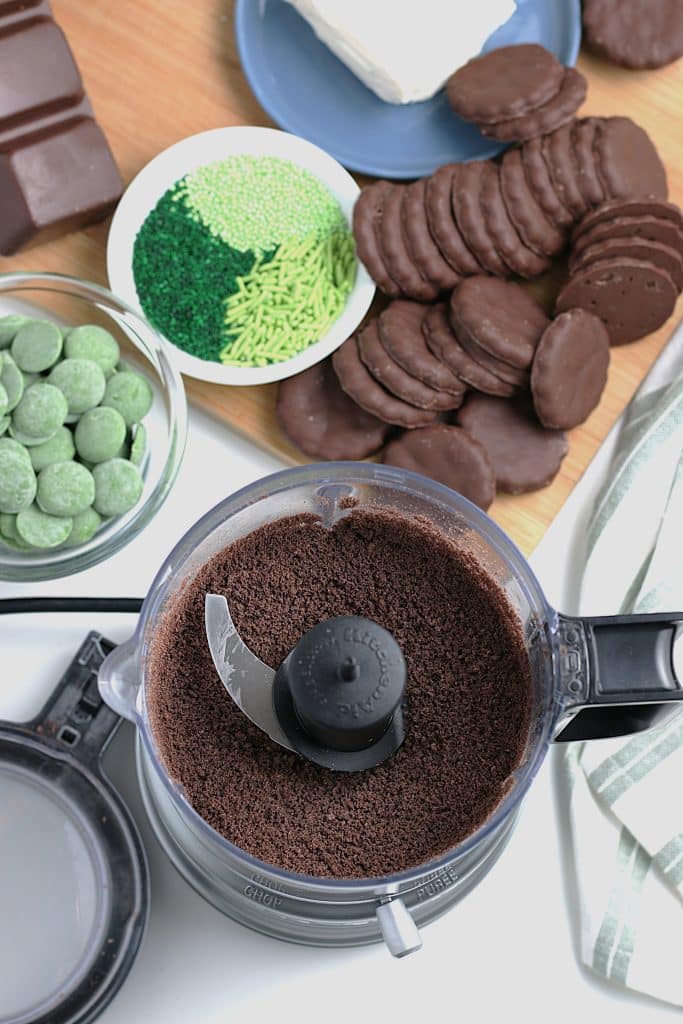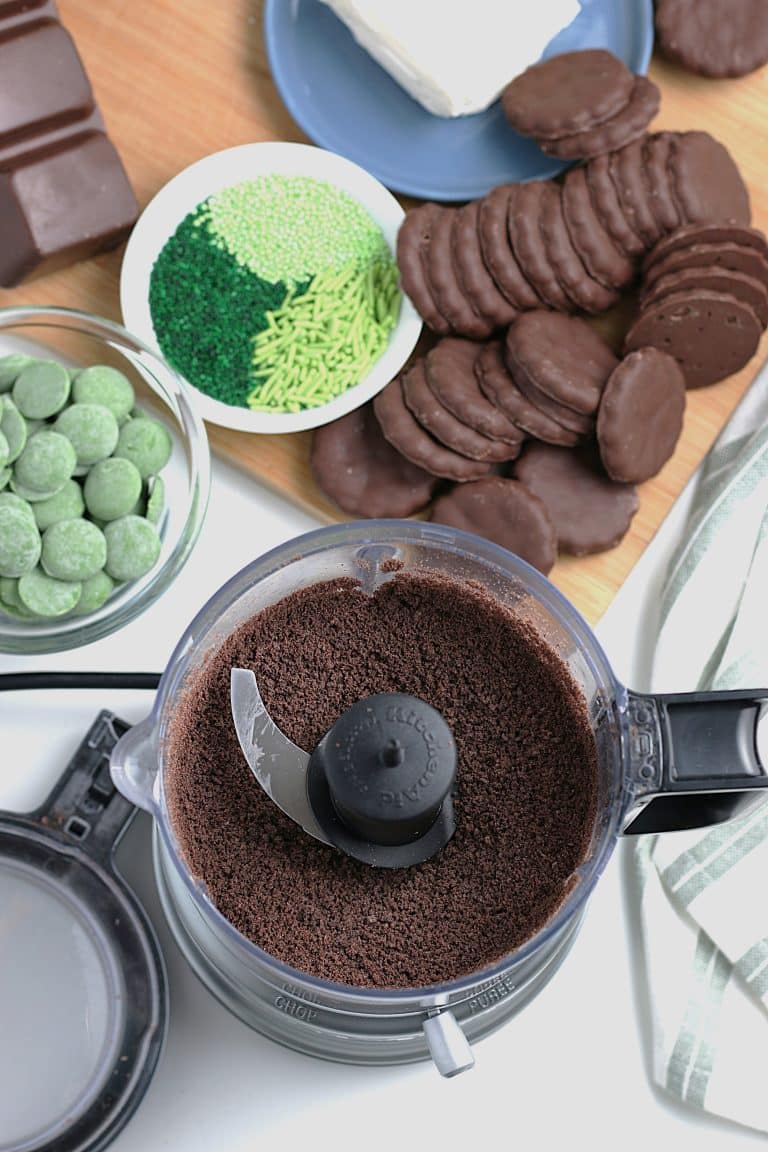 Step 3: Once the cream cheese and cookie mixture is well combined, scoop out portions of the mixture to roll into balls. You can use a cookie scoop or your hands for this step.
Step 4: Place the truffle balls onto a parchment-lined baking sheet in the fridge for at least 30 minutes to harden.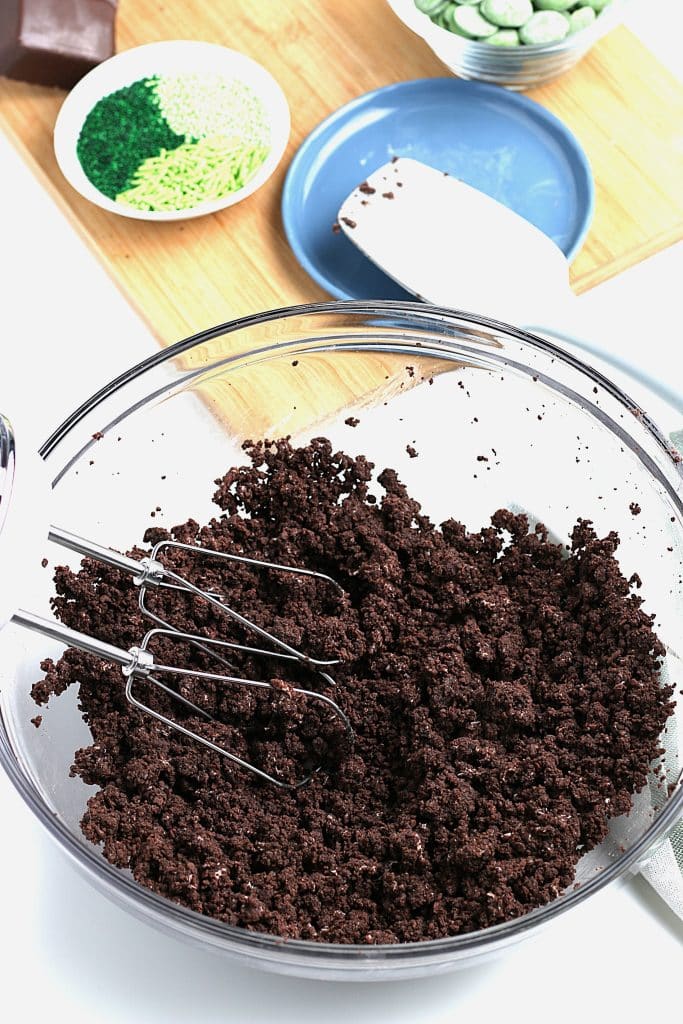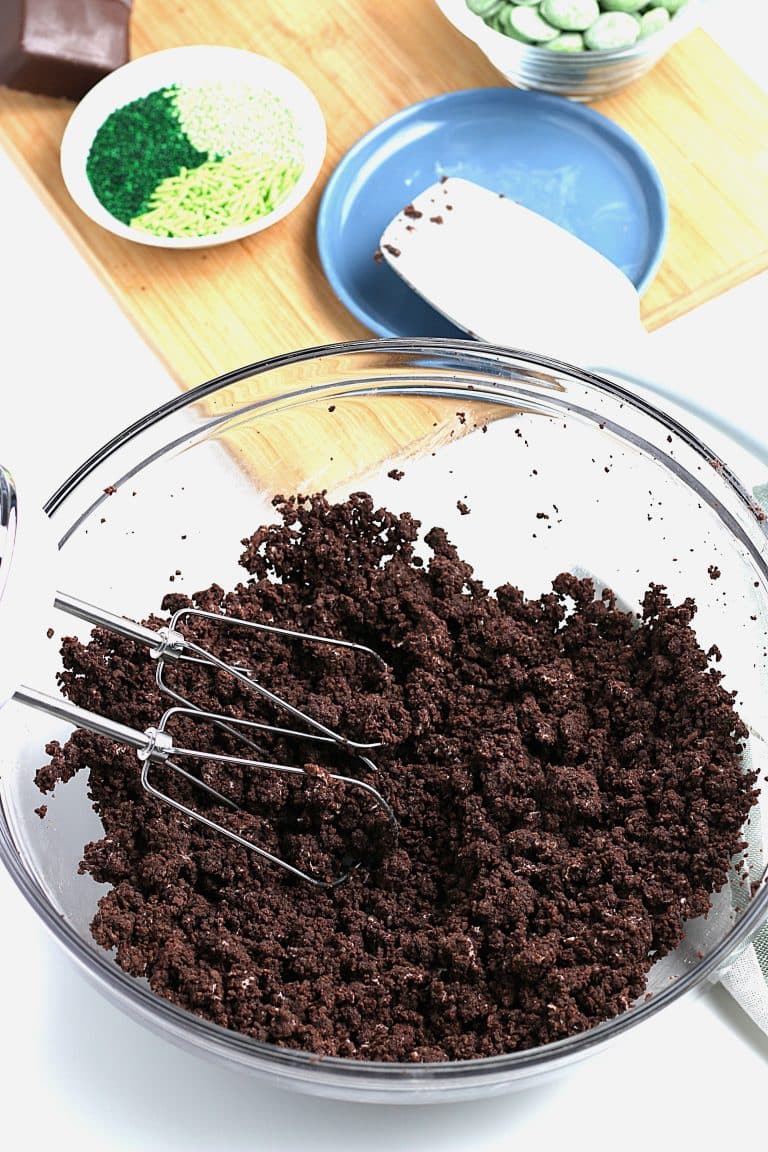 Step 5: Once the truffle balls have chilled sufficiently, melt the almond bark in a double boiler or the microwave and stir regularly.
Step 6: Remove the truffle balls from the fridge. Using a toothpick or a fork, start to dip each truffle ball into the melted almond bark and place them back in the parchment paper.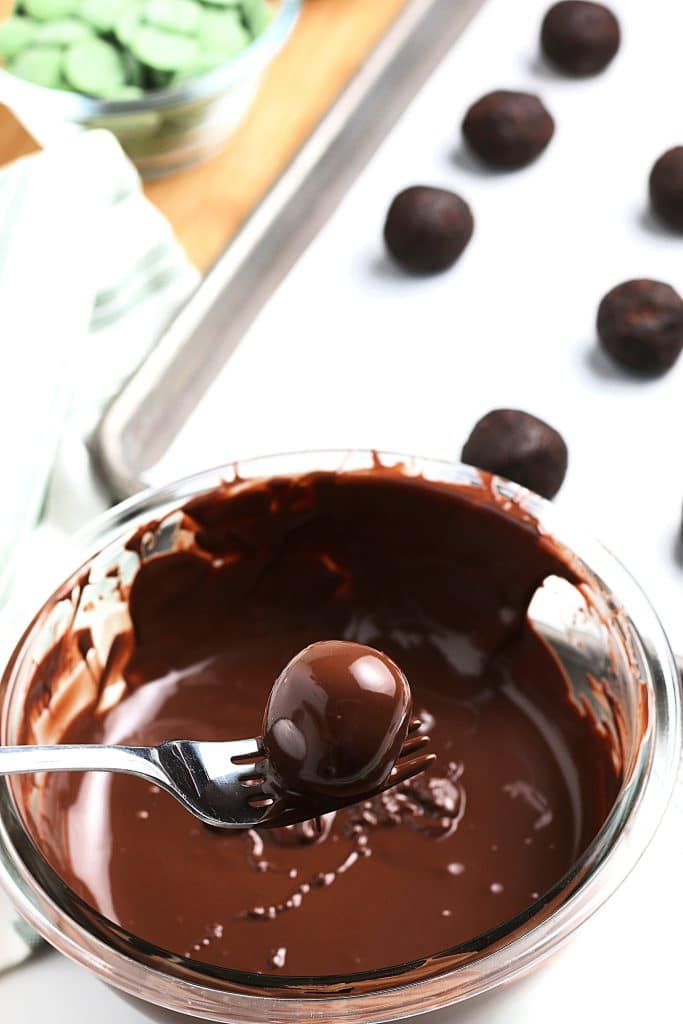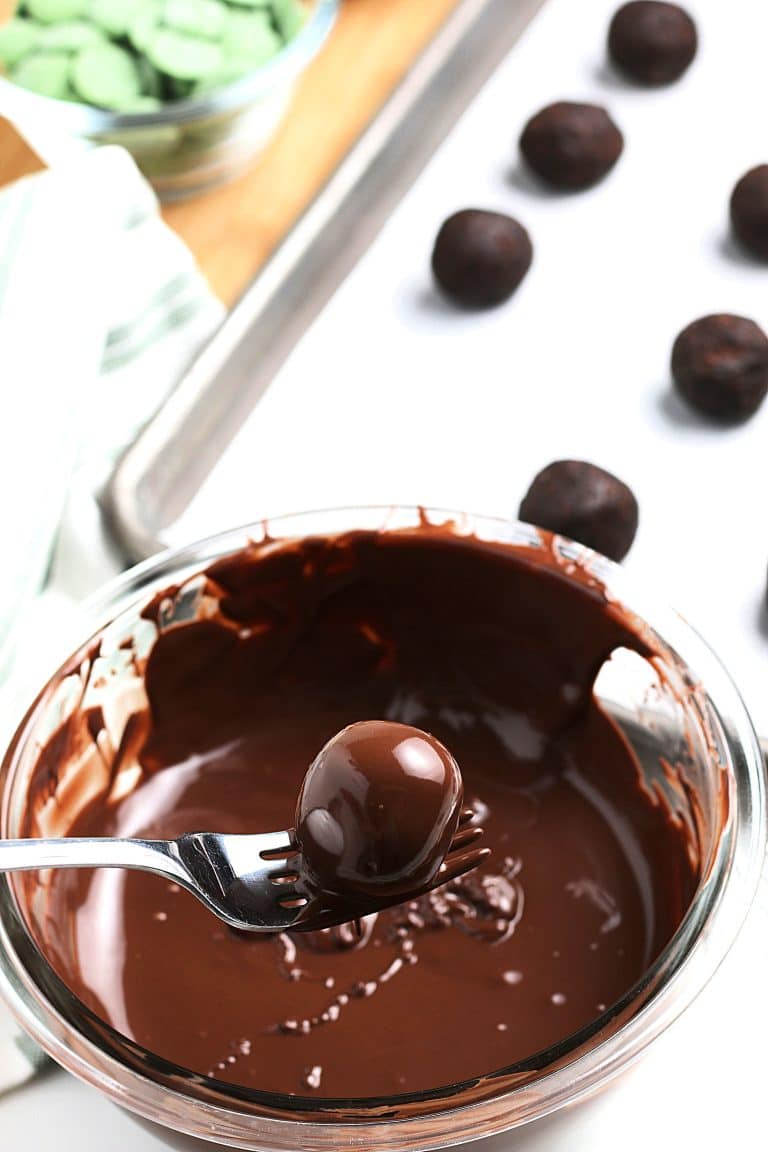 Step 7: While the almond bark is still wet, garnish the mint cookie truffles with sprinkles, crushed candy canes, green sanding sugar, or cookie crumbs. Return the truffles to the fridge for an additional 15 minutes to allow the chocolate coating to harden.
Other Mint Recipes to Try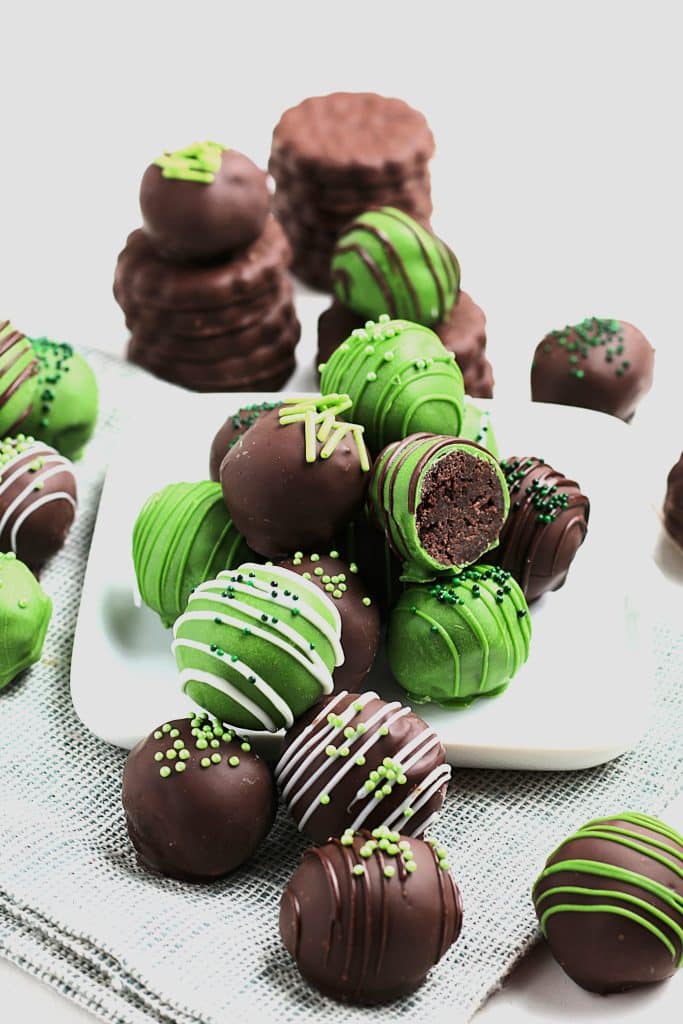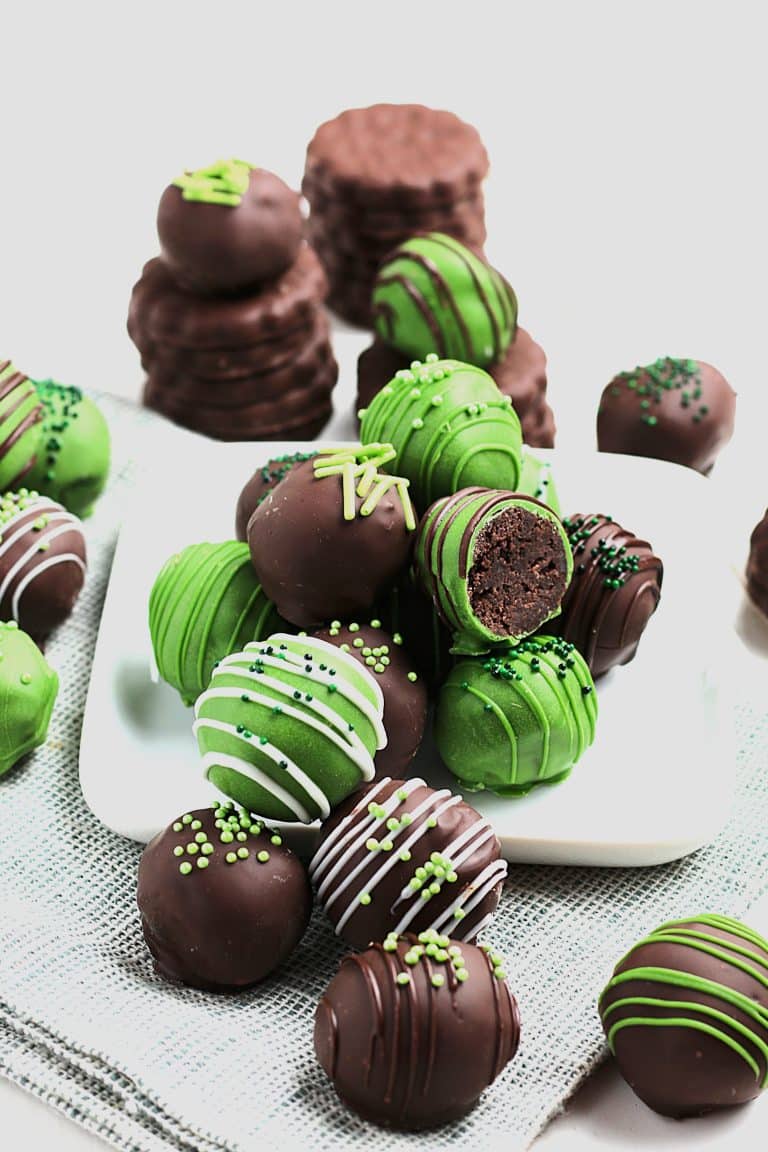 What Kind of Cookies Do I Need?
I've used mint cookies in this recipe. They offer the minty flavor desired and a delicious texture to the cream cheese truffle center. Feel free to use your favorite brand of mint-flavored cookies in these truffles, such as Thin Mints, Grasshopper cookies, or Oreo mint cookies.
How Should I Store Leftovers?
Store these mint cookie truffles in an airtight container, like Tupperware or a Ziploc bag, for up to a week in the fridge.
When storing the truffles in Tupperware, I like to line the container with a sheet of parchment paper or add each truffle to a cupcake liner to prevent the truffles from sticking to the bottom. You can also place a sheet of parchment paper between stacked layers of these truffles, so they don't stick to each other in storage.
Can I Freeze These Mint Truffles?
Absolutely! Add the truffles to a baking sheet and flash freeze them until hardened. Once firm, transfer the truffles to a Ziploc bag and store them in the freezer for up to 3 months.
Thaw your frozen truffles in the fridge before serving again.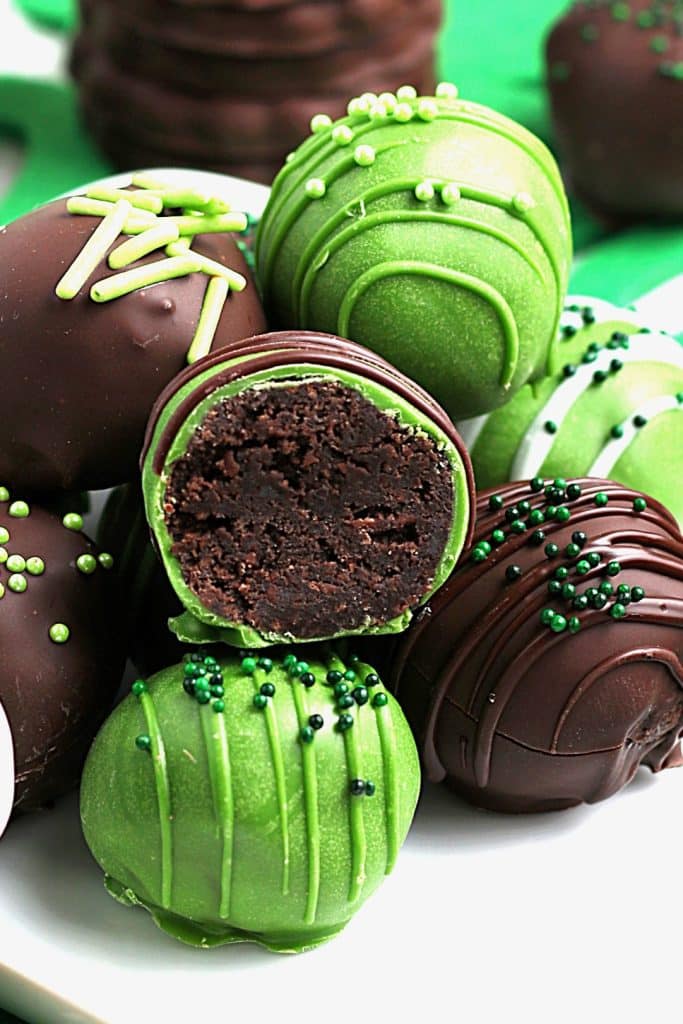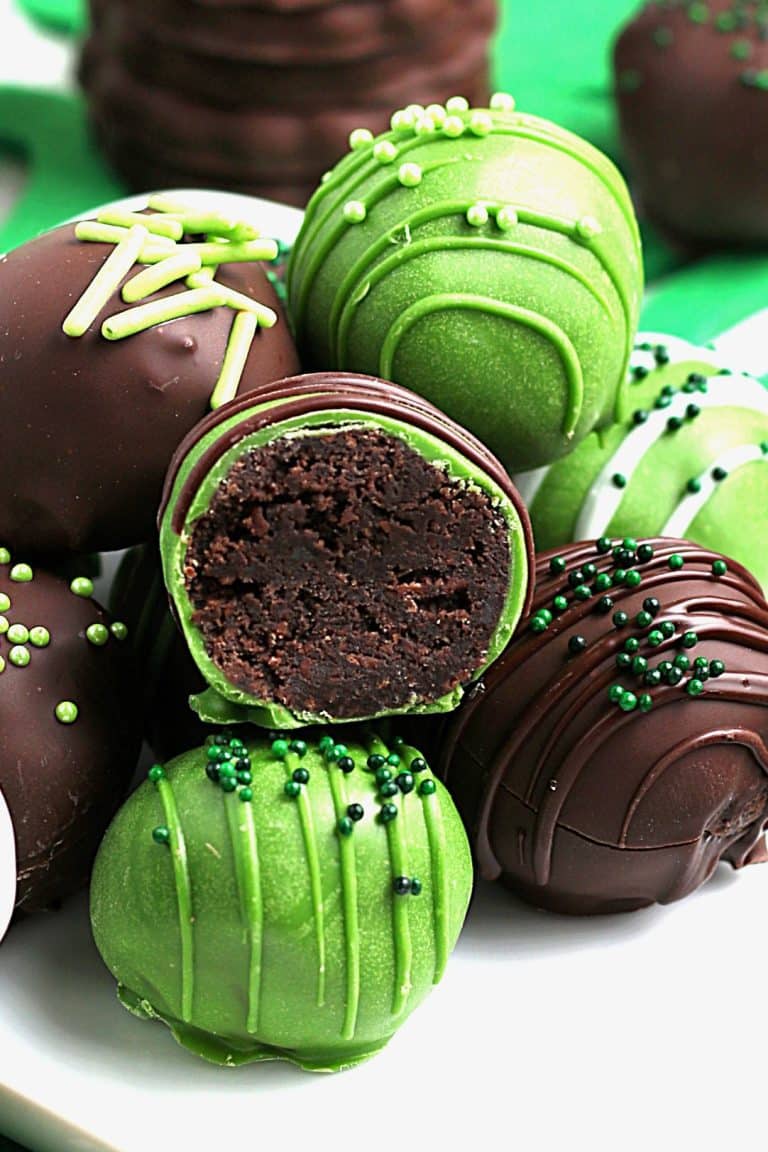 What Variations Can I Make to These Mint Cookie Truffles?
For extra minty flavor, add mint or peppermint extract to the cream cheese and cookie mixture or the melted almond bark.
Decorate these mint cookie truffles with crushed mint candy canes, sanding sugar, sprinkles, shredded coconut, chopped nuts, or drizzle the hardened truffles with melted green candy melts!
Coat these mint cookie truffles with melted chocolate chips instead of almond bark for mint chocolate cookie truffles.
Make vegan mint cookie truffles by using vegan cream cheese, vegan almond bark or chocolate and checking that the choice of cookie used is also vegan-friendly.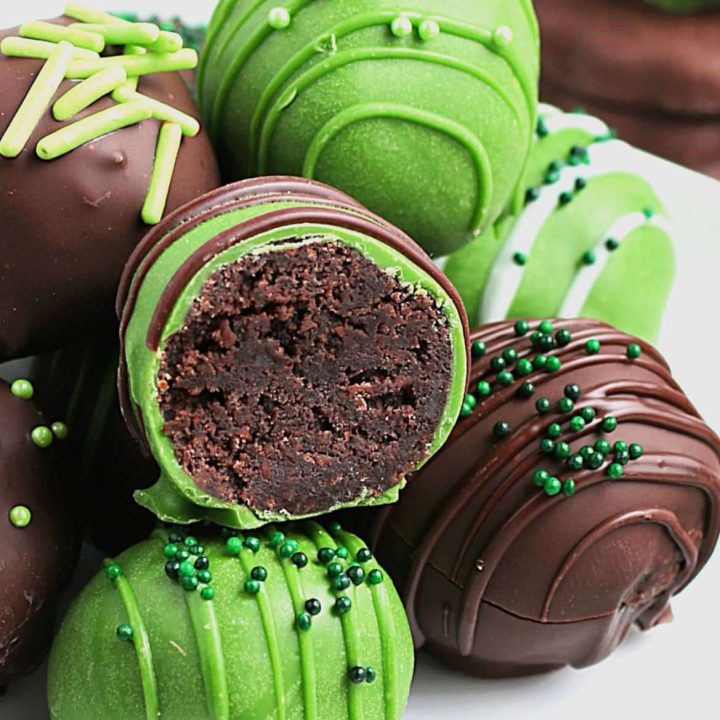 Mint Cookie Truffles
Additional Time:
40 minutes
Make a perfect mint-y treat with these mint cookie truffles!
Ingredients
1 (15 oz) package Mint Cookies
1 (8oz) package Cream Cheese, softened
1 ½ cups melted Almond Bark
Green sprinkles
Green candy melts
Instructions
In a food processor blend cookies until crumb consistency.
In a large mixing bowl beat together the cookie crumbs and cream cheese until well combined.
Using a cookie scoop or your hands scoop out and roll into small balls.
Place on parchment paper and in the fridge for at least 30 minutes.
Melt the almond bark in a double boiler or in a microwave safe bowl in 30 second intervals.
Dip the truffles in the melted chocolate using a fork or a toothpick.
Place them back on the parchement paper.
While the chocolate is still wet, add your sprinkles or other toppings.
Chill in the fridge until ready to serve.
Notes
Sub out the chocolate bark with green chocolate melts.
Other Truffle Recipes to Try