Do you love a good sweet and salty combo? These salted caramel brownies are the ultimate sweet/salty treat! It starts with a decadent homemade brownie and is topped with caramel sauce. A sprinkle of flaky sea salt finishes off these easy brownies. Let me show you how to make salted caramel brownies today!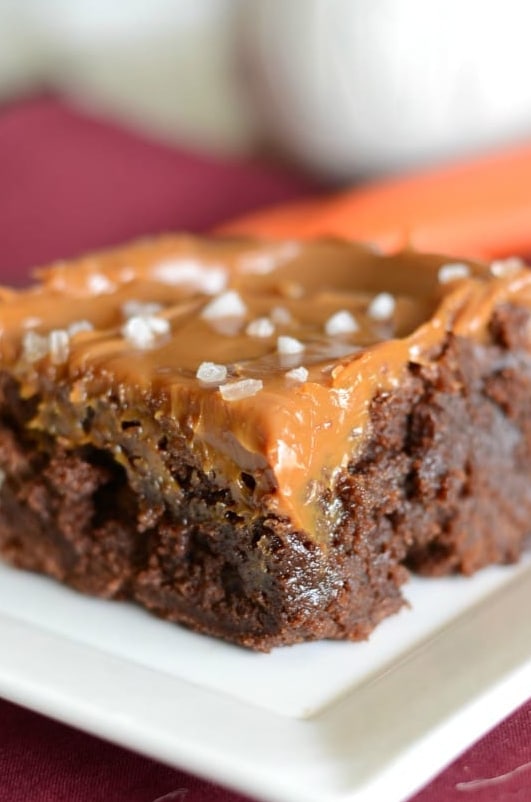 Ever since I was little I have loved a good sweet and salty combo. Pretzels dipped in chocolate are a weakness of mine! I ever like salt on my fruit! I can't eat a watermelon without a side of salt. I think that may be a South Texas thing – but it's one of my favorite sweet treats during the summer.
These brownies are a natural extension of my love for sweet and salty desserts. And let me tell you – even if you aren't the biggest fan of the combo, you will enjoy these homemade brownies.
Salted caramel brownies
I'm just going to put it out there – homemade brownies are far superior to anything from the box. I'm not saying boxed brownies aren't delicious, but nothing beats a homemade brownie. Homemade brownies are easy to customize and you know exactly what you are putting into them. No hidden ingredients you can't pronounce.
This salted caramel version takes the goodness of a homemade brownie and tops it with caramel sauce and a bit of salt. Homemade caramel sauce is best, but you can also use the dulce de leche from the can on these bad boys.
Caramel brownie ingredients
You only need a handful of ingredients to make these brownies too. Crazy, huh? You would think a brownie this good has a laundry list of ingredients. Nope. Only 8 common ingredients. You will need:
flour
sugar
cocoa powder
baking powder
eggs
vanilla
caramel
flaky sea salt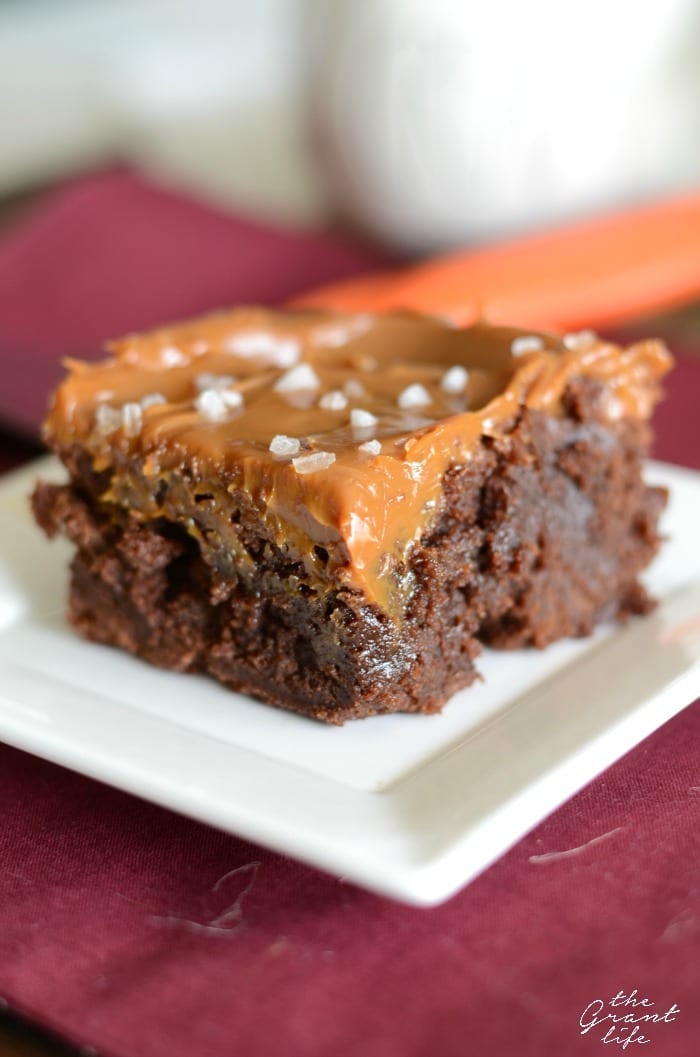 Flour – You will want to use regular all purpose flour for these brownies. I have also tested these with a gluten free flour blend and they turn out well.
Sugar – Any granulated sugar will work in this recipe.
Cocoa powder – I have found over the years that the best quality cocoa powder you use, the better your baked goods will turn out. I suggest a cocoa powder such as Ghiradelli.
Baking powder – Double check that your baking powder is fresh. Old baking powder can ruin a dessert.
Caramel – You have a few different options when it comes to the caramel topping. I love using a dulce de leche because it is thicker than caramel and gives the brownies a nice thick topping. You can use homemade dulce de leche (which is just cooked sweetened condensed milk) or you can buy pre-made dulce de leche in the can. It is right next to the sweetened condensed milk. You can also buy the caramels in the wrappers, melt those and pour them over the top of the brownies.
How to make salted caramel brownies
These brownies made 1 batch in an 8×8 baking dish, or 9 brownies. If you want more brownies than that, feel free to double this recipe and bake them in an 13×9 dish. To make these caramel topped brownies follow these simple instructions –
Prep Preheat your oven to 350 degrees. Line your baking dish with either parchment paper or foil. Spray your foil or parchment so that your brownies come out easily after cooking.
Combine ingredients Add your dry ingredients (flour, sugar, cocoa and baking powder) together in a large bowl. In another bowl mix together your eggs and vanilla. Add the wet ingredients to the dry ingredients and mix gently. Do not overmix the batter.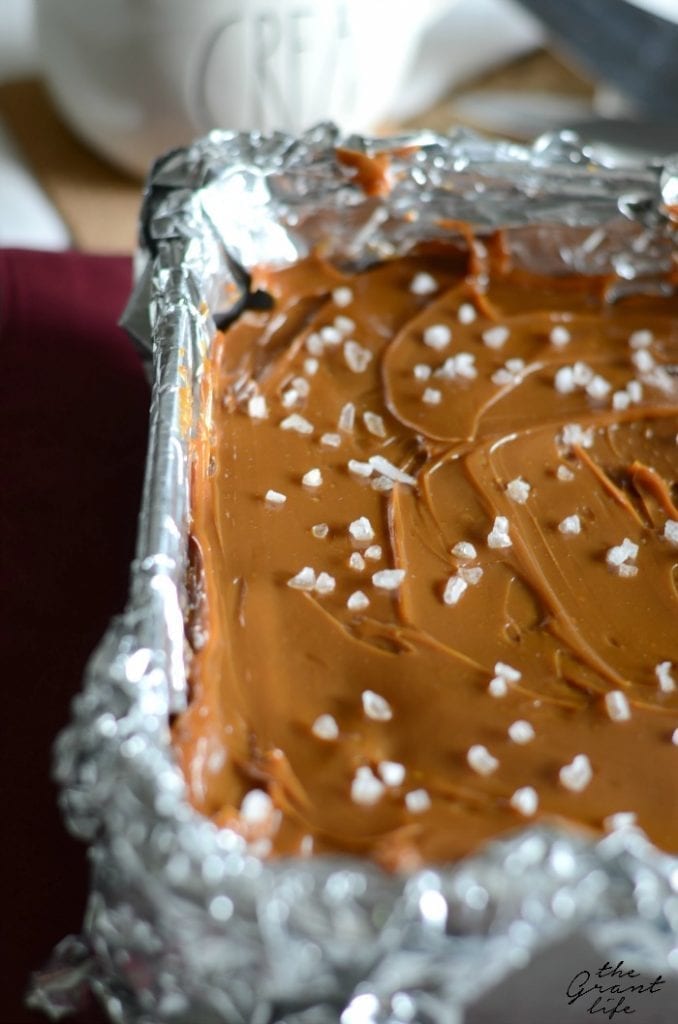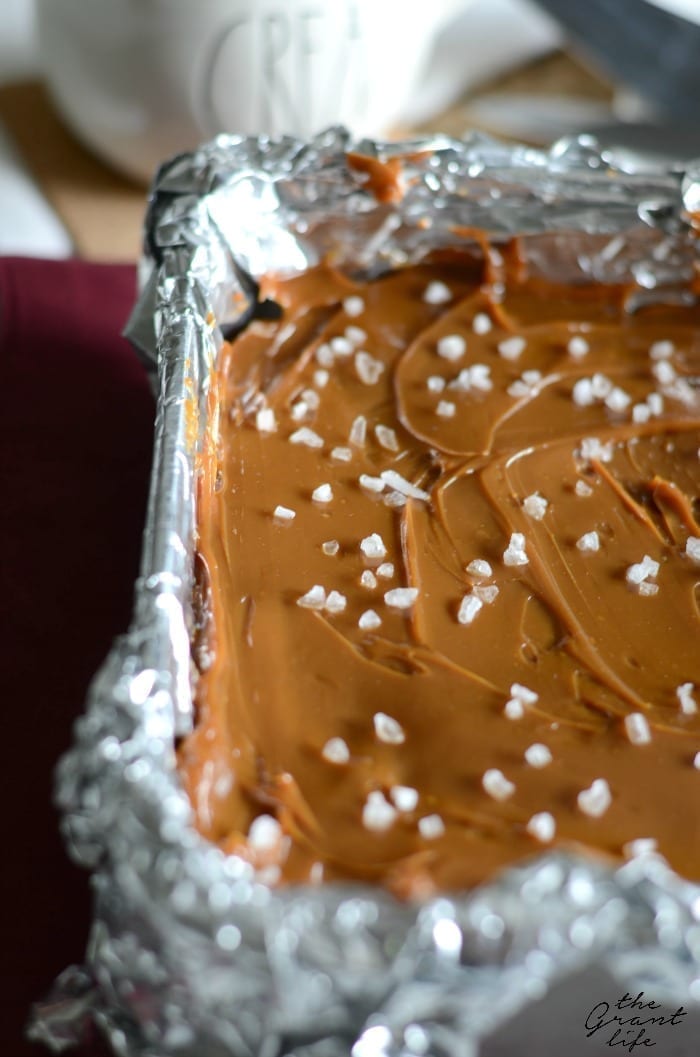 Bake Pour the batter into your prepared baking dish and bake for 25-30 minutes. You will want to use a toothpick to make sure the center is set before removing them from the oven.
Add the caramel If you are using dulce de leche, simply pour it over the cooled brownies and spread it over the top. If you are using meltable caramels, melt them in a microwave safe before before adding them to the top of the brownies. Sprinkle with flaky sea salt and slice.
How to slice brownies
The best way to get a nice cut line when slicing brownies is to let them cool completely before cutting. I know, I know. It's not an easy task! But waiting until the brownies have fully set and cooled will allow you to cut them more evenly. Slide your knife horizontally down the entire dish and then clean your knife after. Repeat the horizontal cut 2 more times, cleaning your knife after each cut. Repeat the process making vertical cuts. You will end up with 9 good sized brownies.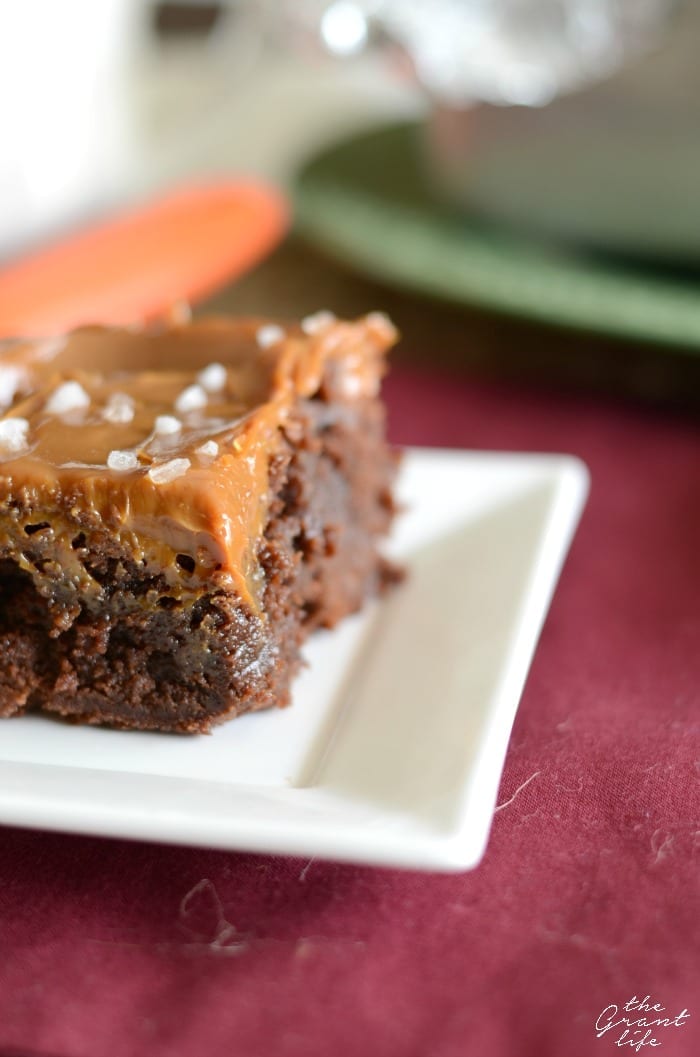 What type of caramel do I need for these brownies?
I know these are called salted caramel brownies, but I use a dulce de leche on top of the brownies. Dulce de leche is a Latin America treat that is similar to caramel, but is cooked longer and ends up much thicker than traditional caramel. You can use homemade dulce de leche or grab a can from the bakery aisle.
Tips and tricks
I love this brownie recipe because it is super simple. It's actually a lot easier than my lactation brownie recipe. I do have a few tips on how to make these brownies even better:
Make sure to scrap down the sides of the bowl to fully incorporate all of the ingredients. I love using a silicone spatula to do this.
Feel free to add chocolate chips or chunks to your brownie batter. I suggest adding 1/2 cup.
When you are ready to cut the brownies, pull out the foil under the brownies and transfer to a cutting board. This will make cutting them easier.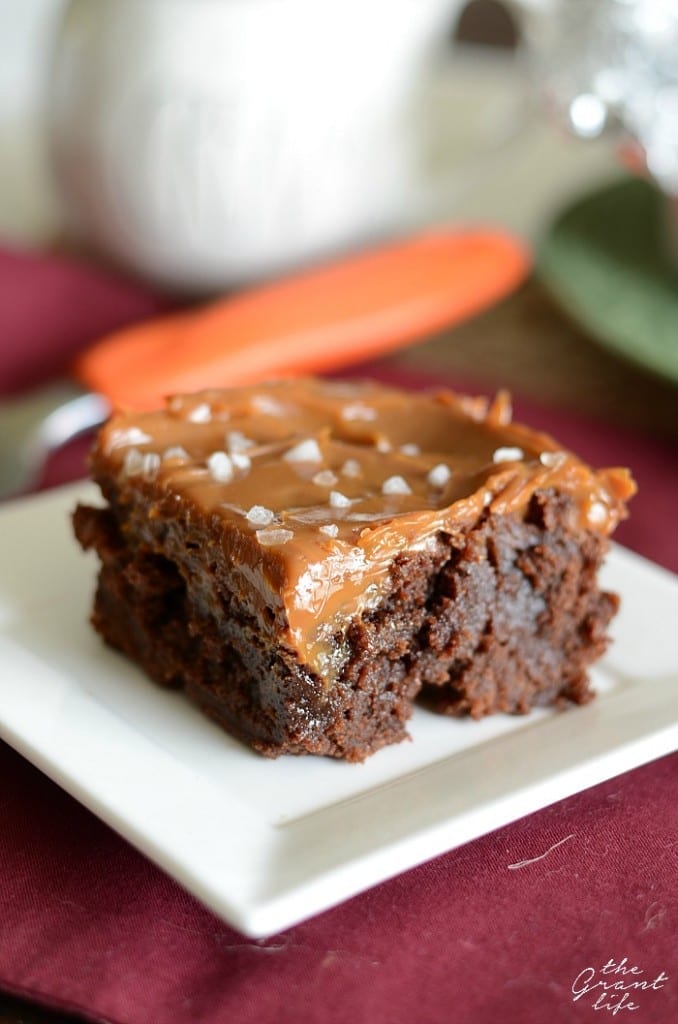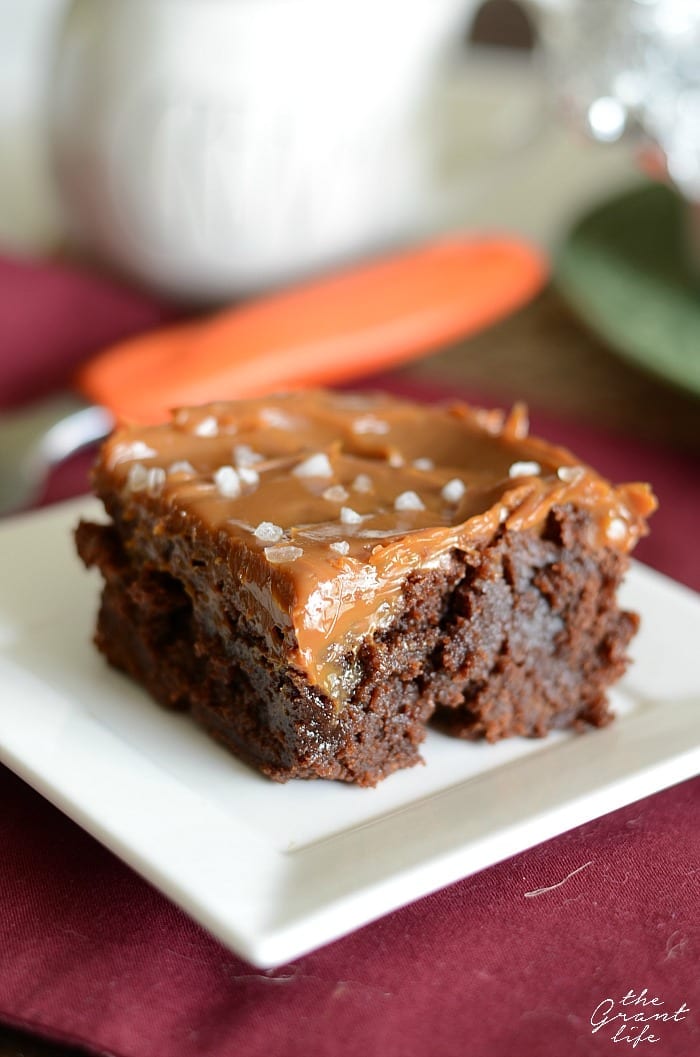 How to store leftovers
Place any leftover brownies in an airtight container, such as a Tupperware. You can keep the brownies on the counter or in the fridge. They will stay fresh for up to 4 days.
Can I freeze caramel brownies?
Yup! You sure can! I suggest freezing them before adding the dulce de leche to them. Allow the brownies to cool completely and then slice them into squares. Wrap each square in parchment paper and place in a Ziplock baggy. Put the Ziplock in the freezer and allow to freeze. They will stay fresh for up to 3 months. Thaw in the fridge and then add a dollop of dulce de leche before eating.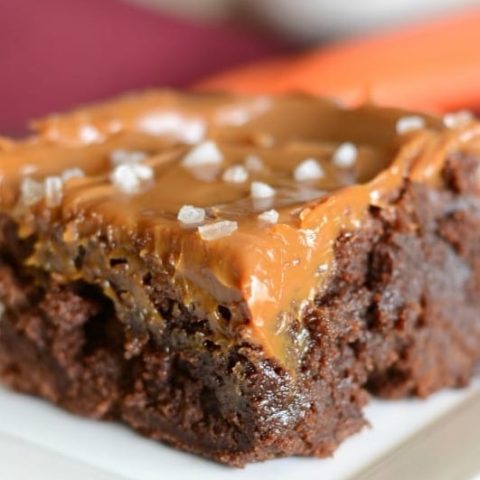 Salted caramel brownies
Cook Time:
30 minutes
25 seconds
Total Time:
40 minutes
25 seconds
Make a decadent dessert that is the perfect salty and sweet combination!
Ingredients
1 cup flour
2 cups sugar
¾ cup cocoa
1 tsp baking powder
3 eggs
2 tsp vanilla
1 can Dulce de leche or homemade
coarse or flaky sea salt for topping
Instructions
Preheat oven to 350.
Cover an 8"x8" baking dish with foil and spray it with cooking spray.
Combine dry ingredients in one bowl.
Combine all the wet ingredients in a separate bowl.
Add the wet ingredients to the dry ingredients and mix gently.
Pour brownie mix into your baking pan.
Bake for 25-30 minutes, or until a toothpick comes out clean in the center.
Remove and allow to cool.
Once cooled pour the can of dulce de leche over the top and spread evenly.
Sprinkle with the sea salt, slice into squares and enjoy!
Other brownie recipes to try:
Brownies are some of my favorite desserts. Other varieties that we love are:
Did you make this recipe? I'd love for you to rating in the recipe card above or in the comment section below. Want to make these brownies later? Pin the image below to your favorite dessert board!
Thank you so much for your support!