Looking for a good salty and sweet combo? These salted caramel brownies have you covered!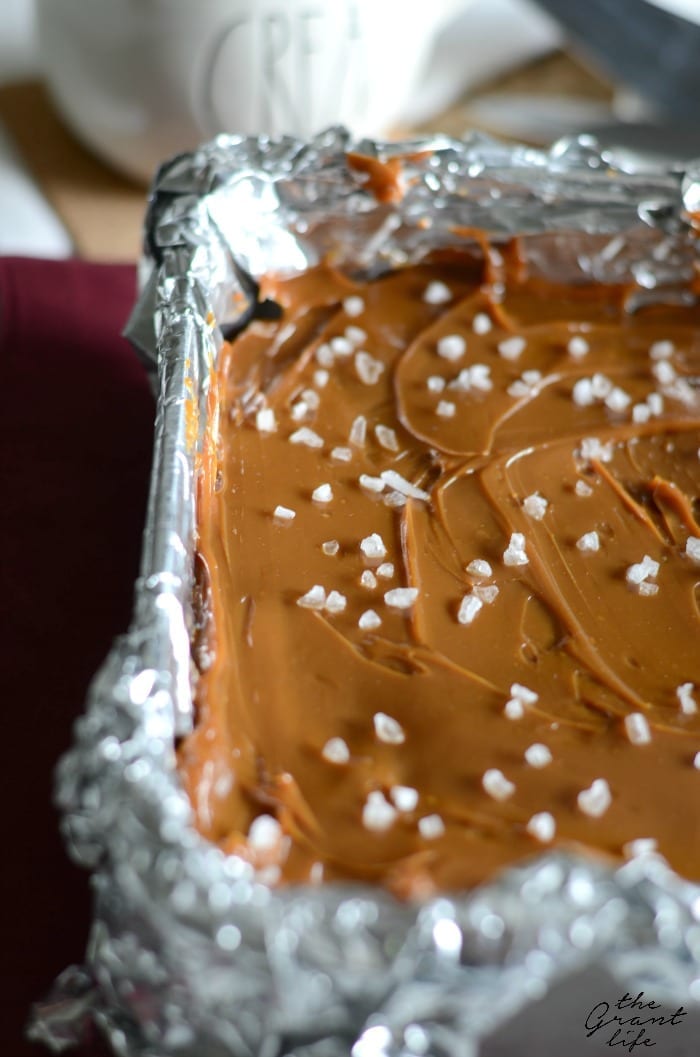 Hey yall! Have I told you how we picked Ryder's name? Well, there is a little bit of a story to it. When Ryon and I moved to Michigan we listed out 3 boy names and 3 girl names that we liked. We weren't even married (or engaged!) at the time but on the long 2 day trip from Texas we named our future children. We wrote them down in the back of a book. (The book was called Smart Couples Finish Rich by the way.)
In the madness of moving up a few times, we sort of lost track of the book. And then I forgot about it. In the meantime Ryley and Avery were born.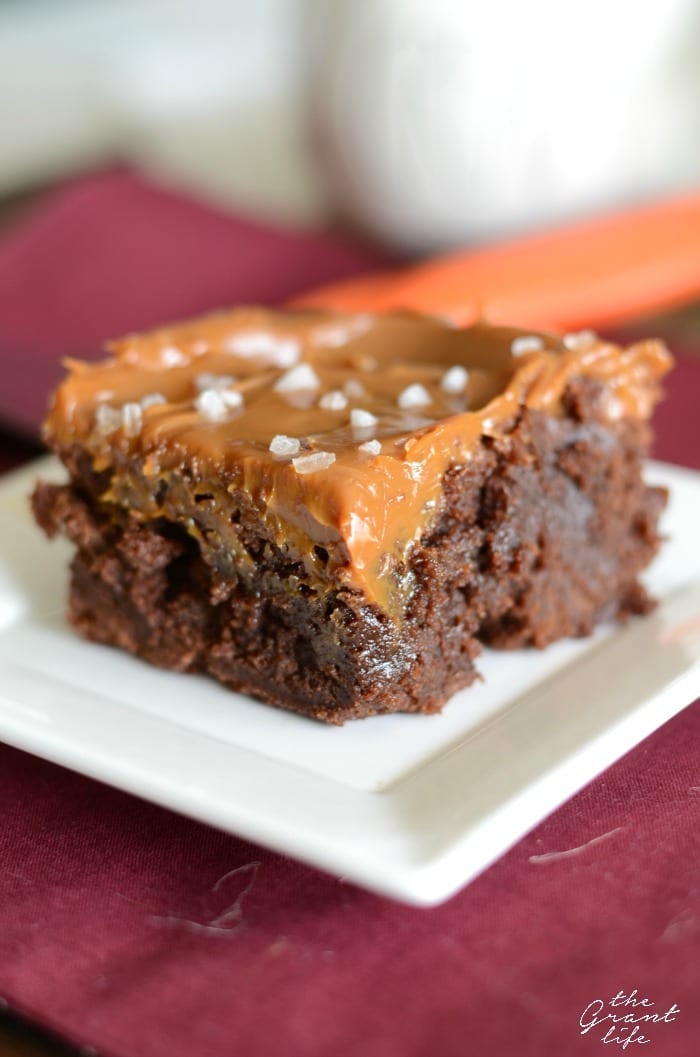 We finally found the book when we moved a few months after Avery was born. I immediately flipped to the back and found our list of names. And I laughed out loud. Ryley and Avery were right there on that back page of our book. I didn't even remember picking either name much less writing them down.
Fast forward 5 years or so and we are trying to decide on a name for little man. I knew right where we left the book so I went and grabbed it.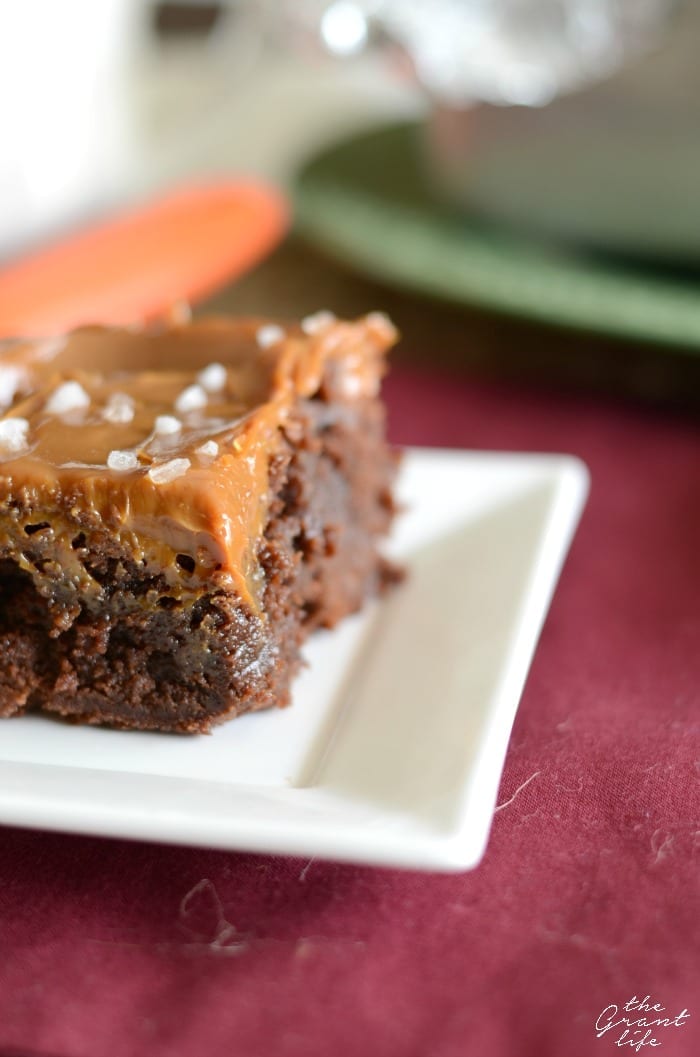 And guess what? I didn't like any of the other names! None of them. So we started brainstorming new names for the new babe on the way after we found out we were having a boy. We tossed around Oakley, Waylon, Hunter, Sawyer and even Crosby. I liked them, but I wasn't set on any one name.
On Saturday night right before we went to the hospital I said "What about Ryder?". Ryon said he didn't really like it. I said ok thinking we would just pick a name from the ones we tossed around when he was born. I said "I have to see him to pick one."
When he was born the nurses gave the baby to Ryon. Ryon snuggled him for a minute, looked at him and put him on my chest. He said "Ryder meet your momma." And of course I bawled. And I smelled his little baby head and said "Hey Ryder guy!" and bawled some more.
And that's how Ryder was named. And it has nothing to do with salted caramel brownies but I thought it was a good story to tell. Brownies and baby names. Who knew.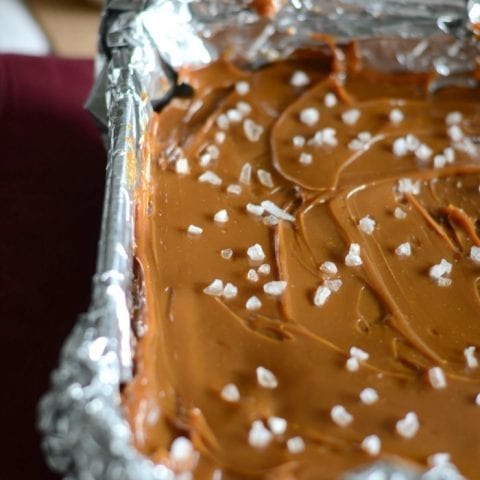 Salted caramel brownies
Ingredients
1? cup flour
2 cups sugar
¾ cup cocoa
1 tsp baking powder
3 eggs
2 tsp vanilla
coarse sea salt for topping
Instructions
Preheat oven to 350.
Cover an 8"x8" baking dish with foil and spray it with cooking spray.
Combine dry ingredients in one bowl.
Combine all the wet ingredients in a separate bowl.
Add the wet ingredients to the dry ingredients and mix gently.
Pour brownie mix into your baking pan.
Bake for 25-30 minutes, or until a toothpick comes out clean in the center.
Remove and allow to cool.
Once cooled pour the can of dulce de leche over the top and spread evenly.
Sprinkle with the sea salt, slice into squares and enjoy!