This Pistachio Fluff recipe is so simple to make and turns out great. It's the perfect cool summertime dessert that your family is sure to enjoy! You only need a hand full of common ingredients to make this easy summertime treat.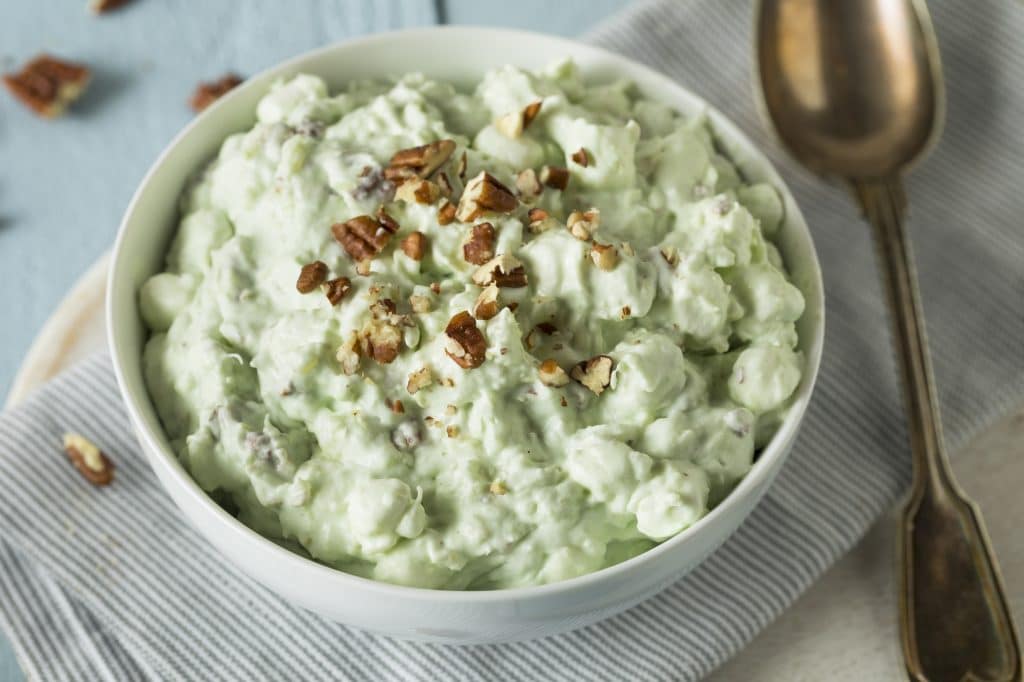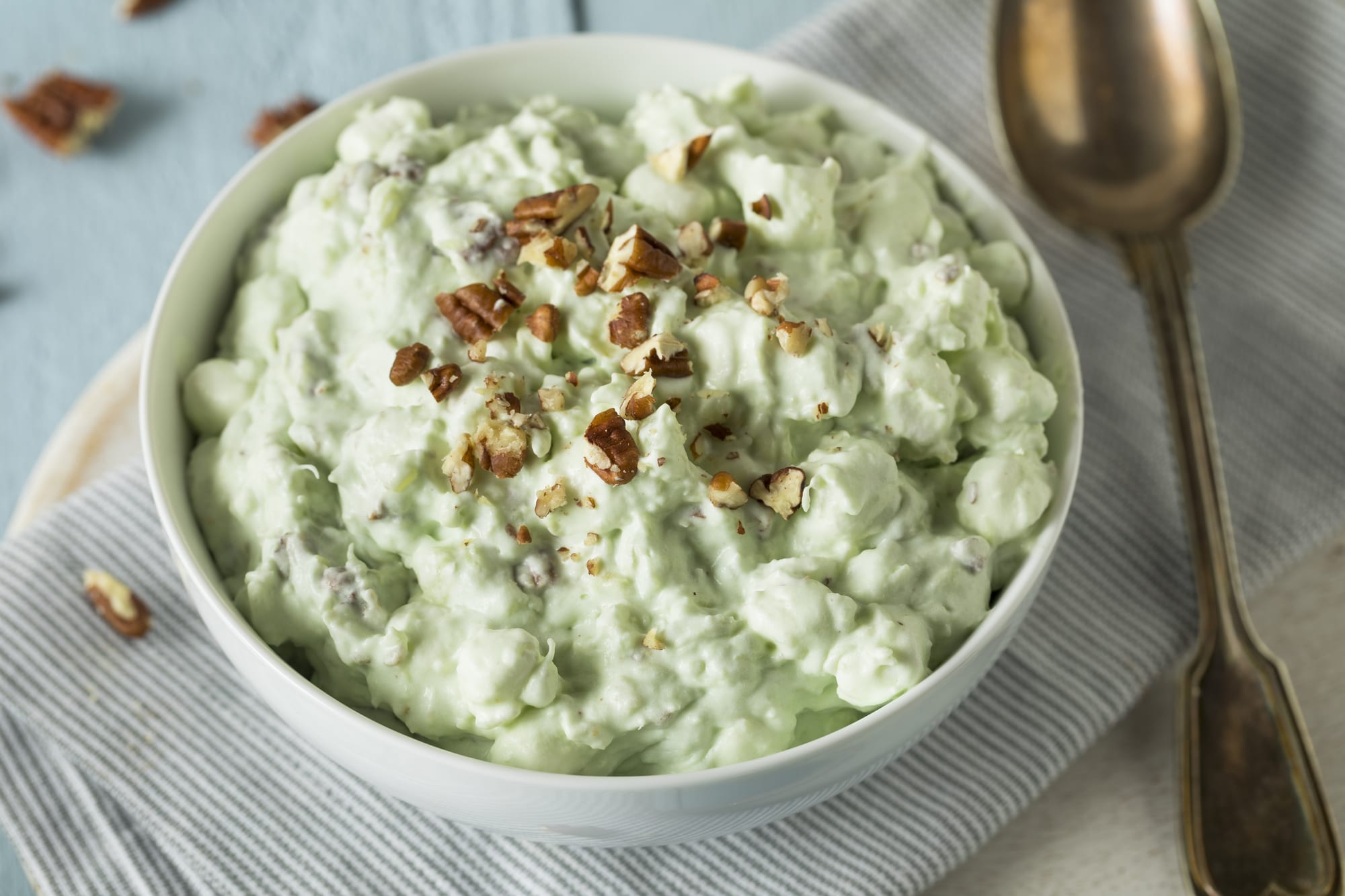 Would you like to make a simple dessert that doesn't take long to prepare? You're only going to need a few ingredients and about five minutes of your time to mix the ingredients together to make the Pistachio Fluff. The light dessert is unique, flavorful, and great to have in the summer months when you want something cold and refreshing to enjoy.
I remember my grandparents always making this pistachio fluff throughout the summer time. I wasn't super fond of it as a kid. I would pick out the marshmallows and leave the rest of the fluff for my parents to eat. As an adult I love the whole thing! It's so good!
What Is Pistachio Fluff?
Pistachio Fluff is a light, fluffy, and fruit-flavored dessert that you can easily prepare by combining Cool Whip with crushed pineapple, instant pudding, and a handful of other ingredients. It has the perfect texture with a slight crunch from the addition of pecans! It's like the deconstructed version of my pistachio dessert recipe!
Pistachio Fluff Ingredients
You're only going to need a few ingredients to make the Pistachio Fluff. All of the ingredients are easy to find at your local grocery store.
Pistachio pudding
Crushed pineapple
Cool Whip
Mini marshmallows
Pecans
Shredded coconut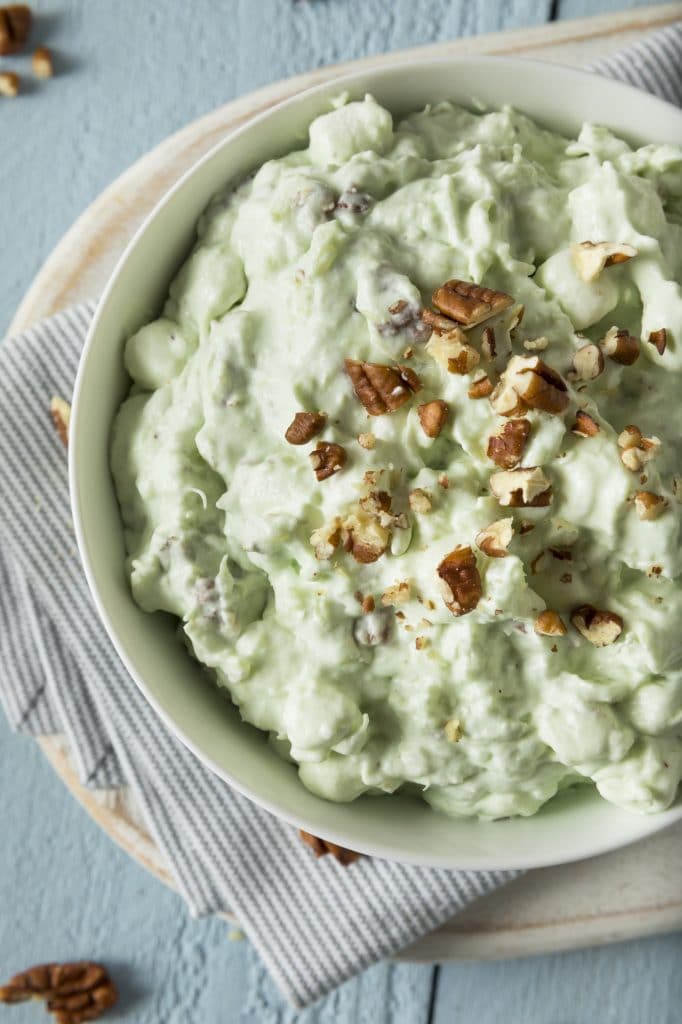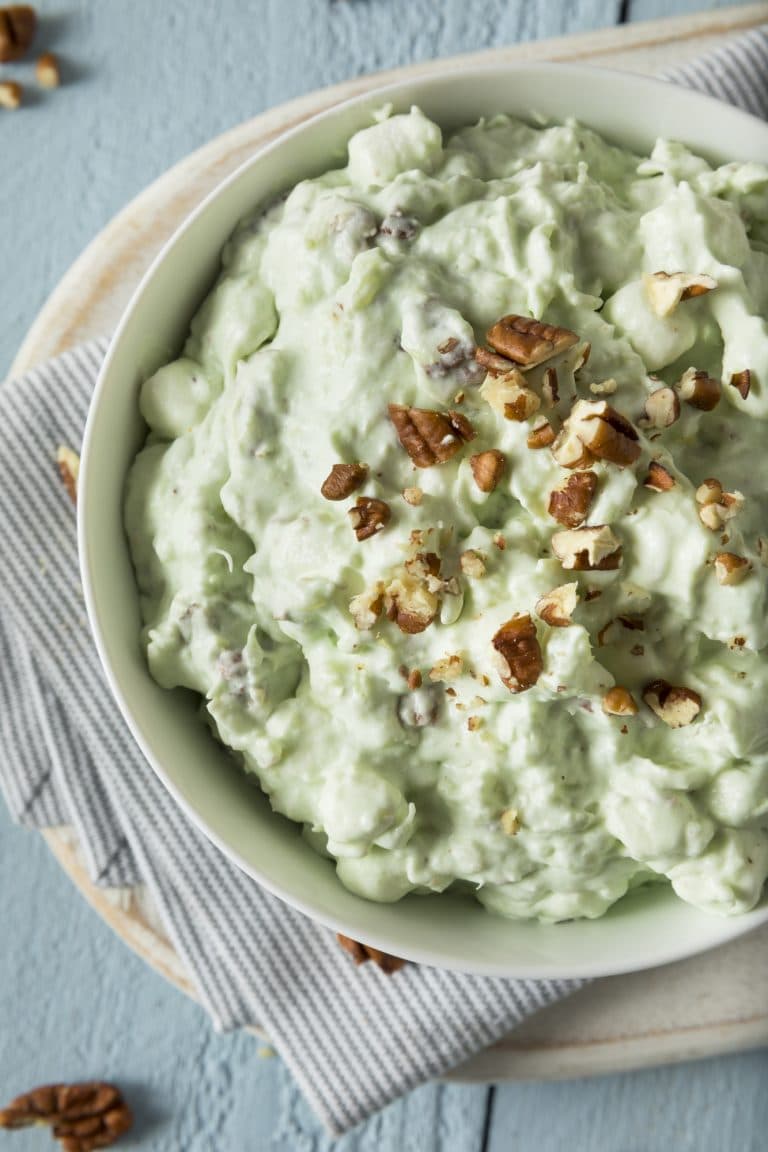 Pistachio pudding – Grab a box of the instant Pistachio pudding from your baking aisle. You are not going to make the pudding, simply use it for flavoring the fluff.
Crushing pineapple – Grab a 20 ounce can of crushed pineapple from the canned fruit section. You will want to drain the pineapple of it's juice before adding to your dessert.
Cool Whip – This can be found in the frozen food section. Make sure it;s defrosted before mixing it in.
Mini marshmallows – These marshmallow help give this pistachio dessert a chewy texture.
Pecans – You can use whole or crushed pecans here. You can also use any other nut here as well.
Shredded coconut – This adds another great texture to the pistachio salad. You can use
How to Make Pistachio Fluff
1. Add your Cool Whip to a large bowl.
2. Sprinkle the packet of the instant pistachio pudding into the bowl, followed by the crushed pineapple, mini marshmallows, chopped pecans, and shredded coconut.
3. Once you've added everything into the bowl, mix it well until fully combined.
4. Pour it into a large bowl, place a lid on top, and store it in the fridge, allowing it to chill for at least an hour before you eat it. You can also use it to make my pistachio dessert recipe! It's so simple.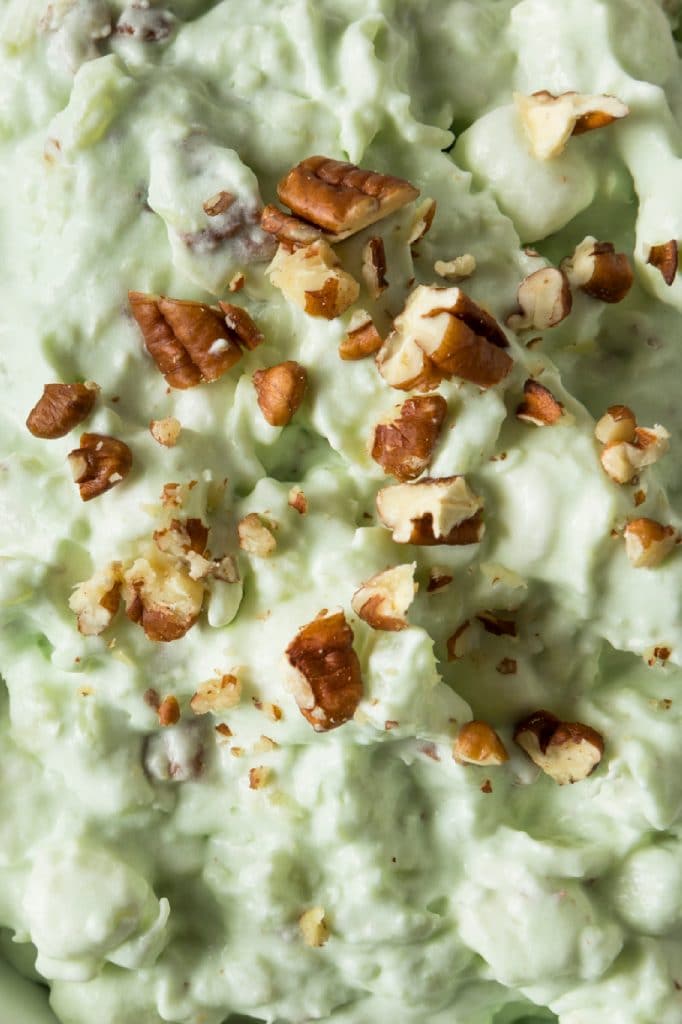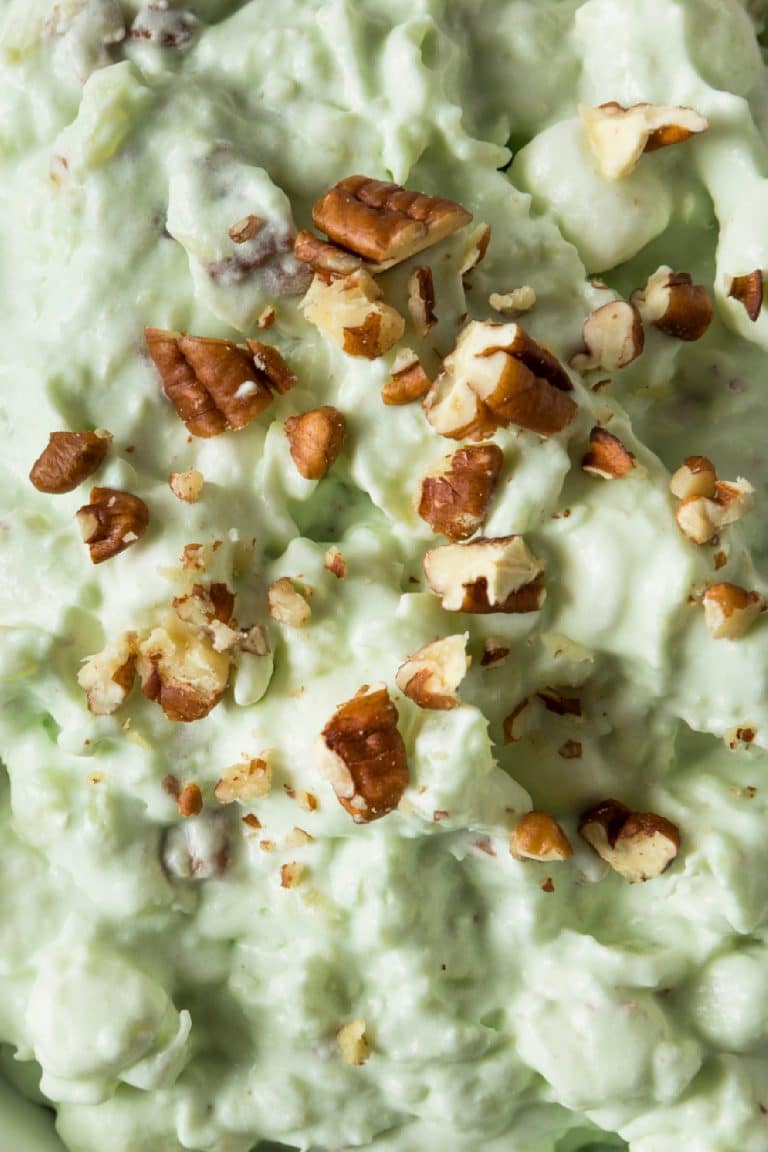 Why is this fluff green?
The fluff is green because of the instant pistachio pudding. You'll notice it has a slightly green color to it. When you combine it with the Cool Whip, it changes the color of this whipped topping to green, making it look even cooler.
What if I don't like coconut?
If you don't like coconut, you don't need to use it in this recipe. The fluff will taste great, even without the addition of the shredded coconut. While it's an optional ingredient, it does taste good in this recipe, so you might want to give it a try. The coconut flavor isn't overpowering in this Pistachio Fluff recipe.
Can I use different nuts?
Yes! If you don't want to use pecans in the recipe, you can always use walnuts or chopped peanuts to add a slight crunch to this delicious Pistachio Fluff.
How to Store Leftovers
Store the Pistachio Fluff leftovers in a large plastic or glass storage container with a lid and keep it refrigerated to keep it fresh.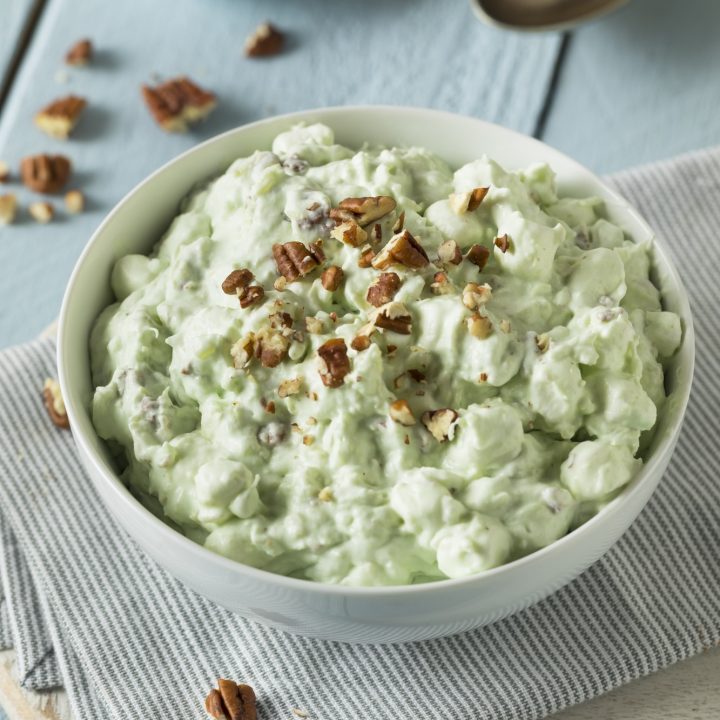 Pistachio Fluff Recipe
A creamy dessert salad that is perfect for family gatherings.
Ingredients
1 box instant pistachio pudding
20 oz crushed pineapple, drained
8 oz Cool Whip
5 oz mini marshmallows
½ cup chopped pecans
½ cup shredded coconut
Instructions
Combine all ingredients in a large bowl.
Save some pecans and coconut for garnish.
Chill for 1 hour.
Other Pistachio Desserts to Try
Did you make this recipe? I would love for you to leave a rating above in the recipe card. Want to save it for later? Pin the image below.