Cheesy ground beef casserole is comforting and full of flavor. It's a classic dinner recipe that you may remember from your childhood. It goes by many different names, but my favorite is DELICIOUS! Ditch the box and let me show you how to make cheesy beef noodles today!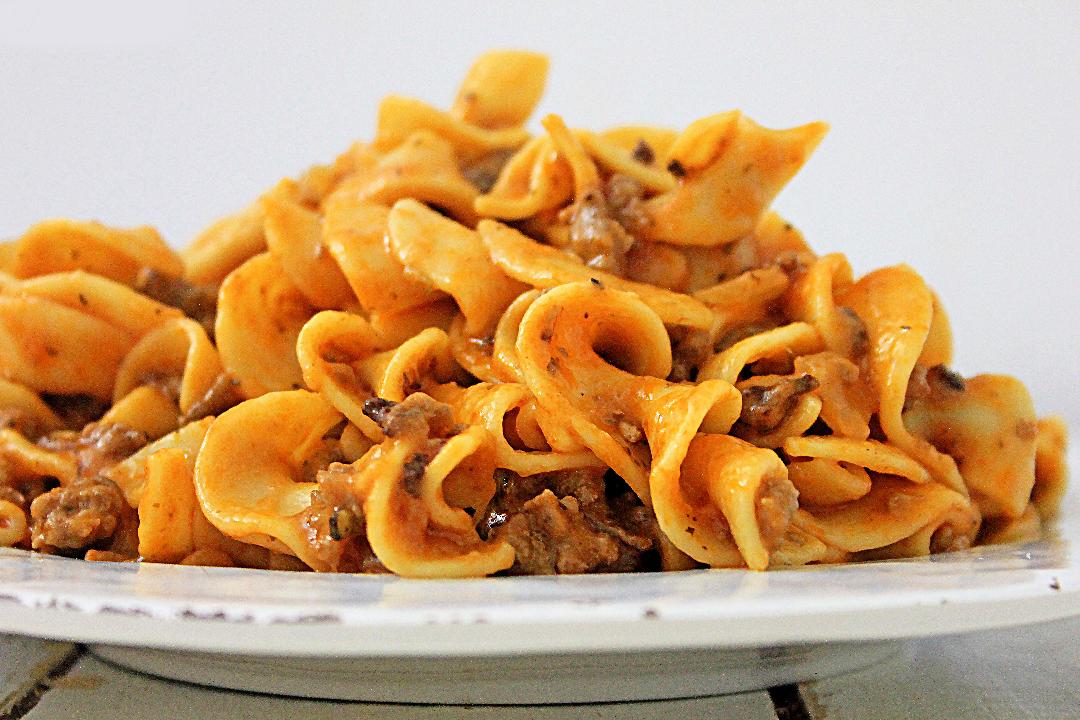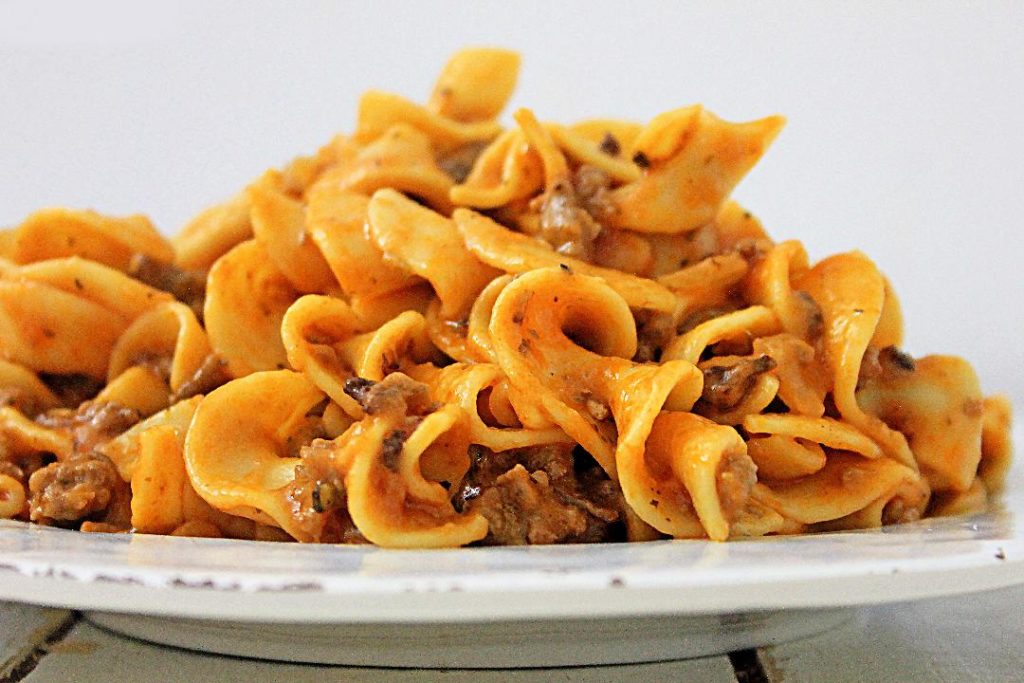 Do you have that ONE meal growing up that you always wanted to be on the dinner table? For me, that was Hamburger Helper! I'm not sure why I loved that boxed casserole so much, but I did. And I still do!
Except it's super easy to make homemade hamburger helper at home. Like, easier than using the boxed version. And you can make it on your stove top or in your instant pot. Can we say easier childhood dinner ever?!
Cheesy ground beef casserole
So this dish has SO many different names. It's essentially homemade hamburger helper like I mentioned, but it is also called cheesy ground beef casserole, cheesy beef noodles, ground beef casserole and more! I asked my friends what they call it and I got at least a dozen different names for this easy dinner recipe.
Oh! Homemade beefaroni was one of the names too. See? So many different names for this one meal!
What is ground beef casserole?
WHATEVER you call it, the basis of this recipe is simple. It's seasoned ground beef, noodles and cheese mixed together. It's better than the box and easier to make too! Plus, it's totally kid friendly and adaptable to your tastes.
MOM WIN.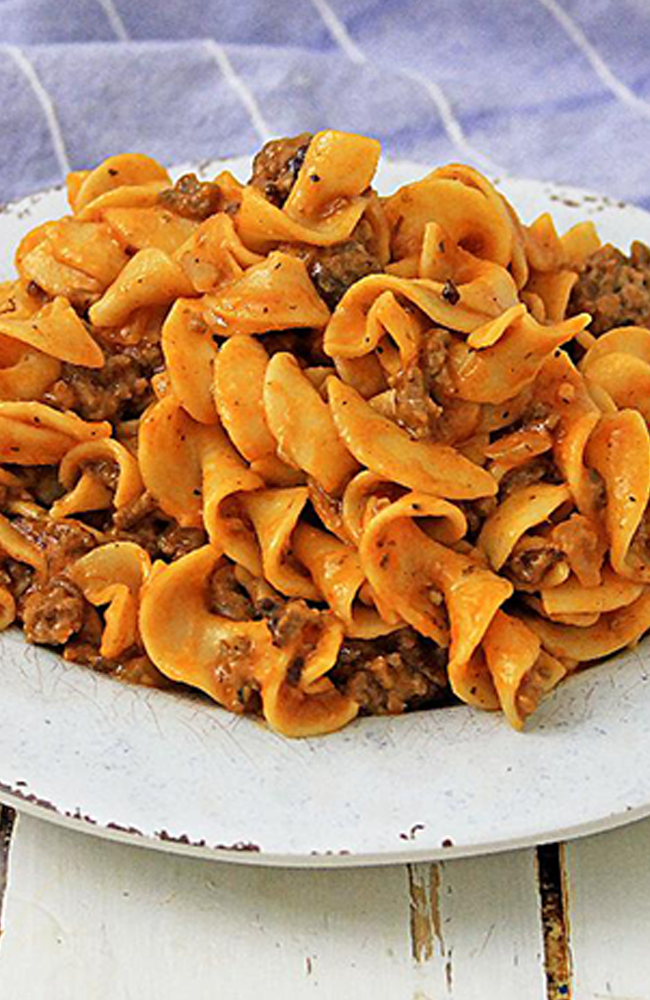 Homemade ground beef casserole ingredients
Whatever name you pick for this casserole, just know that it's easy to make! The ingredient list may be a little longer than most, but stick with me here. It all comes together quick.
To make this recipe you will need:
ground beef
onion
garlic
spices
flour
tomato sauce
beef stock
heavy cream
cheese
noodles
Ground beef – A lean ground beef works best in this recipe. I like to use ground sirloin when possible, but any ground beef will work. You can even sub in ground turkey, pork or chicken!
Spices – The spices really make this cheesy noodle casserole. I use Italian seasoning, garlic powder, onion powder and pepper. My suggestion is try it with the spices I used and adjust it to your taste.
Flour – Use any type of flour that you prefer for this recipe. If you want to make it gluten free, use a gluten free flour blend and noodles.
Cheese – I used mild cheddar for the cheese but you can use whatever cheese you like in this beef noodle casserole.
Noodles – You want to use a good wide egg noodle for this recipe. I love using No Yolks egg noodles for this recipe.
How to make cheesy beef noodle casserole
To make this recipe, start by browning your ground beef in a large skillet. I like to add in my spices with the beef. Once the ground beef or sirloin is browned, add in the diced onion and continue to cook until the onion is soft and translucent.
Coat the ground beef mixture in the flour and allow to cook for 1-2 minutes. Whisk in the beef stock and allow to cook until it thickens. Mix in the tomato sauce and heavy cream and allow to simmer while you cook the noodles.
Once the noodles are done cooking, drain and add them to the skillet. Stir to combine.
Last, add in your cheese and stir. Allow the cheese to melt before serving.
Cheesy beef noodles in the Instant Pot
I always get asked if my dinner recipes can be made in the Instant Pot. The answer for these cheesy noodles is YES! You can make the whole meal in the Instant Pot – if you'd like!
To start, turn your Instant Pot to saute and add in your beef. Brown the beef, stirring it occasional so it doesn't stick to the pot. Add in your spices and onion and continue to cook until browned.
Stir in the flour and then the beef stock and allow to thicken slightly. Mix in the tomato sauce and heavy cream. Add in the noodles and 4-5 cups of water and stir everything together. Set the vent to SEALING, press the manual button and set to cook for 4 minutes.
Once the pressure has released naturally or you do quick release, stir everything together and break up the noodles. You can remove excess water if needed. Stir in the cheese and allow to melt before serving.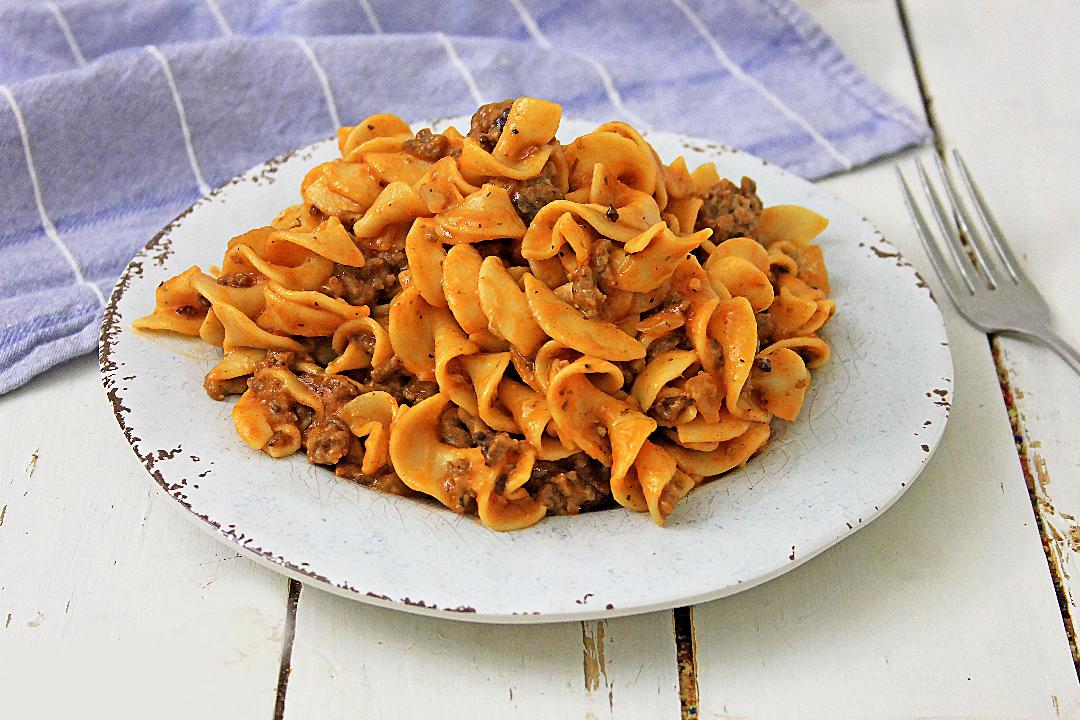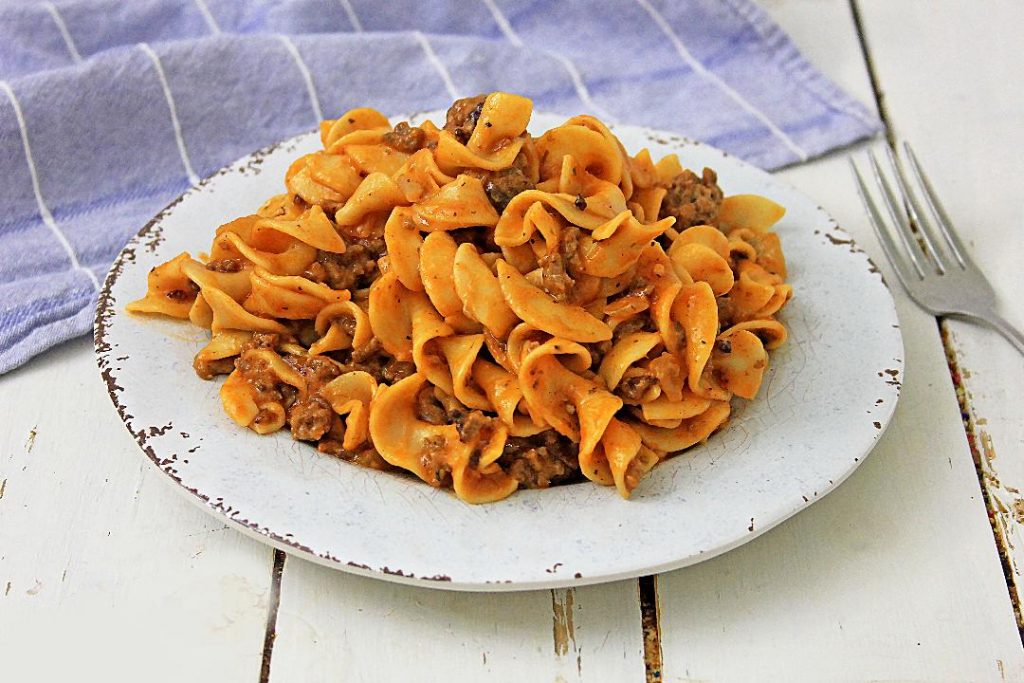 Tips for making cheesy noodle casserole
How to store leftovers
Place all leftovers in an airtight container like a tupperware dish or a baking dish with foil. Leftovers need to be stored in the fridge.
Can you freeze cheesy beef noodles?
Yes! You can! Cook the recipe as instructed and then allow to cool completely. You can flash freeze the whole casserole on a cookie sheet in the freezer for an hour. Then transfer to a large plastic bag and place back in the freezer.
Or you can place the cooled casserole in a large bag and freeze directly. Make sure the bag is flat in the freezer if you choose this method. Here are more tips on freezing pasta too!
How to reheat
For the best results, reheat this casserole in the microwave.
Easy sides to go with your cheesy beef noodles
While this casserole may be a whole meal on it's own, some sides that pair well with cheesy beef noodles are: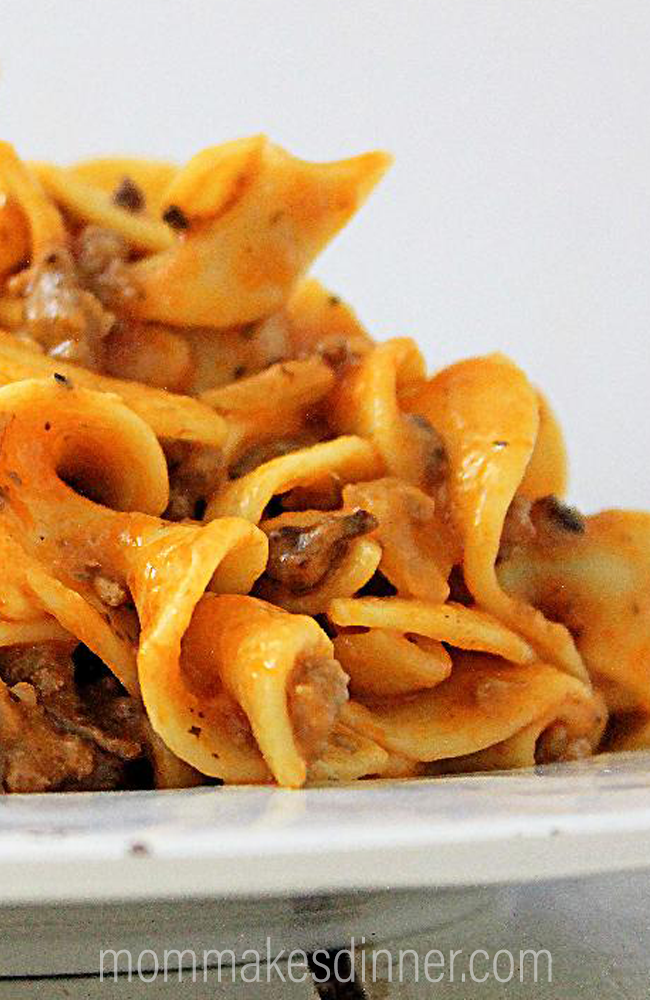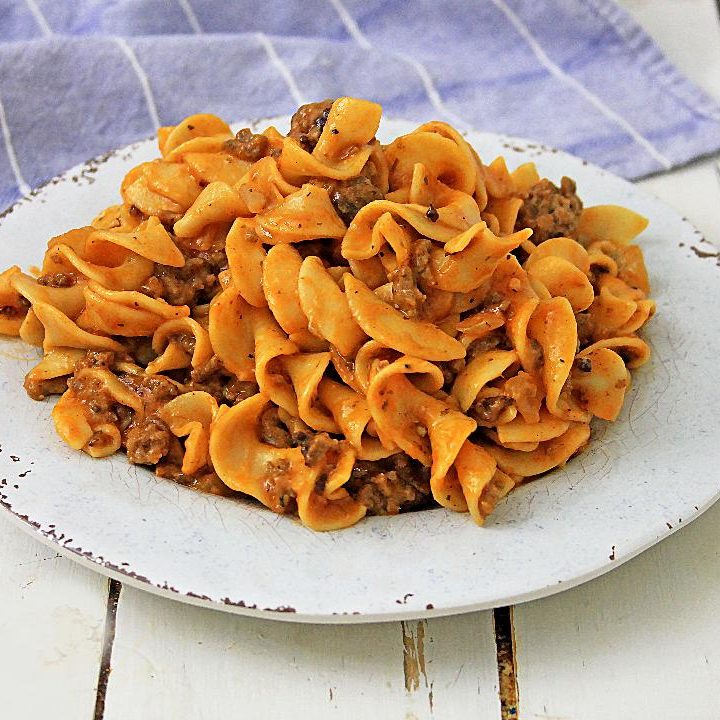 Cheesy beef noodles
Ingredients
1 Tablespoon of olive oil
1/2 of a medium onion - diced
2 cloves of garlic - minced
1 pound of ground beef
2 teaspoons of Italian seasoning
1 teaspoon of garlic salt
1 teaspoon of fresh ground pepper
2 Tablespoons of flour
2 cups of beef stock
1 15 ounce can of tomato sauce
3/4 cup of heavy cream
1 16 ounce package of egg noodles
2 cups of shredded cheddar cheese
Instructions
In a large skillet over medium heat, add the olive oil, onion and garlic. Cook until transculent and fragrant - about 5 minutes.
Add in the ground beef and spices and cook until brown and no pink remains.
Sprinkle in the flour and coat the beef mixture. Allow to cook for about a minute.
Whisk in the beef stock until smooth. Bring to a simmer and allow to thicken.
Pour in the tomato sauce and the heacy cream. Bring to a boil and allow to thicken.
While the beef mixture is cooking, make the egg noodles according to the package. Remove, drain and set aside.
Add in the egg noodles to the beef mixture once it is thick and bubbly.
Stir in the cheese and allow to melt.
Serve and enjoy!
Notes
This recipe can be made in the Instant pot! Read the notes above in the post on how to do this.
Store in an airtight container in the fridge.
Nutrition Information:
Yield:

8
Serving Size:

1 cup
Amount Per Serving:
Calories:

473
Total Fat:

31g
Saturated Fat:

15g
Trans Fat:

1g
Unsaturated Fat:

12g
Cholesterol:

120mg
Sodium:

836mg
Carbohydrates:

23g
Fiber:

2g
Sugar:

4g
Protein:

27g
You may also enjoy these other easy pasta dinner recipes:
Easy pasta dinner recipes
Like this recipe? Be sure to PIN IT!