Looking for a quick and easy weeknight lasagna? This skillet lasagna recipe is what you need! It is done in under 30 minutes and made all in one pan.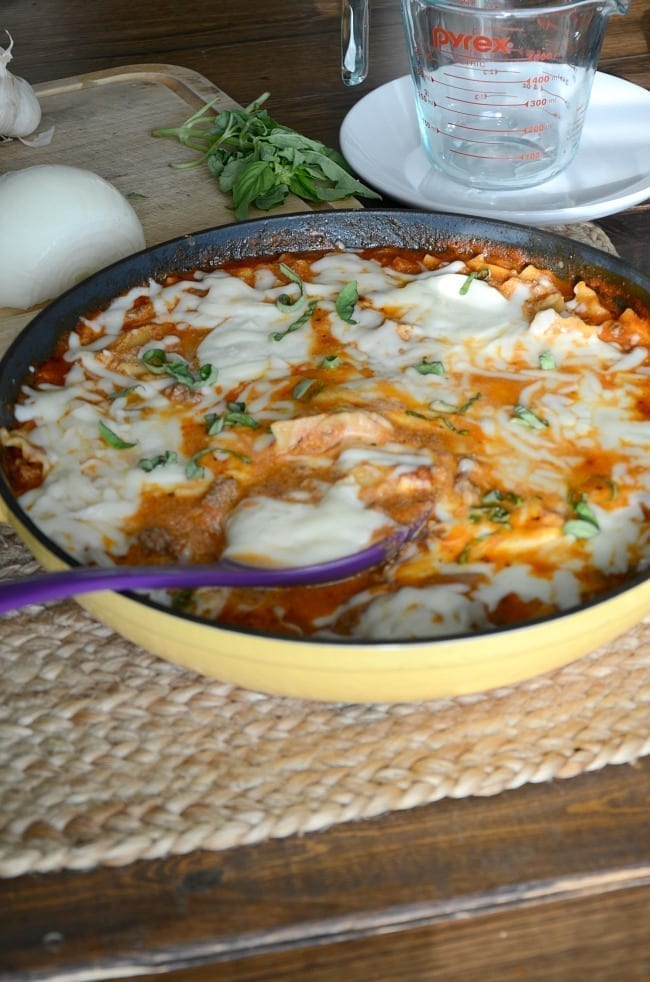 My all time favorite meal is my mom's homemade lasagna. Trust me when I say – there is NOTHING like it! It is ooey and gooey and full of cheese! Yall, there is so much cheese. It's ridiculous and delicious all in one. I love it, my husband loves it, and even the kids love it.
There are two downsides to mommas homemade lasagna. It takes awhile to make and she only makes it a couple times a year. We normally have a day in the kitchen just making and freezing lasagnas for upcoming holidays.
What about the days that I crave lasagna but don't have the time to make my moms version? Because I'm going to be honest – I crave my moms lasagna A LOT! And now they we don't live close to her, it's up to me to make it on my own. I haven't made it without her yet!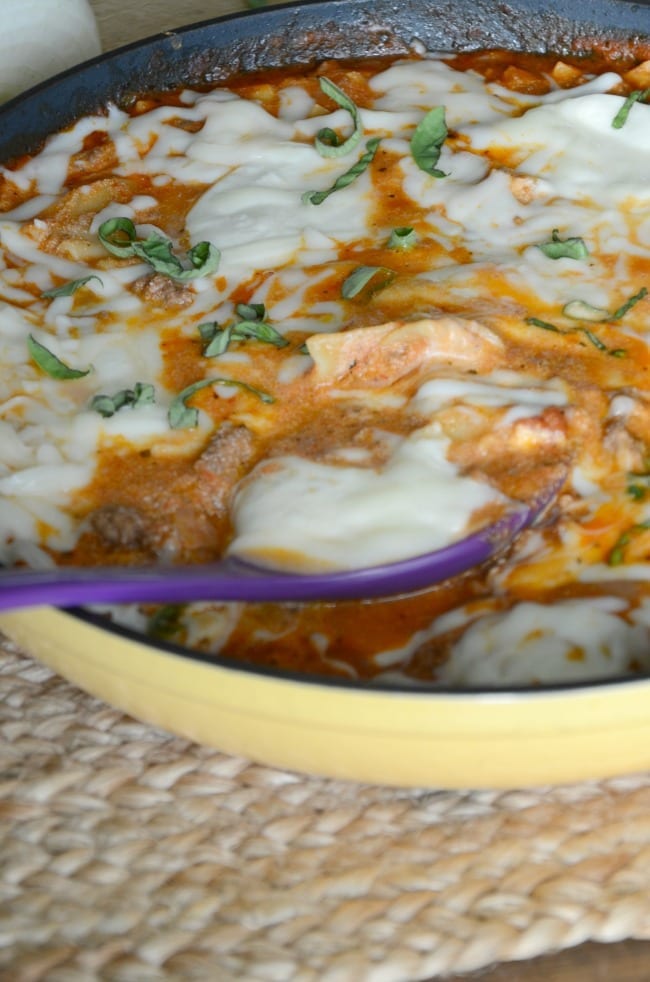 What is skillet lasagna?
But this week I was craving lasagna. Ooey, gooey and extra cheese-y lasagna! I just didn't have the time to go all out and make my moms version. So I grabbed my trusty skillet and made an easy weeknight version!
Skillet lasagna is a quick and easy dinner recipe that is made all in one pan in under 30 minutes. It's the delicious flavors of traditional lasagna without all the prepping and cooking time.
Did I say it's made all in one pan? Because IT IS! No extra dishes and no hour long cook time here. You will need one large skillet and a spatula to make this skillet lasagna recipe.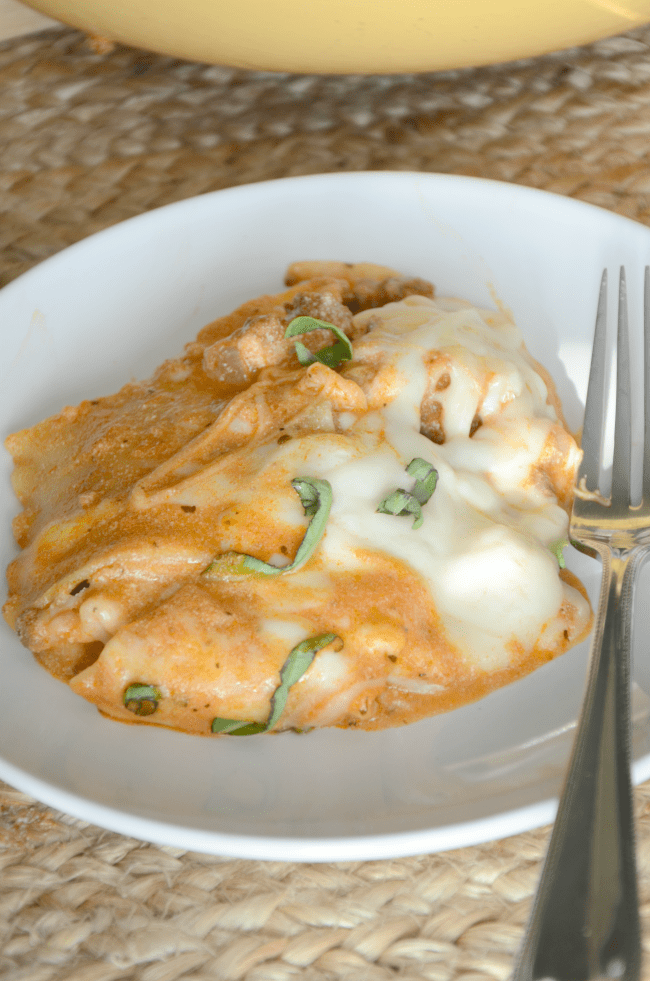 Skillet lasagna ingredients
Another wonderful perk to this skillet lasagna is that the ingredients are pretty simple. The most exotic ingredient would maybe be the ricotta cheese, but you should be able to find that at most grocery stores.
To make this skillet lasagna recipe you will need:
butter
garlic
onion
ground beef
Italian spices
pasta sauce
lasagna noodles
ricotta cheese
Mozzarella cheese
Stick with me here! I know this is a fairly long list of ingredients, but they come together quickly.
To start you need butter, garlic and onions. Besides eating the finished dish, smelling these three together is one of my favorite parts of the meal. Any type of onion will work in this recipe as well as any type of garlic. (Fresh, jarred, etc.)
You will also need a pound of ground beef. You want to grab a leaner ground beef to help reduce the grease in the pan. You can substitute ground pork, turkey or even use Italian sausage here. Remove the casings and crumble the sausage if that is the meat you use.
Feel free to use whatever spices you like in your lasagna. I love using homemade Italian seasoning when I am browning the meat. You can use homemade or grab a bottle of Italian seasoning at the store.
When it comes to the pasta sauce you can use any kind that you prefer. Homemade sauce is wonderful but if you don't have any on hand, find a great jar sauce that you like. I enjoy sauces like Barilla's traditional, tomato basil and their roasted garlic.
You want regular lasagna noodles for this recipe, not the no boil ones. If you are gluten free, grab a gluten free lasagna noodle.
Finally, let's talk about the cheeeeese. You need two types of cheese for this recipe – ricotta and Mozzarella. You can use any kind of ricotta cheese in this recipe – low fat, part skim, full fat, whatever you like. When it comes to the Mozzarella, fresh is best but shredded works just as good. I like to add a little bit of both to my skillet lasagna.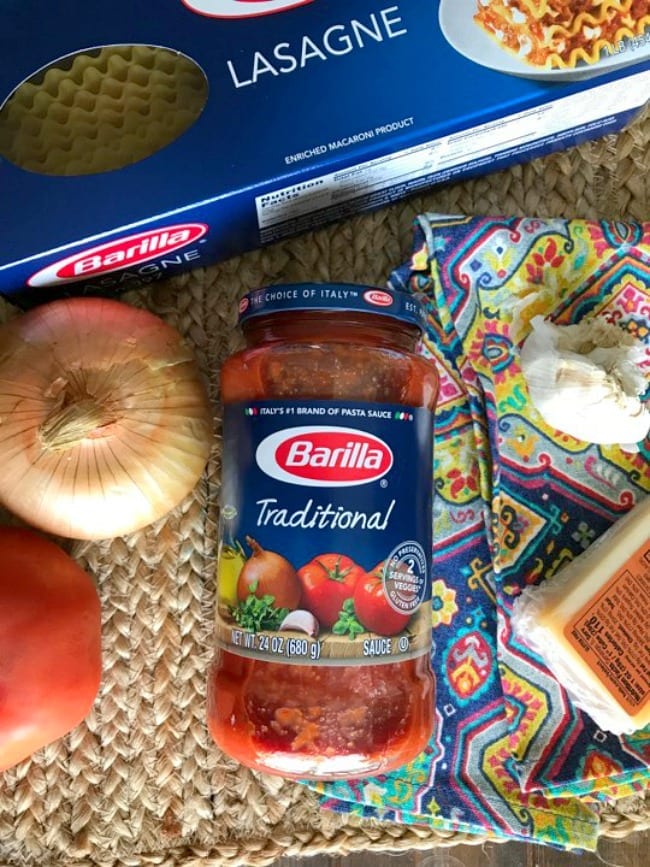 Skillet lasagna recipe
After you have gathered all your ingredients and your ONE PAN, start by sauteing the garlic and onion in the butter. Cook until they become fragant and soft.
Add in your ground beef and Italian seasoning. You want to cook the beef until it is no longer pink. Remove the excess grease from the pan very carefully. You can do this with a colander or using a pot strainer.
Cover the meat with your pasta sauce and water. Bring it to a soft boil. Break your lasagna noodles into large pieces and press them underneath the liquid. You want to make sure they are fully covered so they can cook. Be sure to stir the pan to prevent sticking!
When the noodles are al dente, cover the entire pan with cheese. Cover with a lid and heat just until the cheese is melted. Remove from the heat and top with fresh basil.
There are two things that I know FOR SURE about this skillet lasagna recipe – that we will be adding it to our menu rotation OFTEN and that momma would be proud!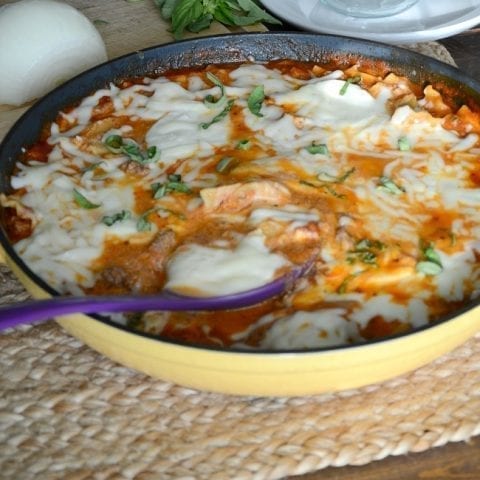 Skillet lasagna
Ingredients
2 tablespoons butter
1/2 medium onion, diced
3 cloves of garlic, minced
1 pound of hamburger
1 24 oz jar of Barilla pasta sauce
2 cups of water
6-8 Barilla lasgna noodles
1/2 cup Ricotta
2 cups shredded mozarella
basil for topping
Instructions
In a large skillet, over medium high heat, add the butter, onion and garlic. Cook for 5-7 minutes until the onion is translucent and soft.
Add in the hamburger and Italian seasoning. Combine and cook until no longer pink. Drain excess fat.
Mix in the pasta sauce and the water. Stir to combine.
Break the lasagna noodles into thirds and add to the hamburger/pasta sauce mixture. Push down under liquid, turn down heat and cover. Allow to simmer for 15 minutes, STIRRING every 5 to make sure the noodles do not stick to the bottom of the pan.
Remove lid, add in ricotta and combine. Remove from heat, add the shredded cheese and cover. Allow cheese to melt and cool. Top with fresh basil. Serve and enjoy!
Like this post? Be sure to check out:
Sign up