Hands down the best pasta ever made in the Grant house.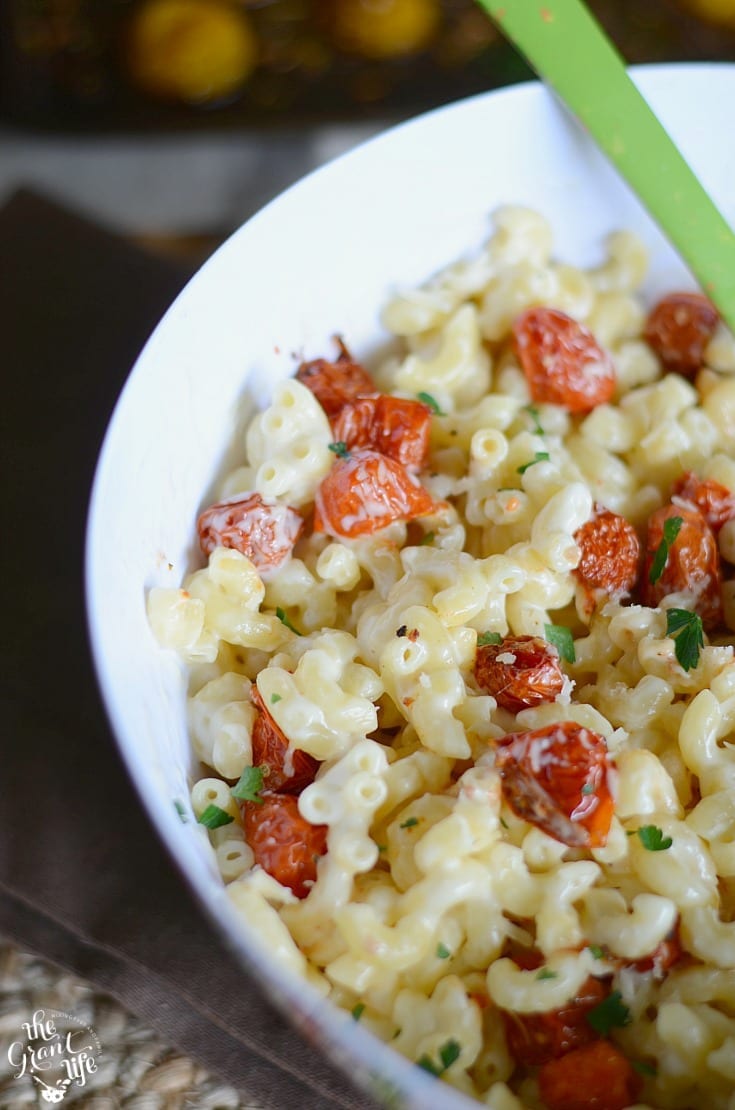 Hey yall! I bet you're thinking "Yea right, the BEST pasta you've ever made?" And I have to tell you – YES. Absolutely. 100 percent the best pasta I've ever made. And I know that yall know I love me some pasta so saying that this is hands down the best one, EVER, is something big.
Just thinking about it makes me want to slice up some tomatoes, roast them in the oven and make this whole pasta all over again. RIGHT NOW.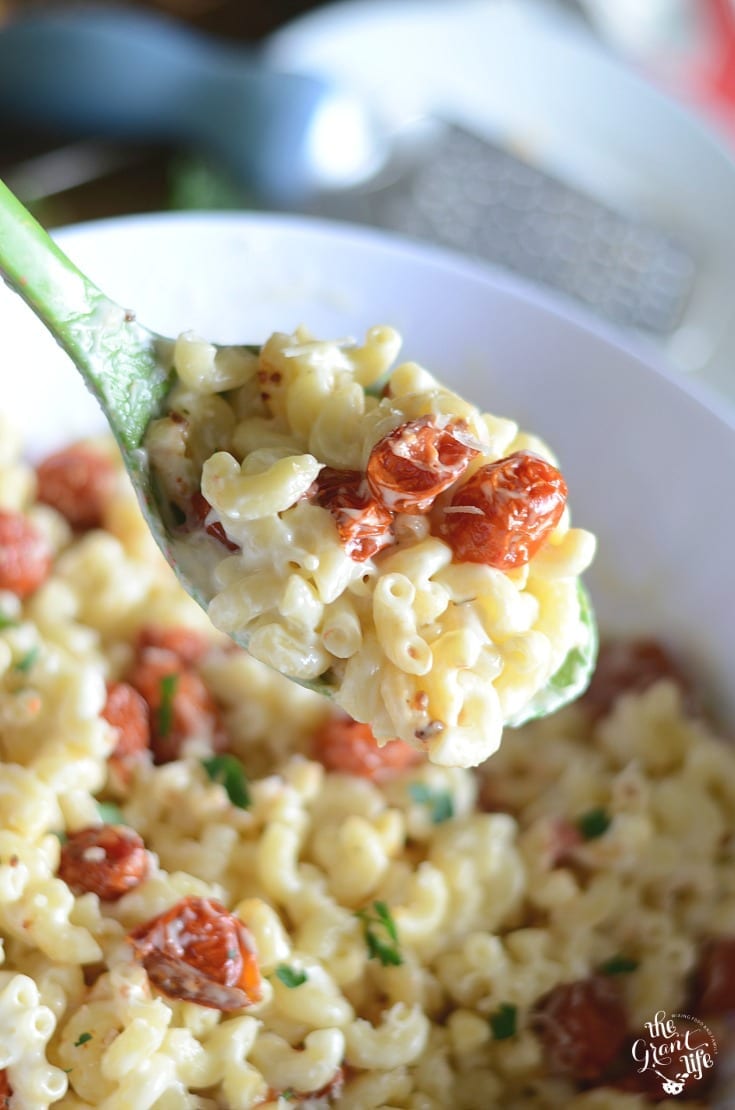 And the funny thing is that this pasta started off as a question. About tomatoes. I had bought a a fairly large tub of tomatoes for salads from the grocery store a week or so ago. My ob doctor told me that I needed more iron and suggested salads with leafy greens as a way to bump it up. So I loaded up the fridge with salad ingredients for the week.
After 3 or 4 salads though, I was getting a little overwhelmed with said leafy greens. And my tub-o-tomatoes was neglected on the counter for a few days. And I thought "what the heck can I make with these tomatoes before they go bad?"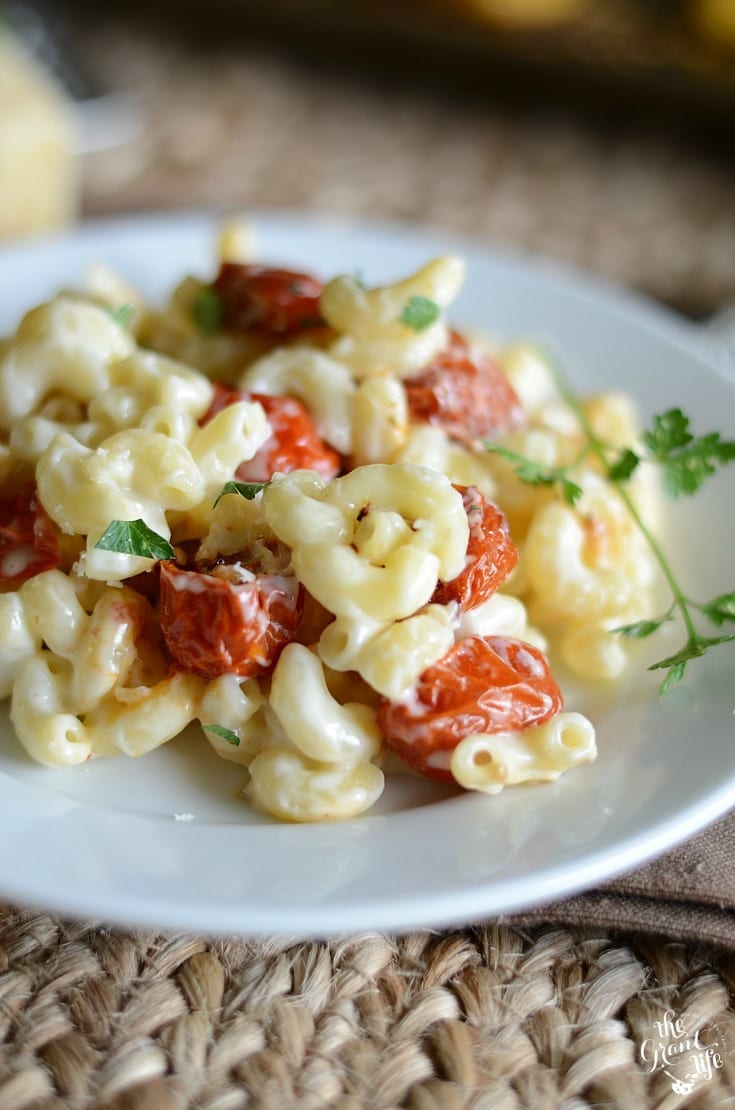 I've roasted tomatoes before so I decided to toss these ones in some rosemary salt and toss them in the oven one morning. I let them roast in the oven for a few hours and the smell was amazing. When they were almost done I boiled some pasta and whipped up the EASIEST Alfredo sauce too. It all came together perfectly. I tossed the Alfredo sauce, tomatoes and pasta together and immediately devoured 2 plates.
Not only was it absolutely, hands down the best pasta I have ever had (to date) but I also was able to solve my tomato dilemma.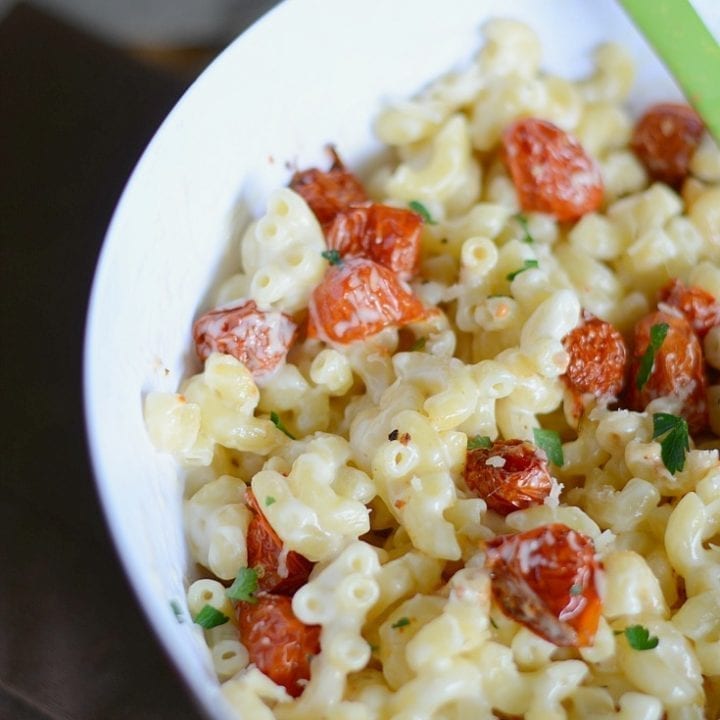 Roasted tomato Alfredo pasta
Ingredients
2 cups sweet cherry tomatoes, sliced in half
2 tablespoons crushed rosemary
pinch of salt
16 oz pasta of choice (I used elbows), cooked and drained
2 cloves of garlic, diced
4 tablespoons of butter
1 tablespoon flour
2 cups heavy cream
1 1/2 cups Parmesan, shredded
parsley for topping
Instructions
Preheat the oven to 250. Add your tomatoes (cut side down) to a baking sheet lined with a silicone baking liner and sprinkle with the rosemary and salt. Bake for 3-4 hours.
In a large saucepan place the butter and garlic in over medium heat. When the butter has melted and the garlic is fragrant add the flour and stir to combine.
Slowly whisk in heavy cream, 1/2 cup at a time. Bring to a soft boil, stirring constantly. Add in the Parmesan and remove from heat. Stir together to combine.
Toss together the tomatoes, pasta and Alfredo sauce. Top with parsley and enjoy!
Like this post? Be sure to check out:
Like it? PIN IT!