I was born and raised in South Texas so I sorta have a thing for good Mexican food. When we wanting to go out we can just drive around the block to our favorite little hole in the wall. Its called Jalisco's and its good and its greasy and its comfort food. They sell breakfast tacos for a buck and have the best lemonade around. [Seriously, its magically.] So what does this Mexican food loving Italian girl do? Combine them. My love for pasta matches my love for Mexican food and the chipotle pasta skillet was born.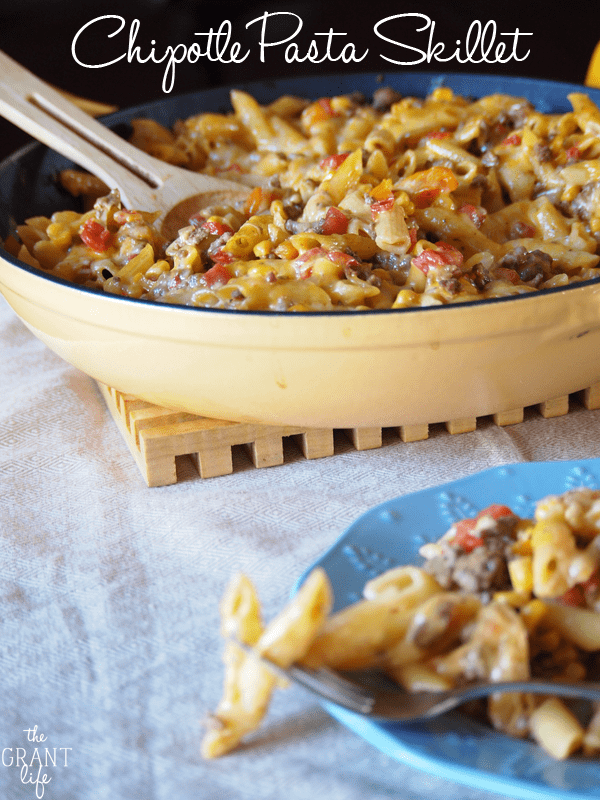 Besides pasta and Mexican food, I think everything tastes better with sauteed onions in or on it. I start probably 85 perfect of our meals chopping an onion, breakfast included. Its like an immediate flavor booster for everything. So I started with an onion, and added a bell pepper and things just got spicier from there. Oh, and it all goes in one dish. Did I mention that? One pan dinner yall!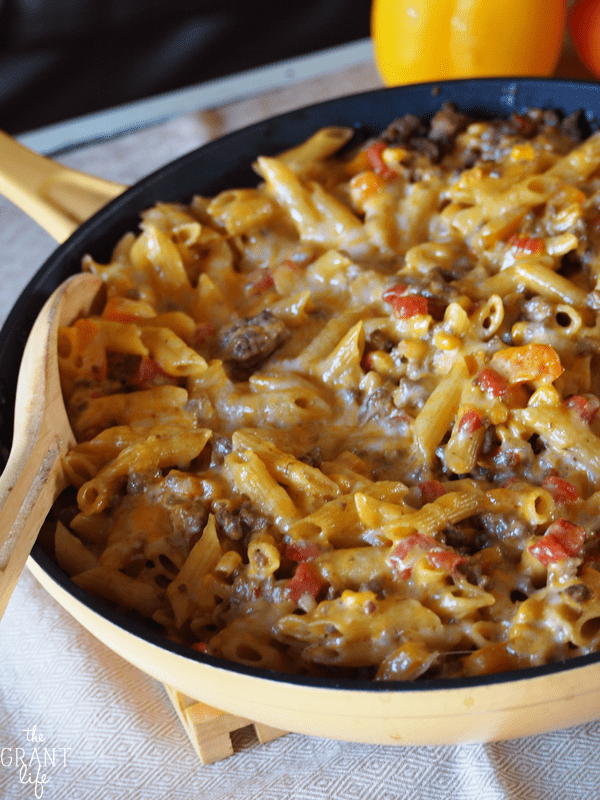 And not only one pan, but really easy too. I was able to leave things in the kitchen and chase the kids for a bit. I'd come back and stir the meat around or check the pasta and go back and read a quick book. Back and forth we went until it was done. The house was filled with the smell of spicy Mexican food, pasta and happy kids. [Who wouldn't love that?!]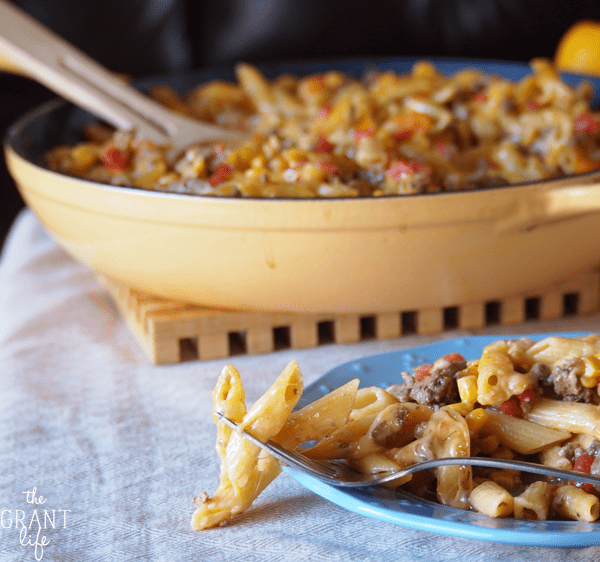 And after everything was done cooking and dinner was on the table, the kids refused to eat. Ryley went to the cabinet and brought me a can of tomato sauce and said "I want this red stuff on my sketti, mama." I guess my little Italian girl doesn't have a taste for the chipotle pasta like her momma. That's ok. More for momma!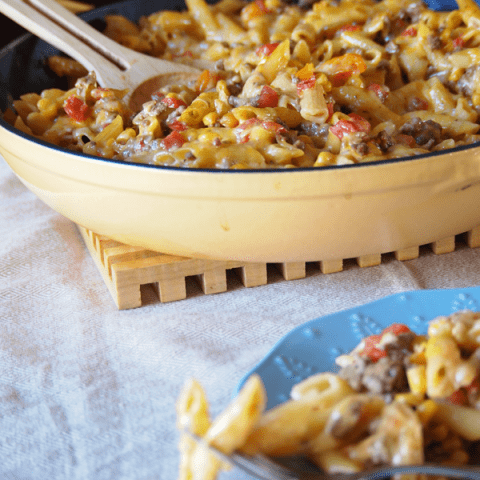 Chipotle Pasta Skillet
Ingredients
1 onion
1 bell pepper
1-2 pounds of hamburger
2 tsp cayenne pepper
2 tsp black pepper
12 oz of pasta
1 can 6 oz chipotle corn
1 can 15 oz crushed Mexican tomatoes
2 cups water
1/2 block of cheese
Instructions
Sauteed your onion and bell pepper until the onion is translucent and the pepper is soft in a cast iron skillet.
Add your hamburger and spices and cook thoroughly.
Pour in the can of corn (water and all) and the crushed tomatoes.
Add the pasta on top and the 2 cups of water.
Push the pasta under the water and tomato juice and bring to a boil.
Boil for 15-20 minutes, or until the pasta is tender and most of the water is absorbed.
Pull from the burner and add the shredded cheese on top.
Place under your broil for 5 minutes to melt/crisp the cheese.
Let cool and enjoy!
Nutrition Information:
Amount Per Serving:
Calories:

788
Cholesterol:

135mg
Sodium:

824mg
Carbohydrates:

73g
Fiber:

6g
Sugar:

7g
Protein:

50g
Like this recipe? Be sure to check out:
Or sign up for tasty emails and get a freebie!