If you are looking for the creamiest one pot pasta, then look no more! It's here! French Onion Pasta takes the amazing flavors of a French dip
Hey yall! I hope you are in the mood for a super creamy one pot pasta recipe today! Because that's what I have for yall! It's like French onion dip in pasta form. But with bacon. Because everything is better with bacon. Amiright?!
My friend Michelle's birthday was this past week and we went over for a little party for her. I had just been drooling over this baked bacon and cheese dip so I made it and brought it along. Best.idea.ever.
Everyone loved it! It literally disappeared once we started eating it. I went home with an empty baking dish and a craving for more onion dip! I knew it was a winner. I also realized that if we are going to be friends then you have to love onions as much as I do. I could put onions in everything! And I normally do. There is nothing better then the smell of onions sauteing in bacon. Nothing.
So later that week I turned the oh so yummy dip into a full meal with this French onion dip one pot pasta! It's caramelized onions, creamy cheese, mushrooms and bacon in a super easy one pot meal.
Since the dip was such a hit at Michelle's party, I invited her over for dinner to be my taste tester. It totally passed! We both may or may not have had 2 bowls each. And then I may or may not have had the leftovers for breakfast.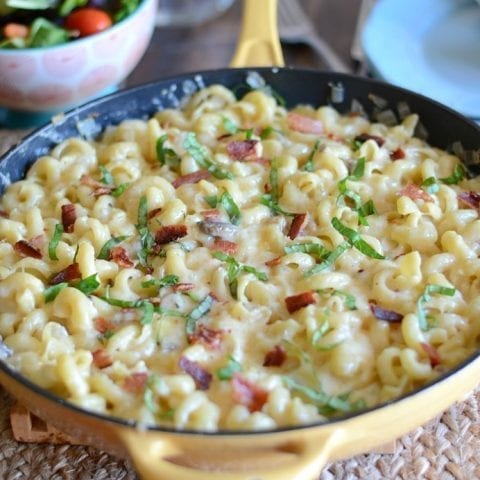 French onion dip one pot pasta
Ingredients
5-6 slices of bacon, cooked and greased reserved
2 large sweet onions, diced
8 oz button mushrooms, sliced
salt and pepper, to taste
3 1/2 cups chicken broth
16 oz pasta of choice
1/2 cup of shredded Fontina, or cheese of choice
1 1/4 cup heavy cream
1/2 cup of shredded Parmesan
parsley or basil for topping
Instructions
In the same pan you used to cooked the bacon, add the diced onions. Cook for 5 minutes or until they start to soften. Add the mushrooms and salt and pepper. Allow to cook for another 5-8 minutes, stirring every 30ish seconds.
Pour in the chicken broth and bring to a soft boil. Add in the pasta making sure it is completely covered by the broth. Reduce heat, cover and let cook for 10 minutes or until pasta is al dente. Be sure to stir every minute or so to ensure the pasta doesn't stick to the bottom of the pan.
Once most of the chicken broth has been absorbed stir in the Fontina cheese and heavy cream. Let it simmer for a minute or two and then remove from the stove top.
Top with the shredded Parmesan and put it in the oven on broil for 2-3 minutes or until the cheese is melted and bubbly. Remove, add the bacon and basil (or parsley) and allow to cool.
Give one last stir and enjoy!
Like this recipe? Be sure to check out:
Like it? PIN IT!