Need a quick night dinner recipe? This one pan broccoli Alfredo pasta has you covered!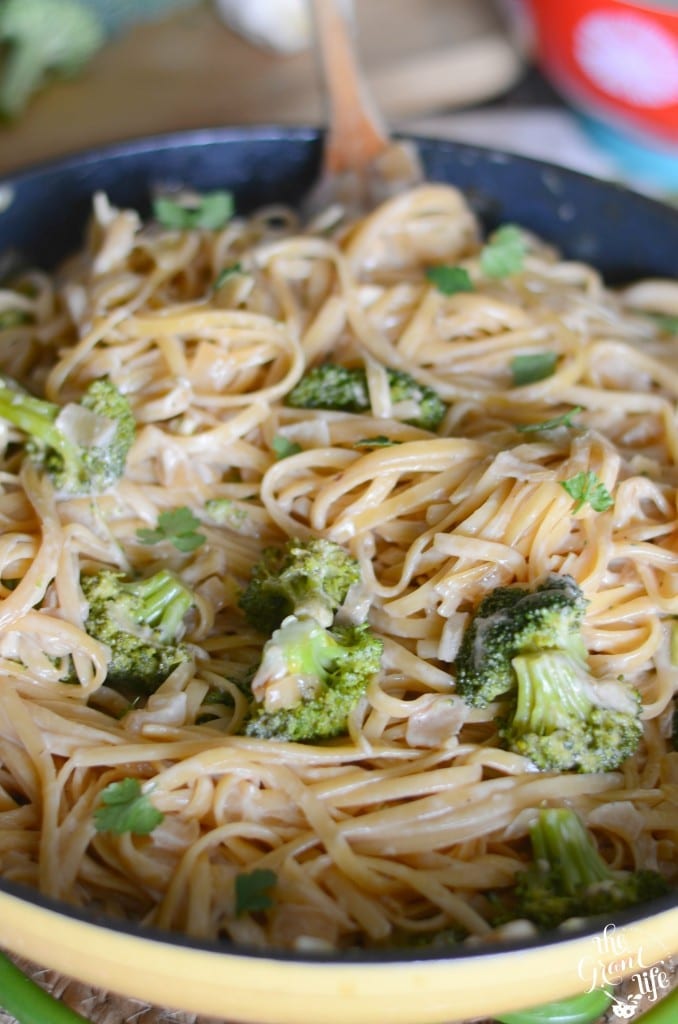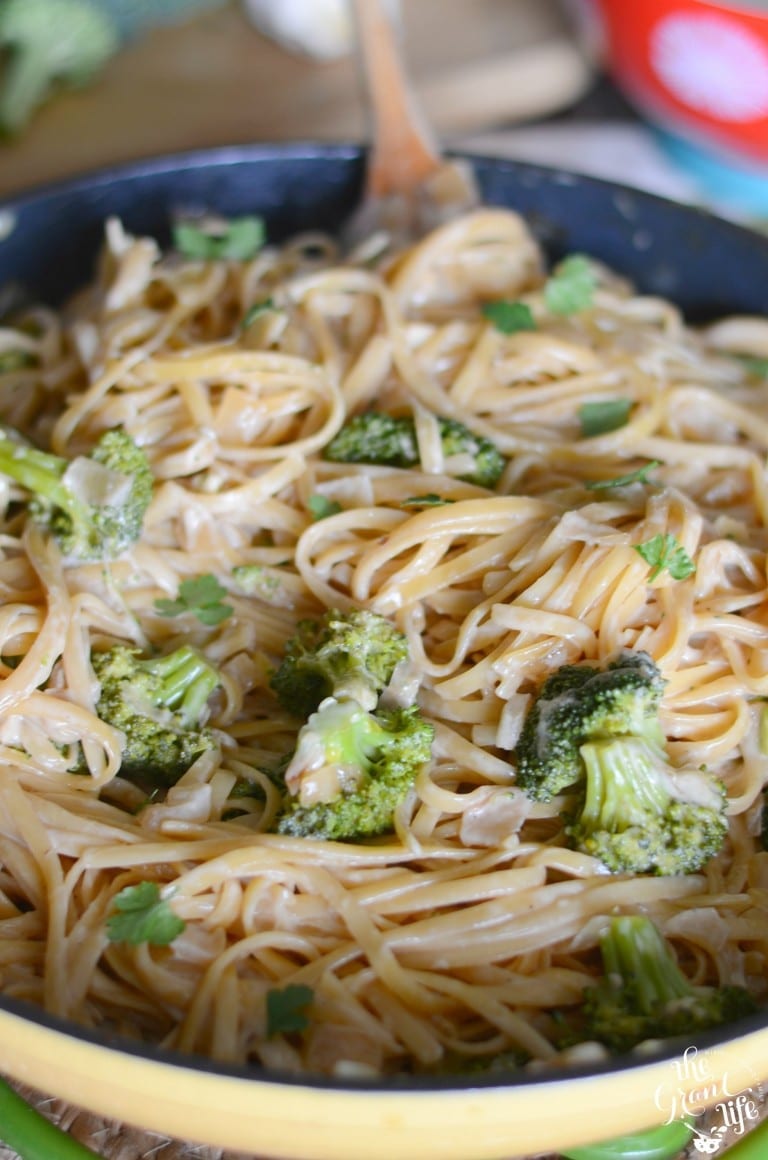 Hey friends! I know, I know. ANOTHER one pot pasta recipe. But hear me out on this one – it's goooood! And you have less dishes to wash. I mean that right there is reason to run to the grocery store for the ingredients, right?! One pot pastas seem to be my go to these days because everyone loves them, they are quick to make and hellooooo – less dishes!
This one pot pasta happens to be loaded with caramelized onions and broccoli. It should really be called "One pan caramelized onion and broccoli Alfredo pasta" but I just assume everyone knows I put onions in.. well, everything.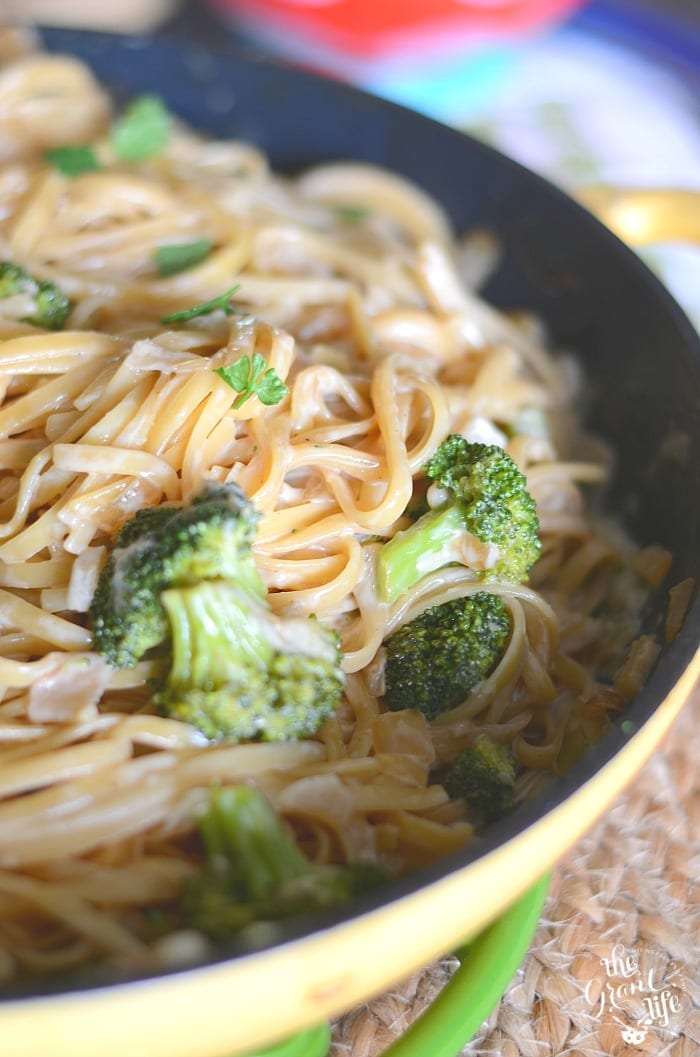 I added the broccoli for a few reasons – Avery is obsessed with it right now. He loves eating raw broccoli. Weird, I know. I like mine covered in cheese, please. Second, I like broccoli covered in cheese. And I need to eat more iron rich foods. I have always been anemic but this pregnancy has made me extra iron deficient.
I take a pre-natal with iron and two iron pills a day. And that's on top of trying to drink 2 liters of water and eat good foods. Which, to be honest, doesn't always happen but I try! I do take the pre-natals everyday because I got the chewable version. Yes, I am an adult taking chewable vitamins but whatever works, right?!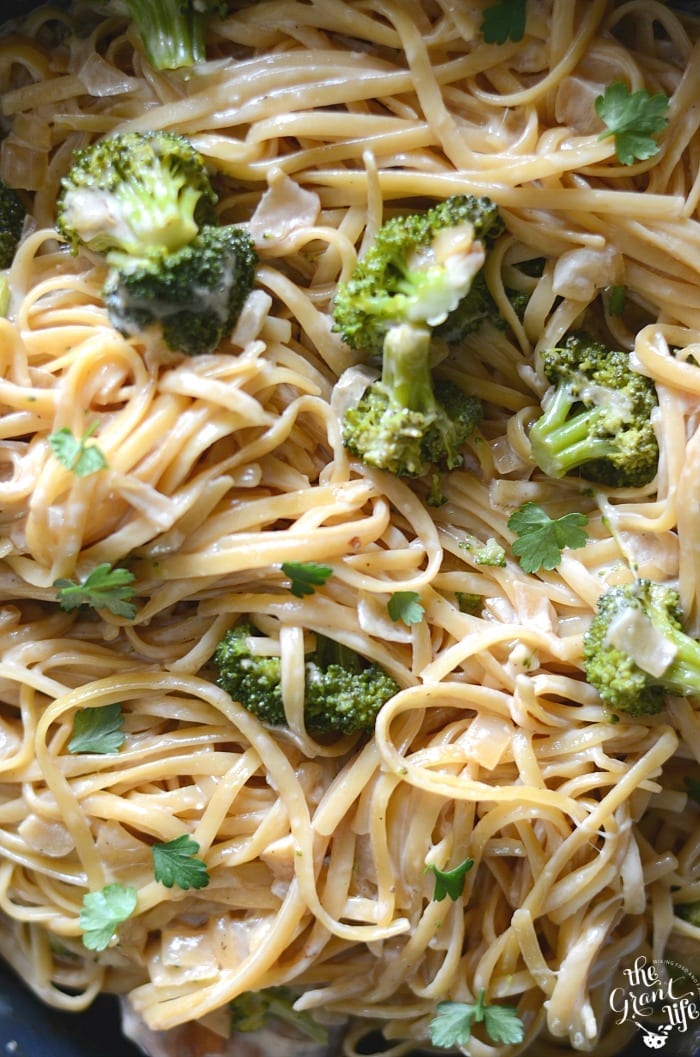 My solution is to eat more one pot pastas that are full of iron-y goodness. Sounds weird, but I promise, it tastes nothing like iron. This one tastes like homemade Alfredo wrapped in caramelized onion and broccoli goodness. Basically what heaven probably tastes like.
Yup. Enjoy!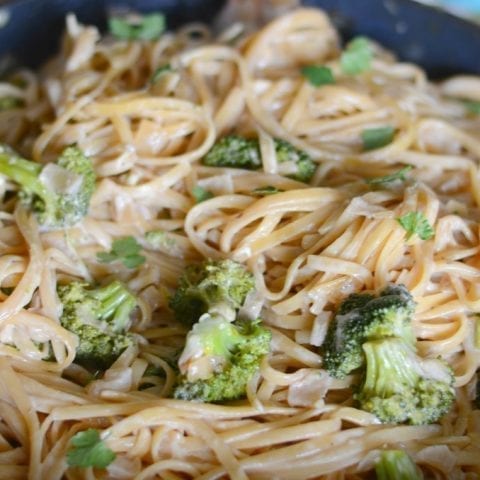 One pan broccoli Alfredo pasta
Ingredients
1 large onion, diced
2 cloves of garlic, minced
2 cups of broccoli heads, washed
2 tablespoons of butter (or leftover bacon grease)
4-5 cups of water
16 ounces of spaghetti or linguine noodles
1 cup heavy whipping cream
1 cup Parmesan cheese, grated
salt and pepper to taste
Instructions
In a large skillet, heat the butter and add the onion and garlic. Cook for 5-8 minutes or until the onions are a soft and browning. Add in the broccoli. Cook for about 3 minutes or until the broccoli turns a bright green.
Pour in the water and bring to a boil. Add in the pasta, making sure to push it under the liquid.
Cover, reduce heat and cook for 10-15 minutes. Be sure to stir the pasta every few minutes so it doesn't stick to the bottom of the pan.
Remove from heat, add in the heavy cream and Parmesan. Stir to combine and bring to a soft boil. Remove from heat, add salt and pepper and enjoy!
Like this post? Be sure to check out these other one pot pastas:
Like it? PIN IT!