You know how I admitted a few weeks ago that I am a pasta-a-holic? Well I probably should change that to admit that I am addicted to one pot pasta dinners. I seriously can't get over how easy they are and why they weren't in my life sooner. [Slightly dramatized but only slightly]. They have become my new go to meal lately because everyone seems to love them. I can add this delicious roasted tomato skillet pasta to my ever growing list of pasta recipes.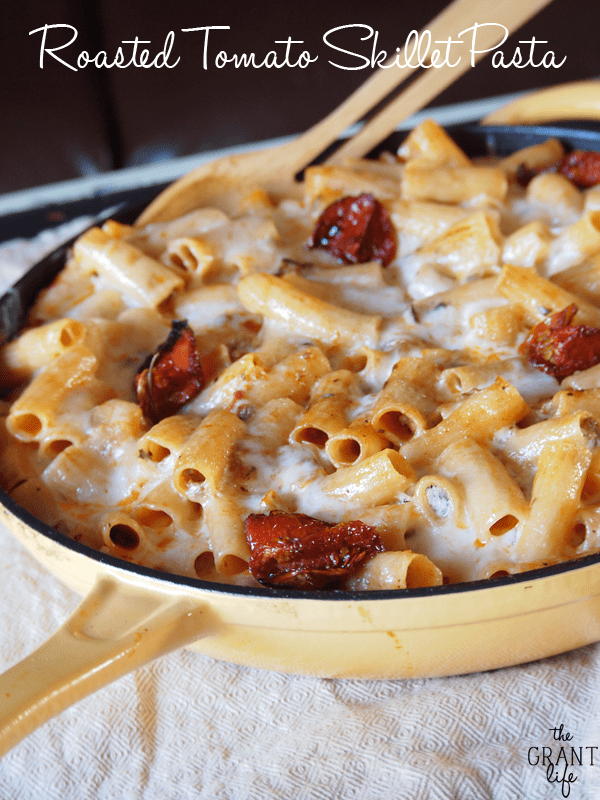 This may be he simplest of the one pot pastas that I've made. What really sets it apart are the homemade roasted rosemary tomatoes that I added. It gives the pasta dinner so much flavor without much effort. Plus it's all cooked in one dish! I honestly think that gives the dish so much more flavor. Everything is roasted and toasted in one pan and the flavor get to commingle. It's the best. Plus, one dish! I only have to wash one dish when all is said and done! [Ok, two or three if you include the utensils.]
Pssst.. sign up for weekly recipe ideas plus two free printables!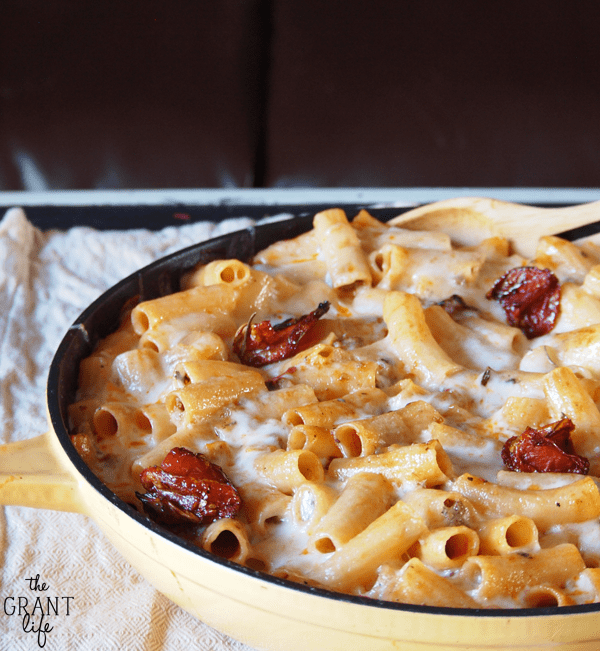 Another great thing is that you can create your own one skillet pasta dish. If you don't like the onion from this recipe, skip it. Add your own spices or a different meat. It's totally customizable. The basic steps stay the same but you can make a one pan pasta that your family will love. My family? They don't seem to care what in it as long as its pasta. Which is a-ok with me! [Ryley does request her pasta have that "red stuff" on it though.]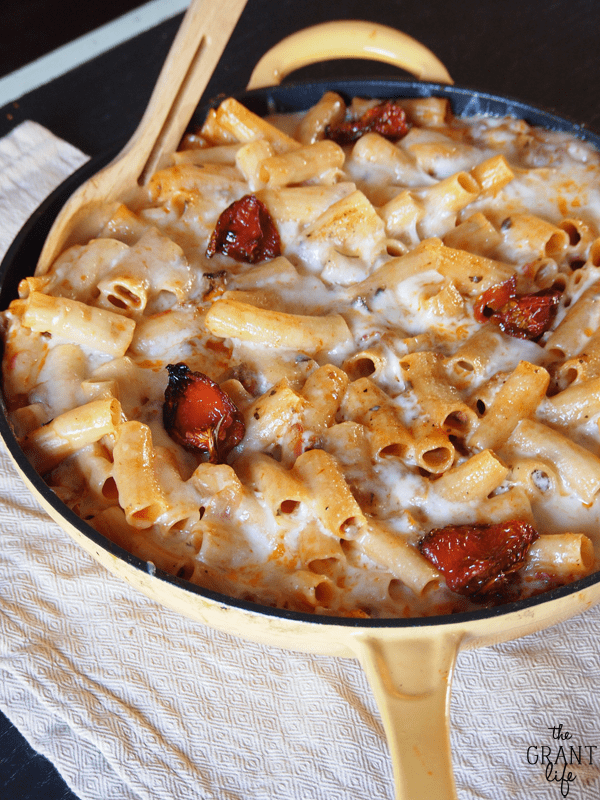 Have I sold you on skillet pastas yet? I promise after you make your first one you will be a convert. I know I was nervous when I tried them for the first time. I didn't think the pasta would cook right, or that everything would come together. But oh was I wrong. The sauce and the water do a great job of cooking the pasta and then gets a little crispy under broiler. The cheese on top just seals the deal. Its just a one dish perfect kind of recipe!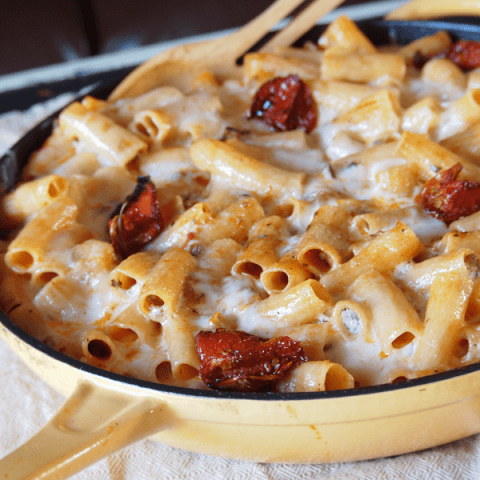 Roasted Tomato Skillet Pasta
Ingredients
1 box of pasta of choice
1 pound hamburger
1/2 onion
15 oz jar of tomato sauce
1 cup of water
1/2 cup roasted tomatoes
spices to taste
1 cup cheese of choice
Instructions
Saute your onion until translucent.
Add your hamburger and spices and cook until no longer pink.
Toss in your roasted tomatoes.
Add the water and pasta sauce.
Put the pasta in the in the skillet and push down under the liquid.
Set to a simmer for 15-18 minutes. Check to make sure the pasta is under the water at all times and not sticking to the bottom of the pan. Add more water as needed.
Remove from burner and add your cheese.
Place under the broil for 3-5 minutes until the cheese starts to bubble.
Let cool and enjoy!
Nutrition Information:
Amount Per Serving:
Calories:

1663
Cholesterol:

399mg
Sodium:

999mg
Carbohydrates:

81g
Fiber:

10g
Sugar:

25g
Protein:

122g
Love this recipe? Be sure to check out these other skillet pastas:
Plus! Sign up for our emails to have more easy recipes delivered right to your inbox. Woohoo! I also have a freebie for you too! (Double woohoo!!)
Like it? PIN IT!