White chocolate truffles are the ultimate white chocolate treat. They are sweet, decadent and super easy to make! Let me show you how to make this easy white chocolate recipe at home.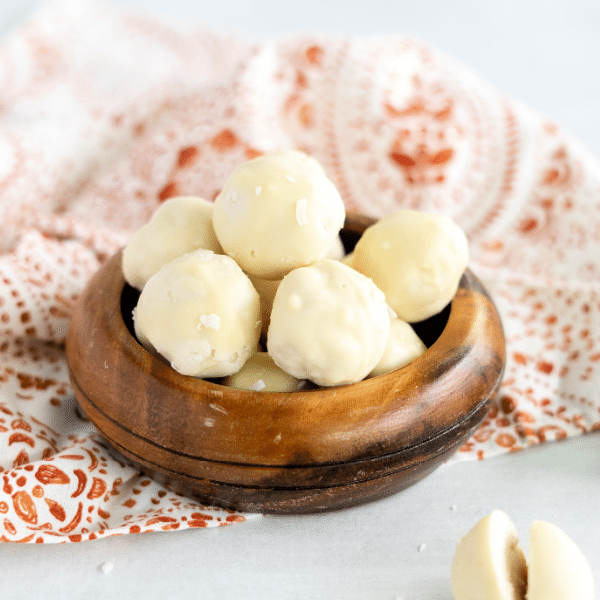 Don't you love a good sweet chocolate treat? I tend to lean towards white chocolate when I want chocolate. I just enjoy the flavor more than regular milk chocolate. I'll take an iced white chocolate mocha over a regular mocha any day.
Don't get me wrong, dark chocolate is still one of my favorites, but if I had to pick one – it would be white chocolate.
What are white chocolate truffles?
There are two kinds of truffles – the mushroom kind and the chocolate variety. Chocolate truffles actually got their name because they resemble the wild mushroom that is popular in foreign cuisine.
Unlike the wild mushroom variety, chocolate truffles are made of a sweet ganache center and covered in cocoa powder or similar. They are creamy, sweet and perfect for sharing.
White chocolate truffle ingredients
white chocolate chips
heavy cream
butter
white chocolate bark
vanilla extract, optional
powdered sugar, optional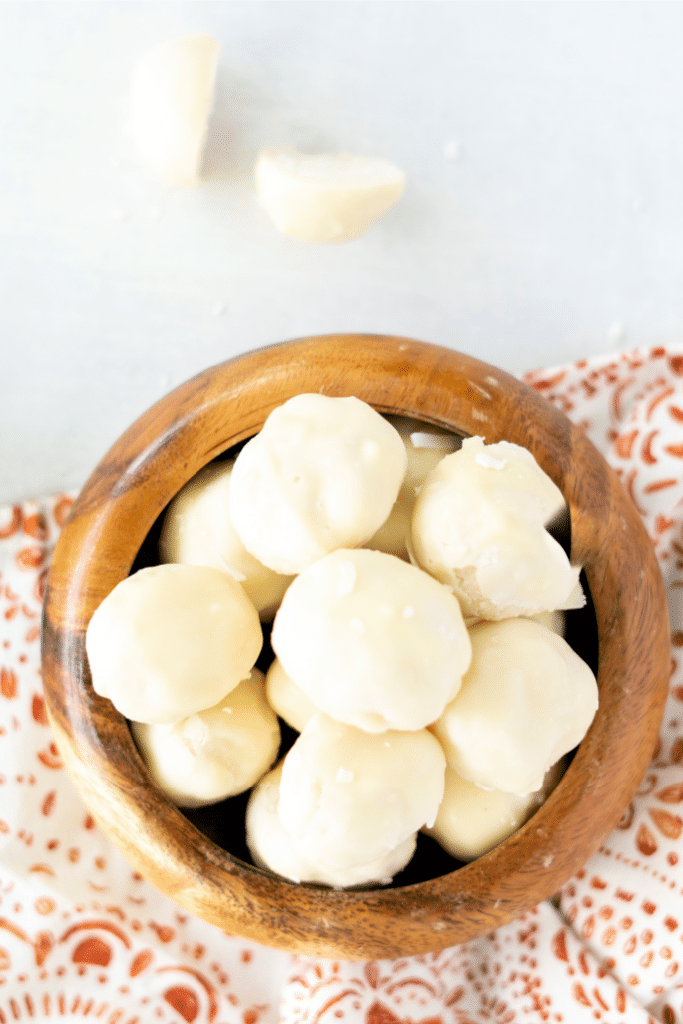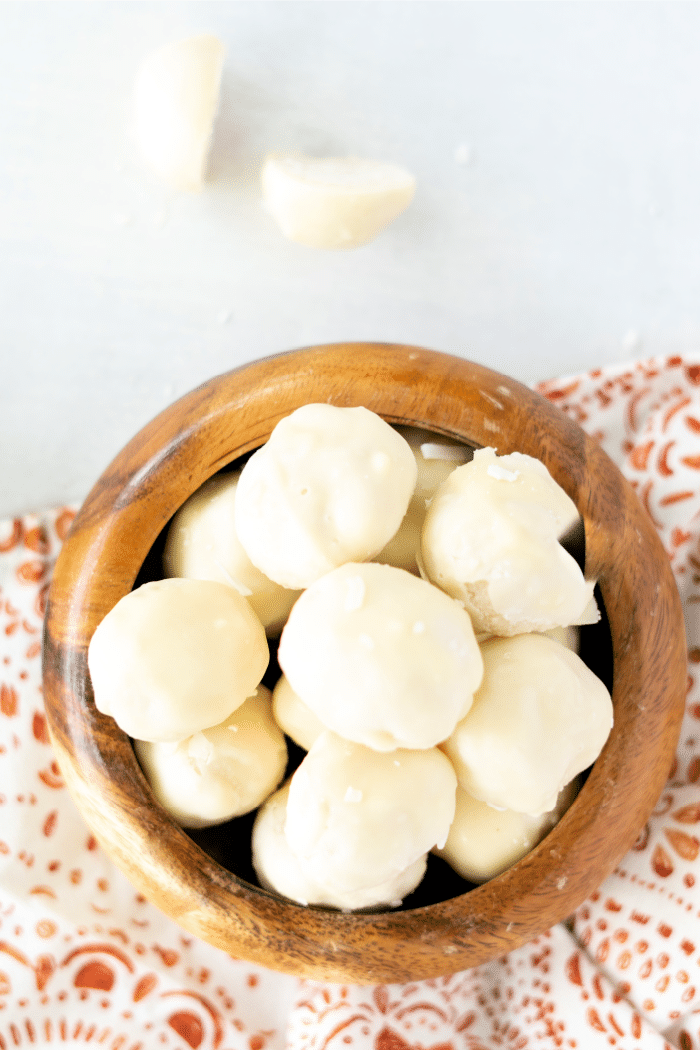 White chocolate chips – Grab a good quality white chocolate for these truffles. The better the white chocolate, the better the truffles will turn out. I love Ghiradelli white chocolate chips, but anything similar will work.
Heavy cream – The chocolate chips and the heavy cream form the base of the truffles. Any heavy cream will work here. I do not recommend using regular milk or half and half for this recipe.
Butter – You can use salted or unsalted butter here. If you use unsalted, you may want to taste test your truffles and add a pinch of salt to taste.
White chocolate bark – This forms the outside layer of the white chocolate truffles. Bark is different from chocolate chips since it becomes hard once it cools. You can also roll the truffles in cocoa powder, powdered sugar or even coconut, if you'd like.
Vanilla extract – These truffles have a great flavor on their own, but you can also add extracts to change it up. Vanilla, maple, or even almond extract would make great additions to these truffles.
Powdered sugar – The powdered sugar here is to help roll the truffles without sticking to your hands. You can also skip the white chocolate bark and leave them covered in the powdered sugar.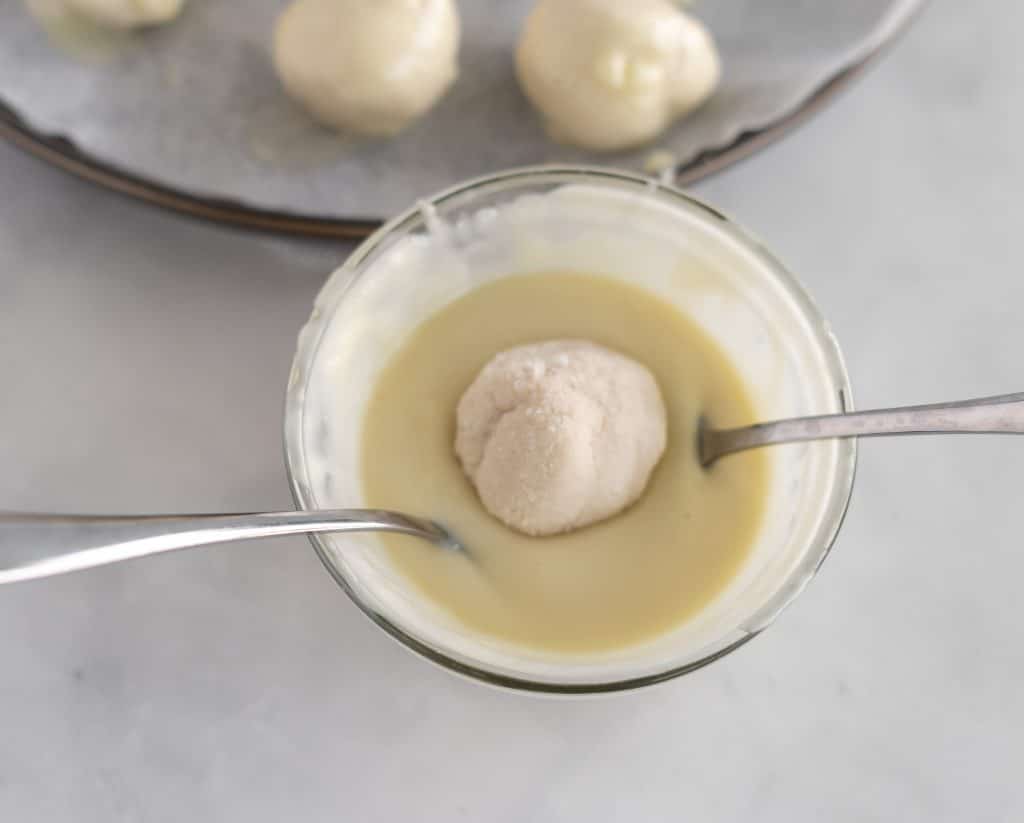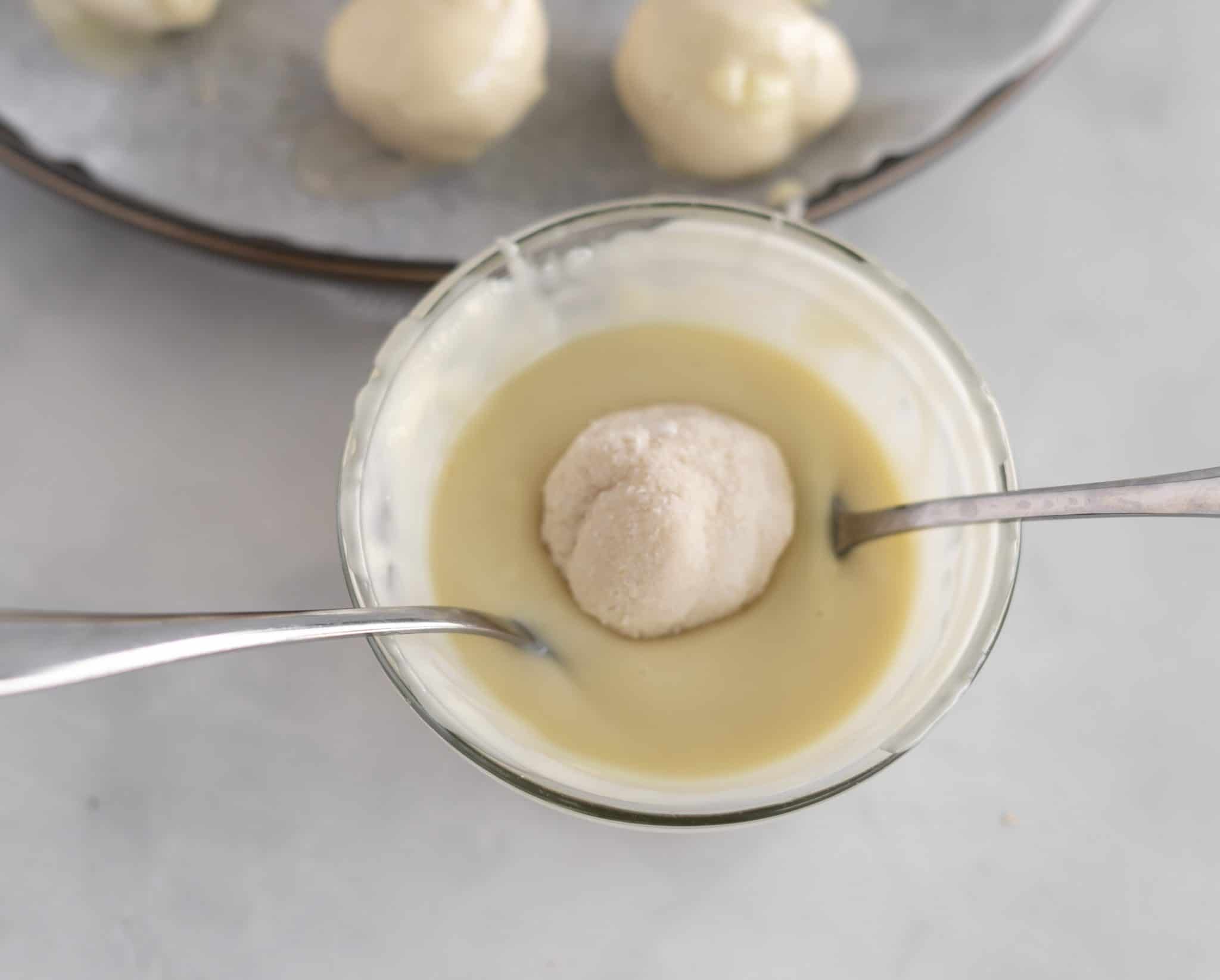 How to make white chocolate truffles
These white chocolate truffles are super easy to make. They make an impression dessert or gift, but they come together quick and with little effort. Once you have gathered all your ingredients, you will also need to grab:
sauce pan
microwave safe bowl
Syran wrap
melon baller
cookie sheet
parchment paper
Step 1: In a small saucepan over medium heat, bring the cream to a simmer. Stir in the white chocolate chips until melted. Add the butter, stir to combine and remove from heat.
Step 2: Allow to cool slightly and transfer to your bowl. Cover and place in the fridge for at least 2 hours.
Step 3: Using a melon baller or small spoon, scoop out the harden chocolate truffles and roll them into a ball.
TIP: To make this easier, coat your hands in powdered sugar before rolling!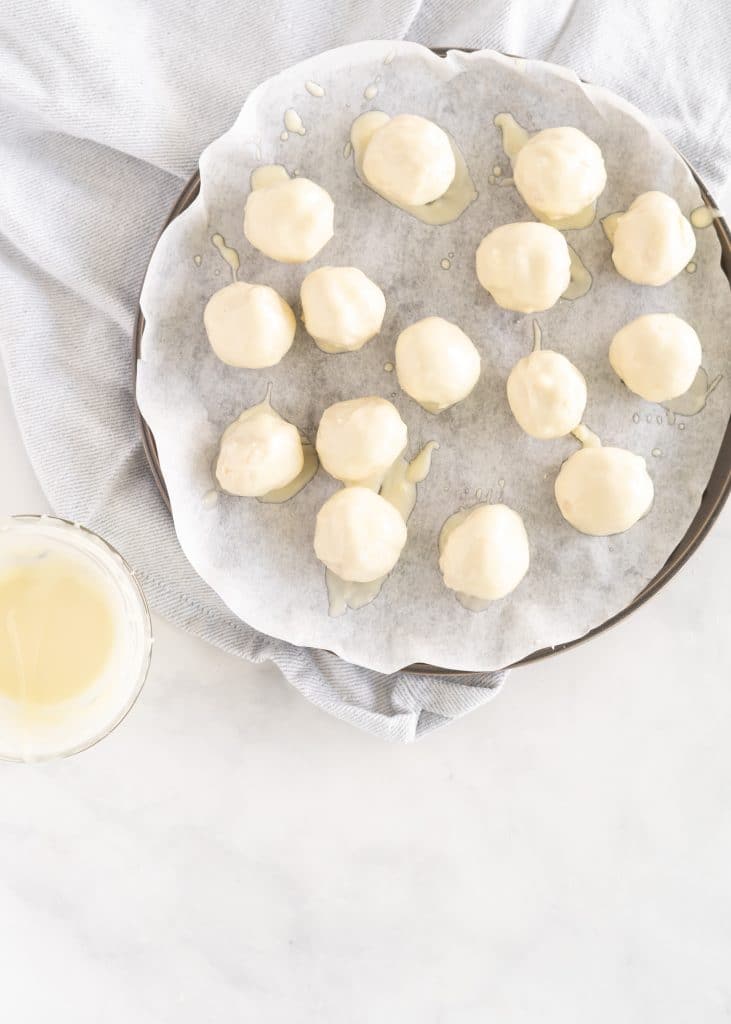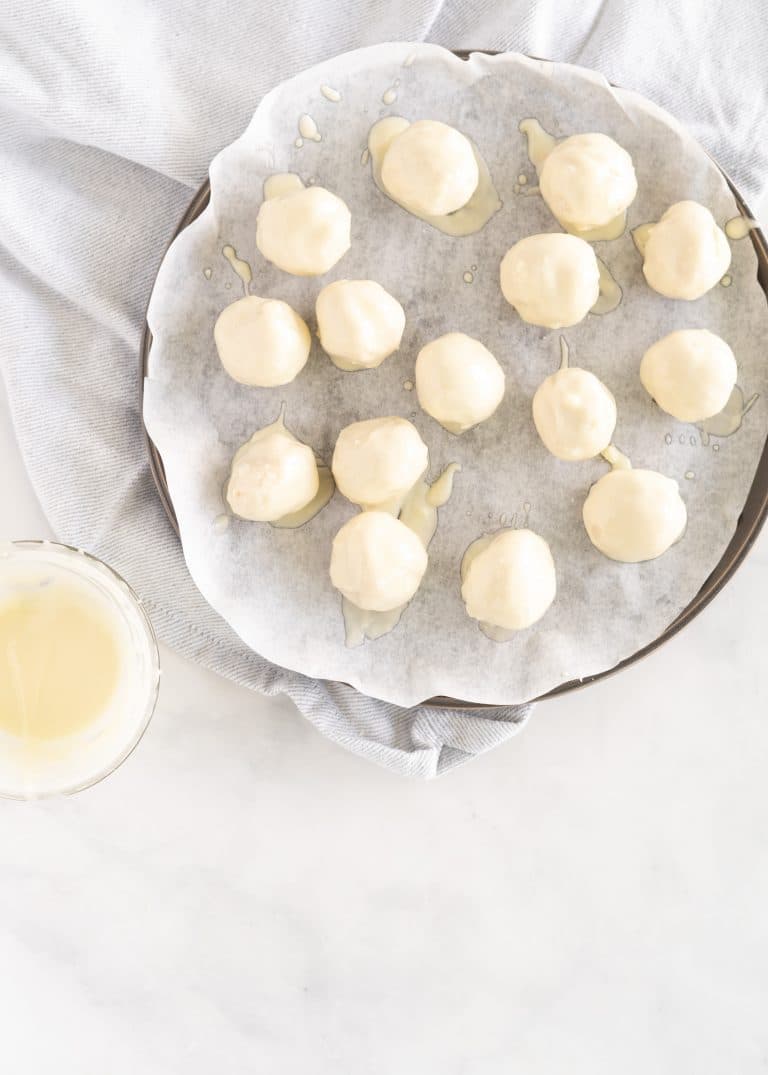 Step 4: You can roll the truffles in powdered sugar, coconut flakes or melted chocolate bark. If using the chocolate bark, melt in the microwave in 30 second intervals until smooth. Using 2 forks or a spoon, dip the truffles into the cooled chocolate bark and place on parchment paper.
Step 5: Place truffles in an airtight container in the fridge to harden again. Take out a few minutes before serving so they soften up before eating.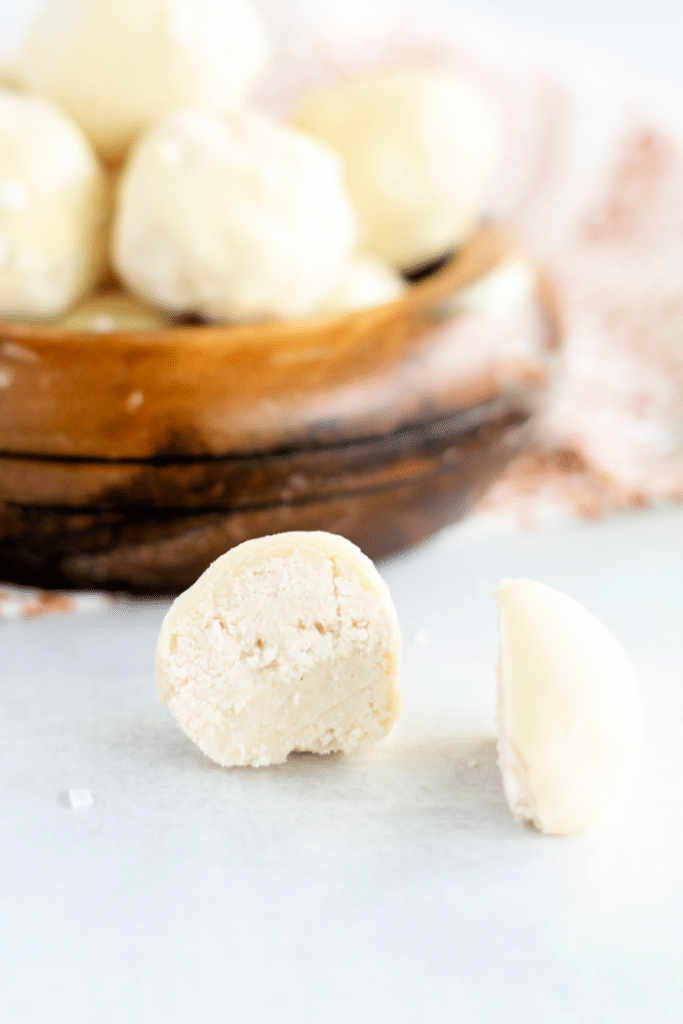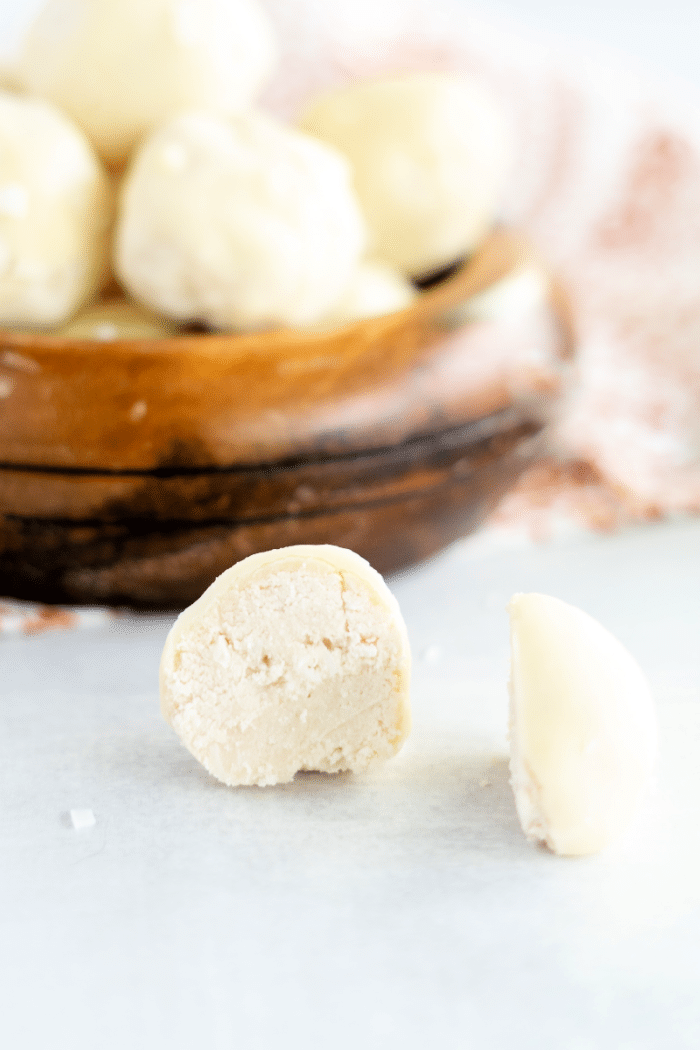 How to store white chocolate truffles
The best way to store these truffles is to place them in an airtight container in the fridge. You can use a Tupperware or a Ziplock bag. They should stay fresh for up to a week in the fridge.
Can I freeze them?
Yup! You can totally freeze these truffles for later. Place them on a baking sheet and allow them to harden in the freezer. Remove, add them to a Ziplock bag and put back in the freezer. They should stay fresh in the freezer for up to 3 months.
To de-frost, simply remove from the freezer and place on the counter until ready to eat.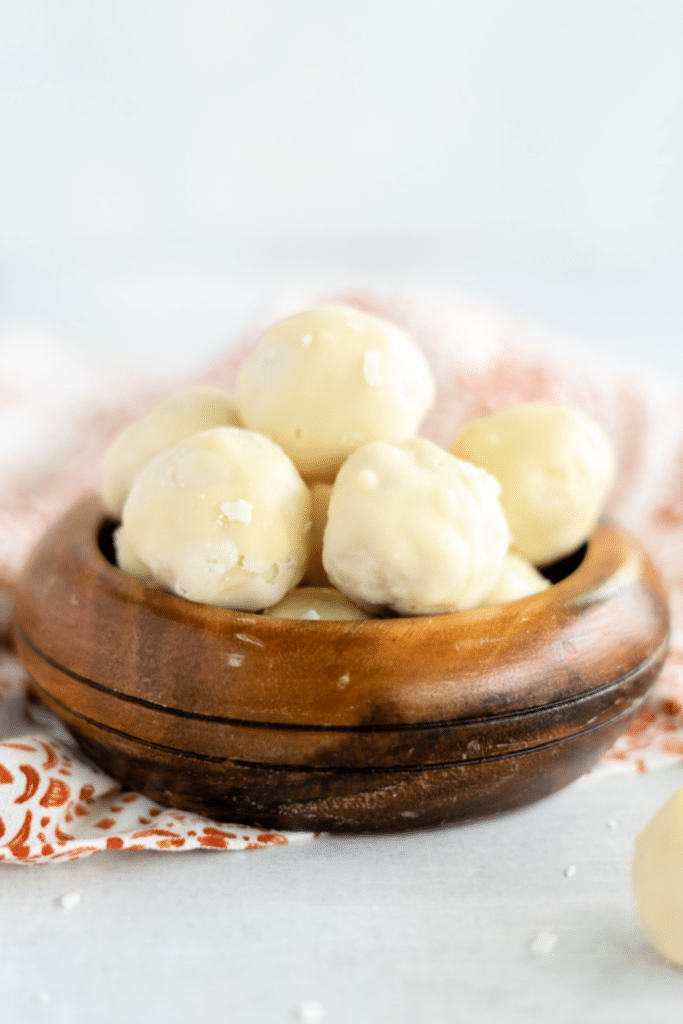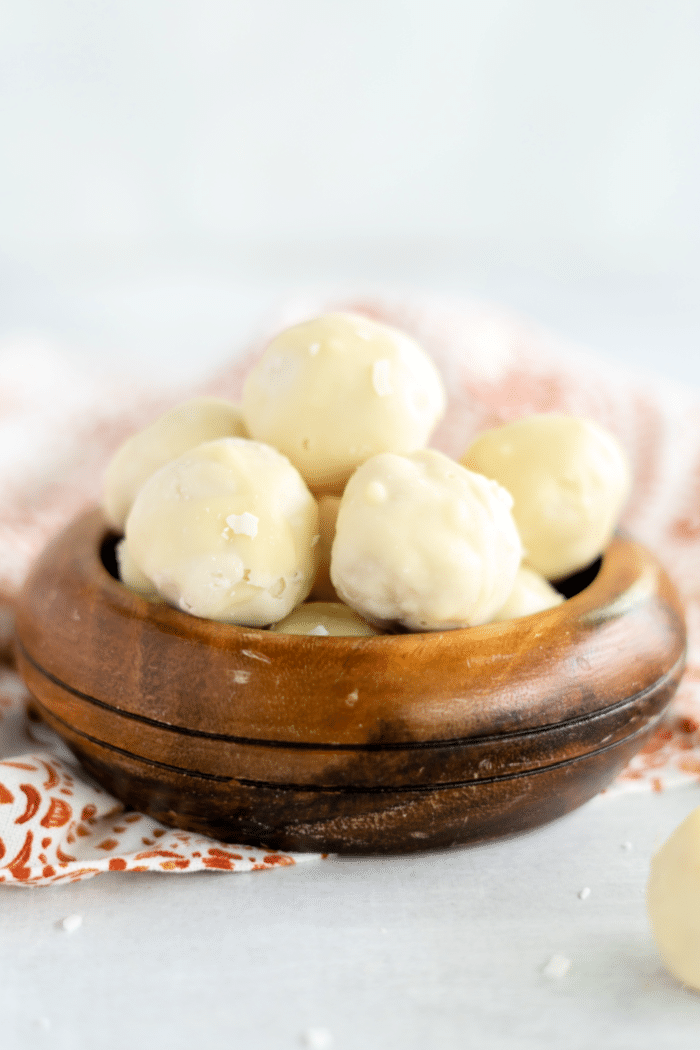 Other white chocolate recipes to try
Like I mentioned, I love a good white chocolate recipe. Here are a few more that I think you will love too!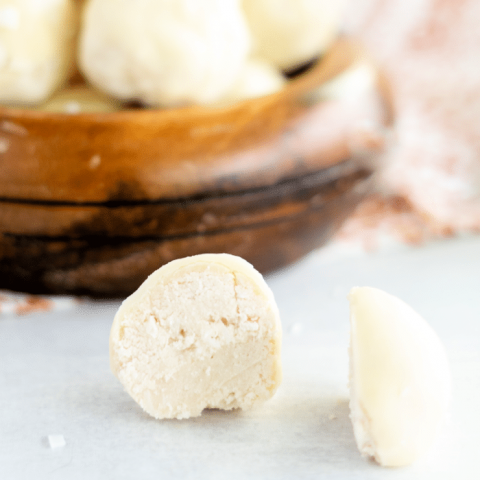 White chocolate truffles
Total Time:
2 hours
10 minutes
Easy and decadent white chocolate truffle recipe.
Ingredients
8 ounces white chocolate chips
1/3 cup heavy cream
1 tablespoon butter
white chocolate bark, powdered sugar or shredded coconut for coating
Instructions
Place the heavy cream in a mediumd saucepan over medium heat. Once it starts to simmer add in the white chocolate chips. Stir until smooth.
Add in the butter, stir and remove from heat.
Pour the white chocolate mixture into a bowl, cover and place in the fridge for at least 2 hours.
Once hardened, remove fro fridge and using a melon baller or small spoon, scoop out the truffles.
Coat your hands in powdered sugar and roll to form balls.
Leave covered in powdered sugar or roll in coconut. You can also melt white chocolate bark and roll the truffles in that.
Place in an airtight container and keep in the fridge.
Nutrition Information:
Yield:

12
Serving Size:

1
Amount Per Serving:
Calories:

242
Total Fat:

14g
Saturated Fat:

9g
Trans Fat:

0g
Unsaturated Fat:

4g
Cholesterol:

15mg
Sodium:

53mg
Carbohydrates:

29g
Fiber:

1g
Sugar:

28g
Protein:

2g
You can also pin this recipe for later!