Now is the time to enjoy one of your favorite fall drinks – at home! This Starbucks pumpkin spice frappuccino is a seasonal drink that you can easily make at home. No need to run to the coffee shop for this DIY coffee! Let me show you how to make it today.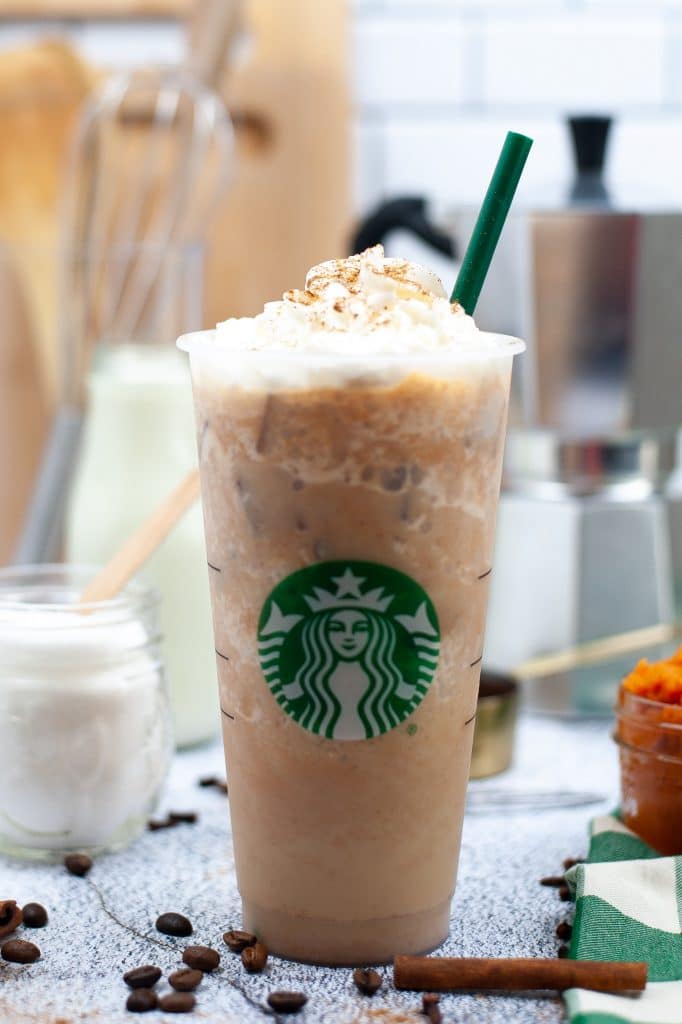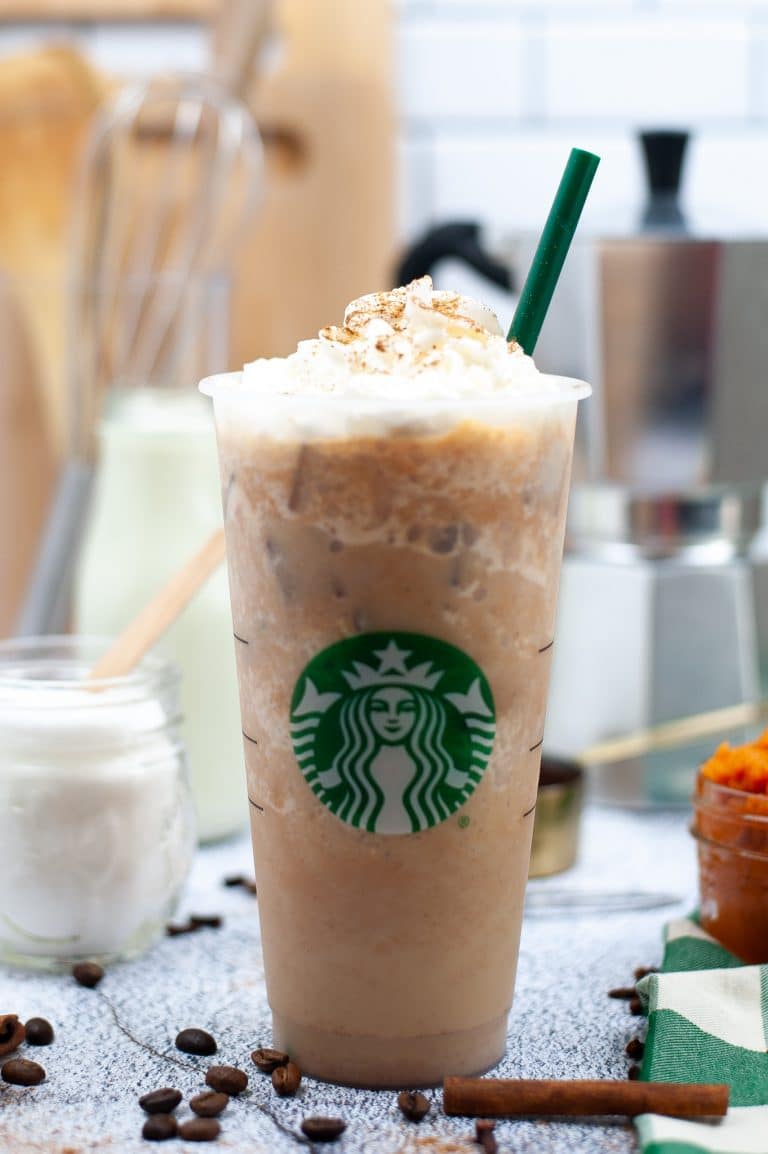 I love when Starbucks fall menu comes out. It means we are one step closer to it being the fall season. You know, sweater weather full of pumpkins and spice! Of course it's one of my favorite times of the year.
Sometimes I'm not ready to transition into hot coffee and scarves right away. Heck, most of the time it's still pretty warm out when Starbucks releasing their fall menu. But what do I do if I want a pumpkin spice drink before it's truly fall? I get a pumpkin spice frappuccino, OF COURSE!
What is a pumpkin spice frappuccino?
A pumpkin spice frappuccino is a frozen coffee based drink. It combines the best of both worlds – pumpkin spice and coffee. It is essentially pumpkin spice latte that has been blended.
Pumpkin frappuccino ingredients
The great thing about pumpkin frappuccinos is that you can VERY easily make them at home. You only need common ingredients and blender to make it happen. To make your own frappuccino you will need:
espresso
milk
pumpkin
sweetener
pumpkin pie spice
ice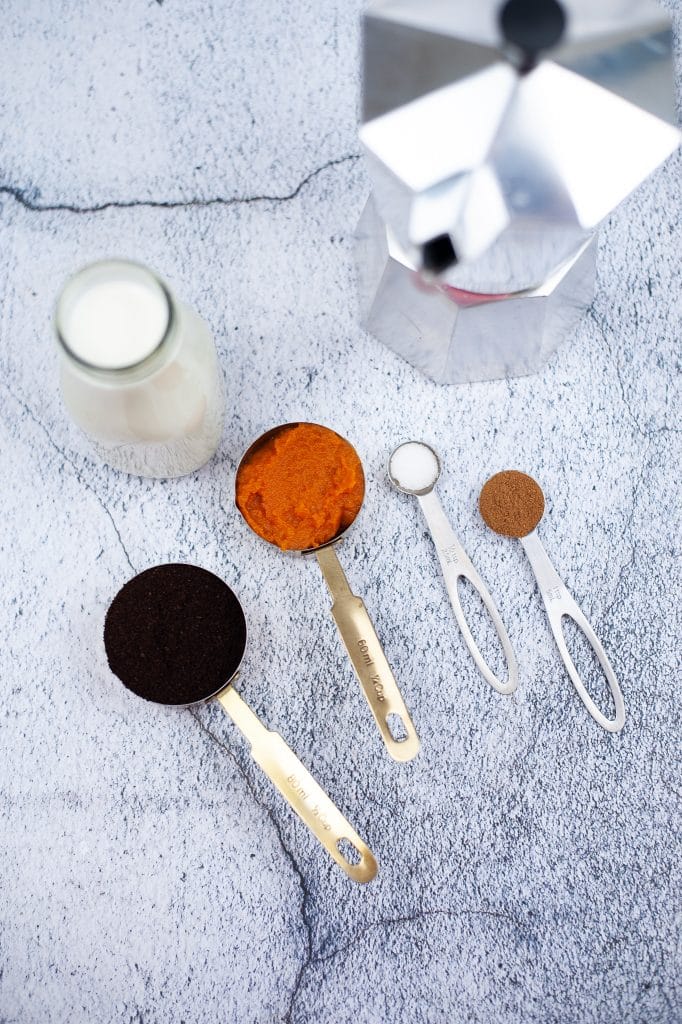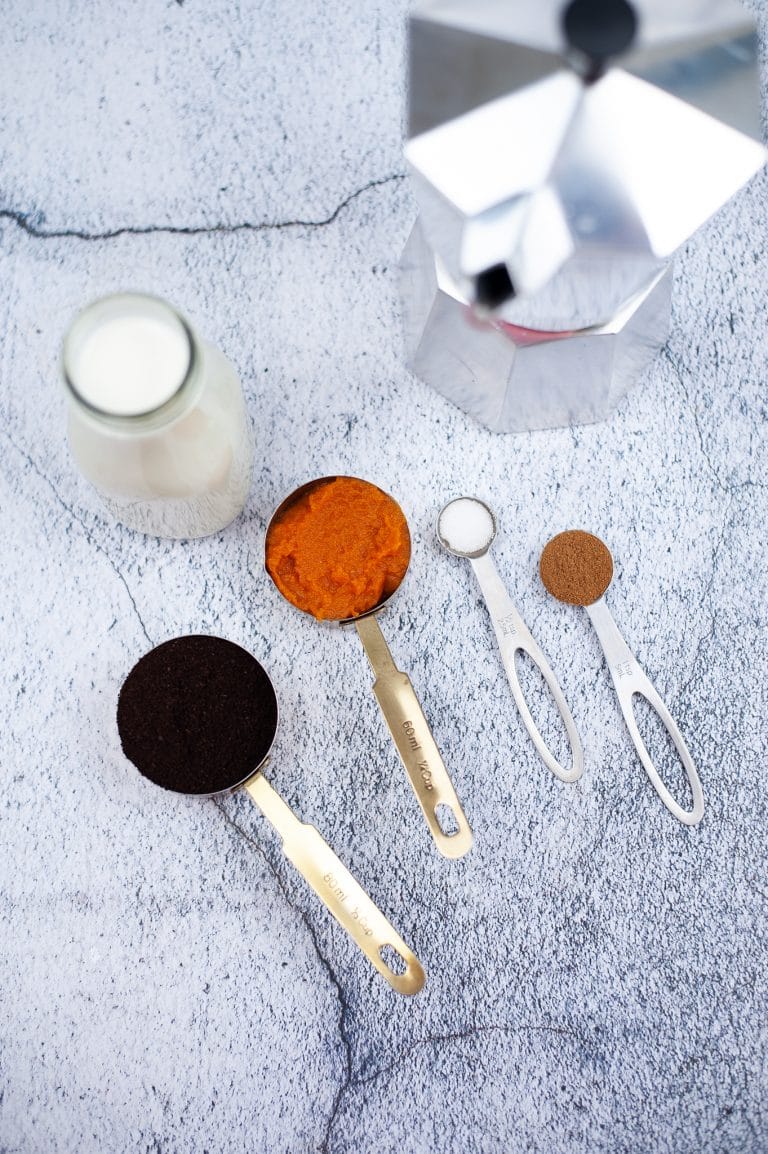 Espresso – You will want to use cooled, brewed espresso. You can also use instant espresso mixed with water as well. Heck, even cold brew coffee would suffice.
Milk – Feel free to use your favorite milk in this recipe. Want to make it dairy-free? Use almond or coconut milk.
Pumpkin – You want plain canned pumpkin for this recipe. Pumpkin puree will work as well. Since you only use a 1/4 cup of the pumpkin, here are some other great pumpkin recipes to try: pumpkin cider, pumpkin sweet cream cold brew, pumpkin spice chai latte.
Sweetener – Use your favorite sweetener here. It can be sugar, brown sugar, stevia or any other sweetener.
Pumpkin pie spice – Since it's pumpkin season, I suggest making a batch of homemade pumpkin pie spice to have on hand. It's easy to make and great for recipes like this. You can also purchase it at the store as well.
How to make a pumpkin spice frappuccino
Once you have gathered all your ingredients, all you have to do is whip up your copycat frappuccino. You will need to grab:
measuring cups and spoons
a blender
a glass
Step 1 Make the espresso If you are using regular espresso, you can make it in your espresso maker, Keurig or using a moka-pot on the stove. You can also use instant espresso as well. Allow it to cool before adding it to the blender.
Step 2 Blend Place all of your ingredients in a blender, including the pumpkin pie spice. Blend until smooth.
Step 3 Top and enjoy Pour your pumpkin frappucino into a cup and top with whipped cream. Sprinkle with pumpkin pie spice and enjoy!
Does Starbucks pumpkin spice frappuccino have coffee in it?
Yup! A pumpkin spice frappuccino from Starbucks and this homemade version both have coffee in them. You can make this without coffee, but you would need to add more milk to compensate for the loss of liquid.
When does Starbucks have pumpkin spice frappuccinos?
Starbucks starts to carry their fall menu, which includes this pumpkin spice frappuccino, at the end of August. They normally share when their official start date on social media and via email since it's such a popular menu.
How to order a pumpkin spice frappuccino out of season
Starbucks seems to keep quite the supply of the pumpkin syrup on hand because you can normally still order any pumpkin spice drink after their fall menu is gone. If you are craving pumpkin spice, ask the barista if they still have the syrup in stock. If not, you can easily make this version at home! OR you can get a basic frappuccino and add homemade pumpkin syrup to it at home.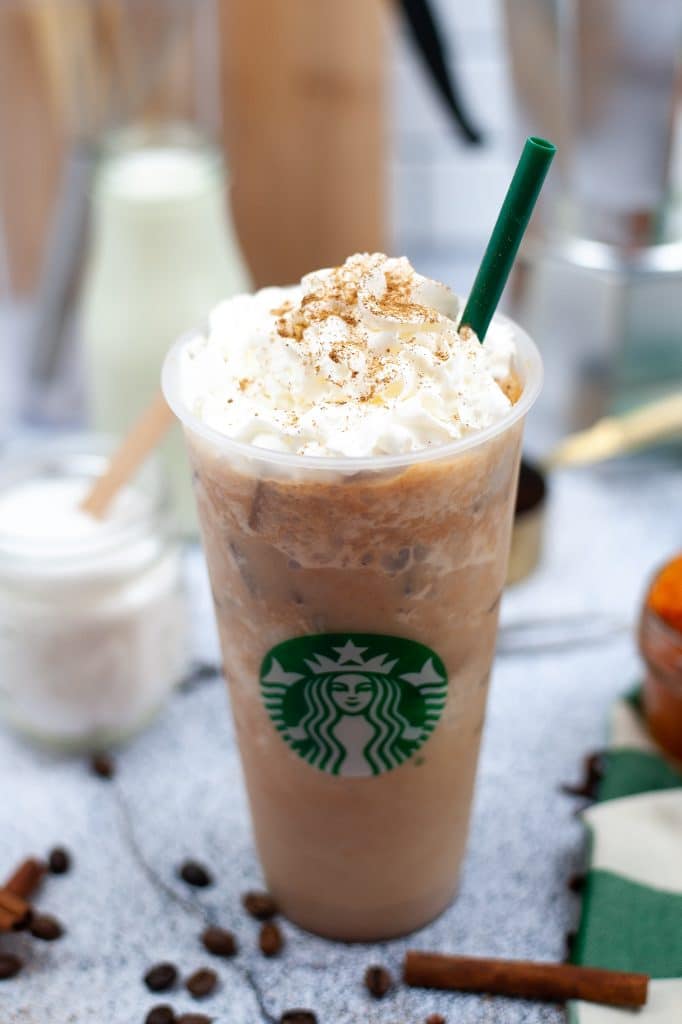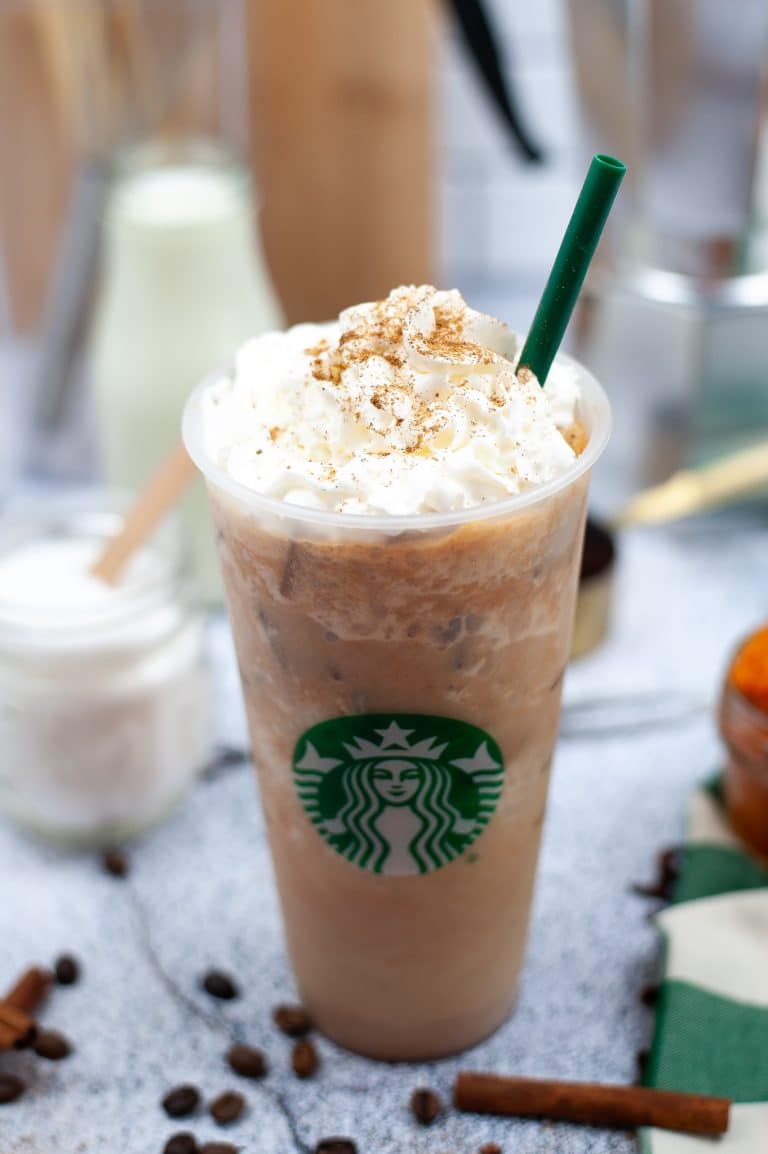 Tips and Tricks
This pumpkin frappuccino is super simple to make, but some of my tips for the best drink possible are:
Use a high powdered blender for this drink. It will help get your drink as smooth as possible.
You can make homemade whipped cream for this drink or grab a can from the store. Want to make it even more fall inspired? Add pumpkin puree to your homemade whipped cream!
Make sure your espresso is slightly cooled before adding it to your blender. If you add hot espresso, it will melt the ice and your drink won't be as thick.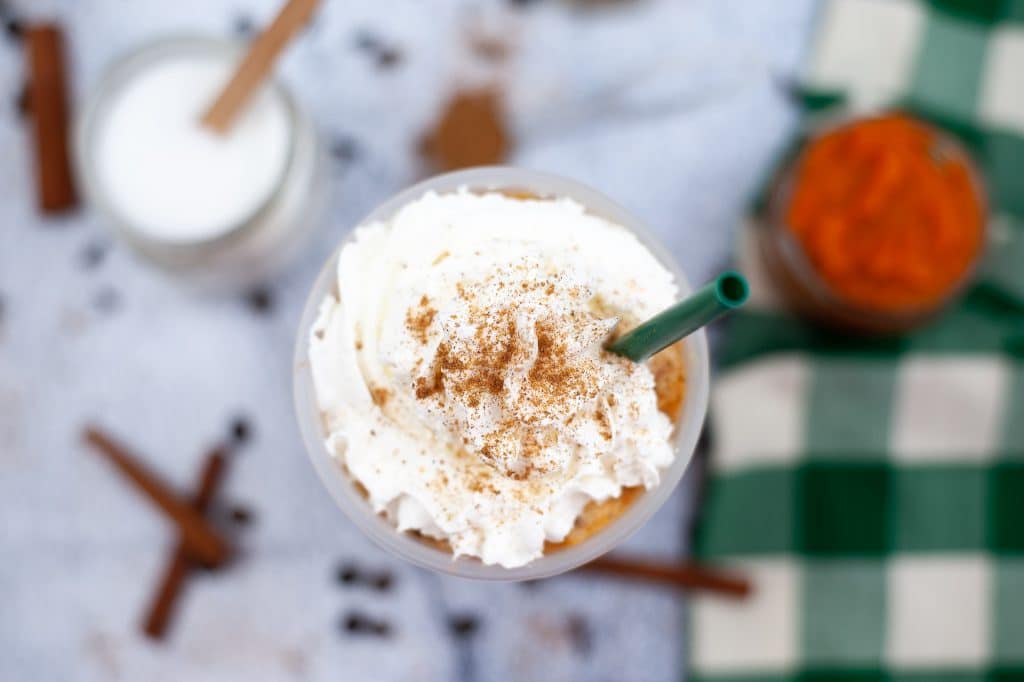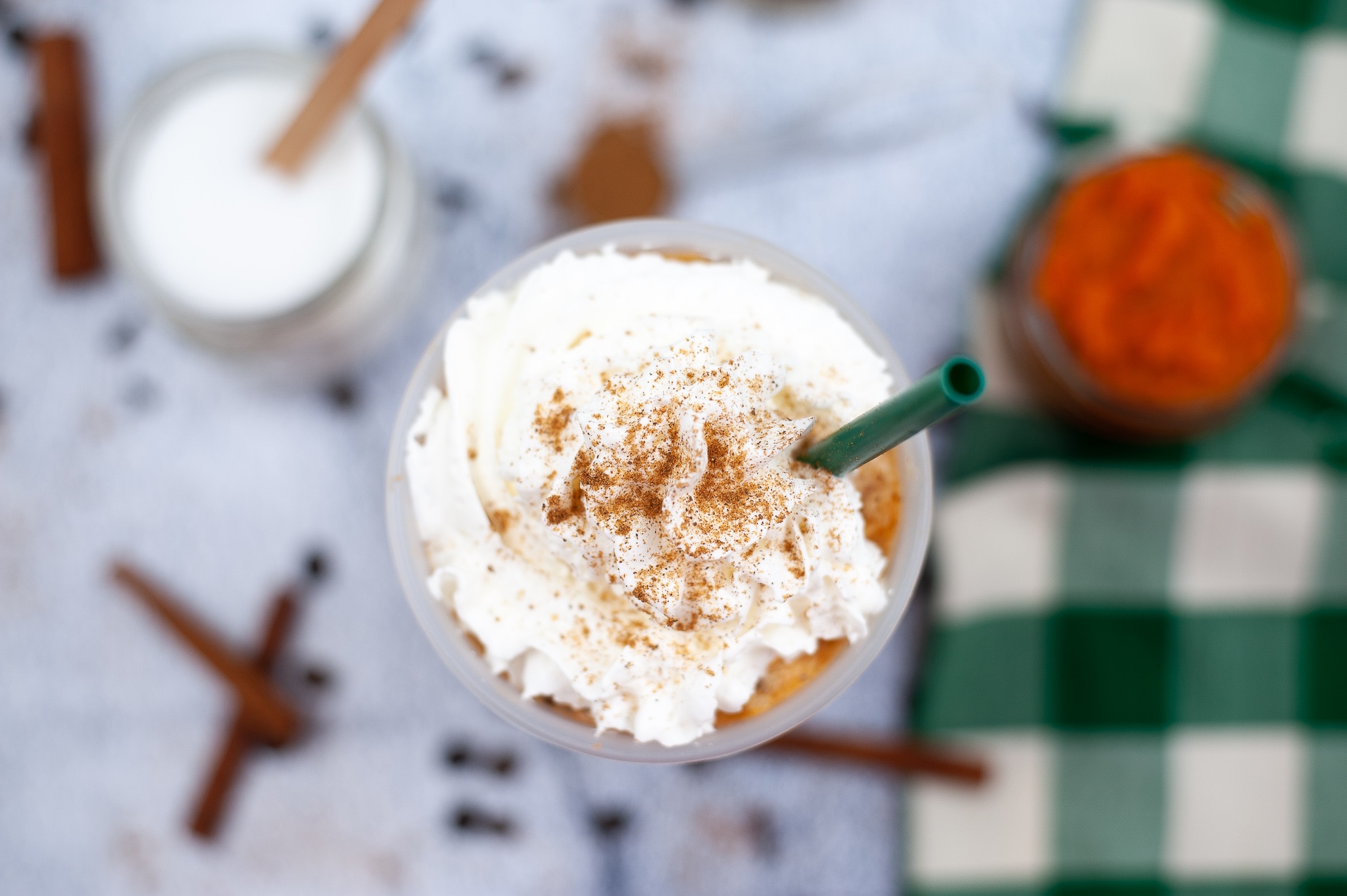 What to serve with a pumpkin spice frappuccino
This pumpkin spice frappuccino is perfect on it's own, but you can also add a sweet treat with it. Some of my favorites are: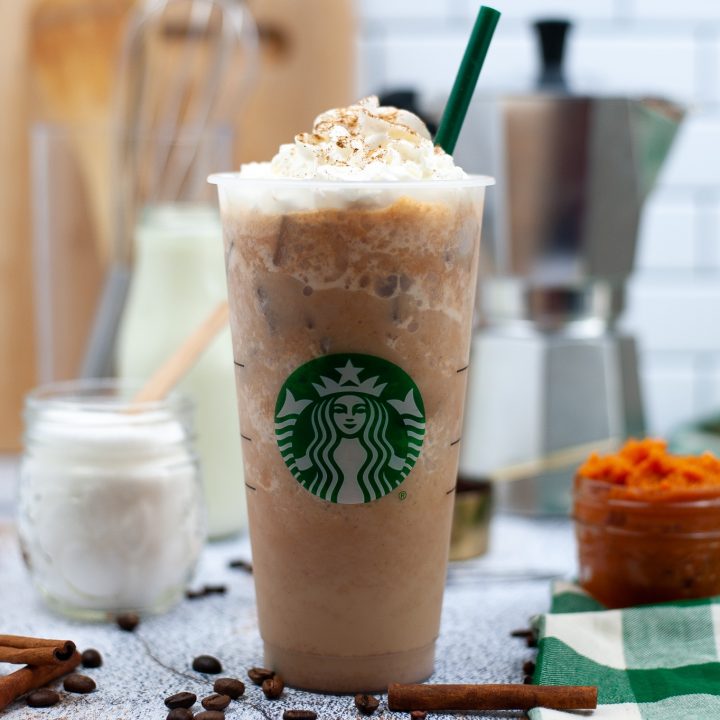 Starbucks Pumpkin Spice Frappuccino
Make this copycat Starbucks pumpkin spice frappuccino at home with real ingredients.
Ingredients
8 oz of milk
2 oz of brewed espresso
¼ cup pure canned pumpkin
1 tsp sugar or sweetener of choice
1 cup ice
whipped cream
1 tsp pumpkin Pie Spice
Instructions
1. Brew your espresso and allow it to chill.
2. Add to a blender your milk, espresso, pumpkin, sugar, pumpkin pie spice and ice. Blend until it creates a Frappuccino blend, and all the ice is blended together.
3. Transfer the Frappuccino to a glass.
Optional: top with whipped cream and a sprinkle of pumpkin pie spice.
Other pumpkin spice recipes to try
You know I love a good pumpkin drink. Some of my favorites are:
Did you make this recipe? I'd love for you to leave a review in the recipe card above or the comments below. Want to make this Starbucks copycat pumpkin spice frappuccino later? Pin it to your favorite board