It's officially pumpkin season and while I do love a tall mug of warm apple cider, this Crock Pot Pumpkin Cider is just as delicious and a great way to use up any leftover pumpkin puree that you may have in the kitchen from your baked pumpkin treats!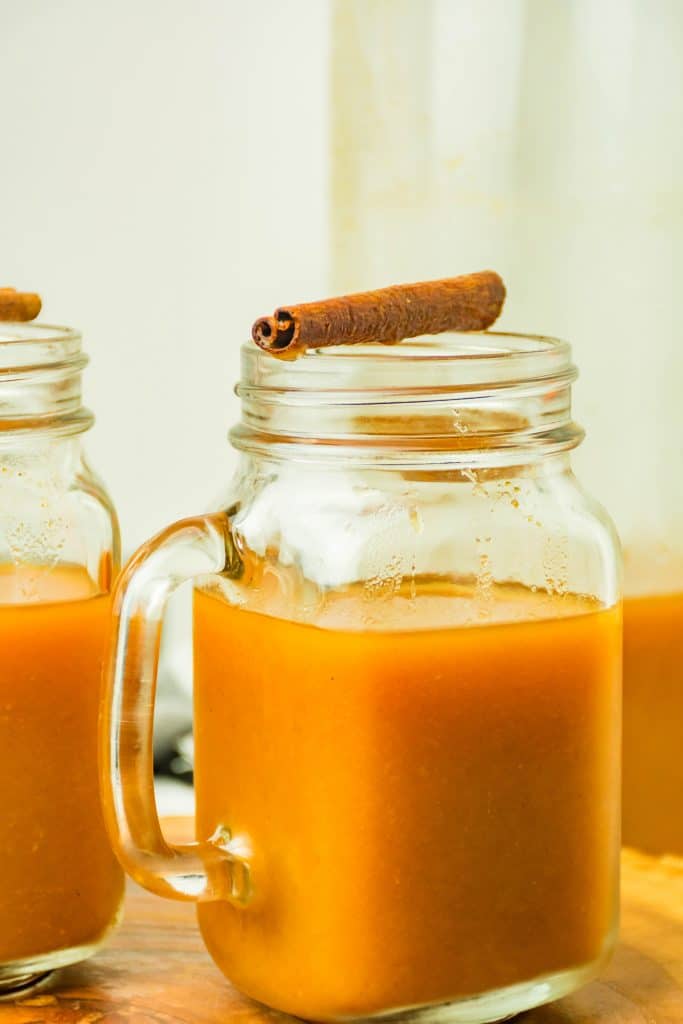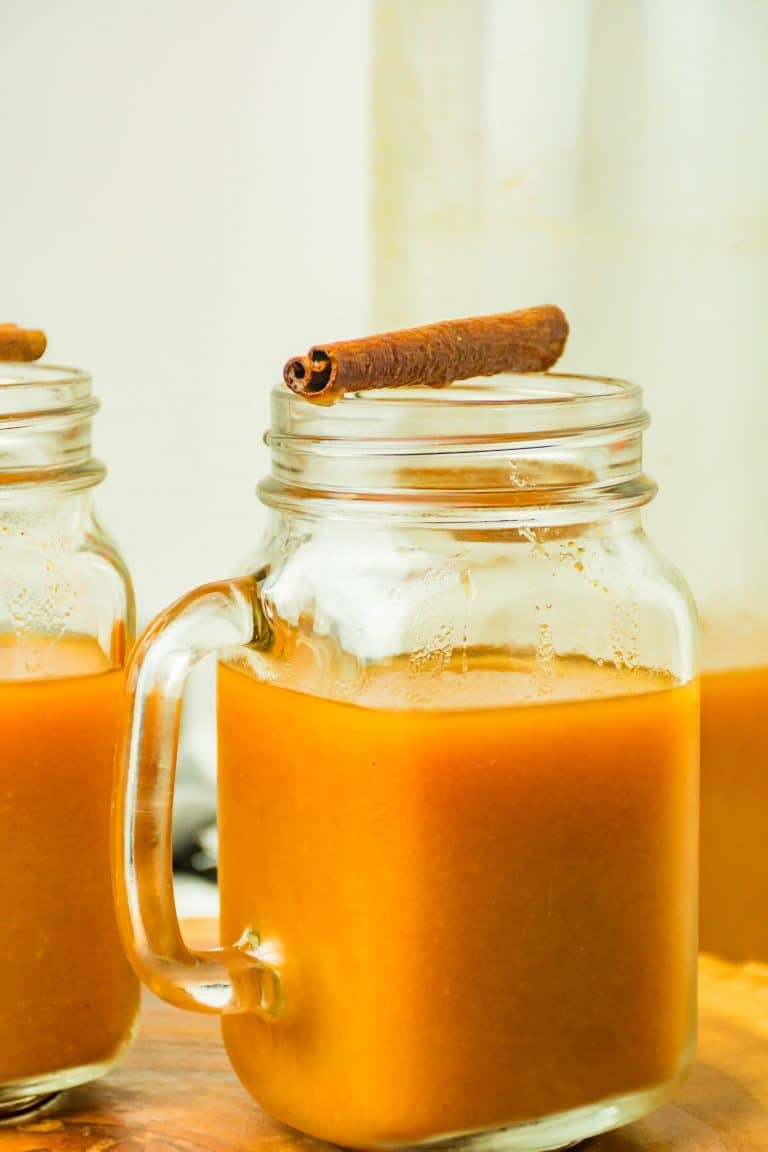 Slow cooker pumpkin cider is a "set it and forget it" seasonal beverage that's super easy to make, loaded with warm spices, pumpkin puree, and apple cider as its base.
Enjoy your Crock-Pot Cider on those chilly evenings while leftovers can be stored and reheated later or added to other recipes such as cocktails, sauces, or baked goods!
What Is Pumpkin Cider?
Pumpkin Cider is a fun pumpkin twist to the classic apple cider drink that starts to appear in stores and online around mid-September when the fall season gets into full swing!
With an apple cider base, this Crock Pot Pumpkin Cider has a light pumpkin flavor that isn't overpowering at all but rather infuses beautifully with the rest of the ingredients, including warm spices, fresh fruit and sweetened with brown sugar.
Enjoy this warm pumpkin cider on a chilly night as is, serve it chilled over ice, adapt it to make a delicious cocktail, or add it as an ingredient to baked goods, cooking liquids, and sauces!
Pumpkin Cider Ingredients
You'll need a few ingredients to make this delicious cider. Get out your shopping list and jot down these ingredients.
Apple cider: I buy a jug of Musselman's 100% Apple Cider, but you can use any brand you prefer.
Pumpkin puree: Be sure to get pumpkin puree and not pumpkin pie mix.
Pumpkin pie spice: To give your cider a pumpkin flavor, you'll need pumpkin pie spice. You can buy it in the spices aisle, or you can make your own homemade pumpkin spice.
Brown sugar: Be sure to pack the brown sugar tightly and scrape it off the top of your measuring cup.
Cinnamon sticks: If you don't have cinnamon sticks, you can use 1/2-1 teaspoon of ground cinnamon per stick. However, I find the sticks give a better flavor.
Cloves: Cloves can be found in small jars in the spice section of your local grocery store.
Fruit: For this recipe you will need one apple and one orange.
Scroll to the recipe card at the bottom for a full list of exact ingredients!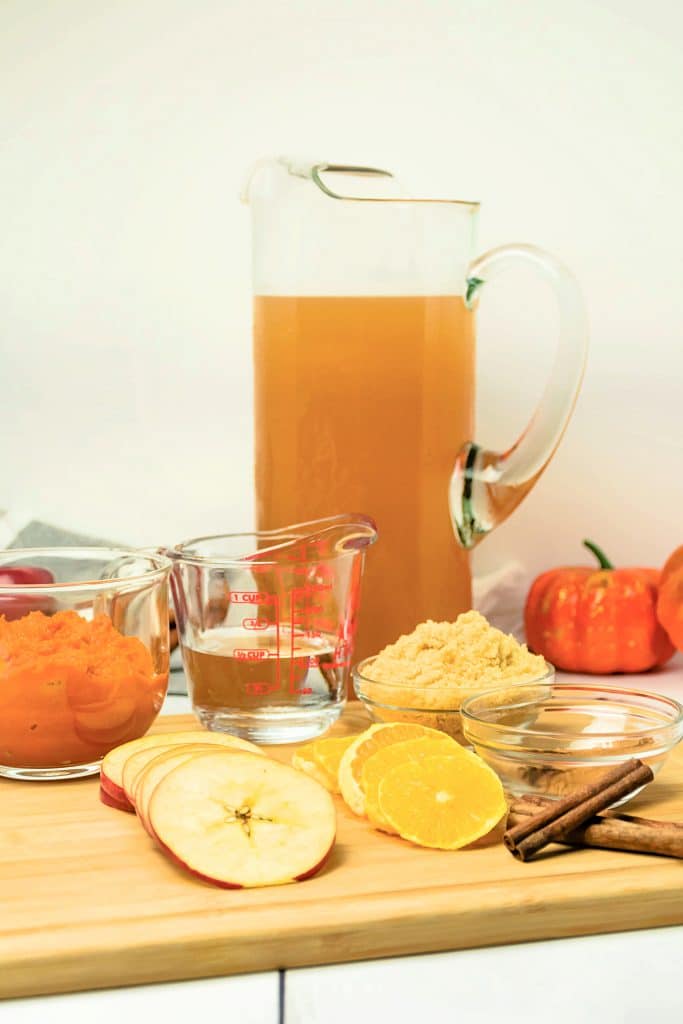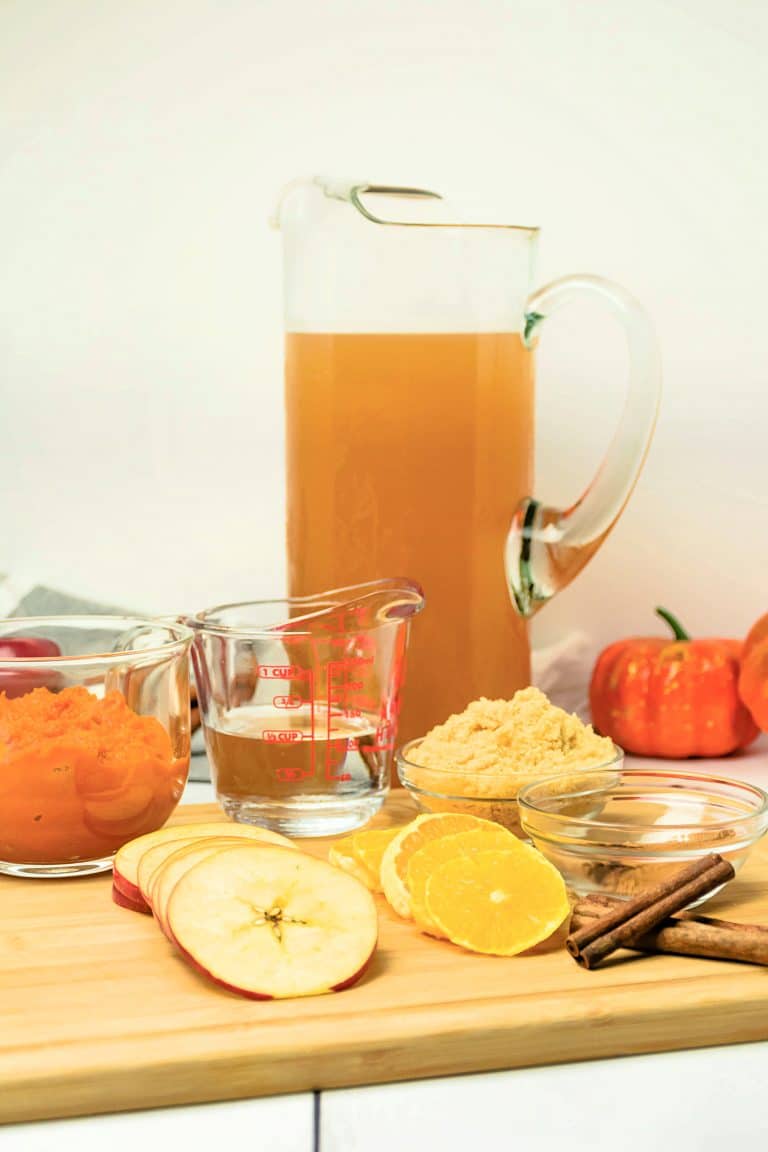 How To Make Pumpkin Cider In Your Crock-Pot
Making warm cider is incredibly easy to do in your crockpot. Just follow the simple steps below!
Step 1: Add Ingredients To The Crock-Pot
Pour the apple cider and water into the slow cooker pot, followed by the pumpkin puree, pumpkin pie spice, and brown sugar, and stir to combine the ingredients. Next, add in the cinnamon sticks, cloves, and fruit, and then stir once again.
Step 2: Set Slow Cooker To Cook
Set your slow cooker to the low heat setting to cook for 4 hours. Once cooked, allow the cider to cool for 20 minutes.
Step 3: Strain And Serve
Once cooled, strain the pumpkin cider mixture through a cheesecloth to get the best consistency. Serve your cider warm and enjoy!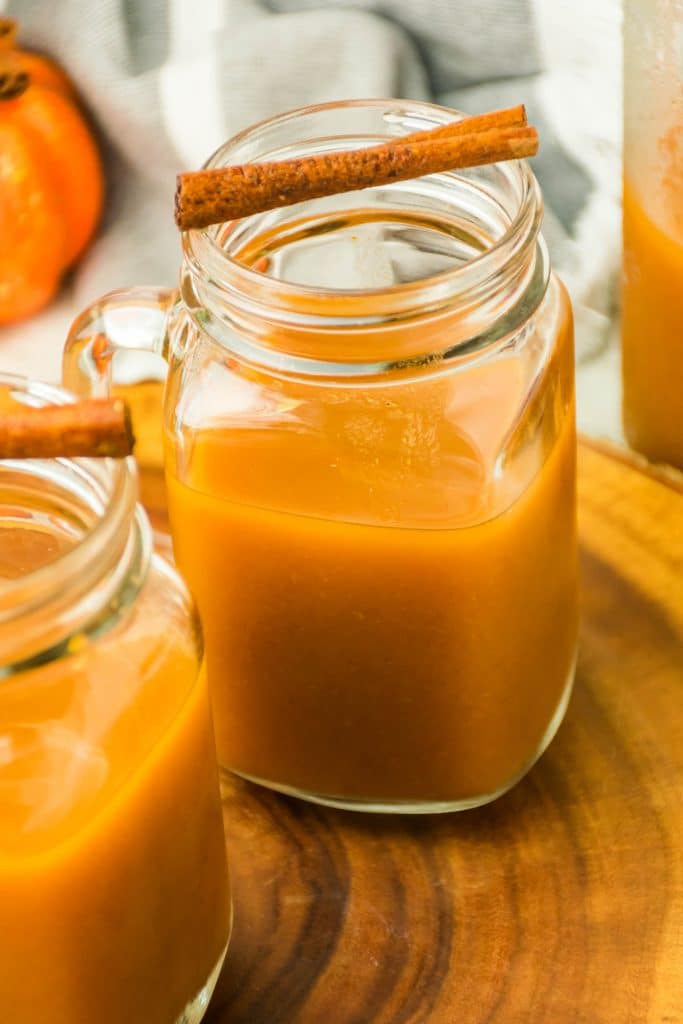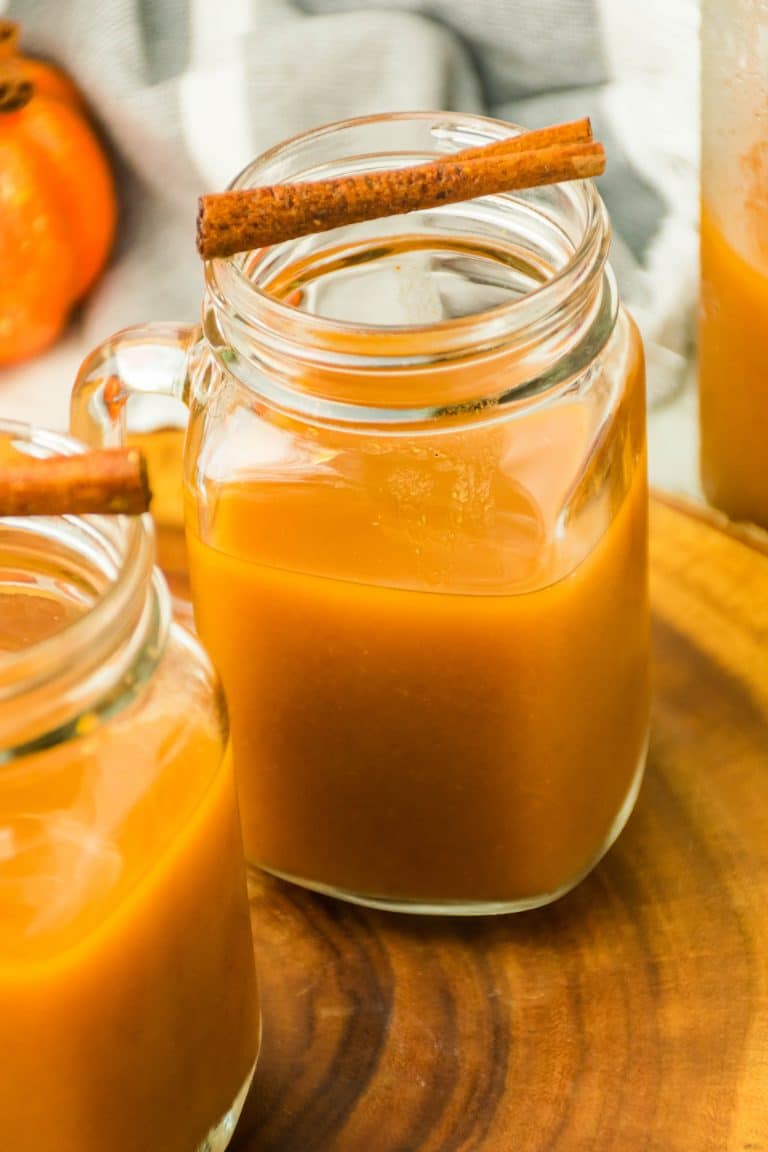 Can I Make This In The Instant Pot?
Absolutely! Follow the exact same steps as you would when making your pumpkin cider in a slow cooker except that you will now cook the liquid mixture on the high setting of your Instant Pot for 15 minutes, followed by a natural release.
If you are worried about the "BURN" message on your Instant Pot coming on during cooking, you can leave the addition of the brown sugar till after the pumpkin cider mixture has cooked. With that said, I haven't had an issue with adding the brown sugar in from the start and like how it infuses with the other ingredients during the cooking time.
Strain your Instant Pot Pumpkin Cider through the cheesecloth and serve warm!
What's The Difference Between Apple Cider And Apple Juice?
Apple cider is raw apple juice with the pulp remaining which means that it's unfiltered, unpasteurized, and can ferment if not refrigerated or if stored for longer than it should (usually up to 5-7 days in the refrigerator).
Apple juice, on the other hand, is apple cider that's been filtered so that no pulp or larger pieces of apple remain behind in the juice. It's then also pasteurized for longer shelf life. You'll also find that apple juice appears lighter and clearer which is due to the filtering process.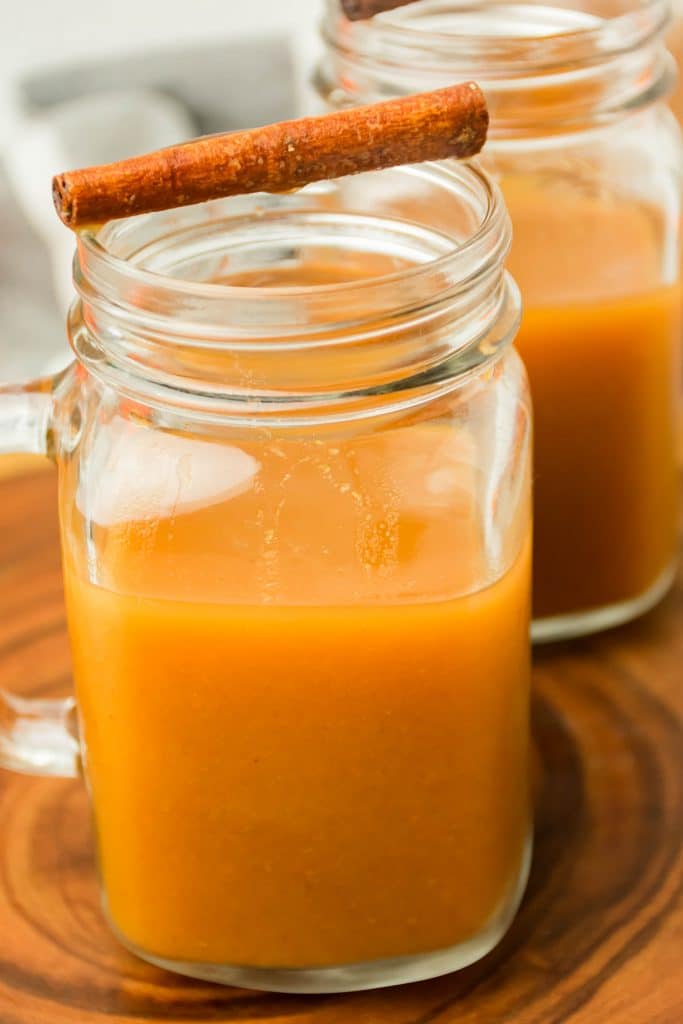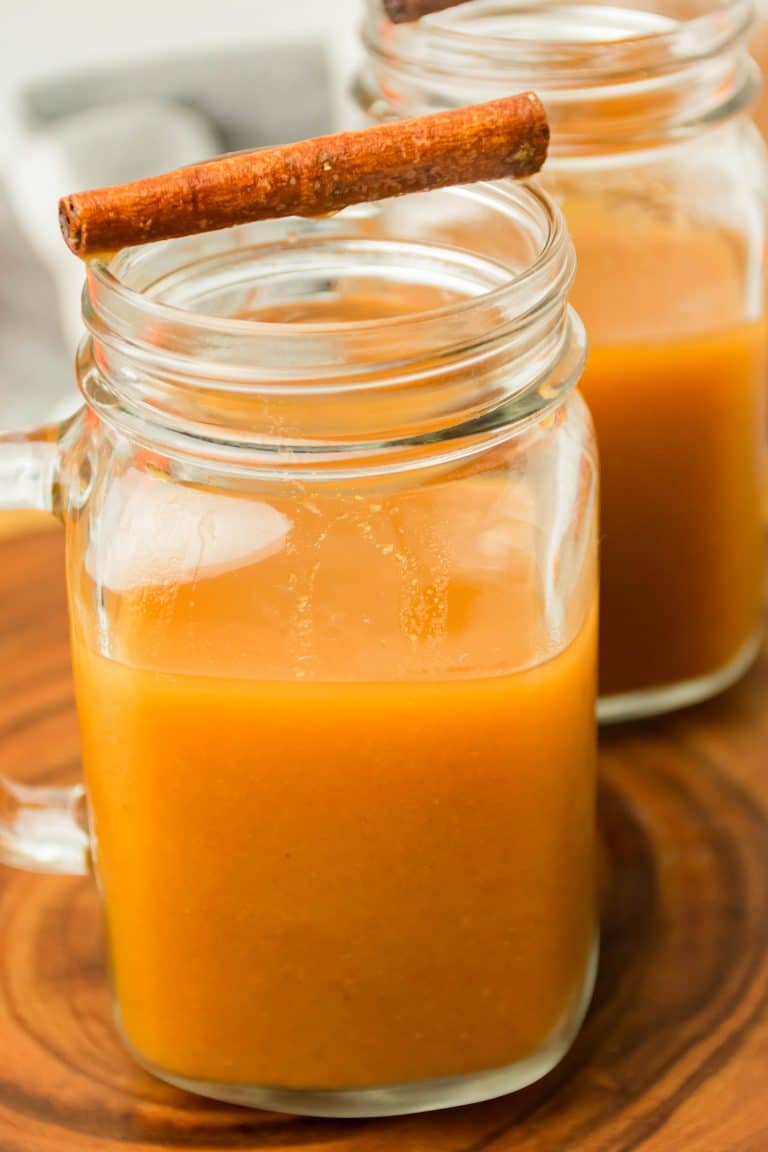 More Cider Drinks to Try
Just like this pumpkin cider, apple cider can be enjoyed as a delicious warm beverage, a cocktail, or used in baked goods. Here are some delicious apple cider recipes to get you inspired:
How To Store Leftover Pumpkin Cider
Leftover Crock Pot Pumpkin Cider can be stored in an airtight container in the refrigerator for up to 7 days. You could also store it in the slow cooker inner pot, covered tightly with plastic wrap if you have enough space in your fridge to accommodate the pot.
When ready to serve leftover pumpkin cider, reheat it on the stove till warm.
It's totally normal for your homemade pumpkin cider to ferment a bit while in storage, producing a slightly fizzy cider as the days go on. For this reason, I suggest that you make use of your leftover Crock Pot Pumpkin cider within a few days of making it. Of course, if you enjoy the fizzy by-product from storage then that won't be an issue for you!
Can I Freeze Crock Pot Pumpkin Cider?
Yes, you can! This pumpkin cider can be stored in the freezer for up to 3 months. Just make sure that it has completely cooled before transferring it to a gallon jug into the freezer.
Thaw your frozen pumpkin cider in the refrigerator overnight and reheat it on the stove.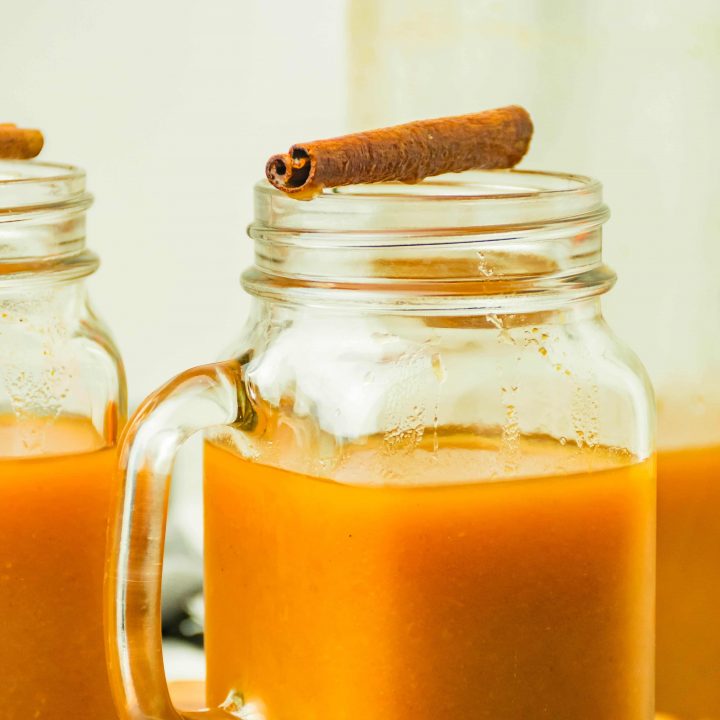 Pumpkin Cider Recipe
Ingredients
6 cups Apple Cider
½ cup Fresh Water
1 cup Pumpkin Puree
1 Tbsp Pumpkin pie spice
½ cup Brown Sugar
3 Cinnamon sticks
8 Whole cloves
1 Apple- sliced
1 Orange- peeled and sliced
Instructions
Pour apple cider and water into your pot.
Add in the pumpkin puree, pumpkin pie spice, and brown sugar.
Stir until well combined.
Add in cinnamon sticks, cloves, and fruit, stir once more.
Set your slow cooker to the low heat setting and allow to cook for 4 hours.
Leave to cool for 20 minutes.
Strain through cheesecloth for best results.
Serve warm and enjoy!
Notes
Refrigerate leftover cider for up to 7 days. Reheat on the stove.
Cider can be frozen for 3 months. Thaw in the refrigerator. 
Other Fall Drinks To Try