An easy skillet brownie that will knock your socks off. [Not really, but it might. Its good yall!]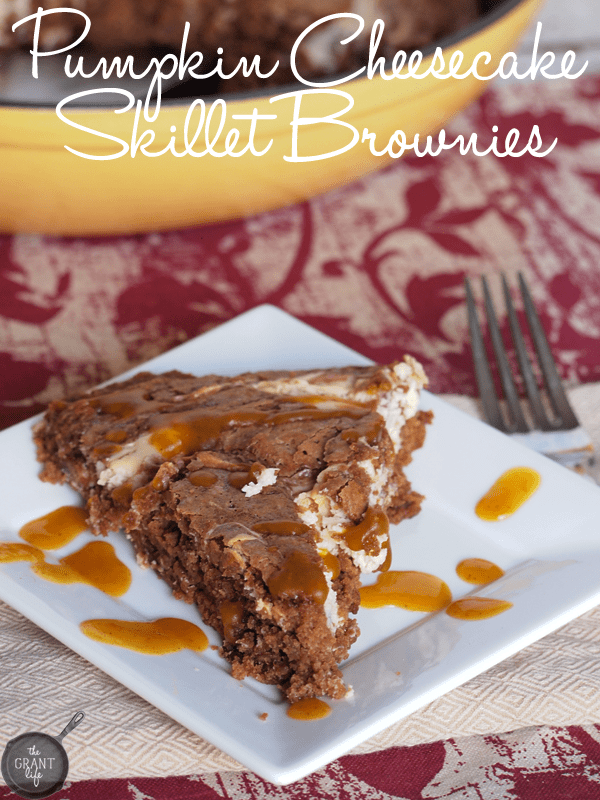 Something super excited happened at the Grant house last week.
No, I'm not pregnant.
My littlest one, stopped using his paci!
And yes, that is super exciting. I thought the kid was going to take them to college. [Yes, them. He would carry 3 or more at one time.]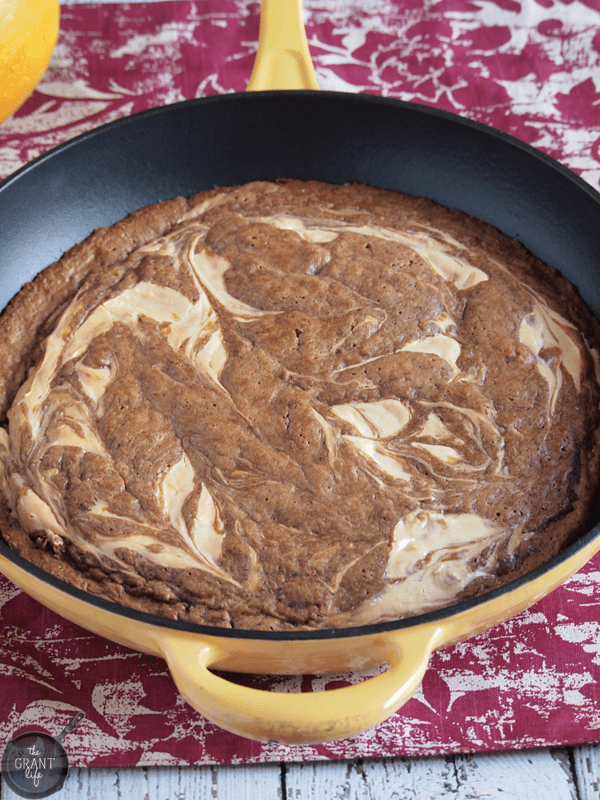 I really was worried that the turkey would put up a huge fight about letting go of his beloved pacis. So much so, that I sorta kinda maybe ignored the paci problem.
Mom of the year. I know.
Its tough to take away things you know they love and provides comfort.
But they had to go and it was time.
So I just stopped worrying about pacis. I stopped looking for them, collecting them, making sure he had one at nap time and bed time.
I told him I wasn't going to take care of his pacis. And I guess he wasn't up for taking care of them either.
So he quit. Cold turkey.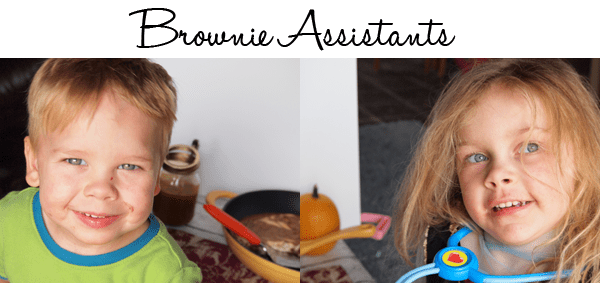 We haven't mentioned them and I haven't worried about them. Its been good too. He's only asked for a paci once in the past week and a half.
I'm sure there are still pacis hidden around the house. He had a ton of them. So we aren't completely out of the woods yet.
But we are close and he seems to be doing fine.
And by fine I mean he's tormenting his sister, making huge messes, taking his time cleaning up and generally being the turkey he is.
So normal. Just minus a paci or three.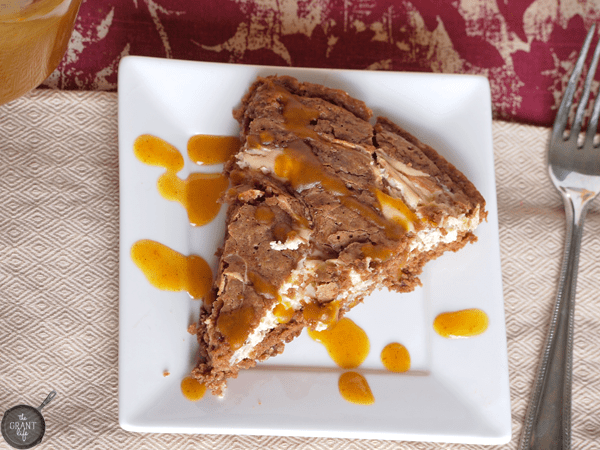 And yes, we call him turkey. And yes, it fits him perfectly.
I want to make a shirt for thanksgiving that says "the turkiest turkey" on it. Because, well, he is.
Need more evidence? Scroll down a bit and check out him stealing my pumpkin cheesecake brownie right out of the skillet.
He went and grabbed his own fork and dug right in.
And wasn't even ashamed. Look at that smile!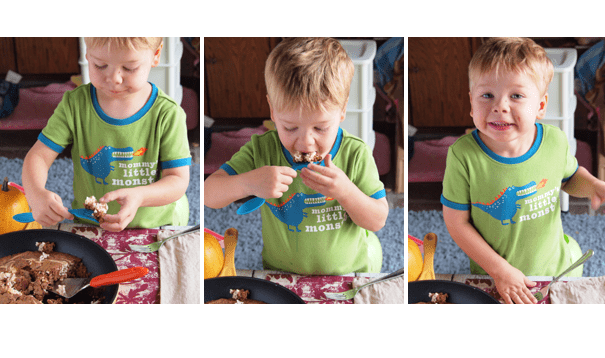 I can't fault him though. The brownies really were that good.
The skillet crisps up the edges just perfectly and leaves the center soft and chewy.
Droool.
So good.
Ps.. drizzle some pumpkin sauce on your pumpkin cheesecake skillet brownies. Heaven!
Trust me, these brownies are turkey approved!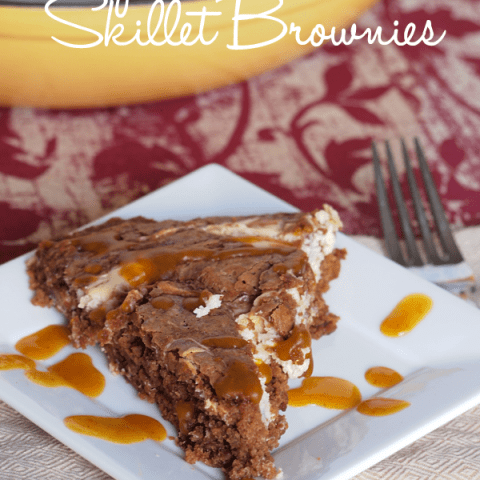 Pumpkin Cheesecake Skillet Brownies
Ingredients
1 1/2 cup flour
2 cups sugar
3/4 cocoa powder or melted chocolate chips
1 teaspoon baking powder
1/2 teaspoon salt
2/3 cup pumpkin puree
2 large eggs
2 teaspoons vanilla
1 8oz package of cream cheese, softened
1 teaspoon of vanilla
1/2 cup of sugar
2 tablespoons of butter for the skillet
Instructions
Preheat the oven to 350. Put the butter in the skillet and put in the oven.
Mix the dry ingredients in a bowl - flour, sugar, cocoa, baking powder, and salt.
Mix the wet ingredients in a separate bowl - pumpkin puree eggs and vanilla.
Add the wet ingredients to the dry ones and mix until blended.
Take out the skillet and swirl around the butter to cover the whole skillet and the sides a bit. (caution - very hot!)
Pour the batter in the skillet.
Bake for 15 minutes.
Mix together the cream cheese, sugar and vanilla.
Remove the brownies from the oven and add spoonfuls of cream cheese mix to the it.
Spread around with a butter knife.
Return to the oven for another 30-35 minutes or until a toothpick in the center comes out clean.
Remove, let cool and enjoy!
Nutrition Information:
Amount Per Serving:
Calories:

640
Cholesterol:

114mg
Sodium:

346mg
Carbohydrates:

112g
Fiber:

2g
Sugar:

86g
Protein:

8g
If you liked this pumpkin recipe be sure to check out: