Who doesn't love graham crackers and chocolate topped with roasted marshmallows? S'mores are a summertime favorite, but now you can have the same great s'mores flavor in your morning cup of coffee! This iced s'mores coffee is perfect for those warm summer mornings when you still need your caffeine, but don't want to drink anything hot.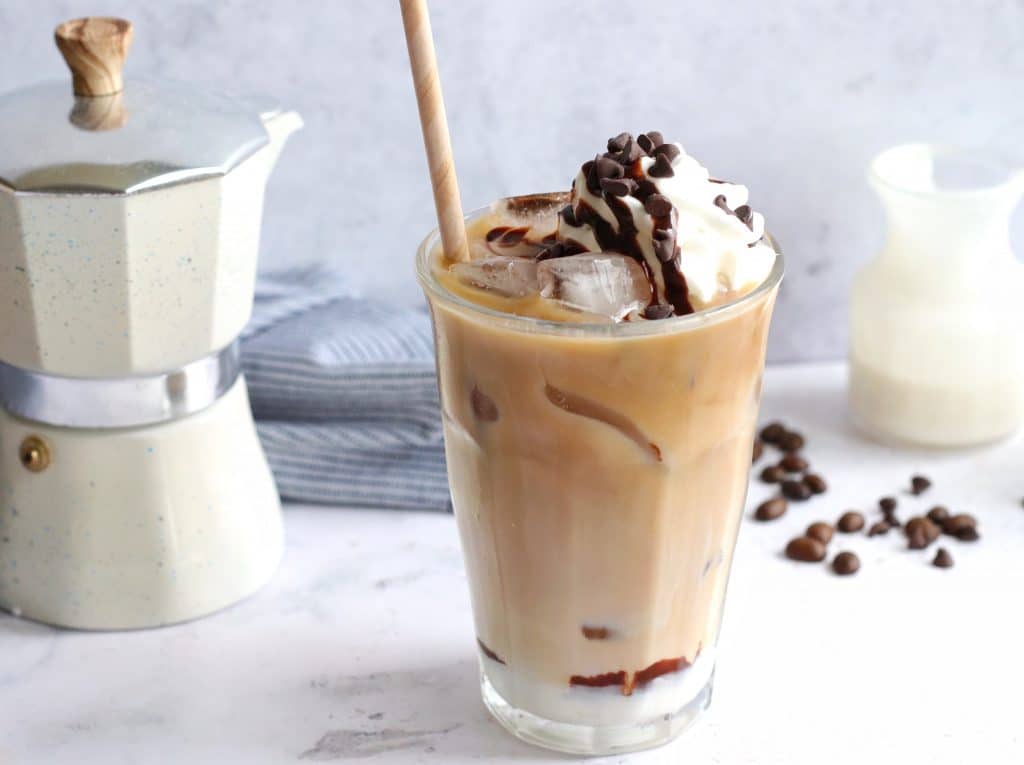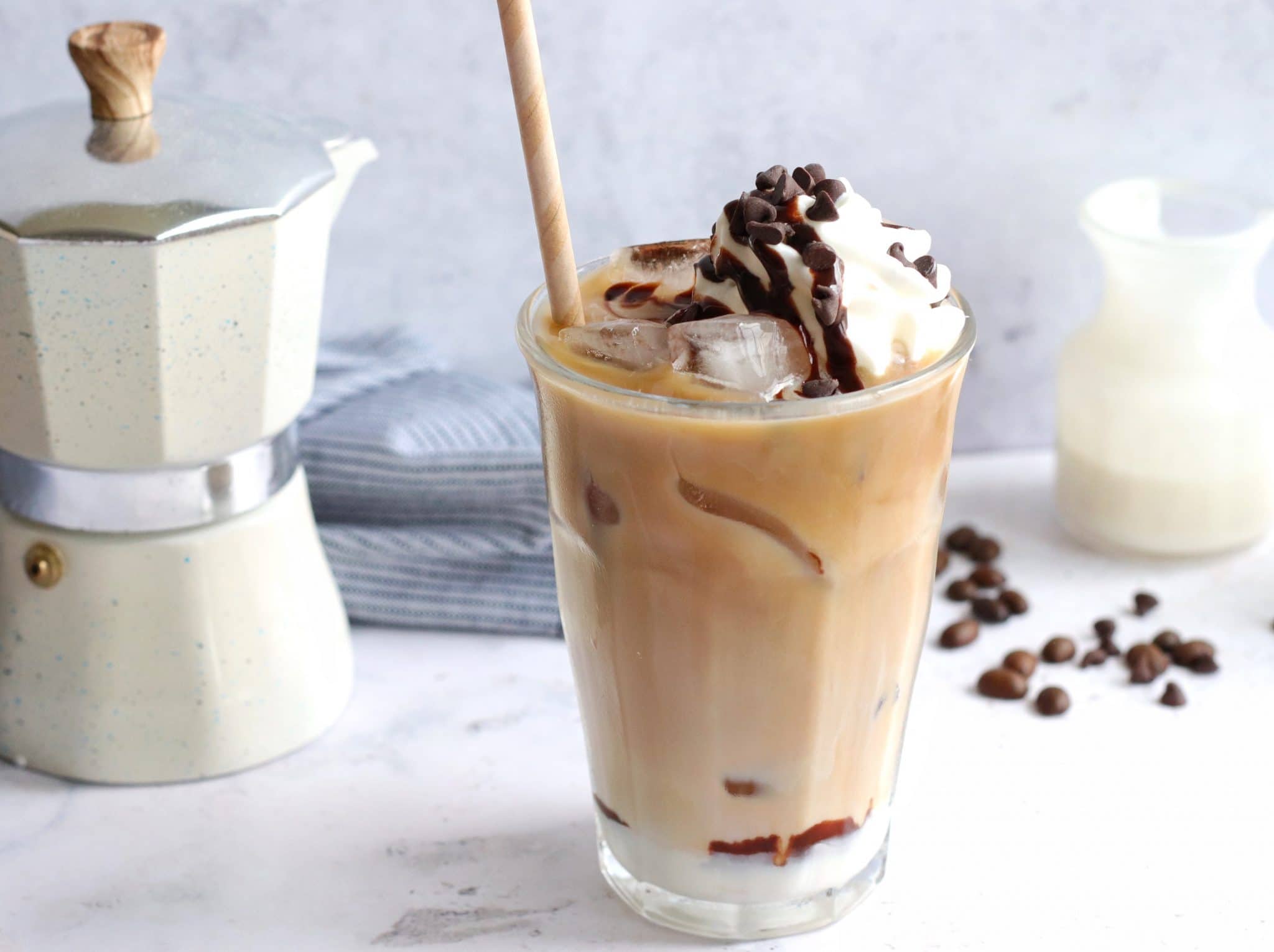 If you have kids, you know how important that morning cup of coffee is! It's what gets me up and going in the morning. Usually, I stick to my simple cup of coffee with cream and sugar, but occasionally, I crave something more Starbucksy. Of course, I can't just head to the coffee shop every morning, so this Iced s'mores coffee is one I can easily whip up when I'm craving something a little sweeter than my normal hot roast.
What is an Iced S'mores Coffee?
Marshmallows, chocolate, and graham crackers crumbs are what make this iced coffee drink taste just like a s'more you've roasted over the fire. Add in some cooled coffee and ice, and you have yourself an iced coffee that tastes just like the s'mores you cook over the campfire.
Iced S'mores Coffee Ingredients
You really don't need much to have this delicious iced coffee on a warm summer's morning. Here's what you need:
A Tbsp Marshmallow Topping (or Marshmallow Fluff)
1 ½ Tbsp Chocolate Syrup
1 Tsp Graham Cracker Crumbs
½ Cup Milk
1 Cup Coffee (Cooled)
Dollop of Whipped Cream
(Optional) 1 Tsp Mini Chocolate Chips
Marshmallow Topping: You won't be roasting marshmallows over the fire, but you will be using some delicious marshmallow fluff to give you that sweet s'more flavor.
Chocolate syrup: It's just not a s'more without some chocolate syrup. For a richer, sweeter flavor, you can use chocolate fudge instead.
Cooled coffee: Make the coffee in your coffee pot just like you normally would. Place it in the fridge to cool overnight so it's easier to make this delicious iced coffee in the morning.
Mini chocolate chips: These are optional, but I would suggest getting them. They give your iced coffee a little more flavor and texture.
Graham cracker crumbs: You can buy graham cracker crumbs already crumbled, or you can just buy regular graham crackers and crumble them in a ziplock bag.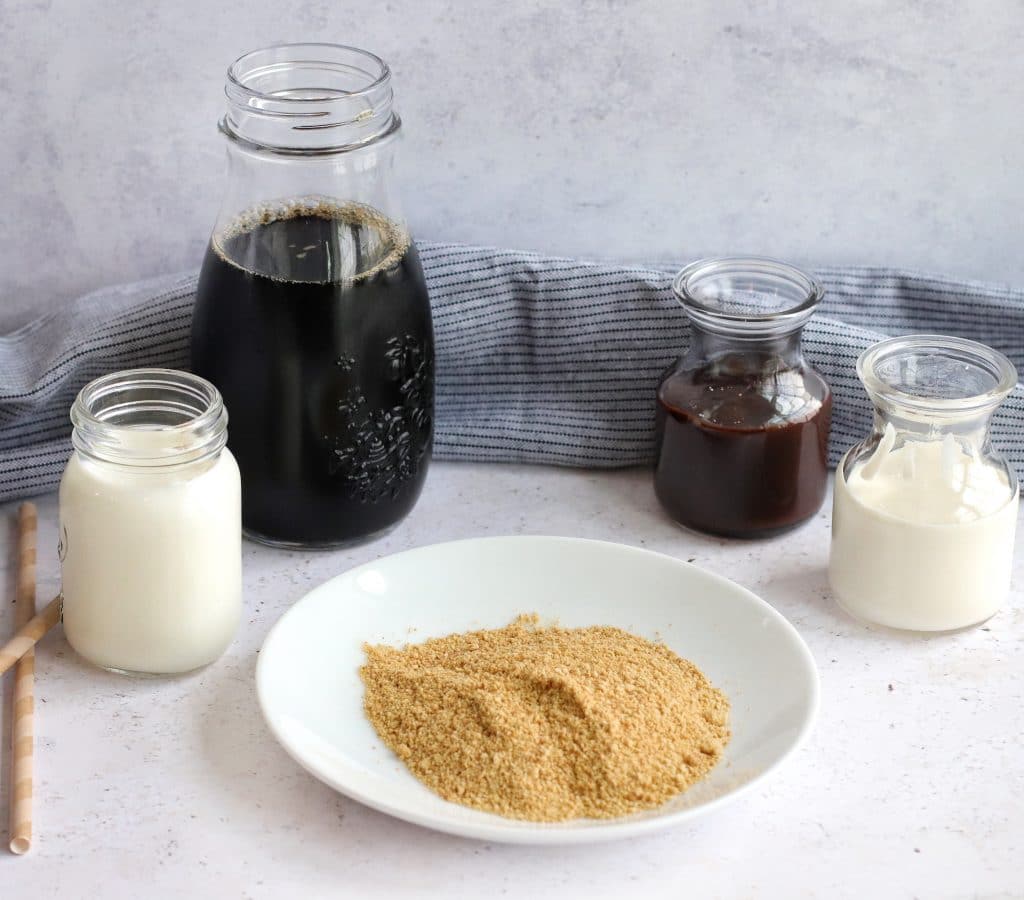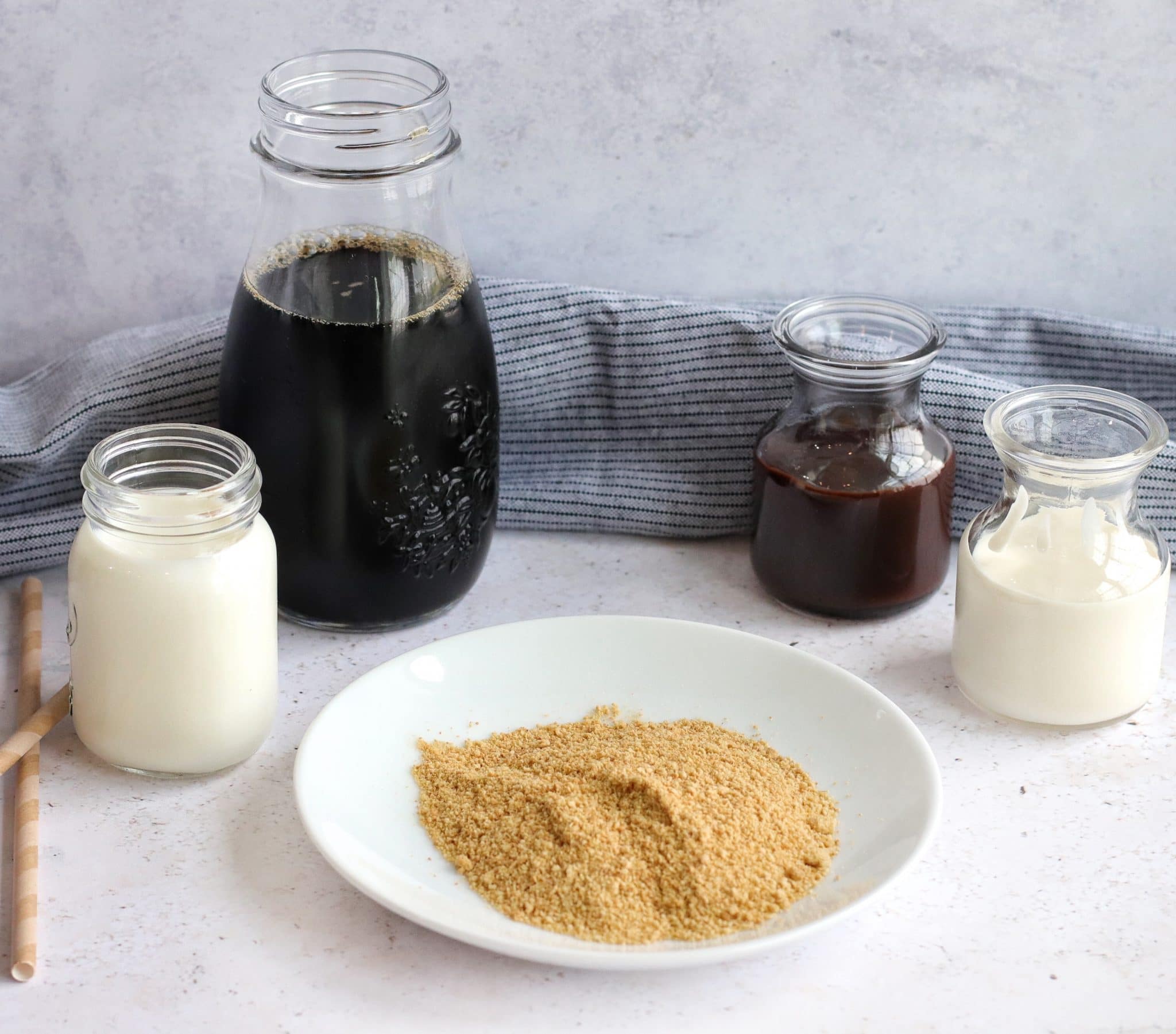 How to Make an Iced S'mores Coffee
If you want a sweet treat in the morning, this recipe is super easy to make. Just follow the simple steps below:
Step 1: Prepare the Glass
First, pour the marshmallow topping into your glass. Then, add about a tablespoon of chocolate syrup.
Step 2: Add Graham Cracker Crumbs and Ice
Next, add in a tablespoon of graham cracker crumbs into the glass. Then, fill the glass with ice.
Step 3: Add Milk and Coffee
After you've added your s'more ingredients, pour the milk over the ice. Next, add in your cooled coffee.
Step 4: Stir and Top
You can then stir your iced s'mores coffee or leave it as separate layers. Top it with a dollop of whipped cream and ½ tablespoon or so of chocolate syrup.
Step 5: Add Chocolate chips and Enjoy
If you choose, top your iced coffee with chocolate chips, and enjoy!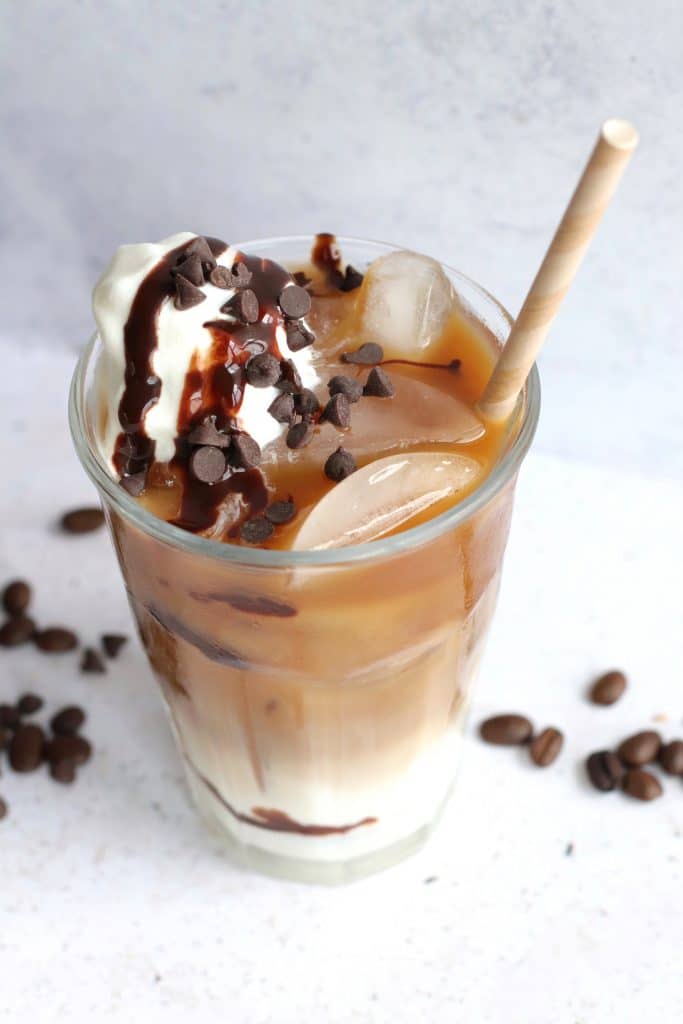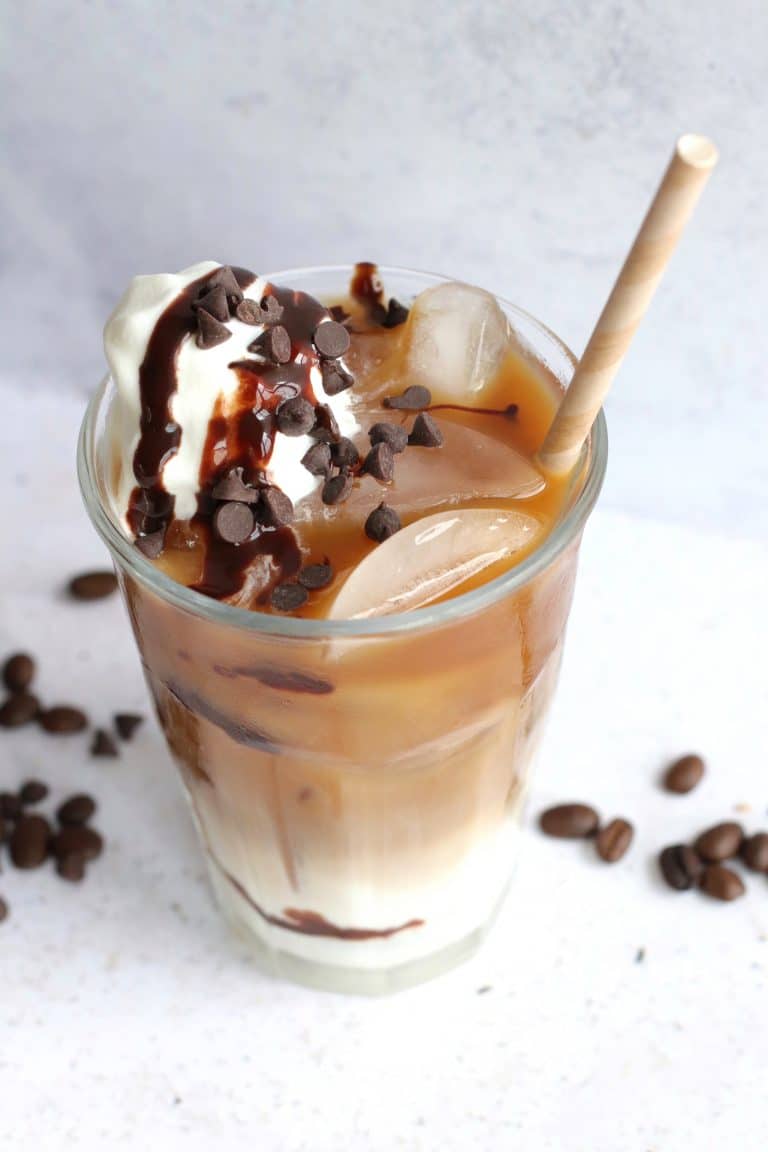 What Marshmallow Topping Should I Use?
For this recipe, I use a marshmallow topping by Smuckers! It's technically an ice cream topping. You can find it with the ice cream toppings and cones in the grocery store, or you can get it right from Amazon! If you can't find it, you can always use the marshmallow fluff which is found in the peanut butter and jelly aisle of the store.
What Kind of Milk Do I Use?
You can use any kind of milk that you like. I personally like whole milk, but that is what we drink at home. You can use skim, 2%, almond, oat, soy, or any other milk you choose.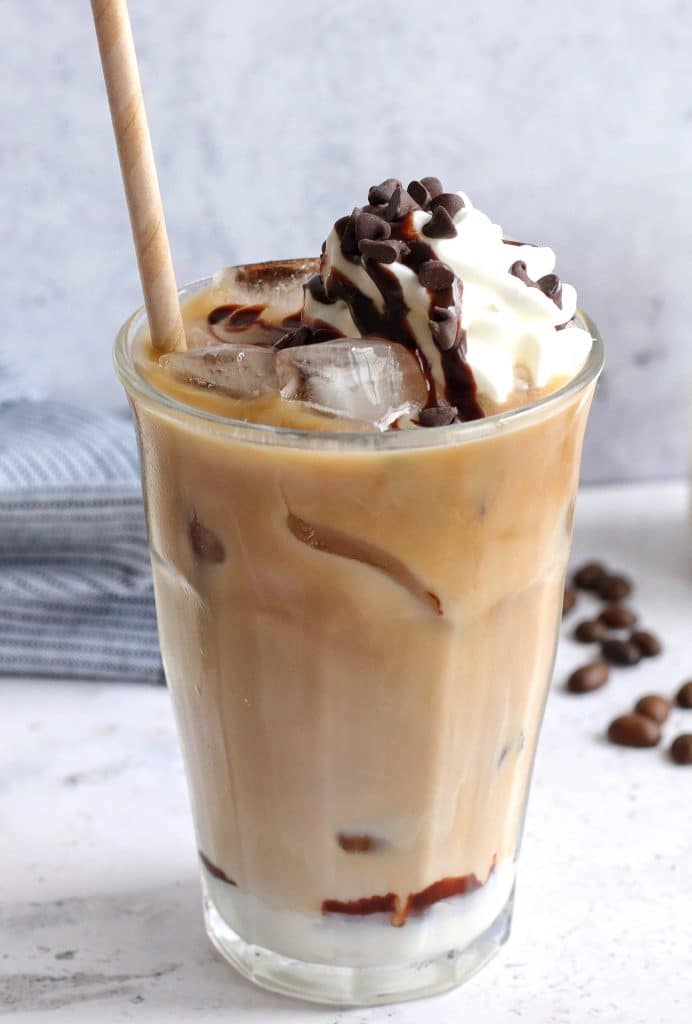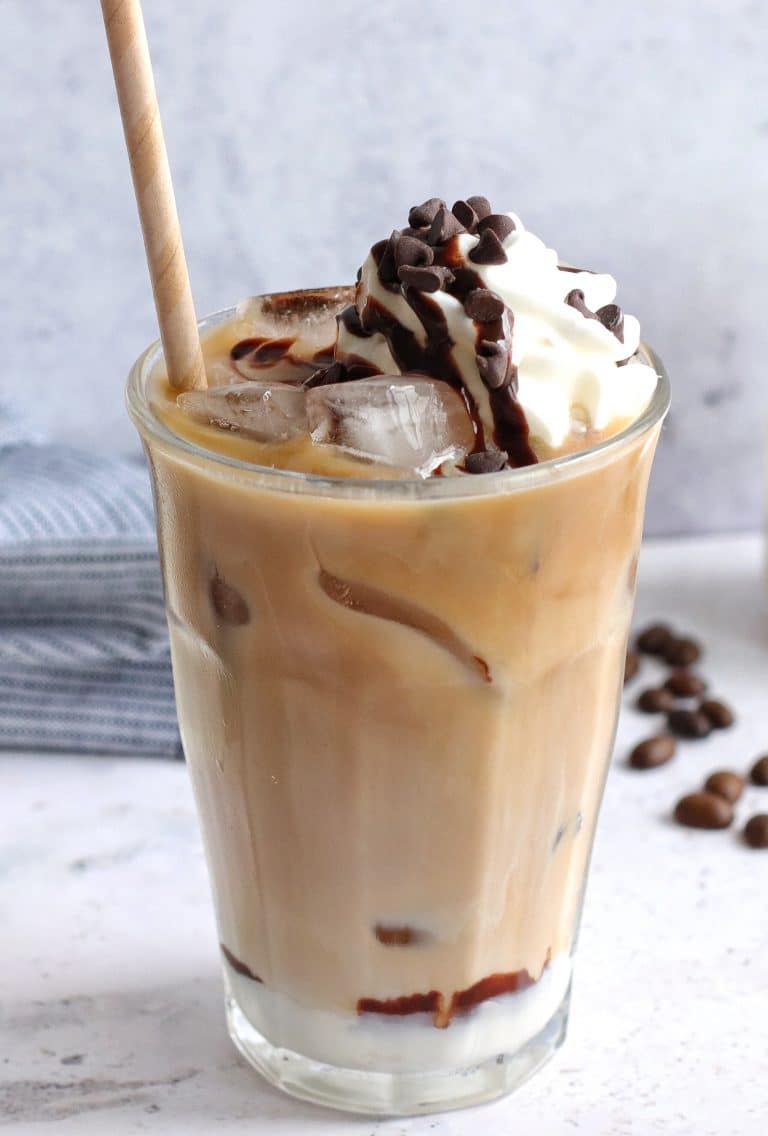 Can I Make this S'mores Iced Coffee Dairy Free?
If you are looking for a dairy free option, you can use dairy free milk as well as dairy free whipped cream. Reddi Whip has a dairy free option for whipped cream, and you can use almond, soy, coconut, or any other option of milk that is dairy free.
Iced Coffee Tips
This coffee drink is absolutely exquisite, but I do have a few tips for you to keep in mind.
Let the coffee cool. Before pouring the coffee over the ice, make sure it is completely cool. Hot coffee will cause the ice to melt instantly making your drink watery.
Omit the ice for a warm drink. If you prefer to have a warm drink, you can omit the ice and use hot coffee instead.
Add a twist. If you want a richer iced coffee, use chocolate fudge instead of chocolate syrup. Or, you could also replace the chocolate with caramel for a delicious twist.
Make a graham cracker rim. For fun, you can create a marshmallow, graham cracker rim around your glass. Just place ½ tablespoon of marshmallow topping on a plate with 2 tablespoons of graham cracker crumbs. Dipe the rim for a sweet treat.
Recipes to Make with Your Coffee
I literally can't survive without coffee every morning, but that doesn't mean I don't also like something to go with my coffee. These deliciously sweet recipes are the perfect breakfast snack to eat with your iced s'mores coffee: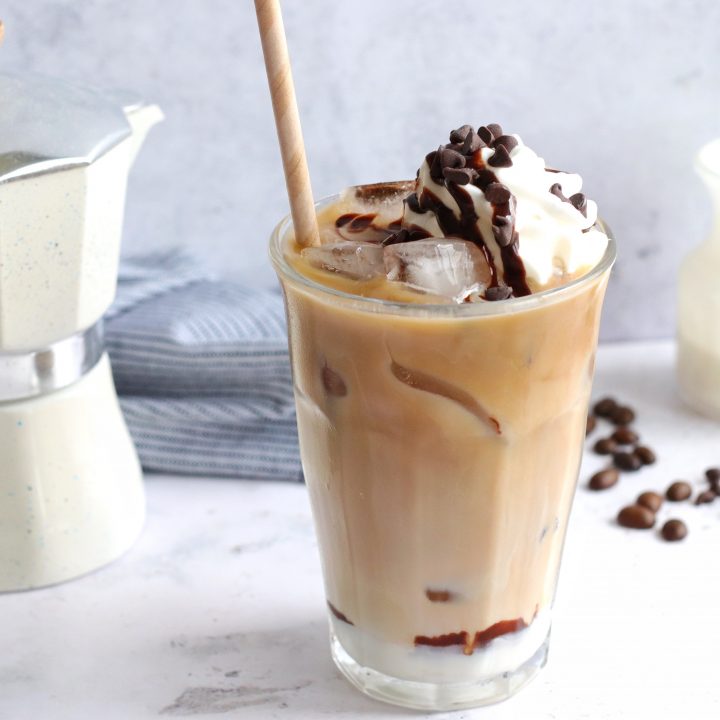 Iced S'mores Coffee
How to make a delicious smores iced coffee complete with marshmallow topping!
Ingredients
1 Tbsp Marshmallow Topping (or Marshmallow Fluff)
1 ½ Tbsp Chocolate Syrup
1 Tsp Graham Cracker Crumbs
½ Cup Milk
1 Cup Coffee (Cooled)
Dollop of Whipped Cream
(Optional) 1 Tsp Mini Chocolate Chips
Instructions
Pour the Marshmallow Topping in the glass.
Then, add about a Tbsp of chocolate syrup.
Add the Tsp of graham crumbs right in the glass.
Fill the glass with ice.
Add the milk to the glass. Next, add the cooled coffee.
Stir well or leave as separate layers.
Top with a dollop of whipped cream and the other ½ Tbsp or so of chocolate syrup!
Sprinkle on chocolate chips (optional).
Nutrition Information:
Yield:

1
Serving Size:

1
Amount Per Serving:
Calories:

197
Total Fat:

5g
Saturated Fat:

3g
Trans Fat:

0g
Unsaturated Fat:

2g
Cholesterol:

14mg
Sodium:

102mg
Carbohydrates:

32g
Fiber:

1g
Sugar:

19g
Protein:

6g
Nutritional information may vary. Please use check your ingredients for more accurate nutritional information.
Other Summer Coffee Drinks to Try
If you liked this iced s'mores coffee recipe, you are going to love some of my other favorite summer coffee drinks. Check them out, below!