Whipped coffee is a fun way to get your caffeine fix for the day. But don't have it plain! Try a vanilla whipped coffee the next time you have a craving for coffee. Let me show you how to make this diy coffee today!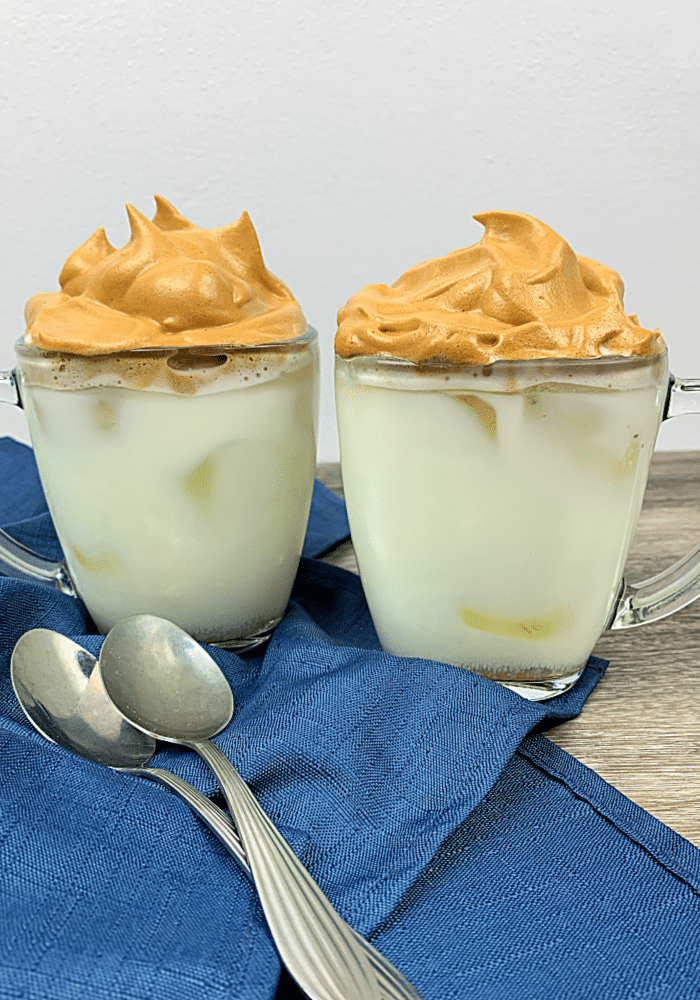 Who would have thought that whipping your coffee to fluffy perfection would be all the rage? Once I tried whipped or dalgona coffee, I was obsessed. I have had one or two a week since I started making them at home.
The best part of this coffee is that it's easy to make and can be customized to your liking.
What is vanilla whipped coffee?
Whipped coffee goes by many names – dalgona, fluffy coffee and even TikTok coffee. No matter what you call it, it's still the same easy to make coffee drink everyone is flaunting on social media.
Whipped coffee is equal part instant coffee, sugar and water whipped to fluffy perfection. It is then served over milk for an easy morning or afternoon treat. My vanilla version adds vanilla syrup into the mix to create an even sweeter coffee treat.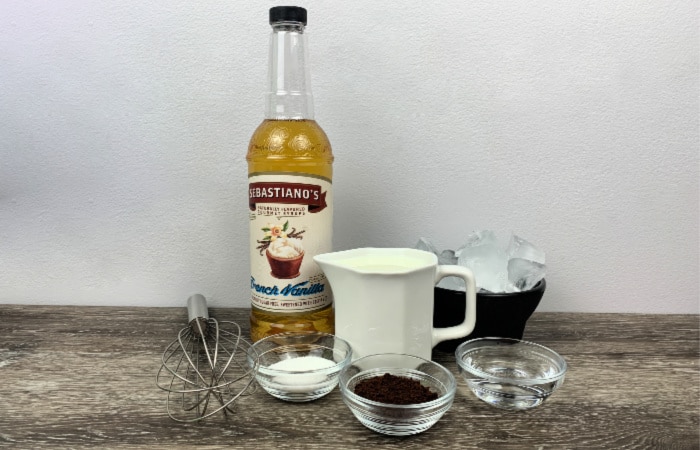 Vanilla whipped coffee ingredients
To make this fluffy coffee you will need:
Instant coffee
Sugar
Water
Vanilla syrup
Milk
Instant coffee – You do need to just instant coffee for this recipe. Plain brewed coffee will not whip up like instant. You can substitute instant espresso if you'd like. Use any kind you like or have on hand.
Sugar – The sugar helps create the fluffy texture in the coffee. You can use plain white sugar, brown sugar or any sugar you prefer.
Water – To help dissolve the instant coffee and sugar you need hot water.
Vanilla syrup – Any vanilla syrup works in this whipped coffee recipe. You can even try your hand at homemade vanilla syrup or try a sugar free version.
Milk – Any type of milk you like will be good. You can even make this drink dairy free by using coconut, almond or even cashew milk.
Pro tip – This drink turns out stronger than brewed coffee. Be careful adding too much fluffy coffee to your cup!
How to make whipped coffee
This recipe is super easy and can be made a couple different ways. The process is the same but the tool you choose to use can change.
You can make this whipped coffee with a whisk, a milk frother, a hand mixer or even an immersion blender! Let me walk you through the steps.
Step 1: Add your instant coffee, sugar and hot water to a bowl. Start to whisk the coffee mixture until soft peaks form.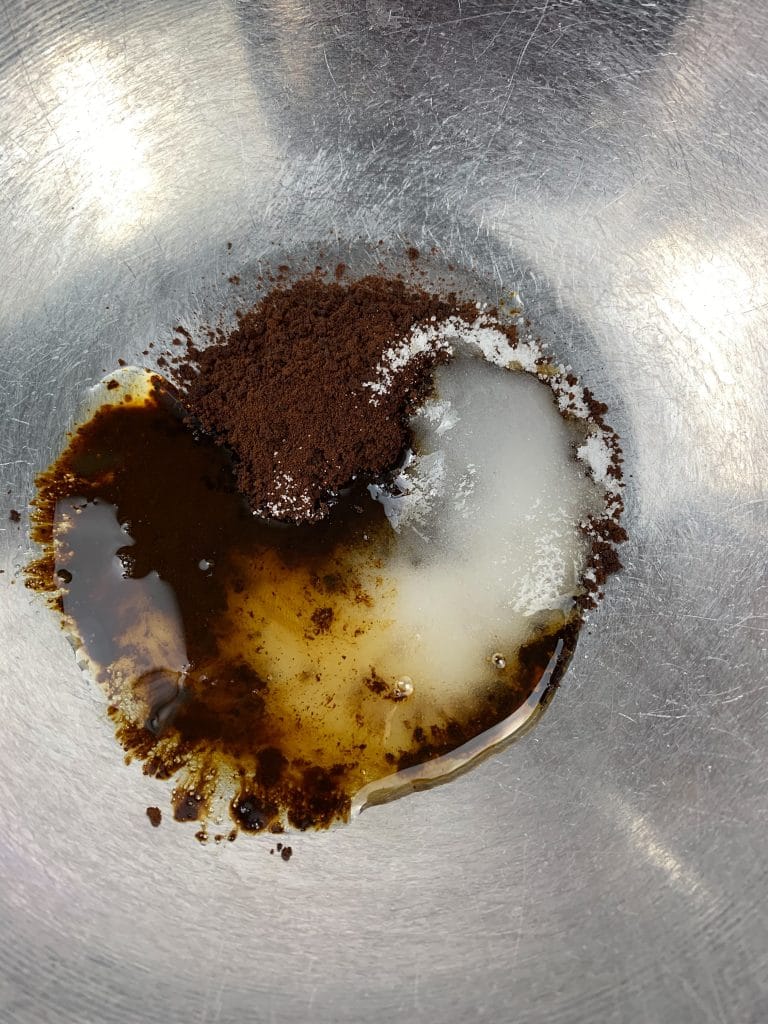 If using a whisk this will take 20 minutes.
If using a milk frother it will take 7-8 minutes.
If using a hand mixer it will take 2-3 minutes.
If using an immersion blender it will take about 2 minutes.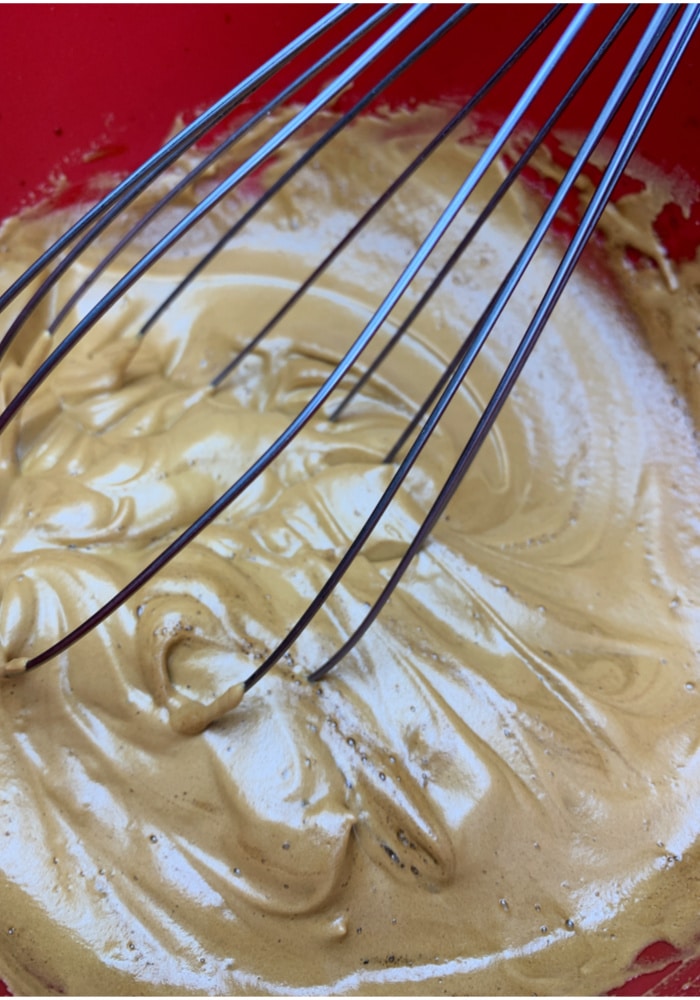 Step 2: Add ice and milk to a glass then pour in the vanilla syrup. Stir together with the milk.
Step 3: Scoop the whipped coffee on top of the milk mixture. Admire how pretty it is and then press the fluffy coffee down into the milk and stir around before drinking.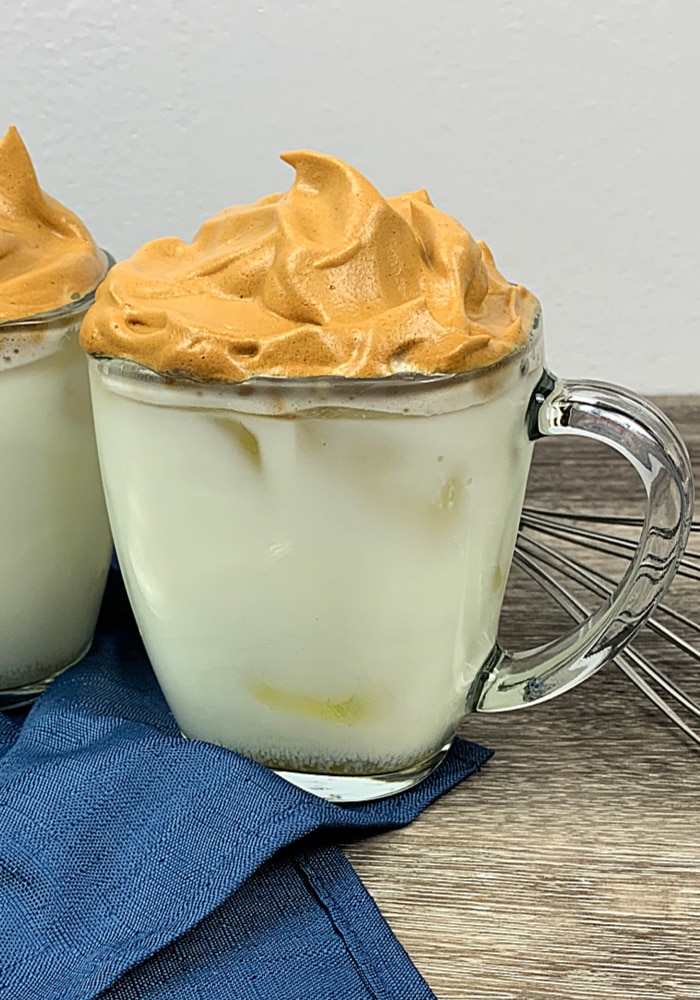 Pro tip – I have found that it is easier to make when you double the recipe, meaning 4 tablespoons (or 1/4 cup) of each ingredient. I think the extra volume of the mixture in the bowl helps mixer of choice.
You can do it with only 2 tablespoons of each ingredient, but to make mixing faster, double the recipe.
How to make a fluffy latte
To make this drink hot, follow the first step but add steamed milk in place of ice and cold milk. Still add your vanilla to give it that extra sweet flavor.
Vanilla whipped coffee recipe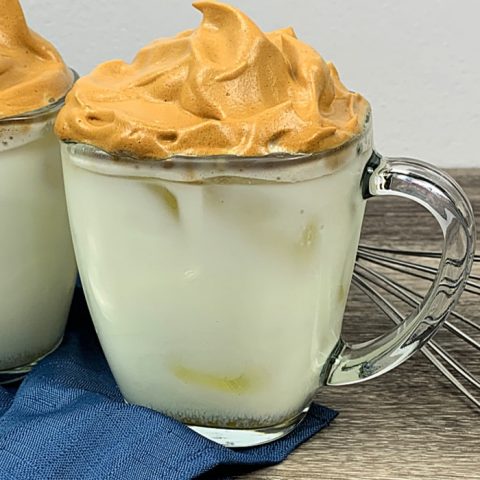 Vanilla whipped coffee
Yield:
2 cups of whipped coffee
How to make delicious vanilla whipped coffee.
Ingredients
2 tablespoons instant coffee
2 tablespoons sugar
2 tablespoons hot water
1-2 teaspoons vanilla syrup
milk
ice
Instructions
Add the instant coffee, sugar and hot water to a bowl. Mix using either a whisk, milk frother, hand mixer or an immersion blender.
Mix until soft peaks form and the coffee is a light tan color.
Pour ice, milk and vanilla syrup into a cup. Stir to combine milk and the syrup.
Scoop out spoonfuls of fluffy coffee on top of the milk mixture.
Stir the whipped coffee into the milk and enjoy!
Nutrition Information:
Yield:

1
Serving Size:

1
Amount Per Serving:
Calories:

271
Total Fat:

5g
Saturated Fat:

3g
Trans Fat:

0g
Unsaturated Fat:

2g
Cholesterol:

20mg
Sodium:

130mg
Carbohydrates:

50g
Fiber:

0g
Sugar:

38g
Protein:

9g
Love coffee? Be sure to check out these other great recipes:
iced coffee
Easy iced coffee recipes to try at home!
You can also PIN this recipe to your coffee board –