This creamy cheesecake is the perfect combination of mint and chocolate. It comes together quick and is made in an Instant Pot. You are going to want to make this mint chocolate cheesecake again and again!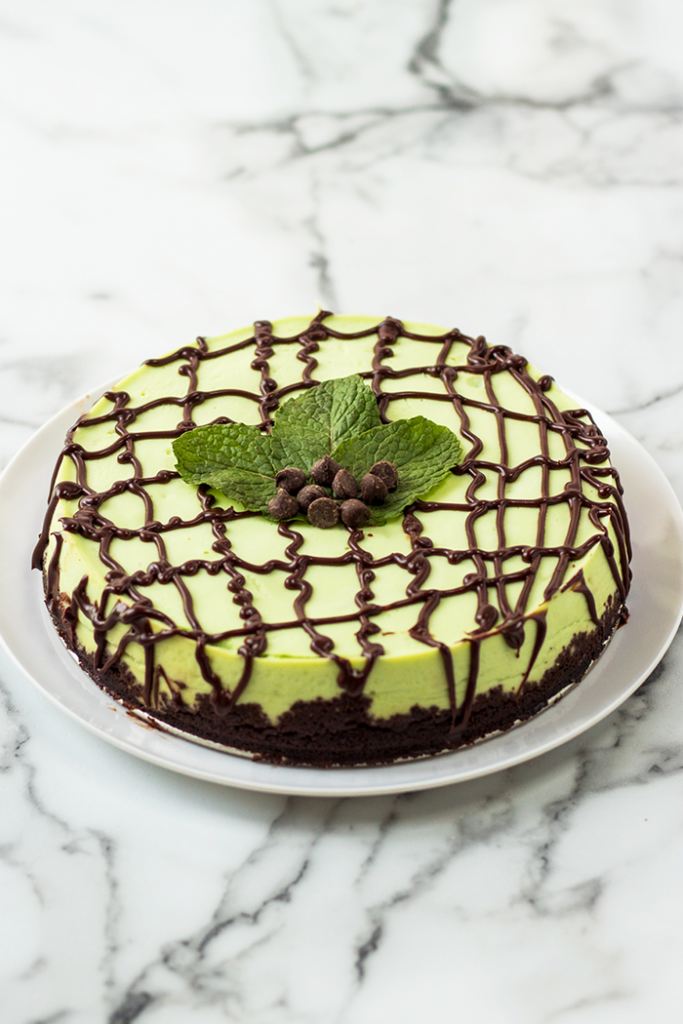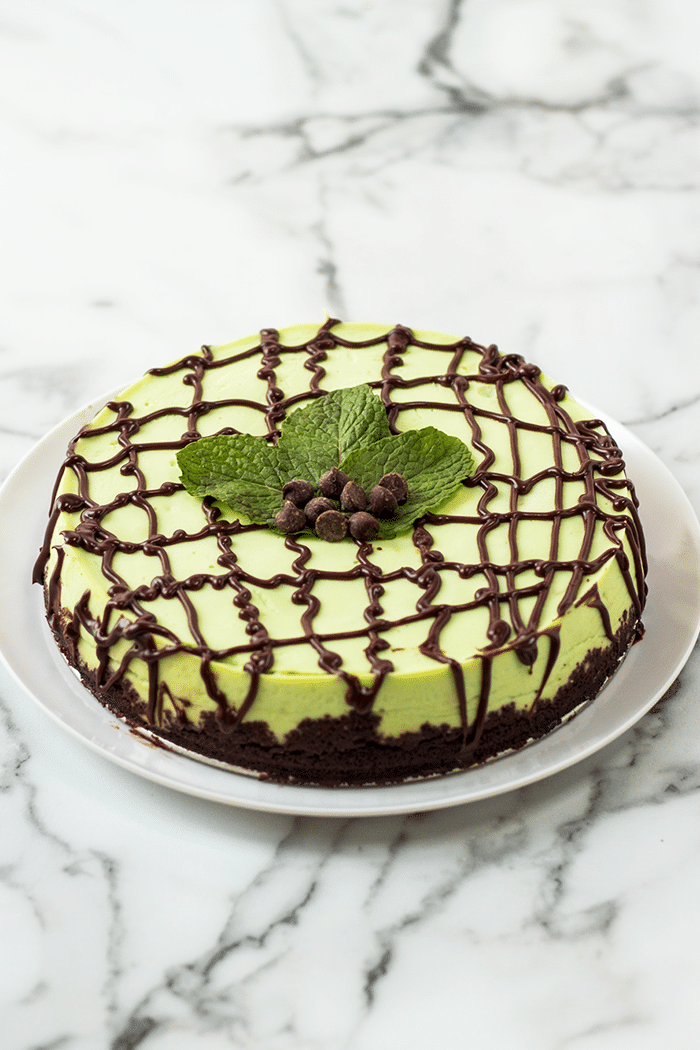 There are few desserts that I love more than cheesecake. I mean, I won't turn down a warm chocolate chip cookie or brownie, but I will go out of my way for a slice of cheesecake. There is just something about that creamy cheesecake texture that I can't resist.
Truth be told – I don't make many cheesecakes. The kids love helping me make cookies, so that's what we normally make when we want a sweet treat. When I do make a cheesecake though – it's GOOD. Like leave me alone to eat this whole thing by myself, good.
Easy mint chocolate chip cheesecake
This cheesecake is different from a classic cheesecake because it has mint and chocolate flavors. The crust is made up of chocolate graham crackers and the cheesecake itself has a creamy mint flavor. This is also an Instant Pot cheesecake!
It's a great cheesecake for a birthday, special event or even St. Patrick's day!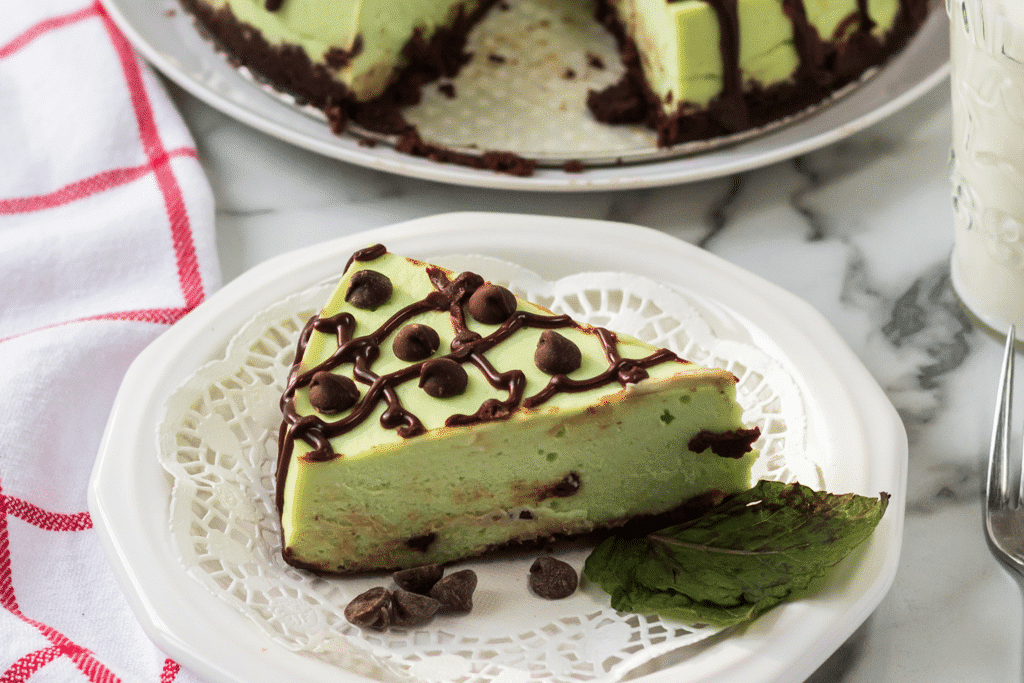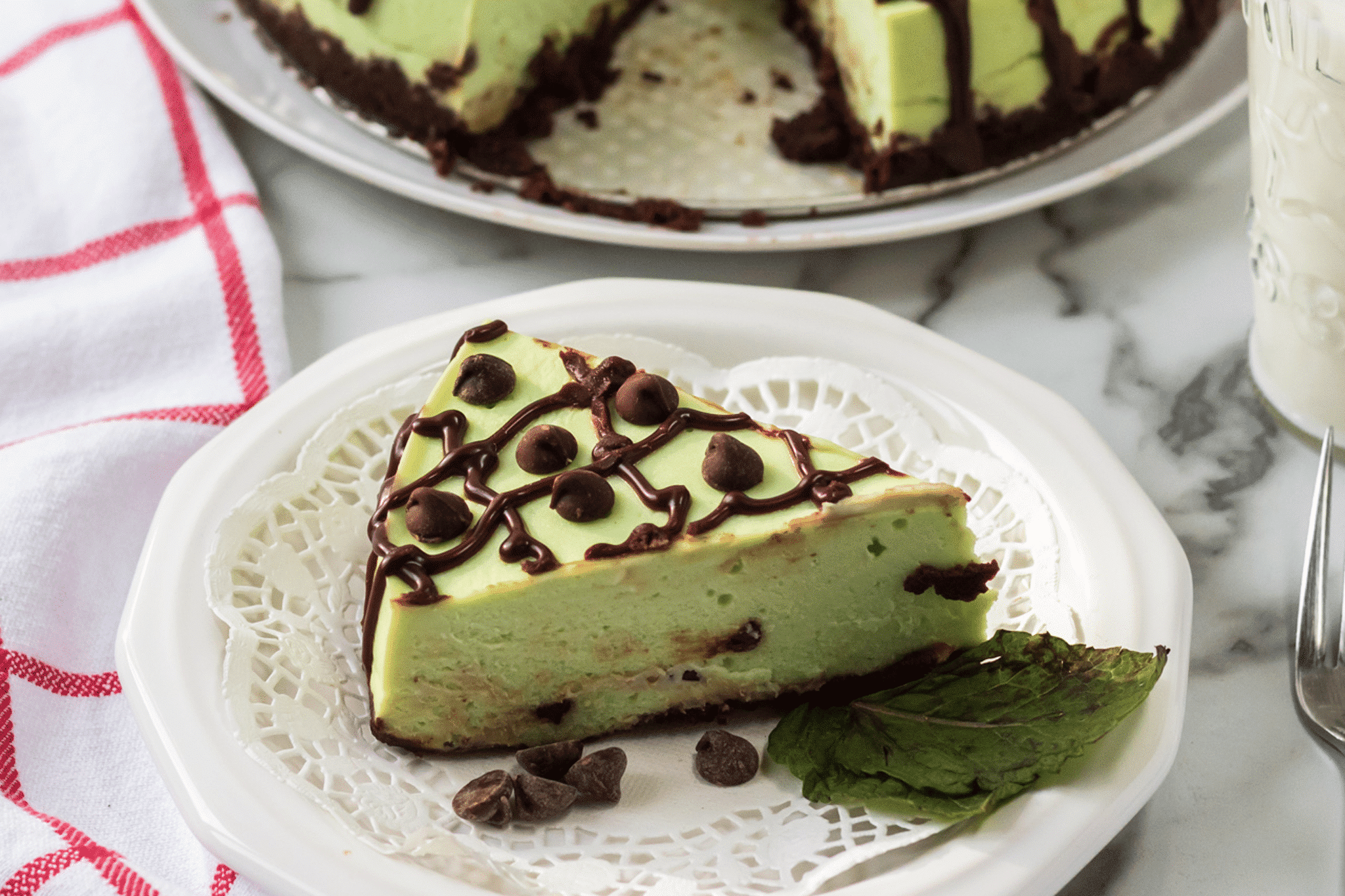 Instant Pot mint chocolate cheesecake ingredients
The list of ingredients to make this cheesecake is a bit long, but stick with me! It all comes together to make one delicious dessert. You will need:
chocolate graham crackers
sugar
butter
cream cheese
sour cream
flour
mint extract
eggs
green food coloring
chocolate chips
heavy cream
Chocolate graham crackers – These crackers make up the chocolate crust. You should be able to find chocolate graham crackers in the cookie aisle, but if not, regular graham crackers will work. You can also use graham cracker crumbs and save some time.
Sugar – You need both regular white sugar and brown sugar for this recipe. The brown sugar is for the crust and the white sugar is for the cheesecake itself.
Cream cheese – You are going to need 24 ounces of cream cheese, which is three 8 ounce blocks.
Sour cream – While you are in the cream cheese aisle, grab some sour cream as well. You only need 3/4 cup so check what you have at home first.
Mint extract – Most stores carry their extracts in the baking aisle. Mine always has them on the top shelf. Be sure to grab a mint extract for this cheesecake if you don't have one at home.
Green food coloring – This is what gives the cheesecake it's green hue! You can use a classic food coloring, an all natural food coloring or omit altogether. The color doesn't change the cheesecake taste or texture at all.
Chocolate chips – Grab a bag of semi-sweet chocolate chips for this mint cheesecake. Or use your favorite chocolate chips here! Some go in the cheesecake and some go on top as a ganache.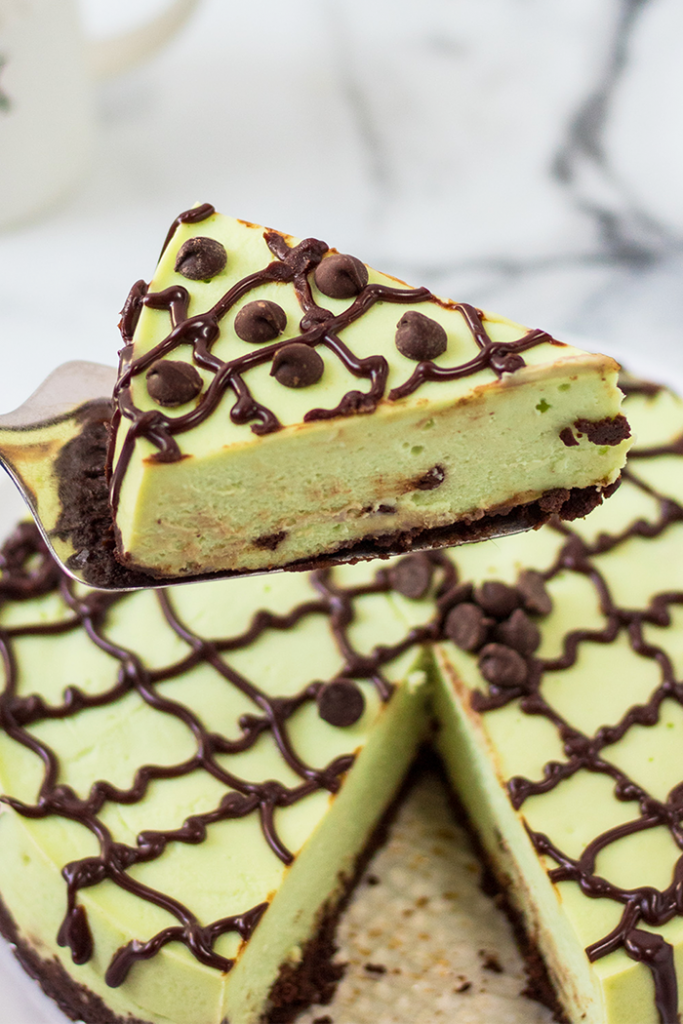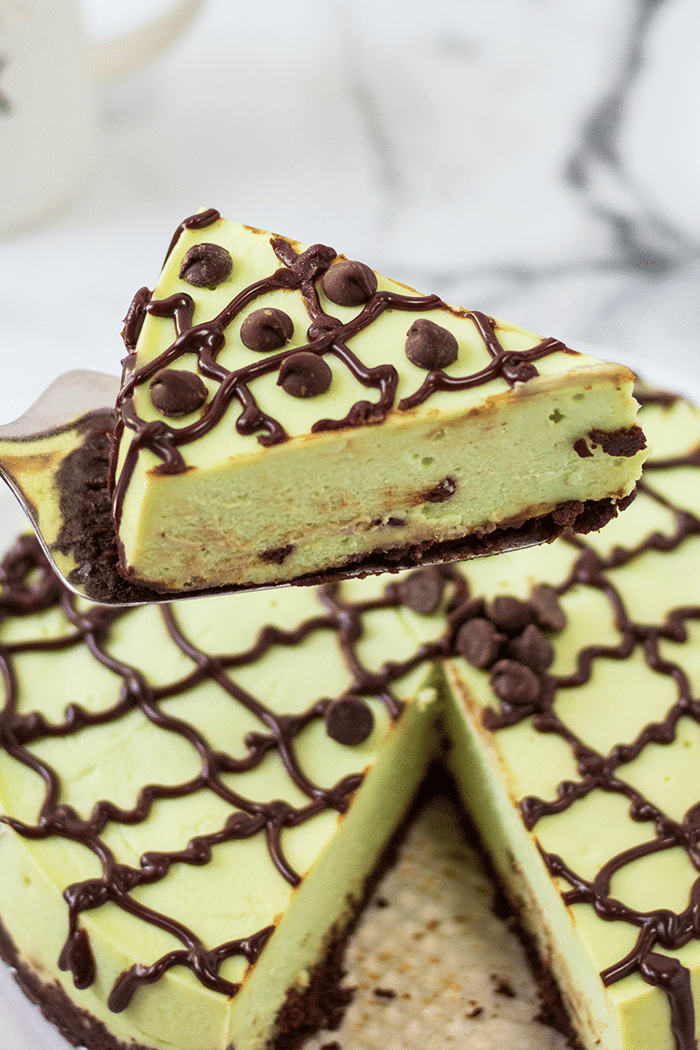 Mint chocolate cheesecake instructions
Once you have gathered all your ingredients, you are also going to need to grab:
spring form pan
non-stick cooking spray
parchment paper
food processor
mixing bowls
spatulas
electric mixer
measuring cups/spoons
Instant Pot
Step 1: Make the chocolate crust – Using a food processor, make crumbs out of the chocolate graham crackers. You can also use a baggy and rolling pin to crush them up.
Pour crumbs into a mixing bowl and add in the brown sugar and melted butter. Mix together until it resembles wet sand.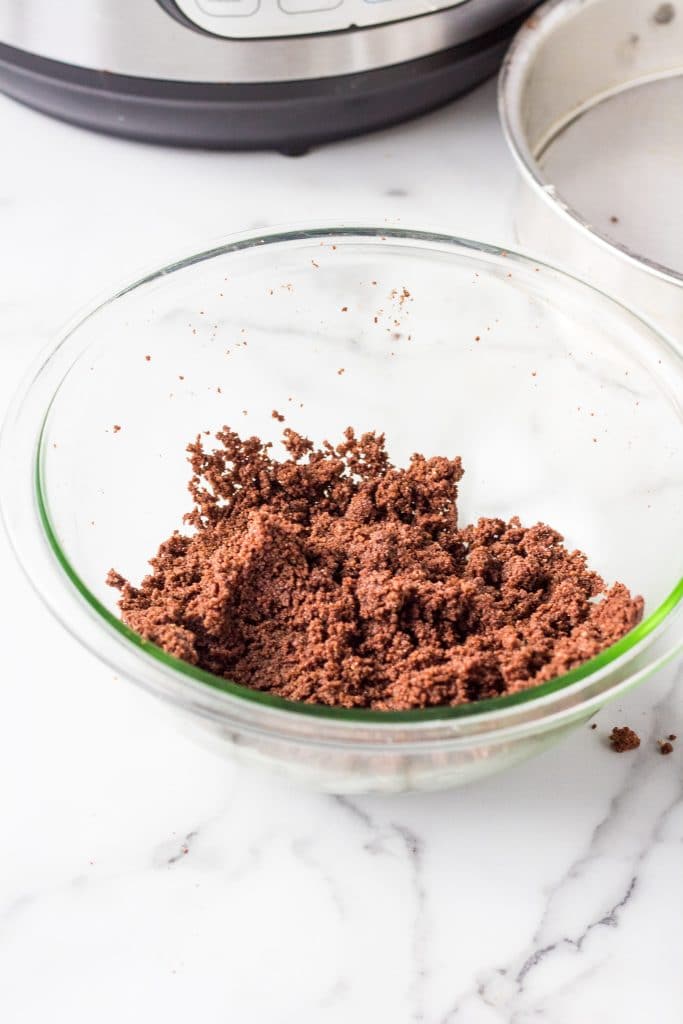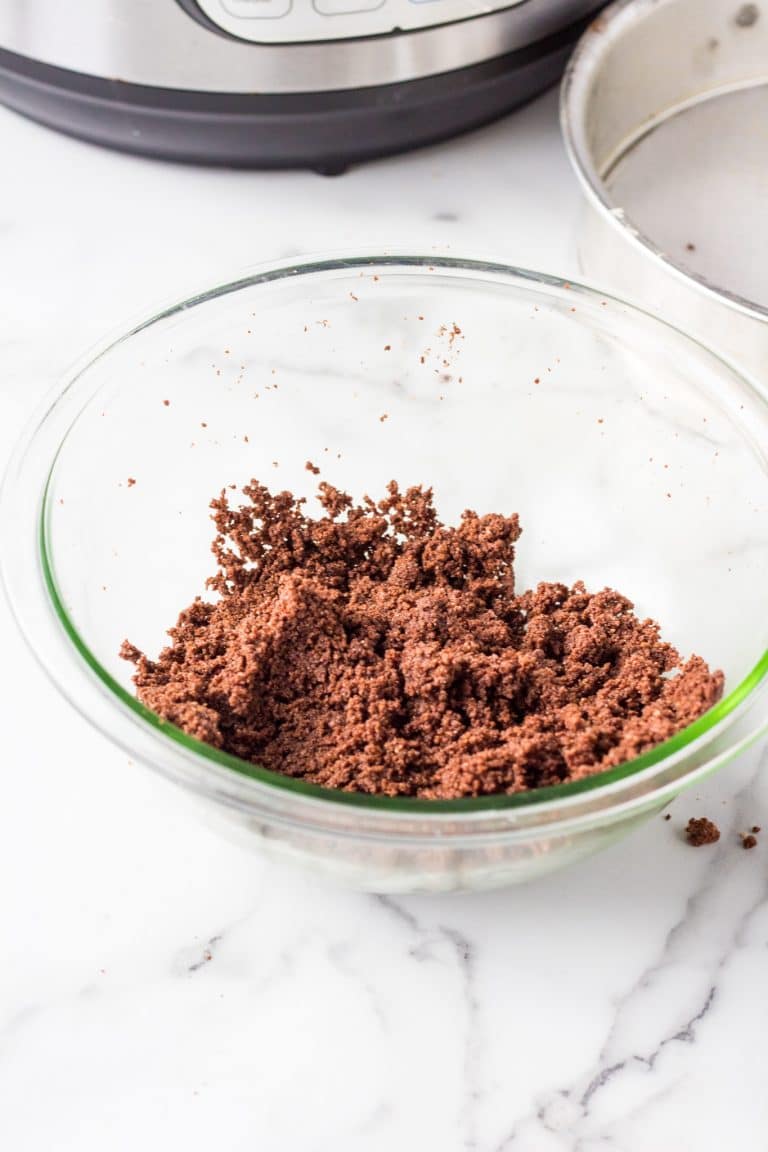 Step 2: Press the crust into pan – Spray the bottom of a spring form pan with cooking spray and cut out a circle of parchment paper for the bottom of the pan.
Scoop the crust mixture into the prepared pan and press down, coming up the side of the pan about 1/2 inch. You can use a glass or a measuring cup to tightly press the crust into the pan. Place in the freezer while you make the filling.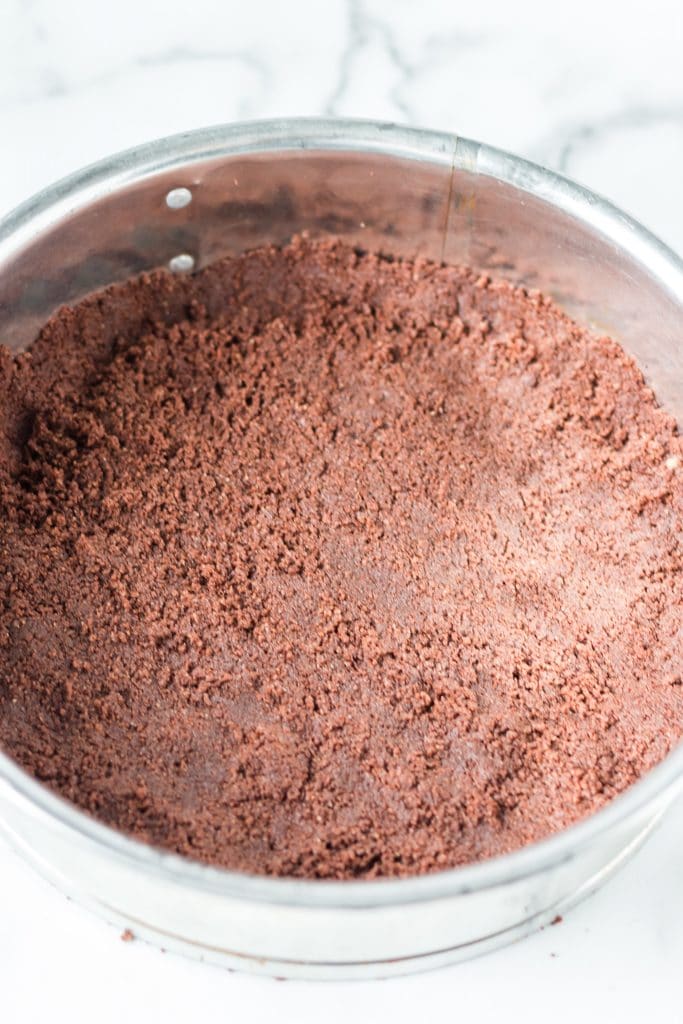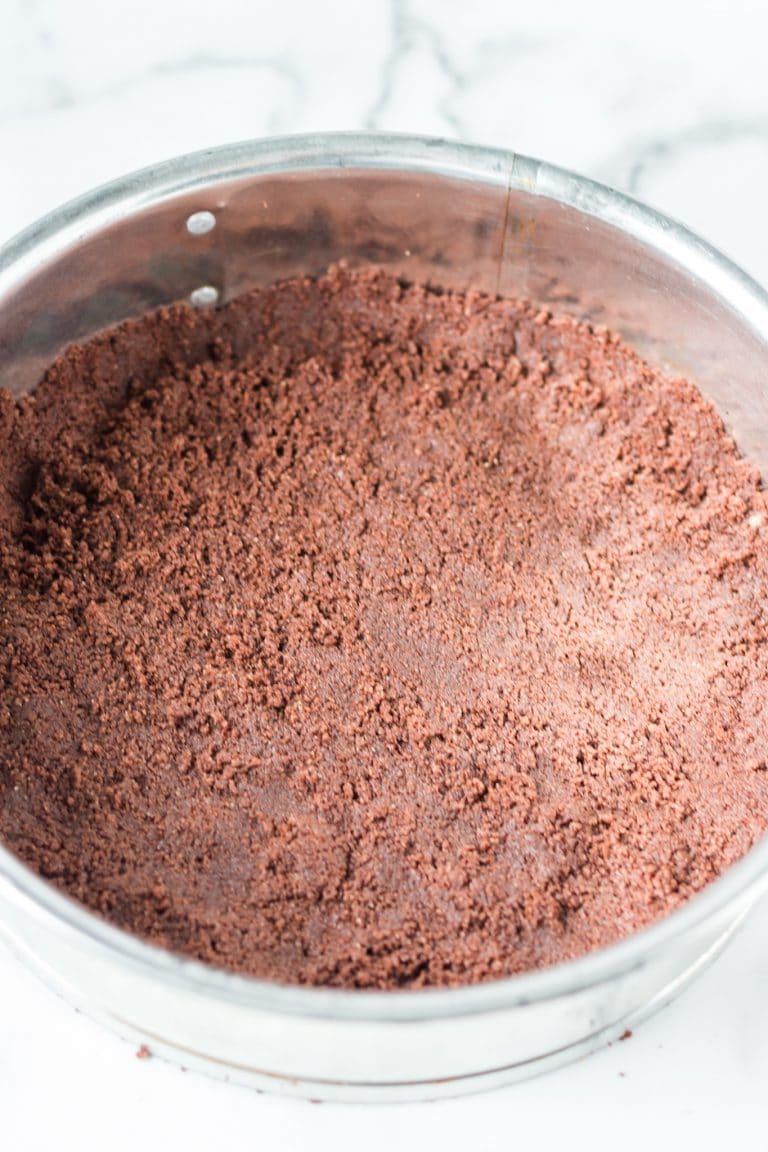 Step 3: Make the filling – In a large mixing bowl, beat the cream cheese, sugar and flour until creamy with an electric mixer. Add in the sour cream and mint extract and continue to mix using the mixer.
Add room temperature eggs, one at a time to the bowl, beating in between each egg. Mix in green food coloring here, if using.
Fold in the chocolate chips with a spatula or spoon.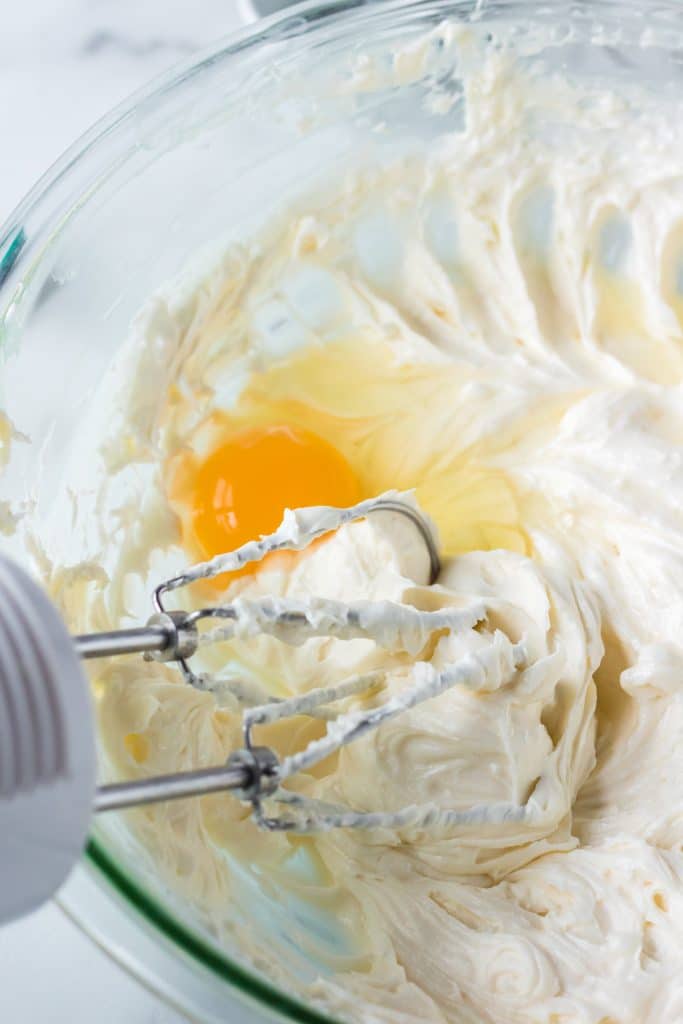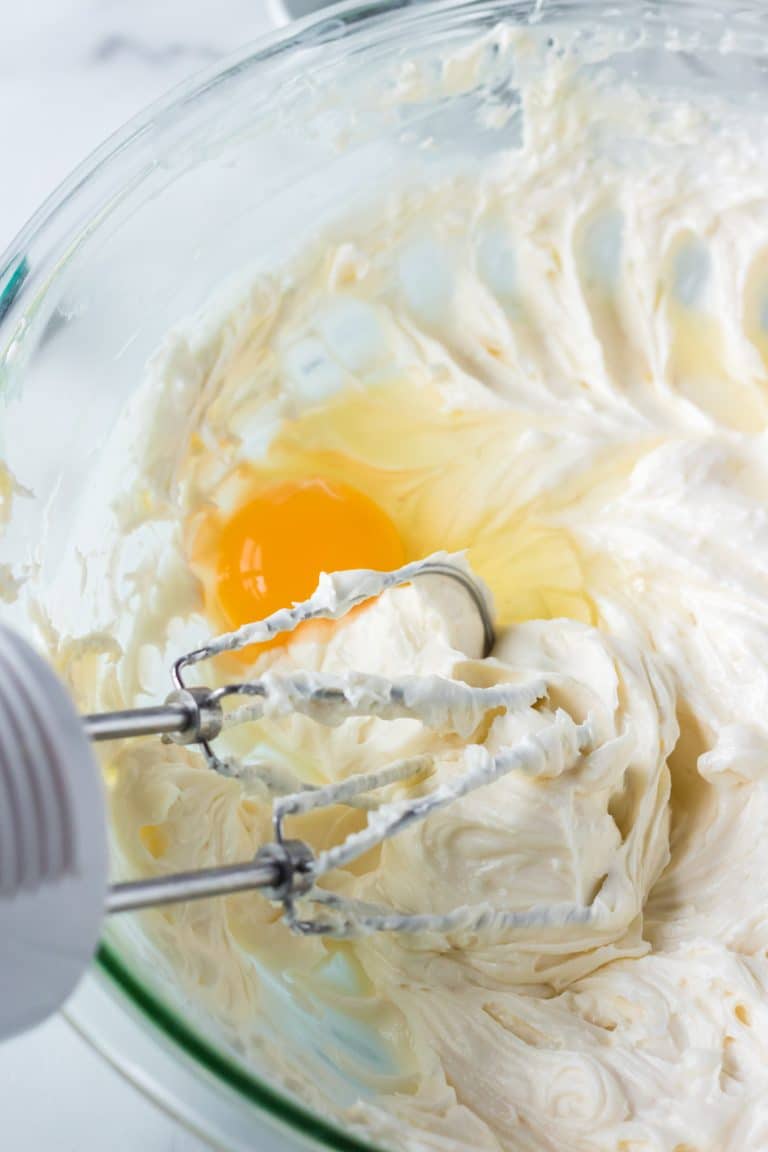 Step 4: Finishing the cheesecake prep – Bring out the chocolate crust and scoop in the cheesecake filling. Smooth over the top with a spatula.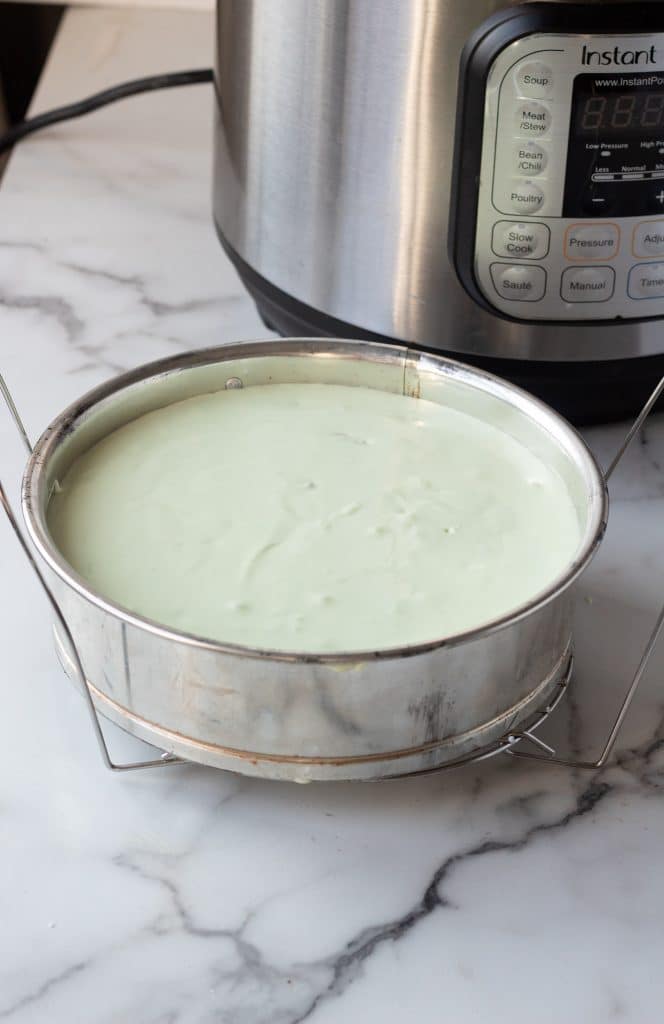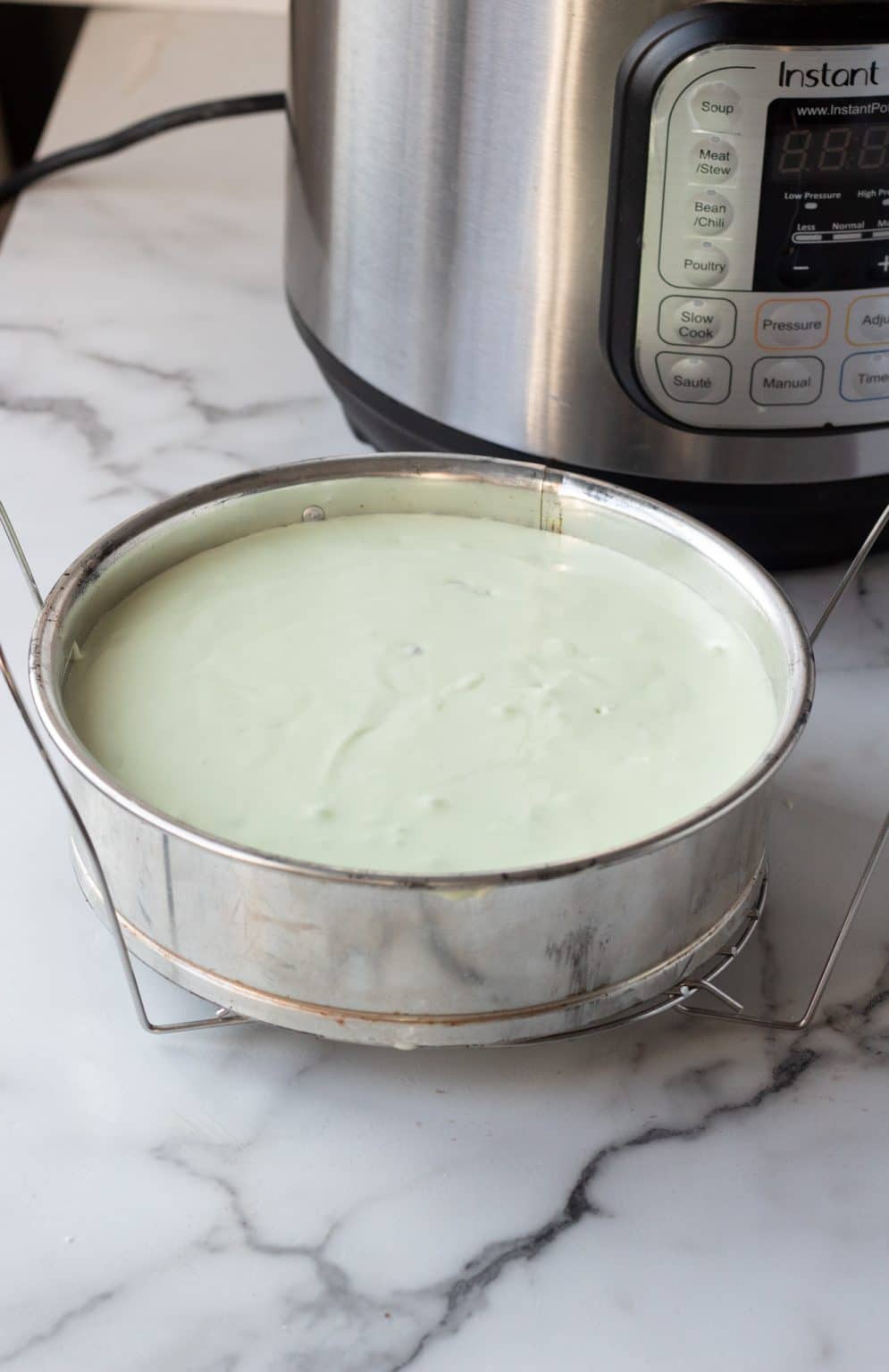 Step 5: Prepare the Instant Pot – Place your water in the bottom of the Instant Pot and add your trivet. Carefully place the spring form pan on top of the trivet.
Put the lid on and set the valve to sealing.
Step 6: Set the cook time – Set the Instant Pot to cook on high pressure for 35 minutes.
When the cheesecake is done, allow a natural release. Remove the lid and the cheesecake. Wick away any water from the top or around the edges.
Cover the cheesecake and place in the refrigerator for 2 hours up to overnight.
Step 7: Make the ganache (optional) – If you would like to top your mint chocolate cheesecake with something, try this simple ganache.
Heat cream in the microwave in 30 second intervals until just hot to the touch, not boiling. Stir in chocolate chips.
Step 8: Top with ganache – Top your cheesecake with chocolate ganache by drizzling it over the top. Place back in the fridge to harden.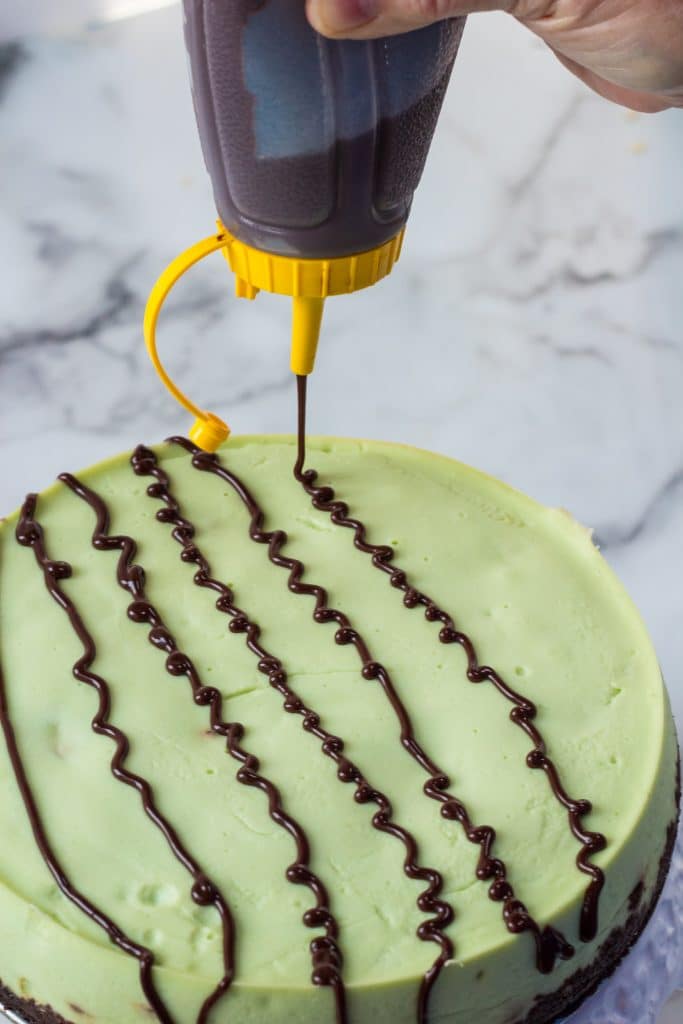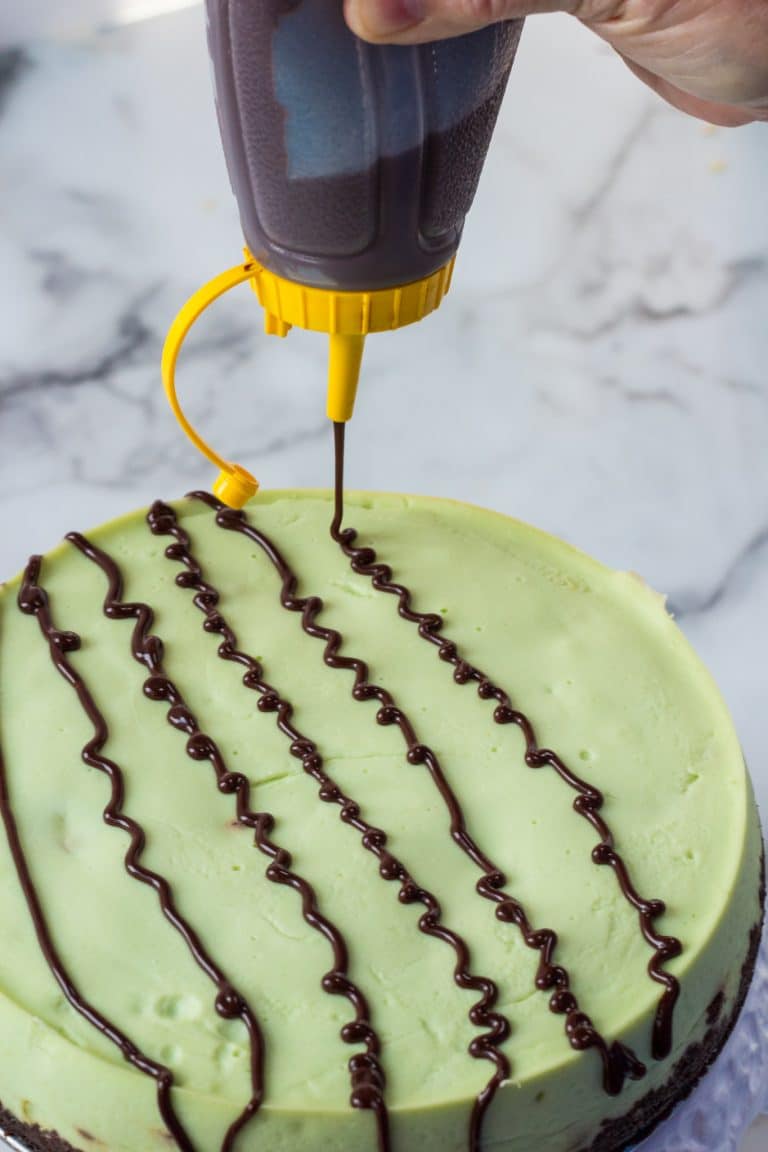 Storage instructions
To store this mint cheesecake, place in an airtight container and store in the fridge. You can also use cling wrap over the spring form pan to keep it safe. The cheesecake will be good for up to 5 day.
Can I freeze cheesecake?
You can! The best way to freeze a cheesecake is to cut it into slices. Wrap the individual slices in foil or plastic wrap and place them in a large ziplock baggy. The frozen cheesecake will keep for up to 6 weeks in the freezer.
Coffee with your cheesecake
While this cheesecake is the star of the show, a nice coffee makes a great additional. Some DIY coffee recipes that I would recommend are: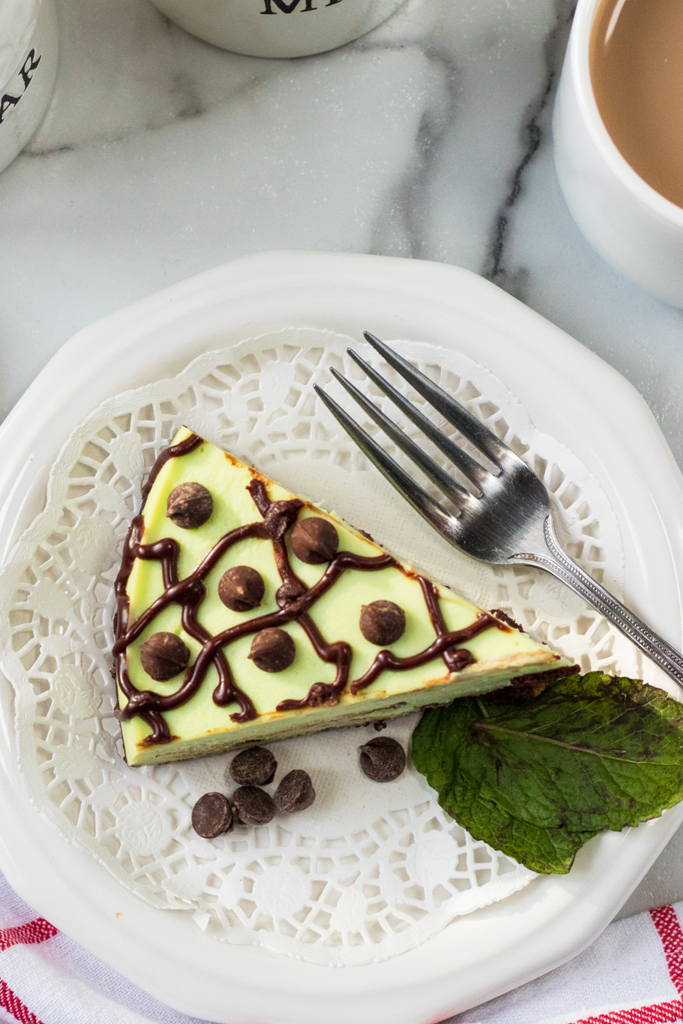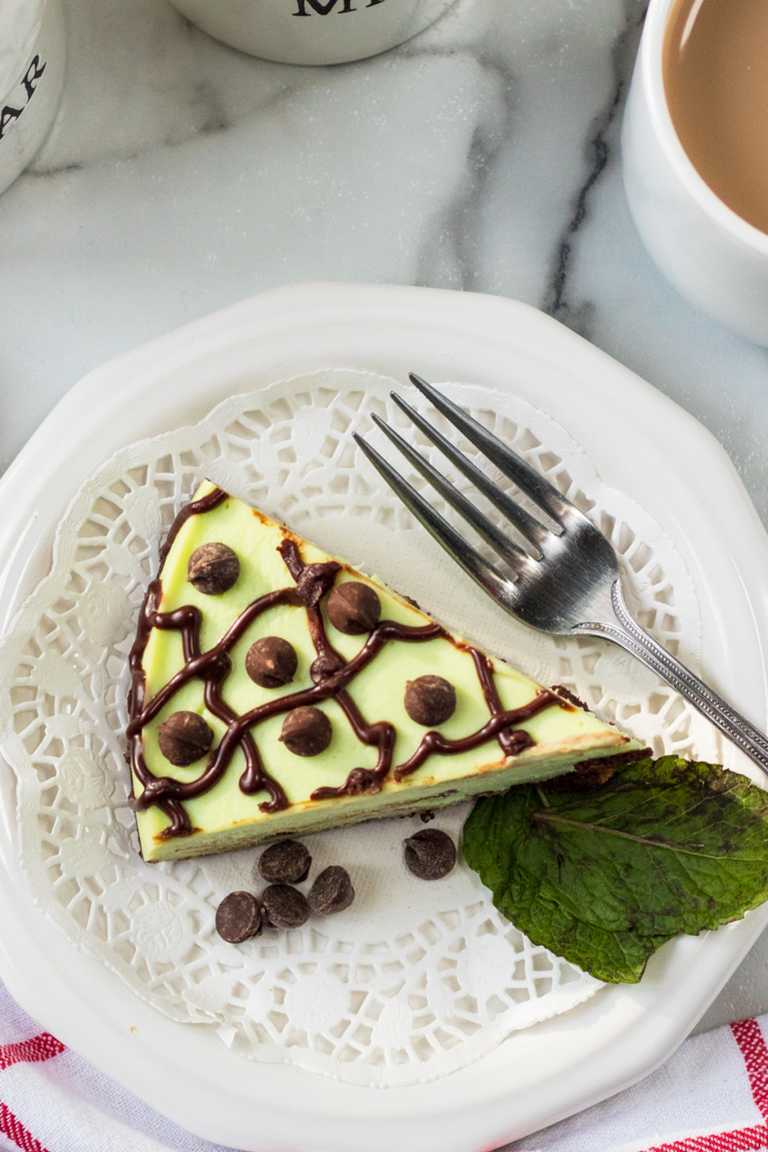 Mint chocolate cheesecake recipe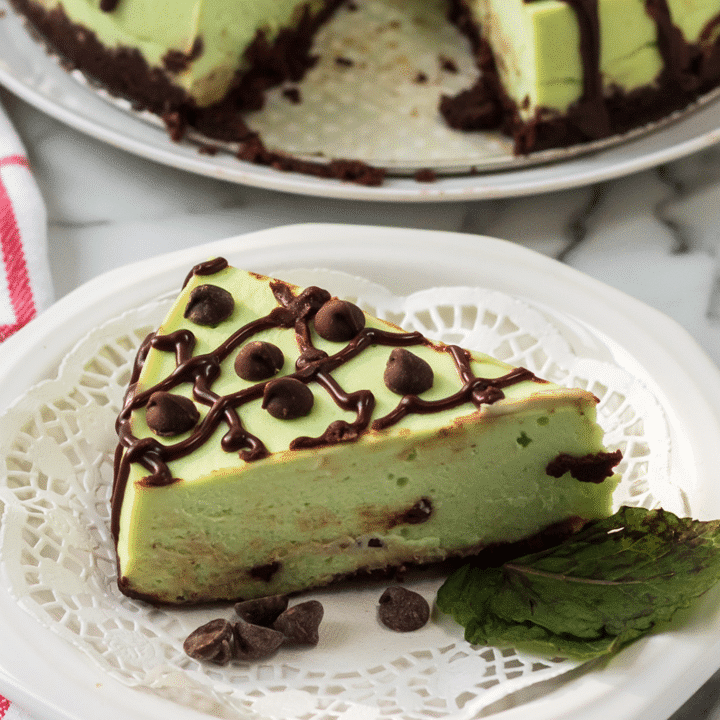 Mint chocolate cheesecake
Ingredients
Crust Ingredients:
2 cup chocolate graham cracker crumbs
2 tablespoon light brown sugar
5 tablespoon melted butter
Cream Cheese Filling Ingredients:
24 oz cream cheese, softened
1 cup white sugar
3 tablespoon all-purpose flour
3/4 cup sour cream
1-1/2 teaspoon mint extract
3 large eggs, room temperature
1 cup mini semi-sweet chocolate chips
Green liquid food coloring
Chocolate Ganache Ingredients, optional:
4 oz semi-sweet chocolate mini chips
4 oz heavy cream
Instructions
1.Add chocolate graham cracker crumbs, brown sugar and melted butter to bowl. Mix together by using a fork, mixer or food processor until the consistency of wet sand.
2.Spray bottom and sides of spring form cheesecake pan with a non-stick cooking spray. Wipe excess oil with paper towel.
3.Cut parchment paper to size of bottom of pan and insert into bottom.
4.Scoop graham cracker mixture into pan and press evenly into bottom and up sides about 1/2 inch. The bottom of a drinking glass can help with pressing the bottom.
5.Put pan into freezer while preparing the filling.


Mint Chocolate Chip Cheesecake Filling Instructions:
1.In large bowl, using electric mixer, beat cream cheese, sugar and flour at low speed until smooth and creamy.
2.Mix in sour cream and mint extract on low speed until combined.
3.Add eggs, one at a time, beating on low speed after each, just until combined.
4.Mix in drops of food coloring, on low speed until it reaches your desired color. I added 6 drops.
5.Fold in chocolate chips.
6.Remove pan of crust from freezer and pour mixture into pan.
7.Add 1 cup water to bottom of Instant Pot.
8.Place cheesecake pan on trivet that comes with the Instant Pot and lower into Instant Pot.
9.Place lid on pot and seal according to your pot instructions.
10.Set on high pressure and cook for 35 minutes.
11.Allow pot to cool and release pressure.
12.Remove cheesecake from pot.
13.Using the end of a paper towel, wick and water that has gathered around the edges of pan.
14.Cover cheesecake and refrigerate several hours or overnight.


Chocolate Ganache Instructions, optional:
1.Heat cream in microwave until just hot to the touch, not boiling.
2.Add chips. Stir.
3.Heat 15 seconds at a time until chips are melted. Do not heat too much.
4.Stir until well-combined.
5.Cool to room temperature before using.
6.Drizzle onto top of cake, using a spoon or piping tip.
7.Cool in refrigerator until ganache is set before slicing.

Like this recipe? Be sure to PIN IT!