If Chai Latte is your beverage of choice, these Chai Latte Truffles are a must. Easily prepare them at home and have them as a sweet treat whenever you are in the mood for a sweet treat. Let me show you how to make this easy chai latte recipe today!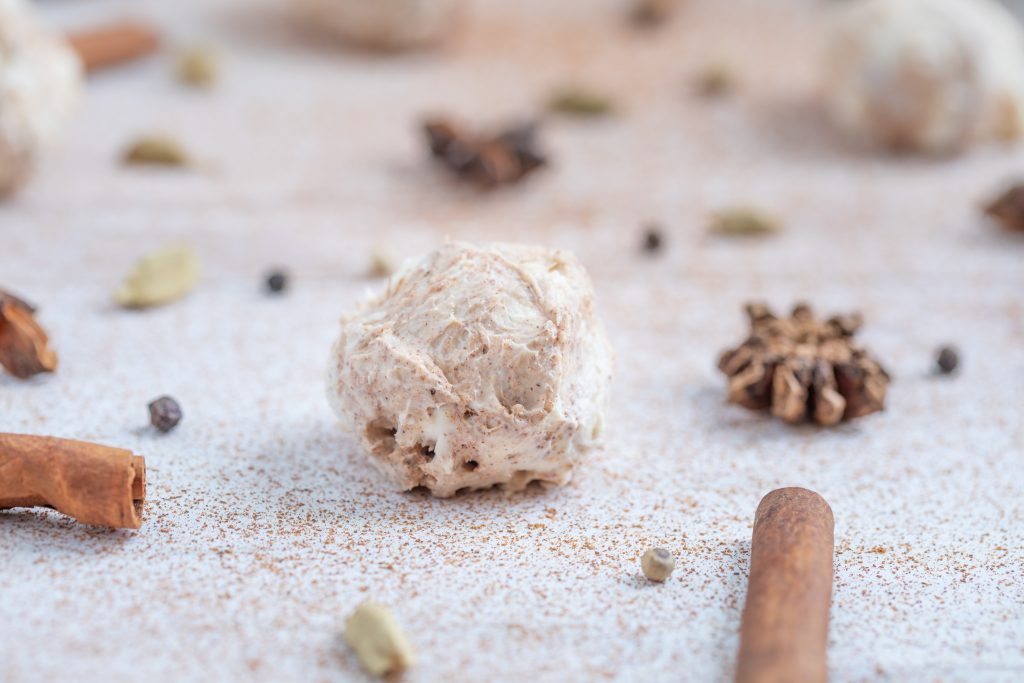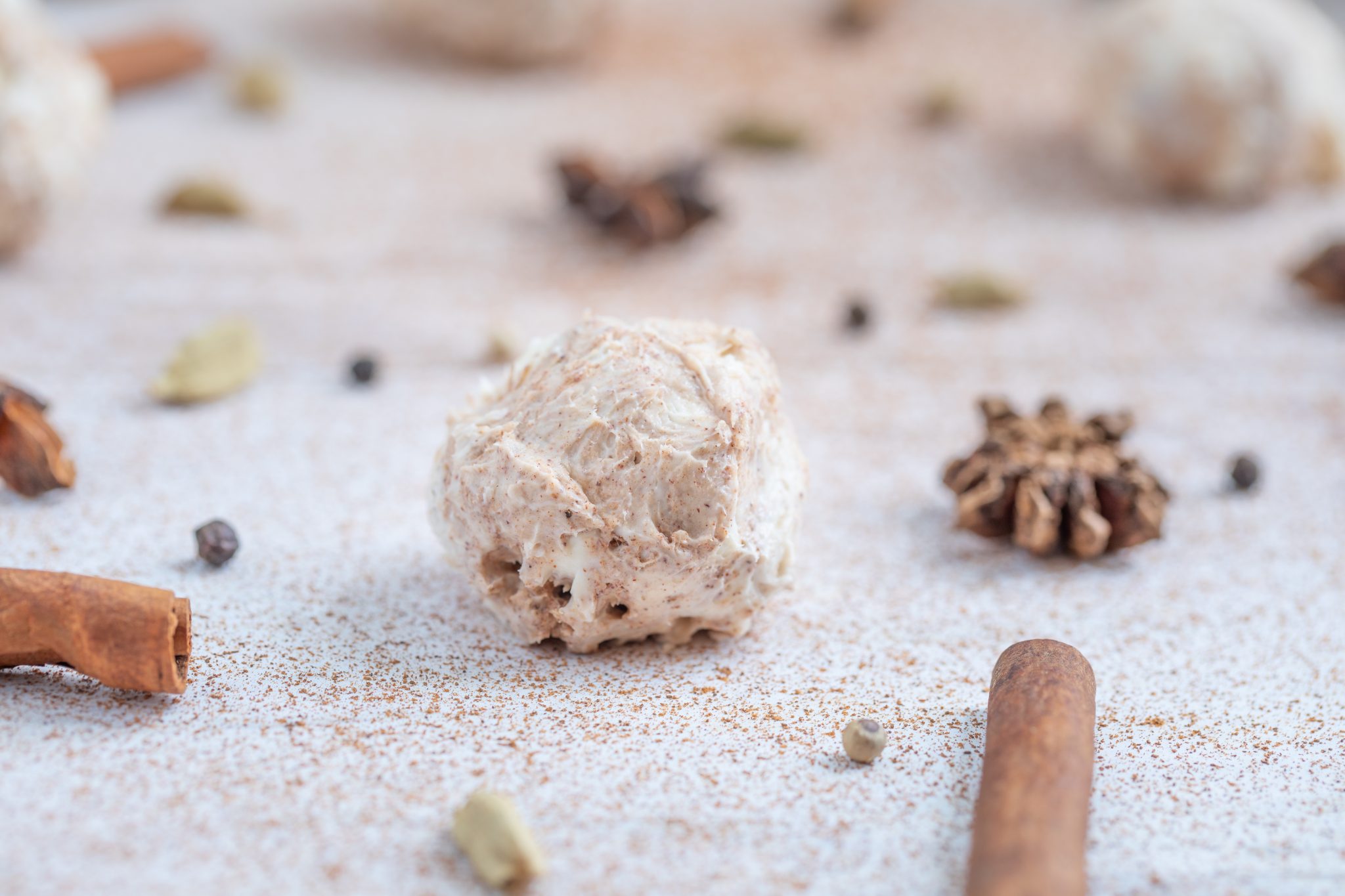 Yall know that chai lattes are one of my favorite drinks. I love the spices that are used in make a chai latte. They are so warm and comforting. I even love them in oatmeal!
I have combined my love of all things chai spice with decadent truffles. And they are SO good! And easy!
What Are Chai Latte Truffles?
The Chai Latte Truffles are tasty confections made with assorted baking ingredients, such as confectioner's sugar, vanilla extract, whipping cream, and much more. These Chai Truffles taste like the beverage because of the added ingredients, including cinnamon sticks, cloves, ginger root, and peppercorns.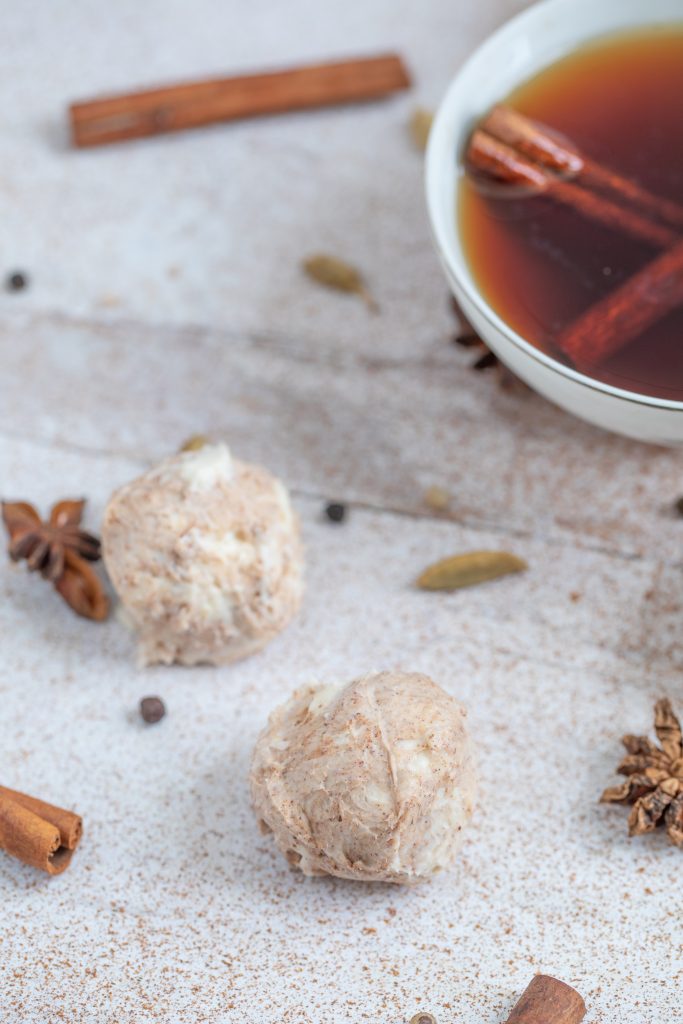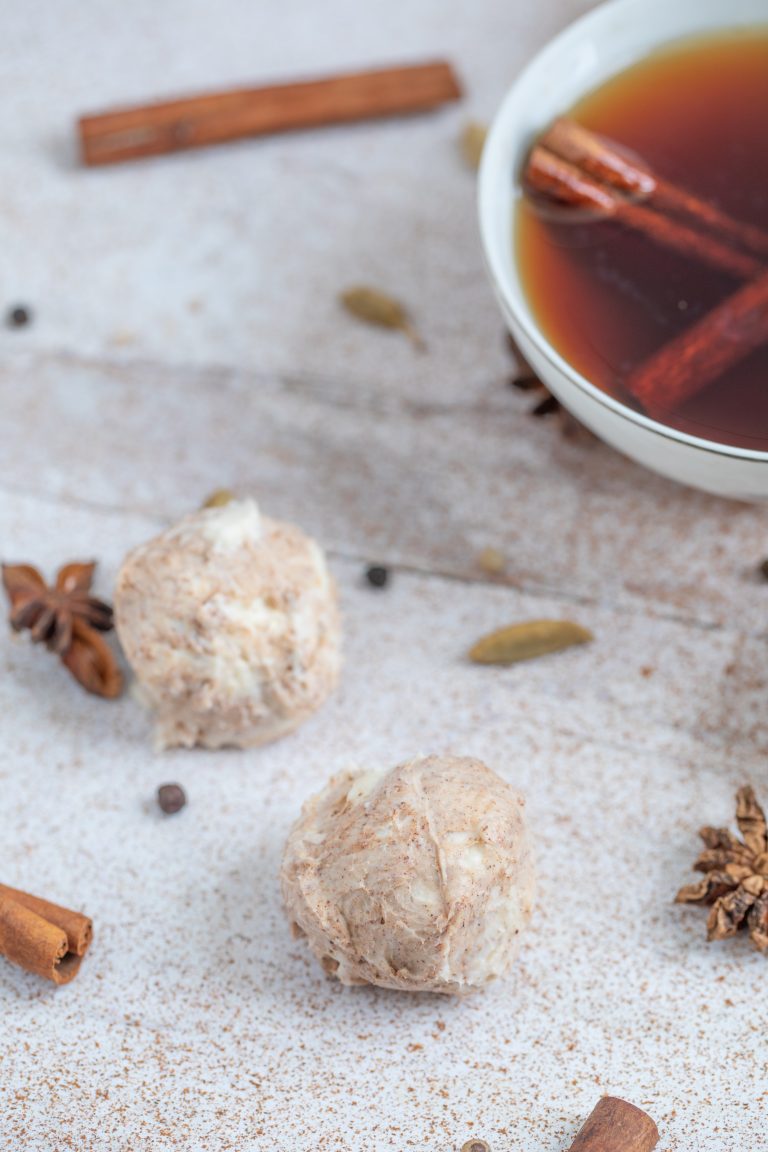 Chai Latte Truffle Ingredients
Prepare these tasty treats with some of the following ingredients:
Cream Cheese. The cream cheese creates the perfect consistency and offers a creamier taste with each bite of the truffles.
Whole Cloves. Adding cloves to the truffles will give them more flavor.
Ground Cinnamon. The ground cinnamon adds a slightly woody taste to these homemade truffles.
Confectioner's Sugar. Make your truffles taste even sweeter by using confectioner's sugar. You can use a low carb powdered sugar and these would make a great keto snack!
Vanilla Extract. A little bit of vanilla extract is worth adding to your truffles to enhance the flavor of them even more.
These and a few other important ingredients will help you create the best Chai Truffles you have ever tasted.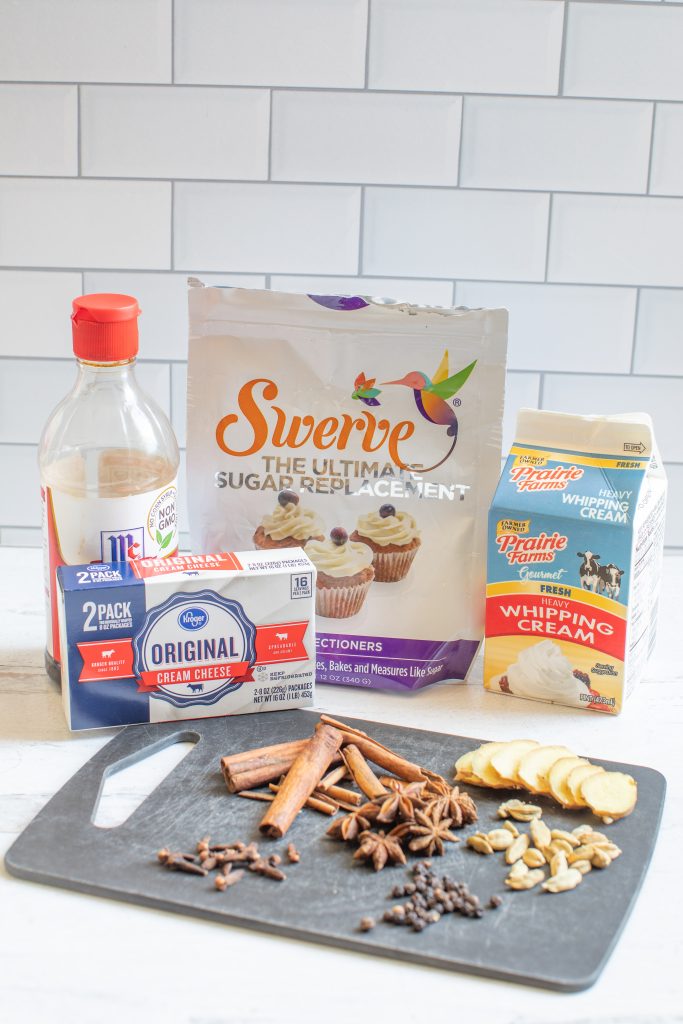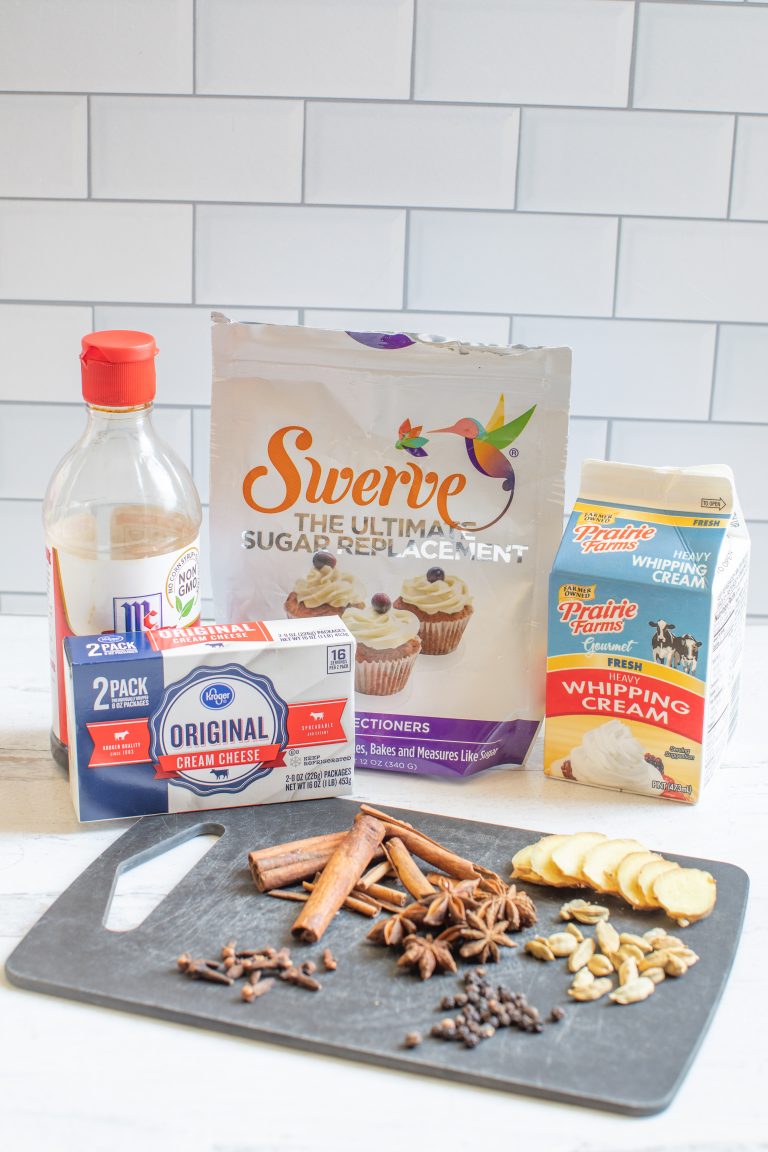 Truffle Ingredients
Here are the exact ingredients you need to make these delicious Chai Truffles:
8 ounces cream cheese, softened
½ cup heavy whipping cream
12 whole peppercorns
12 whole cardamom pods
2 whole cloves
2 cinnamon sticks
4 star anise, crushed
2 inches fresh ginger root, sliced
1 teaspoon ground cinnamon
½ teaspoon fresh ginger
Pinch of cloves
1/3 cup Swerve Confectioner's sugar
½ teaspoon vanilla extract
How to Make Chai Latte Truffles
The Chai Latte Truffles are a lot easier to make than you might think. Follow these simple steps!
Step 1: Prep
Get your saucepan ready and begin adding ingredients to it, such as the heavy whipping cream whole cloves, and anise. You will need to heat the mixture of ingredients for five minutes on low heat without boiling it.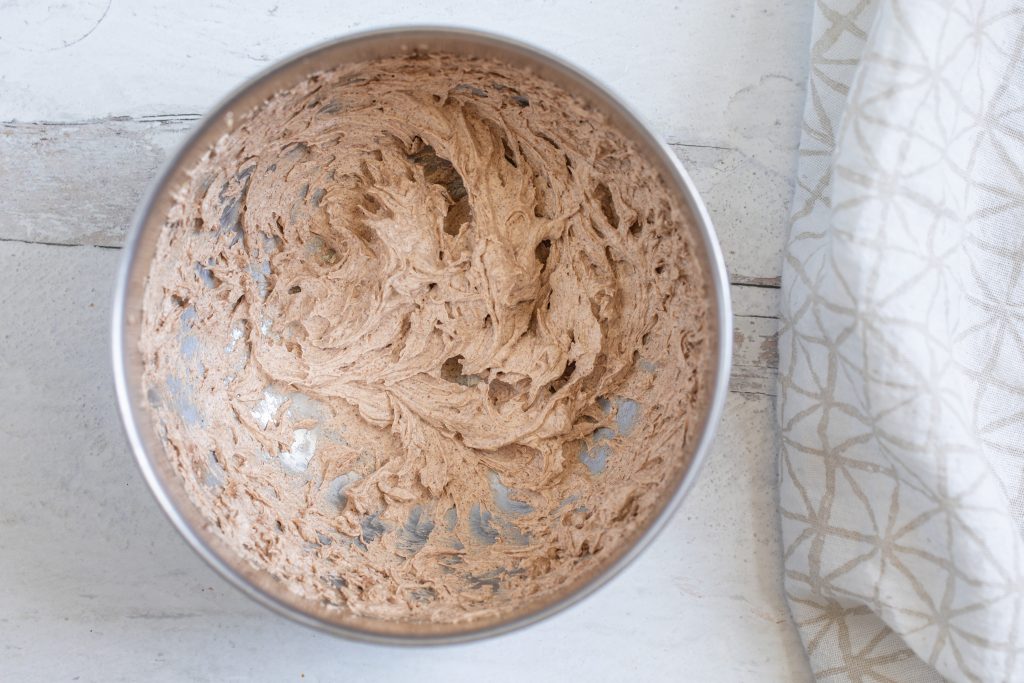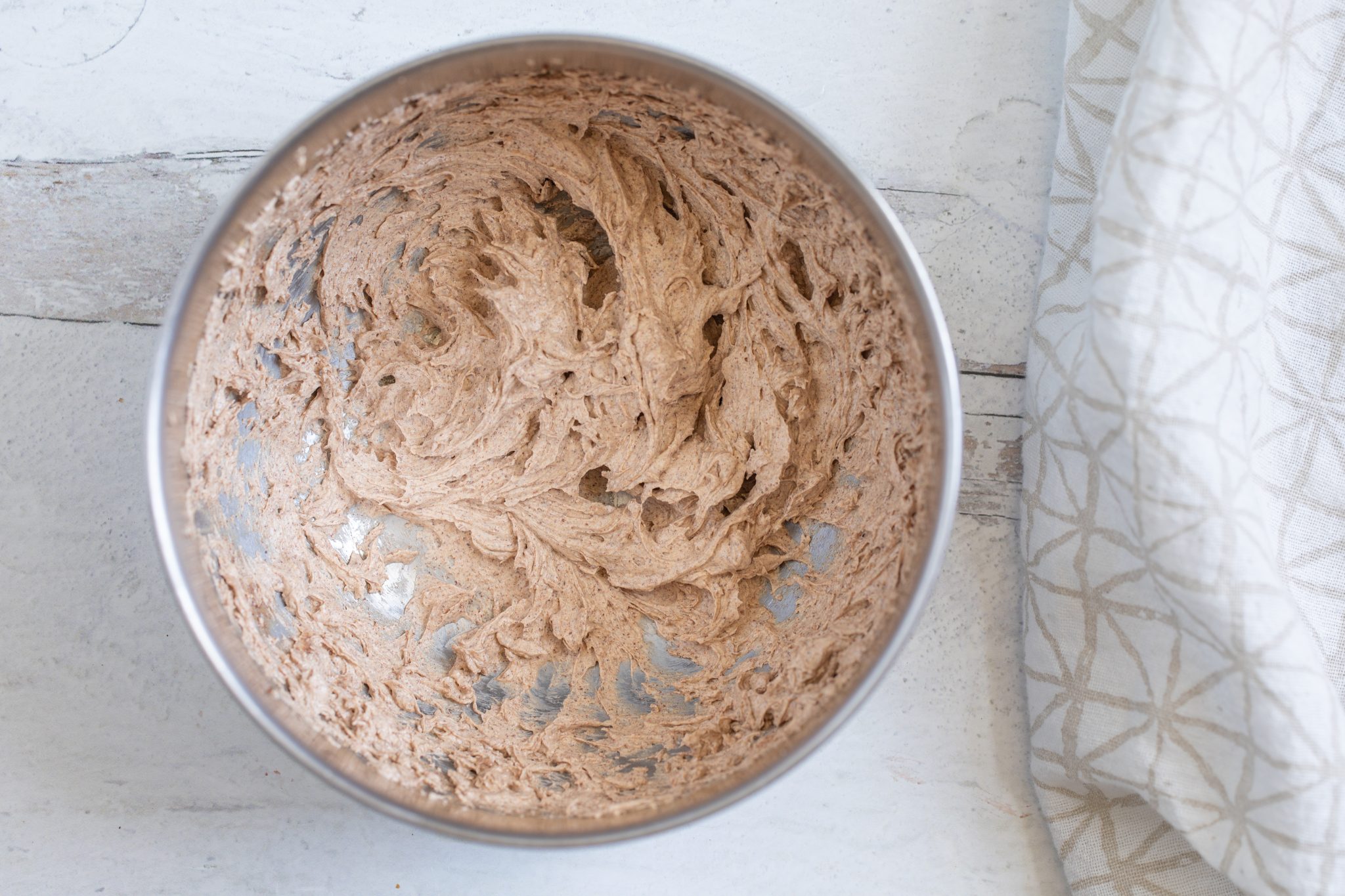 Step 2: Strain Ingredients
Use a mesh strainer to easily strain the liquid. Set the liquid off to the side and give it at least 10 minutes to cool down.
Step 3: Mix Ingredients
Add your spice-infused cream with any additional spices included in the recipe and continue beating for roughly 2.5 minutes. Use a different bowl to mix your cream cheese with the powdered sugar and vanilla extract, beating until it turns into a fluffy consistency.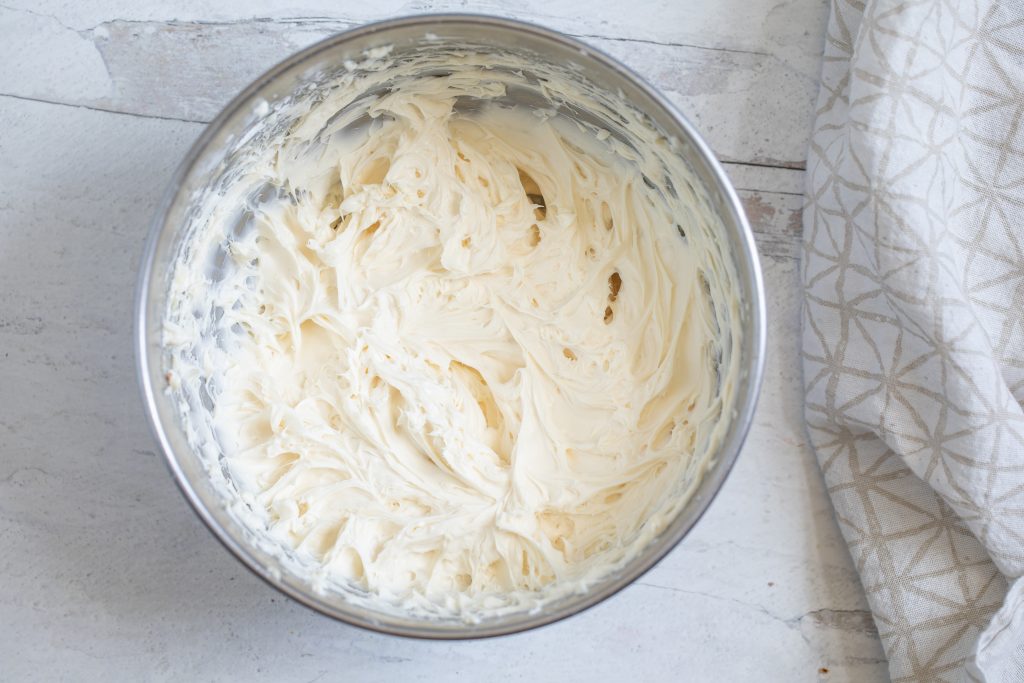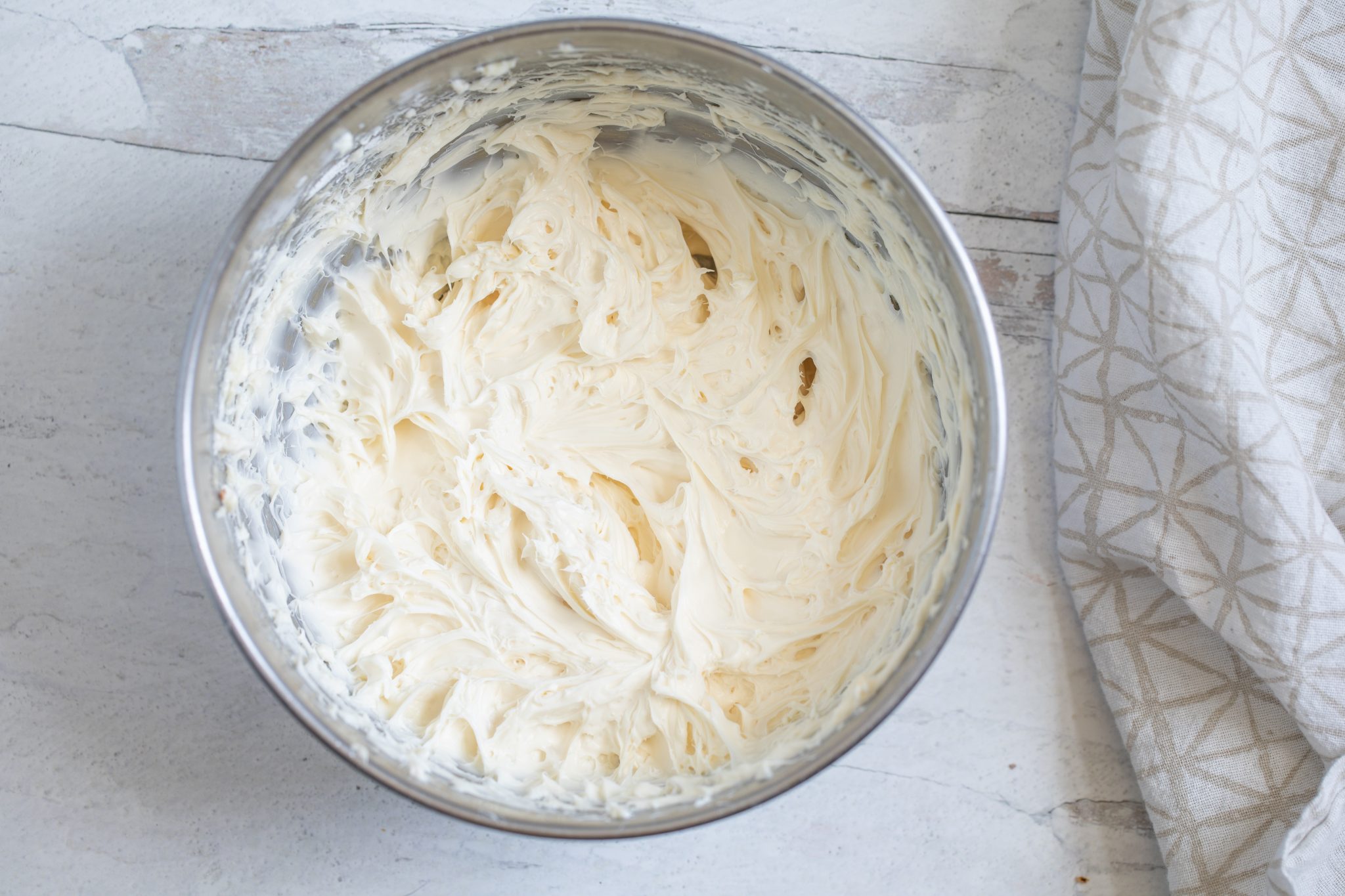 Step 4: Fold Ingredients
Fold your whipped cream blend into the cream cheese blend. Cover the mixture and leave it in the fridge for 20 minutes.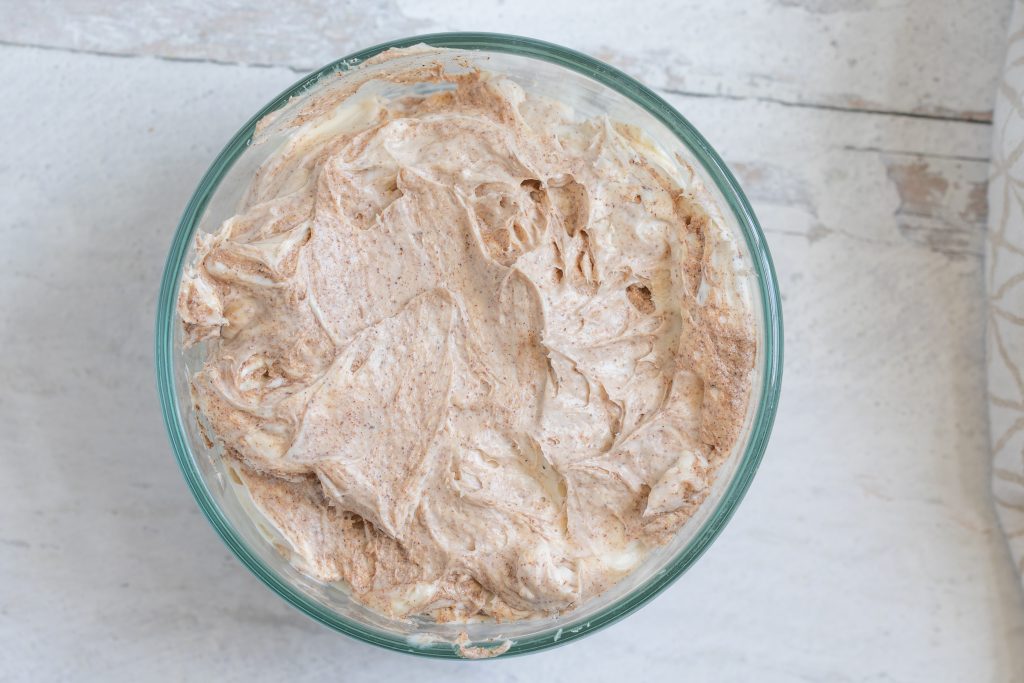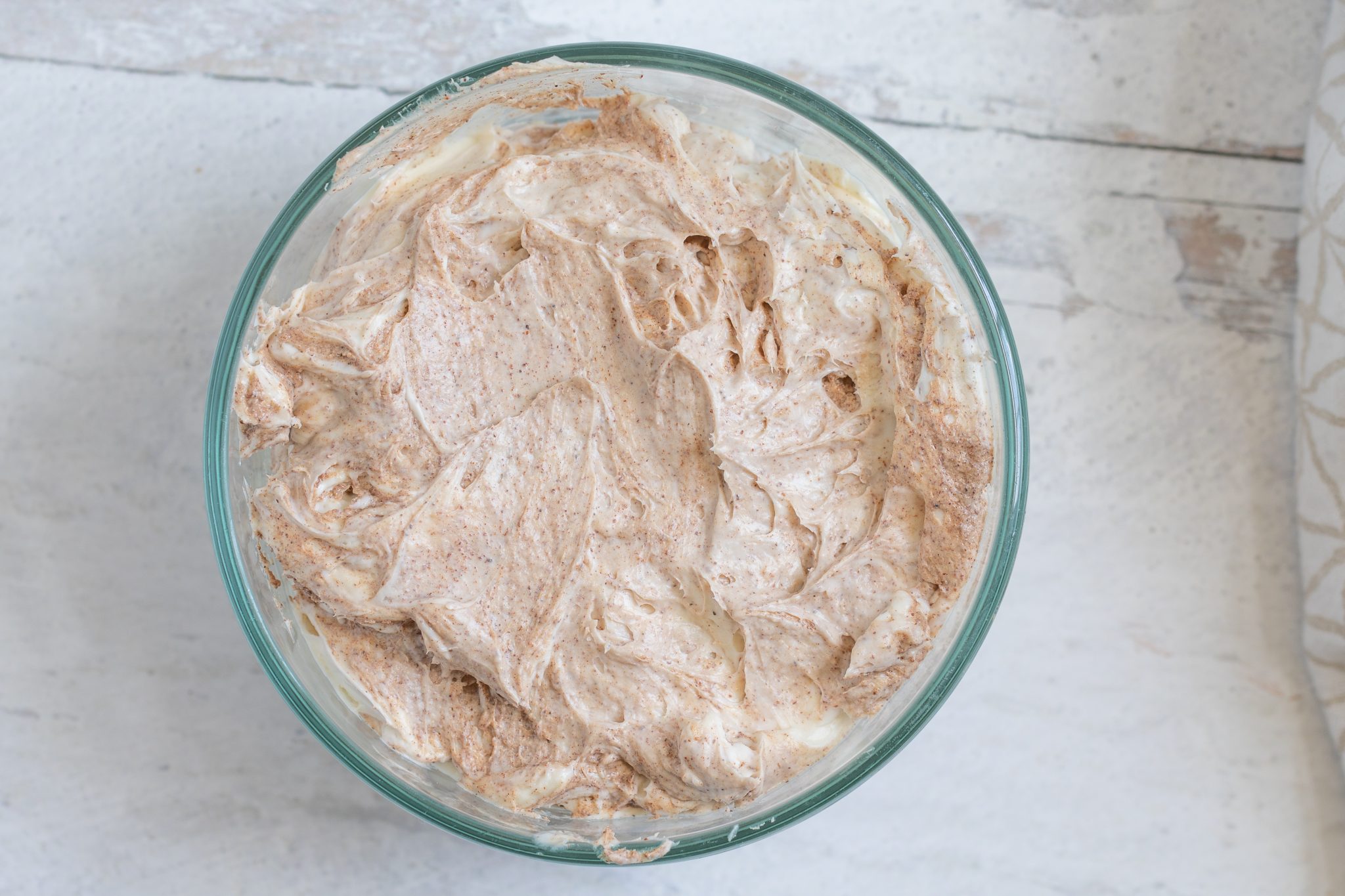 Step 5: Roll Into Balls
Once your mixture cools down for 20 minutes in the fridge, roll it into small balls, put them in the freezer for 15 minutes, and then serve them.
How to Store Them
Store the Chai Truffles by placing them on parchment paper and storing them inside an airtight container to keep air from seeping into the container. Place them in the fridge for as long as five days or the freezer for up to six months.
Can I Freeze Them?
You can freeze the Chai Truffles. If you want to preserve them for a longer period, simply make sure to add them to an airtight container before placing them in your freezer.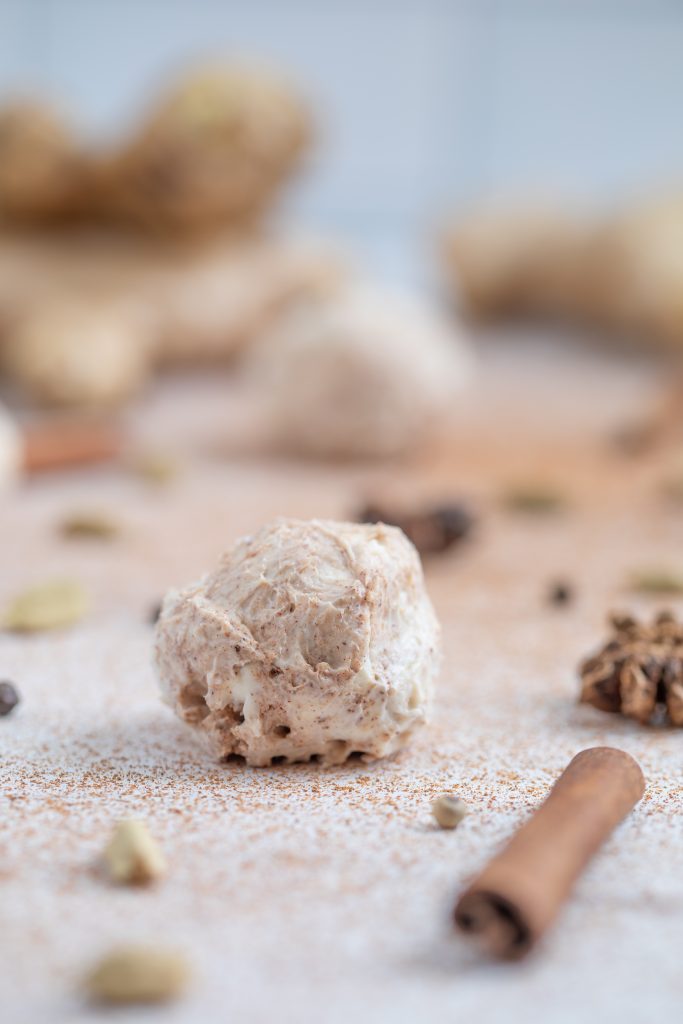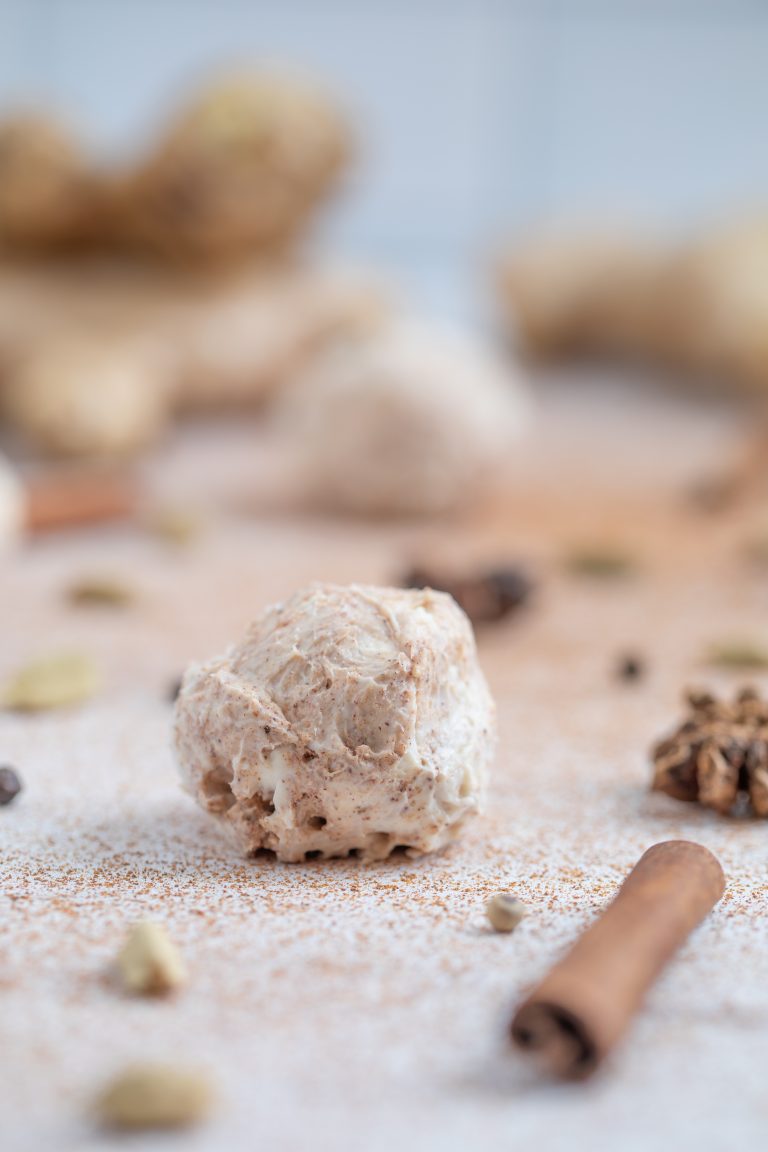 What Is a Mesh Strainer?
A mesh strainer is a sifting tool that helps to separate solids from liquids. It leaves the liquid with a velvet-like consistency.
Other Chai Recipes
There are several other chai recipes worth trying. Check out some of the following recipes: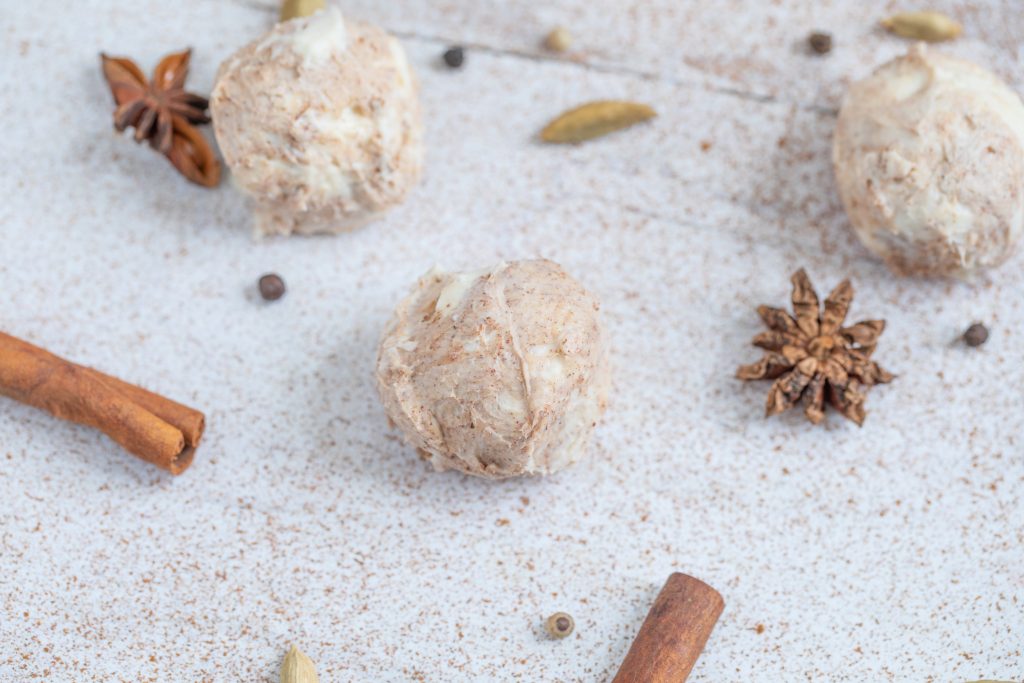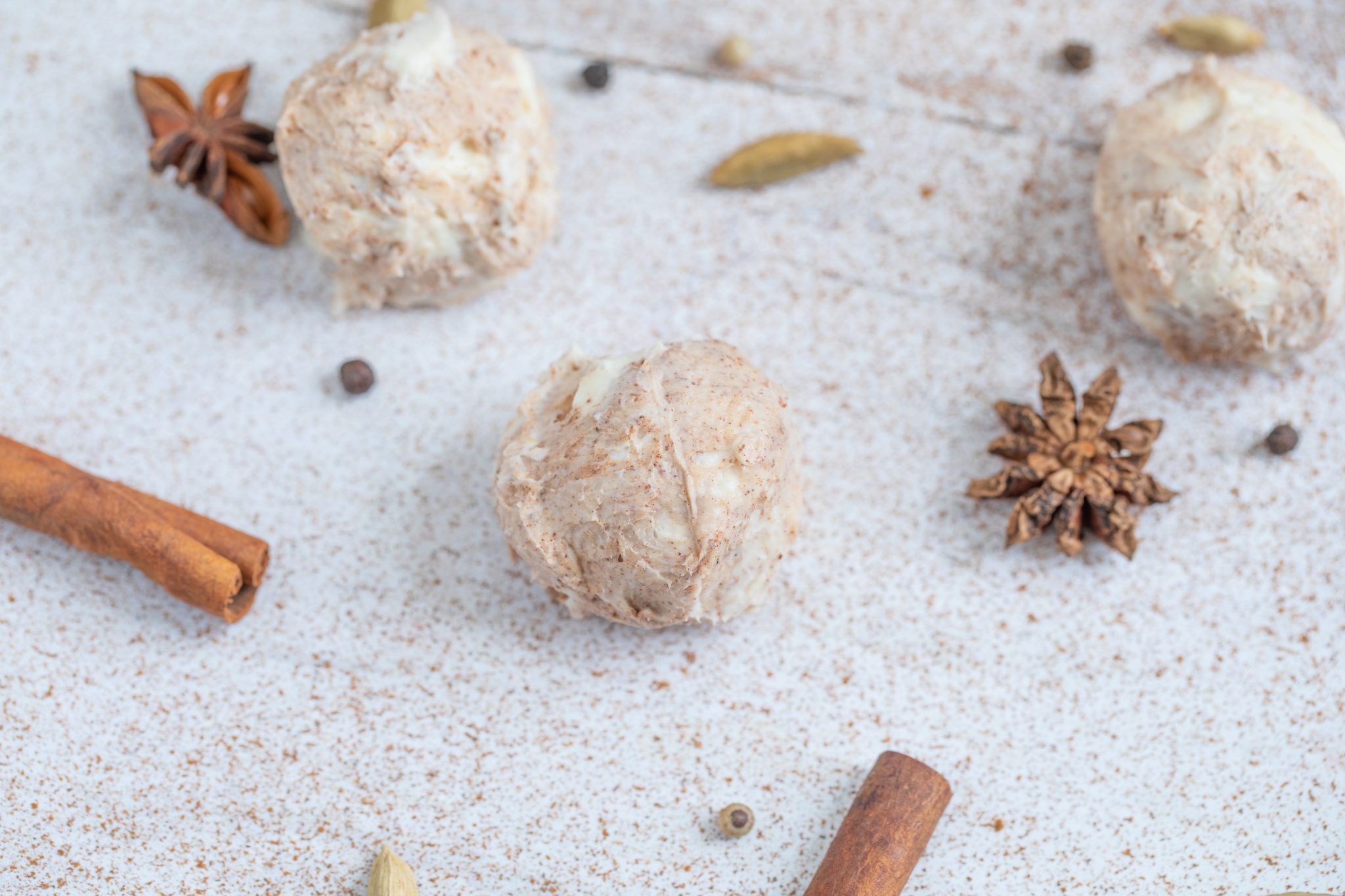 Other Truffles to Try
You can also try some of the following truffles recipes: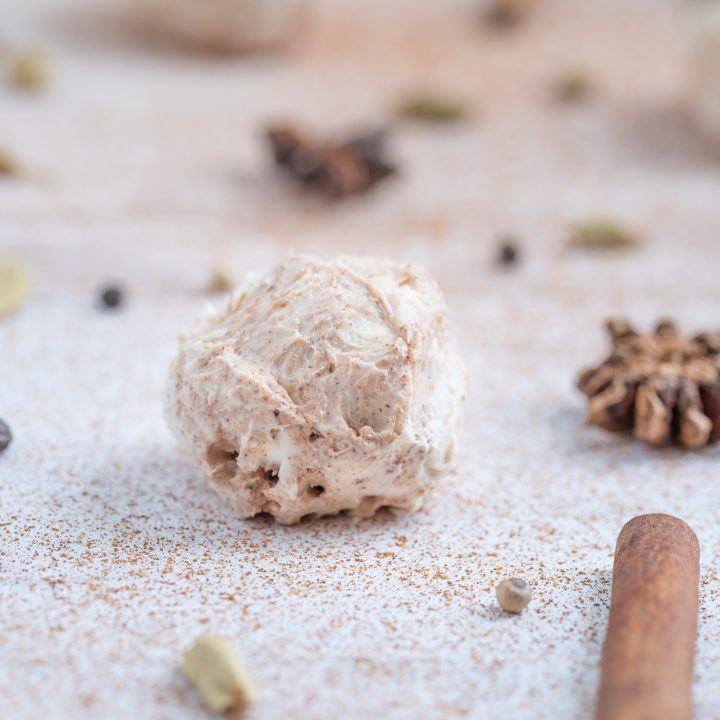 Chai Latte Truffles
Additional Time:
15 minutes
How to make truffles that taste just like a chai latte!
Ingredients
8 ounces cream cheese, softened
½ cup heavy whipping cream
12 whole peppercorns
12 whole cardamom pods
2 whole cloves
2 cinnamon sticks
4 star anise, crushed
2 inches fresh ginger root, sliced
1 teaspoon ground cinnamon
½ teaspoon fresh ginger
Pinch of cloves
1/3 cup confectioner's sugar
½ teaspoon vanilla extract
Instructions
In a saucepan, add heaving whipping cream, peppercorns, cardamom pods, whole cloves, cinnamon sticks, star anise, and ginger root.
Over low heat (do not boil), just below a simmer, heat for 5 minutes, stirring occasionally.
Remove from heat and strain liquid through a mesh strainer, reserving liquid. Refrigerate until cooled – about 10 minutes
Beat spice infused cream with remaining spices until peaks form – about 2 ½ minutes
In a separate bowl, add cream cheese, powdered sugar, and vanilla extract, then beat until fluffy – about 2 minutes.
Add spice infused whipped cream to cream cheese mixture and fold gently until swirled together.
Cover mixture and refrigerate for 20 minutes.
Once solid enough to work with, ball into tablespoon sized balls and place on parchment covered pan.
Freeze for 12-15 minutes and serve.
To store, place in covered container and freeze. Thaw for 3-5 minutes prior to serving.
Nutrition Information:
Yield:

12
Serving Size:

1 truffle
Amount Per Serving:
Calories:

120
Total Fat:

10g
Saturated Fat:

6g
Trans Fat:

0g
Unsaturated Fat:

3g
Cholesterol:

30mg
Sodium:

63mg
Carbohydrates:

6g
Fiber:

1g
Sugar:

4g
Protein:

2g
Did you like this delicious recipe? If so, share it for others to enjoy! Sharing is caring.