You know it's fall when it's time to bake all the things. This caramel apple bundt cake is a fall favorite, not only because it's delicious but your house smells amazing too! Let me show you how to make this easy caramel apple cake today!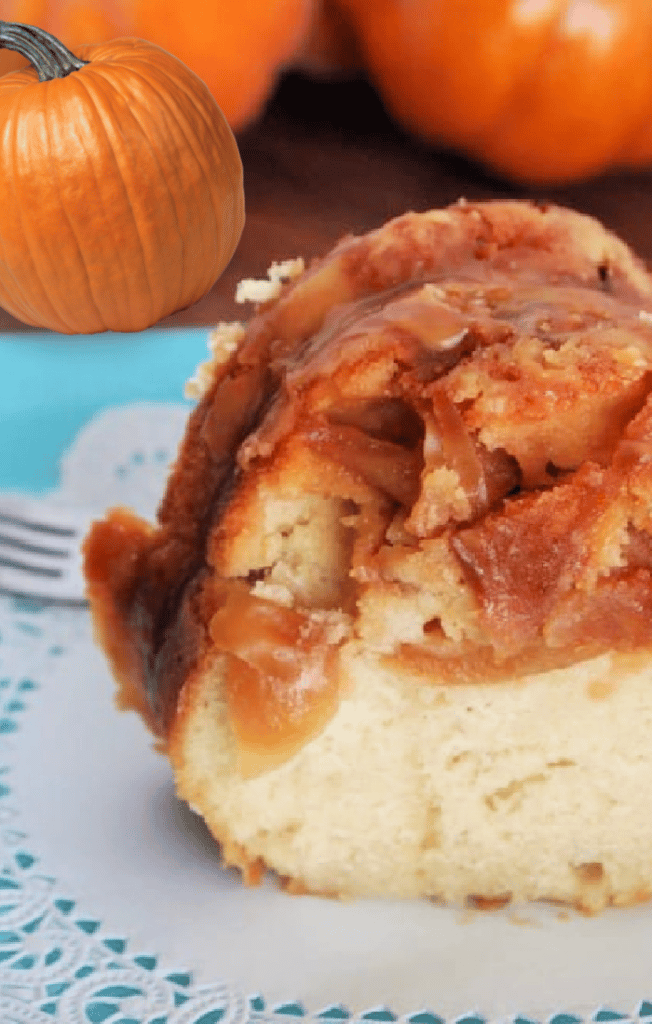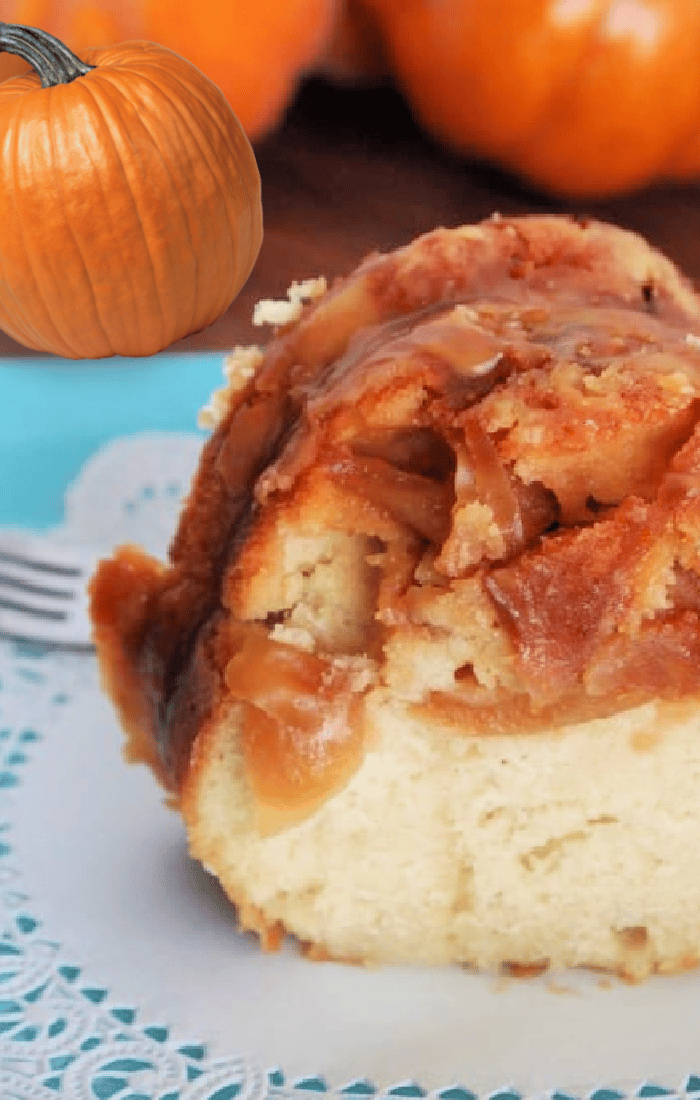 It's apple season, and that means it's time for all things apple-related! This caramel apple bundt cake is the perfect autumn dessert. The cake is moist and flavorful, with a delicious caramel glaze on top. It's perfect for a special occasion or simply because you feel like something sweet. So go ahead and indulge in some autumn deliciousness!
What is Caramel Apple Cake?
This fall favorite is a combination of two classic desserts: apple pie and caramel cake. The result is a moist, flavorful cake that is bursting with fresh apples. The key to this recipe is to use a variety of apples, so that you get a mix of sweetness and acidity. Granny Smith apples are a good choice for this cake, as they add a tartness that helps to balance the sweetness of the caramel.
Once the cake is baked, it is finished with a creamy caramel drizzle. This rich drizzle complements the flavors of the cake perfectly, and it also makes for a beautiful presentation. Whether you are serving it at a Halloween party or just enjoying it with your family, Caramel Apple Cake is sure to be a hit!
Ingredients Needed for a Caramel Apple Cake
Apples– Make sure to chop your apples up so they are all relatively the same size. Using a variety of apples gives you a mix of sweet and tart.
Butter– Room temperature butter makes it easier to blend. Let the butter sit on the counter for 15-20 minutes before using.
Sugar & Brown sugar- Unlike with flour, you will want to pack your sugar and brown sugar in the measuring cup.
All-purpose flour– Do not pack your flour. Instead, use a spoon to scoop it into the measuring cup and level it off with a butter knife.
Baking powder- The baking powder helps the cake rise giving it a moist and delicious texture.
Salt– Salt helps to combine all of the flavors. A little bit of salt in baking is all you need.
Eggs– Room temperature eggs work best in baking. Set the eggs out with the butter before using in your batter.
Vanilla– Vanilla complements the flavors in the cake batter giving you a delicious vanilla cake mix.
Milk– You can use any kind of milk that you prefer. I use 2% or whole milk for this recipe.
Caramel– Get microwavable caramel. You will need to heat and melt it in the microwave.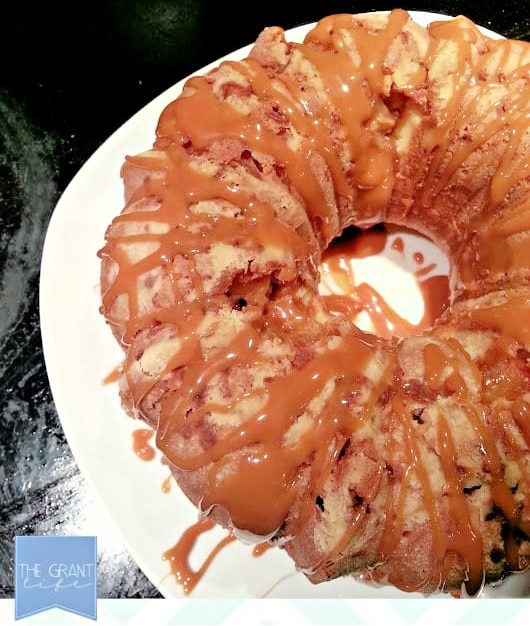 How to Make Caramel Apple Bundt Cake
This delicious caramel apple bundt cake is super easy to make. Just follow the steps below for an exquisite fall treat!
Step 1: Caramelize the Apples
First, add the chopped apples, butter, and brown sugar to a saucepan. Then, saute them for about 10-minutes or until the apples are soft and the sugar is caramelized.
Step 2: Preheat the oven
Next, preheat your oven to 350F. Then, spray and flour the bundt pan.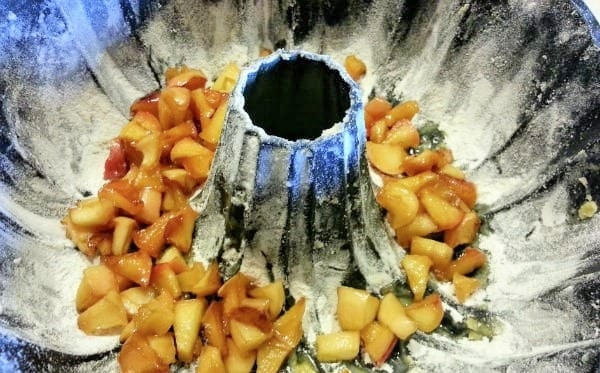 Step 3: Make the Cake Batter
Add the flour, baking powder, salt, sugar, softened butter, eggs, vanilla, and milk to a large mixing bowl. Mix the ingredients together until fully incorporated.
Step 4: Assemble the Cake
Next, add the caramelized apples to the bottom of the bundt pan. Then, cover the apples with the cake mix.
Step 5: Bake the Cake
Bake for 45 minutes or until a toothpick comes out clean.
Step 6: Make the Caramel Drizzle
Melt your caramel in the microwave until it comes out smooth. Then, drizzle it over the cooled cake.
Serve and Enjoy!
Hot Drinks to Pair With It
I love pairing this caramel apple cake with a hot drink – it's such a treat! Some of my favorite drinks to add with my cake are: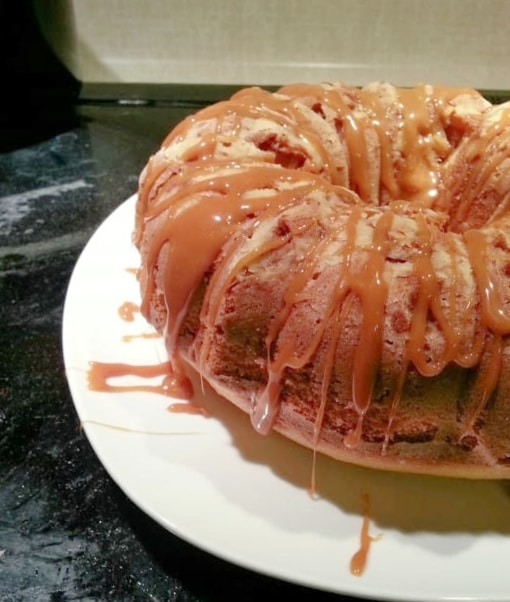 What Type of Apples Do I Need?
For a truly decadent caramel apple cake, you need to start with the right type of apples. While there are many different types of apples to choose from, Granny Smith apples are the best option for this recipe. They are tart and firm, making them perfect for holding up to the rich caramel sauce. Additionally, their green skin provides a nice contrast to the golden caramel.
If you can't find Granny Smith apples, another good option is Honeycrisp apples. These apples are also tart and firm, and their red and green skin adds a beautiful pop of color to the cake. Whatever type of apple you choose, be sure to use fresh, ripe fruit for the best flavor and texture.
Can I Use a Boxed Cake Mix?
Sure! If you're in a pinch and need to make a caramel apple cake but don't have all the ingredients on hand, you might be wondering if you can substitute a boxed cake mix. While it's not the traditional way to make this dessert, it is possible to use a cake mix as a base for your cake.
When choosing a cake mix, look for one that is flavored with spice or cinnamon. These will complement the flavors of the apples and caramel well. To jazz up the mix and make it more moist, add an extra egg and replace some of the water with applesauce.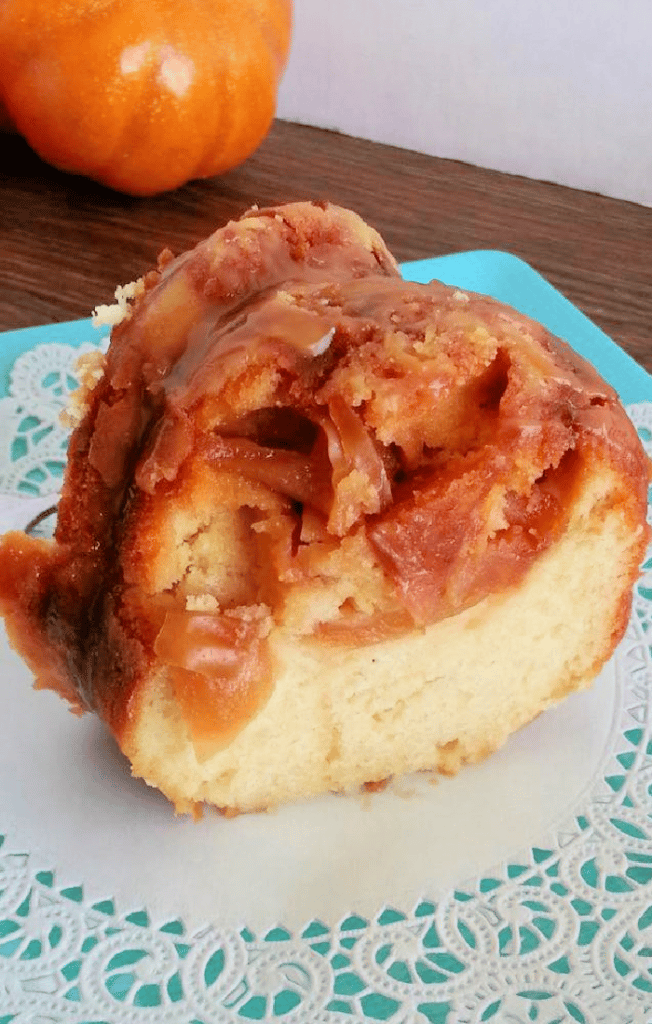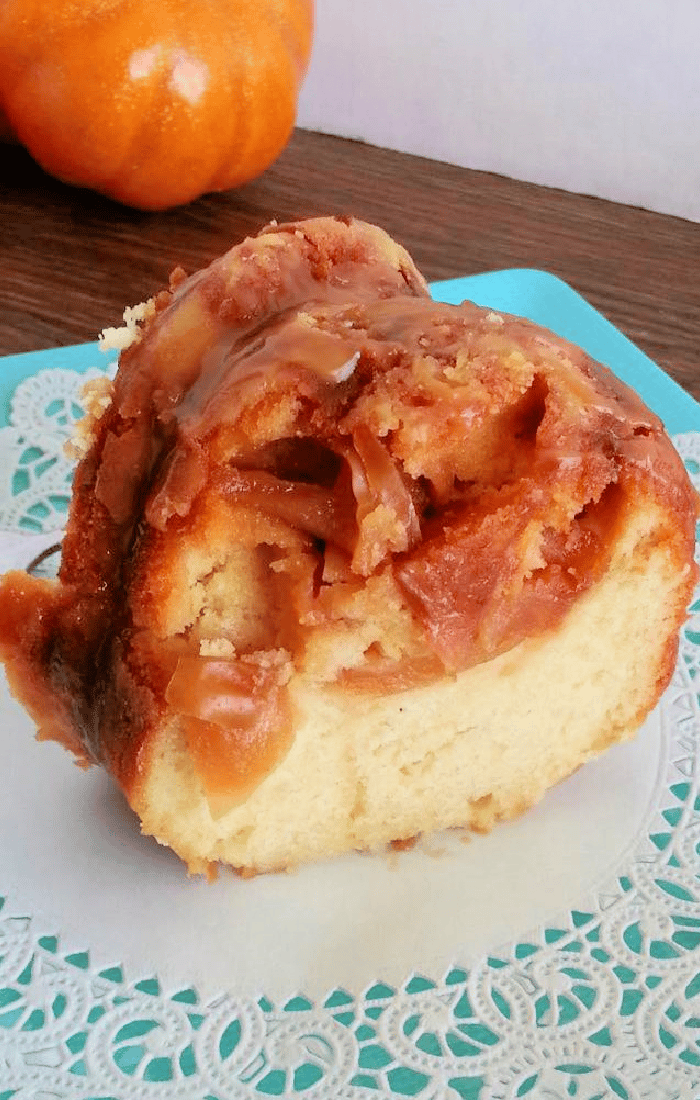 Do I Have to Use a Bundt Pan?
No, you don't. If you don't have a bundt pan on hand, don't worry – you can still make a delicious caramel apple cake using a regular cake pan.
What type of caramel do I need?
You can use your favorite caramel for the topping on this cake. The meltable caramels from the baking aisle are a great option. I have also drizzled homemade caramel sauce on top as well. Ice cream caramel sauce would work perfect as well. Any caramel you prefer or have on hand.
Other Apple Recipes to Try
Love a good apple recipe during fall? Same here! Here are some other favorites to try that we recommend: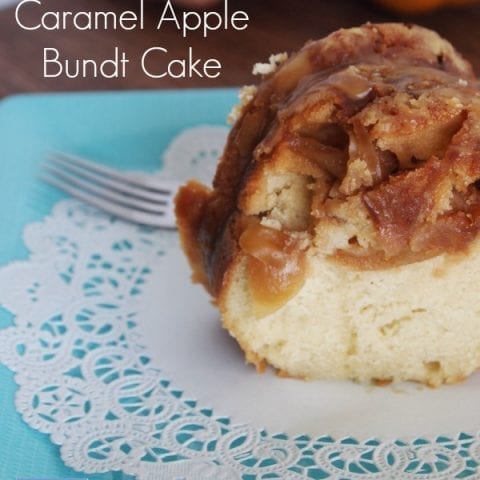 Caramel Apple Bundt Cake
Ingredients
Caramelized Apples
2 cups chopped apples
1 tablespoon butter
1 tablespoon brown sugar
Land o Lakes Butter Cake
3 cups all-purpose flour
2 teaspoons baking powder
1/2 teaspoon salt
2 cups sugar
1 cup Butter, softened
4 Eggs
2 teaspoons vanilla
1 cup milk
Microwaveable caramel
Instructions
Caramelized Apples
Add the chopped apples, butter and brown sugar.
Saute for about 10 minutes or until the apples are soft and the sugar has caramelized.
Butter Cake
Add all of the ingredients together and mix.
Preheat the over to 350.
Spray and flour the bundt pan.
Add the caramelized apples to the bottom of the bundt pan.
Cover with the butter cake mix.
Bake for 45 minutes or until a toothpick comes out clean.
Melt your caramel in the microwave until it comes out smooth.
Drizzle it over the cool cake.
Enjoy!
Notes
I mixed all the cake ingredients together and it came out great! Visit http://www.landolakes.com/recipe/1261/beckys-butter-cake for more detailed instructions.
Nutrition Information:
Amount Per Serving:
Calories:

5306
Cholesterol:

1283mg
Sodium:

1656mg
Carbohydrates:

761g
Fiber:

16g
Sugar:

460g
Protein:

75g