Im going to share the inner workings of how I create a new recipe. I create recipes kind of how I decorate my house; I do it in pieces. One part of a new recipes just pops into my head and I run with the idea. For example, I found some caramel apple candy corn at the store one day. I didn't immediately know what I wanted to do with them but I knew they were fun and unique and I had to grab them. A few more ingredients later and salted caramel apple popcorn was born. The same goes for this amazing caramel apple bundt cake. I found my moms old bundt pan and wanted to use it for a new recipe. I pieced together the other parts of the recipe [the apples, the caramel, the deliciousness] a few days after I borrowed the tin. To think that this easy homemade recipe all started with a pan.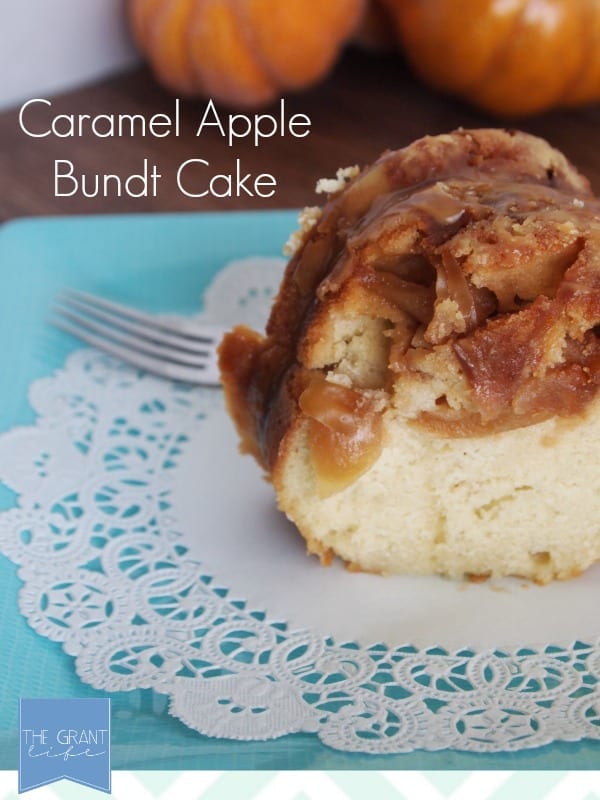 Ever since we visited the apple orchard in Michigan I've had apple recipes on my brain. And after my mother in law made old fashioned apple betty my apple spidey senses were tingling. I started with fried apples and topped it with a butter cake. Seriously. Fried apples. Butter cake. Its like heaven in a bundt pan.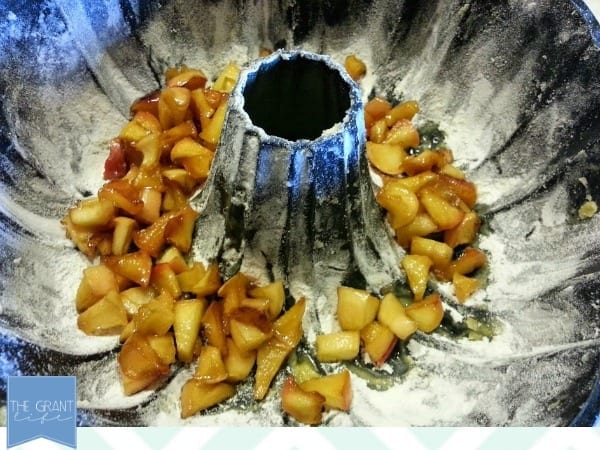 I fried the apples in butter and brown sugar until they were good and mushy and caramelized. While they were frying I sprayed down my tin and covered in with flour. I think I went a little flour crazy because I was afraid it wouldn't come out. Once my apples were done I added them to the bottom [or the top?] of the bundt pan. I used a Land O Lakes butter cake recipe for the cake part.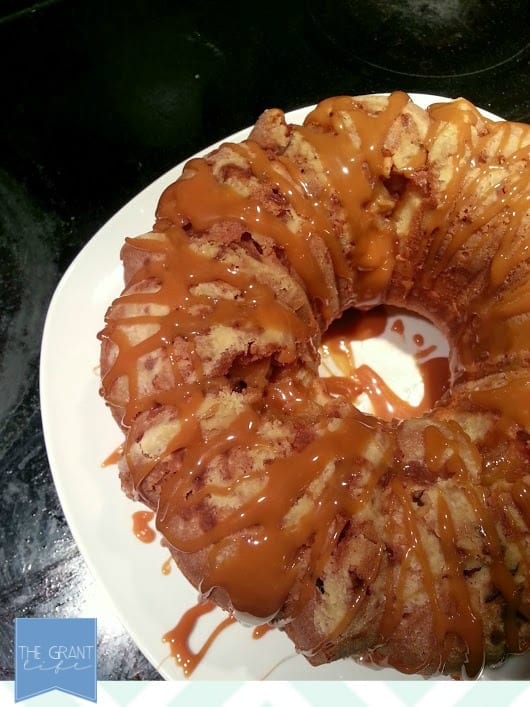 Can I just say that waiting for a cake you really, really want to eat is the worst thing ever? I was like a little kid and kept checking the timer every few minutes. When it finally dinged I pulled it out and let it cool. [Again, with the waiting!] While I waited I microwaved the caramel. I flipped the cake out and drizzled ooey, gooey caramel all over the top of the cake.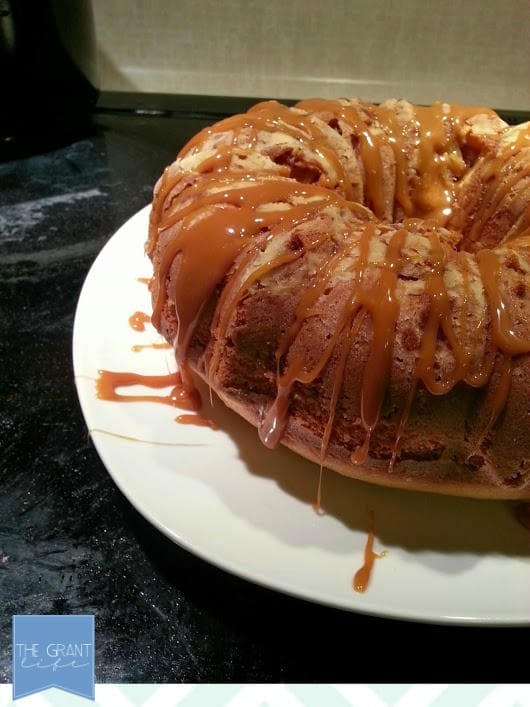 I may have used the rest of the caramel to cover the top of the cake. [Totally worth it.] The best part? Taste testing a warm piece of caramel apple cake with vanilla ice cream. All the waiting was totally worth it at the point.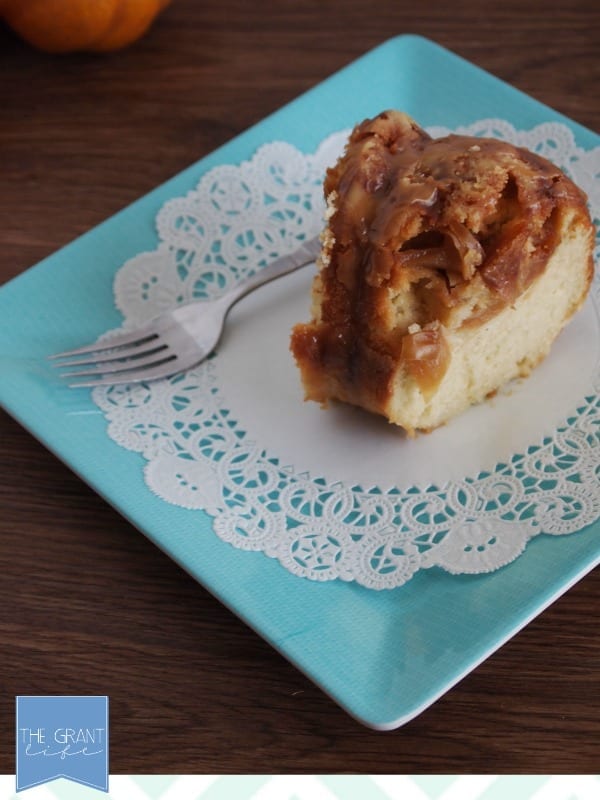 The second best part? Having it for breakfast the next day! [Hey it covers all the food groups!] And maybe for lunch too. Maybe.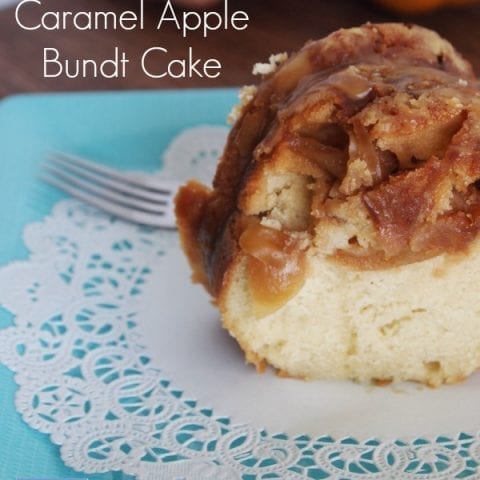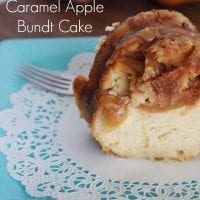 Caramel Apple Bundt Cake
Ingredients
Caramelized Apples
2 cups chopped apples
1 tablespoon butter
1 tablespoon brown sugar
Land o Lakes Butter Cake
3 cups all-purpose flour
2 teaspoons baking powder
1/2 teaspoon salt
2 cups sugar
1 cup Butter, softened
4 Eggs
2 teaspoons vanilla
1 cup milk
Microwaveable caramel
Instructions
Caramelized Apples
Add the chopped apples, butter and brown sugar.
Saute for about 10 minutes or until the apples are soft and the sugar has caramelized.
Butter Cake
Add all of the ingredients together and mix.
Preheat the over to 350.
Spray and flour the bundt pan.
Add the caramelized apples to the bottom of the bundt pan.
Cover with the butter cake mix.
Bake for 45 minutes or until a toothpick comes out clean.
Melt your caramel in the microwave until it comes out smooth.
Drizzle it over the cool cake.
Enjoy!
Notes
I mixed all the cake ingredients together and it came out great! Visit http://www.landolakes.com/recipe/1261/beckys-butter-cake for more detailed instructions.
Nutrition Information:

Amount Per Serving: Calories: 5306 Cholesterol: 1283mg Sodium: 1656mg Carbohydrates: 761g Fiber: 16g Sugar: 460g Protein: 75g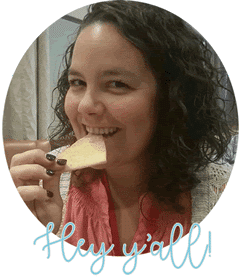 Hey y'all!I'm Kelley. I'm a recipe making, picture taking, coffee drinking momma to 3 crazy kiddos. Join me as I share our family favorite dinners and my copycat coffee drinks too!