Grab your Instant Pot – it's time to make some hot apple cider! You can make apple cider in a fraction of the time using your pressure cooker. Fall is the perfect time to whip up a batch of this Instant Pot apple cider. Plus, your house will smell amazing!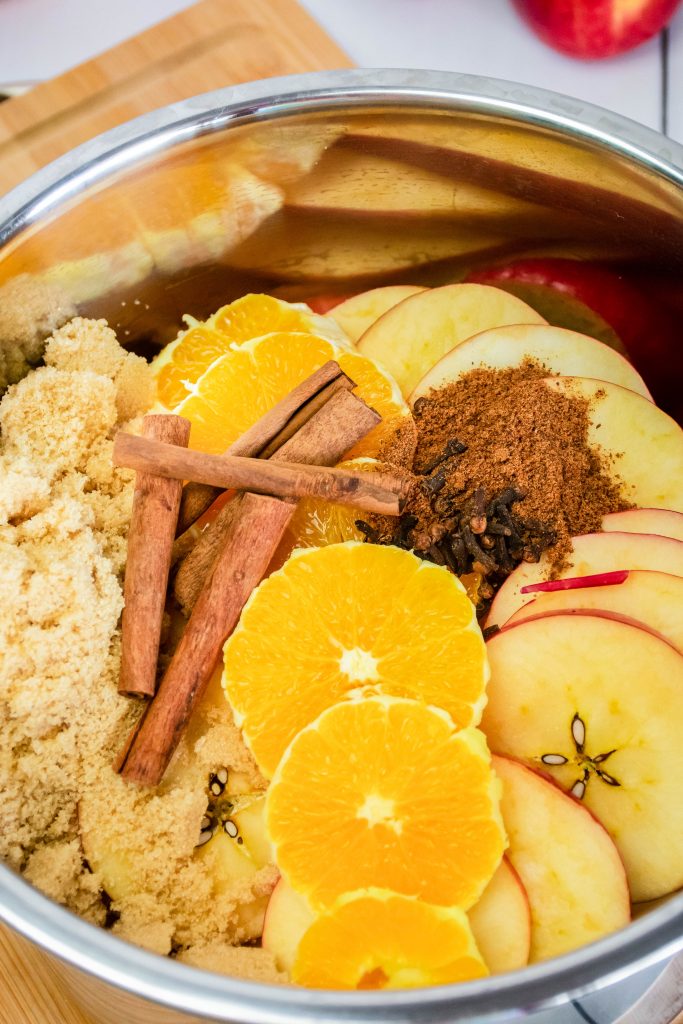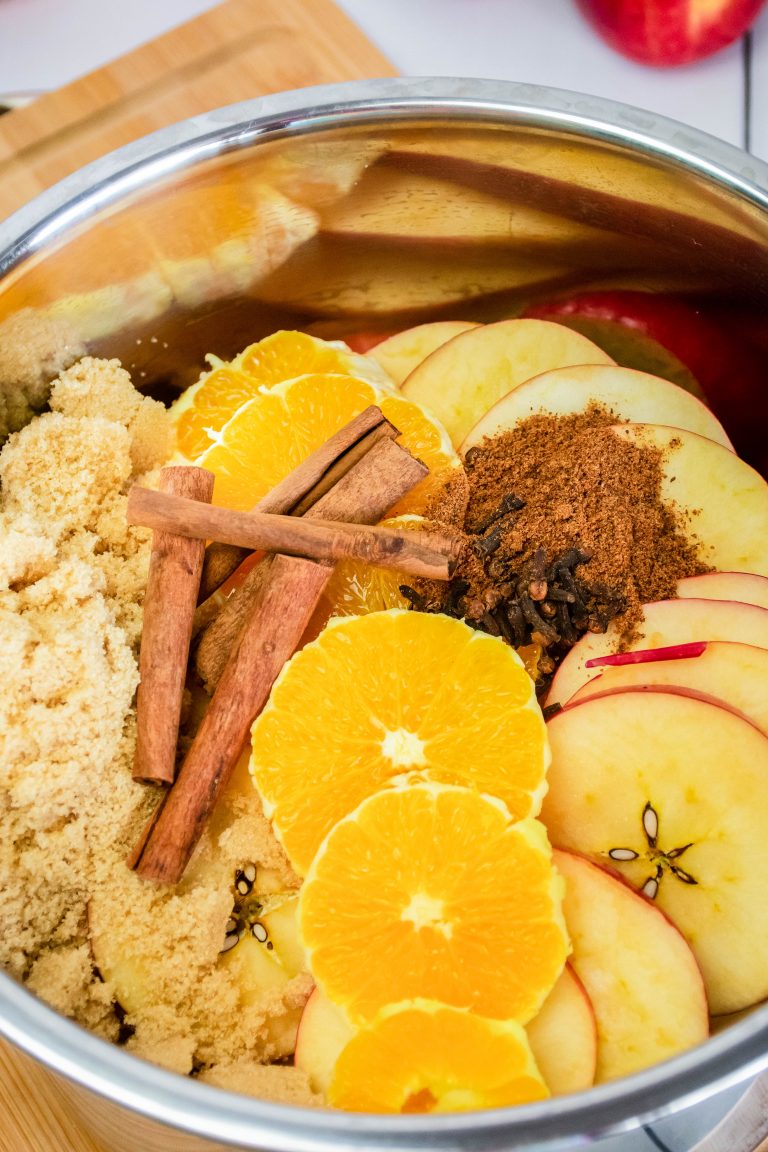 For me, it's not truly fall until I have had my first pumpkin spice latte for the season. I enjoy sipping my latte while thinking of the busy season ahead. Halloween, birthdays, Thanksgiving and Christmas. Apple cider is my husbands pumpkin spice latte. It's not really fall for him until he has whipped up a batch of homemade apple cider.
This apple cider recipe is perfect for whipping up a quick batch to signal that fall is officially here. And if you love Instant Pot recipes, be sure to check out my other site – easy Instant Pot dinners! I hope you find a new favorite recipe.
Instant Pot Apple Cider
Apple cider is unsweetened and unfiltered apple juice. We have an apple press and when you press out the apples and remove the guts, you are left with apple cider. When you put it in a jar or jug you will get sediment on the bottom since it's not filtered. And that's ok! It's good for you.
This Instant Pot apple cider takes the concept of fresh pressed cider and turns it into a delicious fall drink. Instead of just the apples, we add in some oranges and spices that gives it an amazing flavor. It's great hot, but you can also chill it and drink it cold.
Instant Pot Apple Cider Ingredients
I love that this apple cider recipe uses only a handful of easy to find ingredients. You can probably grab them all at your local grocery store. To make this cider in your Instant Pot you will need:
Apples
Orange
Cinnamon sticks
Brown sugar
Cloves
Nutmeg
Water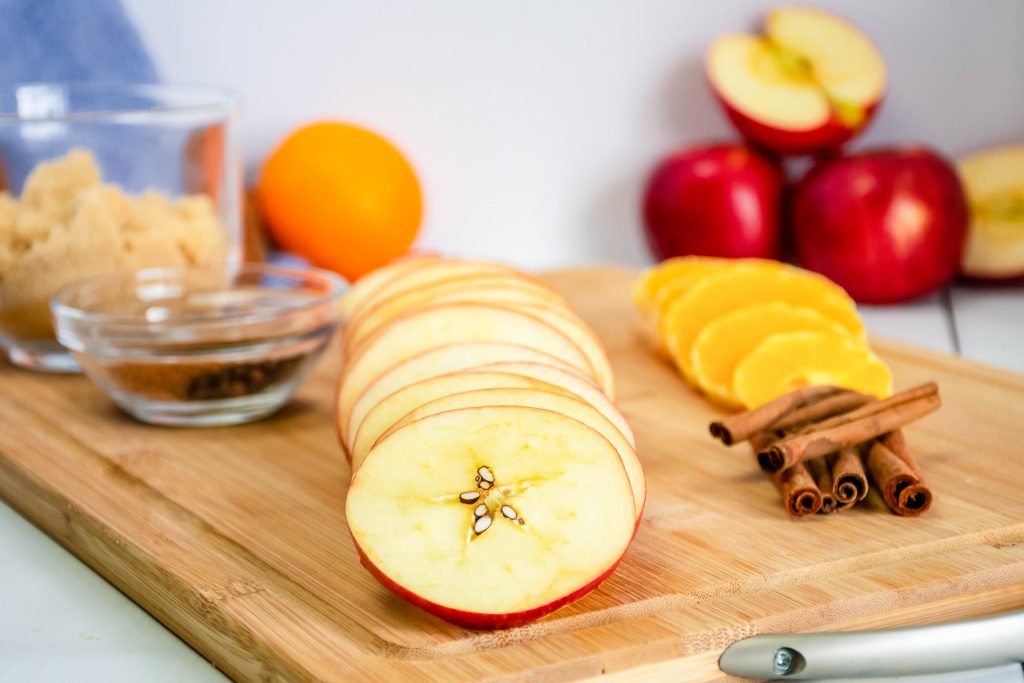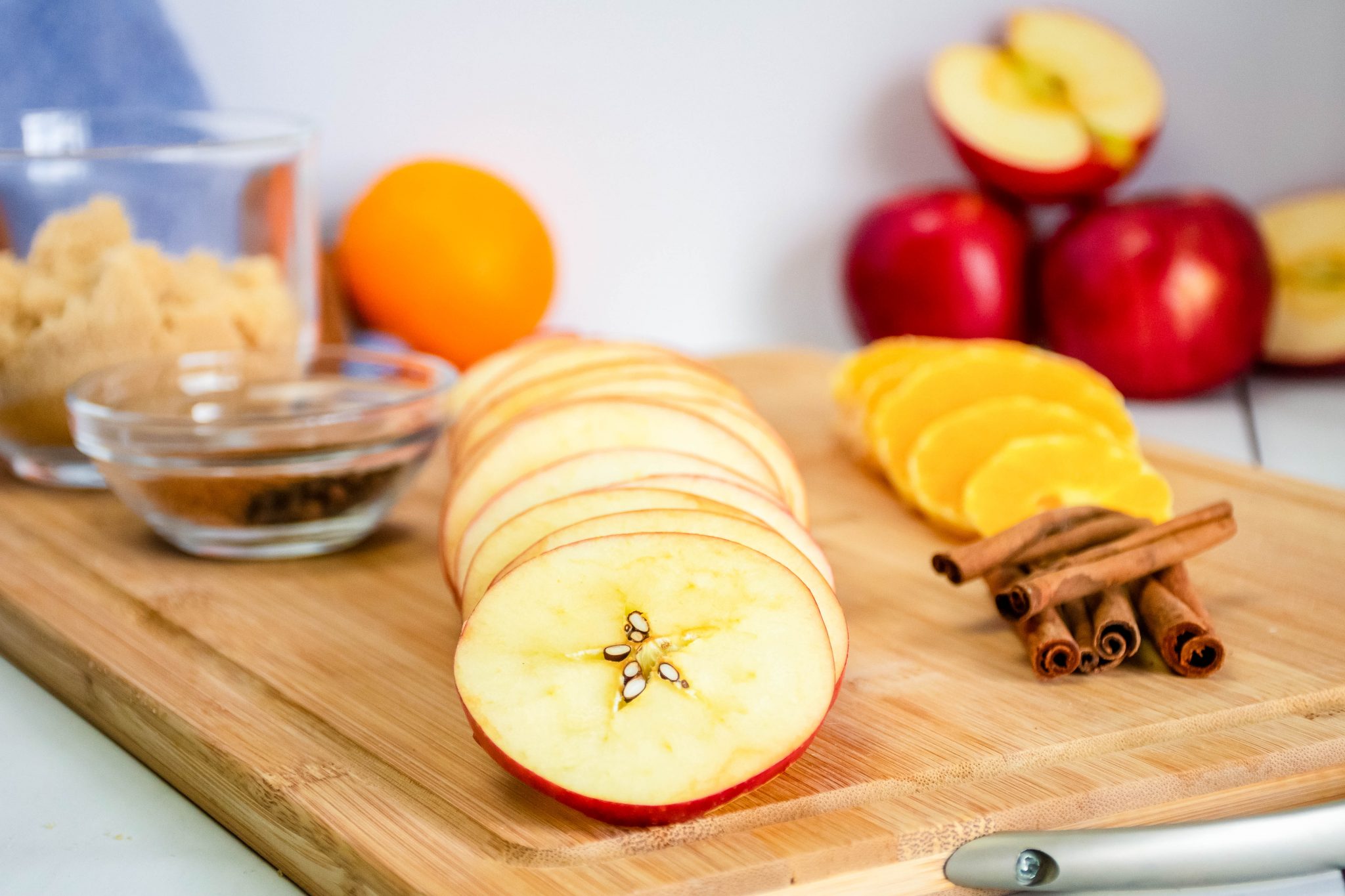 Apples – You will need about a dozen apples for this recipe. Grab a variety of apples so that you get some sweet notes mixed in with some tart ones. Granny Smiths, Macintosh, Galas, etc.
Orange – One orange is all that is needed here. It brings a great contrasting flavor in this cider.
Cinnamon sticks – Grab a few cinnamon sticks to add in the Instant Pot when cooking.
Brown sugar – Sometimes we add brown sugar and sometimes we leave it out. It gives a nice caramel-y flavor to the drink but is not needed for sweetness.
Spices – Cloves and nutmeg are 2 spices that are perfect for fall baking. They add a great depth of flavor. You can use whole or ground cloves and nutmeg. You can also use apple pie spice or even pumpkin pie spice, if you need a quick substitute.
How to make apple cider in the Instant Pot
Once you have gathered all your ingredients you will also need to grab:
Cutting board and knife
Measuring cups and spoons
Cheese cloth
Instant Pot
Step 1 Cut your fruit
Using your cutting board and knife, slice up your fruit. They don't have to be perfect as you are just going to pressure cook them until they are mushy and soft anyways.
Step 2 Add it to your pot
Place everything in your Instant Pot including water to cover everything. The fruit will give off some liquid as well, so don't completely fill the pot with water.
Step 3 Pressure cook
Put your lid on your Instant Pot and cook on manual high pressure for 25 minutes. Allow it to come to pressure naturally for 10 minutes and then remove any built up pressure.
Step 4 Mash and strain
Once you all the pressured released, use a potato masher to mash the apple and the orange. I would remove the cinnamon sticks before this step. Strain the cider through cheese cloth into a large pitcher or mason jar. Toss all the solids that are leftover. Enjoy warm.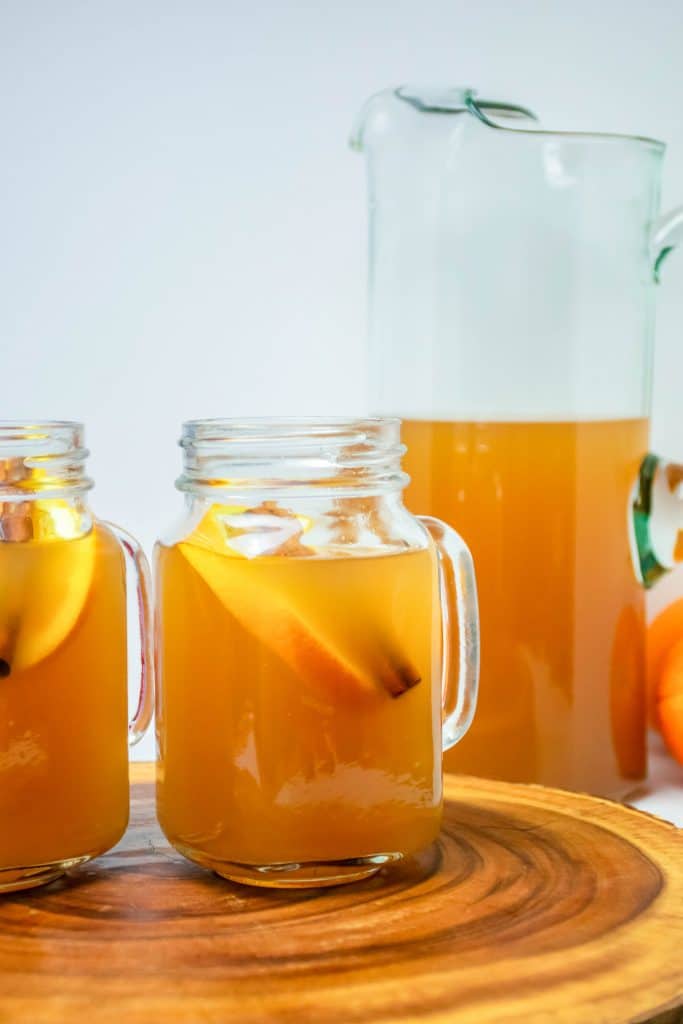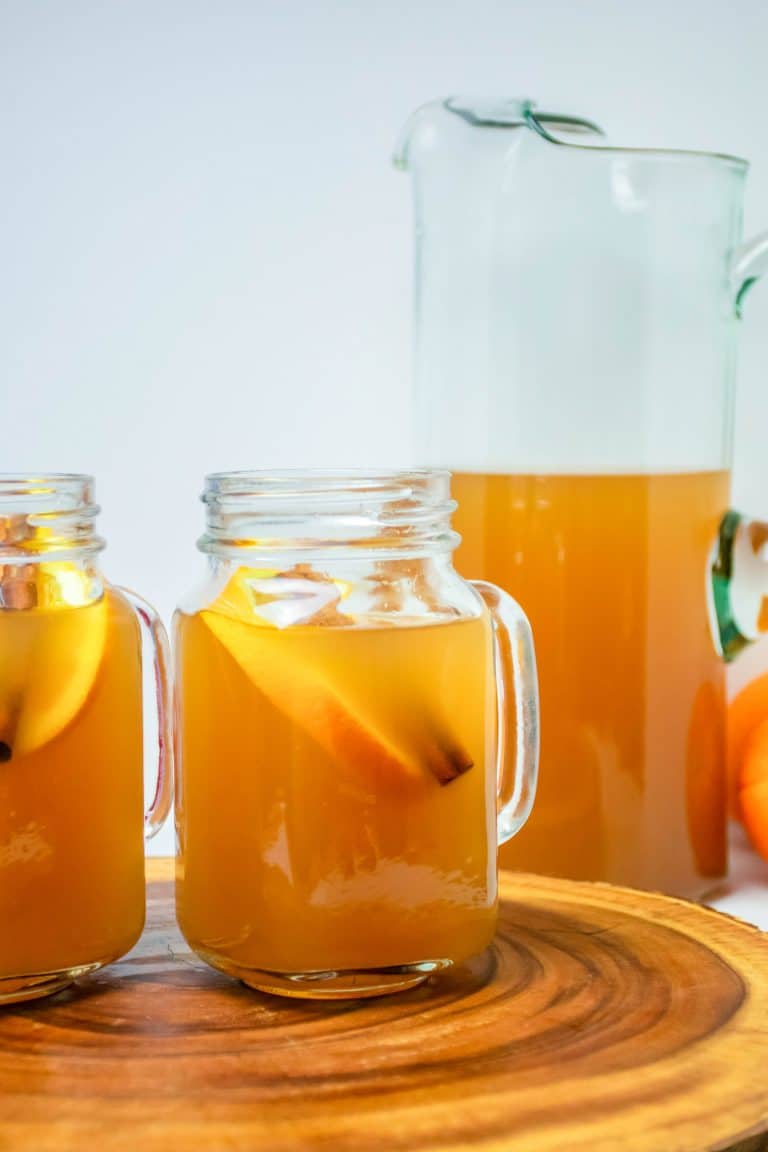 What's the difference between apple juice and apple cider?
Apple juice has been filtered and pasteurized. It is also lighter, sweeter and clearer. Apple cider is the raw juice that has not been filtered as much. There is often sediment at the bottom of apple cider glasses, which is normal and delicious!
Is there alcohol in apple cider?
Nope, there isn't. Hard cider would be apple cider with alcohol. You can easily add a shot of vodka to your glass of apple cider to make it an adult-only beverage, if you'd like.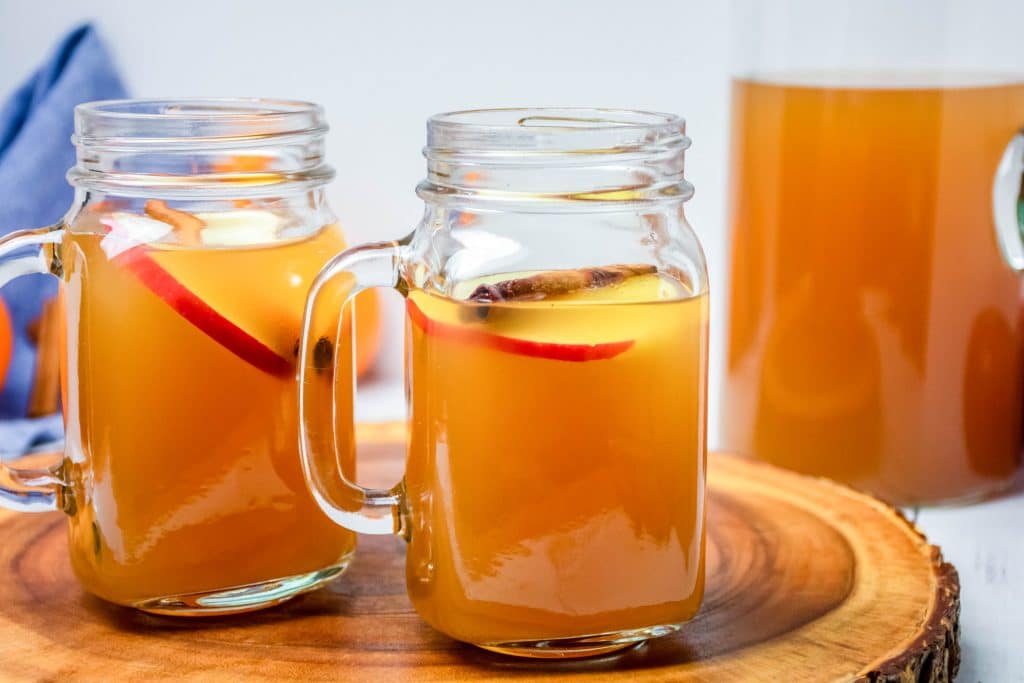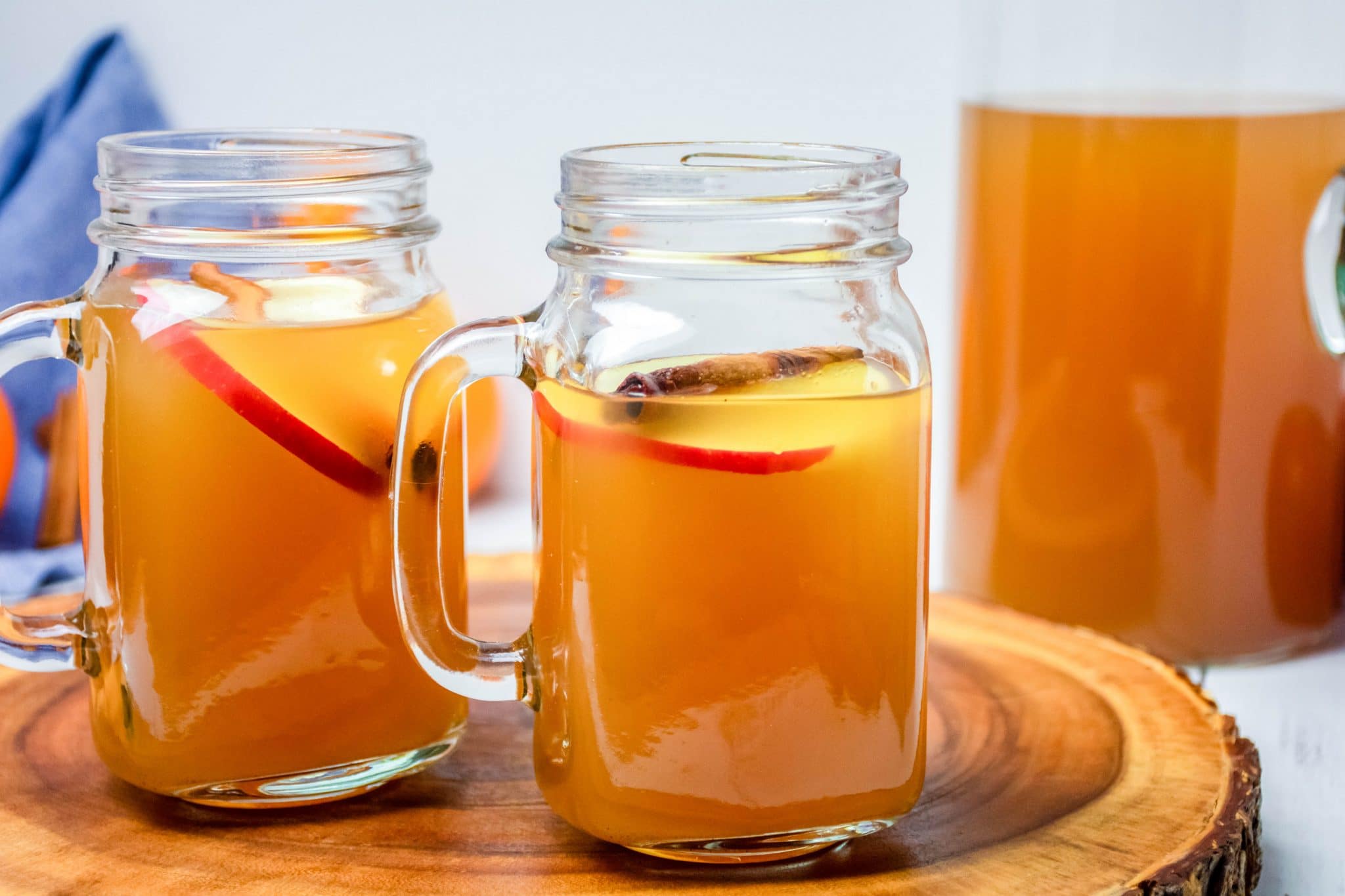 What kind of apples do I need?
The great thing about this recipe is that you can use any apples that you'd like. I enjoy using a combination of sweet and tart apples for my apple cider. It produces a great depth of flavor.
Can you make apple cider with apple juice?
Yes! You absolutely can. Replace the water with apple juice and omit the brown sugar if you plan to use apple juice in this recipe.
How to make apple cider in a Crock Pot
You can easily make this Instant Pot apple cider recipe in your slow cooker. Actually, my husband prefers it made in the Crock Pot! Follow all of the instructions but change the cook time to 3 hours. After 3 hours, mash the fruit and them strain it out. You can then leave it on the warm setting and pour it into glasses as needed.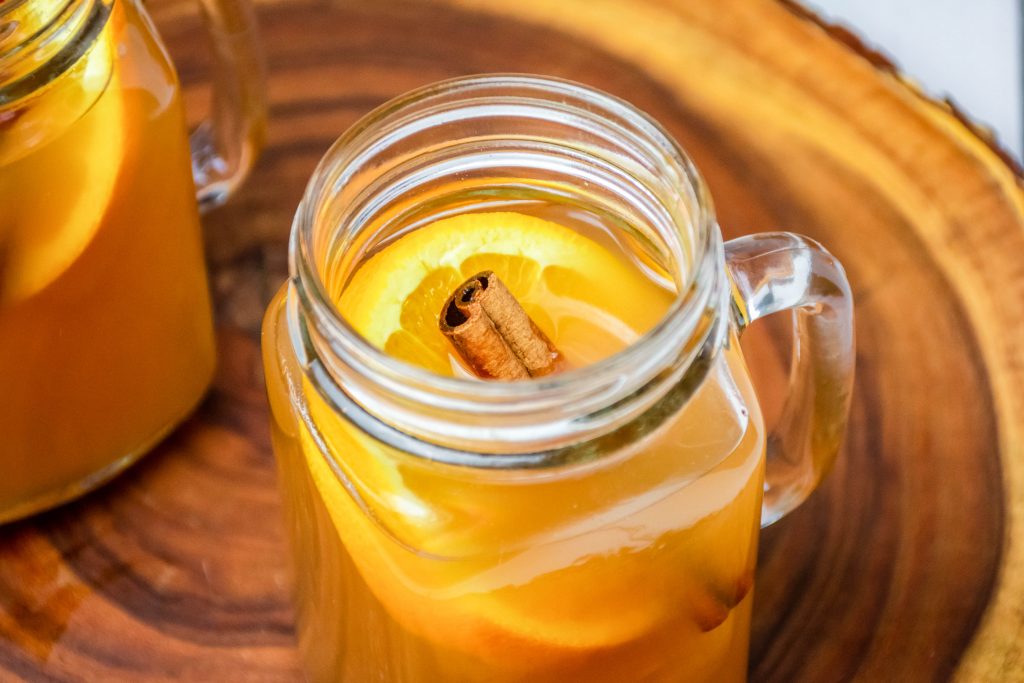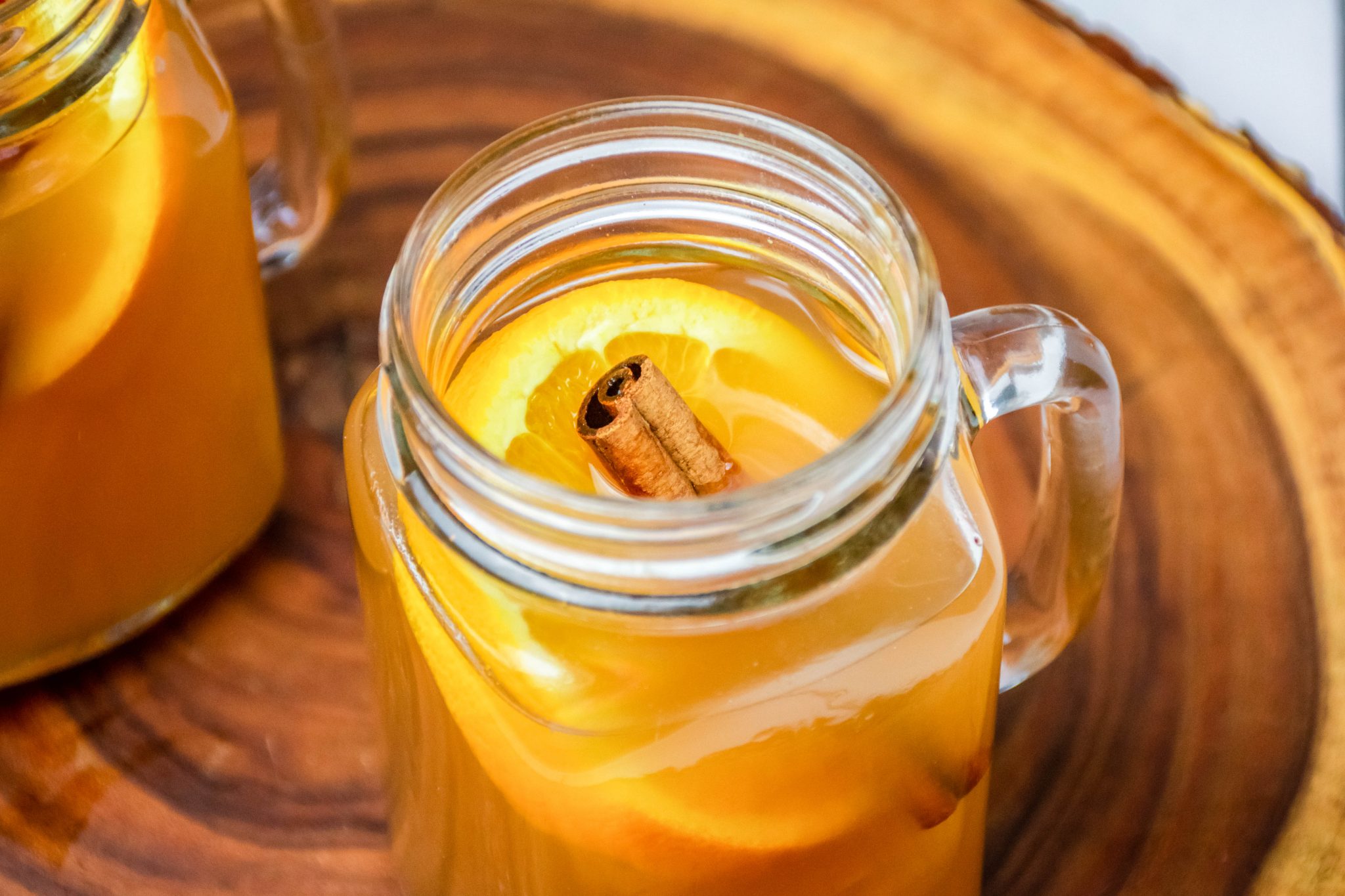 Tips and tricks
This is a pretty straightforward recipe, but here are some tips to make it even better.
You don't have to remove the cinnamon sticks or the whole cloves from the Instant Pot before you mash it. Some people prefer too, but they will get strained out later.
Garnish your drink with a slice of apple or orange and an additional cinnamon stick.
Allow the apple cider to cool a bit before drinking. It will be VERY hot!
How to store leftovers
Place any leftover cider in a large pitcher and place it in the fridge. You can heat it up in the microwave or on the stove top when you want to enjoy it again. You can also drink it cold!
Can I freeze apple cider?
Yes! You can freeze apple cider. Allow it to cool and then place it in an empty plastic milk jug. Leave some space on top for it to expand. Place it in your freezer. You can freeze it for up to 3 months. Remove it to the fridge and allow it to defrost when you want another glass.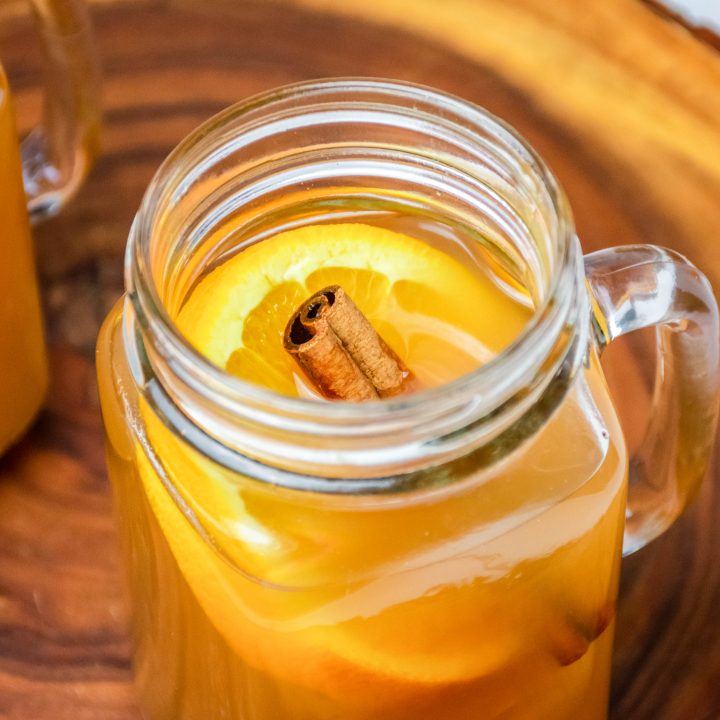 Instant Pot Apple Cider
Additional Time:
10 minutes
Make hot apple cider in your Instant Pot in no time!
Ingredients
11 Apples- sliced (variety of sweet and sour)
1 Orange- peeled and sliced
5 Cinnamon sticks
¾ cup Brown sugar
1 tsp Whole cloves
2 ½ Ground nutmeg
Fresh Water
Instructions
Place sliced apples and oranges into the pot.
Add all spices on top of the fruit.
Add enough water into the pot to cover the fruit (around a gallon).
Pressure cook on high manual for 25 minutes. Your Instant Pot will take about 10 minutes to come to pressure.
Naturally release for 10 minutes and then remove any remaining pressure.
When the fruit is soft enough, mash with a large spoon.
Allow to cool for 15-20 minutes.
Strain cider with cheesecloth into a pitcher. Discard all solids. (Strain cider twice for best results)
Serve warm and enjoy!
Other fall drinks to try:
Fall is one of my favorite seasons. Fall drinks are hands down the best. Some of fall drink recipes to try are:
Did you try this recipe? I'd love for you to leave a review above in the recipe card or below in the comments. Want to try it later? You can pin the image below. I appreciate your support!