This apple walnut crumb cake could be breakfast or dessert. You make the call.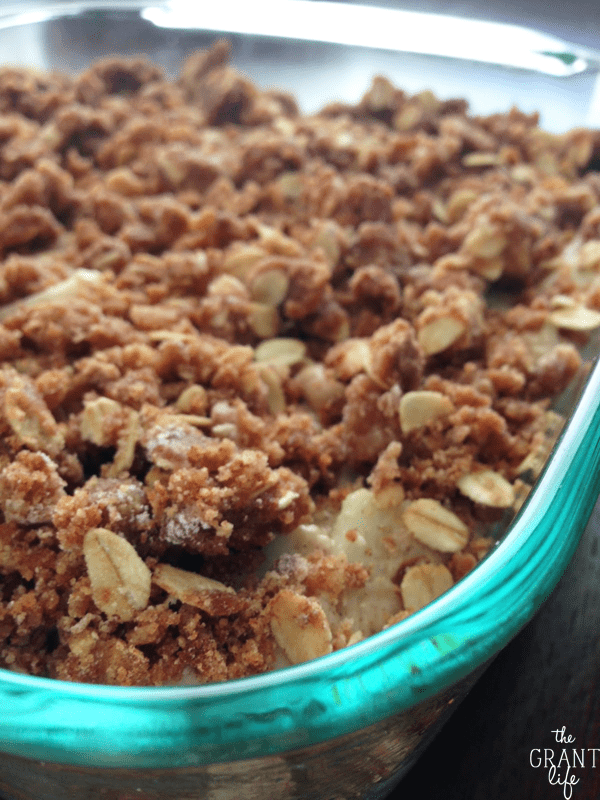 I am so excited to share today's recipe. One because its delicious and easy to make. [Hello two of my favorite things!] And two because it comes from my good friend Elizabeth over at Not Everything I Make is Pretty. Elizabeth has some amazing recipes and I'm so excited that she has agreed to share a few with us over the next couple of weeks. Pretty awesome, huh?! Her first recipe is this ahhh-mazing apple walnut crumb cake. Uhhh, yes please!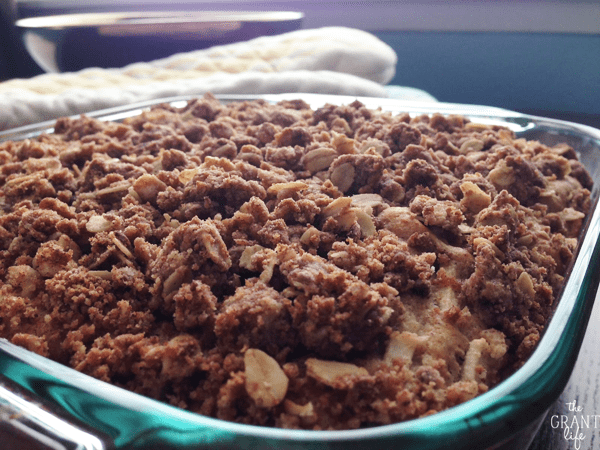 A friend of mine is vegan and it's incredibly hard for her to find baked goods that don't contain some form of butter, milk or eggs. I made it a goal to try and find recipes that were both delicious and vegan. (My first attempt at this was Vegan Chocolate Chip Banana Bread followed by Phanouropita Cake and both were great!)
I made this Crumb Cake for the first time this weekend, it was wonderful hot (I could hardly wait for it to cool!), I liked it the next morning cold and it was amazing reheated with ice cream for dessert. What is a good name of Breakfast for Dessert? Breakssert? Dessfast? ….it's a work in progress.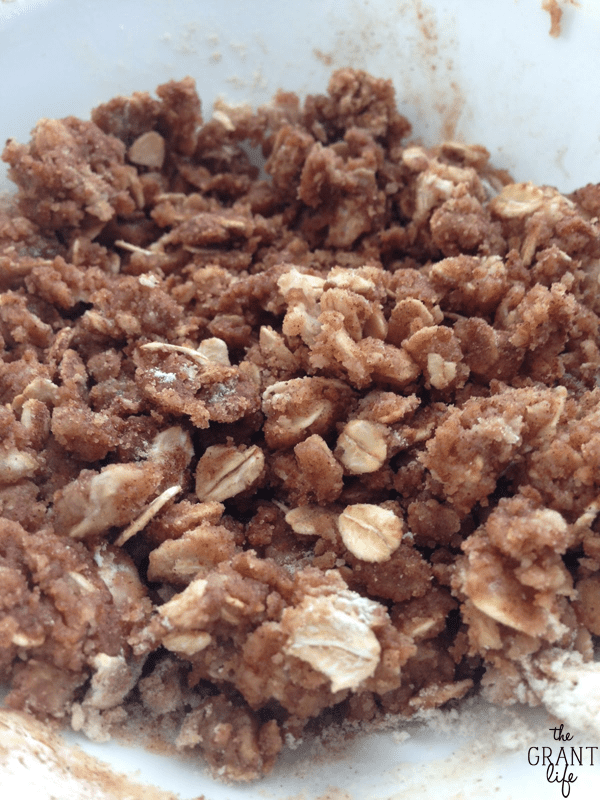 No matter what you call it this apple walnut crumb cake is perfect for a crowd. Everyone loved it including my friend and her friends. Plus, its so easy to make! Everyone will think you spent a ton of time in the kitchen when you really whipped this up in less then an hour. That's the best kind of dessert. Breakssert? Still working on it.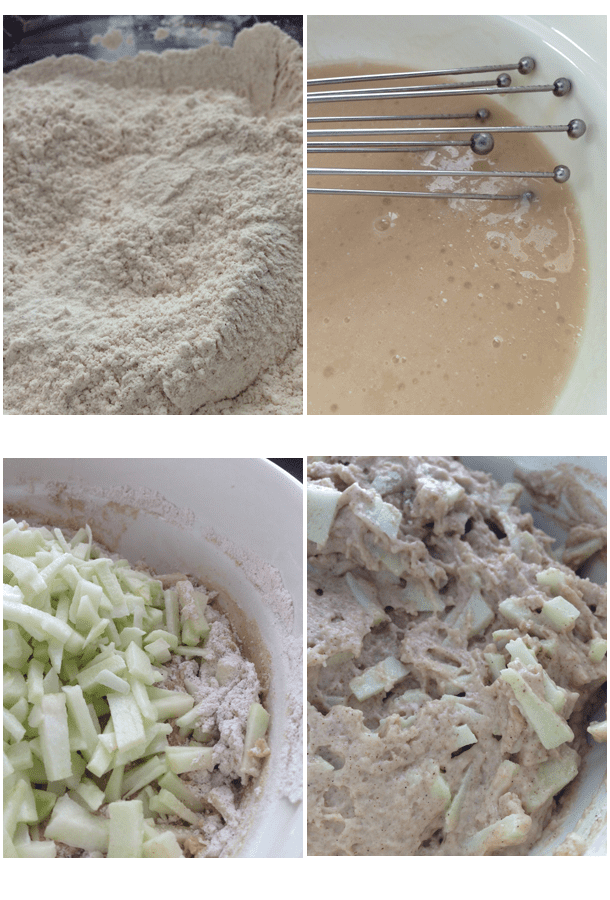 You can also change the apples to pears or peaches or any other fruit that you would like. It's a pretty versatile crumb cake. Also if you aren't a walnut fan – change those too! The basics of the recipe don't change if you modify a few of the ingredients.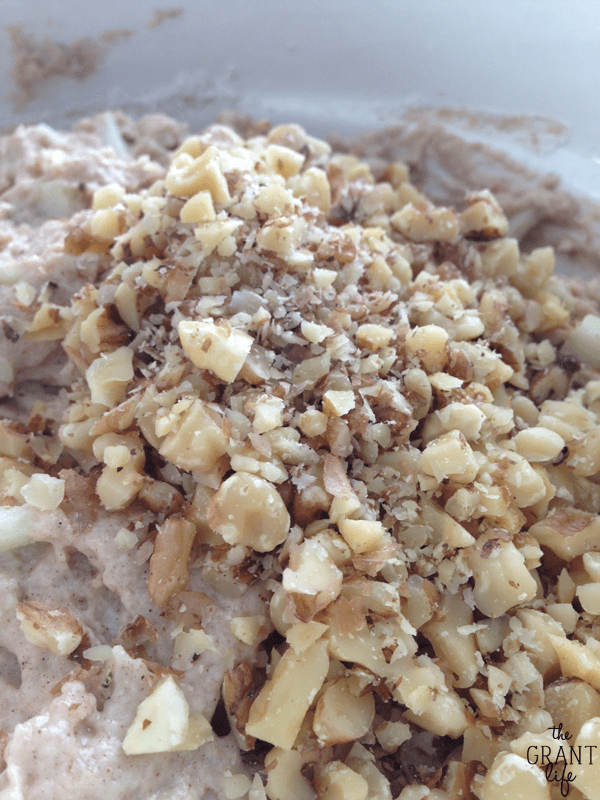 I hope you enjoyed this recipe! It's one of our favorites to make and like I mentioned, just so easy! I'm excited to be sharing more recipes over here in the future! Thanks for having me!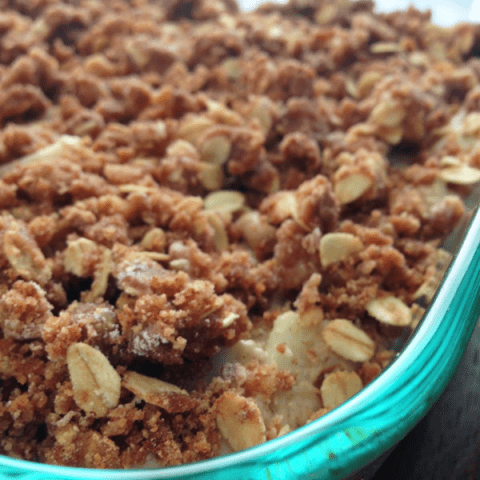 Apple Walnut Crumb Cake
Ingredients
Crumb Topping
1/2 Cup Flour
1/4 Cup Oats
1/4 Cup Brown Sugar
2 tsp Cinnamon
Pint of Salt
2 Tbsp Vegetable Oil
1 Tbsp Creamer
Crumb Cake Batter
1 Tbsp Cornstarch
1 Cup Apple, Diced Finley
1/2 Cup + 2 Tbsp Vegetable Oil
1/2 Cup Maple Syrup
2 Tbsp Honey
1/2 Cup + 2 Tbsp Soy Milk/Creamer
2 Cups Flour
2-1/4 tsp Baking Powder
1/2 tsp Baking Soda
2 tsp Cinnamon
1/2 tsp Allspice
1/2 Cup Walnuts, Chopped
Instructions
Preheat the oven to 350 degrees. Grease an 8×8 Pan with Vegetable Oil.
For the crumb topping, combine all the dry ingredients in a small bowl. Add Vegetable Oil and Milk. Rub everything together with your fingers. Mixture should be 'pebbly'. Set mixture aside.
For the Crumb Cake Batter, in a small bowl, toss the Cornstarch with the Apples. In another bowl, whisk together remaining Vegetable Oil, Syrup, Honey & Milk. Mix in the remaining dry ingredients.
Fold in Apples & Walnuts. Pour the batter into the pan, spread the Crumb Topping over the top of the batter. Bake for 25-30 minutes or until a toothpick tests clean.
Let cool and enjoy!
Nutrition Information:
Amount Per Serving:
Calories:

7061
Cholesterol:

18mg
Sodium:

229995mg
Carbohydrates:

979g
Fiber:

32g
Sugar:

485g
Protein:

99g
If you liked this post, be sure to check out:
PIN ME!