I think I have a problem. [I see you shaking your head up and down.] My problem is, I'm in love with my cast iron and I want more! Like, a lot more. The funny thing is, I only have one cast iron skillet and I can't even tell you what brand it is. I bought it on clearance a few months ago but we quickly became bffs. Like serious bffs. But like I said, I want more! So I found my skillet some cast iron friends. Here are my favorite cast iron products that I would love to add to my kitchen!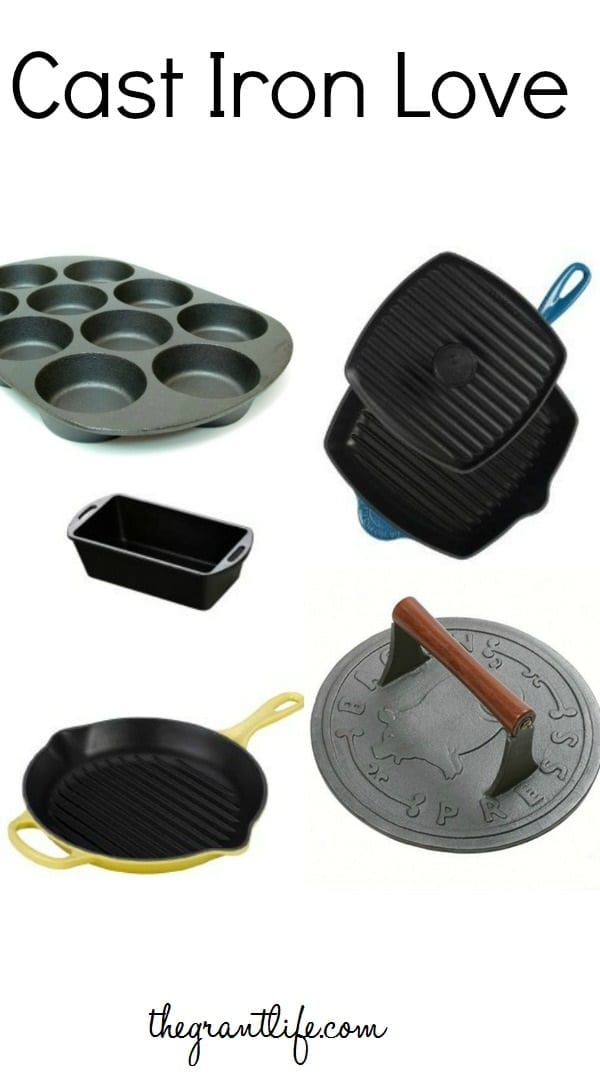 *All the links below are affiliate links which means I will get a small portion back at no cost to you. Things like this help me maintain this blog! Full disclosure here.


Le Creuset Signature Cast Iron Round Skillet Grill, 10-1/4-Inch, Soleil

Lodge L10SC3 Iron Cover, 12-inch

Le Creuset Enameled Cast-Iron Panini Press Skillet Grill Set, Marseille
Lodge SCRAPERPK Durable Polycarbonate Pan Scrapers, Red and Black, 2-Pack

Lodge ASHH41 Silicone Hot Handle Holder, Red

Norpro Cast Iron Round Bacon Grill Press

Old Mountain Cast Iron Preseasoned Biscuit Pan 10 Impression

Cast Iron Skillet Big Flavors: 90 Recipes for the Best Pan in Your Kitchen

Cast Iron Cooking Recipes
Can I just say that looking at cast iron products online is slippery slope? I started with one skillet and quickly realized I need a lid, then hello.. panini press! Ohh! A bread pan?! I need that! And a bacon press? I've never pressed my bacon, but I need it! And yes, I need those scrubby thingies. And the hot handle holder thingy. And why yes, I do need cook books for more recipes. Boom. Kelley is broke. Be careful out there friends – cast iron skillet shopping is tough.
And if you're looking for some skillet recipes, check out:
Or sign up for our emails and never miss a post about cast iron again!