You might feel like you've seen this post before. Yes, its another pasta skillet meal. Yes, I truly am obsessed with my skillet. [And pasta]. Yes, I really need to share another skillet pasta recipe with yall. This cheesy Italian skillet meal is different. First, its got cheese. Second, its got lots of cheese. And really, do you need anything more then that?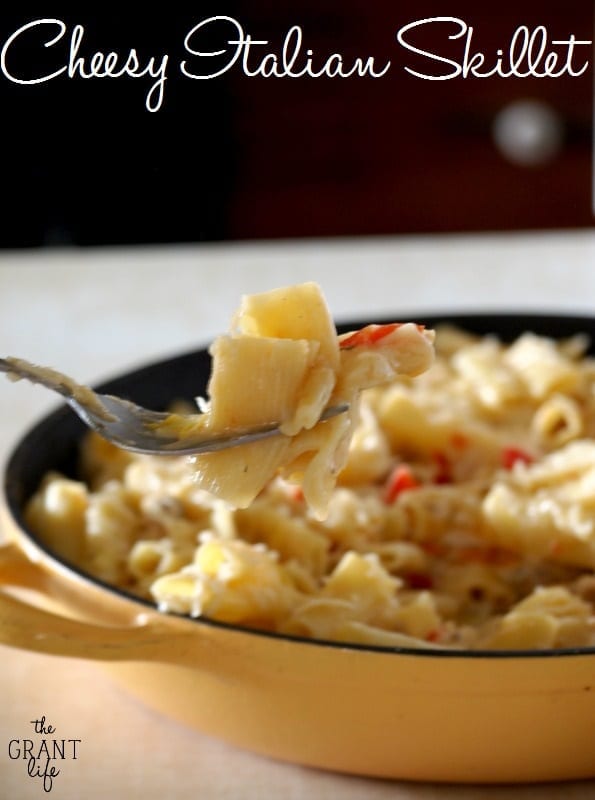 This is a real life meal too. Like I made this cheesy Italian skillet, photographed it on the island and we proceeded to devour it minutes later. No props, no fancy set up, not even great lighting. That fork hanging out on the side? Ryon grudgingly held it up so I could take a few pictures, all the while wondering when he could eat it. [That's love yall!]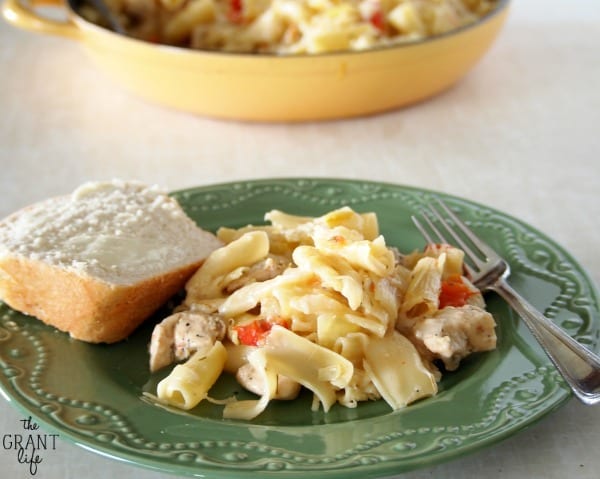 I may have made him a plate and sent him away so I could take a few more pictures. Who does that?! Well, me when I'm trying to get some decent pictures of an amazing skillet dinner. Because I love being able to cook a meal in one pan and when I find a good one, I want to be able to share it with yall. Even if that means real life pictures on my messy island.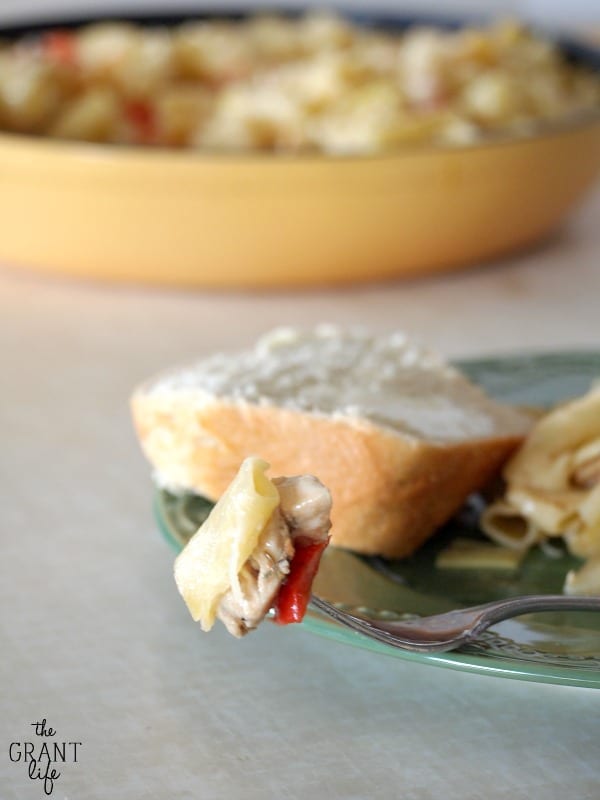 What you can't see in these pictures are two kids running circles around me, a huge pile of junk to the right and tons of dishes in the sink to the left. [Oh and Ryon eating his plate of pasta behind me.] Sometimes our lives are messy and busy and full of craziness, but you know what? That's what makes it so beautiful. I love the moments of madness because I appreciate the times my kiddos are still and kind even more. And that yall, is a real life story. [With a side of cheese!]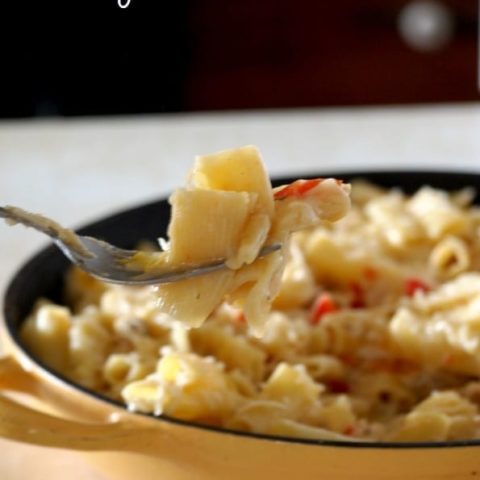 Cheesy Italian Skillet
Ingredients
1 onion, diced
1 small can artichoke hearts
1 small can roasted red peppers
2-3 chicken breasts, cubed
1/2 cup of Parmesan cheese, shredded
1/2 cup of Mozzarella cheese, shredded
1 box of pasta of choice
2-3 cups water
Instructions
Saute the onions until translucent.
Add the cubed chicken and cook thoroughly.
Add the artichoke hearts and roasted red peppers, juice and all.
Add the water and then the pasta. Push the pasta under the water. Add more if needed to completely cover the pasta.
Cook for 15-20 minutes or until the pasta and tender and most of the water has been absorbed.
Remove from heat and add the cheese.
Allow to melt and enjoy!
Like this post? Be sure to check out these other great skillet meals:
Or sign up for our tasty emails and never miss a recipe! [Plus you get a pretty great freebie!]